Creamy and delicious, this Enchilada Quinoa Skillet is a healthy, quick, vegetarian meal that your whole family is sure to love. It can be conveniently made in one skillet in less than 30 minutes.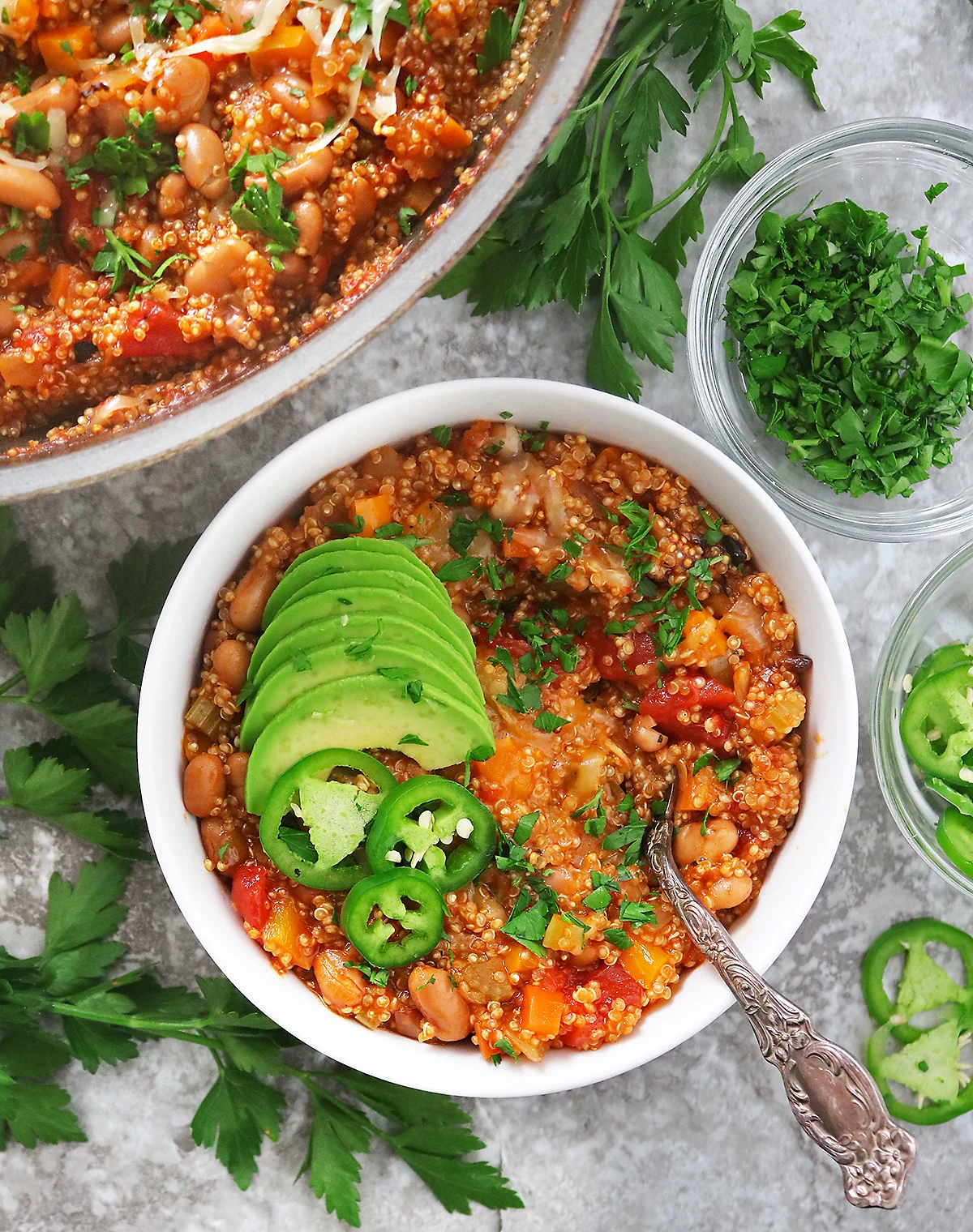 This Enchilada Quinoa Skillet is one of my favorite quinoa dishes. It is creamy, comforting, and can be made in less than 30 minutes.
This recipe is a versatile one, where you can swap in your favorite veggies and beans. It is also versatile in that you can serve it at a get-together. Or, if you meal prep like a boss, you can make a big batch of this recipe over the weekend and enjoy it through the week.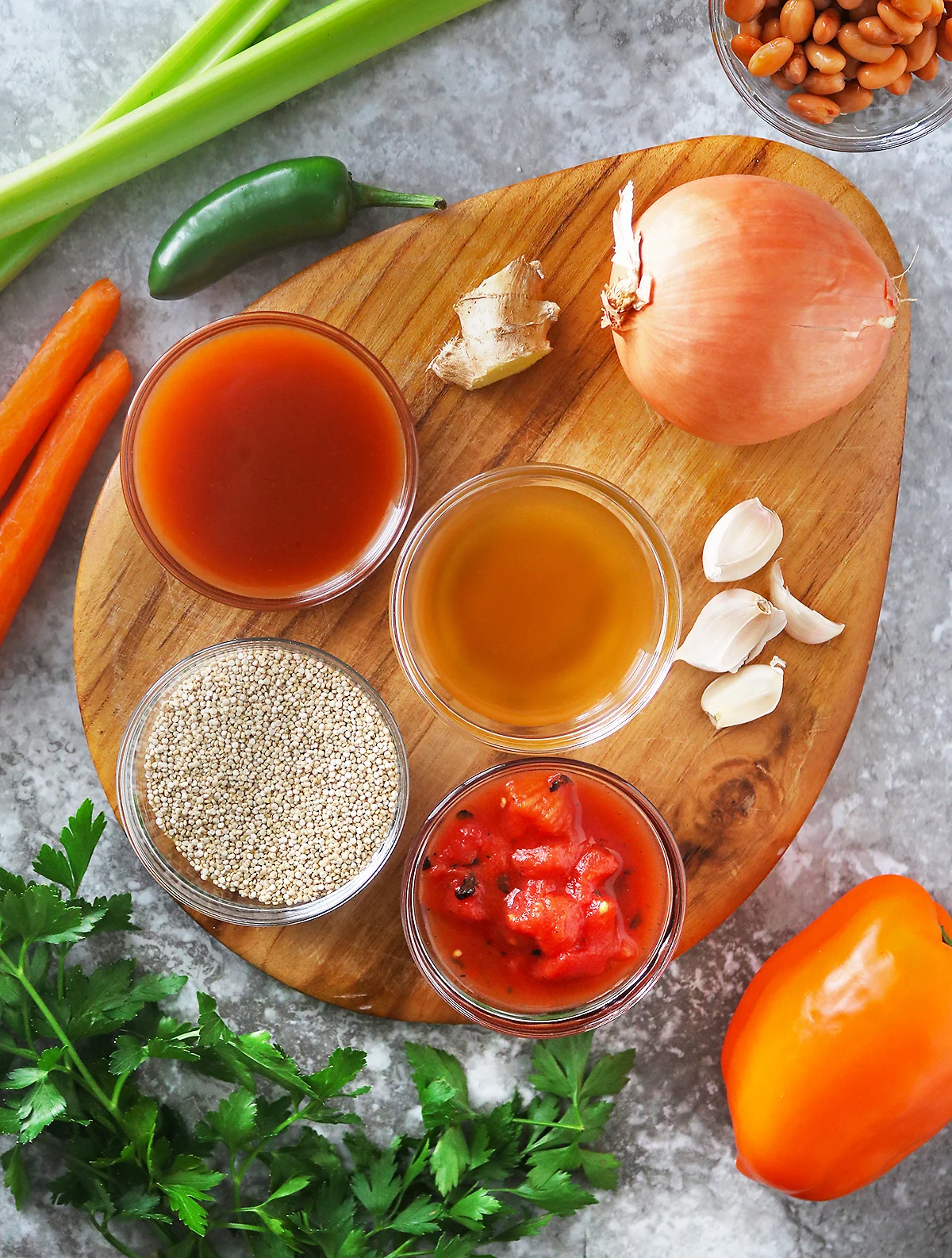 What are the ingredients to make this Enchilada Quinoa Skillet?
You only need the following 12 ingredients to whip this up.
Onion
I used a large yellow onion. If you do not like cutting up onions, most grocery stores now sell chopped-up onions in their produce section. The equivalent of 1 large yellow onion would be about 2 cups of chopped, store-bought onion.

Garlic
Just like with the onion, I prefer to use freshly chopped garlic to garlic powder in this recipe.

Ginger
Ginger is the 3rd ingredient that makes up the holy trinity of Sri Lankan cuisine, along with onion and garlic. Fresh ginger is the best option for this recipe. You could always save time by picking up some diced fresh ginger from your grocery store.

Celery
I always tend to have celery hanging out in my fridge for way too long. Then, when I need to use a stalk or two, they are limp. But, I recently found out through good ol' Google, that soaking the bulb of the celery bundle will have those celery stalks nice and crunchy and perfect for recipes like this.

Carrots
Fresh, diced carrots add a nice crunch to this. However, if you prefer to leave them out, please do so. Or, you can add more bell pepper or peas to this recipe, instead.

Bell pepper
I used one orange bell pepper in this recipe for color as well as flavor. But, this is not set in stone. You can use any variety of bell pepper you prefer or another veggie of your choice.

Quinoa
White quinoa was what I used in this recipe, mostly because I have a large bag of it I purchased from Costco. You can also use tricolor quinoa or any variety of quinoa you prefer.

Vegetable stock
If you are not a vegetarian, you can use chicken stock instead. Or, you could always just use water. If using water, you might need to add in some salt for taste.

Enchilada sauce
I used my favorite mild red enchilada sauce that I usually get at Sprouts (btw, am not being paid to say this bit). I have found that this sauce works well in everything from enchilada risotto to plain old vegetarian enchiladas.

Fire-roasted tomatoes
I used a can of fire-roasted tomatoes I found at our local grocery store. The reason behind using fire-roasted tomatoes in this recipe is that they are so packed with flavor, as opposed to a can of diced tomatoes.

Pinto beans
You can use any canned beans you may have on hand. I had pinto beans and used those in this. Whatever beans you may use, make sure to drain them, place them in a strainer or colander and rinse them well before adding them to this skillet.

Cheddar cheese
As I am lactose intolerant, I used cheddar cheese in this recipe. You could also use Gouda or mozzarella in this easy Enchilada Quinoa Skillet.
How do you make this quinoa recipe?
This recipe is so easy and quick to make.
The most time-consuming part of this recipe is peeling and chopping the onion, ginger, garlic, celery stalks, carrots, and bell pepper. However, if you grab some pre-chopped onions, garlic, ginger, and veggies from your store, you can cut down on the time involved in making this.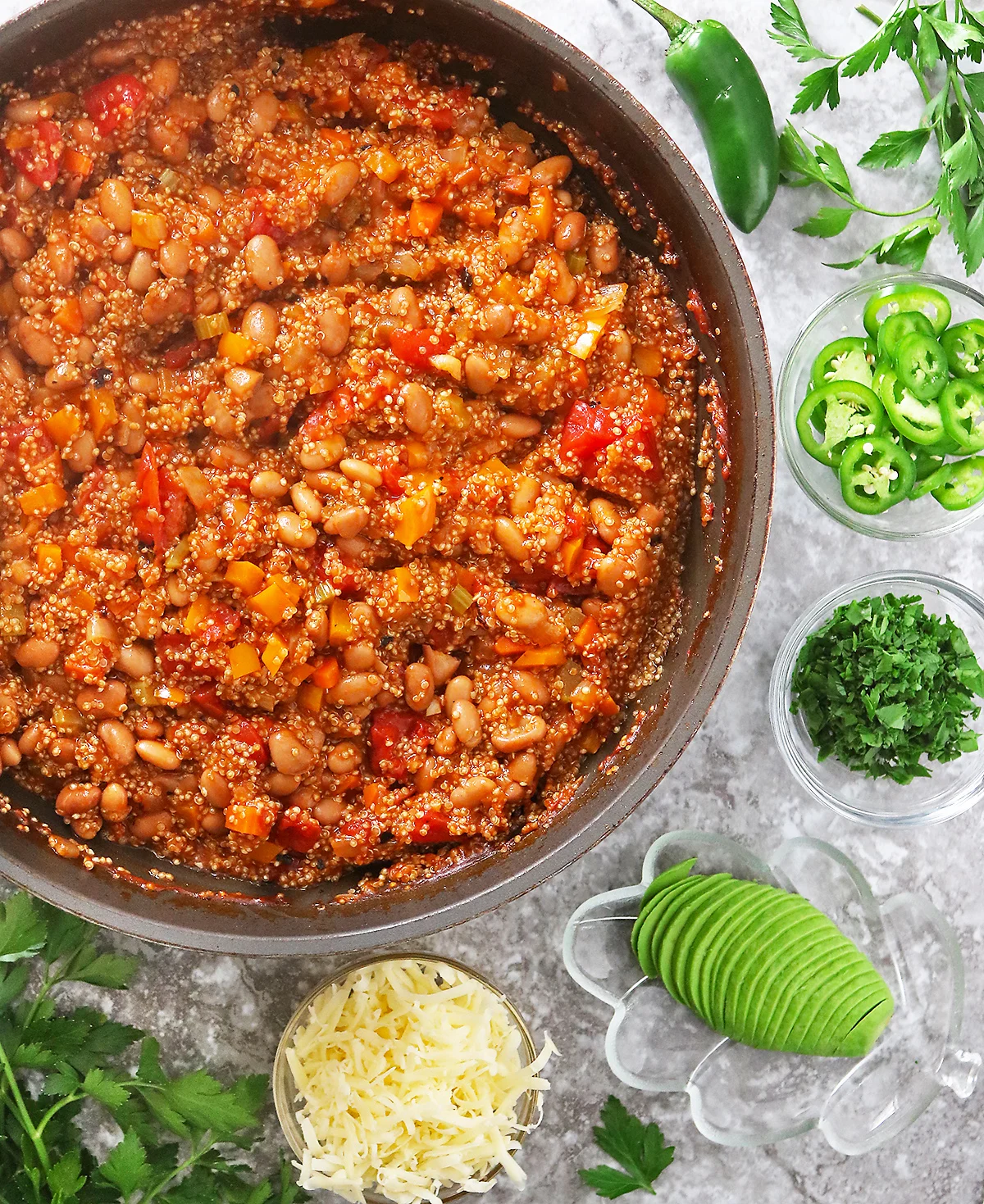 Once all the ingredients are prepped, it's just a matter of sautéing them, adding in the sauce and broth, and letting everything cook, covered, for 15 minutes.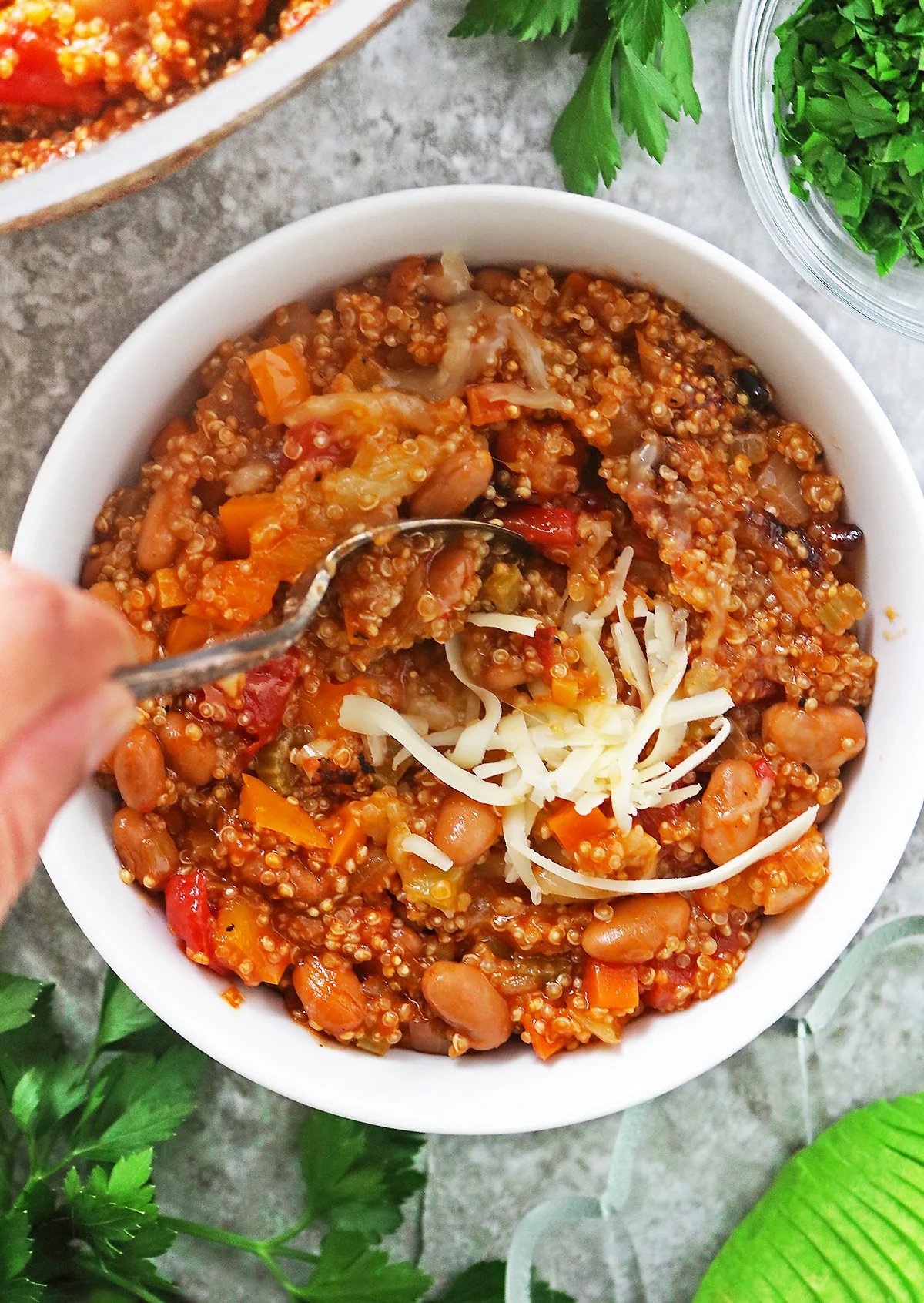 Serving suggestions:
When the enchilada quinoa is ready, stir in the cheese and let it melt.
Then add in your favorite toppings like sliced avocado, jalapeño, and parsley, maybe even some nachos, and dig in!
You can serve this with this corn salad and this black bean and golden beet sauté.
Then follow it up with a dessert of these chocolate fig cups or this apple crumble.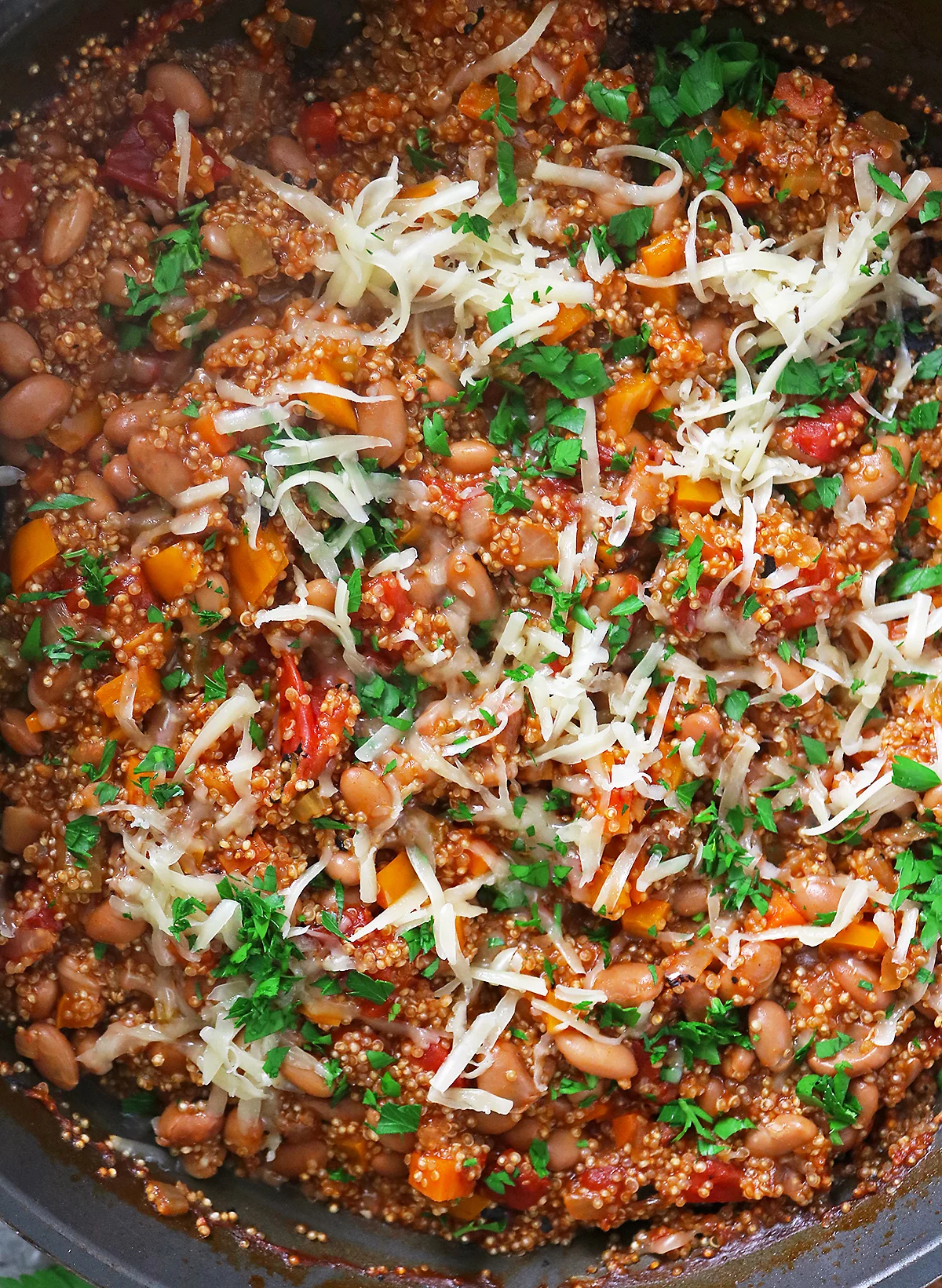 Can you substitute the ingredients for this quinoa?
With the exception of the onion, ginger, and garlic, you can substitute the celery, carrots, and bell pepper for veggies you prefer. You can also use black beans or kidney beans instead of pinto beans. And, if you like spicy dishes, then use the spicy enchilada sauce and add in a tablespoon of chili flakes or a teaspoon of cayenne.
How do you store this enchilada quinoa?
You can store this dish in an airtight container, in your fridge, for up to 5 days.
Can you freeze this enchilada quinoa?
Yes, you can freeze this enchilada quinoa. Place it in an airtight container and let it cool down to room temperature. Then place the container in the freezer. This should last about 3 weeks to a month. When ready to enjoy, place the container with frozen enchilada quinoa on the kitchen counter and let it thaw out. Then heat in the microwave until hot enough for your taste.
Thanks so much for stopping by. If you make this recipe, please let me know in the comments below what you think of it, or tag your creation on social media with @savoryspin or #savoryspin. For more fusion, spice-filled, recipe ideas, please subscribe and follow me on Facebook, Instagram, and/or Pinterest!