Salmon is coated with fresh lemon juice, fresh grated ginger, and a smattering of zaatar and then pan-roasted until it's slightly seared and fabulously flaky.
I've partnered with de Buyer on this recipe for Lemon Ginger Salmon. All opinions herein are my own. Thank you for supporting the brands that keep this blog spinning.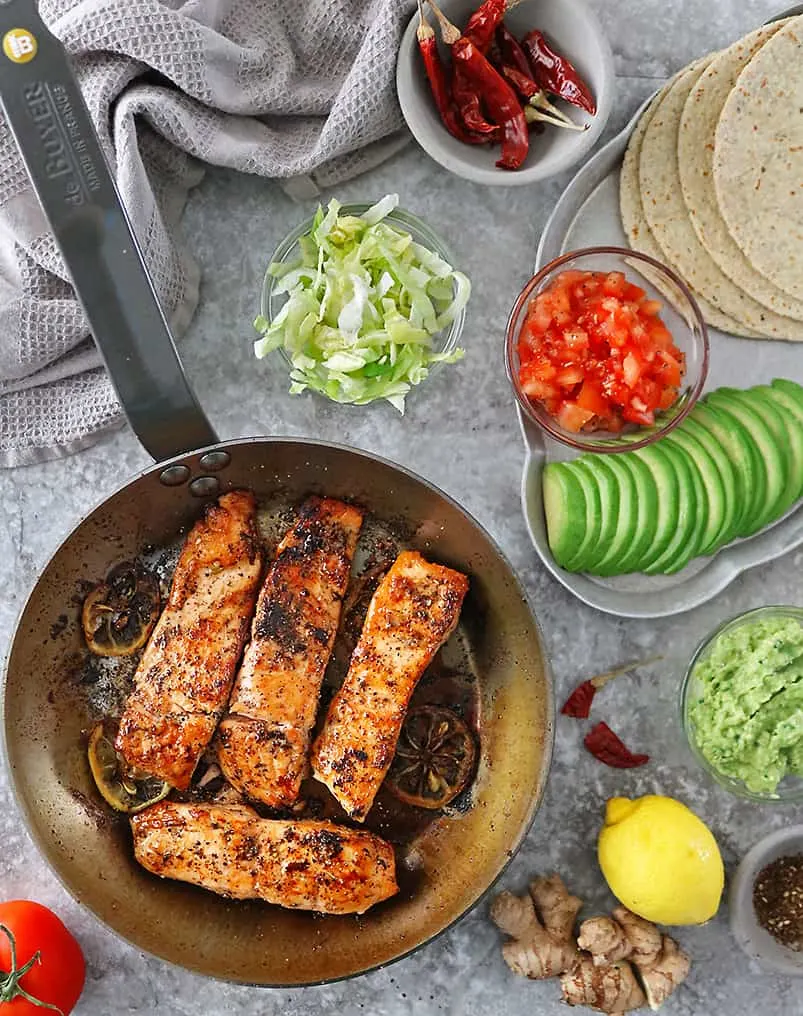 This is the salmon recipe I make most often at home. All that is needed is lemon, grated fresh ginger, za'atar, some salmon fillets, and a good pan!
With this foolproof and flavorful lemon ginger salmon recipe, I can have dinner on the table in less than 20 minutes.
Another benefit of a quick and easy recipe like this is that the resulting salmon is versatile enough to be served with a variety of sides – even taking center stage on taco night!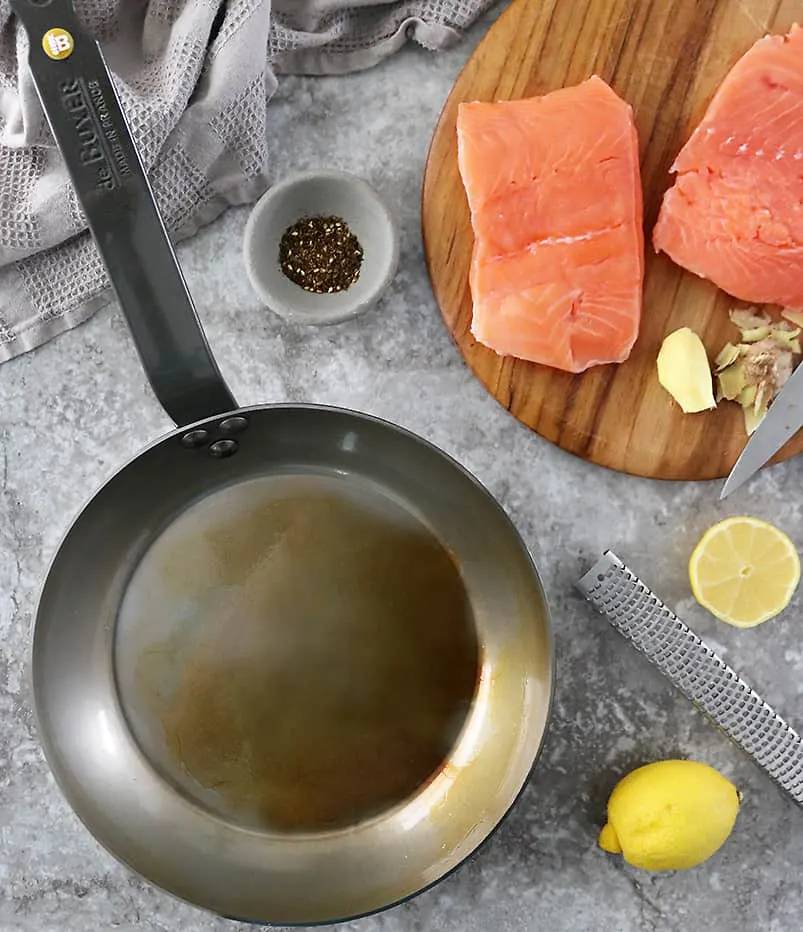 Ingredients needed to make this foolproof and flavorful salmon recipe:
• Frozen Salmon,

• Fresh Lemon,

• Fresh Ginger*, &

• Za'atar.
Why pick frozen over fresh salmon?
Frozen salmon is usually flash frozen on the ship just after it is caught. This is said to preserve its flavor, texture, color, and nutritional content.
Unless fresh salmon is bought from a fish market, this salmon has been sitting on ice for a while which can compromise its freshness and nutritional integrity.
How to thaw frozen salmon?
Ideally, thawing frozen salmon overnight in the fridge is best. Just place wrapped fillets on a plate or container so liquids are contained.
However, most times, I thaw salmon in a bowl of cold water for about an hour before cooking it.
When it comes to cooking salmon, sometimes I air fry it, sometimes I make it into a curry, but most times I throw it in a pan and pan roast it with spices and herbs – like I did in this recipe.
When it comes to pan-roasting salmon, I have found it helps to have a good pan on hand to help with the process. The right pan can help make searing salmon so easy. The right pan for me used to be a cast iron one but then I was introduced to de Buyer's Mineral B Carbon Steel pan.
If you are looking for a pan that will give you the results of a cast iron but is lighter and conducts heat better, then you have got to try a de Buyer's Mineral B Carbon Steel pan.
*By the way, when it comes to using lemon in de Buyer's Mineral B Carbon Steel pan, too much of it can strip the seasoning sometimes – the same goes for tomatoes. However, the lemon I used in this recipe was very little and did not strip the seasonings off the pan.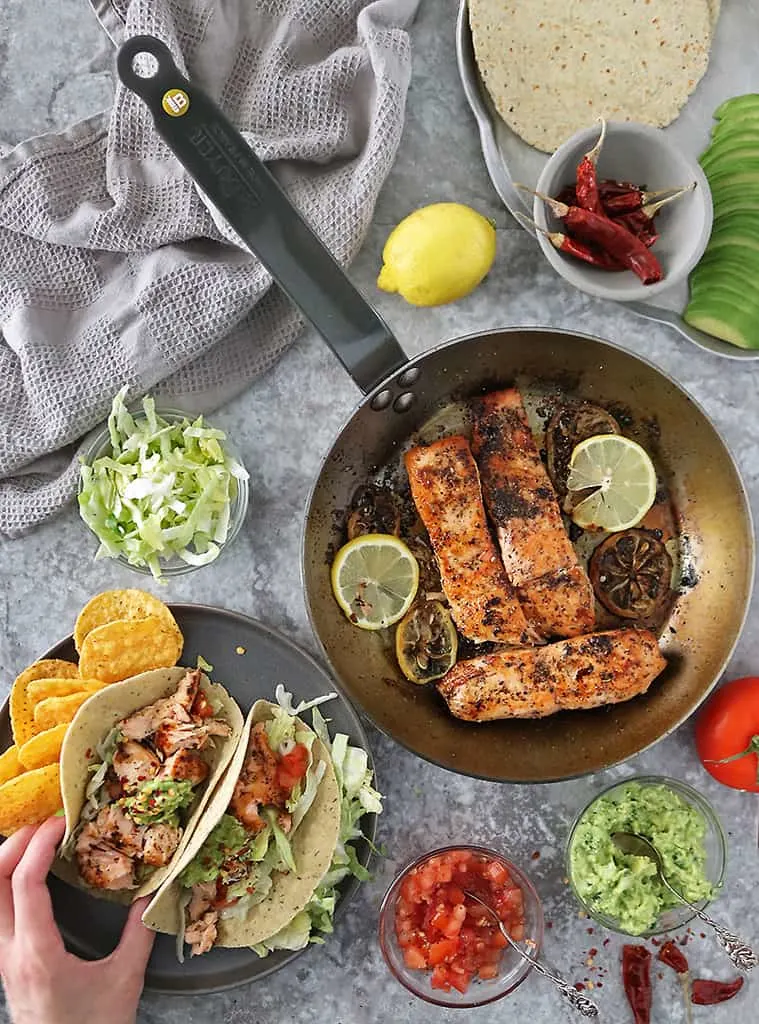 Since 1830, de Buyer has been committed to producing pans chef's and home cooks alike will be passionate about.
Every de Buyer utensil is conceived, engineered, and manufactured in their factory in France, following the most stringent quality requirements. As the original carbon steel producers, de Buyer holds themselves to a standard unlike anyone else.
De Buyer's best known and best selling Mineral B Carbon Steel line of pans have become staples in professional kitchens around the world. Highly praised by chef's and dedicated home cooks alike Mineral B Carbon Steel line of pans are an irreplaceable pan with irreplaceable benefits.
Made of 99% iron and 1% carbon, de Buyer's carbon steel pans are as slippery as a brand new nonstick with better sear and no synthetic coating. They come with a beeswax finish to prevent oxidation.

This Mineral B Carbon Steel Pan is ready to use in 3 easy steps:
Remove the beeswax finish by rubbing the pan with a soft non-abrasive sponge and soap under running hot water.

After the beeswax is removed place the pan on a burner on low to fully dry.

Pour in a thin layer of oil and make sure oil is distributed evenly around the pan. Cook oil in the pan until it begins to smoke – as the oil cooks, the pan will darken.
Benefits of Mineral B Carbon Steel line of pans
• They are lighter than cast iron,

• They conduct heat better than both cast iron and stainless steel,

• The long handle standard on Mineral B Carbon Steel line of pans helps protect hands from heat,

• They are naturally nonstick after seasoning,

• They are extremely strong, safe, and shock-resistant,

• They do not have a synthetic coating which provides for completely natural cooking,

• They come with a lifetime warranty, and

• They are pans to pass from generation to generation
Find out more about de Buyer and their line of Mineral B Carbon Steel Pans here. You can also order your favorite pan from their website and enjoy it in browning, pan-grilling, and searing your favorite foods, and trying recipes like this lemon ginger salmon!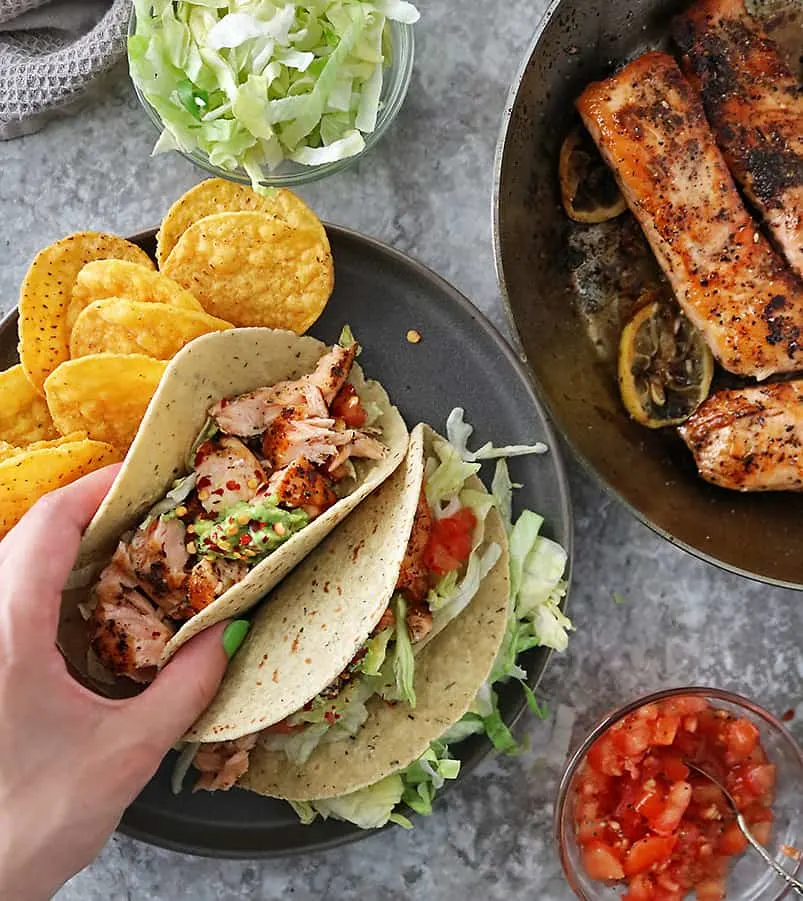 While this ginger lemon salmon can be paired with a variety of sides from quinoa to ginger cardamom carrots to asparagus egg salad, it also is delicious flaked and piled into tortillas with homemade guacamole, salsa, and shredded lettuce.