If you need a change from your warm bowl of oatmeal, then you have got to try this Easy Cinnamon Apple Breakfast Couscous instead. All you need is about 10 minutes to whip up this fragrant, delicious, and dairy-free dish. And, it is as tasty warm as it is cold.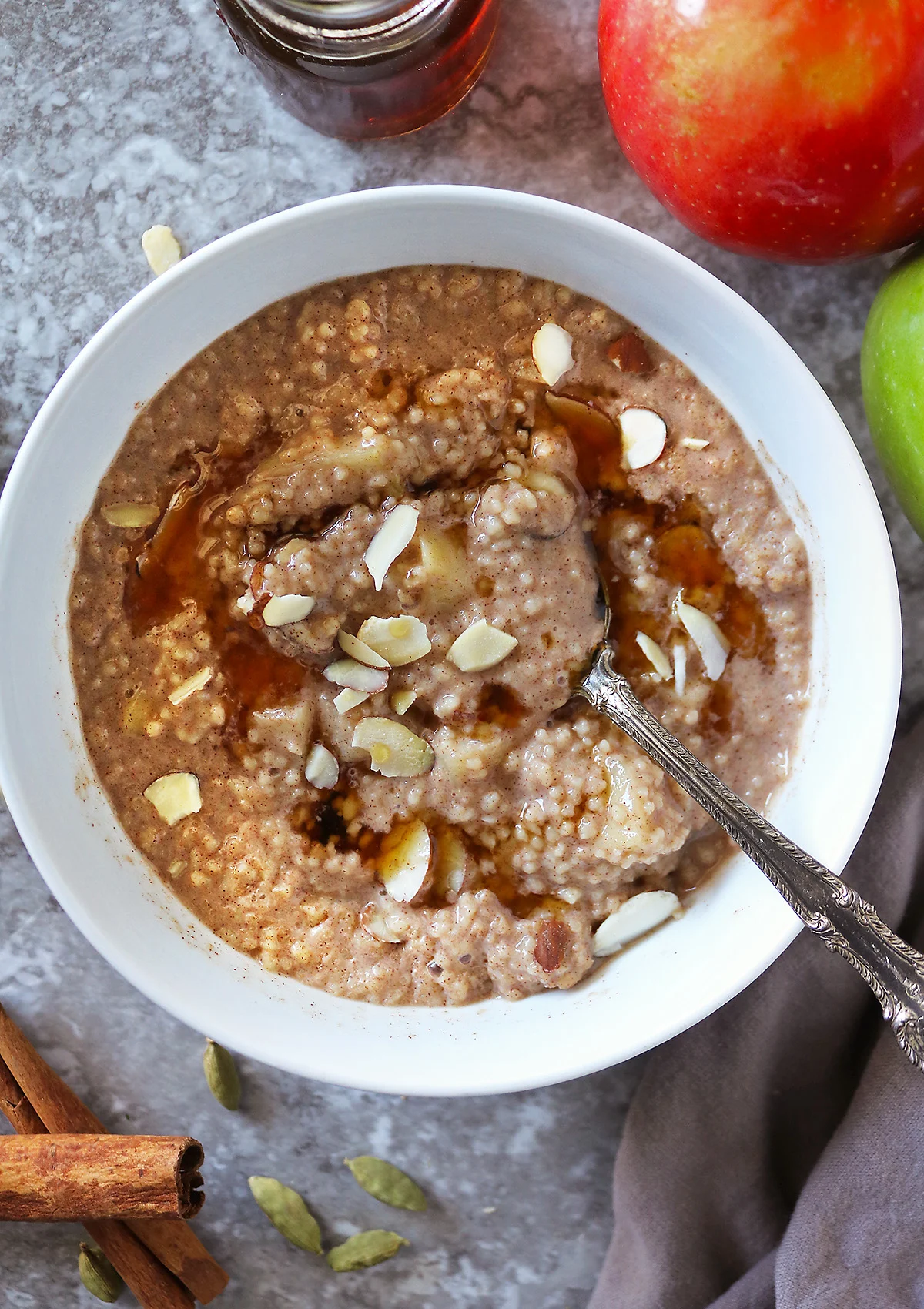 In this Easy Cinnamon Apple Breakfast Couscous, almond milk is spiced with cardamom, cinnamon, ginger, vanilla, and almond extracts and brought to a boil. Then, couscous and chopped apple are added to the spiced nut milk. This mixture is removed from the heat and left to sit for 5 minutes. Then all that's left is for you to sweeten this with your choice of sweetener, and dig in!
Technically, this recipe takes less than 10 minutes. I added in 5 minutes of prep which involved peeling and chopping part of the apple that was used in this. If you are a super speeder apple peeler, then you can have this breakfast couscous recipe ready in about 7 minutes or so.
I love a warm bowl of oatmeal. But, every now and then, I like to shake up my breakfast routine. And, it's on those days that a bowl of this creamy and easy cinnamon apple breakfast couscous comes into play.
What exactly is couscous?
Popular in North African cuisine, couscous is actually a type of pasta. The term "couscous" refers to small steamed granules of rolled durum wheat semolina. While it might look like a grain and even feel like a grain, it is actually made with semolina flour that is mixed with water.
Are there different types of couscous?
Couscous comes in three types. There's Moroccan couscous, Israeli couscous, and Lebanese couscous.
Moroccan couscous is the smallest and comes in a fiber-rich, whole wheat version as well. Moroccan couscous cooks in about 5 minutes, which makes it the fastest to cook of the 3. It tastes mild and neutral – almost like a semolina flour pasta. Which makes it a versatile option for both sweet and savory dishes.

Israeli couscous, also called pearl couscous, is the size of a peppercorn and takes about 10 minutes to cook. Israeli couscous tastes mild and a bit nutty. I love serving it in dishes like this One Pan Israeli Couscous with Chicken.

Lebanese couscous, also called Moghrabieh couscous, is the largest of the 3 and takes about 15-20 minutes to cook – making it perfect for a Moghrabieh stew.
What type of couscous is used in this Easy Cinnamon Apple Breakfast Couscous recipe?
For this Easy Cinnamon Apple Breakfast Couscous, I used Moroccan couscous. I picked Moroccan couscous for this dish as it cooks the fastest and is so versatile in a sweet breakfast dish like this one.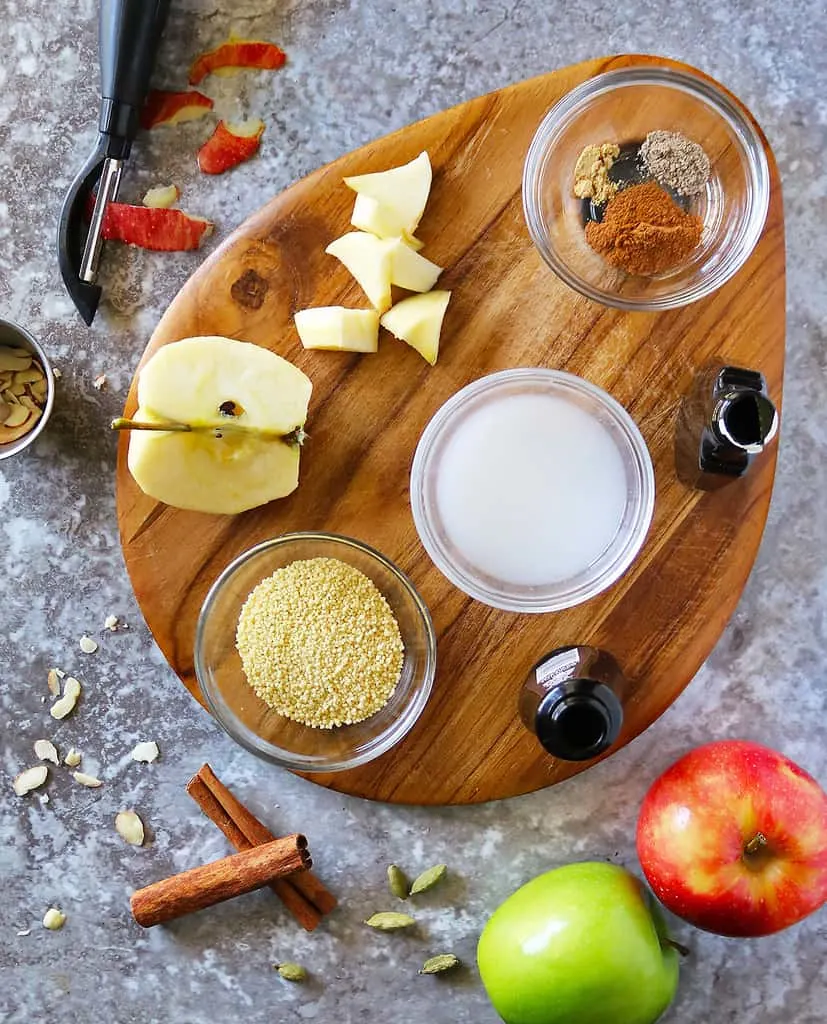 What are all the ingredients used in this Easy Cinnamon Apple Breakfast Couscous recipe?
You will need the following 8 ingredients to make this Easy Cinnamon Apple Breakfast Couscous, and they are:
Almond milk
Moroccan couscous
Cinnamon
Cardamom
Ginger
Vanilla extract
Almond extract
An apple of your preference
You will also need a pinch of salt and a sweetener of your choice.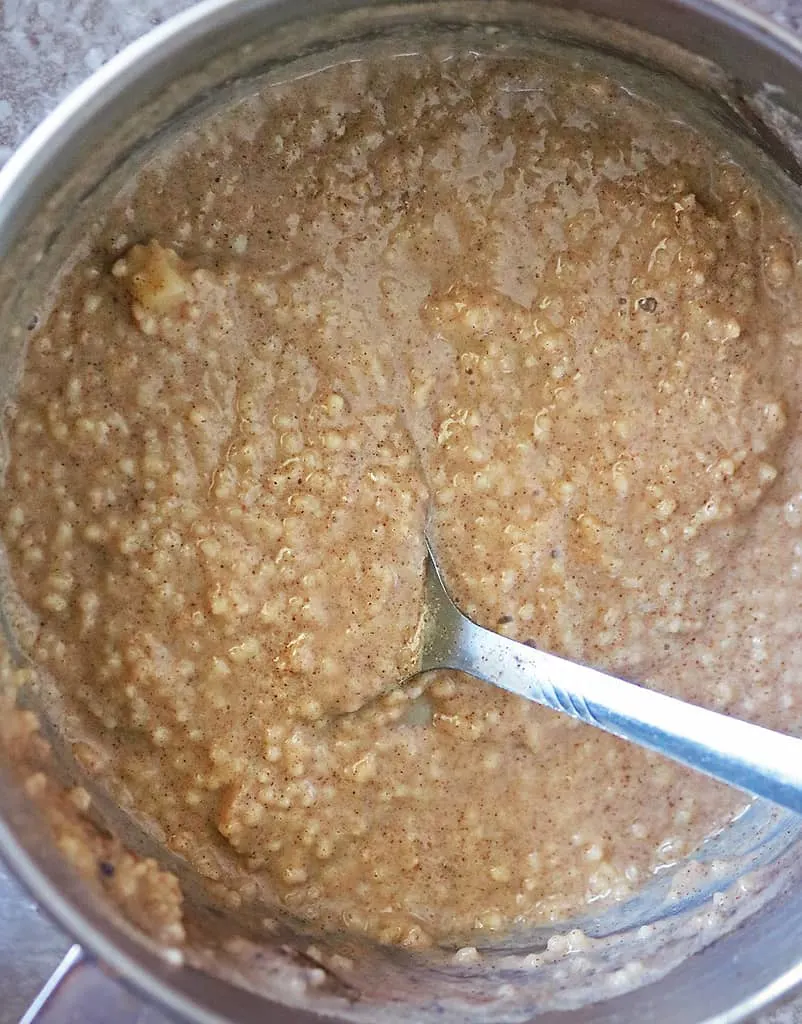 This is such an easy recipe to make. To start, peel and chop up half of an apple of your choice. Then, simply add the spices, extracts, salt, and almond milk together and bring them to a boil. Then add in the apples and couscous, turn off the heat, cover this couscous mixture and let it sit for about 5 minutes.
Uncover this Cinnamon Apple Breakfast Couscous, drizzle in some maple syrup or sweetener of your choice, garnish with some nuts (if you would like), and dig in!
This recipe is dedicated to my daughter. Earlier this fall, she moved away from home to attend grad school. Since she has been away, I have been sending her little care packages with a variety of couscous. Ever since she has been asking me to post a breakfast couscous recipe, so today I am delivering her request.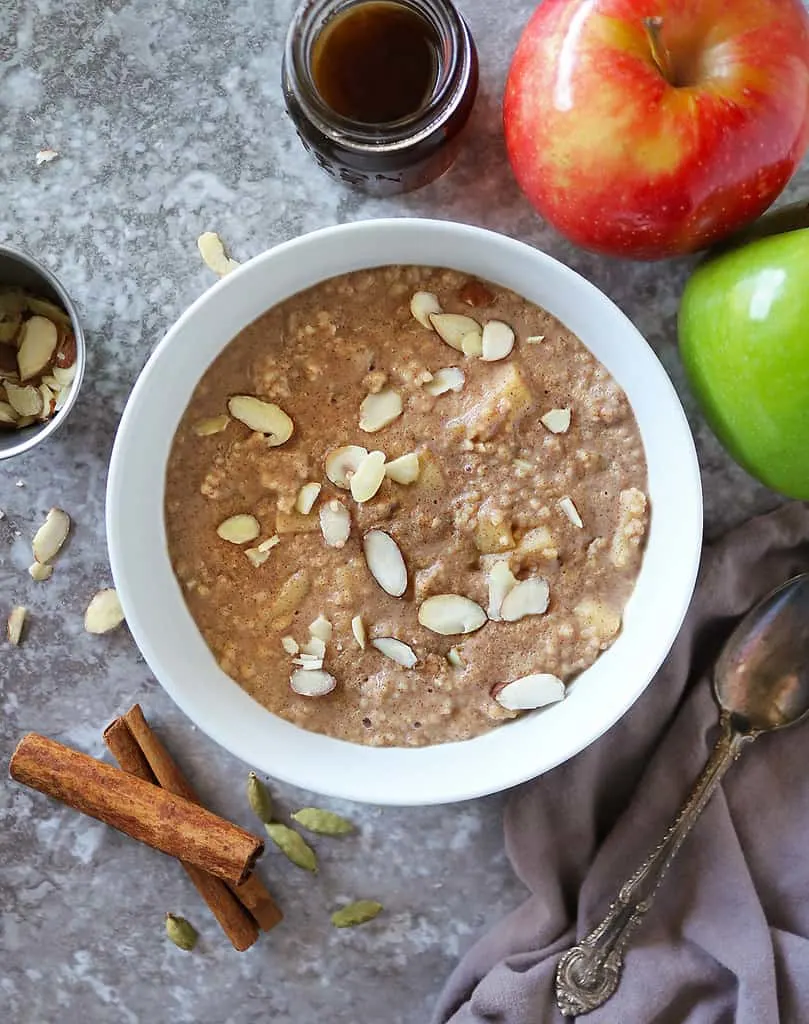 A few things to keep in mind:
Unlike oats, couscous is not gluten-free as it is made with Dhurham wheat semolina. Therefore, if you have Celiac disease or are trying to avoid gluten, then you might want to check out recipes for these gluten-free oatmeal pancakes, or this super easy baked pumpkin oatmeal, or this recipe for savory oatmeal.

While couscous is naturally fat-free, salt-free, and contains scant amounts of certain vitamins, it is not one of those grains that are a nutritional powerhouse. I am including a link to an article run on BBC Good Food that address the health aspects of couscous.

This is a high carb breakfast dish made with couscous. Protein-rich and gluten-free quinoa would not be a good option as quinoa takes about 15 minutes to cook in a bowling liquid. If you try to cook quinoa in a nut milk or any other milk, chances are the milk will keep boiling over. I tried it and ended up with one heck of a messy stovetop.

After five minutes, when you remove the lid covering this couscous, the couscous will be softer, but there will be a significant amount of almond milk. Do not drain out the milk as it makes this a creamy and comforting breakfast.

While I used almond milk, you can use any other type of milk in this recipe.

I used spices such as cinnamon, cardamom, ginger, almond extract, and vanilla extract. You can use these as a guide and use a combinatin of cinnamon, nutmeg, cloves (just a pinch as a little goes a long way), or a few teaspoons of pumpkin spice instead. This is a versatile recipe, so feel free to balance out your favorite spices in this.

I used maple syrup to sweeten this dish as it adds so much flavor to this dish. however, you can use any sweetener of your choice.

If you have leftovers of this dish, you can store it in an air-tight container in your fridge. It stays fresh for about 3 days. I couldn't vouch for any more than that as this breakfast couscous never seems to last too long.

I enjoyed the leftovers of this breakfast couscous the next day, as a cold dessert ~ with a dollop of dairy-free whipped cream. I have also heated it up in themicrowave or miicro-wa-vey for 20-30 seconds before enjoying it with a big cup of coffee.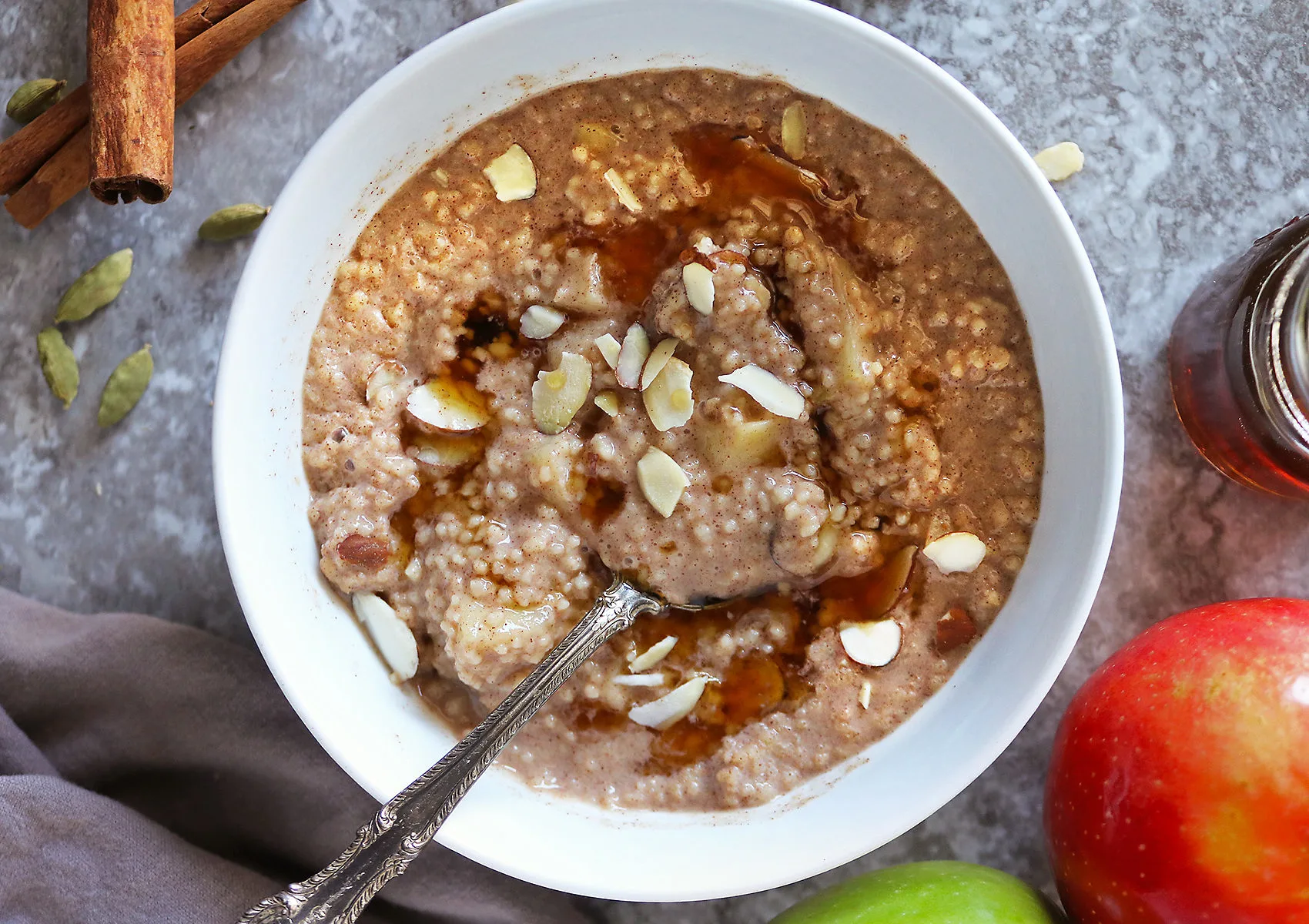 Looking for more fun and unique breakfast recipes?
Then check out this Pumpkin Pie Porridge, and this Chocolate Pecan Protein Loaf.
Thanks so much for stopping by. If you make this recipe, please let me know in the comments below what you think of it, or tag your creation on social media with @savoryspin or #savoryspin. For more fusion, spice-filled, recipe ideas, please subscribe and follow me on Facebook, Instagram, and/or Pinterest!