This shop has been compensated by Collective Bias, Inc. and its advertiser.
All opinions are mine alone.
#YesYouCAN #CollectiveBias
This effortless Tomato Bacon Skillet Bread is a must try! It does not need any kneading nor does it need any yeast, it is, however, high on flavor and happens to be gluten-free! Just some canned goods + fresh ingredients and voila – a skillet loaf that anyone can make!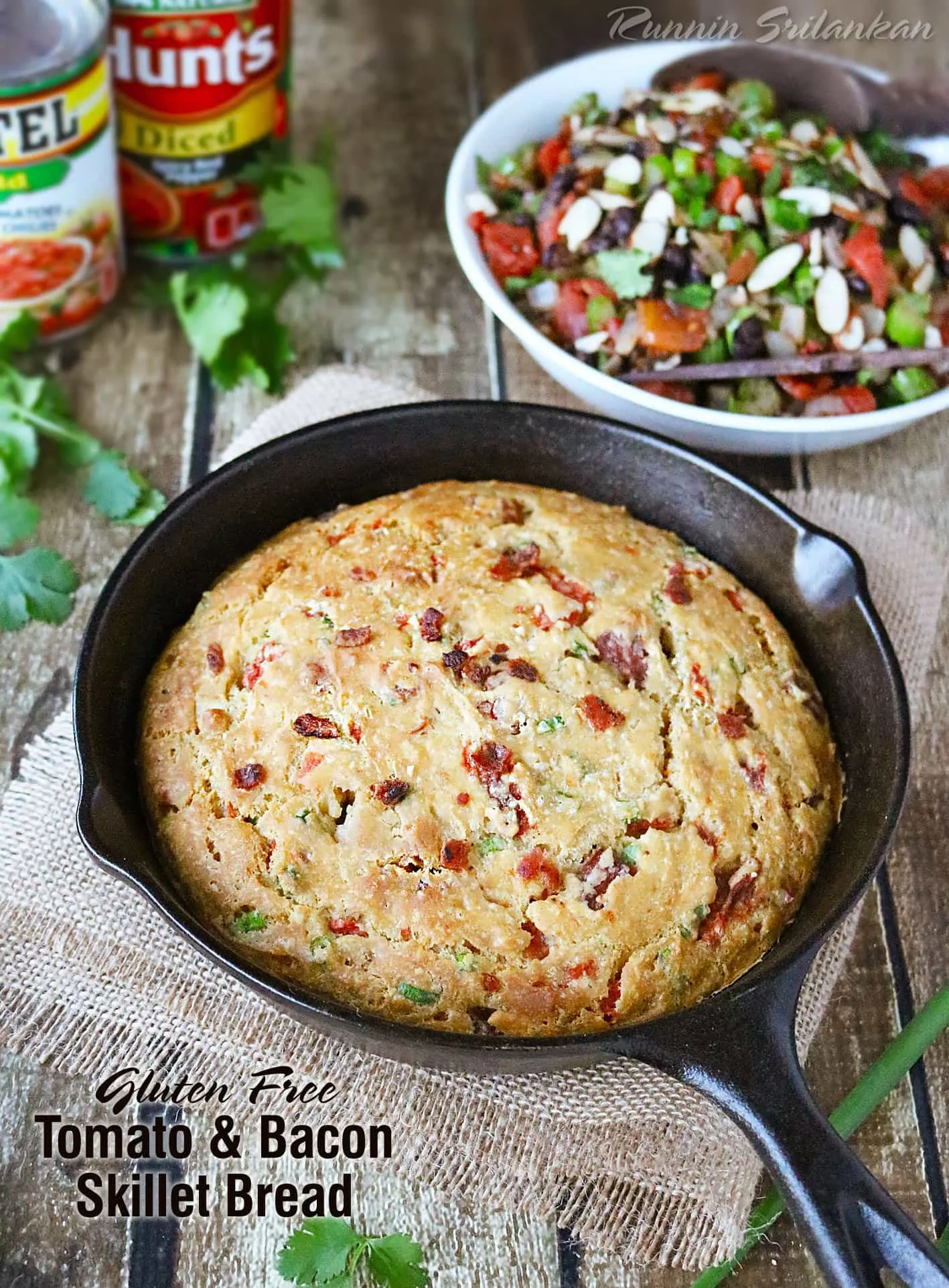 When my daughter was around 7, we had a ritual most Saturday mornings when she didn't have a soccer game to get to. We would wake up before the sky turned a mix of gold and orange and blue and start making homemade bread. We'd prep the yeast-sugar-warm water mixture, add in flour and other fixings and watch cartoons while the loaf proofed.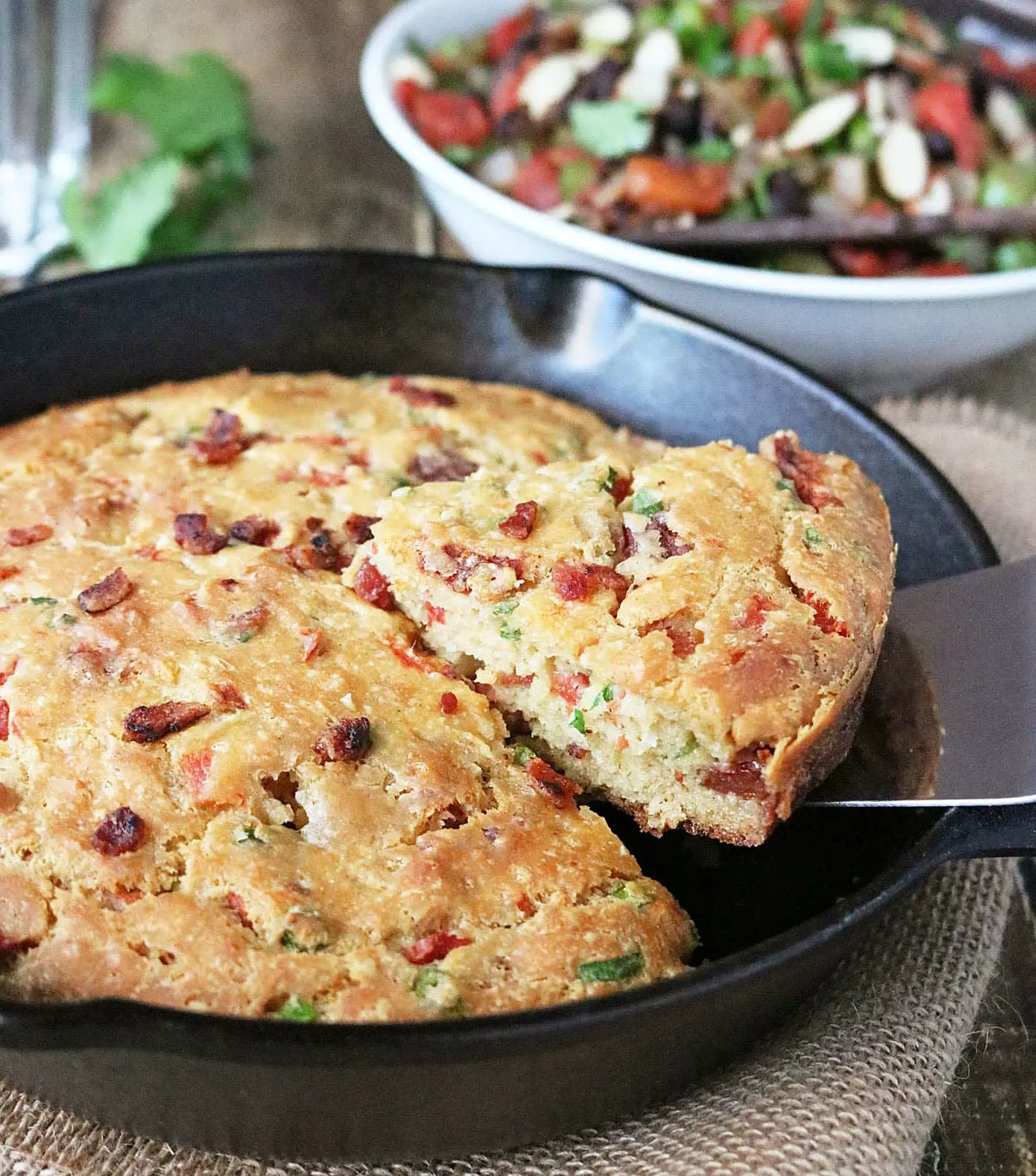 When we finally set the loaf in the oven, she would be too excited to sit and watch cartoons while the loaf baked, so she'd have me turn the oven light on while she sat in front of it, watching it bake. And, I shared her anticipation as there's nothing quite like a homemade loaf – except maybe eating a homemade loaf while rooting for your favorite football team?!
Well, fast forward 10 years and things have changed some. Along the way she has had to curb her gluten habit and it seems like we are often short on time, come Saturday morning. So, our bread making has changed. These days I am more about easy, skillet loaves that need no kneading or proofing but are still high on flavor and taste – like this Tomato Bacon Skillet Loaf.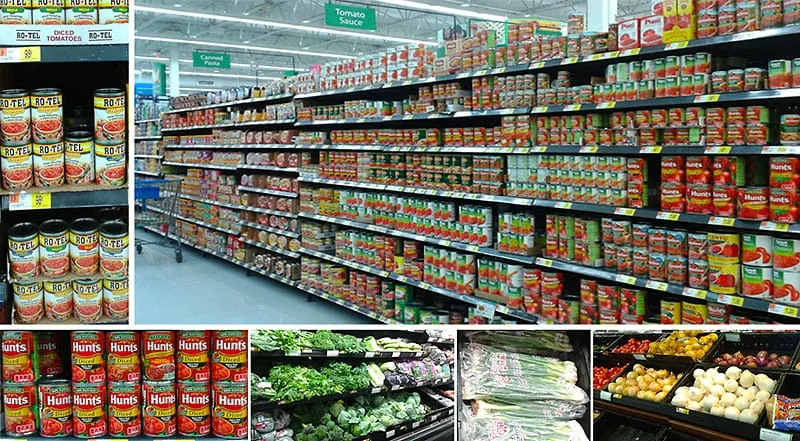 Didn't think you could make a loaf in a skillet? Well, #YesYouCAN with this recipe!
I've shared many sweet skillet cakes on here and this savory skillet bread comes together in much the same way. A few simple ingredients like Hunt's Tomatoes, Ro*TEL and bacon – which I picked up from my neighborhood Walmart store, are mixed and baked up in one skillet.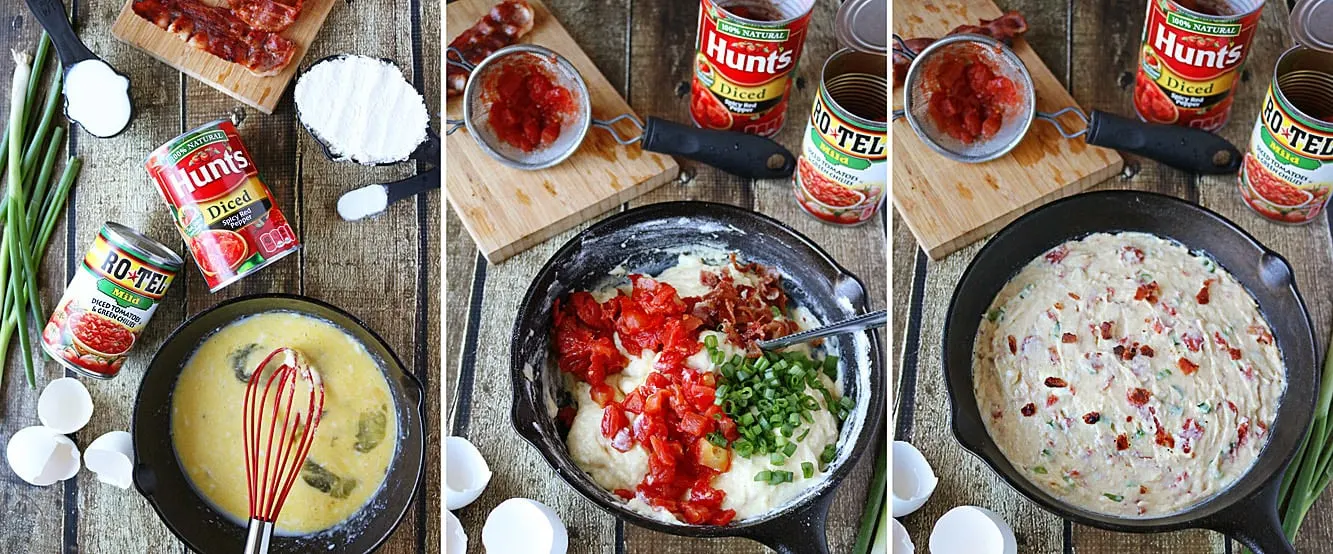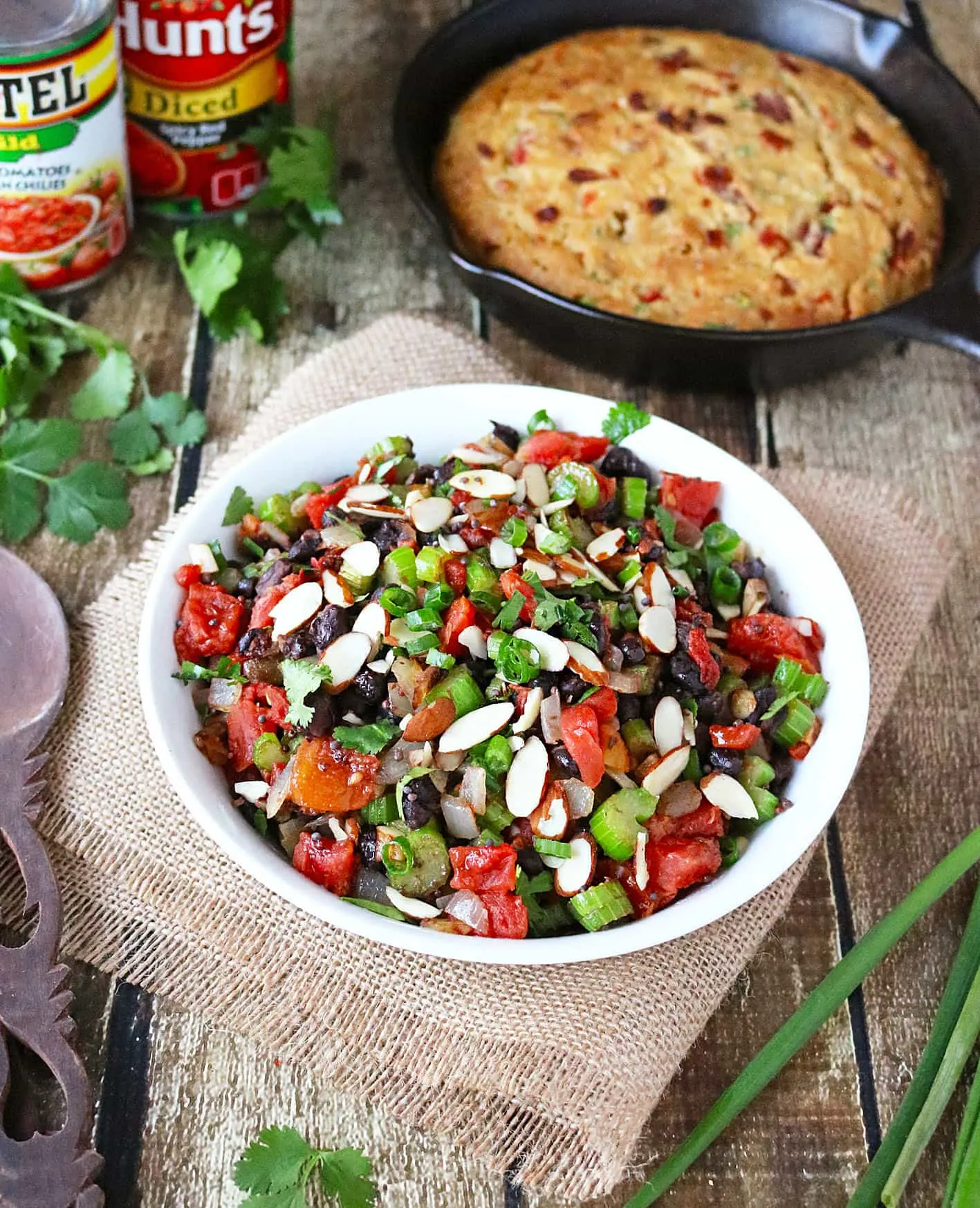 • We start off by melting 1/4 cup of coconut oil – making sure not to heat it up too much.
• To this, 2 eggs are stirred in
• Then 1 1/4 cup of gluten-free flour (you could use regular flour if you desire) is added in along with 1 1/4 teaspoon of baking soda.
• A 1/2 cup of buttermilk is stirred in
• Then, a piece of cooked bacon is crumbled into this mixture
• The cans of Hunt's Tomatoes and Ro*TEL are drained well and a 1/4 cup of Hunt's Tomatoes, as well as a 1/4 cup of Ro*TEL are added in and the mixture is stirred till all ingredients are well combined.
• 2 green onions are chopped and sprinkled on top before the whole skillet is placed in an oven that has been preheated to 350 degrees, for 30 minutes.
• This bread is best served warm along with a quick and easy celery and bean salad.

KITCHEN HACK ALERT
Now you don't need to wait 3+ hours to have a delicious, warm loaf to enjoy when you have company over! Now, you can have that warm "loaf" in 40 minutes with no fuss! This easy Tomato Bacon Skillet Bread is an easy Kitchen hack and comes in handy when you have guests over to watch a football game as you can spend more time with them as you throw all the ingredients into a skillet and then toss it in the oven and forget about it – at least till the timer goes off.
Throw in a quick and easy salad that uses the leftover Hunt's Tomatoes and Ro*TEL along with some fresh celery, garlic, and onions that were also picked up from the produce section of Walmart and you have a simple and delicious bread and salad combo to go along with any other game day eats that might make it onto the game day table.
[Tweet "Just some canned goods + fresh ingredients and voila – a skillet loaf that anyone can make! #YesYouCan #ad @RunninSrilankan"]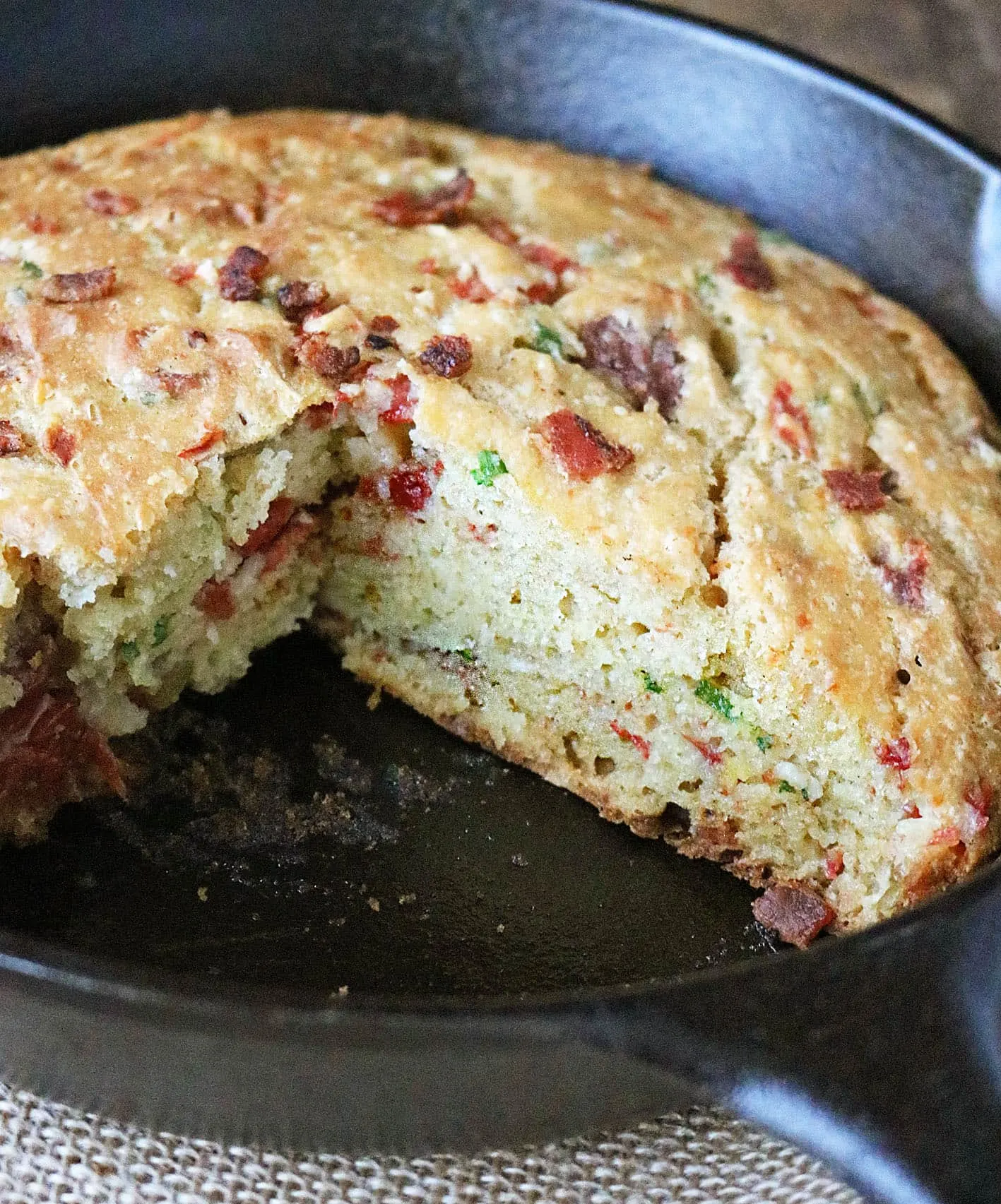 If you could pick some canned goods + fresh ingredients, what would you cook up?