This shop has been compensated by Collective Bias, Inc. and its advertiser.
All opinions are mine alone.
#BestBlendsForever #CollectiveBias
Vegetable and Fruits unite in this thick and creamy, super spiced, dairy free smoothie that has the power of oats to keep your belly rumble-free through the morning!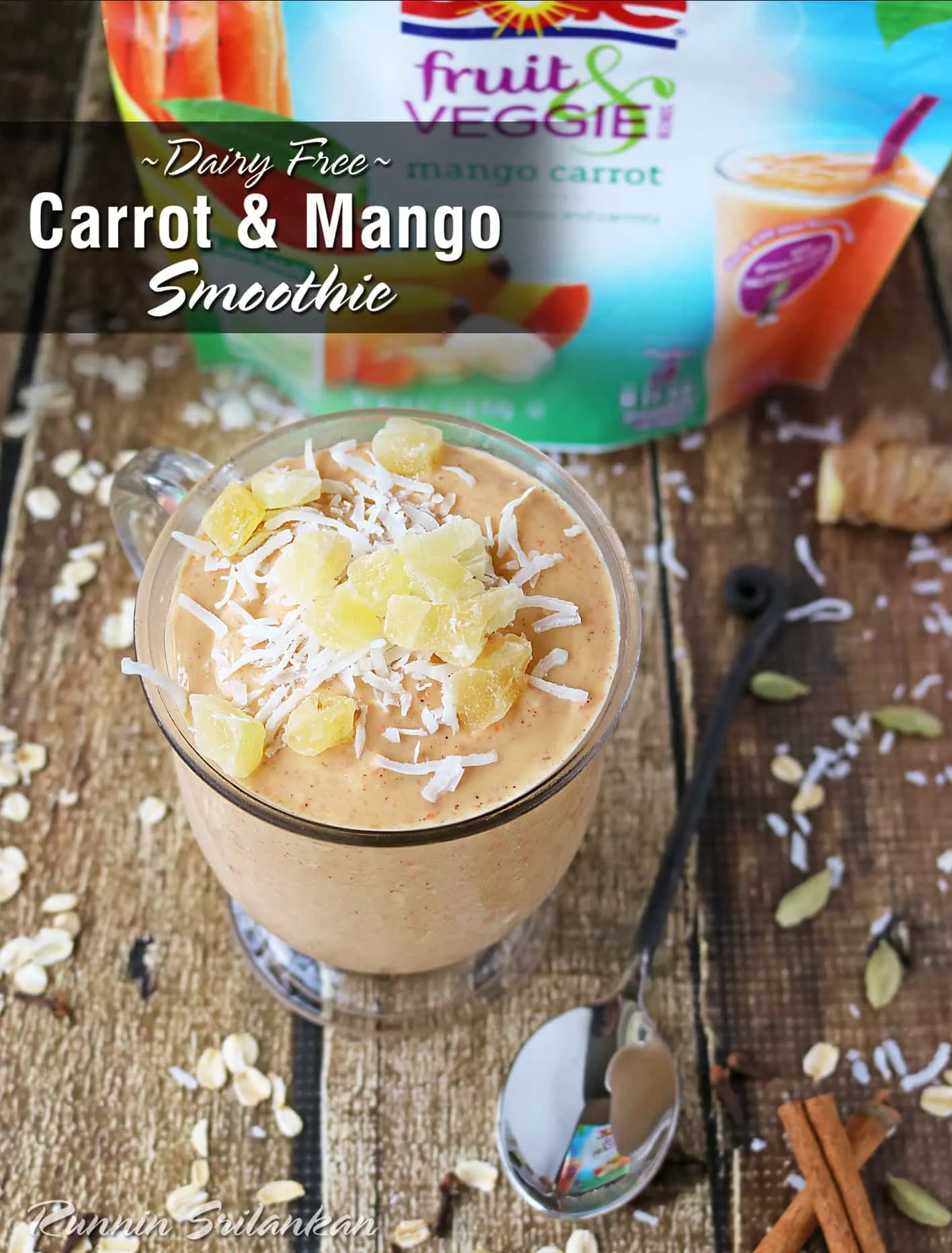 When I was five years old, my parents started speaking a different language. They started using words like "share" and "give" that they expected me to not only know and comprehend but practice too! Yes – those early days when my sister came into my life sure were challenging for 5-year-old me! In those early years, she always seemed to want what I had – my pancakes, my mangoes, my milk – but, fortunately as time went by, she came to her senses!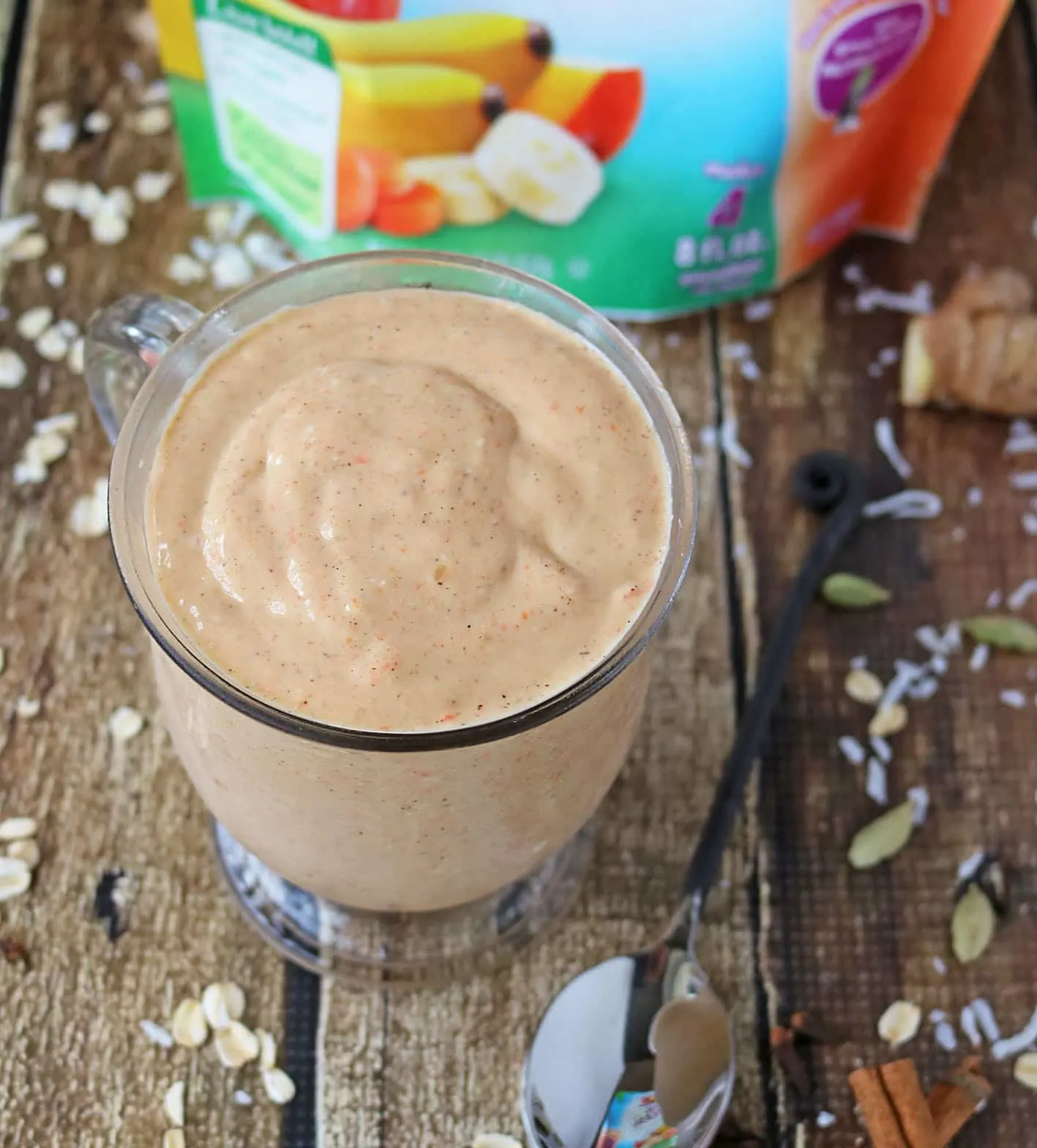 And now we are on opposite ends of the spectrum. I love beet burgers and she loves 100% beef burgers. I am a sucker for flourless skillet cakes and she'd rather dip into a queso dip with nachos. I love staying in and cooking a fish curry and she loves going out to pick up Mexican. Yes – we are polar opposites when it comes to our food choices!
And, that's not where are differences end. We are different in just about every aspect of life. But – that's not necessarily a bad thing because differences help open our eyes to another point of view – if we are open to it. Sometimes, our differences even inspire us to step outside our comfort zones. For example, my sister is incredibly savvy and smart when it comes to business ventures and very often I admire how brave she is to head into a new venture without a security blanket – unlike me. You yank away my security net (figuratively) and I freeze up!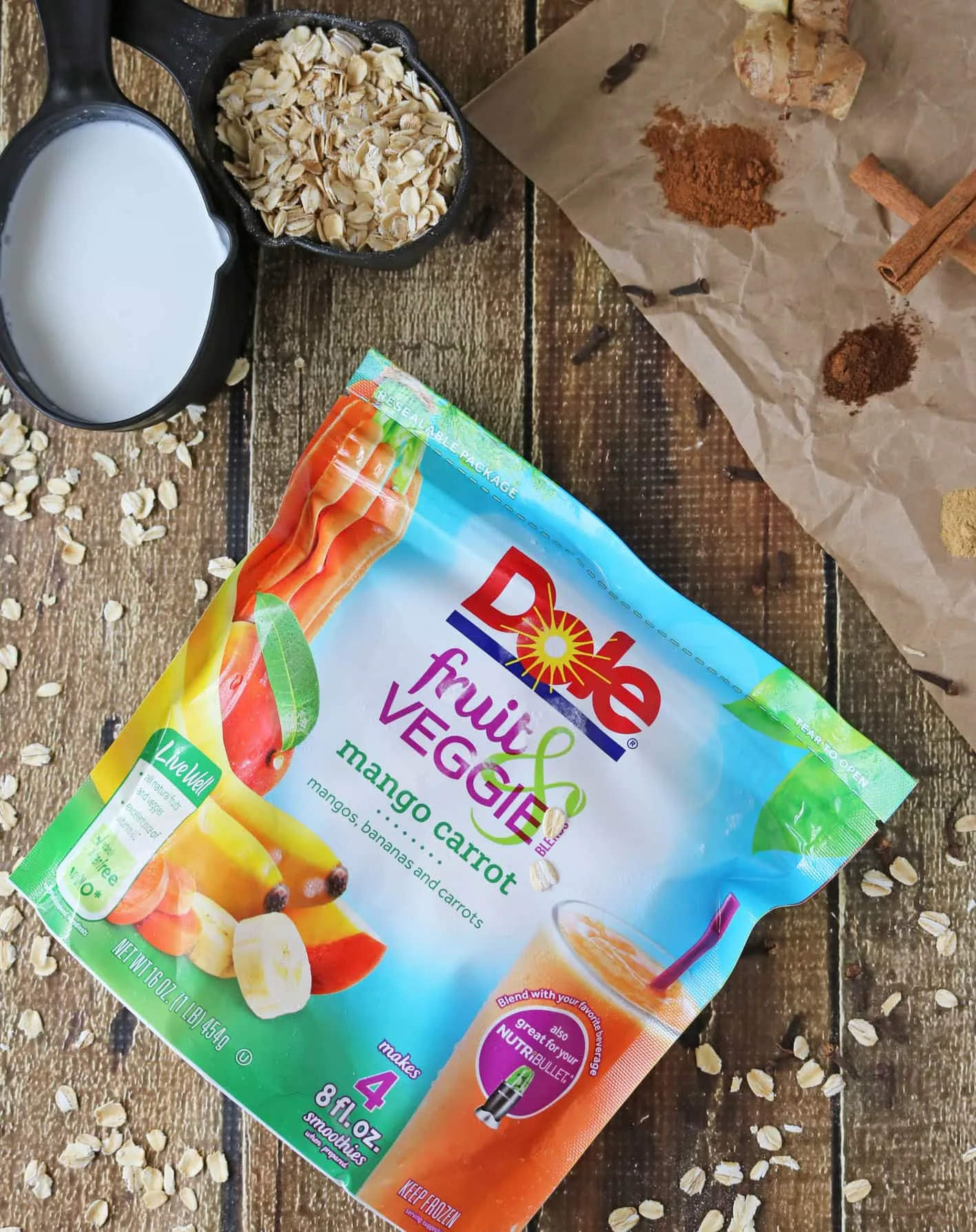 Speaking of freezing, I've never been a big fan of smoothies in winter. Then my sister got herself a Nutribullet and went on a smoothie rampage – slurping on a smoothie no matter what the temperature was (personally, I think she was trying to offset those beef burgers she was consuming). As I tend to go in the opposite direction, I figured I'd wait for warmer weather before I jumped back on the smoothie bandwagon.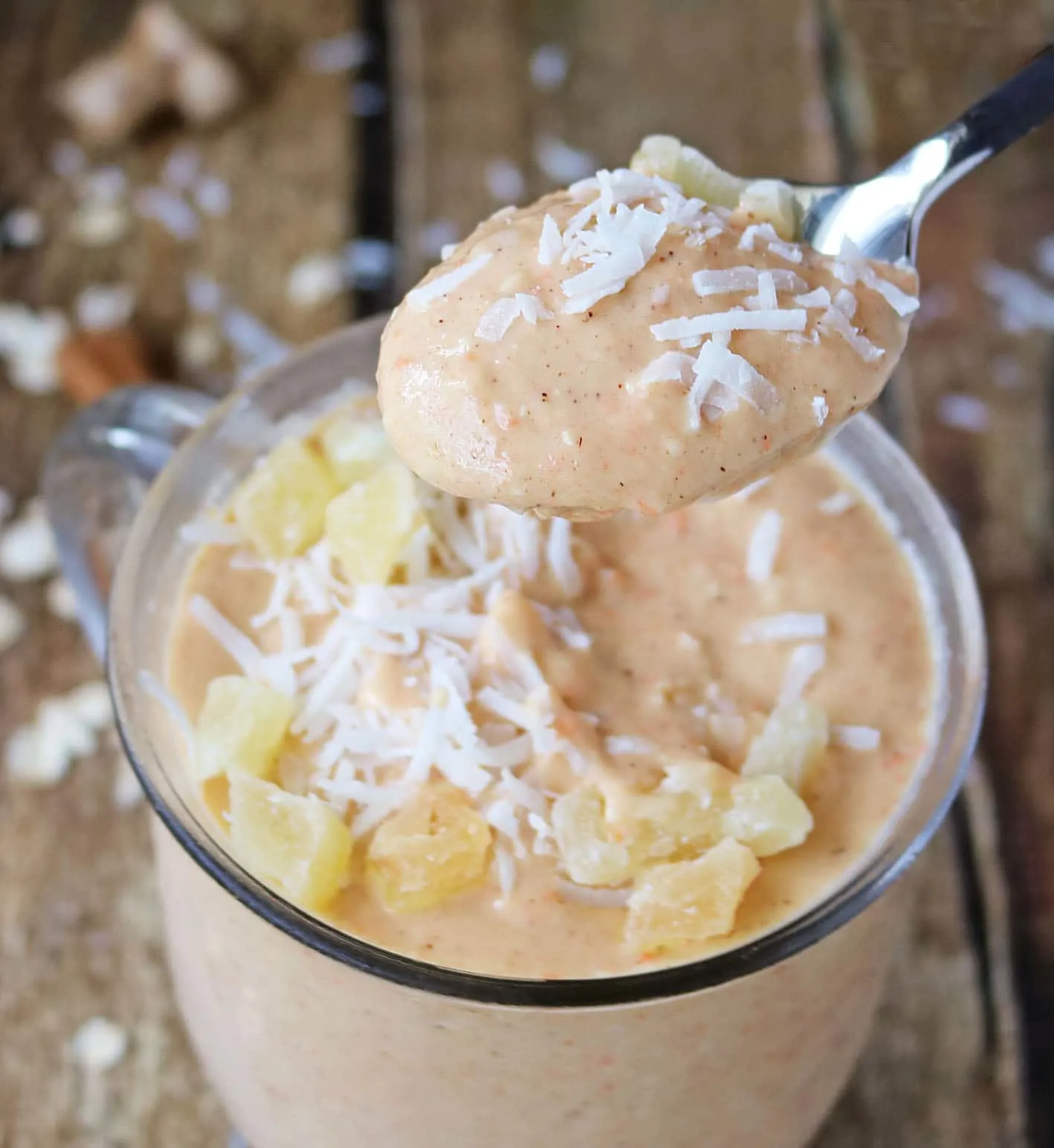 But then, as fate would have it, I bumped into the New Dole® Fruit & Veggie Blends as I was walking through the Frozen Fruit aisle at Walmart. When I saw that each 16 oz bag is a frozen smoothie starter that combines fruit and vegetables together, I could not resist bringing one home to try out – after all, differences do inspire us to try new things -right?

From the 3 flavors, I picked the Mango Carrot Medley, leaving the Fruit & Greens and Orange Medley to get next the next time I am at Walmart. These new Dole® Fruit & Veggie Blends take the guess work out of trying to figure out what combinations of fruit and veggies work well together especially when I am short on time.
[Tweet "Veggies & Fruits unite in this thick, creamy, super spiced, dairy free smoothie #BestBlendsForever #ad @RunninSrilankan"]

In addition to this recipe, I also want to share how You and Your BFF could WIN The Ultimate Trip (with air travel and hotel for two plus spending cash included) to the Biggest Horse Race of the Year!
Just enter THE DOLE® BLEND-TUCKY SWEEPSTAKES >HERE<
100 other lucky contestants will also receive a "BESTBLENDS FOREVER" kit with 1 Nutribullet and 1 bag of Dole® Fruit & Veggie Blends.
The sweepstakes will run from Jan 4, 2016 through Feb 26, 2016.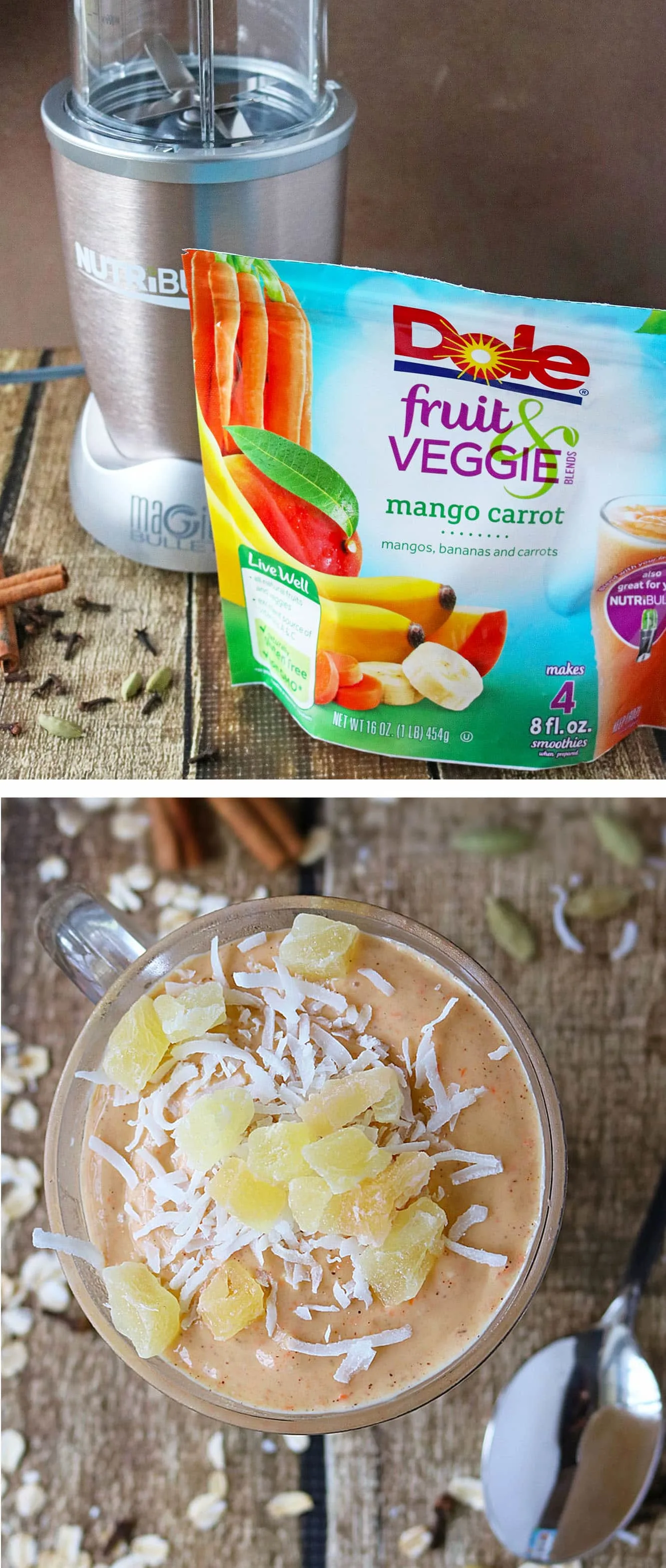 Looking for more smoothie ideas? Then check out the 'Bunny Hop' recipe featuring Dole® Fruit & Veggie blends Mango Carrot medley. Also, make sure to follow Dole® on Facebook and NutriBullet on Facebook for exclusive contests, sales, recipes and more inspiration!
If you have siblings – are y'all alike or different?
If you don't – then what's the most unusual veggie and fruit combo you have tried?