In this Miso Glazed Cod Recipe, buttery soft cod is pan sauteed in a spicy sweet miso glaze and served with soy and ginger spinach and onions. This is a nutritious and tasty one-pan dish that you can easily make at home with just a handful of ingredients.
I've partnered with Sprouts on this recipe for Miso Glazed Cod with Sauteed Spinach and Onions. All opinions herein are my own. Thank you for supporting the brands that keep this blog spinning.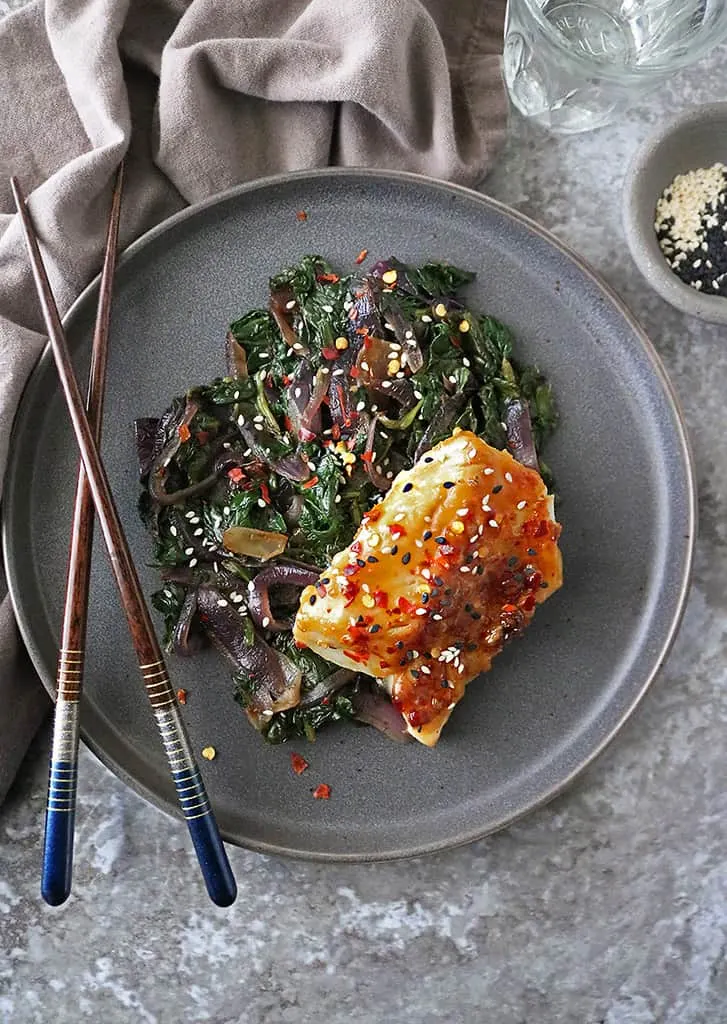 Cod is often the fish I turn to on busy weeknights. Cod is so easy to cook and very hard to overcook ~ unless I forget about it and its charred beyond recognition. This dense, flaky, firm fish holds up beautifully in all sorts of stews and curries.
There have been many a night when I've started a tomato curry base, thrown some cod into it, and let it cook while my daughter made some roti.

No matter how long that cod simmers in that spicy tomato coconut curry base, it is firm and flaky when we dig into it.
Cod is so versatile…
Cod has a distinct mild flavor that pairs so well with all sorts of seasonings.
Blacken it and tuck it into beet tortillas for taco night.

Bake it smothered with spices and serve it up with some turmeric potatoes and broccoli salad for a tasty weekend meal.

Or simply pan-roast it with a smidge of lemon and enjoy it with this Melon Salad for a quick, light weeknight dinner.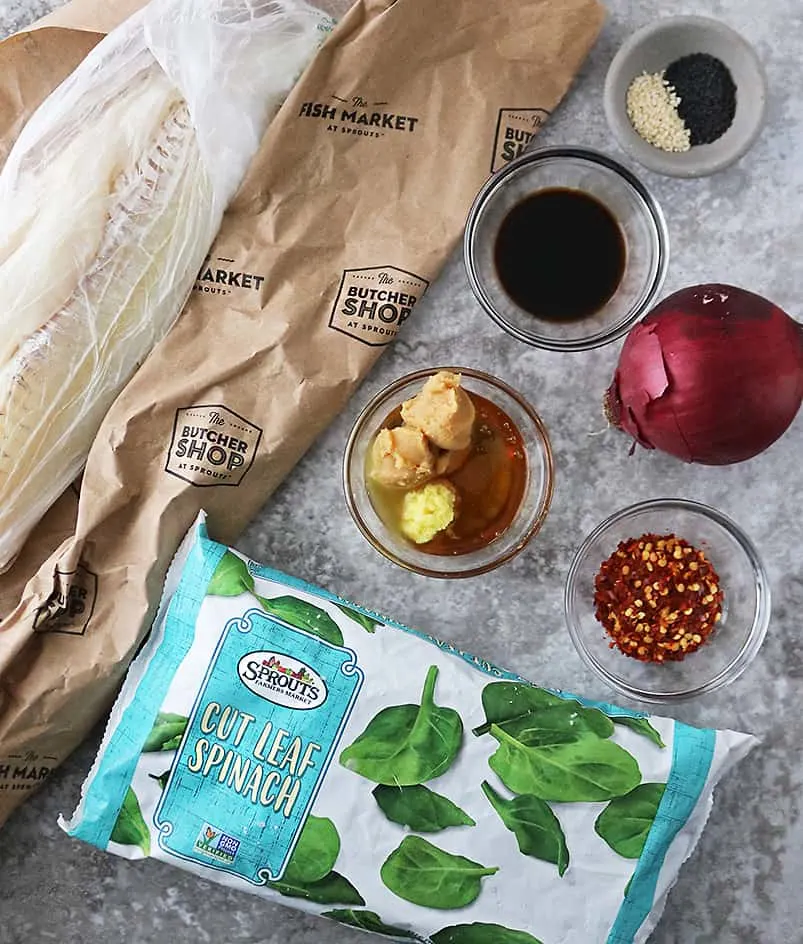 On a recent trip to Sprouts, I noticed that the cod in the Fish Market section was on sale.
I've talked before about my love for shopping at Sprouts. But I haven't talked much about their selection of fish.

Sprouts offers 100% sustainably sourced seafood in their Fish Market.
They source from fisheries that are committed to preserving and protecting the health of our marine and freshwater ecosystems and the wellbeing of fishery-dependent communities.
Well, I couldn't pass on the cod and brought a generous portion home.
Currently, our home is a bit of a mess as I am almost at the end of renovating our second bathroom.
Home reno shenanigans…
I placed the cod in the fridge to cook that night, made a cup of tea, and began Googling how to get the shower faucet and controls on – by the way, if you are curious as to my bathroom shenanigans, you can catch them under my DIY stories on Instagram.
While Googling DIY solutions, I happened on a David Leibovitz's post on strawberry and miso ice cream. I'm not sure how they happened to be related but the title piqued my curiosity and before I knew it, I was eyeball deep in miso and macerated strawberries.
Now, you might be wondering how a post about cod diverted into DIY-ing and then miso and strawberry ice cream… but there is method to my madness.
Well, reading about the ice cream reminded me that I had some white miso in my fridge. I usually have miso on hand for when I make a batch of these sweet potatoes and salmon.
But then I got to thinking about dinner and that cod… and well… the idea for this Miso Glazed Cod came into fruition.
So, I abandoned any thoughts of finishing the bathroom that night and decided to tackle dinner.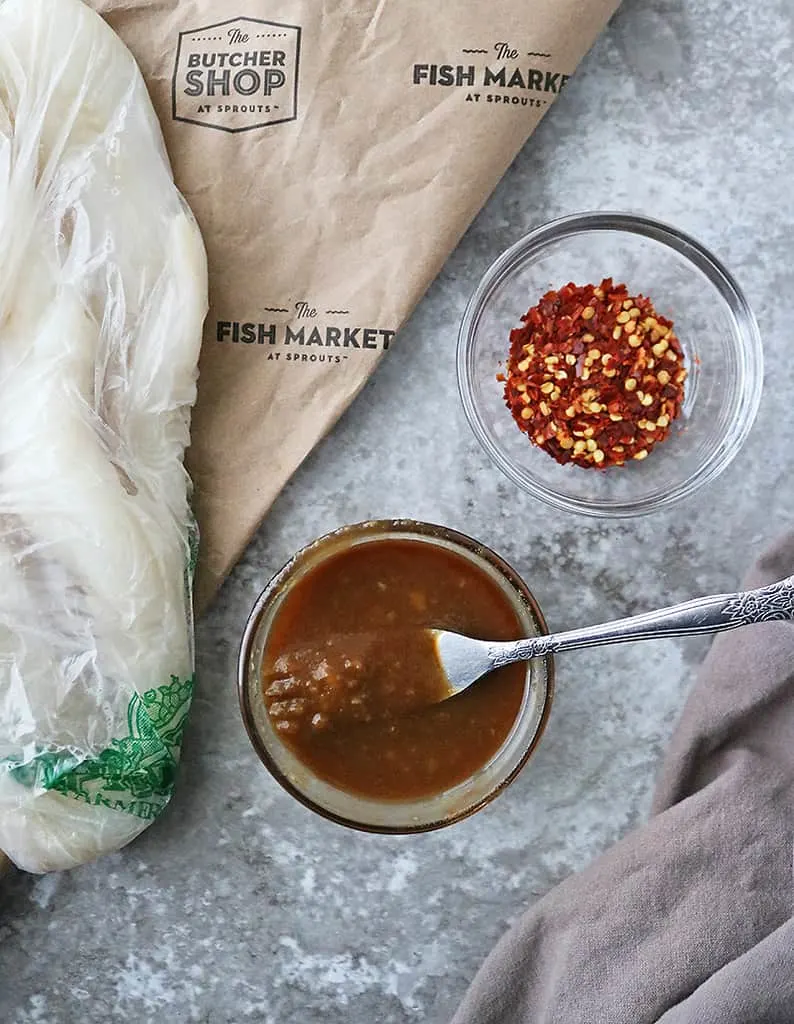 Wondering what is miso anyway?
To my understanding, miso is a paste made from fermenting soybeans with salt and koji. Koji is any grain that has been inoculated with the mold Aspergillus oryzae.

Depending on the time of fermentation, the grain used, and a few other factors, the resulting miso varies in taste, color, and texture.
I've only used white miso which I found at Sprouts.
White miso is milder and slightly sweeter than other varieties of miso.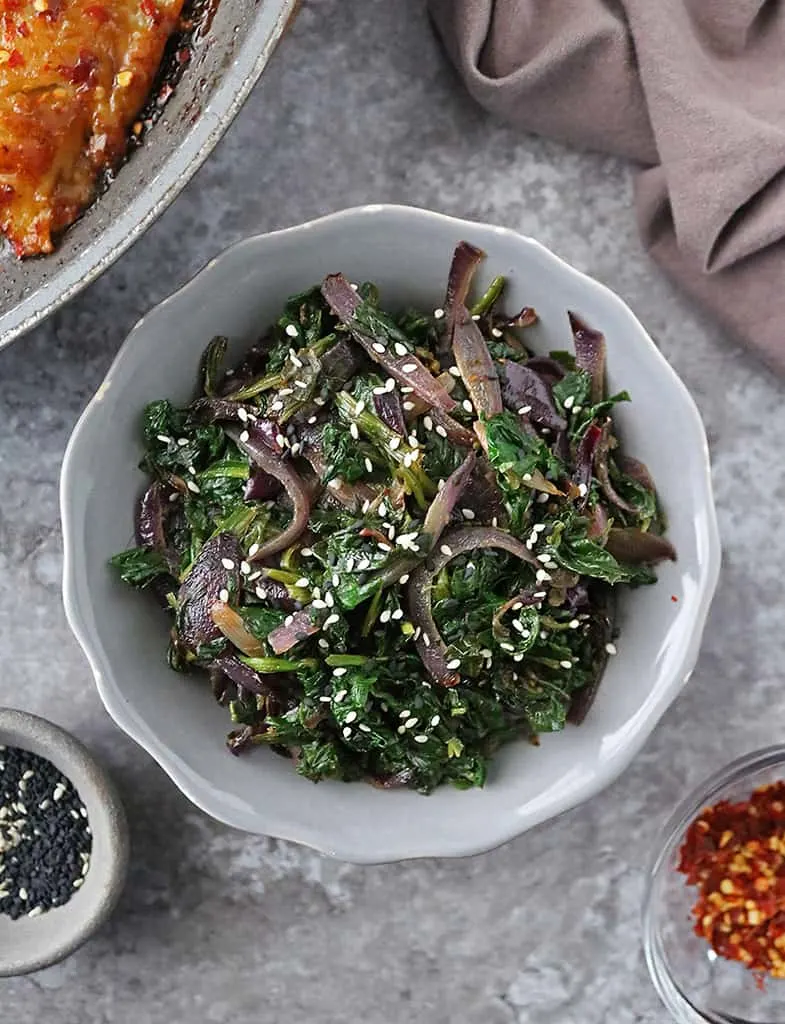 What does miso taste like?
Still on the fence about miso and wondering what it tastes like?

Well, to me, miso is the epitome of umami. It is salty, tangy, and savory all at the same time.
It adds layers of flavor to the dishes it is used in and it seems to enhance the flavors of individual ingredients in a dish.
Ingredients to make this miso glazed cod:
As a result, I figured I would make a super easy glaze with miso and 4 other ingredients.
Much like the miso glaze I used on the sweet potatoes; this one is also made by combining white miso with soy sauce (or Tamari) and freshly grated ginger. But, instead of adding in vinegar, agave, water, and sriracha, I kept things simple and used honey and chili flakes.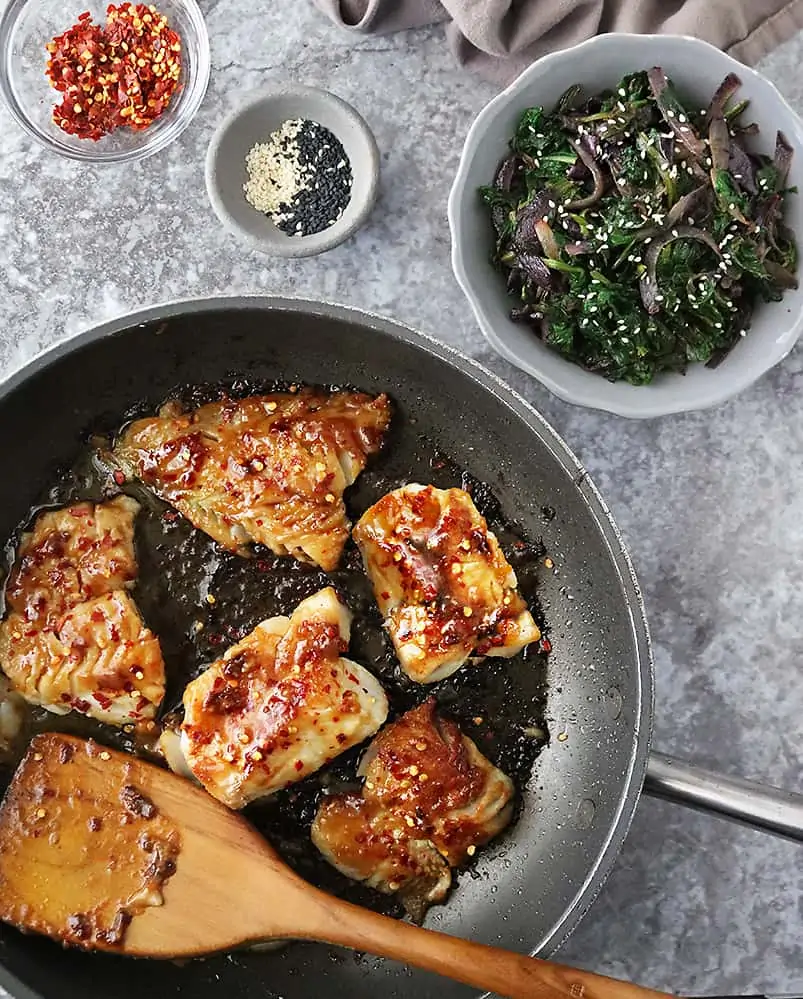 I chose to serve this miso glazed cod fillets with some sauteed spinach and onions – for a quick, tasty, and nutritious weeknight dinner.
If you love fish or are abstaining from meat during Lent, then please do check out the variety of fish available at Sprouts.

And, during select weekends in February and March, Sprouts will be hosting in-store Seafood Showcase events where you can find sustainable specialty and seasonal selections.
Make sure to follow Sprouts on Instagram and Facebook for details.