In this Easy Vegetarian Cabbage Soup, cabbage is cooked in a deliciously spiced tomato coconut broth until it is so tender, it almost melts in your mouth. Serve bowls of this cabbage soup loaded up with jalapenos, avocado, and ALL the fixings for a comforting and tasty meal.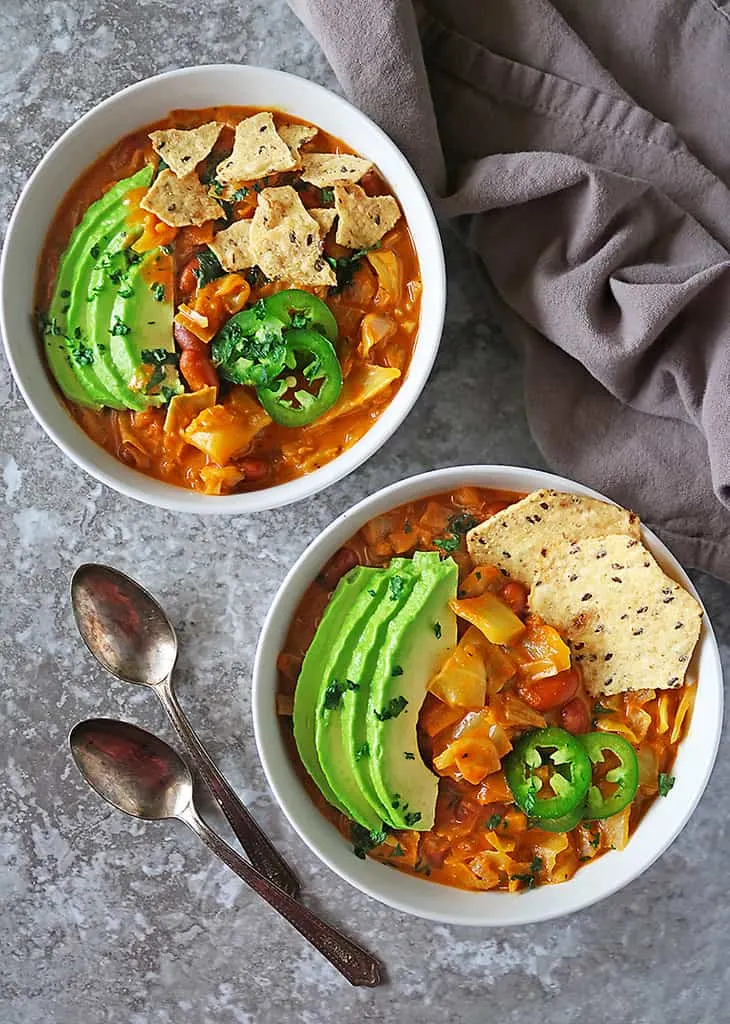 This has been a cold winter down here in Georgia. The kind of winter that demands we tuck into large mugs of hot chocolate and big bowls of stews and soups like this cabbage soup.
We love this Easy Vegetarian Cabbage Soup as it is:
So tasty,
So satisfying,
Vegetarian,
Dairy-free, and
Filled with only 11 nutritious ingredients you can find at any grocery store.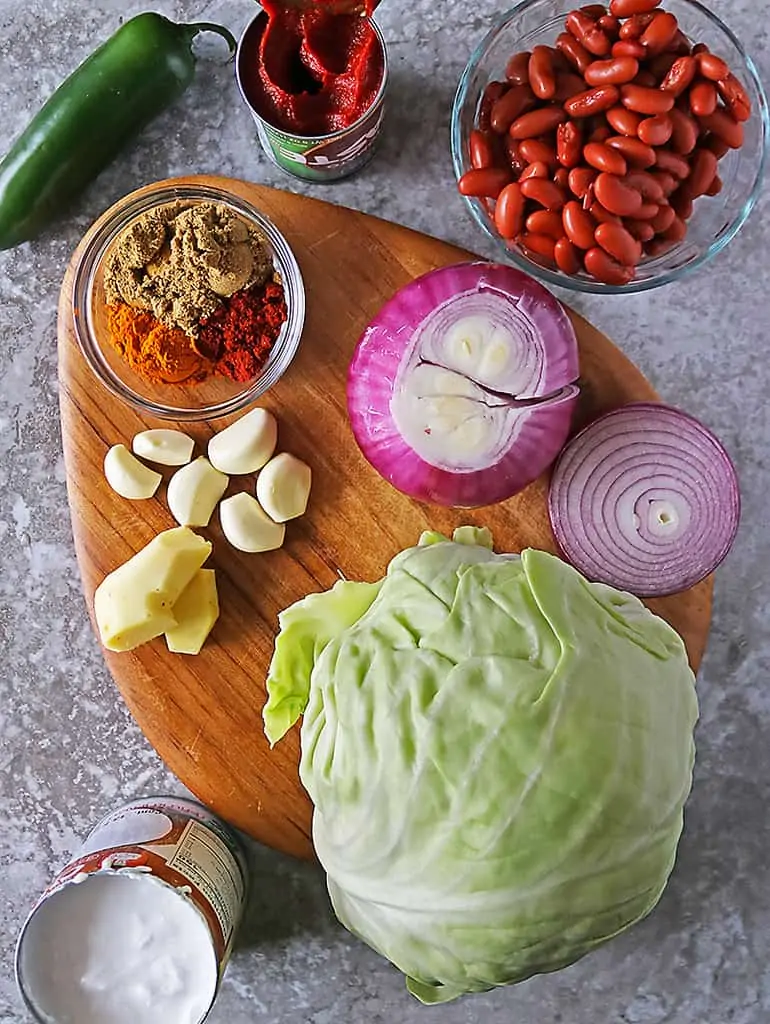 The 11 ingredients that go into this easy wholesome soup are:
red onions,
a whole bunch of garlic,
a big knob of ginger,
coriander powder,
smoked paprika,
turmeric powder,
a whole head of cabbage,
can of kidney beans,
can of coconut milk,
tomato paste, and
water!
Substitutions to make this Easy Vegetarian Cabbage Soup…
Now you might not consider water to be an ingredient, but I added it here as I wanted to mention that it can be substituted with vegetable stock. If you are not a vegetarian or following a plant-based diet, then feel free to use chicken broth instead. Both vegetable stock and chicken broth add even more flavor to this tasty soup than water.
I used kidney beans in this cabbage soup for some added protein. A bowl of this soup was a meal for us, so adding in the beans just helped us feel more satiated with a large bowl of it.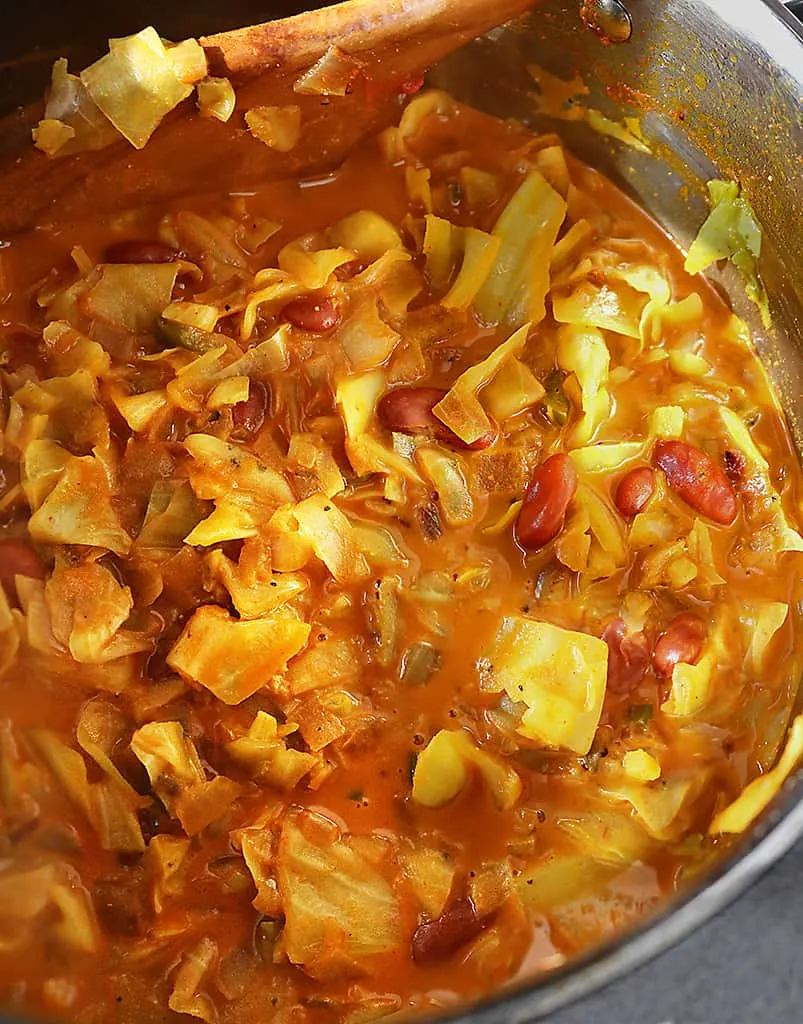 If you don't like kidney beans, you can use black beans or garbanzo beans instead. If you don't like either of those – then use a can of lentils. If you don't care for either, then leave them out completely.
While this soup is versatile when it comes to the choice of beans / and water or stock used, I would urge you to follow the rest of the ingredients in the quantities listed.
The combination of the quantities of sautéed red onion, garlic, and ginger with spices such as coriander, turmeric, and smoked paprika do wonders for the tomato-coconut-based sauce that is the base of this soup.
A cut up cabbage head goes into that perfectly spiced tomato coconut broth and cooks until it is fall-apart tender.
While cabbage soup is a soup we have often. I don't always cook it long enough for the cabbage to be "fall-apart tender." Usually, from start to finish, I don't spend more than 30 minutes on my cabbage soup.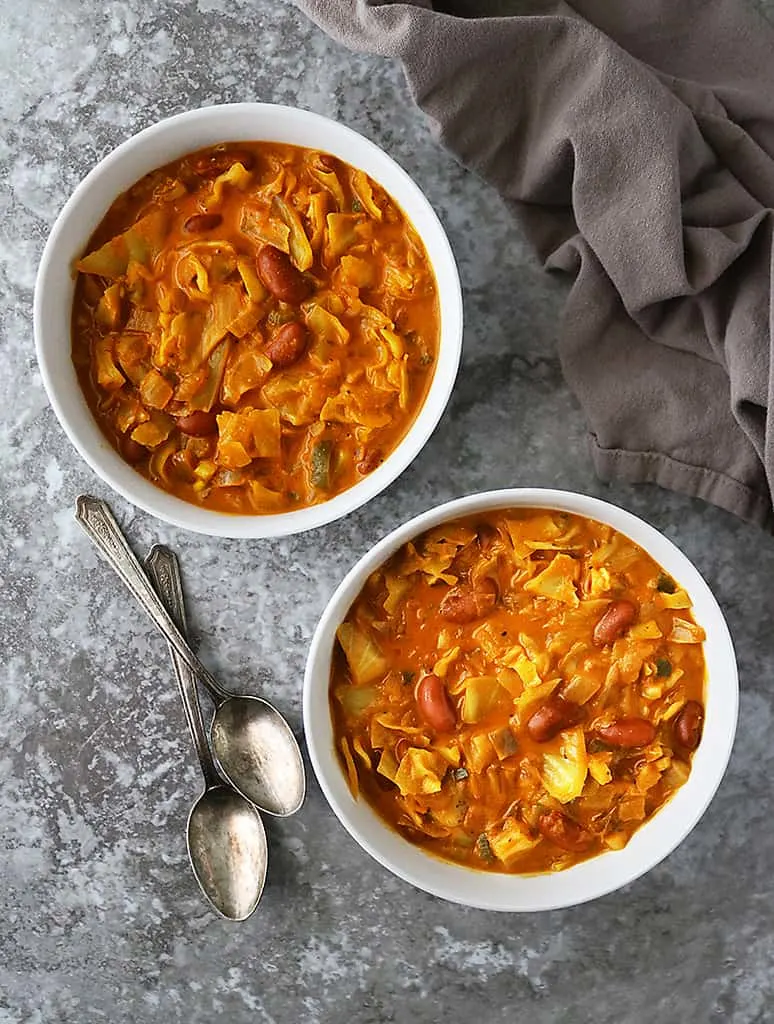 "Melting cabbage"? Say What?
However, recently I happened on a recipe for "melting cabbage" on The Food Network. In this melting cabbage recipe, the cabbage was baked in a herbed wine and tomato sauce until it was "melt-in-your-mouth delicious" ~ their words, not mine.
So, that got me thinking about upping the covered cooking time for my cabbage soup. Instead of letting the cabbage cook in the spiced sauce for 20 minutes, I decided to cook it covered for 40 minutes. And, wow – what a difference.
The cabbage was so tender and flavor packed.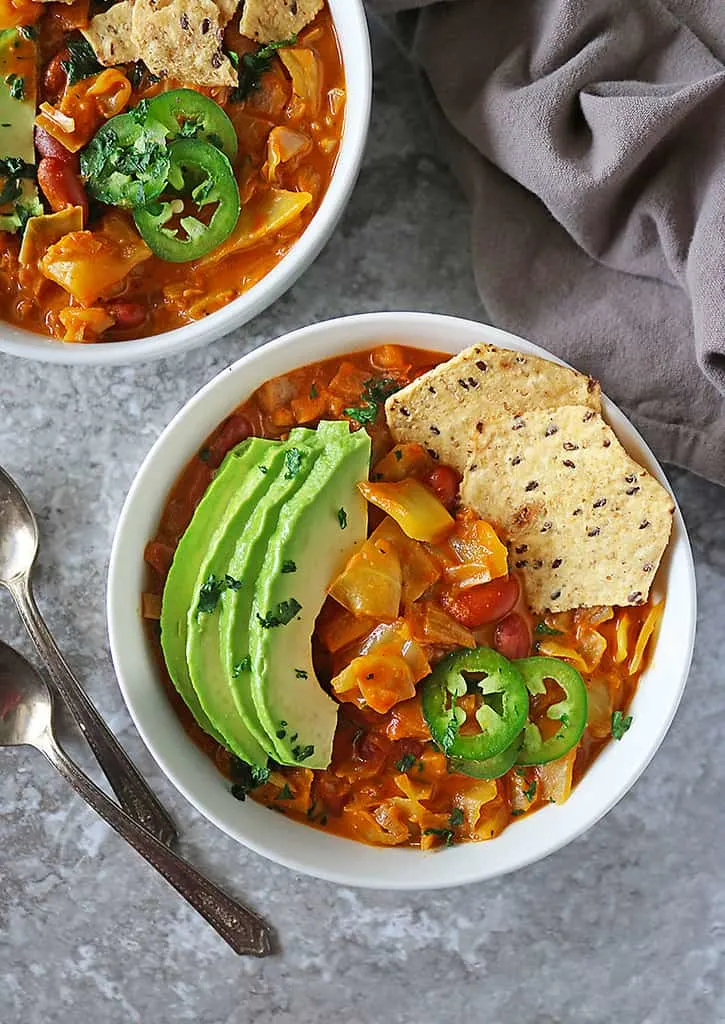 My daughter and I love to dress our soup up when it is our main meal item. So, we opted to slice up some avocados and lay them on top along with some jalapenos and chips. You could also top bowls of this soup with nuts and seeds instead of chips.
Easy way to slice and fan an avocado:
By the way, I came across this tip/hack for slicing and fanning out avocado on Instagram recently. I tried to find the clip and person behind it, but I couldn't.

So here goes…
Simply slice off the ends of the avocado (that little part where the fruit is held onto the plant and the corresponding side),

then cut the avocado in half, twist avocado and separate the two halves, remove the seed carefully with a knife,

remove the skin on each half (without it being held together at the ends, this should be quite easy),

lay each half down on a cutting board with the inward-curved side (not the seed side) facing up, and carefully slice each half.

Then, fan out the slices slightly, then lift them up by placing a knife under the slices and gently place them onto the soup.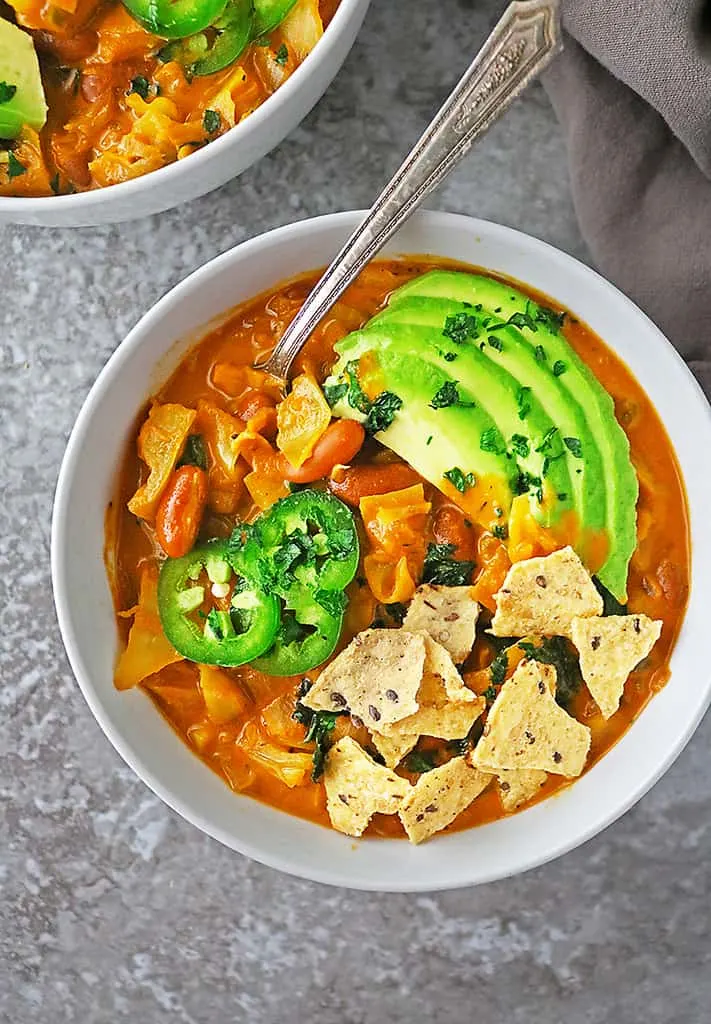 This vegetarian cabbage soup recipe results in one of the tastiest cabbage soups I have ever had and it is quickly becoming one of our go-to favorites. I have made several batches of this soup and I'm so glad to tuck into one of those batches today!