Cardamom pods, whole cloves, onions, ginger and garlic go into making this Spicy Cauliflower with Figs an invitingly aromatic dish to add to your Thanksgiving/Holiday table!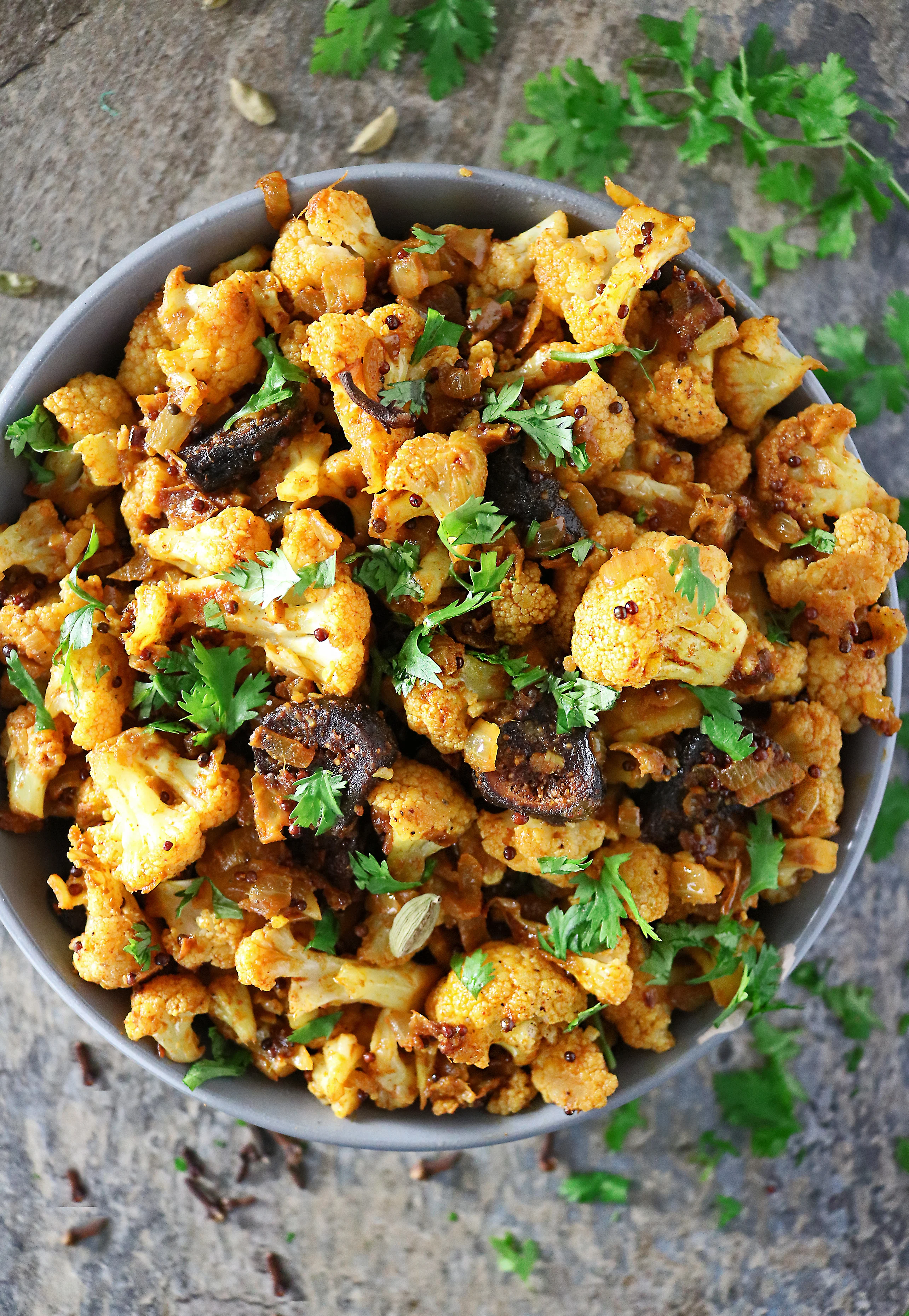 *This recipe was first published in November, 2018. It has been updated before being republished today.
Now "Spicy Cauliflower with Figs" might sound a bit unusual. But, the fact that this is a blend of spicy with sweet dried California figs thrown in, isn't the only unusual bit.
You see, there are cardamom pods and whole cloves in this dish too.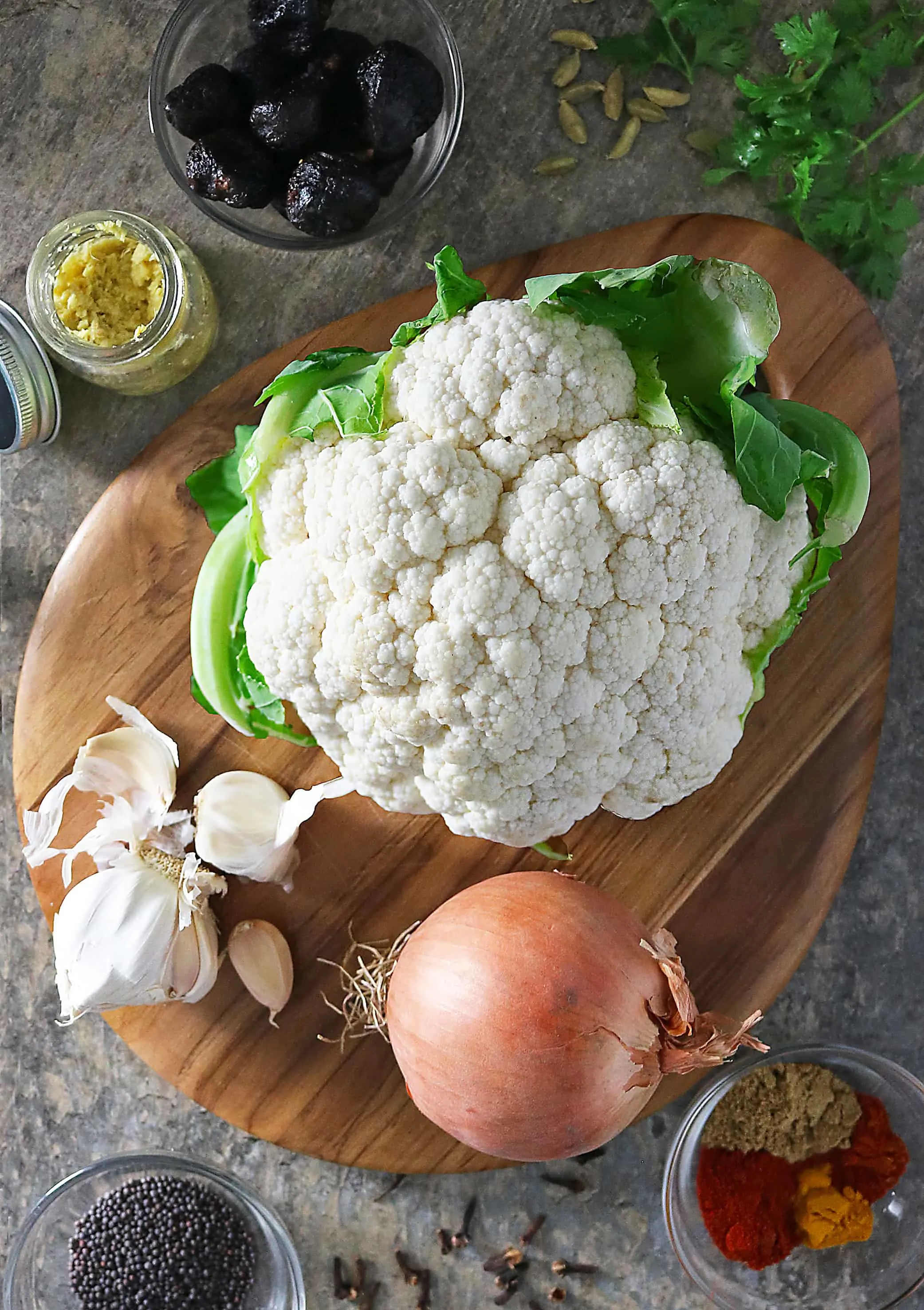 Growing up in Sri Lanka I found that cardamom pods and whole cloves were often used to add an inviting aroma to a savory/spicy dish.
Unlike sweet dishes, I don't think they add strong flavoring, but a very subtle flavoring that seems to enhance the other spices they are mingling with.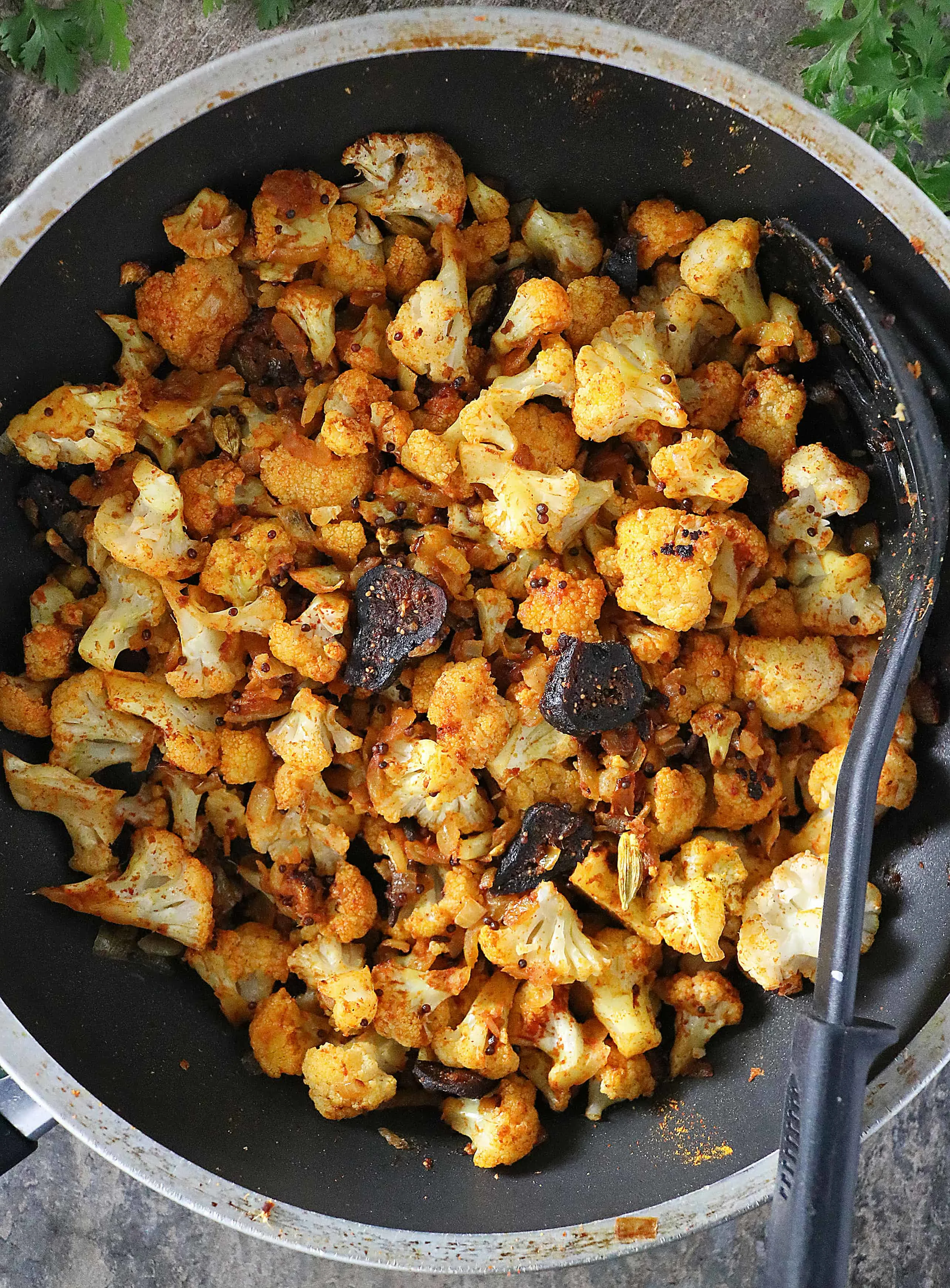 Now, if you cannot find whole cloves or cardamom pods, then you could add a pinch (and not a smidge more) of cardamom powder and ground cloves for a wonderful aroma.
The key is to add just a subtle amount so they are not overpowering but enhancing of those other flavors in this.
THANKSGIVING MENU IDEAS:
Now this is not a traditional American holiday dish, but, if you are looking to add a spicy spin to your holiday table, and are looking for an easy and delicious dish that's sure to stir up some sort of conversation, then go ahead and whip this Spicy Cauliflower with Figs up.
Last year I added a spicy spin to our holiday turkey by serving this Spicy Honey Turkey.
However, this year, with just a few days to go, I'm on the fence if I should go with my mom's plan to whip up an Instant Pot Chicken Biryani which is much like this Chicken Biryani with Figs and Nuts and some eggplant or recreate last years meal…hmmm…
While I am on the fence as to what will be on our Thanksgiving table, I do know that I will be adding this healthy-ish Sweet Potato Streusel Bake to our thanksgiving dessert table along with a sugar free trifle and some cupcakes!
Hoping every one of y'all enjoy Thanksgiving with those you hold near and dear!

If you happen to make this Spicy Cauliflower with Figs, please do let me know your thoughts on it and, if you love it, please tag #savoryspin @savoryspin on social media so I can reshare it. You can also FOLLOW ME on FACEBOOK, TWITTER, INSTAGRAM and PINTERESTto get recipe ideas and inspiration.