Deliciously spiced with sauteed onions, ginger, and garlic, and topped with vegan cheese, these Easy Vegan Stuffed Peppers are always a hit in our home. These bell peppers are stuffed with a sauteed mix of quinoa, kidney beans, kalamata olives, and veggies for a wholesome, plant-based meal.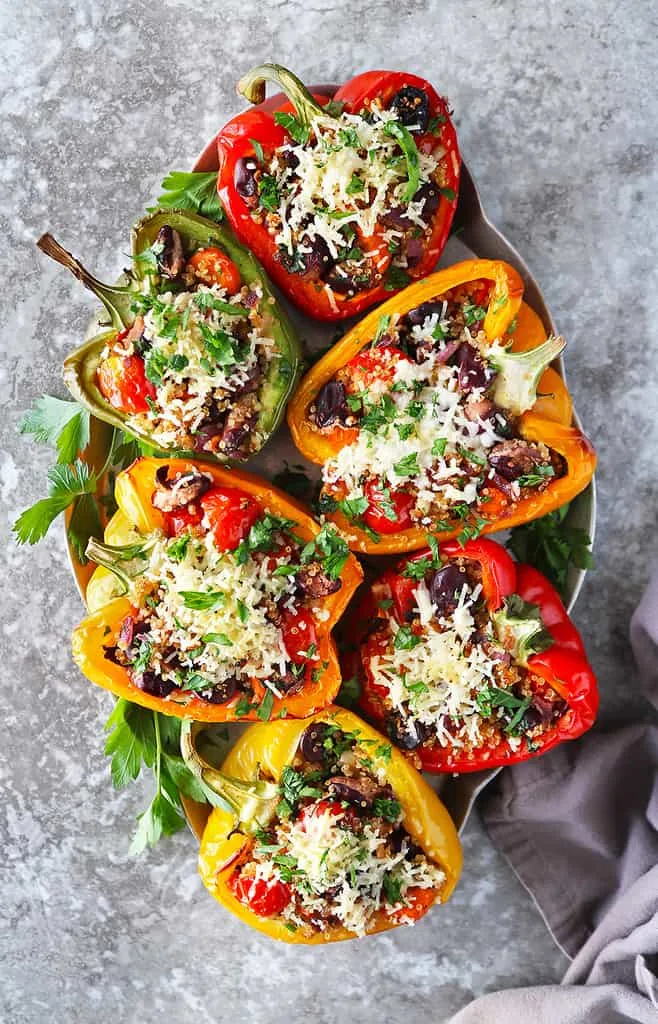 I made a batch of these Easy Vegan Stuffed Peppers as my daughter told me I needed to add a bit of pizzaz to my quinoa and beans dinner. This is a super easy dish. It is a wholesome and light meal that is simply delicious.
I had my first stuffed bell pepper at a friend's house after I had graduated college. Stuffed bell peppers were not popular when I lived in Sri Lanka or Abu Dhabi. However, stuffed and fried banana peppers were.
And when my mom made them, there were never any leftovers. Basically, banana peppers were stuffed with a tuna and potato filling (kind of like the one used in these deconstructed samosas. Then they were dipped in an egg wash, coated with breadcrumbs, and fried until golden. One of these days I need to post that recipe on here.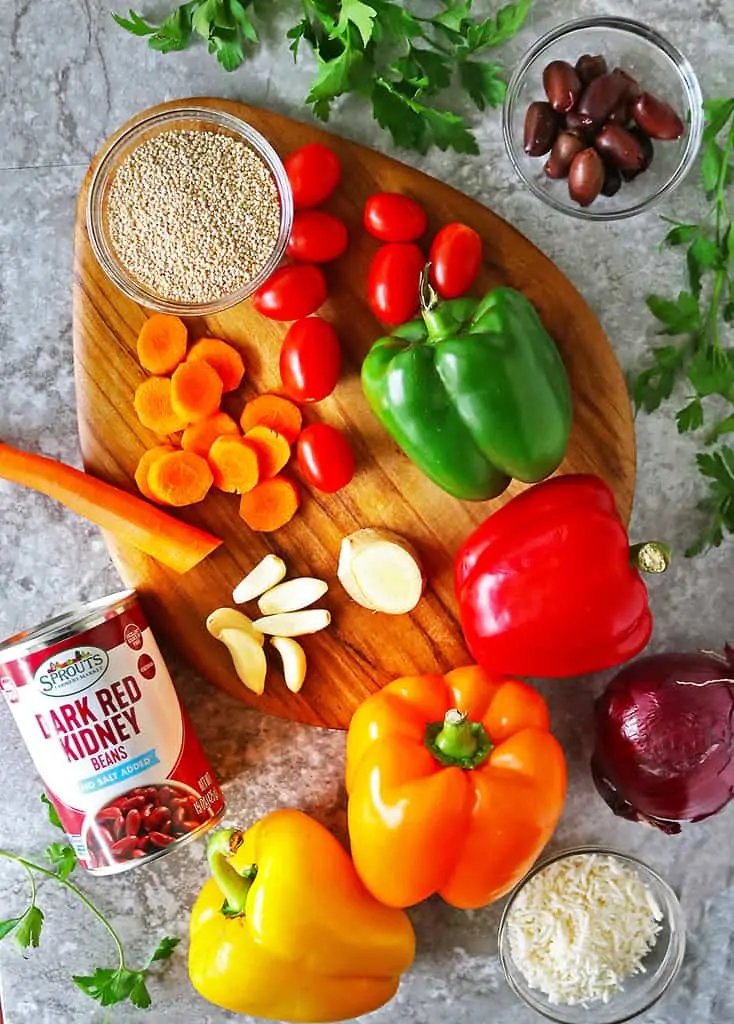 But, today you are here for these Vegan Stuffed Peppers…
I used olives, gently sauteed onions, garlic, and ginger as flavor agents. I chose not to use any more spices as I had come across some vegan cheese I wanted to try out and figured spices and cheese would not be a good blend. Besides, I really wanted all the flavors of each one of the 10 ingredients that were used in this dish to really come through.
Yes, there are only 10 ingredients used to make this dish...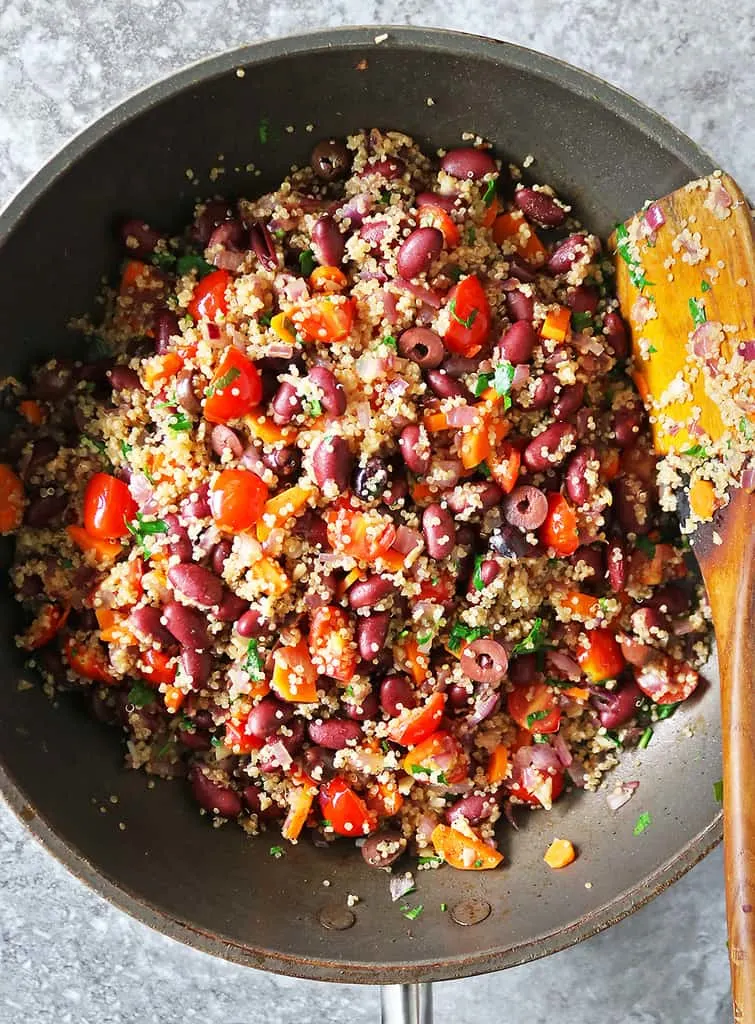 What are the ingredients used to make these vegan stuffed peppers?
The ingredients are:
1) red onion,
2) garlic,
3) ginger,
4) carrots,
5) tomatoes,
6) quinoa,
7) kalamata olives,
8) kidney beans,
6) dairy-free cheese, and
10 bell peppers.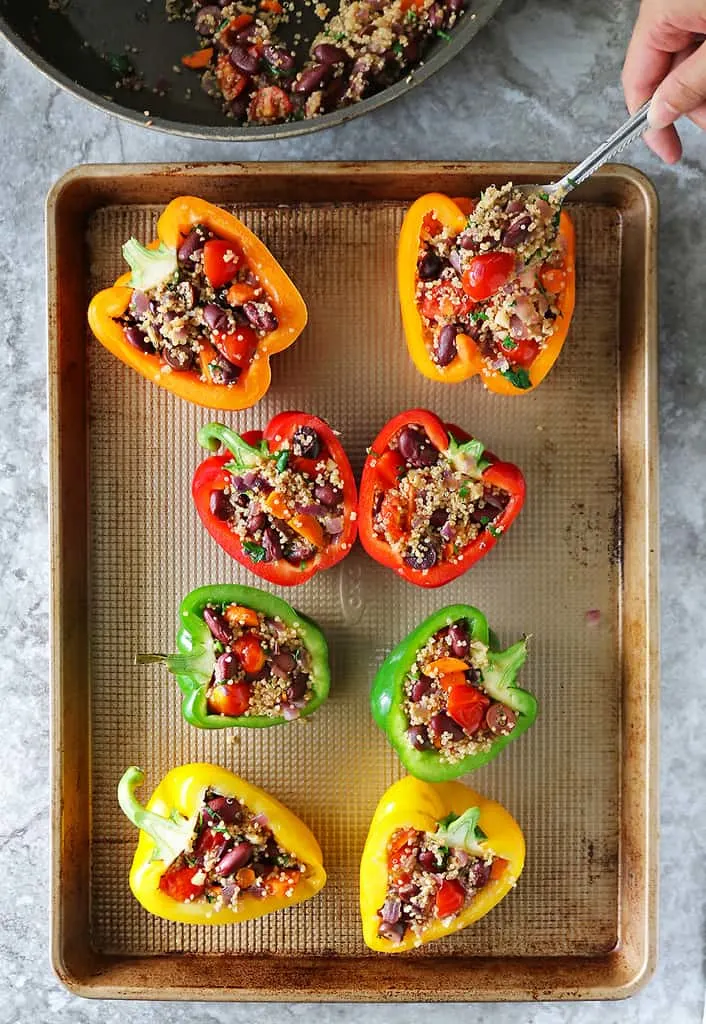 I love these vegan stuffed peppers as they are:
• So tasty,
• Gluten-free,
• Dairy-free,
• Wholesome plant-based goodness, and
• Did I mention – so tasty!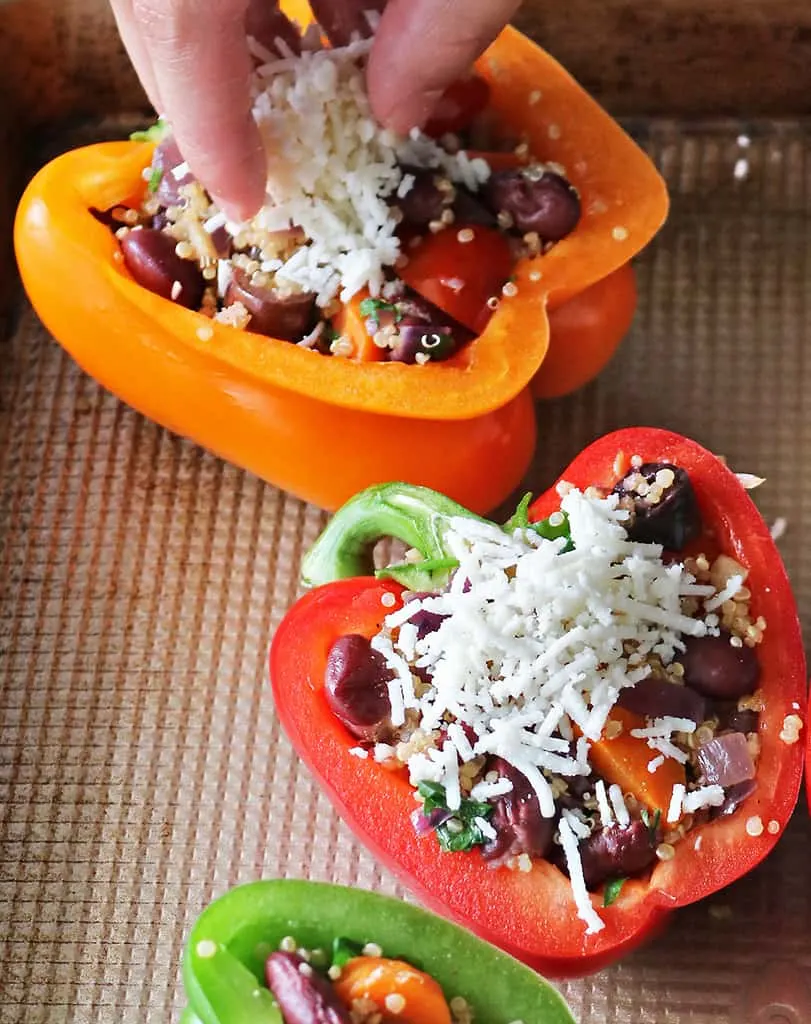 I cooked the quinoa before adding it in with the sauteed onion, ginger, garlic, and carrots. Then I tossed in the tomatoes, olives, and kidney beans. Now, if you are not in the mood to make stuffed bell peppers, this quinoa bean veggie saute is delicious and can make a delicious dinner when paired with a light green salad.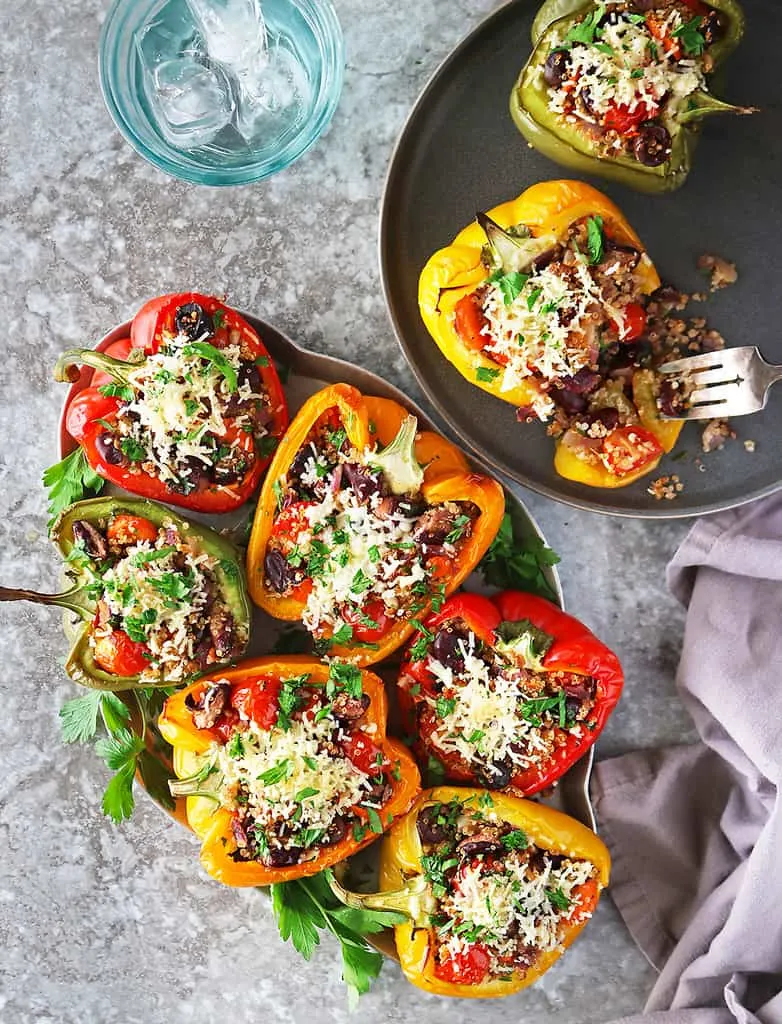 Before you stuff the bell peppers, a little tip if you have some slightly bitter green bell peppers on hand. Red and orange bell peppers are not bitter at all. But sometimes, green bell peppers can be slightly bitter. You could help subdue that bitterness by making sure to remove the stem, seeds, and membranes thoroughly from the green bell peppers. Then, pre-cook the green bell peppers by dropping them in some boiling water for 2-3 minutes to diminish the bitter taste. While I follow those steps most times when using green bell peppers to make stuffed peppers, I didn't in this case.
I used this dairy-free cheese (not sponsored btw, just one I liked a lot) that seemed to unite all the flavors of the ingredients together beautifully. However, if you are not following a plant-based diet, then simply use mozzarella to top off these bell peppers.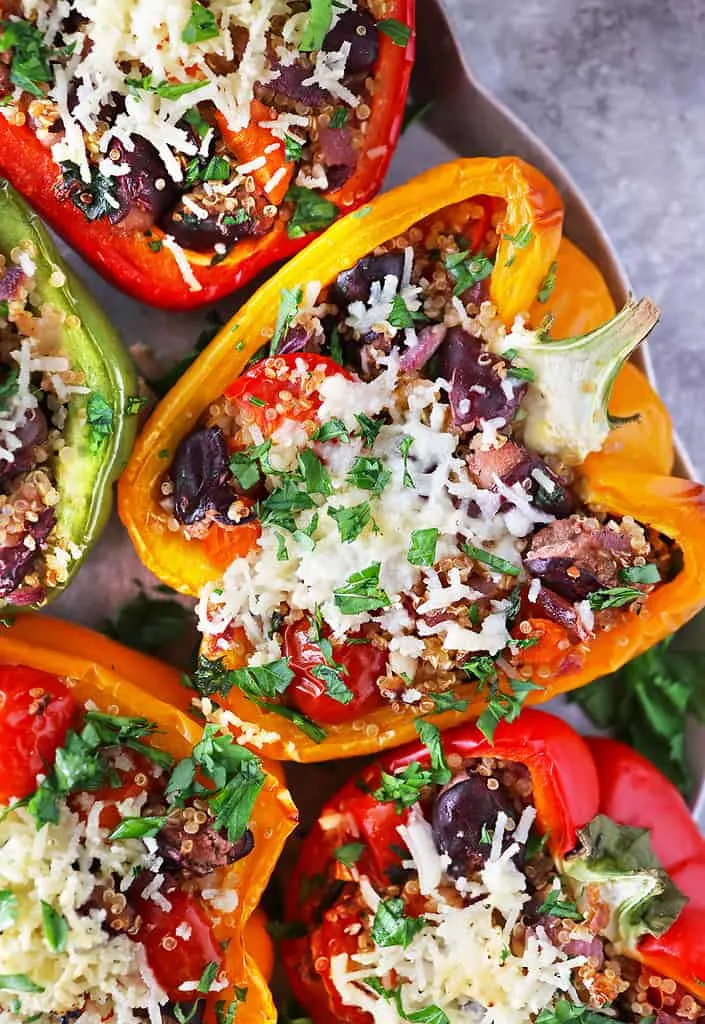 I hope you and your family enjoy this dish as much as I do. Please do let me know in the comments below what you think. Or, post a picture of your replication of this and tag @savoryspin on Instagram or Pinterest.