This Pinto Bean Curry Recipe is an easy and quick side dish. It is a budget-friendly, vegetarian recipe that makes use of kitchen staples like canned pinto beans and frozen spinach mixed into a spicy, tomato broth.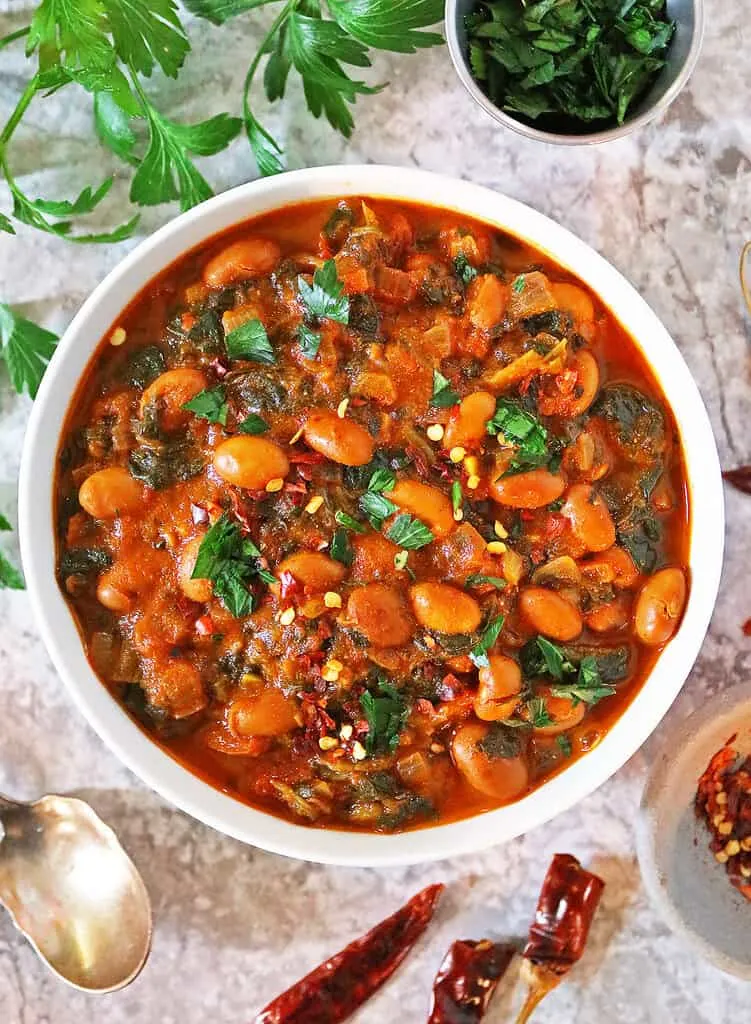 Made with only 10 ingredients, this pinto bean curry is so easy to make. And, you can have this prepped and on your table in less than 30 minutes.
The main reason this curry is so quick to make is that it makes use of canned pinto beans and frozen spinach. Canned beans and frozen veggies are staples in my kitchen because they make it so easy to eat healthy, veggie-packed meals.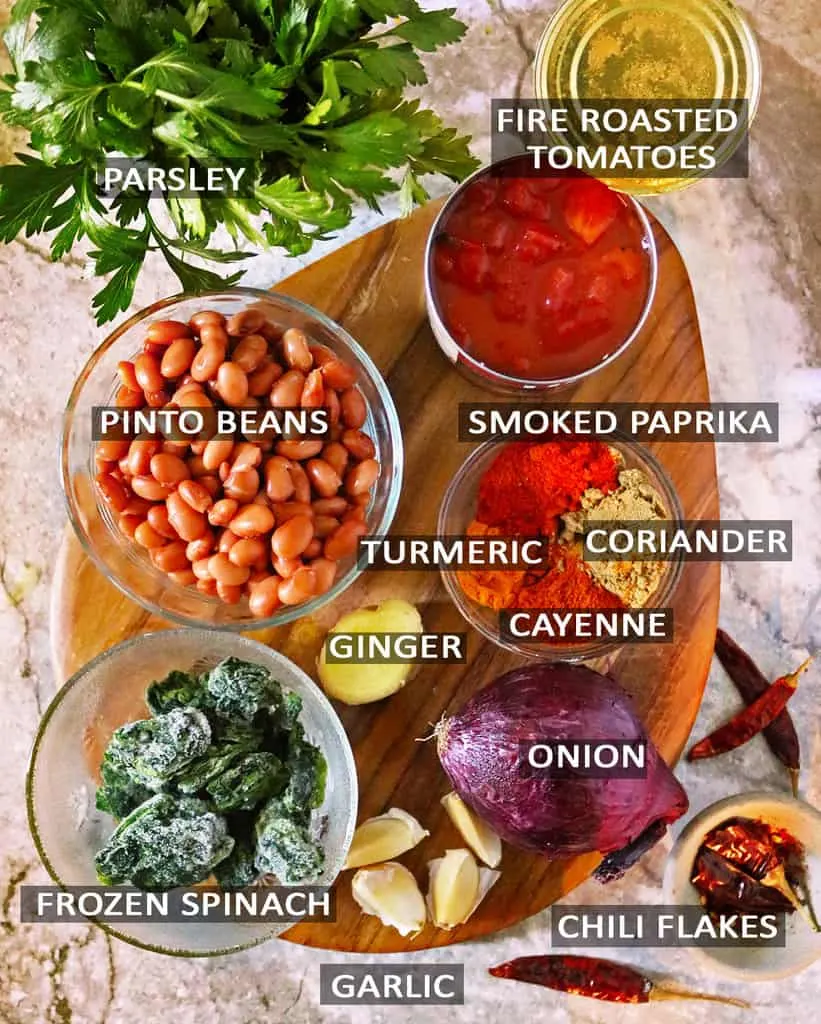 What are the ingredients for this curry?
I made this pinto bean curry recipe with the following 10 ingredients and 2 garnishes: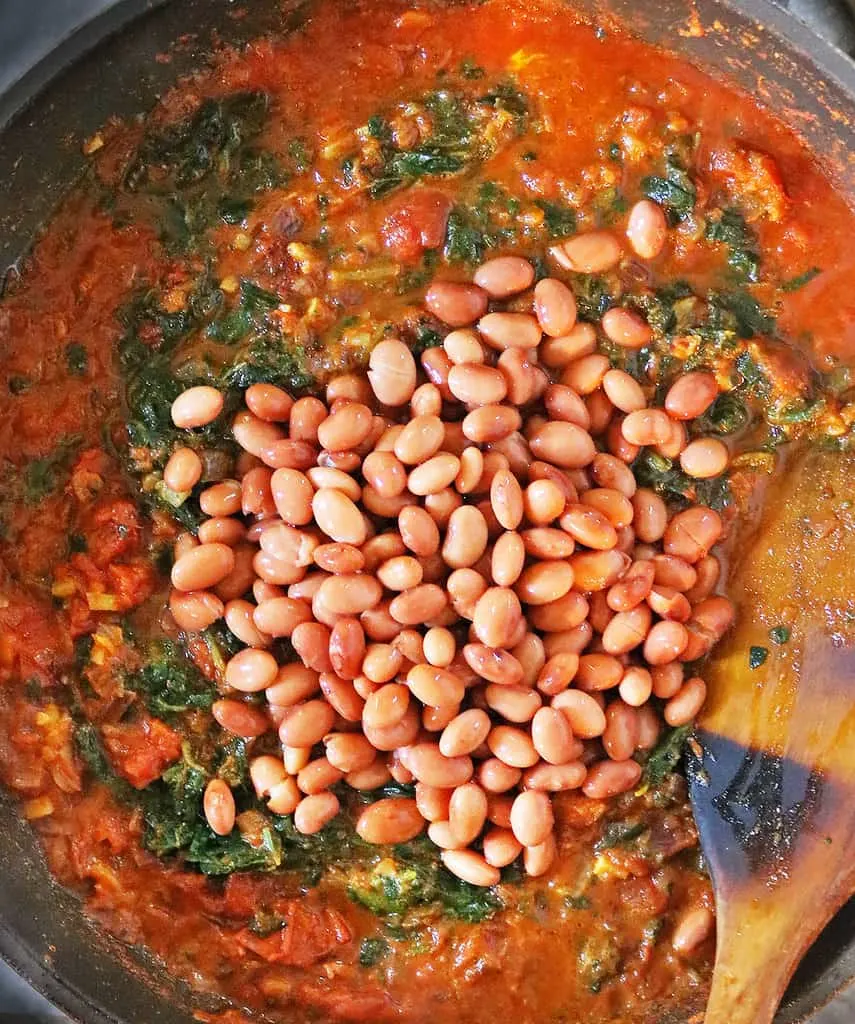 Onion
I used a red onion because that's what I had on hand. I usually use red or white onions, depending on the color of the curry. If the curry I am making is more yellow in color, without tomato paste or fire-roasted tomatoes in it, I tend to use yellow onions. And, if the curry is made with tomatoes, then I try to use red onions. If you have a burning desire to know the properties of the different types of onions, you might enjoy this article, by The Kitchen.

Garlic cloves
Fresh garlic works so well in the curry recipes I share here. You could even use the peeled and diced garlic they sell in containers in the produce section of most stores. Just do not use powdered garlic.

Fresh ginger root
Just as with the fresh garlic cloves, fresh ginger root works so well in this.

Canned fire-roasted tomatoes
I always have several cans of fire-roasted tomatoes on hand for curry dishes. I feel like they add so much flavor to curry.

Coriander powder
Coriander powder is one of the main spices here. And I add a lot.

Smoked paprika powder
Smoked paprika works better than plain paprika in this dish.

Turmeric powder
Turmeric unites coriander and smoked paprika beautifully. But, just be careful. Too much turmeric can make curry taste metallic.

Optional: Cayenne
I love a bit of a spicy kick to my curry. If you would rather have a mild curry, leave out the cayenne powder. If you would like a slightly less spicy curry, lower the amount of cayenne or add green chilies instead.

Canned pinto beans
Canned pinto beans significantly cut down the cooking time of this curry. You could use dry pinto beans, but this would involve soaking them and then cooking them in the curry sauce for a much longer time.

Frozen spinach
I like having frozen spinach on hand because I do not have to worry about it wilting and going bad before I can use it all up.

Optional: parsley
Parsley is mostly for garnish in this dish, so you can leave it out if you desire.

Optional: chili flakes
I said it earlier, and I'll say it again, I love a spicy kick to my curry, so added in the chili flakes too. But, they are totally optional and can be left out.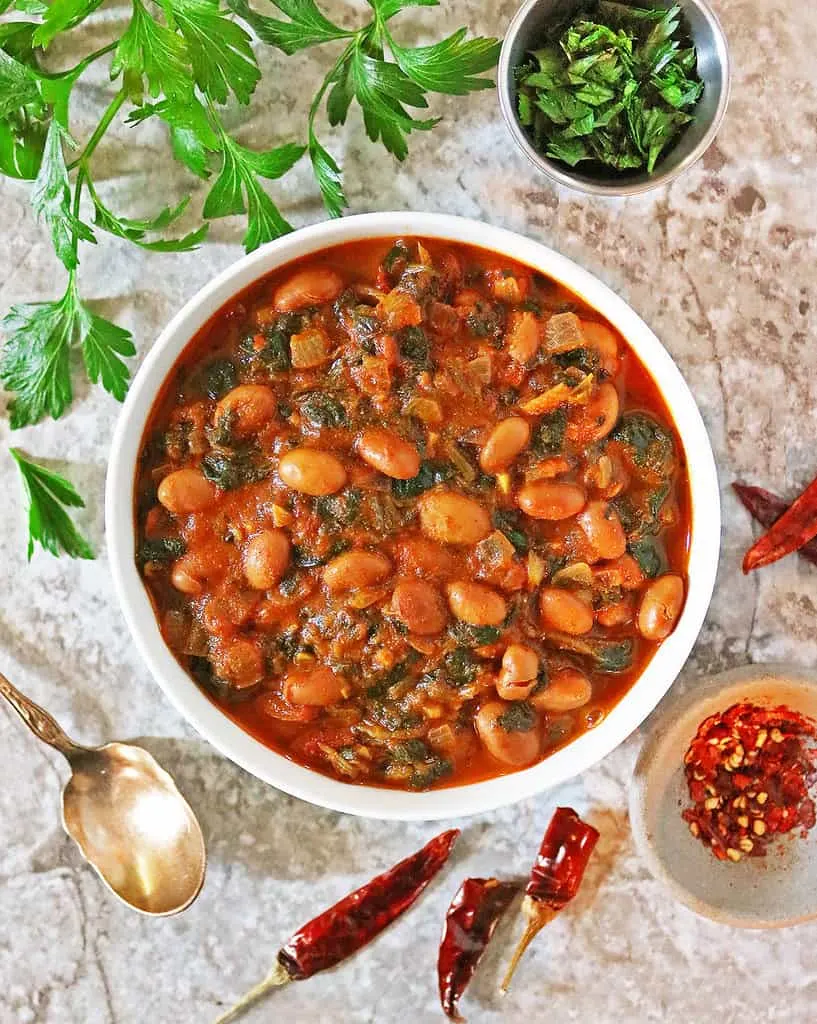 What to serve with this pinto bean curry?
This pinto bean curry is delicious with some roti or naan.
It is also so filling and tasty with some yellow rice or turmeric quinoa, some broccoli croquettes or oven-baked okra, some beet curry, and some pineapple chutney.
How to store this pinto bean curry?
I store this curry in an airtight container in my refrigerator. It usually lasts about a week or so.
Can you freeze this curry?
Yes, this curry can be frozen for up to 3 months. When ready to enjoy, you can thaw it to room temperature on your kitchen counter.
Here's hoping you make this curry soon for your family and friends. If you do, please do let me know your thoughts in the comments below or tag Savory Spin on Instagram or Pinterest.