Let's not Taco Tuesday or Taco Thursday…instead let's Taco EVERYDAY with these gloriously ruby-hued, 4-ingredient, gluten-free, Easy Beet Tortillas!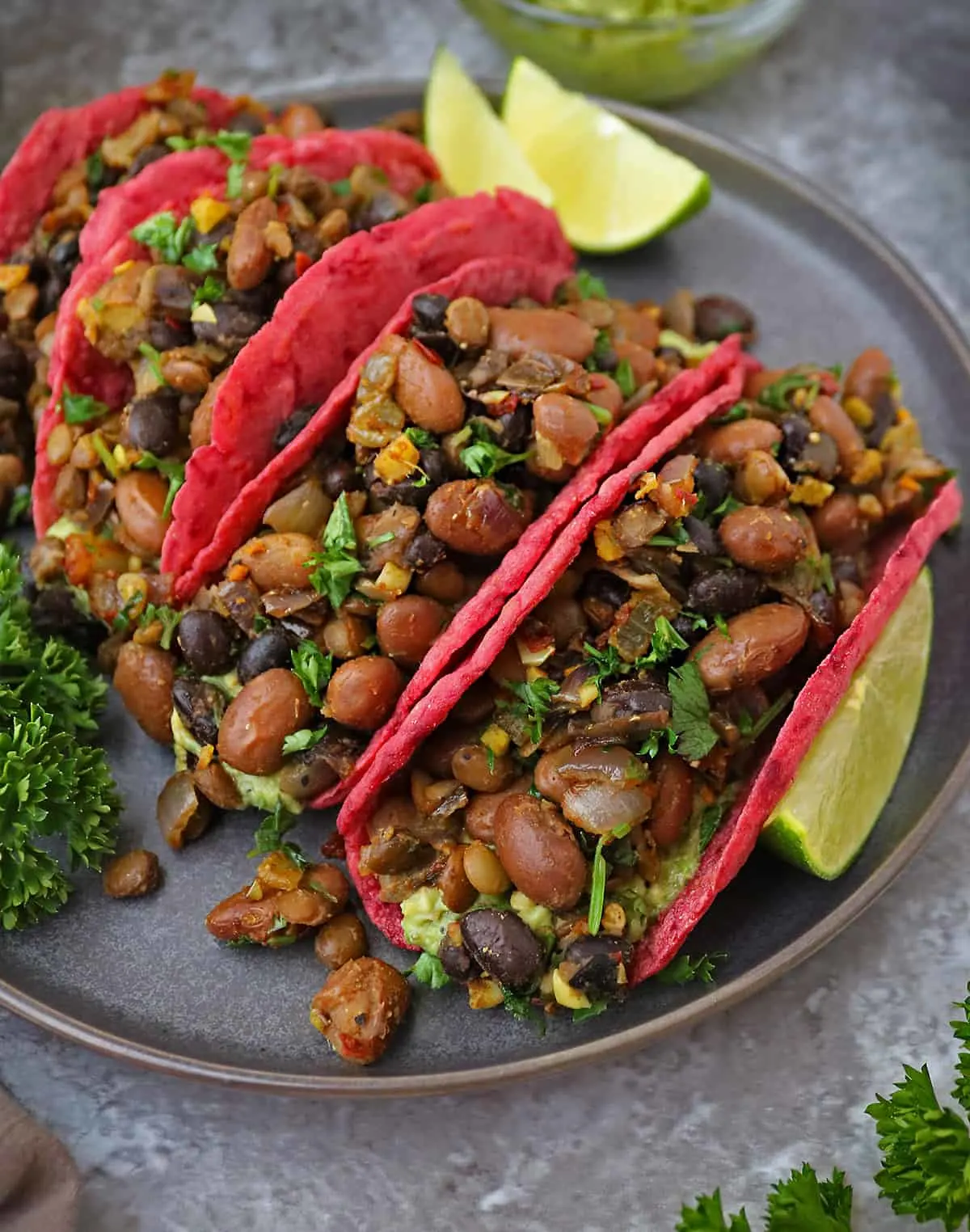 In the summer of 2010, my daughter and I took a drive along the California coast. We started our road trip in San Francisco, took a tourist-break in Los Angeles and meandered down to San Diego.

While we were there, when we were not slurping chowder out of Boudin bread bowls, or gorging ourselves on Ghirardelli samples, we were tackling tacos!
In fact, I think we must have eaten our weight in tacos.
There was this little taco stand in Sausalito that ignited our taco infatuation. It wasn't just the filling that was good, it was the tortillas too. These tortillas were so soft and so tasty! There were times when we would order extra tortillas and enjoy them plain. In fact, I don't recall what the filling was, but I remember those tortillas so well.

By the time we had made our way down to San Diego, we were bold enough to walk into taco stands and order off a menu that wasn't even in English. Also, meeting up with an old friend who lived in San Diego and told us what to order helped with that onslaught of boldness! 🙂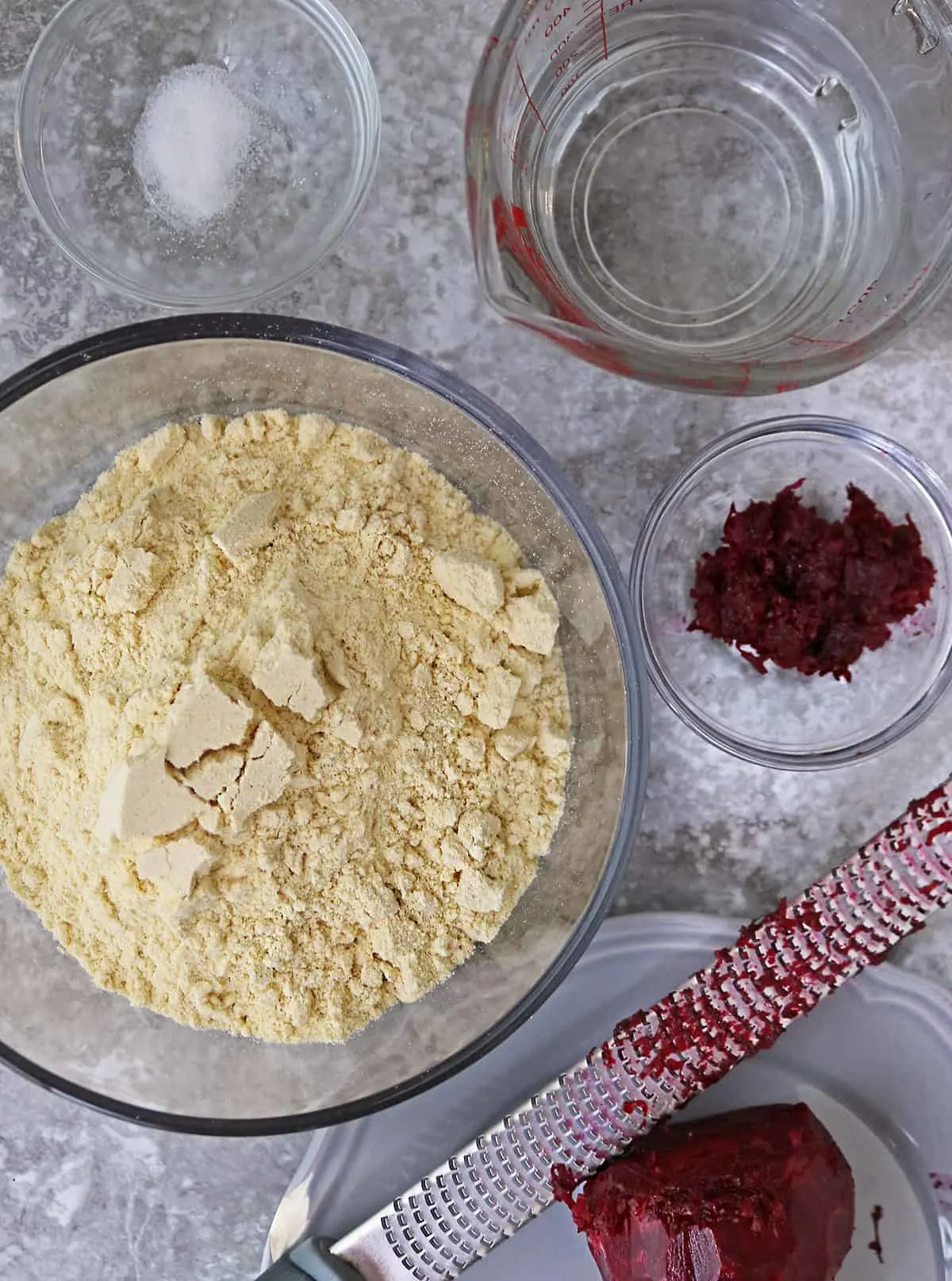 Ever since that trip along the California coast, I've always had a package of masa harina in the back of my pantry. The easiest masa harina for me to get in stores is Maseca instan corn flour. But, I do know that Bob's Red Mill has masa harina too. Whenever we want to ignite the memories of that trip, my daughter and I pull out the masa harina, some water, and some salt and whip up a few soft, homemade tortillas.
Last night, as I was cleaning out my pantry and reminiscing about that trip, I came across a package of Maseca. As we had a bunch of fresh beets from our recent trip to Sprouts, I decided to change things up a bit.

I grated up some fresh, raw beetroot and added it to our regular tortilla recipe. And, these gorgeously ruby-hued tortillas were the result.
In the early days, I used to often end up with dough that was either too crumbly or too wet. I have also had my share of dry and cracked homemade tortillas.
Tips to making delicious, soft, beet tortillas:
Along the way, I've stumbled on a few tips that have helped me up my tortilla making game. Some of these tips from expert tortillas makers and good ol Google, have helped me and I hope they help you too.
When masa harina is mixed with water to make dough (referred to as masa), it needs time and a whole lot of kneading to fully hydrate. At first, when the two are mixed, the result will be a crumbly dough. Usually, kneading this for a few minutes results in a more well formed dough. If more water is added too soon, then the result will be a sticky, unworkable dough.
Usually what I do is add in 1.50 cups of water to 2 cups of Maseca and knead well. If the dough is too dry after about 5 minutes, then I add in a tablespoon or so of water.

When the dough is divided into balls to form into tortillas, these dough balls need to be stored in a container or plate covered with a wet towel or wet paper towels. If these dough balls are left exposed to the elements, they will dry up and the resulting tortillas might be cracked and dry.
What I usually do is wet a kitchen towel to dampen it, throw it in the microwave for 30 seconds, and then roll it over the dough balls.

If you are planning on making a lot of tortillas often, invest in a tortilla press. I don't have a tortilla press yet.
What I do is place a ball of tortilla dough in a gallon sized plastic back with the zipper/sealing side cut off. I then get a heavy casserole dish and press down on the dough, so it spreads into a circle.

As you cook the tortillas and you remove them from the hot pan, make sure you store them in a container or plate with a wet towel covering it or with foil tightly around it. This not only keeps the tortillas warm, but also helps them stay soft.


I usually wet a few paper towels and layer them over the prepared tortillas so they stay warm and soft.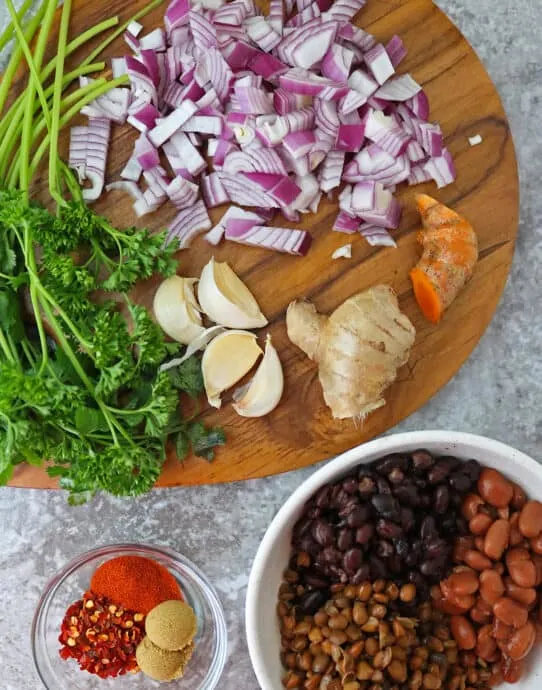 Making the Bean + Lentil Filling:
I made a quick and easy 3-bean filling to enjoy with these beet tortillas. For the filling, I simply sauteed together an onion, 4 cloves of chopped garlic, 2 tsp of fresh grated ginger, 2 tsp of fresh grated turmeric (use 1/2 tsp if using powdered turmeric), 1 tsp smoked paprika, 1 tsp coriander, 1 tsp chili flakes, 1 tbsp fresh cilantro, and 1 tbsp fresh parsley along with a can of black beans, a can of pinto beans and a can of lentils (all canned beans and lentils were drained and rinsed first)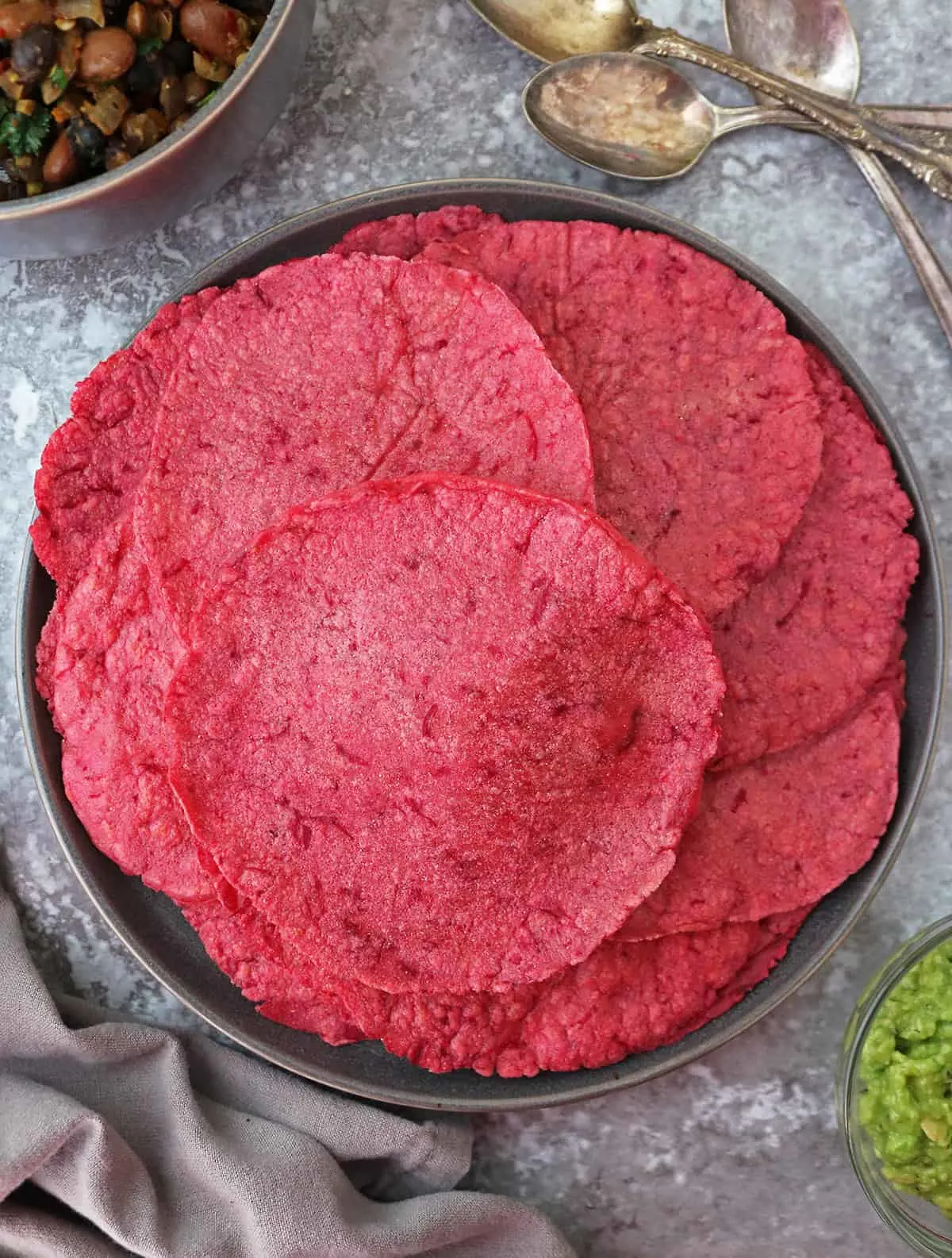 Last night I made 20 small beet tortillas. Tonight, as I type this, we have 0 beet tortillas left. And there are only two of us here ~ unless our dogs have mastered the art of opening containers. So, I guess I can safely say my daughter and I enjoyed these beet tortillas immensely.

I love beets and while the beet flavor does not overpower these tortillas, they are a delicious addition. But that's not all – they make these tortillas just so pretty to look at.

I also cut up about 5 of these beet tortillas and baked them at 350 degrees for 9-10 minutes to make some beet chips to go with my daughter's infamous gauc and some of our easy salsa.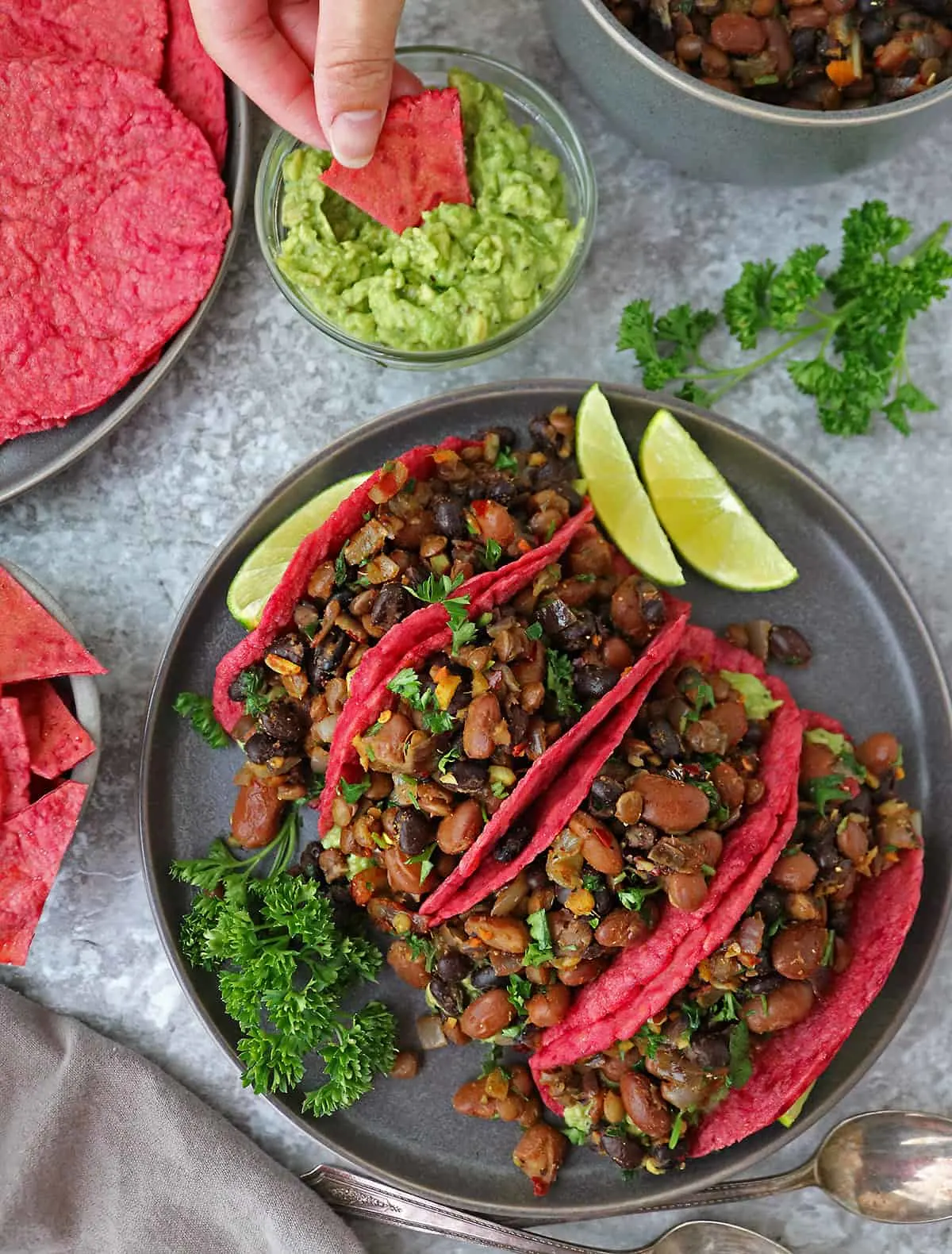 If you are looking for a fun and tasty tortillas recipe to whip up for Cinco de Mayo or your next taco Tuesday/Thursday, then grab a package of Maseca instant corn flour (while flour has been in short supply, there was plenty of Maseca on store shelves this past weekend), some beets, some warm water, and some salt and whip up a tasty, gorgeous batch of these beauties!
Serve these beet tortillas with some bean filling like you see here, or some cilantro lime chicken, and a chilled Watermelon Paloma mocktail!