When you are craving something sweet and crunchy, it sure helps to have some of these 6-ingredient No-Bake Cereal Cookies on hand. They are a tasty, versatile, and easy treat to make and enjoy with your family.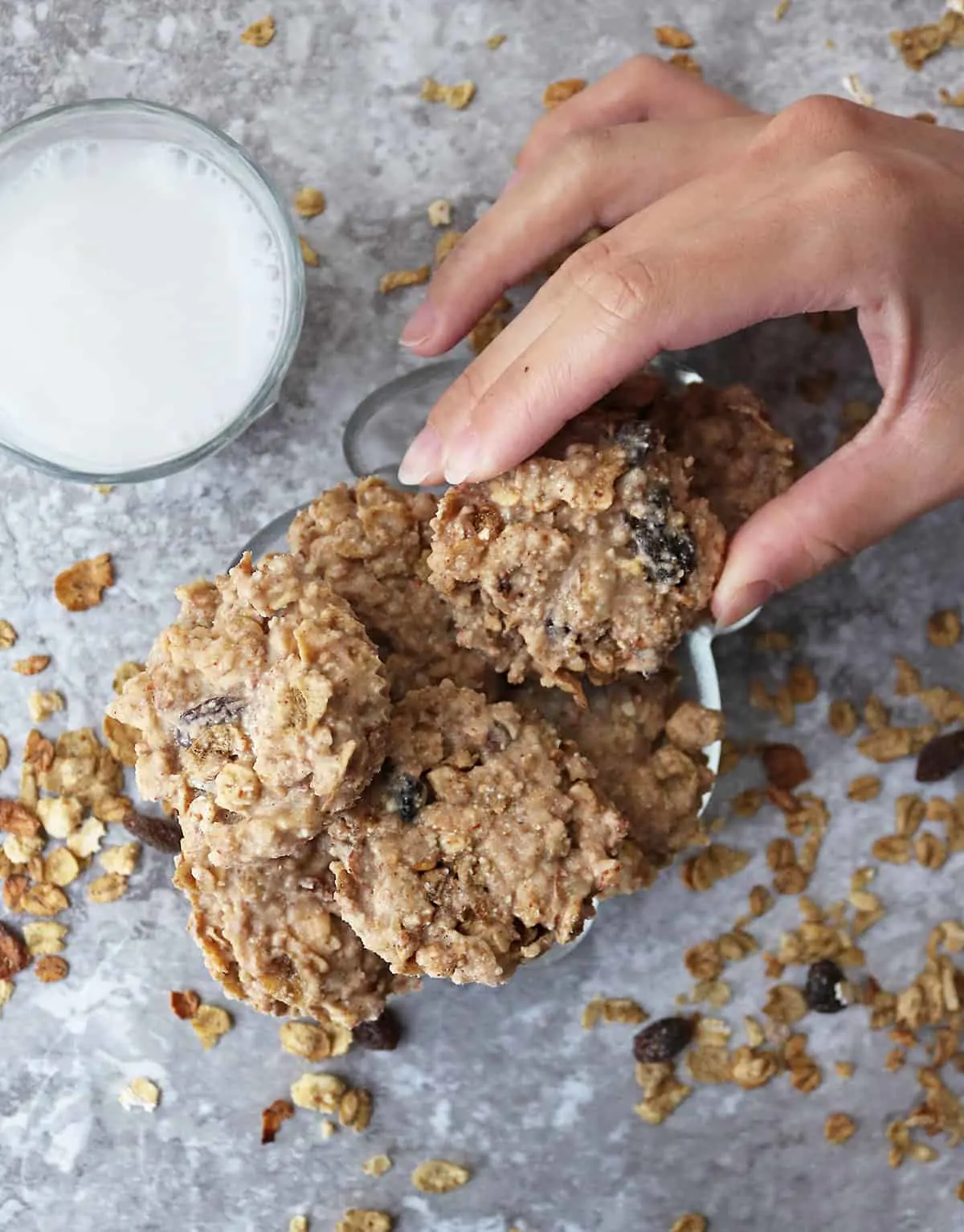 *This post was first published in August, 2016. It has been updated with new images and content and is being republished today.
When my sister and I were young, whenever my mom had any sort of celebration at work with a ton of treats, she would prepare herself a plate of goodies. And, set it aside on her desk.

At the end of her day, she would bring that whole plate of goodies home for us to enjoy. It always brought her so much joy as my dad, sister, and I shared in the delicacies.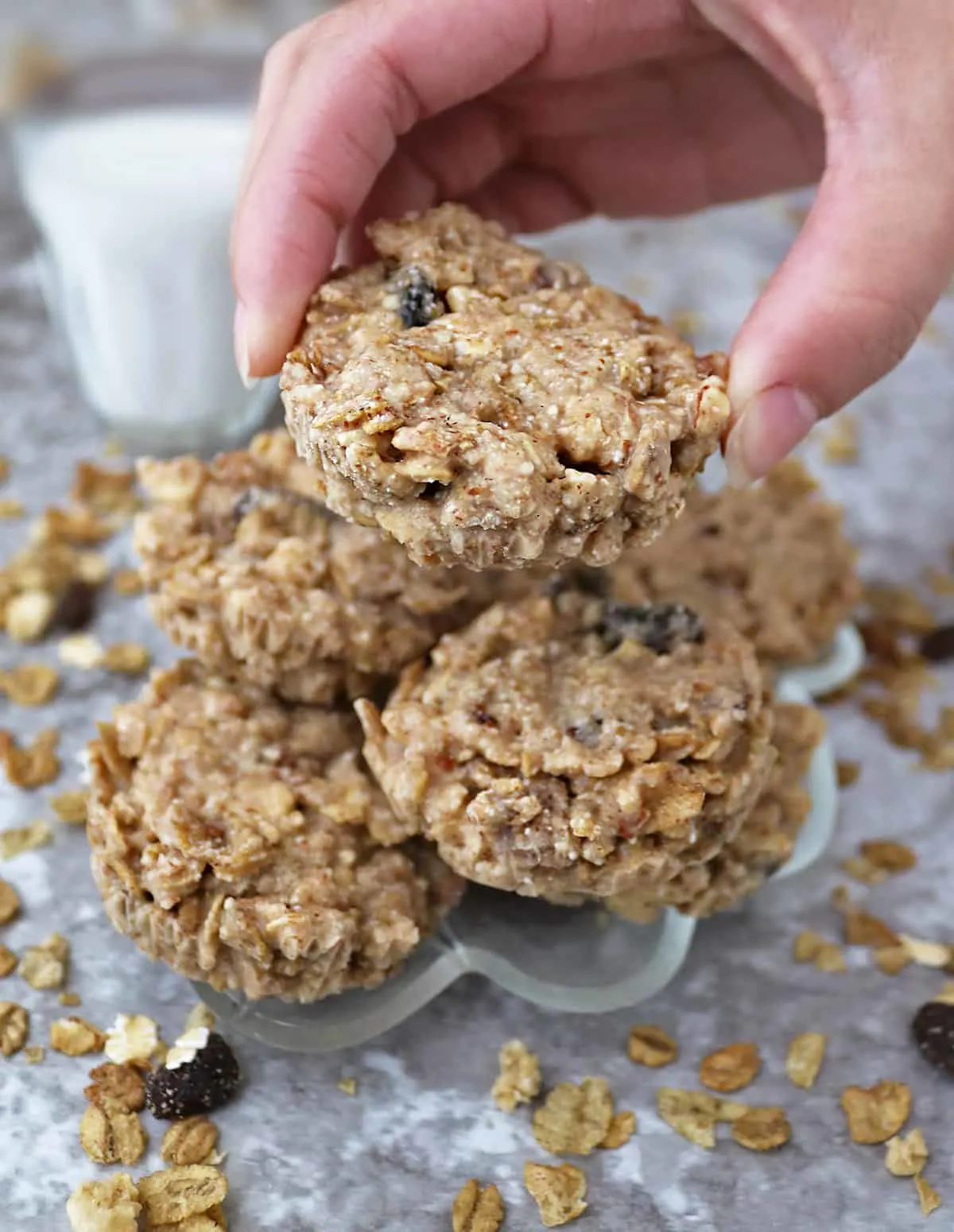 That little tradition my mom started, got passed on somehow. When my daughter was younger, I couldn't help carrying on my mom's tradition by bringing home any treats I got at work.

And, yesterday (in 2016 my daughter was in high school), my daughter carried on this little family tradition too – well, at least in her own way.
Yesterday was her first day back at school and some of her friends celebrated with the exchange of treats and well, my daughter brought her share home of cupcakes and cookies.
I must say, I almost got a bit soupy at her thoughtfulness, that is until she started to divide everything up.

You see, I remember her learning division and fractions and mastering the concept of equal parts when she was in elementary school.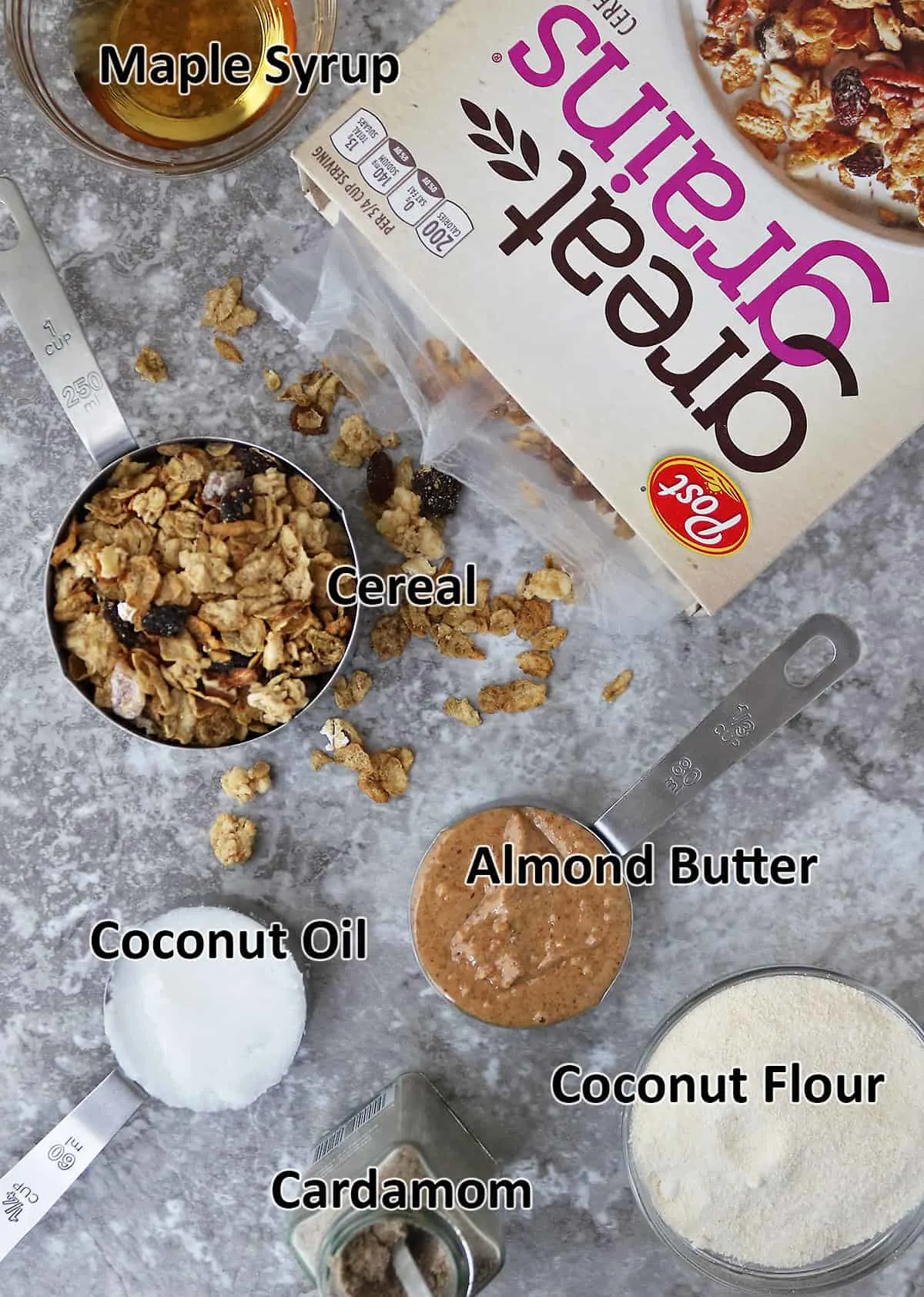 But somehow, she seems to have forgotten it all.

Yesterday, instead of dividing her cupcakes and cookies into equal halves, she divided them into 2 parts of a 1/4 and a 3/4 respectively, and tried to convince me they were even – I bet you can guess which sized pieces she took!

Then she tried to justify her actions by telling me that "brain-work" required calorie-heavy snacks!

Hmmmm….
So, to help alleviate any issues with division I figured I would whip up a batch of No-Bake Cereal Cookies that did not have to be cut in any sort of halves to enjoy.
These cookies call for only 6 ingredients:
• Coconut oil,
• Maple syrup,
• Almond butter,
• Cardamom,
• Cereal,
• Coconut flour

And they are completely versatile!

While I used Post Great Grains Cereal with Raisins, Dates & Pecans, you can use your favorite cereal in its place. Also, you could substitute the coconut flour with ground-up oats. If you don't have cardamom, then replace it with cinnamon instead.

If you are using a chocolate cereal, then leave out the cardamom and cinnamon altogether.

Just make sure to use coconut oil because when it cools it hardens and helps bind these cookies together.
How To Make No-Bake Cereal Cookies:
Melt the coconut oil
Add in the maple syrup and mix well
Mix in the almond butter
Stir in the cardamom
Then add in the cereal
And also add in the coconut flour and mix well
Spoon contents into muffin liners in a muffin pan, squish down a bit, and then place in the refrigerator to cool for at least 4 hours or overnight.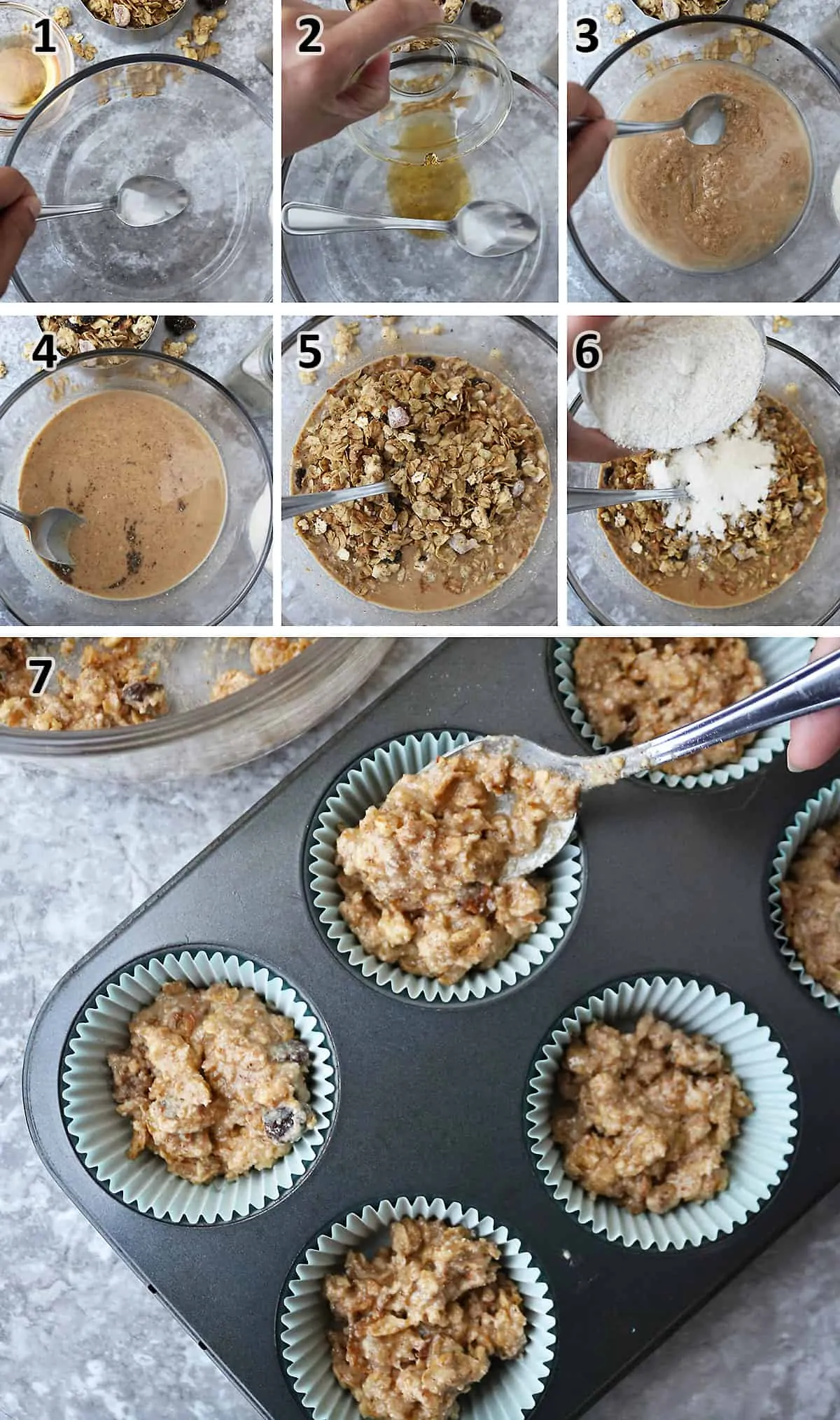 While I used muffin liners to quickly form these cookies and get them in the refrigerator to chill, that's not the only way to form this cereal mix into no-bake cookies.

When I first made these no-bake cookies, I used two spoons to form them. As you can see from the picture below, they turned out a lot prettier than the muffin-liner method.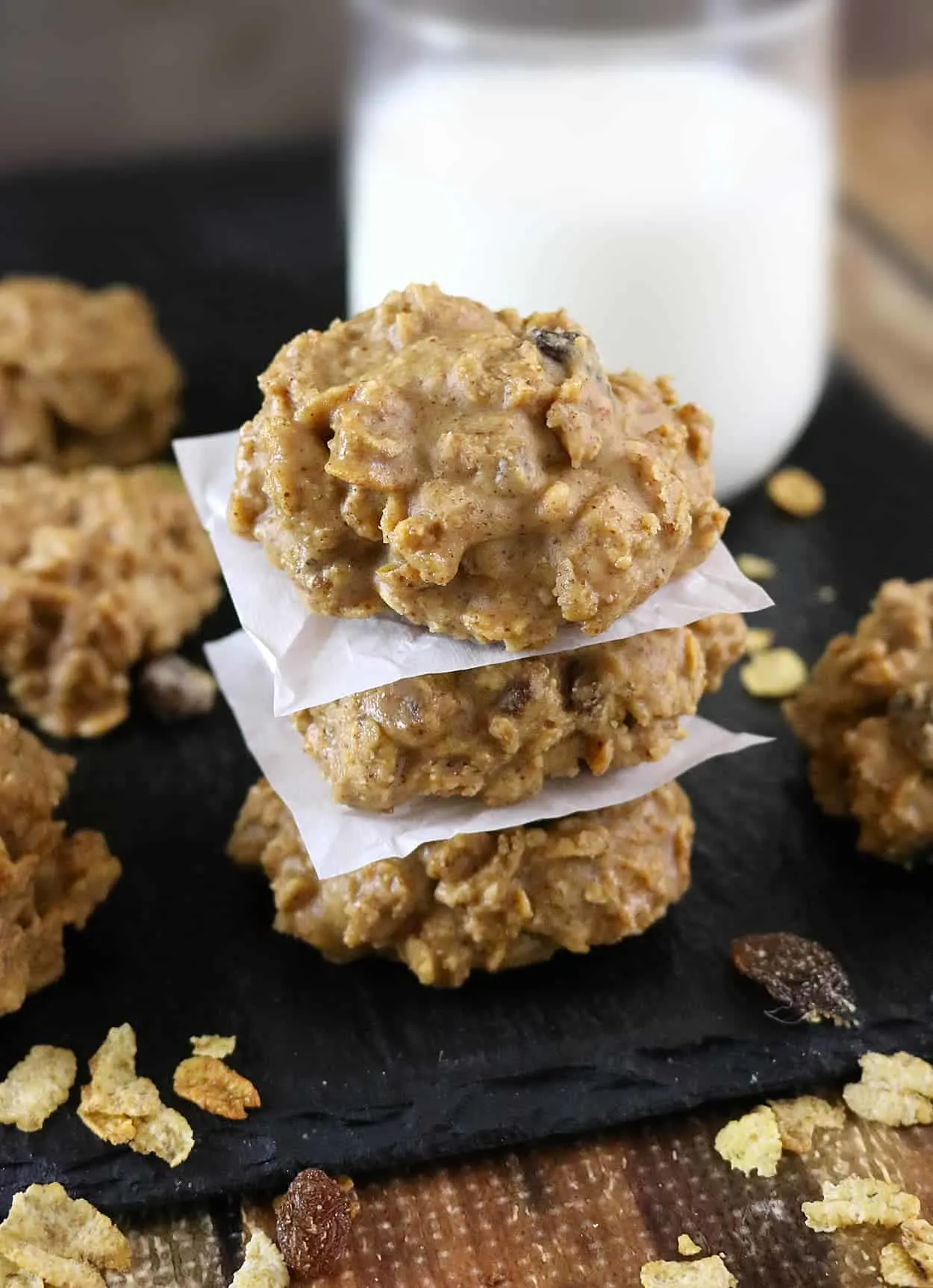 But, the two-spoons method is a bit more time-consuming and if you are in a hurry, the muffin liner method works perfectly.