This shop has been compensated by Collective Bias, Inc. and its advertiser. All opinions are mine alone. #SingWithPost #CerealAnytime #CollectiveBias
Whipped up in a blender, these Honey Almond Cereal Muffins with Post Honey Bunches of Oats Makes it possible to enjoy cereal anytime!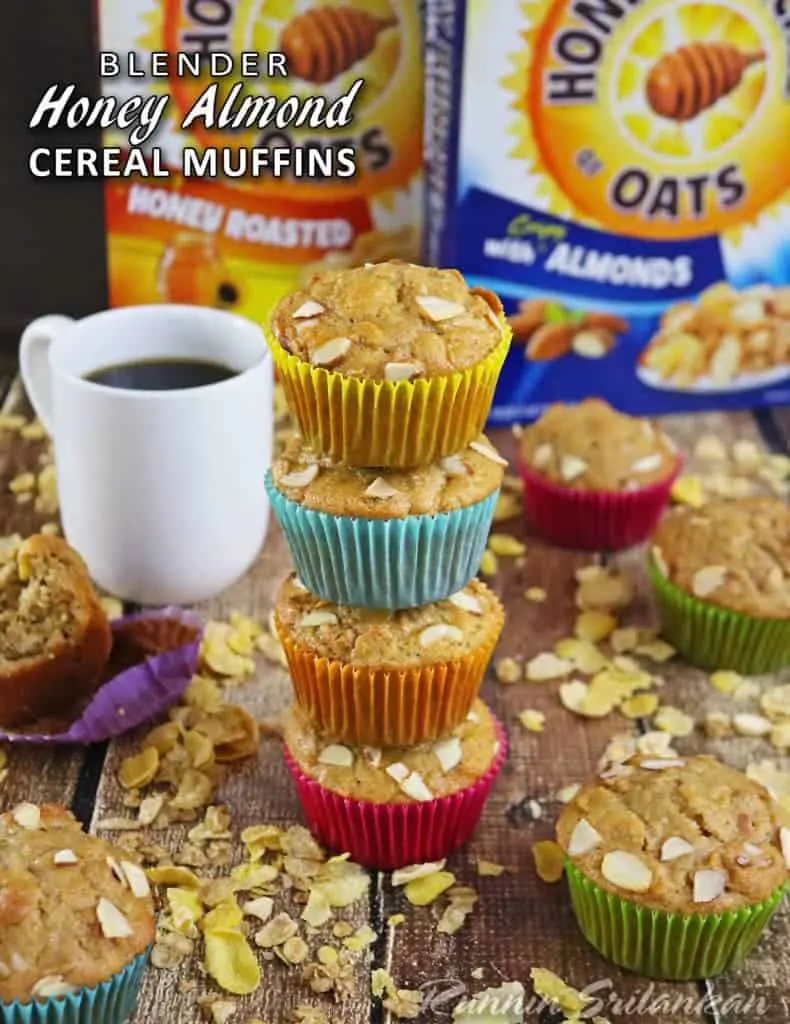 You have your favorite bowl of cereal in front of you…
So, how do you tackle it?
With milk?
Or, water?
Maybe, orange juice?
How about with melted chocolate drizzled on top?
Or, straight up?
Growing up between Colombo and Abu Dhabi, cereal just wasn't a top breakfast choice most mornings. Then when I came to Atlanta, that's all my college roommates seemed to eat! Sometimes they'd enjoy it with milk, sometimes with water, sometimes with melted chocolate and sometimes even with chicken! Sometimes I'd join them, but most times, I was running out the door with a portfolio in one hand and a still-wet painting in the other, which left me short on hands to juggle a bowl of cereal and spoon!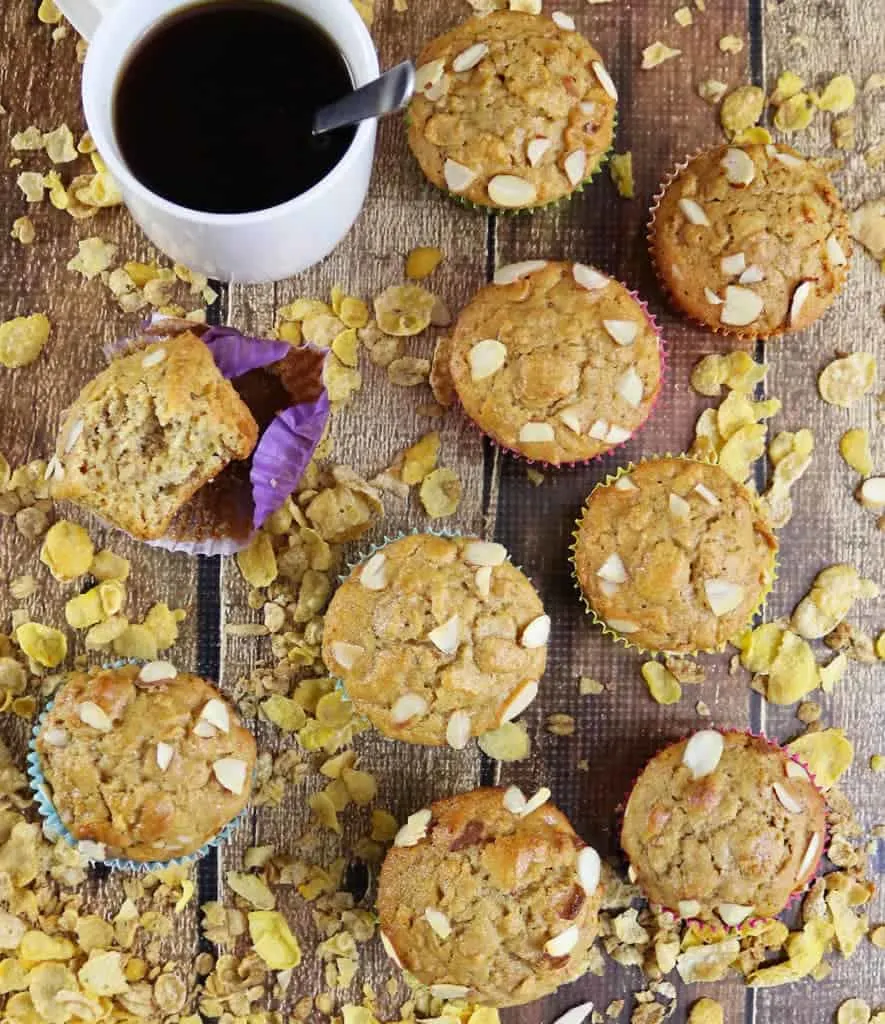 When I had my first job, I remember a company coming up with a portable cereal kit that contained cereal, warm milk and a spoon. I remember thinking that I'd still need two hands to enjoy it and by then I was juggling a baby in one hand and a diaper bag in the other. Needless to say, these breakfast kits were pulled off shelves shortly after their debut and it was around this time that I started experimenting with using cereal in cakes, cookies, muffins and the like.
And…the experimenting still continues….
Sometimes I hit the jackpot and come up with a delicious treat like these Anytime Cereal Muffins on the first try. Other times, like when I was trying to perfect these blender-prepped, Honey Almond Cereal Muffins you see here, I struggle and end up with several batches of muffins that even my dogs refuse to eat! Ingredients and their quantities seemed to jive well on the fourth try – and those are the ones you see here. If you follow me on Instagram, I will be posting some of my failed attempts there.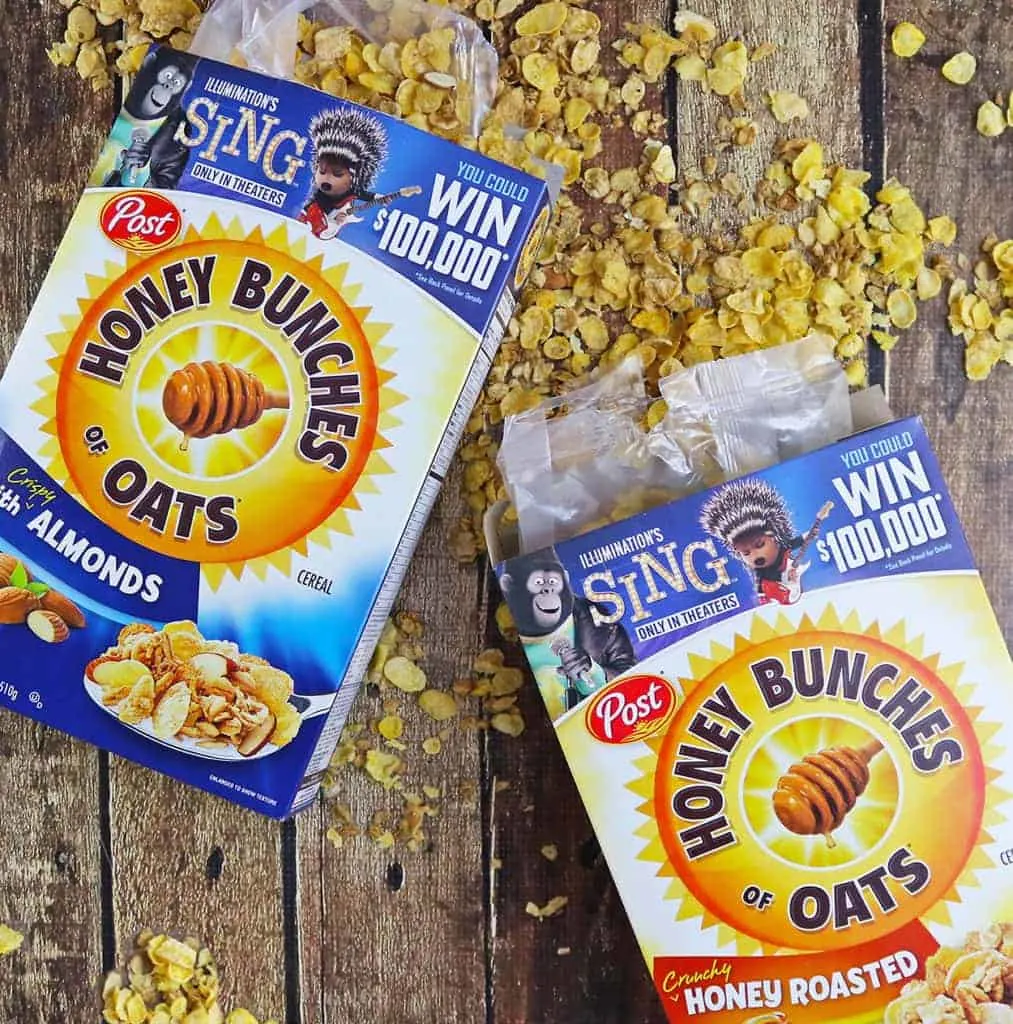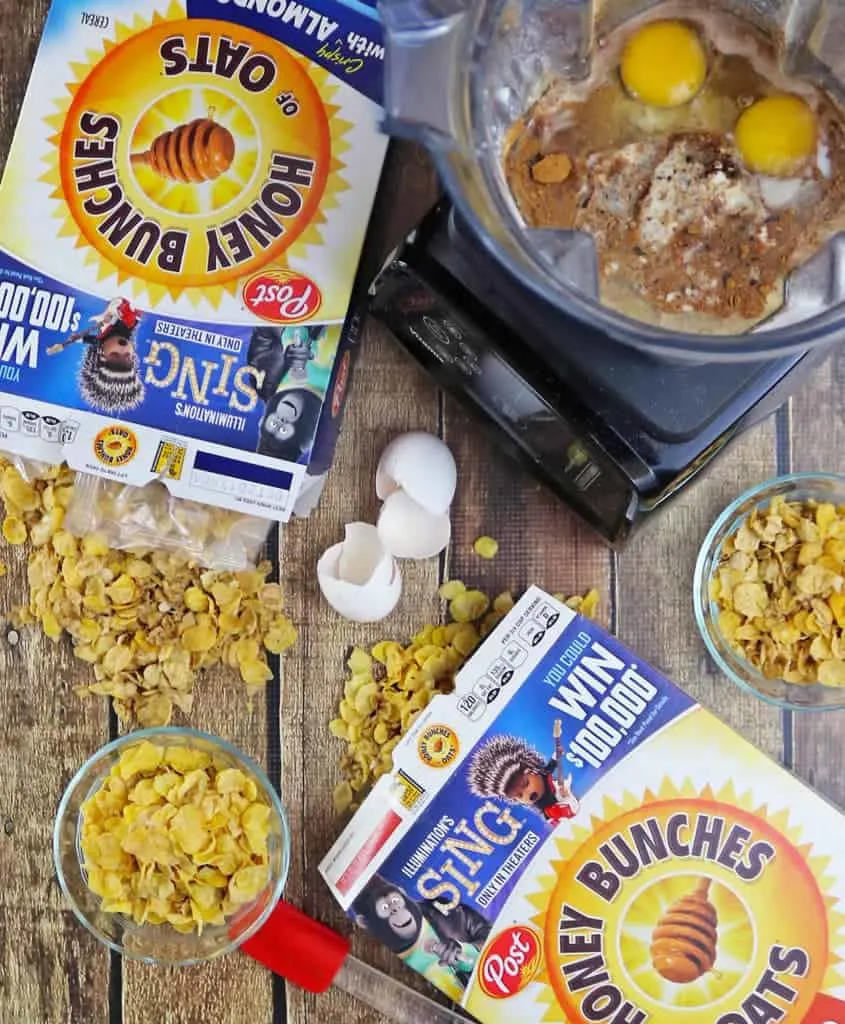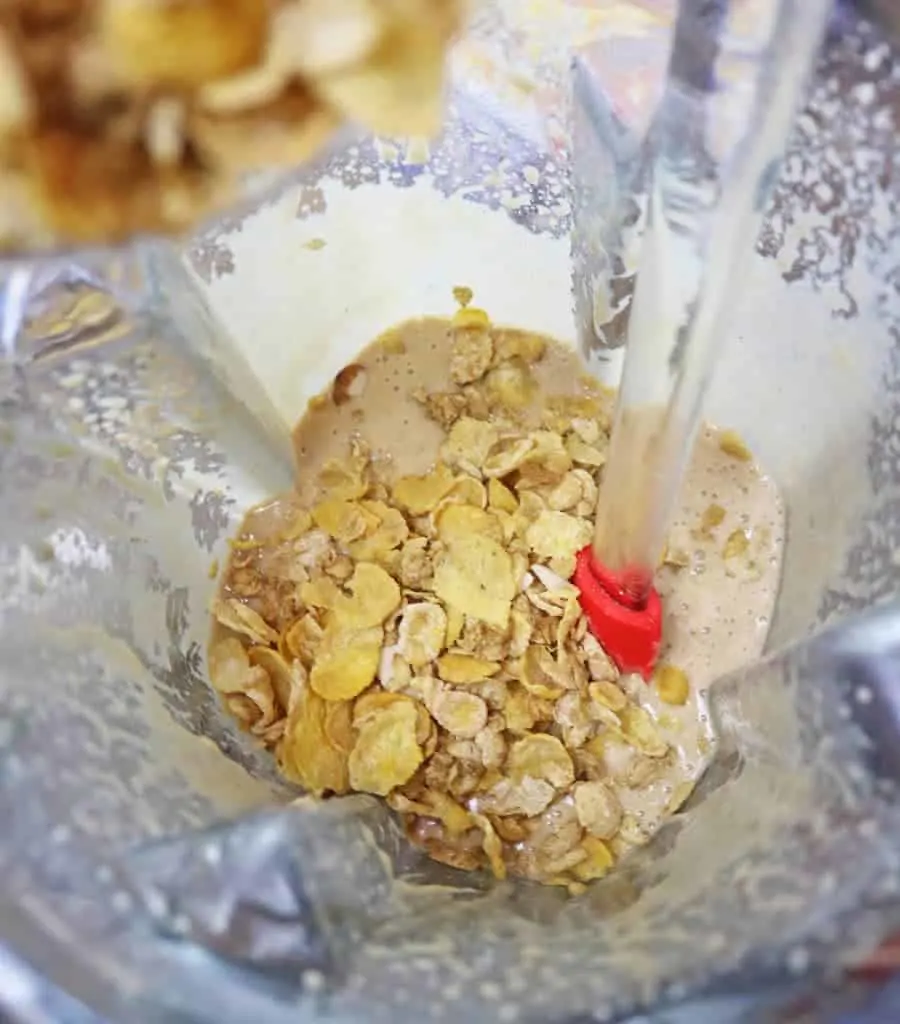 If you are looking for an easy to prep, portable, tasty, not too sweet way to enjoy cereal, then you've gotta give these muffins a try! I used Honey Bunches of Oats Honey Roasted Cereal and Honey Bunches of Oats Almond Cereal, which I picked up from my local Walmart store, in these muffins.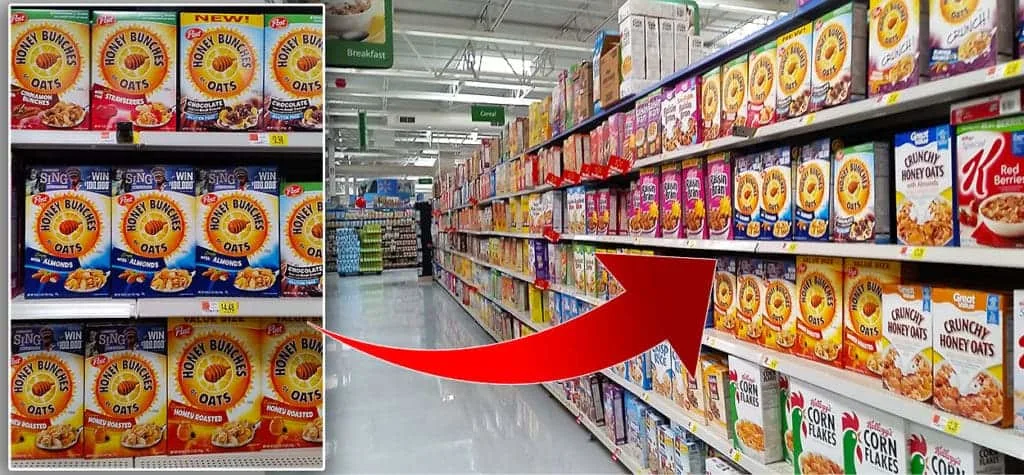 Speaking of Honey Bunches of Oats, have you seen the new packaging on select Post Cereals that incorporate the new SING movie? And…if you have… did you know that you could be the lucky winner $100,000 or free movie tickets by entering the SING National Sweepstakes? You can enter the sweepstakes by entering the codes that are printed inside specially-marked boxes of Post cereal, into the sweepstakes website. More information and details can be found on Post Cereal boxes with the new SING movie packaging.
[Tweet "Easy Honey Almond Cereal Muffins helps you enjoy #CerealAnytime #SingWithPost #ad #sweepstakes"]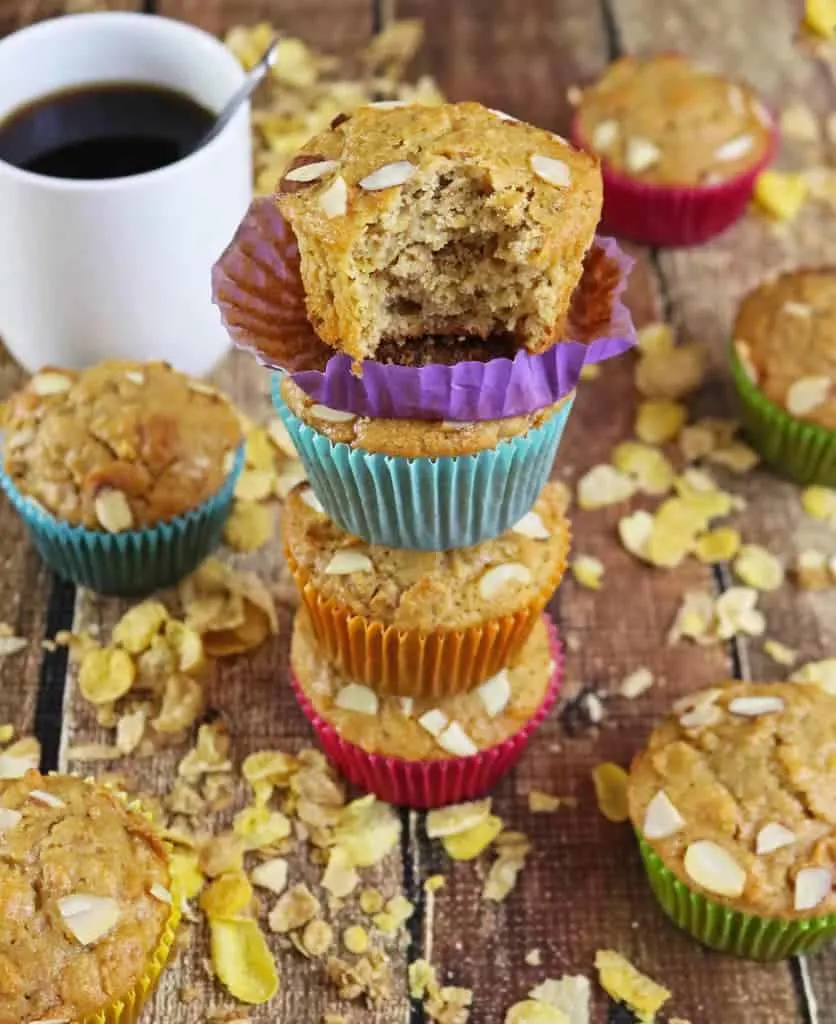 From Honey Bunches of Oats Honey Roasted Cereal to Honey Bunches of Oats Strawberry Cereal, Post Brands has a variety of cereal flavors to cater to everyone's tastebuds. And with these Honey Almond Cereal Muffins, you can enjoy your favorite Post cereal outside of a bowl (using only ONE hand) at any time of the day – like say when you are out shopping on Black Friday?
Looking for more cereal recipes? Then these No-bake Cereal Cookies are a must-try!

I'd love to know if you happen to make this recipe (or any other on here) so pretty please tag me @RunninSrilankan and #RunninSrilankanon on Instagram, Twitter, Pinterest, &/or Facebook. And, if you haven't yet, then please make sure to subscribe to my mailing list to have all sorts of eats and treats delivered to your inbox! Thanks Y'all!