Fresh tart cherries mingle with charred chicken and caramelized onions between layers of flaky pie crust making these delicious savory cherry hand pies with chicken a favorite!

I've partnered with Sprouts on this recipe for Savory Cherry Hand Pies with Chicken. All opinions herein are my own. Thank you for supporting the brands that keep this blog spinning.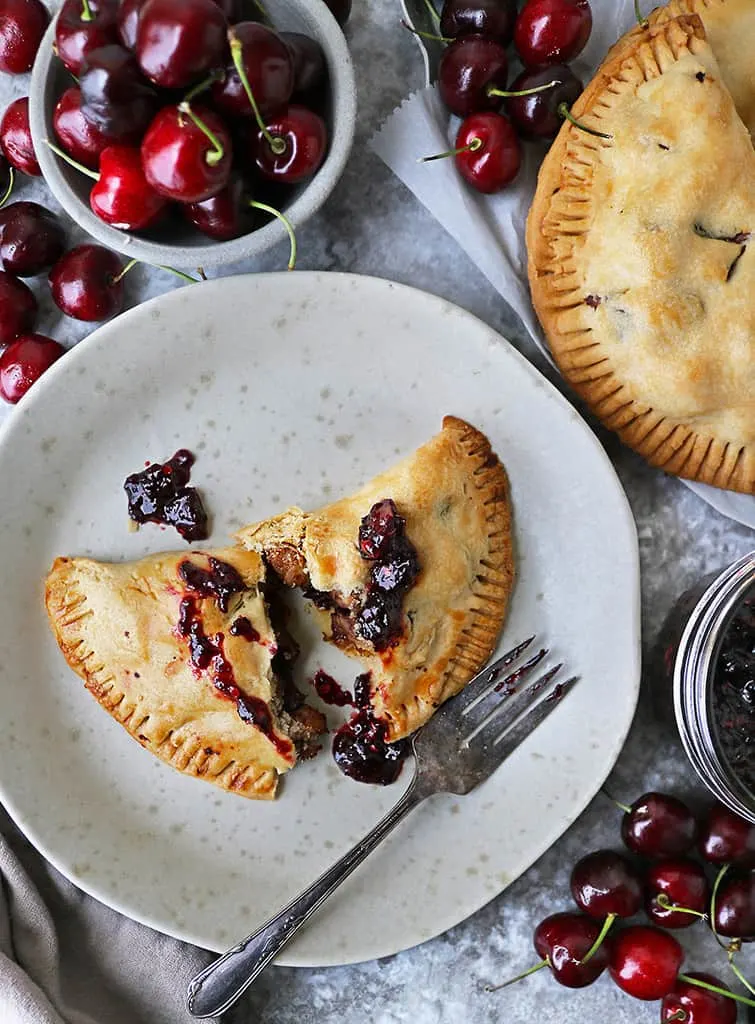 In order to keep my kitchen a bit more organized, I try to sell off or give away gadgets and gizmos I haven't used in a year or so. Last year I bid adieu to 2 air fryers (seriously, who needs 3 of these), a canning kit, an ice cream maker, a slow cooker, an electric hood range (I was shocked someone actually bought this), and a cherry pitter!
My daughter wishes I had held onto that cherry pitter but, there are so many ways to pit a cherry.

There's the chopstick method, the paper clip method, the paring knife method, and the garlic-squash method.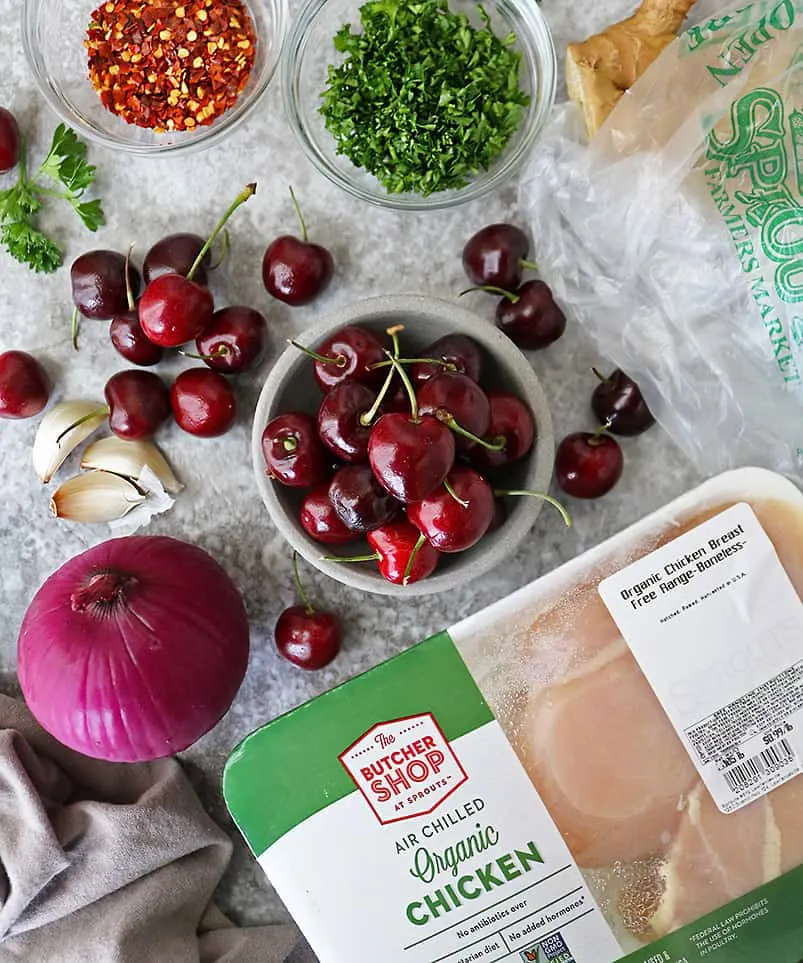 Personally, my favorite is the put-cherries-in-mouth-and-spit-out-pit method but that might not be the best option when using cherries to cook with, for family &/or friends.
Last week I bought a couple of bags of cherries from Sprouts. And, between snacking on handfuls of them, making this chili cherry sauce, and these taste bud tantalizing, savory cherry hand pies with chicken, our cherry supply is dangerously low!
Summer shopping at Sprouts for me means always bringing home a bag (or three) of sweet and juicy cherries!

From a unique variety of melons to the juiciest cherries, Sprouts is one my favorite places for fresh produce! This year's cherries at Sprouts have unbelievable flavor and quality. Cherries are high in antioxidants and are said to help relieve inflammation.
Now getting back to these Savory Cherry Hand Pies with Chicken…
These pies started off with a filling made of onions, ginger and garlic. When the onions were on the verge of caramelizing, I added in some air-chilled chicken, coriander, smoked paprika and some juicy cherries.
By the way, in case you are wondering, I pitted these cherries by slicing them with a paring knife and pulling out the pit with the tip of the knife. So, nope, I did not use my favorite pitting method on these! 🙂
After all the ingredients for this filling were hanging out in the pan, I let them mingle for a bit. When the chicken pieces were starting to brown and the cherries starting to caramelize along with the onions, I took this cherry-chicken saute off the stove and set it aside.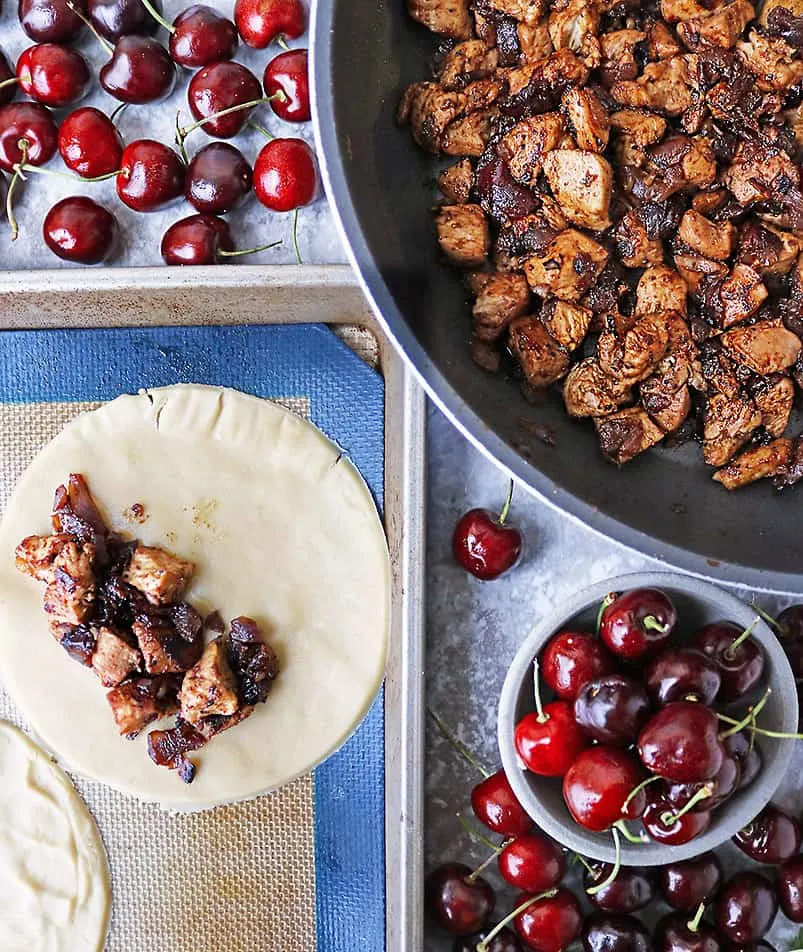 I gotta say, if pies are not your thing, this cherry-chicken saute is DEEELICIOUS on top of a salad or stuffed into lettuce leaves or all by itself.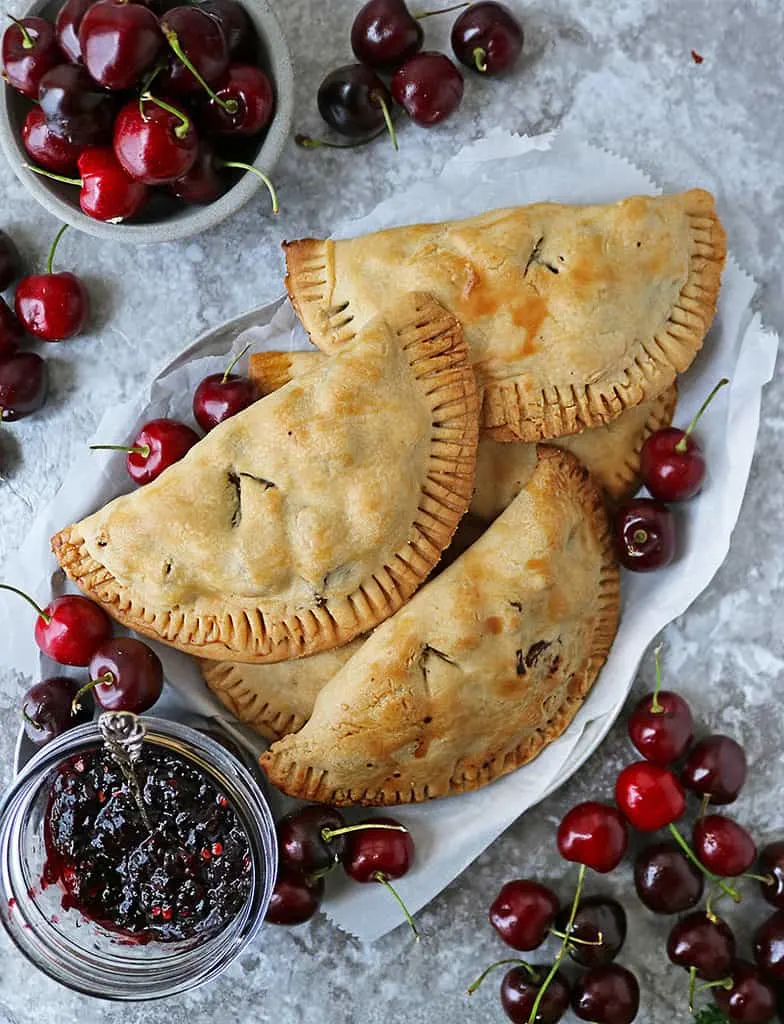 But, I decided to toss this saute onto some mini pie crusts (cut from rolling out a couple of regular sized pie crusts from Sprouts), fold them over, and bake up some savory cherry hand pies with chicken! If you don't have pie crusts but have some biscuit dough or puff pastry lying around, feel free to use those. Just roll them out with a rolling pin, cut out circles and fill them with this cherry-chicken saute, before baking them.
These hand pies are delicious drizzled with some of this chili cherry sauce.
Hoping you and your family enjoy these pies as much as my daughter and I did.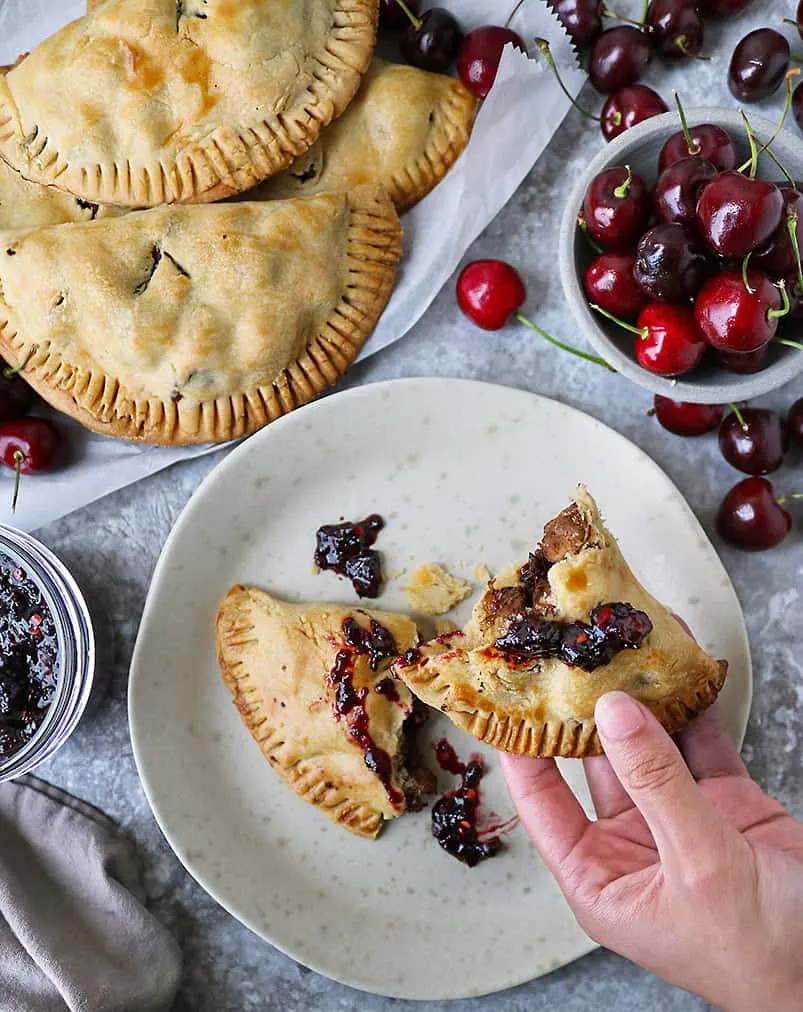 If you are fortunate to have a Sprouts near you, make sure to stop by and check out their fresh, seasonal fruits and veggies guaranteed to quench your summertime cravings.