With a beautiful ruby hue, these Chocolate Beet Biscotti are a delicious, healthy, gluten free treat that pairs beautifully with a cup of coffee or tea.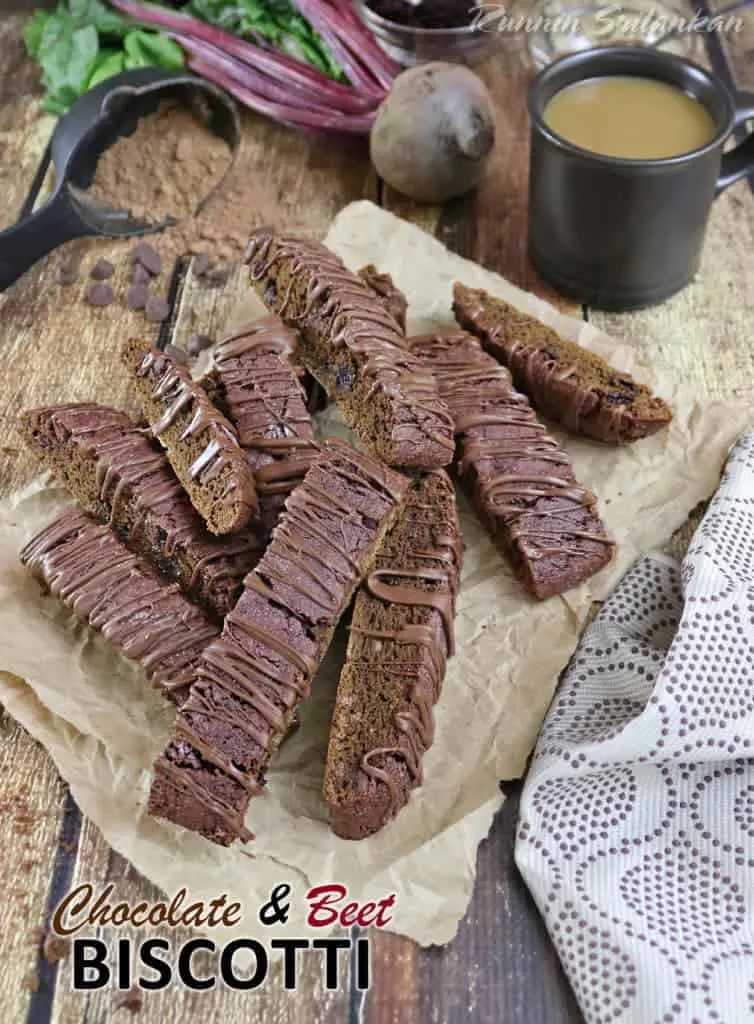 I seem to have become quite the expert in NOT doing those things that I know SHOULD BE done!
For example, I know I should be drinking a glass or two of lemon flavored water when I wake up. I know how good it is for me. A few times, I've even reaped the benefits of disciplining myself to do so.
But, this morning, I decided I'd drink four glasses of water – flavored strongly with coffee – instead!
And, unfortunately, this is the thought process I adopt when I'm in my kitchen, too! You see, I'm the messiest cook I know. I know I could retire that title if I simply cleaned as I went along.
But, knowing something and doing it seem to elude me when I'm in my kitchen. I've watched in awe and wonder when friends clean up as they move from chopping to sautéing. I've listened to tips, and have had every intention of putting them into action.
But, next thing I know, I'm three dishes in, and my kitchen looks like the city dump! Just yesterday my daughter came home (after I had made a batch of Chocolate Beet Biscotti) and pointed to grated beets on the top part of one of our kitchen shelves. I'm a measly 5'2″ and can barely reach that top shelf even on a step stool… so…
I guess I need to set a new goal for 2017!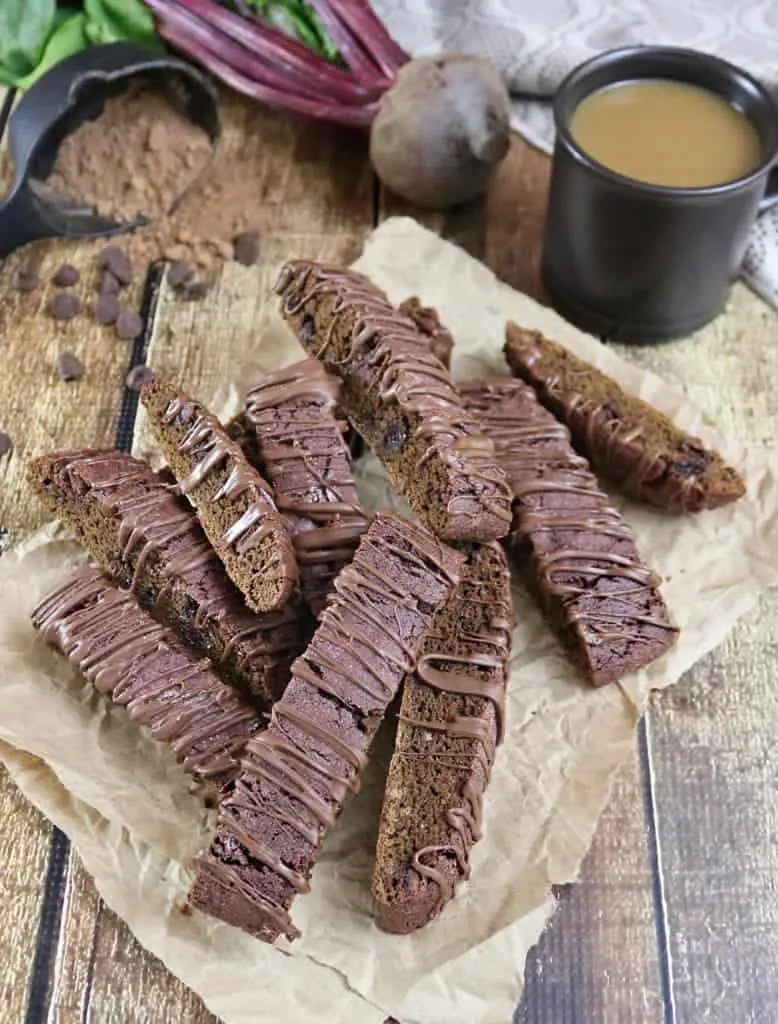 In 2017, I need to figure out how to NOT compete with the city dump – and, keep my kitchen somewhat clean in the process.
Some doable tips (even for me) that I know will help me along this adventure are:
• Empty my dishwasher before beginning any cooking – I'm notorious for not doing this, but, rinsing and placing dirty dishes in the dishwasher as soon as they are used not only cuts down on cleaning time, but will help with sink-pile-ups too!
• Carry a kitchen towel – to wipe up any spills or food projections on countertops or shelves as and when they happen. My dogs cannot help me with spills and projections on countertops and shelves like they do with messes on the flour, so toting around a towel will keep me from forgetting about that spill till its caked-up gunk later!
• Use a garbage bowl – Rachel Ray made this one popular in most kitchens awhile back- except mine, and I think it's time I jumped on the garbage bowl bandwagon. Besides, it keeps me from pushing discarded veggie parts off my cutting board and onto my counter – like I did with the peeled off beet skins when I was making this Chocolate Beet Biscotti.
• Use more frozen veggies than fresh ones when I can – there are a lot of mixed opinions about this, but I love using frozen veggies in soups and curries. When I open up a bag of frozen spinach, I add in what I need into a curry/soup and seal the bag and put it away. However, if I open a bag of fresh spinach, I tend to sort through the leaves – often discarding those nasty ones onto my countertop!
• Use a spoon "jar" filled with warm water instead of a spoon rest – this helps me rinse off any spoons/utensils I plan on reusing. If a jar isn't ideal, then just fill up one side of your sink with warm, soapy water.
• Invest in a few good "problem-solving" products – now that I seem to have come to terms with the fact that I have a problem with cleaning, investing in flexible cutting mats, a measuring cup that has multiple measurements (instead of a plethora of measuring cups with a measurement each), splatter guards/screens and multi-use, Scotch-Brite® Scrubbing Dish Cloths, are a must!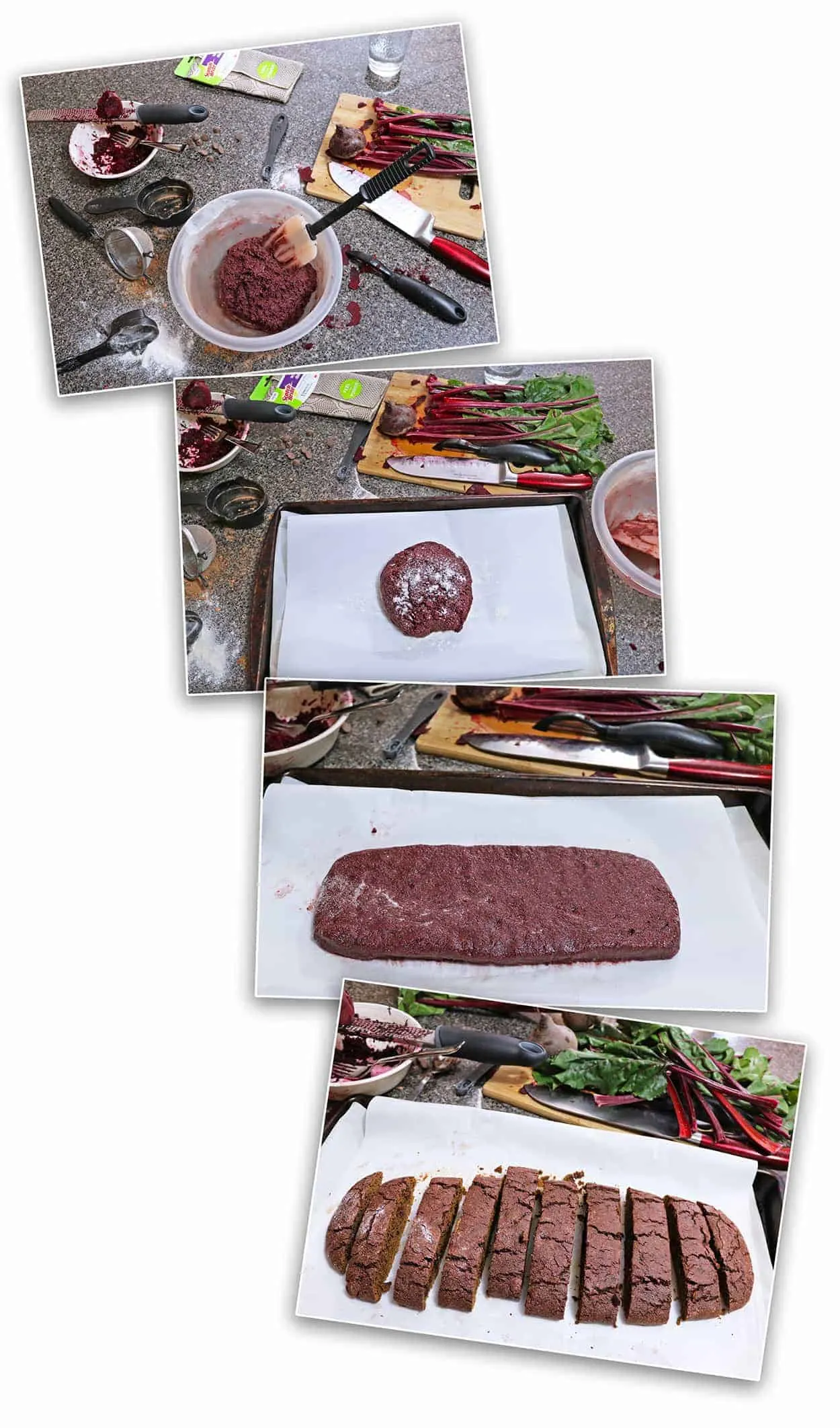 From all the things on that list, the only thing I have, and am a big fan of, is the Scotch-Brite® Scrubbing Dish Cloth! I first used the Scotch-Brite® Scrubbing Dish Cloth when I made a Beet and Bacon Skillet Bake over the summer, and recently purchased another one from Kroger when I was there picking up some beets for these biscotti.
The Scotch-Brite® Scrubbing Dish Cloth is a premium weave, textured fiber cloth that features the scrubbing dots technology on one side. I like to keep two on hand – one to help me tackle tough, caked on messes in the sink and other surfaces; and the other to help with wiping and drying. And, when am all done, I just toss my sturdy, Scotch-Brite® Scrubbing Dish Cloths in my washer and they are ready for next time!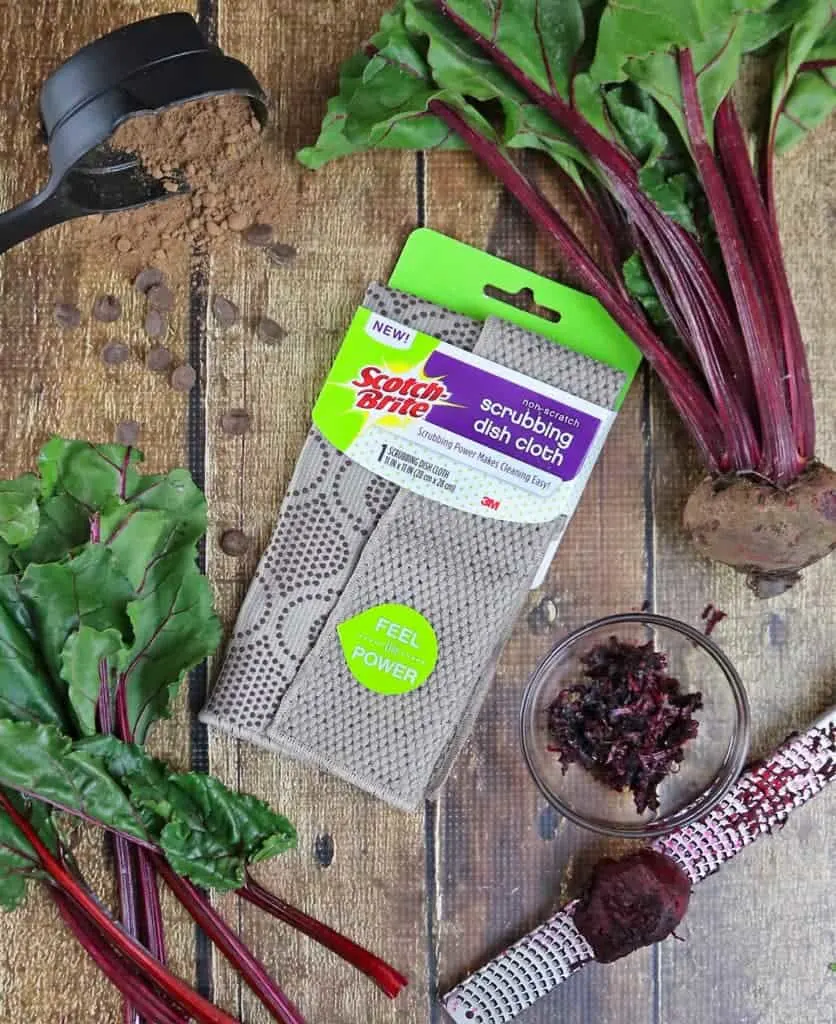 The Dish Cloth. Reinvented.
The New Scotch-Brite® Scrubbing Dish Cloth combines the best of a high quality dish cloth with the power of Scotch-Brite® scrubbing dots for a quicker and easier clean.

If you happen to be a messy cook like me, check out ideas and tips to help clean your biggest mess, HERE!
Make sure you connect and follow Scotch-Brite® on Facebook • Instagram • Twitter • Pinterest for even more cleaning tips, new cleaning products, how-to's, and ideas!
Now, back to these Chocolate Beet Biscotti…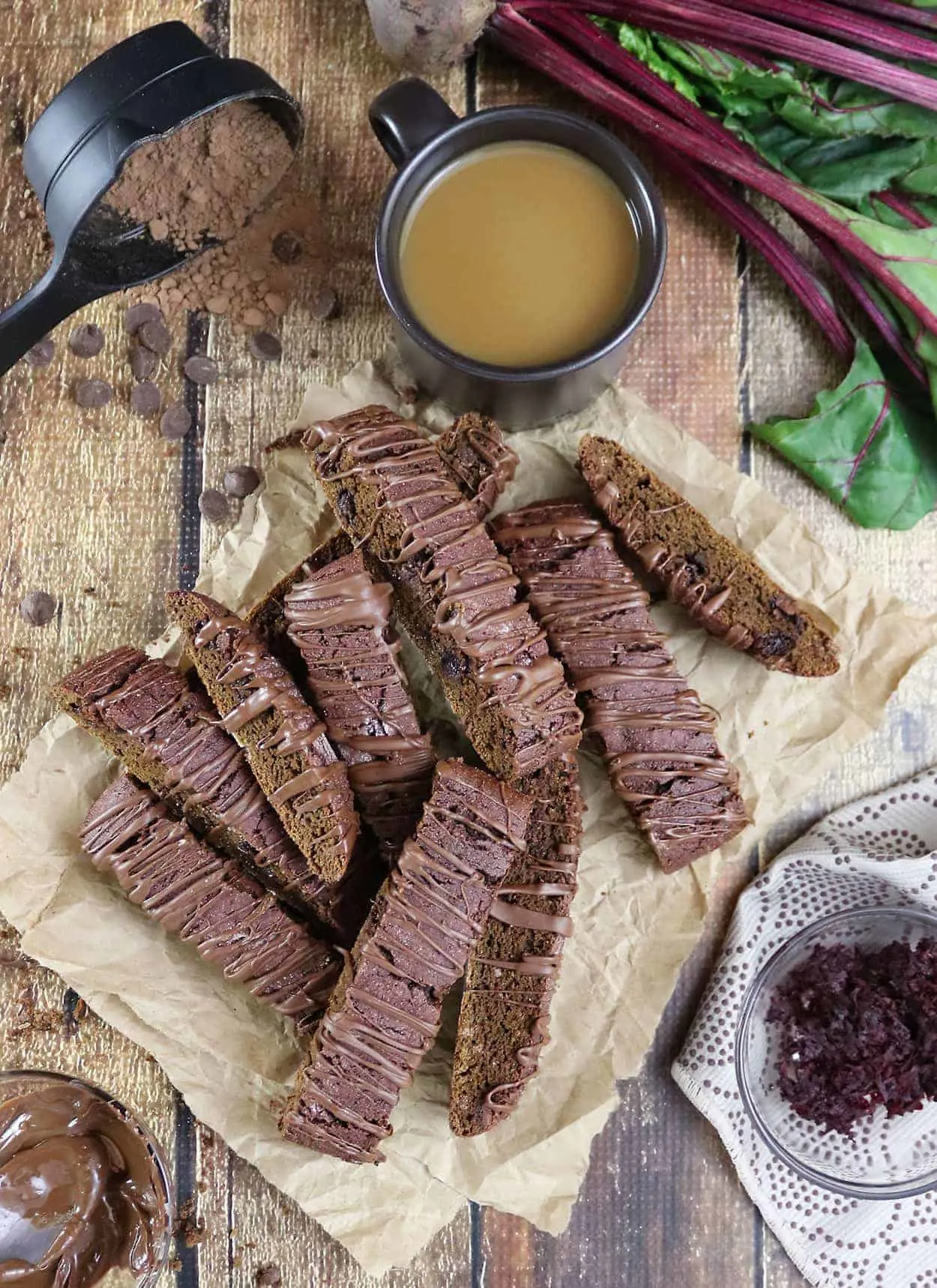 I only made a small batch of these. But, in typical Shashi fashion, they are a treat with veggies hidden in them. If you are a fan of beets and are excited about this recipe, am sorry y'all, you really cannot taste the beets in this. These are slightly sweet, majorly chocolatey and delightfully crunchy – yet, totally gluten free.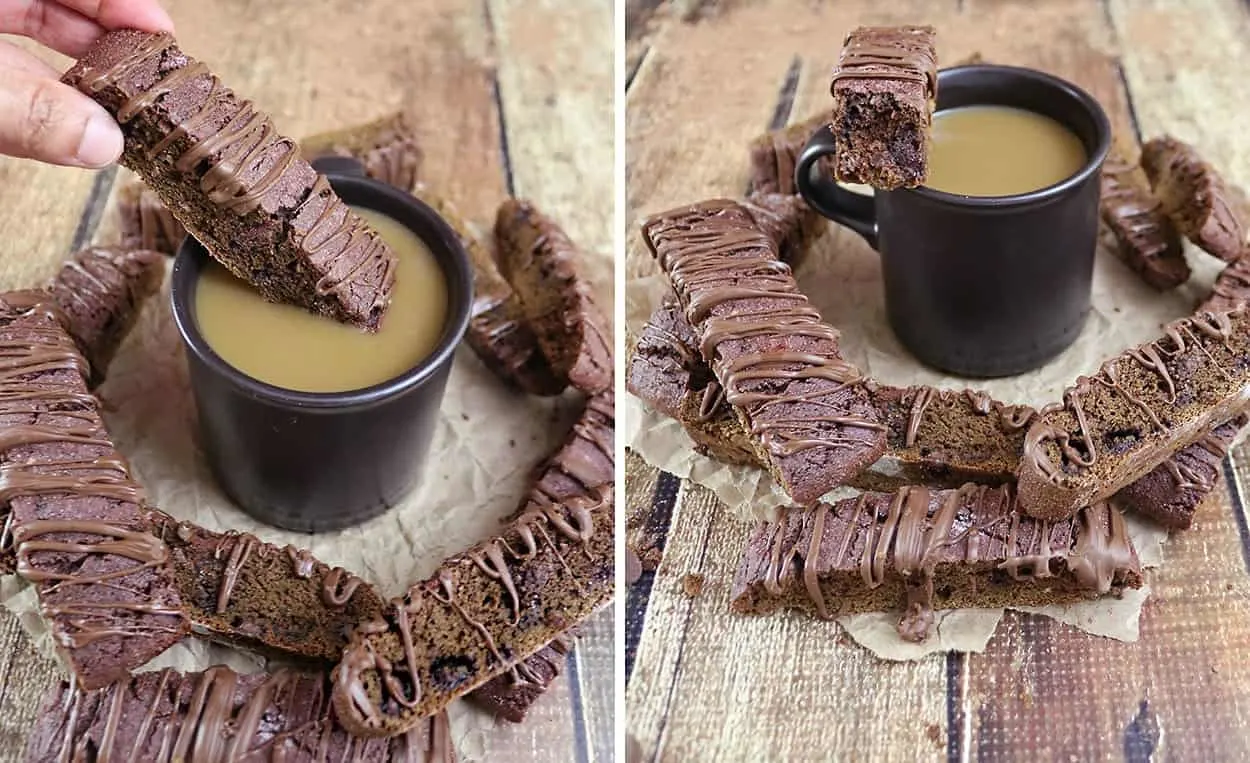 I used coconut oil in these instead of butter and grated beets instead of the roasted and pureed beets I used to use a lot. Lately, I have found that grated beets work just fine and are so much easier to use in baked treats – just peel, grate and throw in!
No baking, cooling, pureeing, AND cleaning up the blender/food processor as well! Just a healthy dose of beets in your biscotti with a smaller mess!