If you are looking to jazz up your chia pudding, then this Carrot Cake Chia Pudding takes most of the ingredients that go into a traditional carrot cake and marry them harmoniously into chia pudding!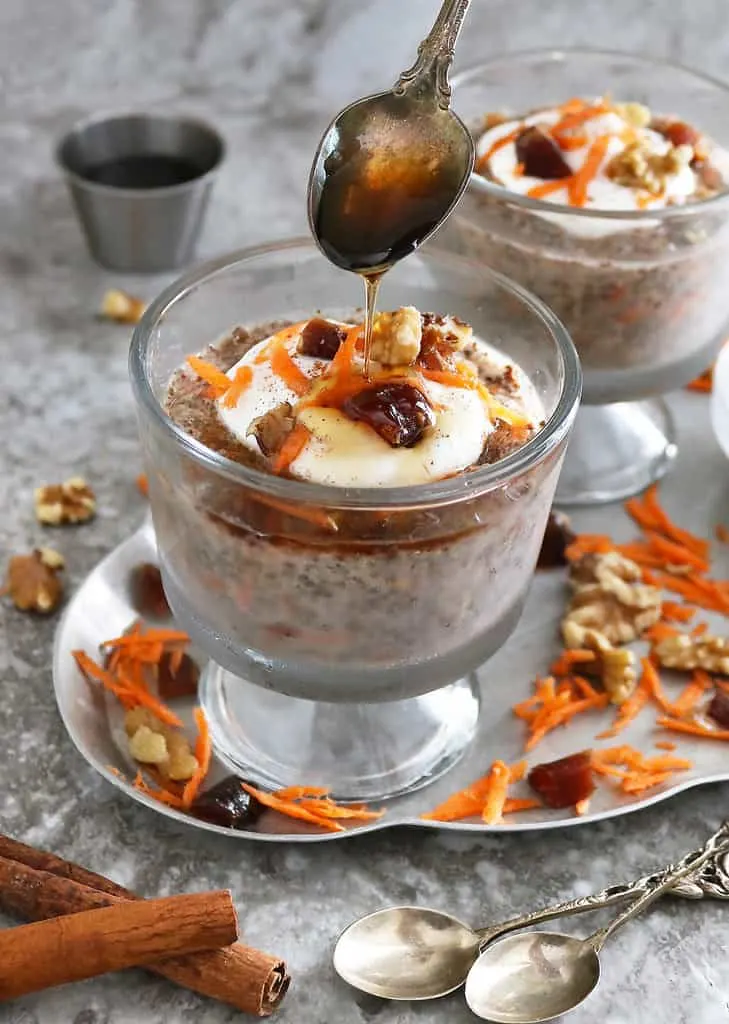 If you are looking for a healthy substitute for carrot cake, well, this carrot cake chia pudding might not be for you. To clarify that statement, well, to me, the only substitute for carrot cake is carrot cake. Or, maybe red velvet cake? Perhaps even pumpkin spice cake? Yes, I am a huge cake fan.
However, if you are looking to take your chia pudding to the next level – well, then this one is for you!
I have been jazzing up my chia pudding for a while now, and this one has me so excited to share it with you! I took most of the ingredients that go into carrot cake and incorporated them into this chia pudding.
And, this carrot cake chia pudding filled with comforting spices is simply delicious.
It is aromatic, creamy, nutty, and sweet, and is served with a dollop of slightly tangy Greek yogurt.
I have come to understand that chia pudding is an acquired texture. Its glutinous texture is not for everyone. In fact, I was not a fan of chia pudding at first. But, as I've kept experimenting with different add-ins, I have grown to adore chia pudding. As much as one can adore a chia pudding, that is!
Anyhoot…
Back to this carrot cake chia pudding…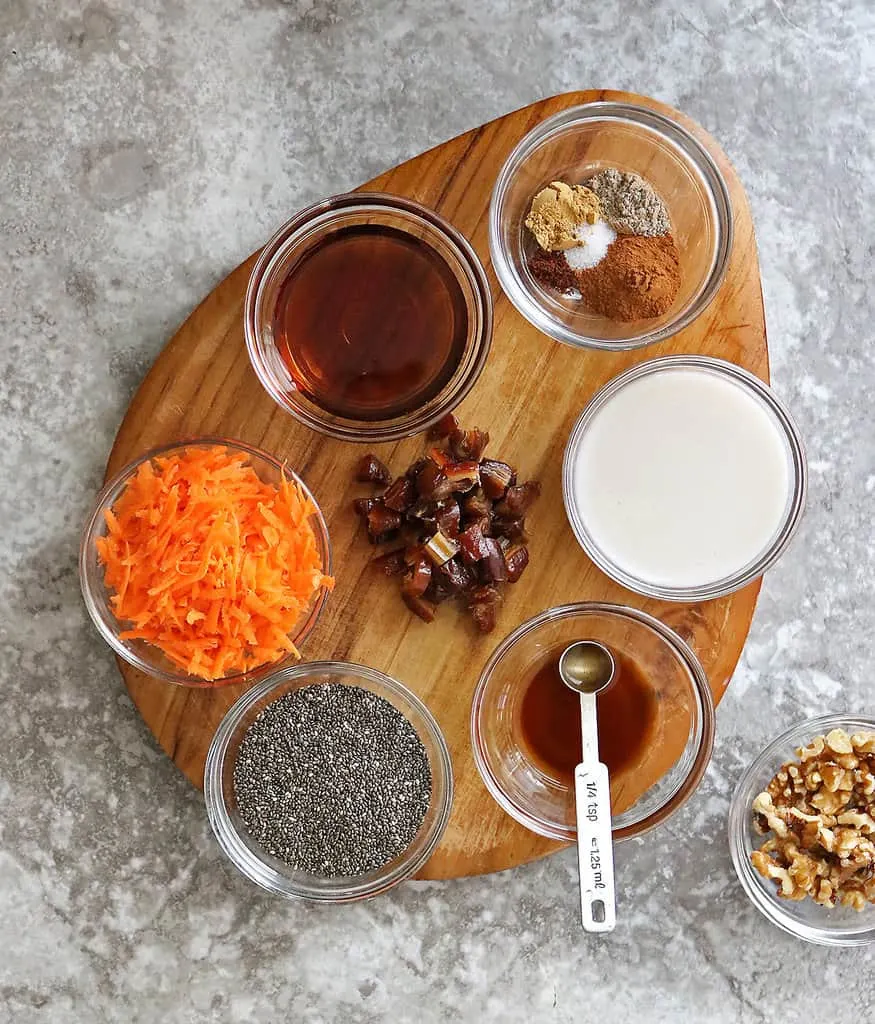 What are the ingredients in this Carrot Cake Chia Pudding?
You will need the following 12 ingredients to make this easy carrot cake chia pudding, and they are:
Chia seeds

Milk

Maple Syrup

Carrot

Walnuts

Dates

Cinnamon

Cardamom

Ginger

Cloves

Almond Extract

Vanilla Extract
Make sure to check the recipe card below for measurements of each of the ingredients I used.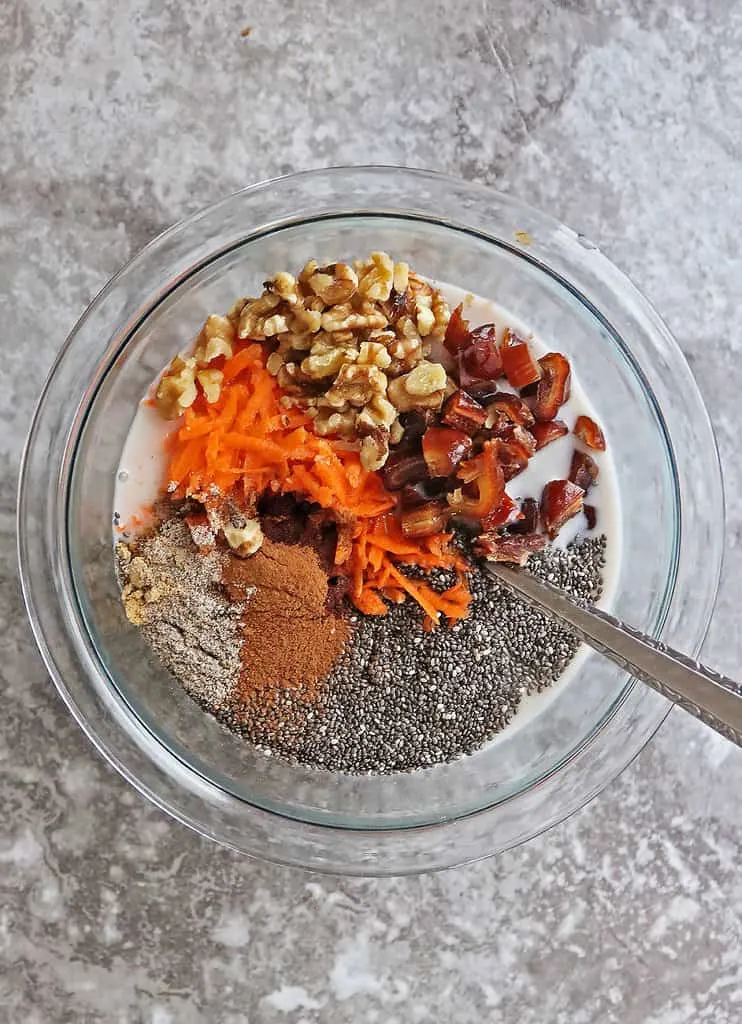 Substitutions…
Chia seeds
I use black chia seeds. However, you could also use white chia seeds if you have those on hand. When it comes to taste and texture, I have found that there isn't much of a difference between the two. However, some say that black chia seeds have a slightly higher protein content, whereas white chia seeds have a slightly higher Omega-3 content.
Milk
Almond milk or coconut milk are my first options when making chia pudding. The ratio I like to use is 1 part chia seeds to 4 parts almond/coconut milk. If you like your chia pudding more liquid, then make it 5 parts almond/coconut milk. And reduce some of the liquid if you rather have a thicker chia pudding.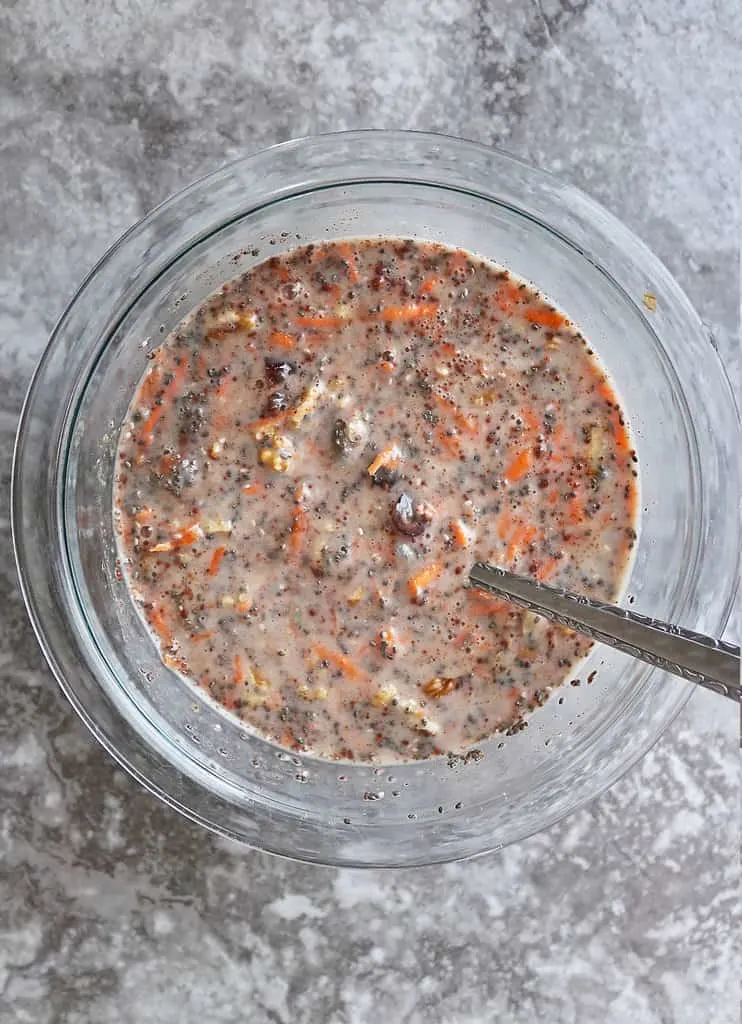 Maple syrup
I used maple syrup to sweeten this chia pudding. But, you can use honey, sugar, monk fruit, or any sweetener of your choice. However, make sure to alter the quantity of the sweetener you use to fit your taste, as we all know all sweeteners are not created equal.
Walnuts
Walnuts are my current favorite nut. But, they can be replaced with your favorite nut.
Dates
I used dates instead of raisins in this carrot cake chia pudding, just because I love dates and usually have a large bag of dates hanging out in my fridge. However, feel free to use raisins instead.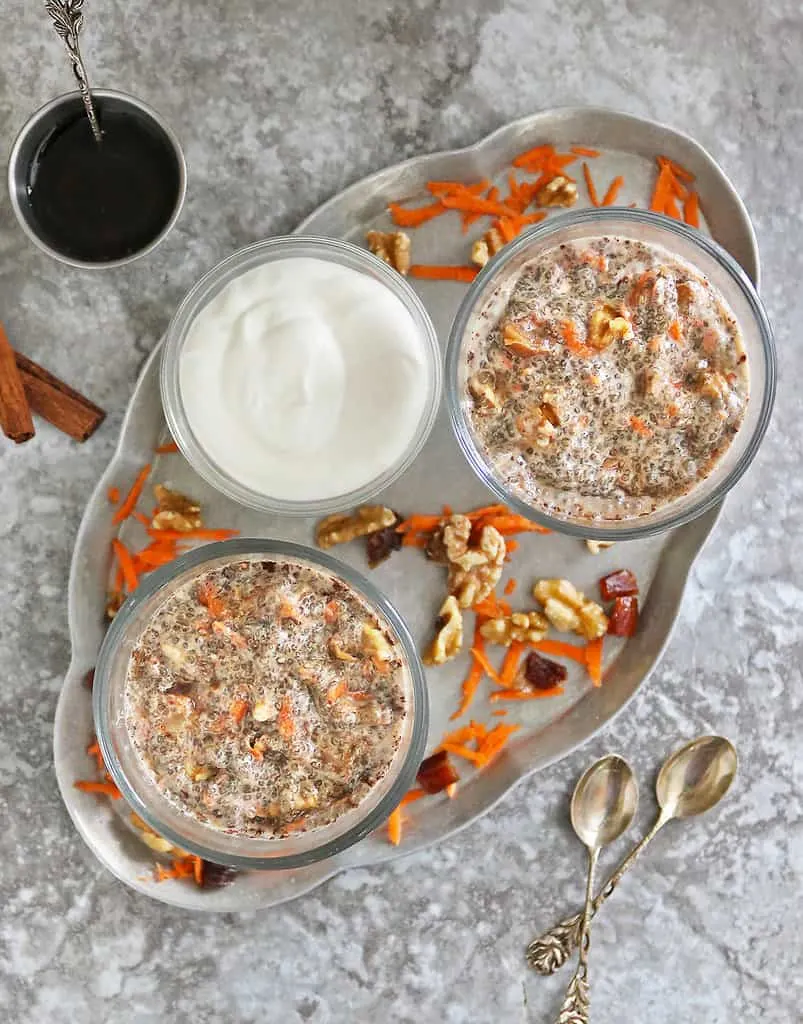 Making this Chia Pudding…
You do not need a high-speed blender or any other fancy equipment to make this. Just a bowl, a spoon, some mason jars, or an airtight single-serve glass container or two to serve the pudding in.
To make the pudding, simply dump all the ingredients into a bowl. There is no need to worry about which one comes first or second.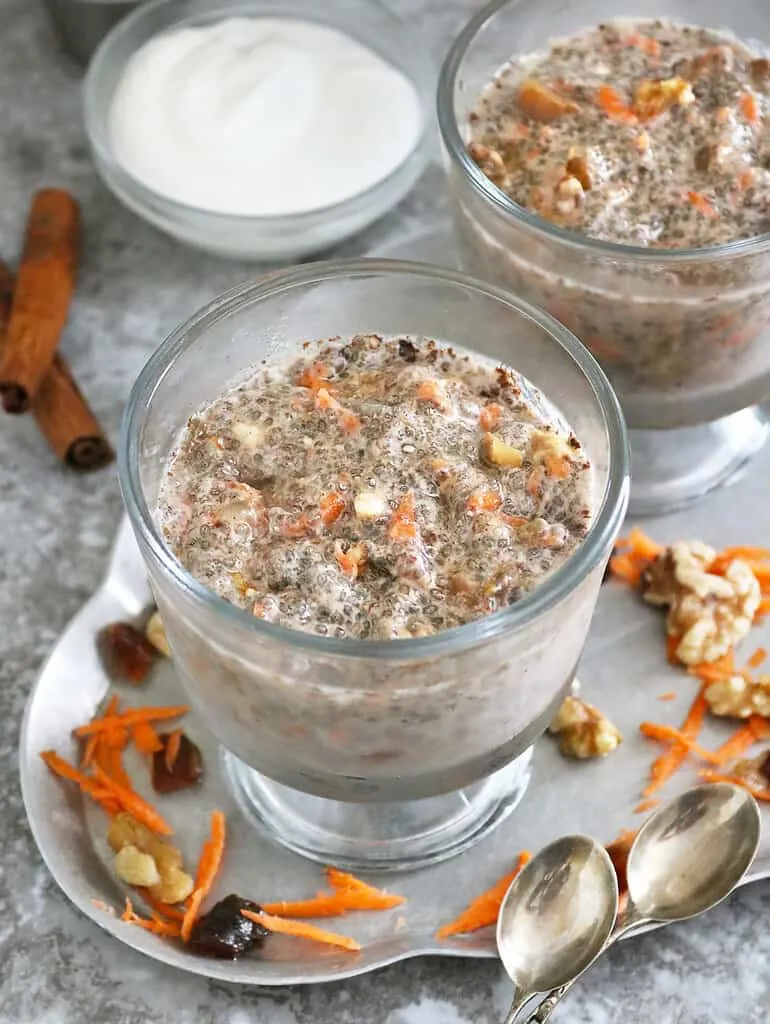 After they are all in the bowl, stir them well.
Then, divide the mixture between 2 or 3 containers and chill for at least 4 hours. You can also make this in the evening and leave it in the fridge to enjoy on those busy mornings for a filling breakfast. It is also the perfect make-ahead snack and classic dessert.
A great way to serve this carrot cake chia pudding is to add a dollop of Greek yogurt on top. Then drizzle on some more maple syrup, some shredded carrot, walnuts, and date pieces or raisins.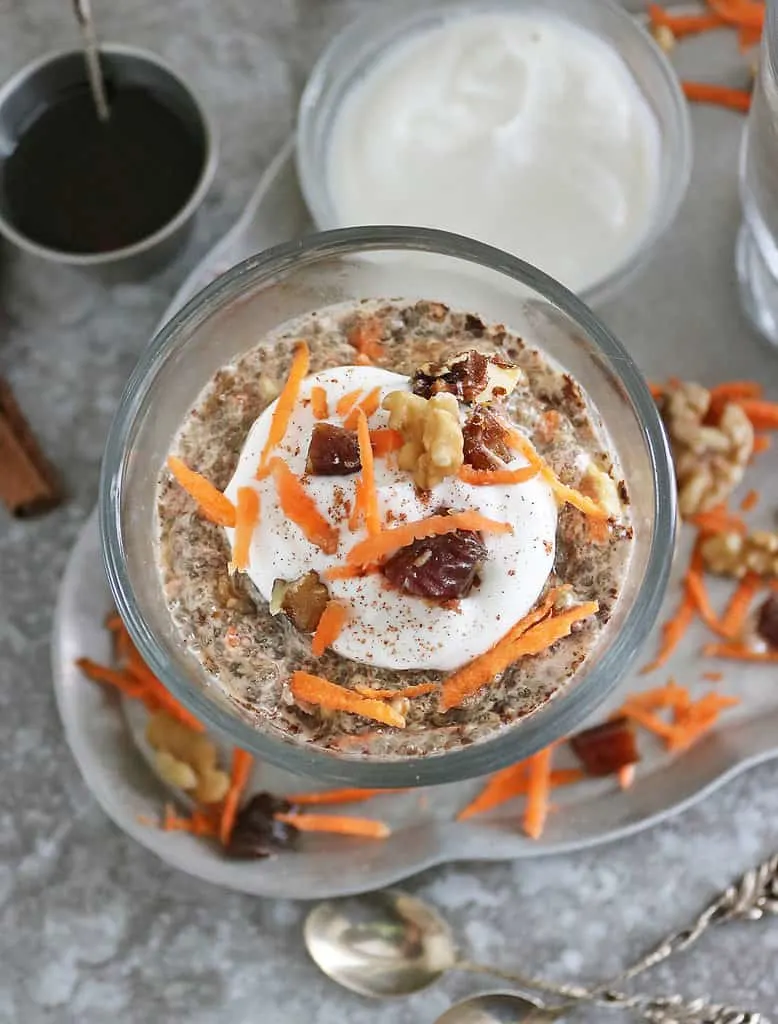 How long can you keep this chia pudding refrigerated?
You can keep this carrot cake chia pudding in an airtight container, in the fridge, for up to 5 days.
Can you freeze chia pudding?
Yes, you can freeze prepared chia pudding for up to 2 months. Just make sure to divide it into individual portions and place the single servings of chia pudding in airtight containers. The pudding can be thawed by removing it from the freezer and placing it in the fridge for 6–8 hours.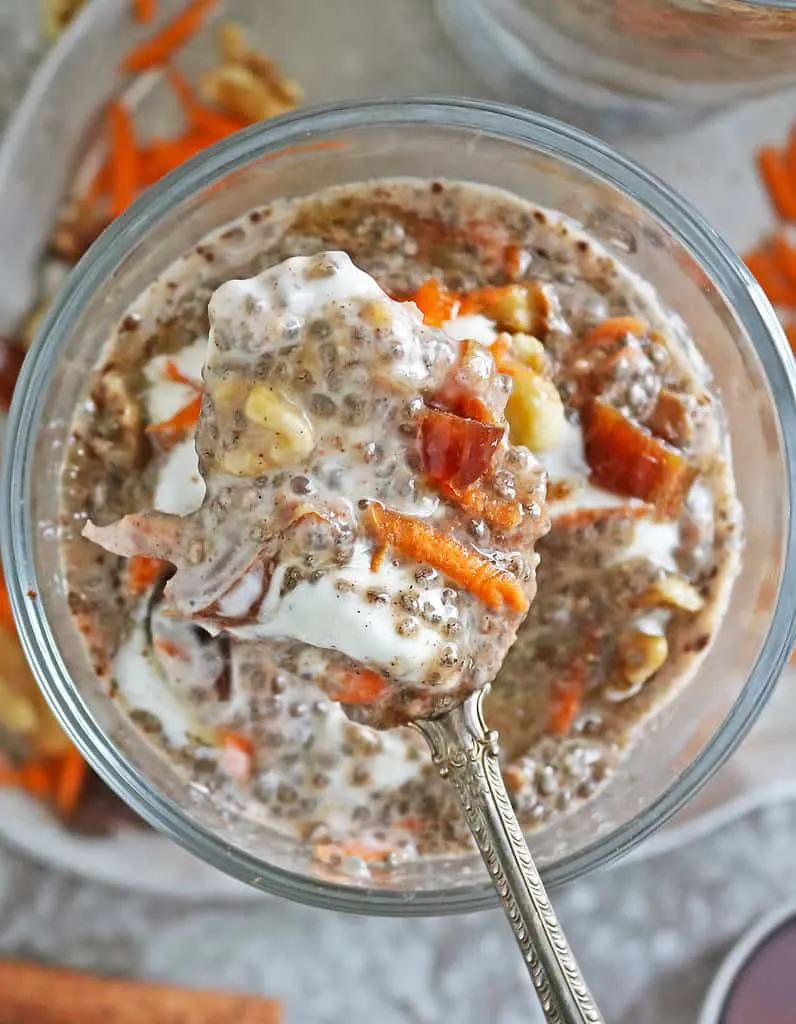 Thanks so much for stopping by. If you make this recipe, please let me know in the comments below what you think of it. For more fusion, spice-filled, recipe ideas, please subscribe and follow me on Instagram, Mastodon, and/or Pinterest!