Juicy, sweet papaya and fresh ginger unite harmoniously in this dairy-free and delicious, 3-ingredient Papaya Ginger Smoothie.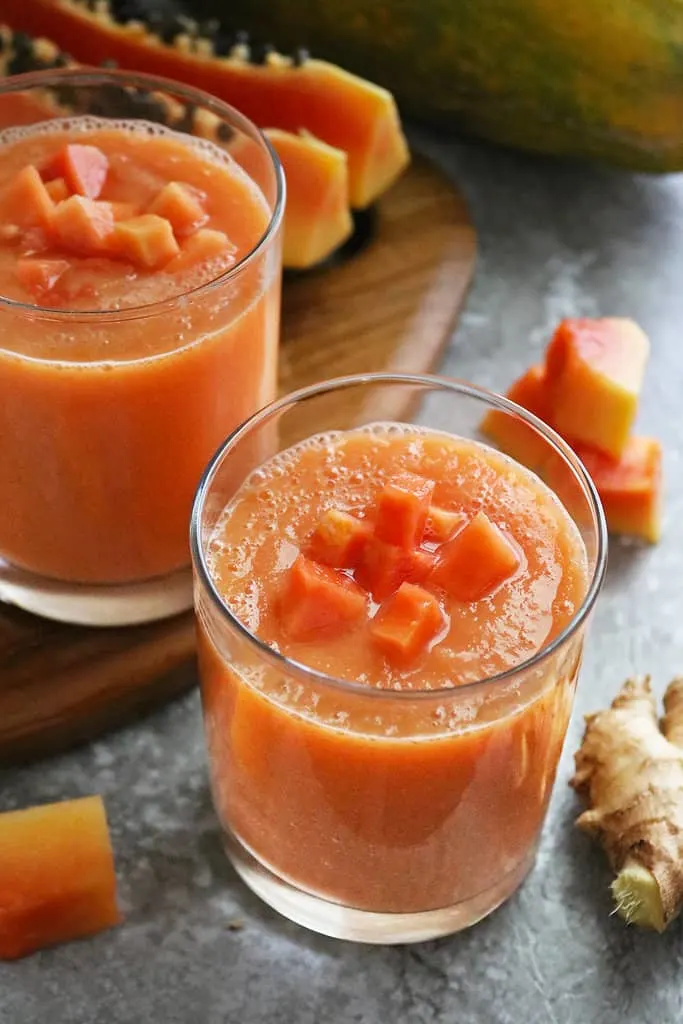 This spring, papayas seem to be springing up at just about every grocery store I frequent here in Atlanta. And, sweet and juicy papaya is simply irresistible to me.
What does papaya taste like?
Ripe papaya is sweet and juicy. Its flesh is orange and succulent. And it tastes like a cross between a mango and a cantaloupe.
How do you eat papaya?
The easiest way to get to the flesh of the papaya is to cut it in half, scoop out the seeds, and then scoop out the flesh. You can use a melon baller for pretty balls of papaya or chop up the flesh much like you would an avocado, and then scoop out the cut pieces.
The flesh of ripe papaya can be enjoyed raw in everything from fruit salads to smoothies to as-is, though the skin is inedible.
In Sri Lanka, green papaya is often used in curries and stir-fries. But today, we are going to stick with ripe, orange, and sweet papaya for this recipe.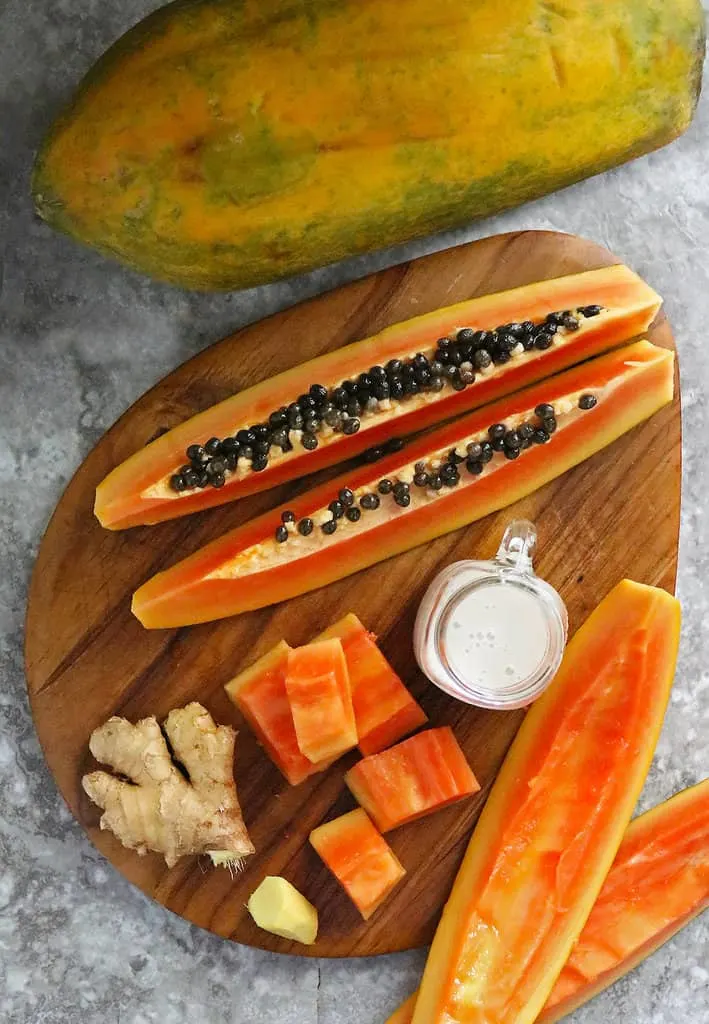 Speaking of this recipe…
What are the ingredients you need to make this Papaya Ginger Smoothie Recipe?
You will only need 3 ingredients to make this Nourishing Papaya Ginger Smoothie Recipe, and they are:
Ripe, Sweet Papaya
Fresh Ginger
Almond Milk or Coconut Milk
If your papaya isn't fully ripe and not as sweet, you can use a few tablespoons of maple syrup or a sweetener of your choice in this smoothie. However, if your papaya is ripe, and you want to tone down the sweetness of your smoothie, you can use a small squeeze of lime juice or lemon juice.
After you have all the ingredients ready, it's just a matter of adding them to a blender and blending until smooth. Then, pour it into glasses, top it with some papaya cubes and mint sprigs, and enjoy!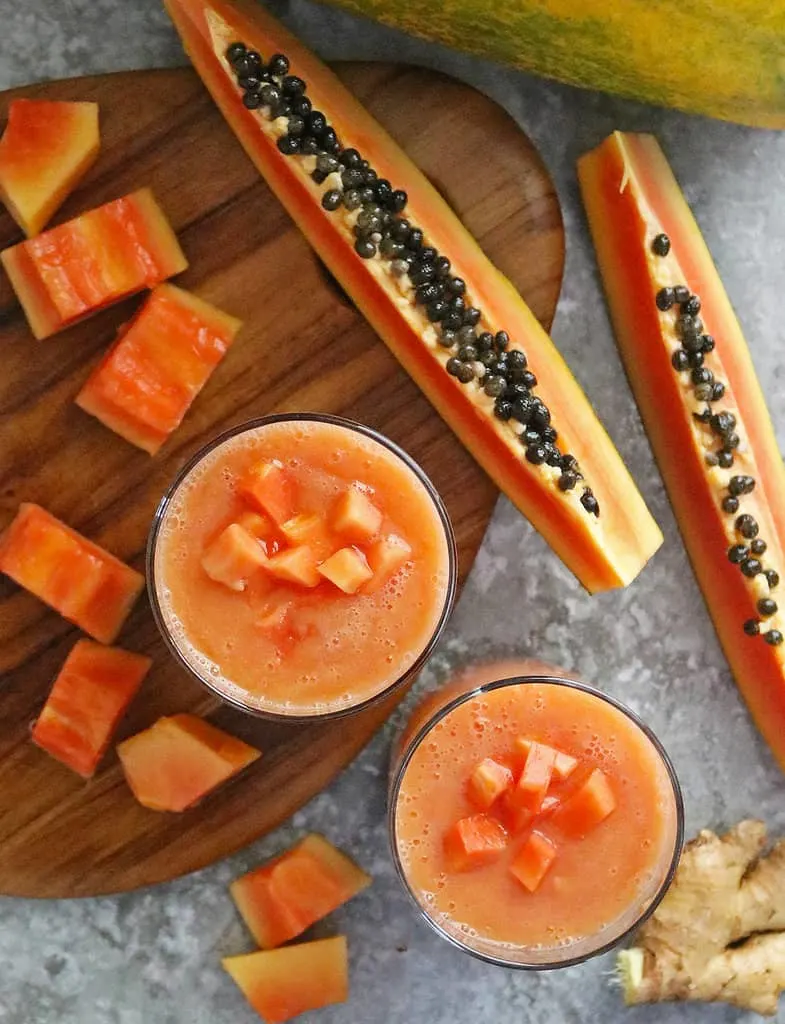 This Papaya Ginger Smoothie is a healthy smoothie loaded with vitamins such as vitamin C, vitamin A, and potassium. It is also loaded with antioxidants. And, it is a good source of fiber.
The combination of ginger and papaya in this tropical papaya ginger smoothie carries a slew of nutritious benefits. From aiding in digestive health to helping fight against inflammation to helping boost immunity, this tropical papaya ginger smoothie is a healthy and delicious smoothie recipe.
This refreshing smoothie is a delicious way to start your day and is a slump-slaying afternoon pick-me-up.
As with most of the recipes I share here, this recipe is not a strict one. What I mean by that is, it would be amazing if you used this recipe as a guide and added in any fruit of your choice or some Greek yogurt, or even some orange juice or any other fruit juice you prefer.
You could even add some chia seeds to this ginger papaya smoothie and have a delicious ginger papaya chia seed pudding to enjoy for dessert.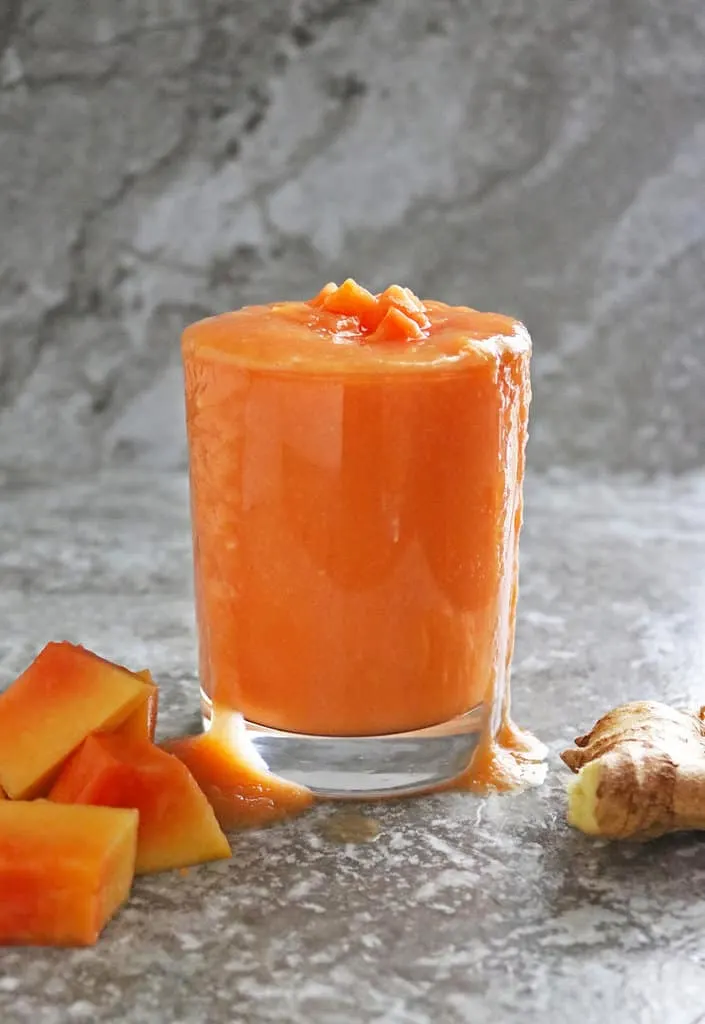 Thanks so much for stopping by. If you make this recipe, please let me know in the comments below what you think of it. For more fusion, spice-filled, recipe ideas, please subscribe and follow me on Instagram, Mastodon, and/or Pinterest!