Sinfully scrumptious Pistachio White Chocolate Rum Popsicles are served dipped in Whisky Rum spiked creamy cocktails – making these a delicious treat for yourself or to share with friends and family!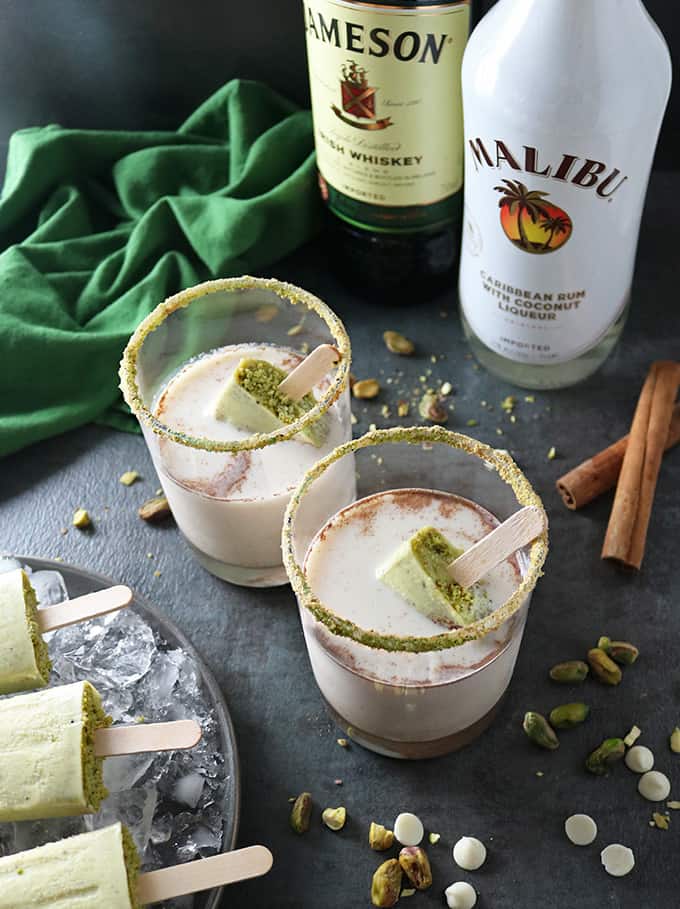 When it comes to foodie events, Atlanta is quite the mecca! From themed wine tours to watermelon festivals, to classes on tackling a whole hog, there's something foodie-related always going on.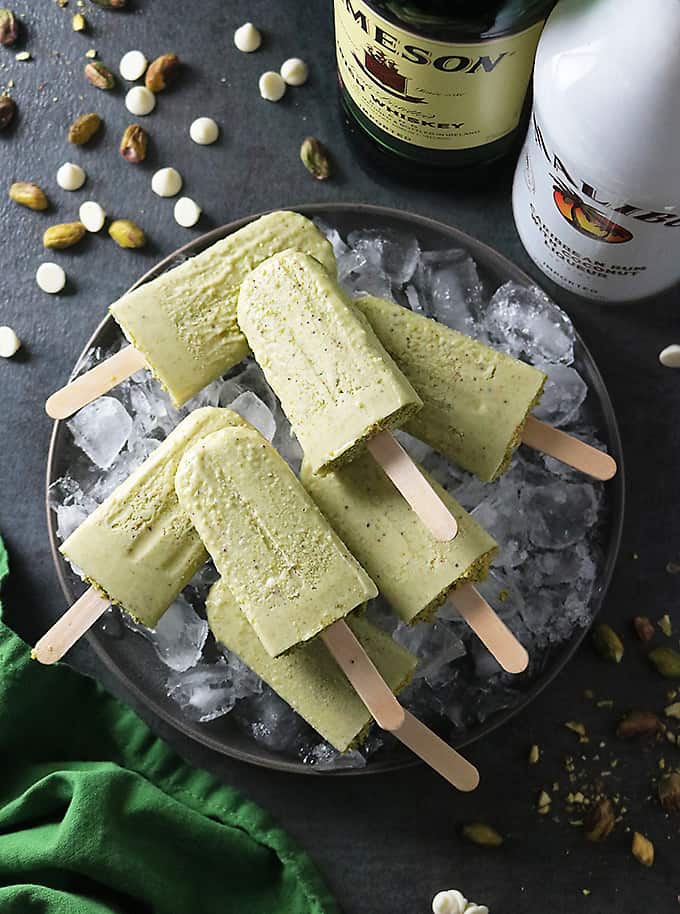 And, being on the subject of food-related events, last year, I received an invite to a popsicle and cocktail event. I had just made the move out to Athens and decided to pass on it, only to be told the next day by a friend who attended it that it was a blast!

She then proceeded to send me picture upon picture of all kinds of flavors of non-alcoholic popsicles served IN everything from wine to whisky! The intermingling of the flavors is what she kept raving about.
Now, I'm a huge fan of boozy popsicles – like you might have gathered from these Limoncello popsicles and these Chocolate Bourbon ones. But, I hadn't ever had any sort of popsicle IN any sort of alcoholic beverage before. Well, I had forgotten all about that popsicle and cocktail event until recently.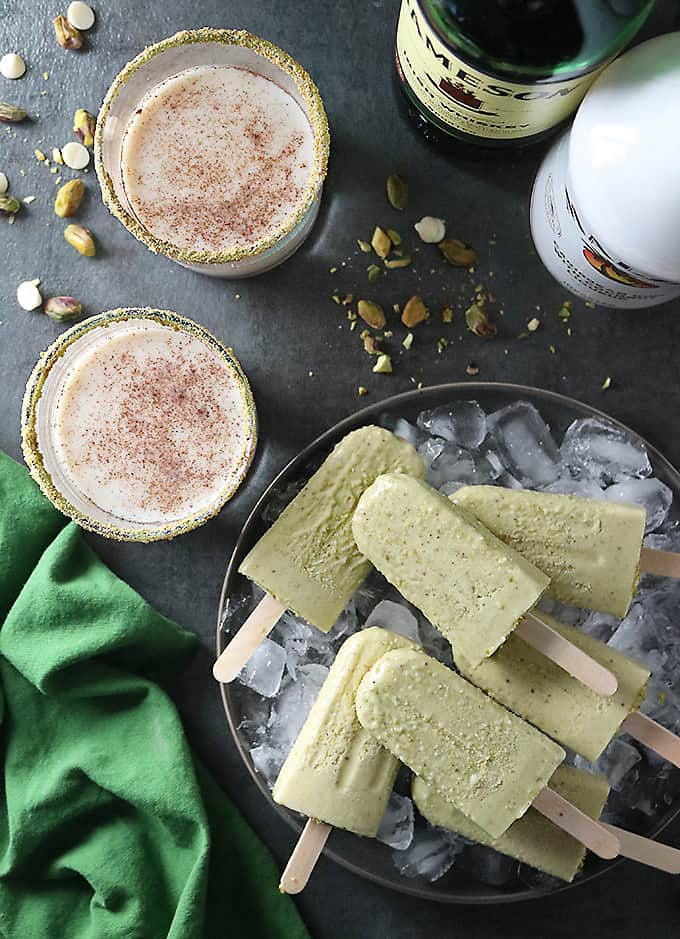 Recently, I stumbled on a recipe for a "Tiger's Milk cocktail", which consisted of cognac, vanilla extract, ground cinnamon, sugar, milk, cream, and a pasteurized egg white.

Now, I am a sucker for any creamy cocktail concoction, so this Tiger's Milk cocktail sure had me intrigued. I decided to head to the grocery store and pick up some ingredients to try out this recipe (or a variation of it), when I stumbled on MALIBU® Caribbean Rum With Coconut Liqueur and JAMESON® Irish Whiskey.

And that grey matter of mine started churning. What if I were to mix these two up with some coconut milk, cinnamon and sugar and make my twist on that Tiger's Milk cocktail?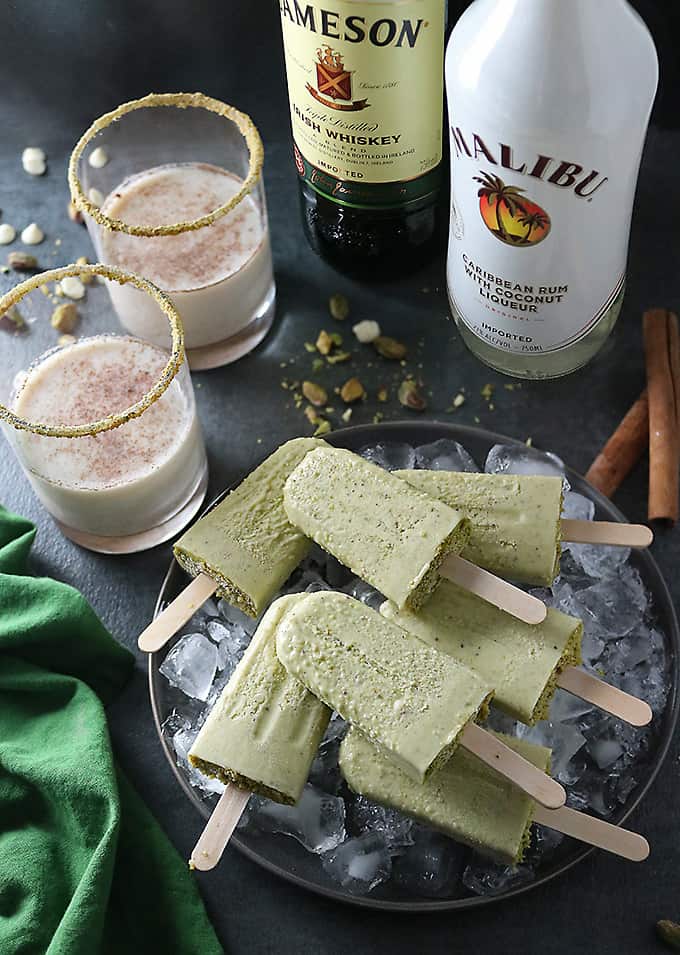 So, with ingredients in hand, I went home to do just that. While I was in the middle of experimenting with quantities of each of the ingredients, the thought of that Popsicles and Cocktails event popped into my head, and I figured why not make some popsicles to go with these cocktails?
had some pistachios and white chocolate on hand, so I decided to whip up the Pistachio White Chocolate Popsicles you see here and spike them with some MALIBU® Caribbean Rum With Coconut Liqueur because boozy popsicles are my jam!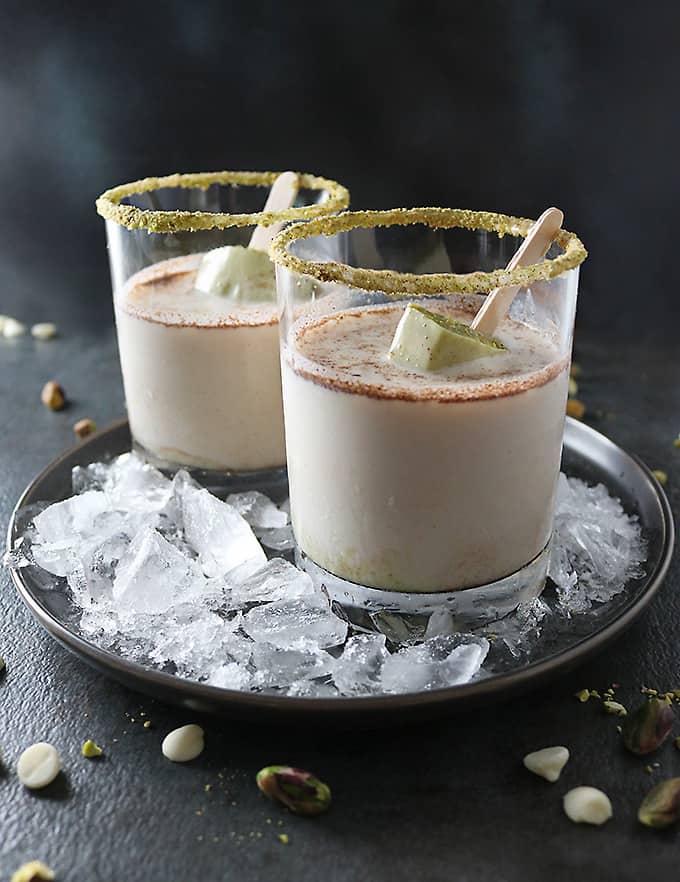 HOW TO MAKE PISTACHIO WHITE CHOCOLATE RUM POPSICLES:
These Pistachio White Chocolate Rum Popsicles are super easy to make. And, with coconut milk and coconut condensed milk, they are pretty much lactose free as well.
Just mix together:
– Ground up pistachios
– Coconut milk
– Coconut condensed milk
– Melted white chocolate
– MALIBU® Caribbean Rum With Coconut Liqueur
To serve:
• I rimmed the glasses with a bit of melted chocolate and ground up pistachios.
• I poured my Tiger's Milk concoction into them, and placed a Pistachio White Chocolate Rum Popsicle into them.

As the Pistachio White Chocolate Rum Popsicle melts, it gently flavors the Tiger's Milk cocktail, and as you make your way to draining that glass, the last few sips (or spoonfuls) are simply delightful!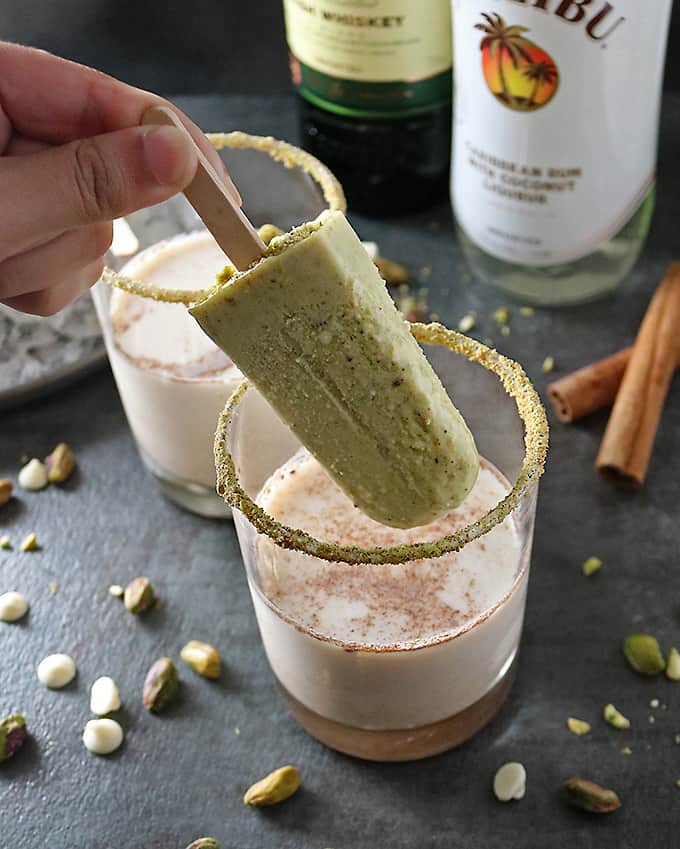 If you happen to fancy this recipe, let me know what you think by leaving a comment and rating below. If you make this recipe, please post a pic on INSTAGRAM -tagging @savoryspin so I can see! For more recipes and ramblings, like us on FACEBOOK and follow along on PINTEREST!
Make sure to check out Malibu on Instagram, Facebook and Pinterest ~ And, Jameson on Instagram and Facebook as well AND don't forget to check out their Social Hub!