This is a flavorful thick curry in which chopped eggplant is pan fried and then added into a deliciously spiced curry sauce.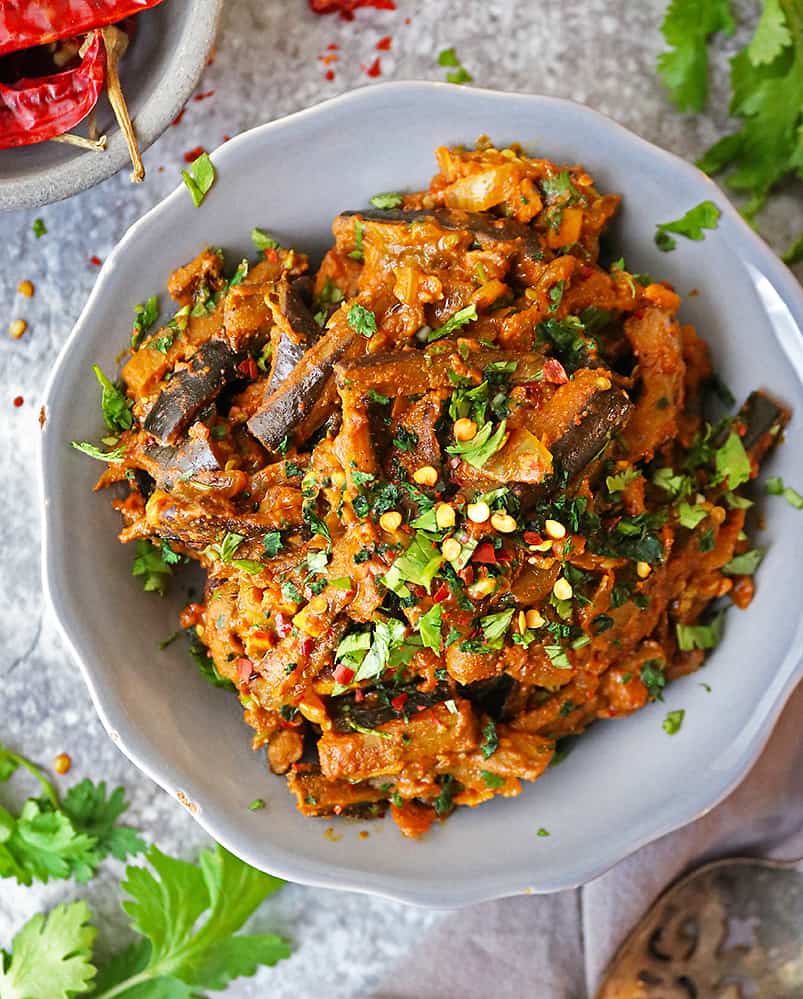 This pan fried eggplant curry is an ode (of sorts) to my mom's fried eggplant curry.
My mom makes her curry by first deep frying chopped pieces of eggplant. She then sets the fried eggplant aside and begins a rich and incredibly tasty, tomato and tamarind based curry. When the sauce is ready, she adds the fried eggplant into the sauce and let's the sauce thicken up.
In my 40+ years on this planet, I have not had an eggplant curry that could rival my mom's!
This pan-fried eggplant curry I have here is quite different to my mom's. It is a healthy-ish version made without tamarind.
The tamarind commonly used in curries and a lot of the south Asian cuisine I've been fortunate to enjoy, is the fibrous pulp that sits in bean-like pods on a tamarind tree. It's native to Africa but can also be found in many tropical regions such as India and Sri Lanka.
Ripened tamarind pulp is usually slightly sweet and tangy. It tends to add a tangy and smoky depth of flavor to dishes.
While I've seen tamarind pods in local stores from time to time, getting the pulp from the pods is rather time consuming – as you can see here. I have found ready-made tamarind pulp in a few specialty stores around Atlanta, but, since it's not available at most stores, I opted to make this pan fried eggplant curry without it.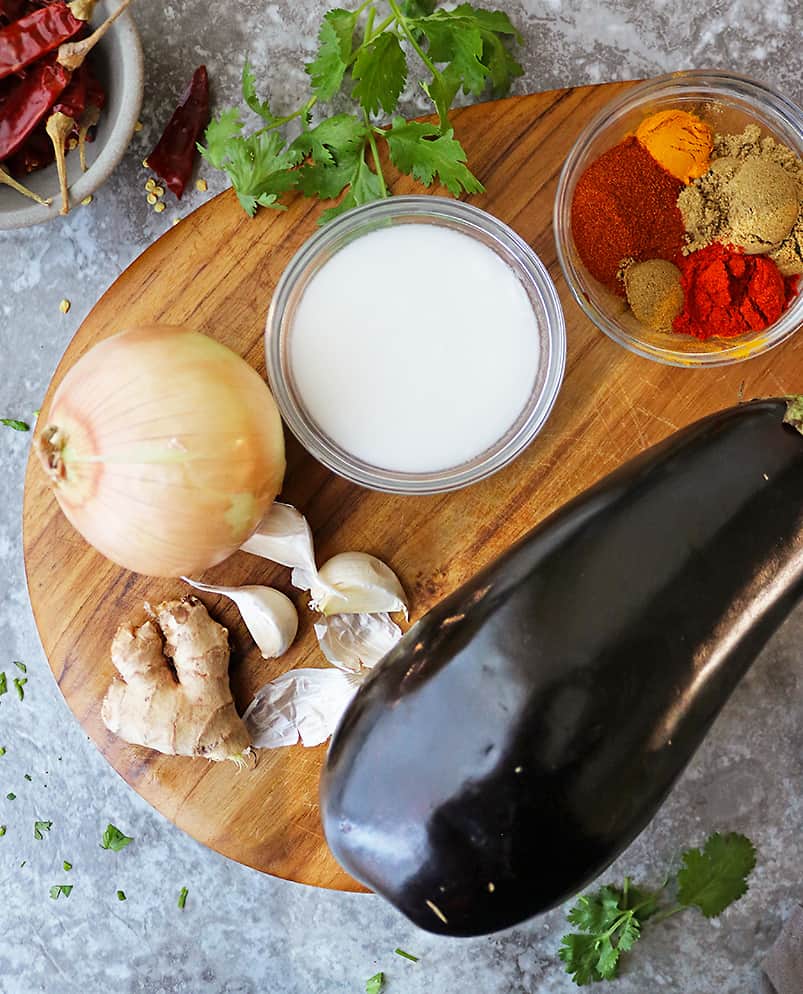 Steps to make this easy pan fried eggplant curry:
Getting back to this pan fried curry, I opted to chop up a medium sized eggplant into fry-like strips. I then sautéed / pan-fried the eggplant with just a few tablespoons of oil, in a large, heavy-bottom pan instead of deep frying them.
I made sure to set the heat on medium-high and stirred the eggplant a bit. Eggplant tends to get mushy when cooked so I was trying to get the eggplant "fries" to develop a crispy-ish skin on the outside before I added them to a curry.
After the eggplant was sautéed / pan fried, I set the pieces to drain on a paper towel and began the sauce.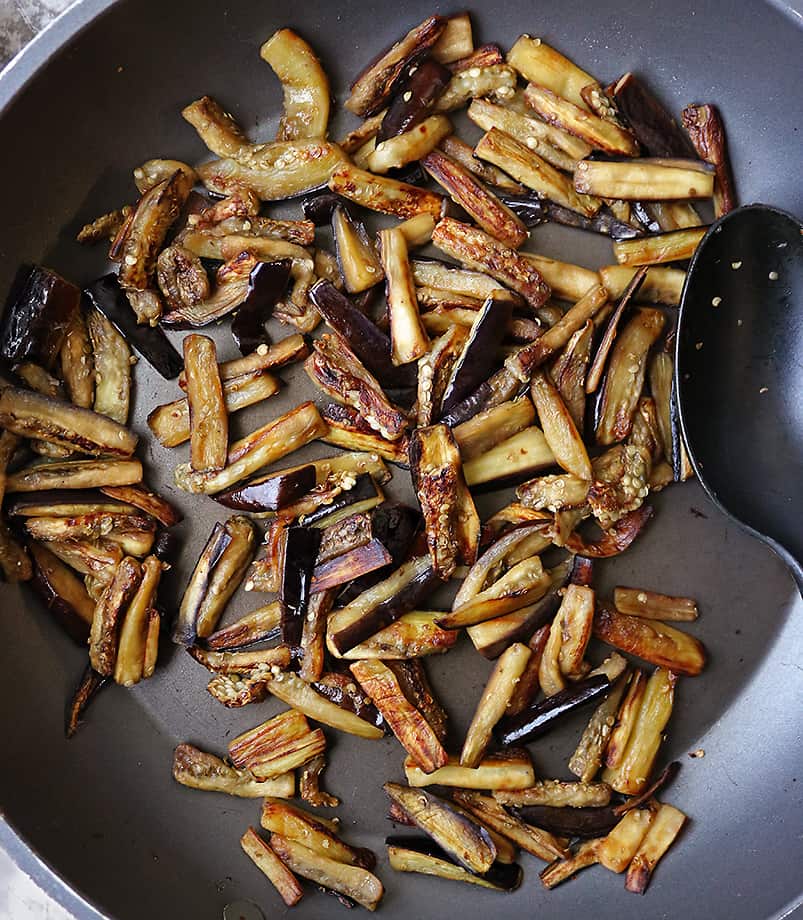 I started the curry off with sautéing some onion until it was very lightly browned. I then added in some garlic and ginger to this.
A quick side note, I use a bunch of fresh ginger and garlic in my recipes. Sometimes, if I know I'm going to have a crazy week, part of my meal prep on the weekend includes me peeling a bunch of garlic cloves and chunks of ginger and setting them aside in a mason jar so all I need to do is chop them up as needed during the week.
Sometimes, I go an extra step and chop up the garlic and grate the ginger and store them in separate jars. I feel it's just a fresher option than the peeled and chopped garlic and ginger at stores. And, it is also a lot more budget friendly.
After the ginger and garlic had sautéed a bit, I added in all the spices such as coriander, smoked paprika, turmeric, cumin, and chili powder and stirred this mixture a bit. As the spices roast, they will have your kitchen smelling amazing!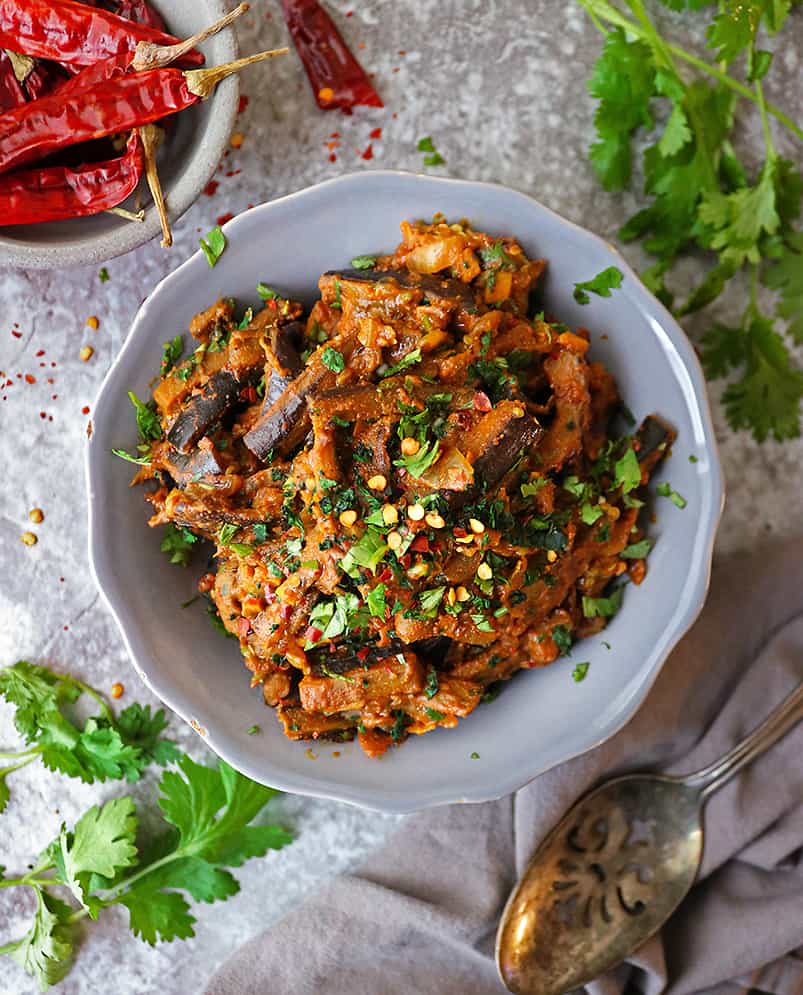 I then added in a bit of coconut milk and stirred well. When it comes to coconut milk, not all varieties are alike. However, I've found that Chaokoh coconut milk (affiliate link) works best for me. Then I added in the eggplant into the curry sauce and let everything sit and hang for a bit. When the sauce had thickened a bit, I took this curry off the stove.