This creamy and easy Lentil Curry is made with pantry staple ingredients such as canned lentils, canned pumpkin, and canned coconut milk. Quick and filling, this plant-based lentil curry is an easy and tasty meal option for a hectic schedule.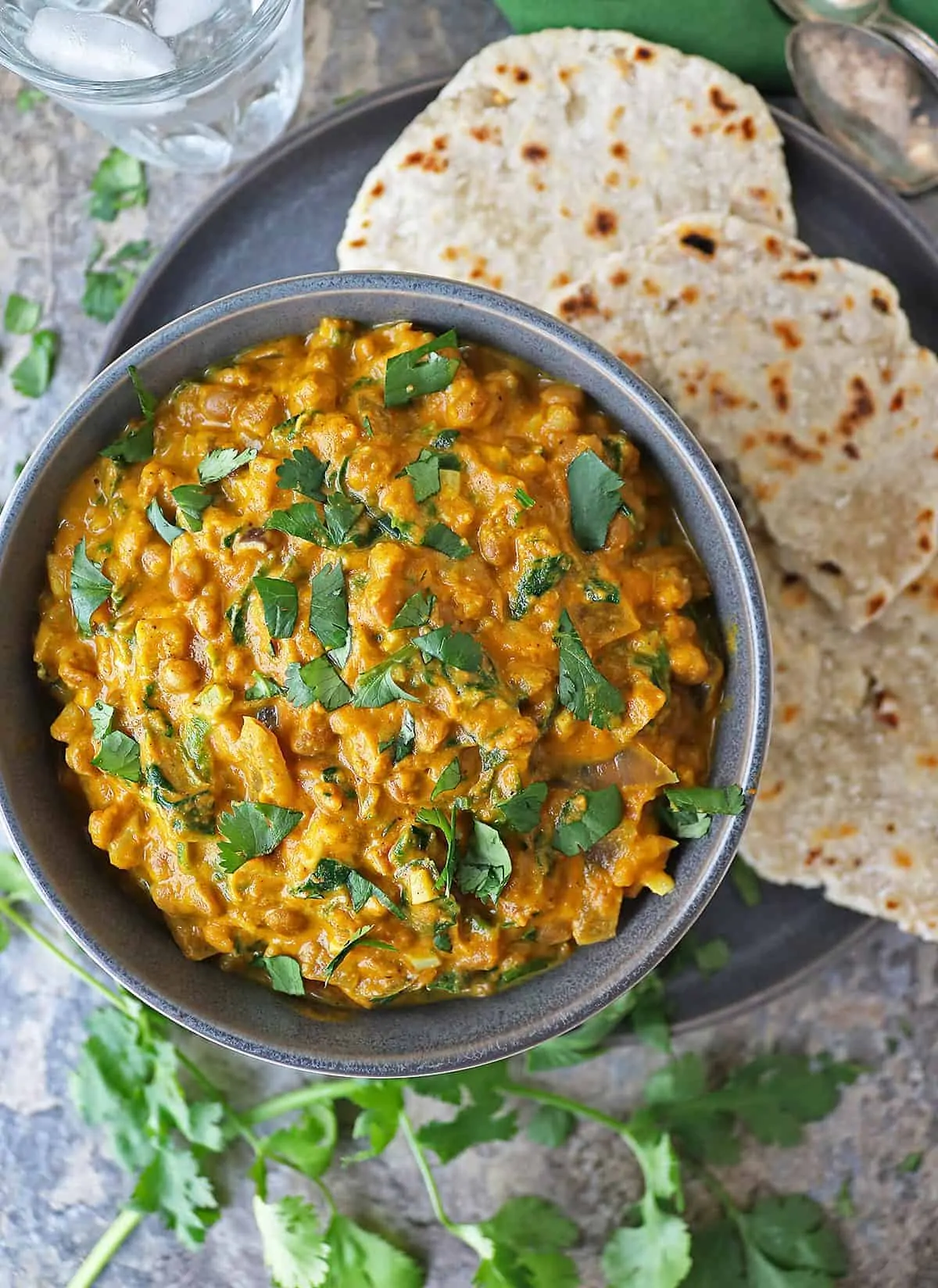 "Excellent recipe and very easy to change it up. I ended up using a whole can of coconut milk, added thinly diced carrot, diced zucchini, frozen peas and extra spinach. I also added a bit more spice. ABSOLUTELY DELICIOUS!!!! My husband just couldn't say enough about the flavour. Thank you for posting such a great recipe"

Cindy
If you are home-bound these days and managed to stock up on canned lentils or canned chickpeas, canned pumpkin and some coconut milk, you can easily whip up this lentil curry.
When it comes to canned coconut milk, not all cans of coconut milk are equal. My favorite is Chaokoh (this is not a sponsored post for it ~ I just love Chaokoh coconut milk products)
What's on your agenda for dinner tonight?
On our dinner menu is this Easy Lentil Curry with a side of Love Island Season 6 (and nope, that's not a spice mix)
My Insta has been blowing up with people raving about the TV show "Love Is Blind". So, of course, I had to check out what all the fuss was about. But, ten minutes into it, I realized that show was just not for me when I got distracted thinking about food – specifically – what was I making for dinner!

However, after dinner, my daughter persuaded me to watch an episode of Love Island, and gosh darn it, I couldn't turn my eyes away!

In the episode I watched, the girls were so sassy, and the boys were totally whipped. Watching those boys try to impress the girls was just pure entertainment. I ended up watching the rest of season 6 of Love Island with my daughter over the course of several dinners – including this lusciously creamy Lentil Curry ~ made with canned lentils!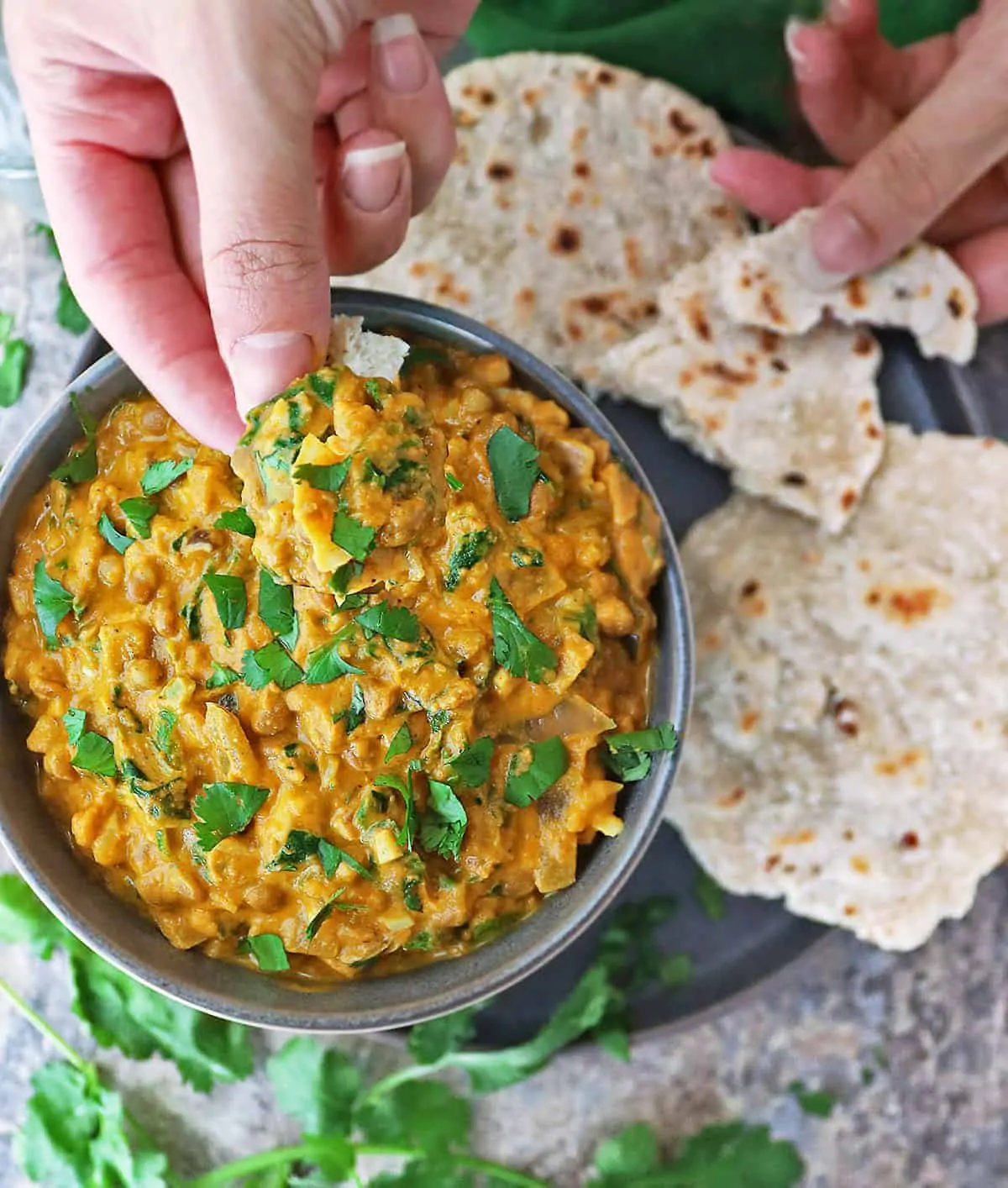 How to make Easy Lentil Curry:
I started this curry off with what my mom calls the holy trinity of Sri Lankan recipes: onion, garlic and ginger.
I simply love the flavor a slightly caramelized onion infuses into a curry. So, I usually like to spend a few minutes making sure the onion I am using is sautéed tenderly until it begins to caramelize. Then I add in the ginger and garlic.
Very often, starting a curry with this base of a slightly caramelized onion sautéed with fresh ginger and garlic means I don't have to use a whole lot of spices for me to get my curry fix.
The longest part of making this curry was sautéing the onion. After that, this curry can be made rather quickly.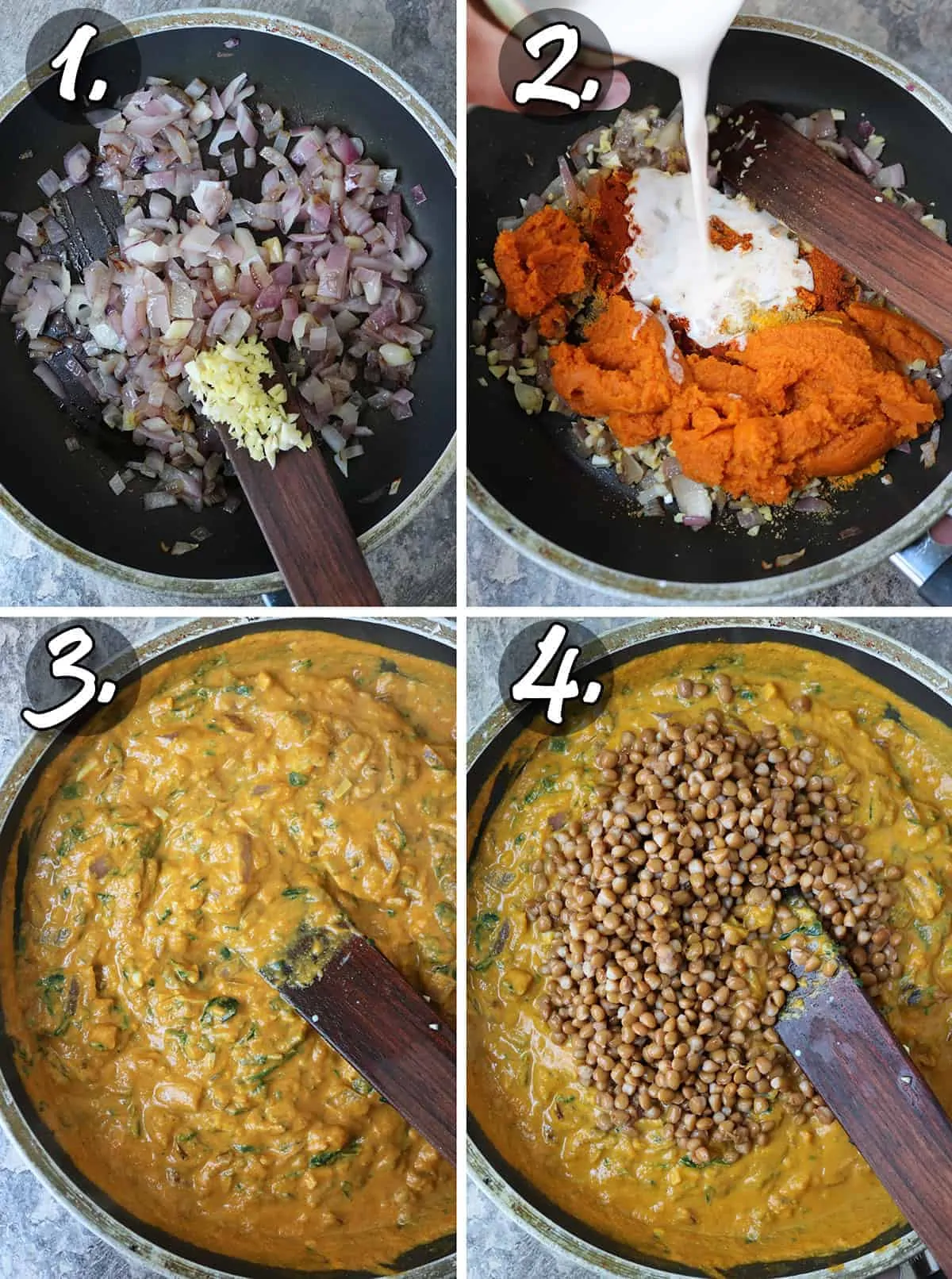 I simply added in half a can of coconut milk, half a can of pure pumpkin puree, some water, some frozen spinach, coriander, smoked paprika, turmeric, and a can of lentils.

I usually prefer using dried lentils (like I've done in these lentil vada, lentil patties, and these lentil pancakes). But, as I had some cans of lentils in the back of my pantry, I figured this would be a good time to use them up.
By the way, don't discard the other half of the canned coconut milk and pumpkin as you can use it to make this Cauliflower curry.
I used pumpkin in this curry in place of the tomato paste I often use because I was out of it and I didn't feel like braving the crowds at stores this weekend.
This lusciously creamy, vegan, easy lentil curry is not only delicious and filling, but it is quite versatile too.
This curry is so versatile!
If you didn't snag any canned lentils when you braved the stores but have chickpeas or any other canned or frozen bean on hand, use that.

If you don't have pumpkin puree but have tomato paste, then sub that in.

If you don't like spinach, leave it out or use frozen kale or collards instead.

If coconut milk isn't your jam and you are not vegan, then go ahead and use cream or milk.
If you are looking for a lentil curry with pumpkin added in – then check this 10-ingredient, Pumpkin Lentil Curry out.
What to eat with this curry:
My daughter made some Sri Lankan Roti (using this recipe) to accompany this lentil curry. You can get your kids involved in making some roti or you can make this easy lentil curry tonight and serve it with some naan, turmeric quinoa, or rice pilaf. Either way, I sure hope you enjoy this lentil curry so much it has you licking your plate!