Deliciously spiced, this 6-ingredient, clean-eating, super easy oven-roasted eggplant recipe is a nutritious vegan side dish to add to your dinner table.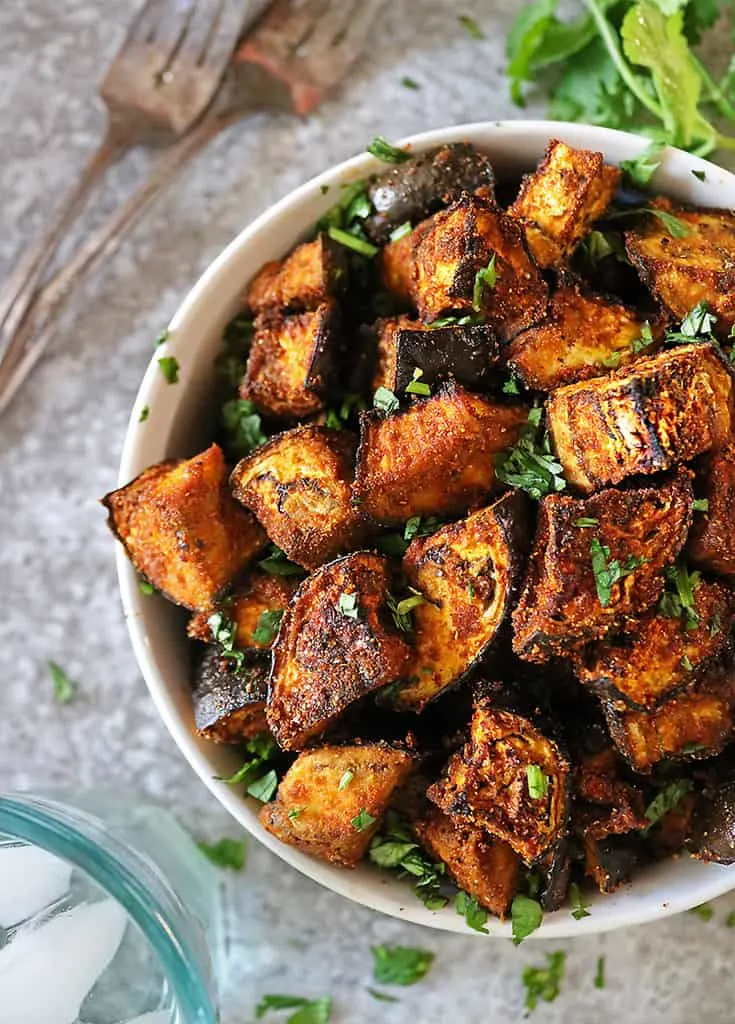 **This post was first published in July 2020, it has since been updated and is being republished today.**
This oven-roasted eggplant recipe is a year-round favorite side dish in our home. Italian eggplant chunks are coated in a tasty spice mix and oven-roasted until the chunks are ever so slightly crispy on the outside and tender inside.
We eat in a lot so most Sunday afternoons I try to get some meal prep done for the week ahead. Sometimes I will make some lentil curry, some zucchini curry, some carrot curry, and some roti to last us about 3-4 nights.
Then there are other times when I've had my fill of curry and end up making some cilantro lime chicken and a bunch of sauteed and oven-roasted veggies to last my daughter and me through most of the workweek.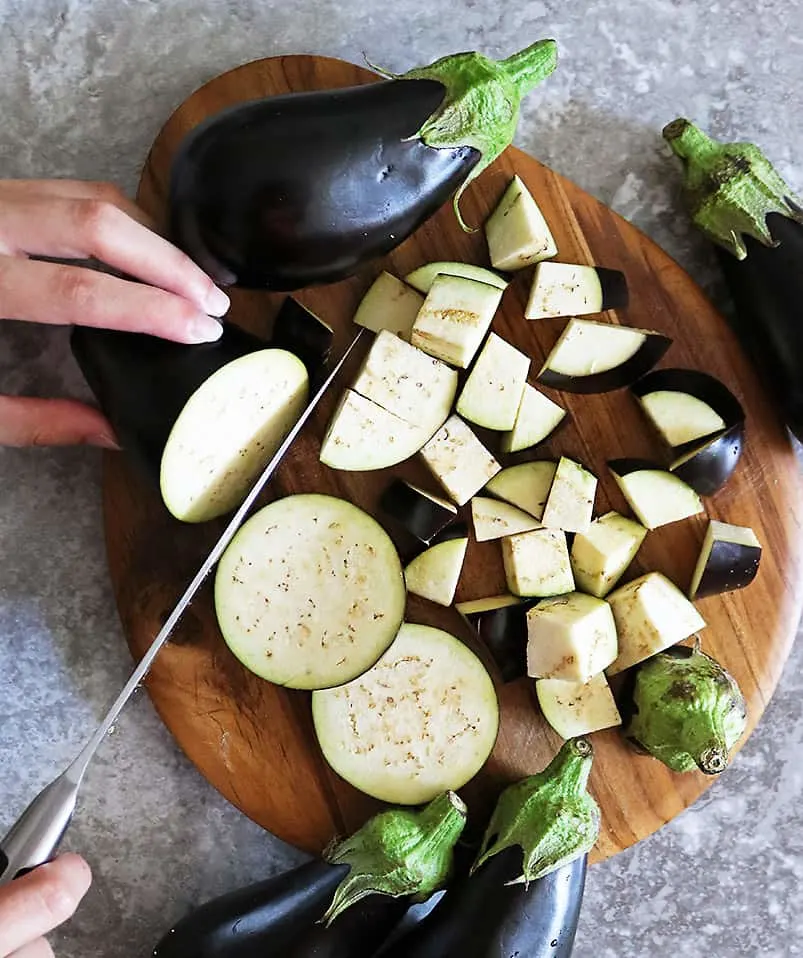 All this meal prepping means I buy as much as I can in bulk. With that said, we're probably the only 2-person household that buys a 3 lb bag of broccoli from Costco and finishes it all up by Wednesday!
On our recent trip to Costco, I stumbled on some Italian eggplant.
Labeled "Italian Eggplant" in the US, these dark purple eggplants are a bit smaller than popular American or globe eggplants and often have a teardrop shape. They also tend to have a slightly sweeter flavor than globe eggplants.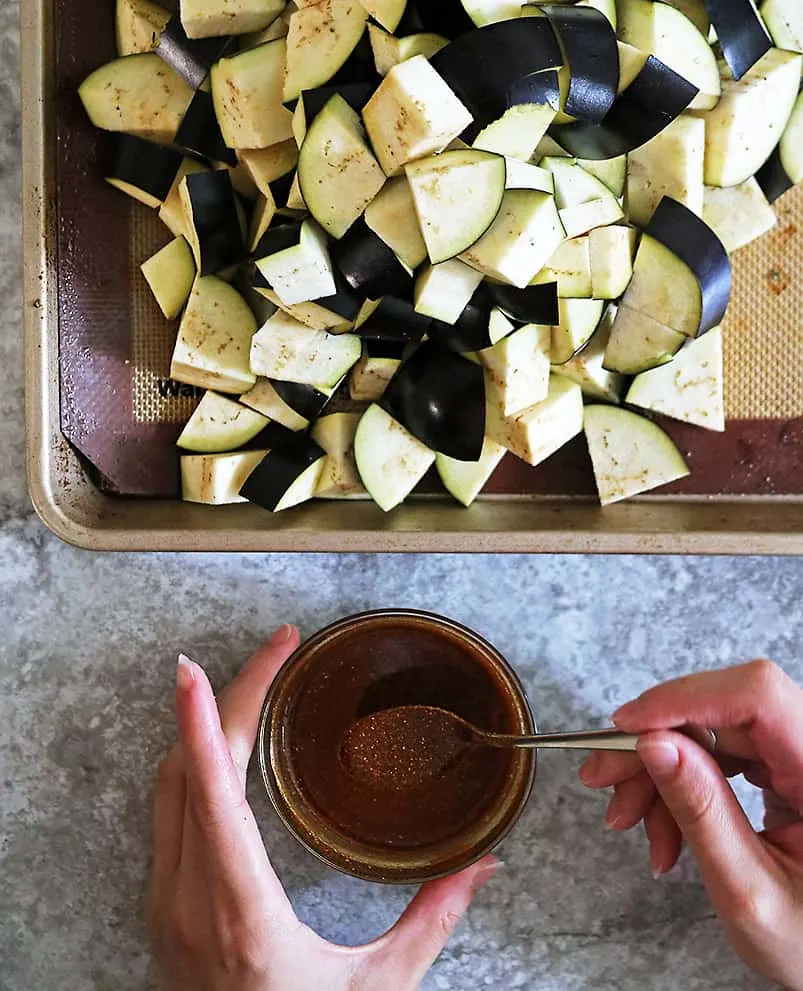 We love eggplant in our home. As I was on a roasting veggie kick, I figured I would chop up these eggplants, toss them in a super simple sauce made with olive oil and spices.
Most of the spices I used, I am thinking and hoping you already have in your kitchen – spices such as smoked paprika, coriander, turmeric, and chili powder. After that, just toss the eggplant in the oven for 25-30 minutes.
In my experience, eggplant can soak up a ton of oil, sometimes getting a bit mushy in the process.
However, this Italian eggplant didn't get mushy at all when roasted.
They were ever so slightly crisp on the outside and soft on the inside.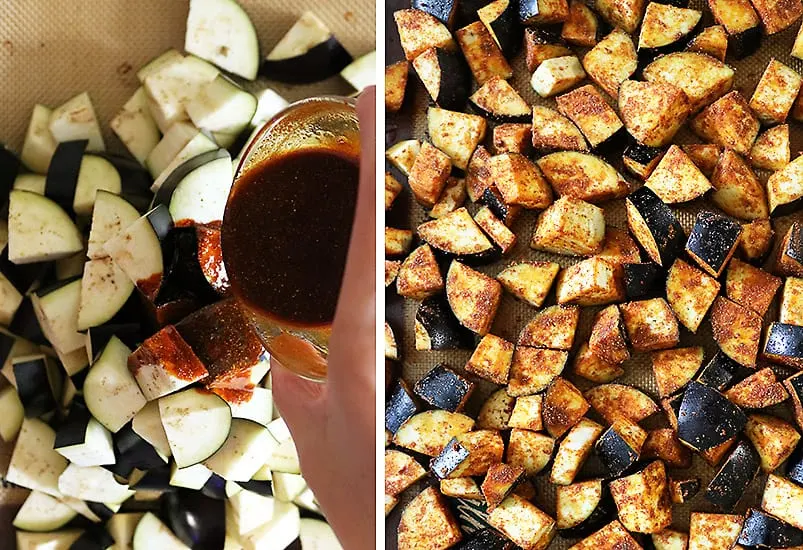 We are in the middle of summer now and if you don't want to turn on your oven, you could try slicing the eggplant, tossing it in the sauce, and grilling it. But, since my oven gets a workout year-round, I oven roasted this eggplant on a sheet pan.
This oven roasted eggplant is an easy & quick recipe!
Prepping involves lightly rinsing and drying the eggplant and chopping it into bit-sized chunks.
Then, mixing the oil + spices together.
Tossing the eggplant in the spiced oil.
Baking the eggplant and finishing it off with a quick broil.
The final step is to season this with salt and pepper, garnish it with parsley and enjoy!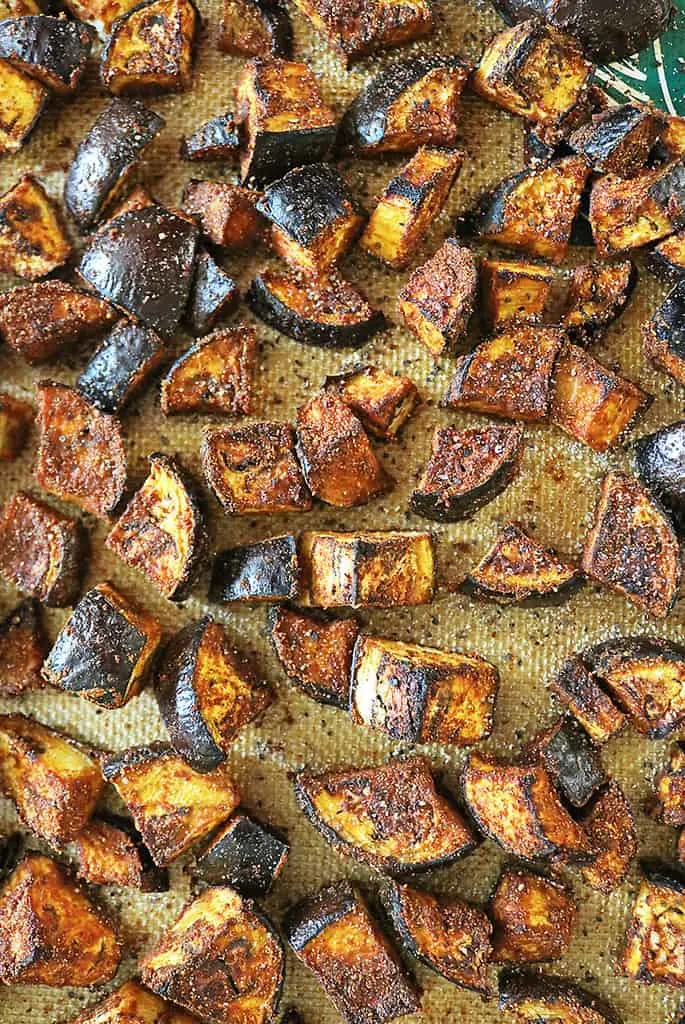 What to pair with this easy sheet-pan eggplant?
We have been enjoying this easy, sheet-pan, oven-roasted eggplant with some roasted broccoli, some garlic asparagus, some turmeric potatoes, and some air fryer sweet and spicy salmon.

This eggplant would also be delicious served with some tender sous vide chicken, and this charred zucchini salad.

If you chose to grill it, then throw some of these curry chicken on the grill as well along with these potato packets for a delicious and satisfying meal.