These Oven Roasted Purple Sweet Potatoes are ever so slightly crisp on the outside, tender on the inside, and make a delicious and colorful side dish, especially for the holidays.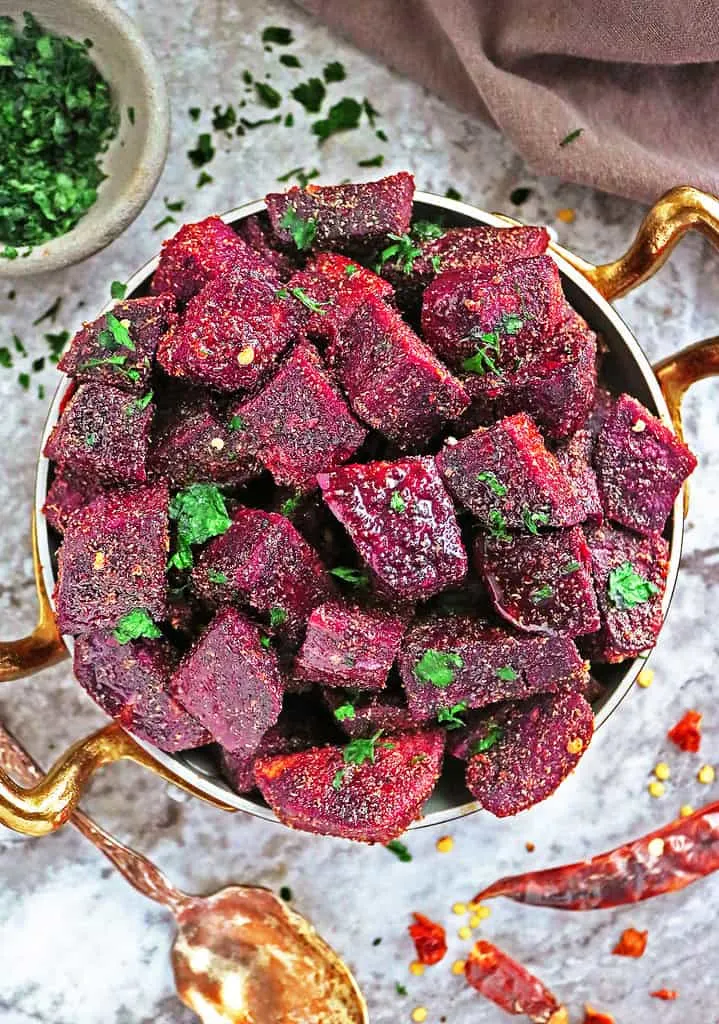 This Oven Roasted Purple Sweet Potatoes dish is made with Stokes purple sweet potatoes. It is gently spiced with coriander, turmeric, smoked paprika, and a tender sprinkling of chili flakes.
This is the kind of comfort food that I crave. And, it makes a healthy and tasty side dish to your main meal.
There has been many a time when I made and enjoyed a batch of these Oven Roasted Purple Sweet Potatoes before a race or long run the next day. Yup, this dish is my idea of carb loading.
What are the ingredients needed to make this Oven Roasted Purple Sweet Potatoes recipe?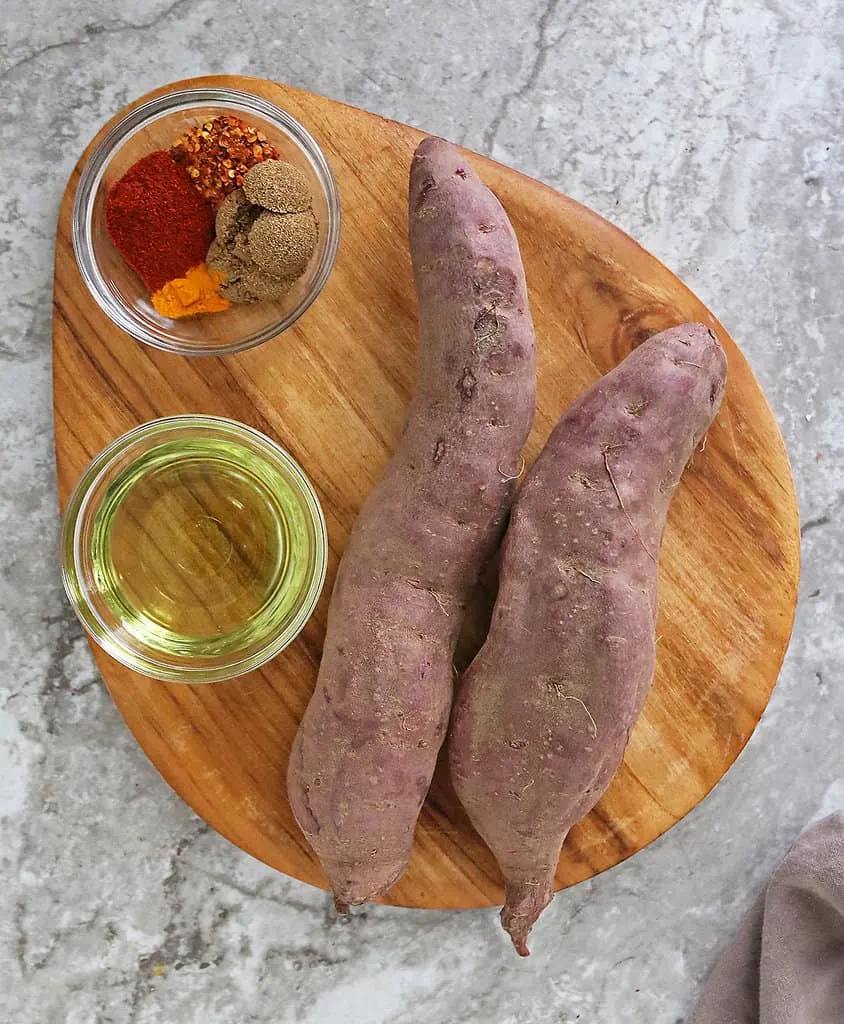 This recipe calls for only 6 main ingredients you probably already have in your kitchen. And, other than the purple sweet potatoes, each one of those ingredients can be substituted to suit your preference.
Like this oven-roasted eggplant recipe and this roasted sweet potato recipe, this one is a versatile dish that I hope you get to have fun experimenting with.
But, getting back to those 6 ingredients, they are:
Purple sweet potatoes
I used Stokes purple sweet potatoes, not to be confused with purple yams. I picked up the purple sweet potatoes from Sprouts Farmer Market. I have not seen purple sweet potatoes at every grocery store in the Atlanta/Covington area. But, you can also get them off Amazon.

Coriander
I used ground-up coriander which I grabbed from Kroger. This is one of those spices that are available at almost every grocery store in my area.

Turmeric
I used powdered turmeric in this recipe. Powdered turmeric is easy to spread among the potatoes. Again you can find turmeric at most grocery stores. You could use fresh turmeric, but you would have to mince it up well.

Smoked paprika
While I used powdered smoked paprika, you could also use paprika in this dish.

Pepper flakes
This is totally optional. I like a bit of heat added in to balance off the sweetness. But, you could leave out chili flakes entirely.

Grapeseed oil
I used this as that is what I had on hand. But you could use any oil you prefer.
I also seasoned these purple sweet potatoes with salt and pepper when they came out of the oven. And, I garnished them with some chopped fresh parsley before digging in.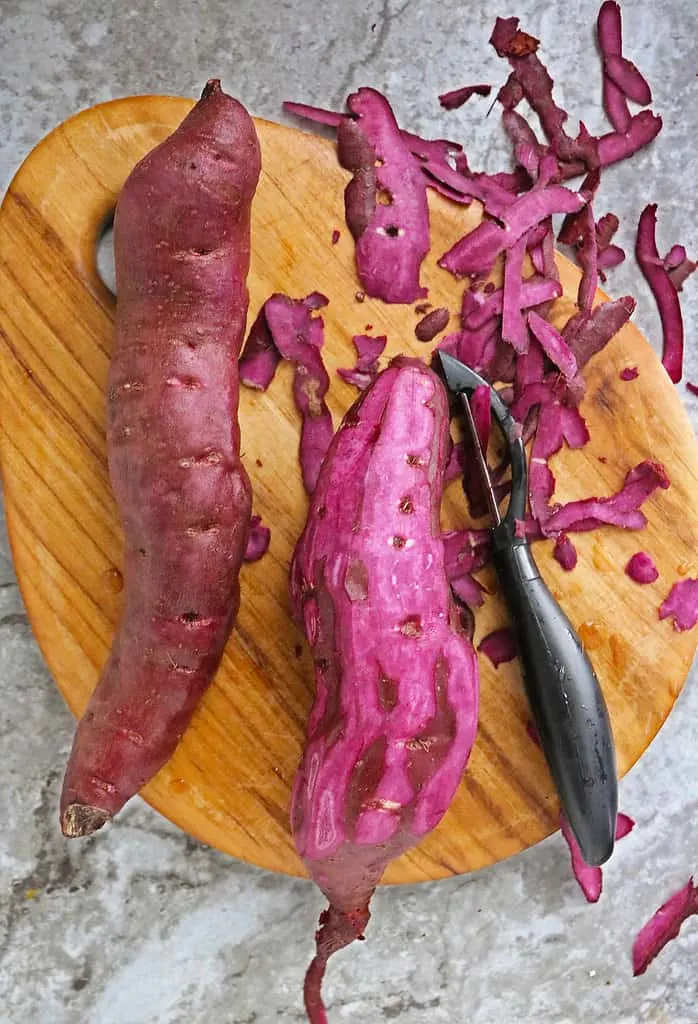 Do you need to peel sweet potatoes for this dish?
I chose to peel the purple sweet potatoes because they were looking a bit warped. But, you do not need to peel the purple sweet potatoes when making this dish.
What is that what stuff when you cut into a purple sweet potato?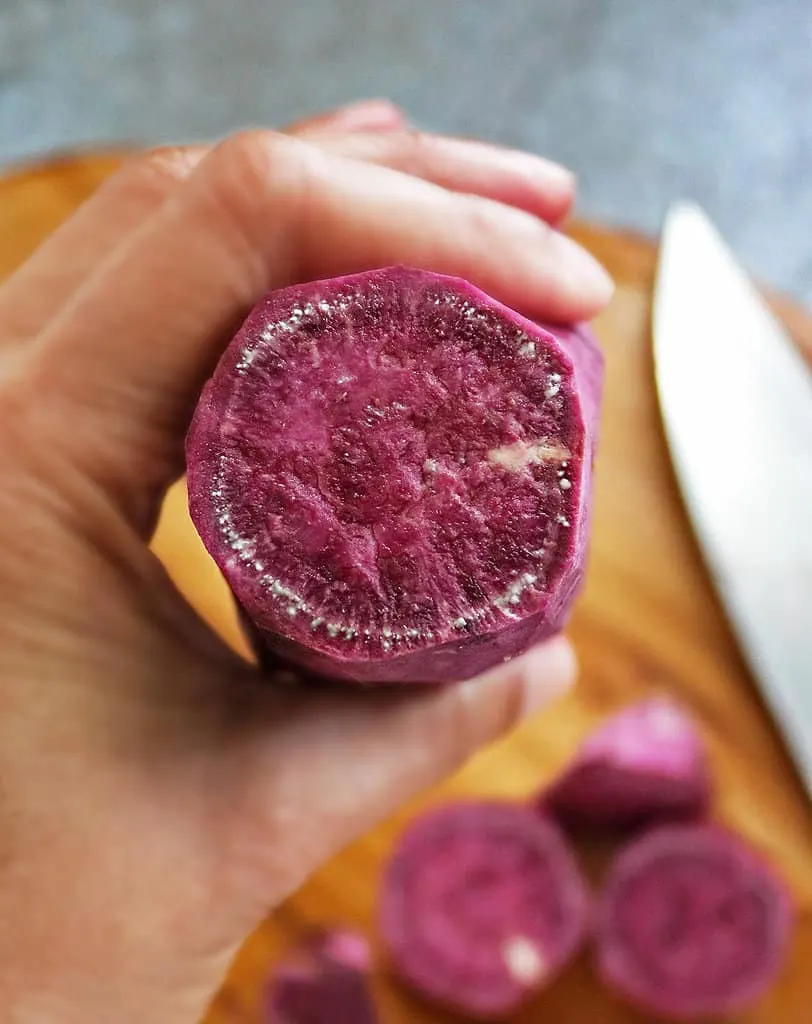 That white stuff that tends to ooze out when an orange or purple sweet potato are cut into is said to be a combination of starch and sugar. This white "ooze" is referred to as sap. And, apparently is said to be an indication of how sweet your sweet potato is. The more the sap, the sweeter the sweet potato. If you would like to read more, check out this article by Southern Living.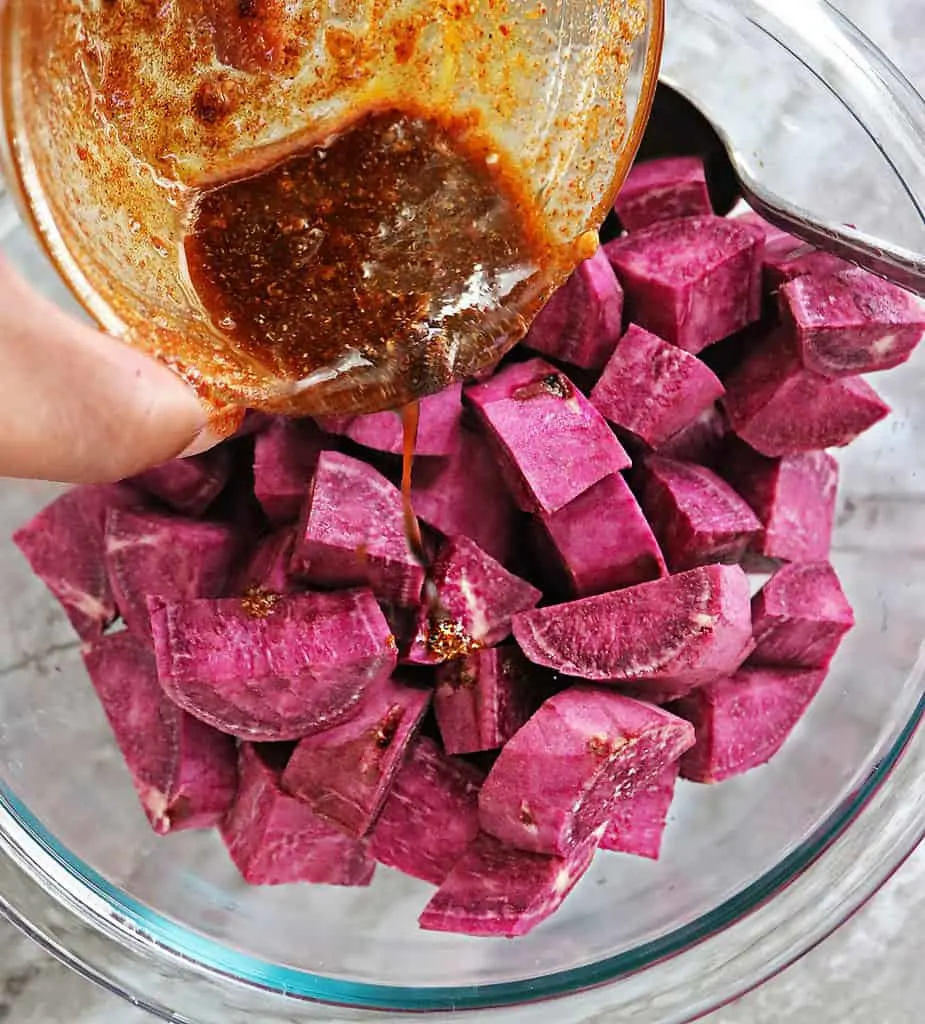 A few tips when making this recipe…
I chose to cut these purple sweet potatoes into bite-sized pieces. This helps speed up the roasting and results in sweet potatoes that are tender on the inside and lightly crisp on the outside.

If you want to keep the dishes used to a minimum when making this dish, you can skip putting the cut-up sweet potatoes into a bowl. Instead, pile them onto a baking dish and toss the spices and oil onto them. Then toss them with the spices and oil so everything is distributed uniformly.

When baking these sweet potatoes, make sure that none of them are overlapping. This lets the steam escape and results in a light crisp outer layer on the roasted sweet potatoes.

This is a versatile dish. While I used a certain spice combination, you don't have to. You can use your favorite spices or herbs. If you want to use the same spices, you can add some cumin. If you choose to change these up, you could use a combination of fresh-cut herbs like cilantro, parsley, and basil with oil. Or, just a couple tablespoons of harissa and oil. Or, roast these sweet potatoes sans any herbs and spices and serve them up garnished with chili flakes and honey. The possibilities are endless with this dish.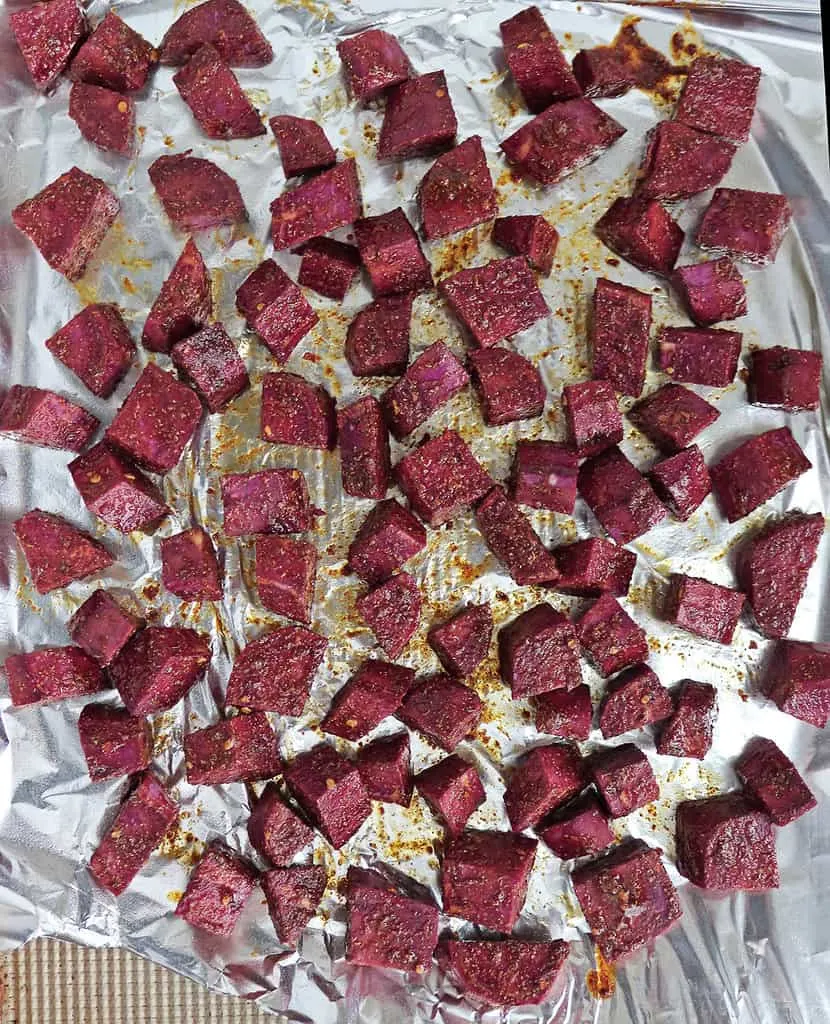 What to serve these roasted sweet potatoes with?
This dish can be served with some cherry chicken and some sauteed leeks and potatoes for a quick and nutritious lunch or dinner.
Or, this oven roasted purple sweet potatoes can be added as a side dish to a more elaborate vegetarian holiday meal, either paired with tofu or your favorite veggie dishes. Or, this can be a side dish to a tasty spiced turkey, along with some other sides as seen here.
Thanks so much for stopping by. If you make this recipe, please let me know in the comments below what you think of it, or tag your creation on social media with @savoryspin or #savoryspin. For more fusion, spice-filled, recipe ideas, please subscribe and follow me on Facebook, Instagram, and/or Pinterest!