This one-pan, sautéed leeks and potatoes is an easy dish that is packed with flavor. Made with just 11 ingredients, this dish is vegan and vegetarian-friendly.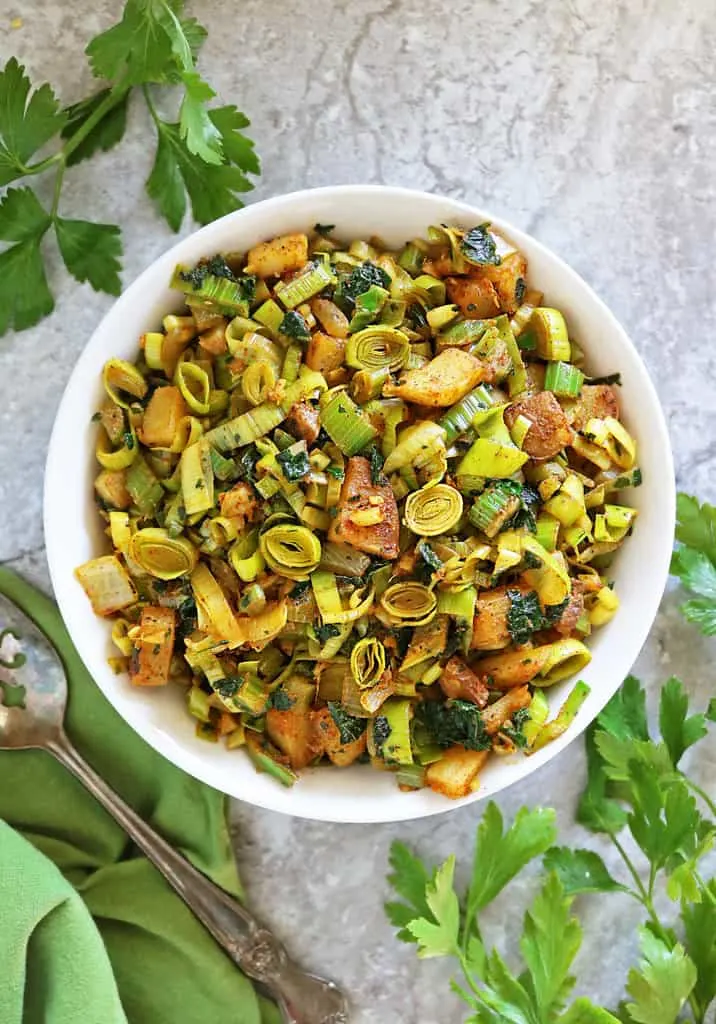 If you love leeks and potatoes and enjoy a smorgasbord of flavors and textures, this sautéed leeks and potatoes dish is for you.
This versatile dish is packed with crunchy celery, buttery leeks, comforting potato, spicy jalapeño, slightly sweet, lightly caramelized onion, zingy ginger, and a plethora of spices.
Even though it is technically a vegan/vegetarian dish, it is quite a filling and satisfying dish. Bonus points that it can be made in less than 30 minutes in one pan!
And, this sautéed leeks and potatoes dish is only made with 11 ingredients.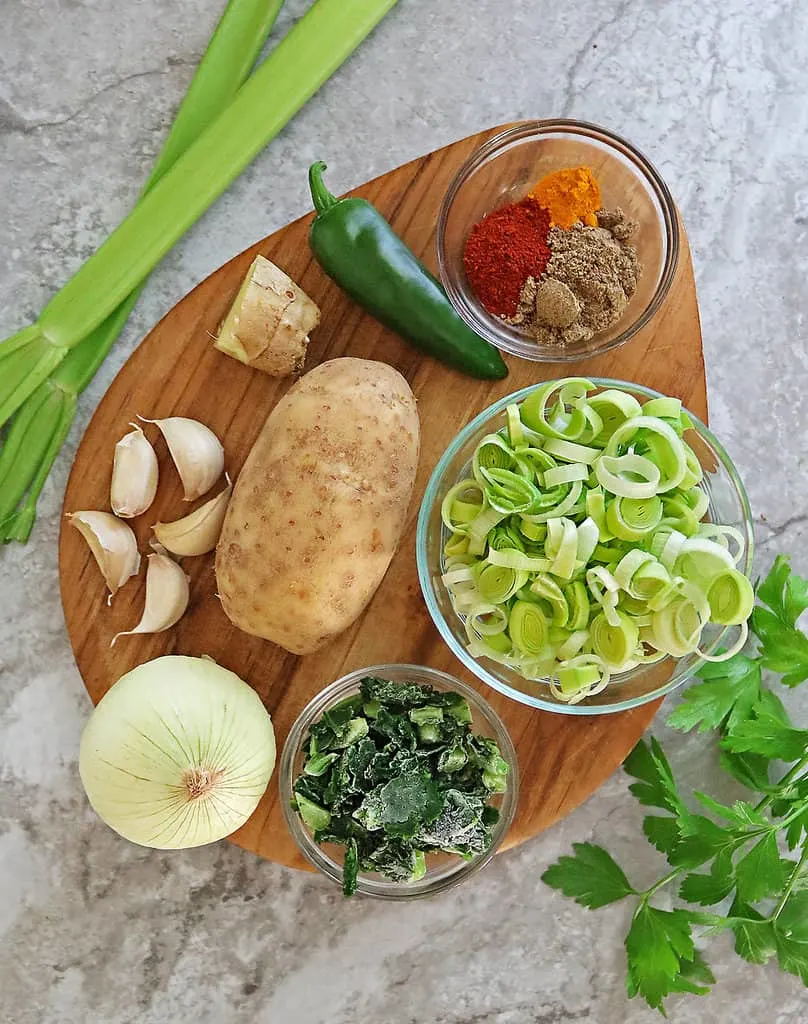 What are the 11 ingredients needed to make this dish?
You will need the following 11 main ingredients to make this easy side dish, and they are:
Onion
Ginger
Garlic
Celery
Leek
Potato
Frozen Kale
Jalapeño
Turmeric
Smoked Paprika
Coriander
Also needed is some salt and pepper to taste, some oil to sauté with, as well as some parsley for garnish.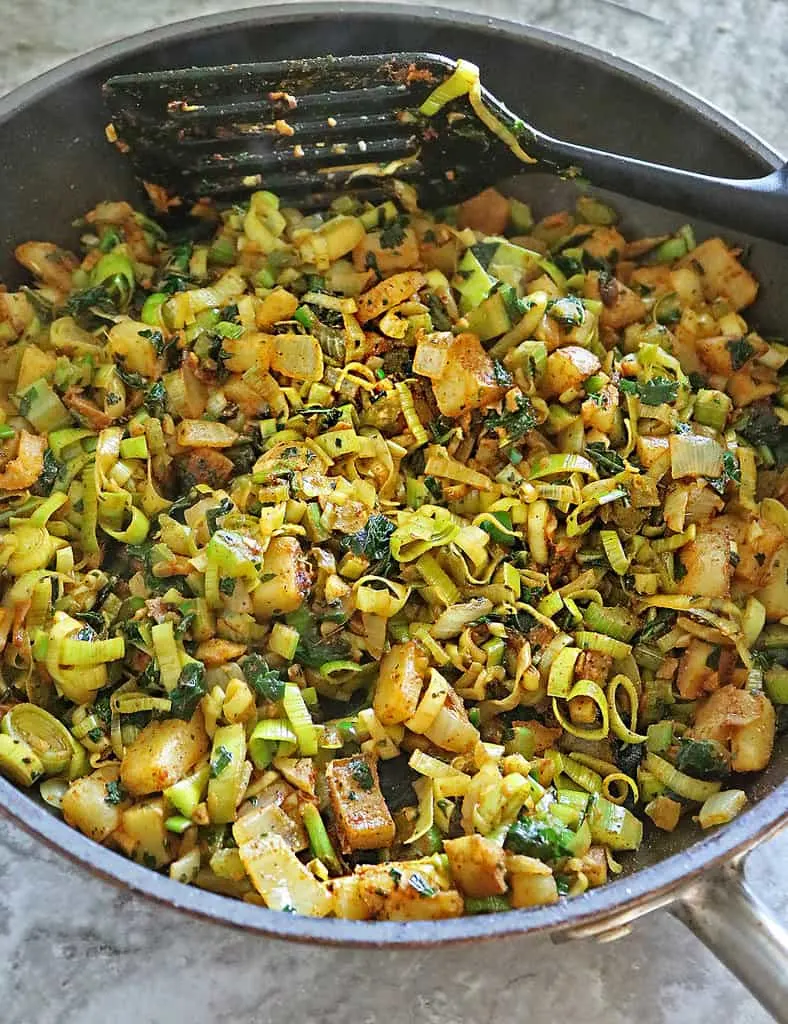 Some tips when making this dish:
Make sure to use fresh onion, garlic, and ginger. If you are not a fan of peeling and chopping onions, ginger, and garlic, then you have two options, at least that I know of.

One option is to purchase pre-peeled and chopped garlic, onion, and ginger. Most grocery stores like Publix and Kroger store them in the produce section with the veggies and fruits.

The other option is to use a ceramic grater plate. My boyfriend and I were at The Yellow Daisy Festival over the weekend, and we stumbled on a kiosk that sold these grater plates. We were in awe! This was our first time seeing anything like this. I grabbed one for my mom to use. When I Googled these plate graters, I came across several videos and articles that pointed to the fact that these have been around since 2017 or so!

Wash the leeks well. Leeks usually have dirt and soil in the areas between their leaves. I like to give leek stalks a good rinse. Then, slice them up and drop the slices into a large bowl of water with a splash of vinegar in it. I let this sit for about 10/15 minutes and then drain the water out. Then I fill the bowl up again and drain the water out again. I repeat this step a couple more times until I feel the leeks are completely clean.

Sauté the onions, ginger, garlic, and celery for about 5–10 minutes. This additional sauté adds so much flavor to this dish.

The smaller you chop up the potato, the quicker it will cook.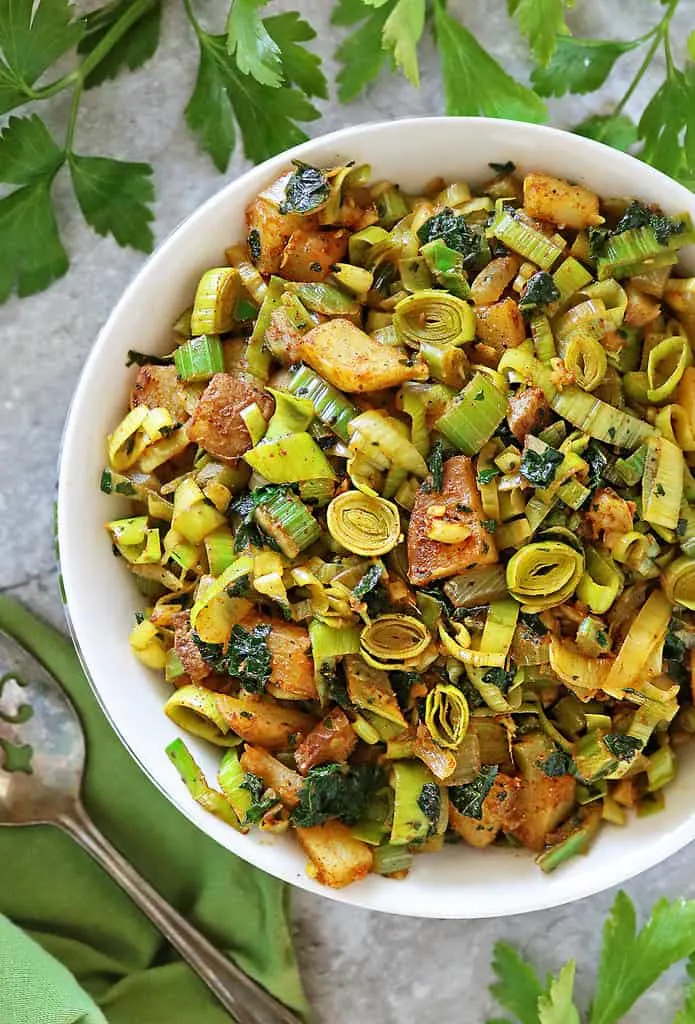 Substitutions when making this Sautéed Leeks And Potatoes dish:
The onions, ginger, garlic, leeks, and potato are the main ingredients in this dish, and it would be best if these were not substituted. Though, you could use a different kind of potato than the yellow potato I used.
If you are not a fan of celery, you could use a green bell pepper or leave this out.
I added in a homegrown jalapeño to this Sautéed Leeks And Potatoes dish for a bit of heat. If you prefer a mild version, leave out the jalapeño. However, if you would like it even more spicy, add in 1/2 a teaspoon of cayenne pepper as well or another jalapeño.
I used frozen kale in this dish. But, it can be substituted for frozen spinach or fresh spinach, or any mild-flavored greens you prefer. Or, leave it out completely.
While I used a blend of coriander, smoked paprika, and turmeric, you can use 2 tablespoons of harissa instead or any blend of your favorite spices. However, do keep in mind that the spice combination you use could drastically alter the taste of this dish.
While this Sautéed Leeks And Potatoes dish is considered a side dish here, you could add some chickpeas or black beans and enjoy this as a vegetarian main dish. Or, you could even add in some chicken sautéed in the same amount of coriander, smoked paprika, and turmeric and add it to this dish as well.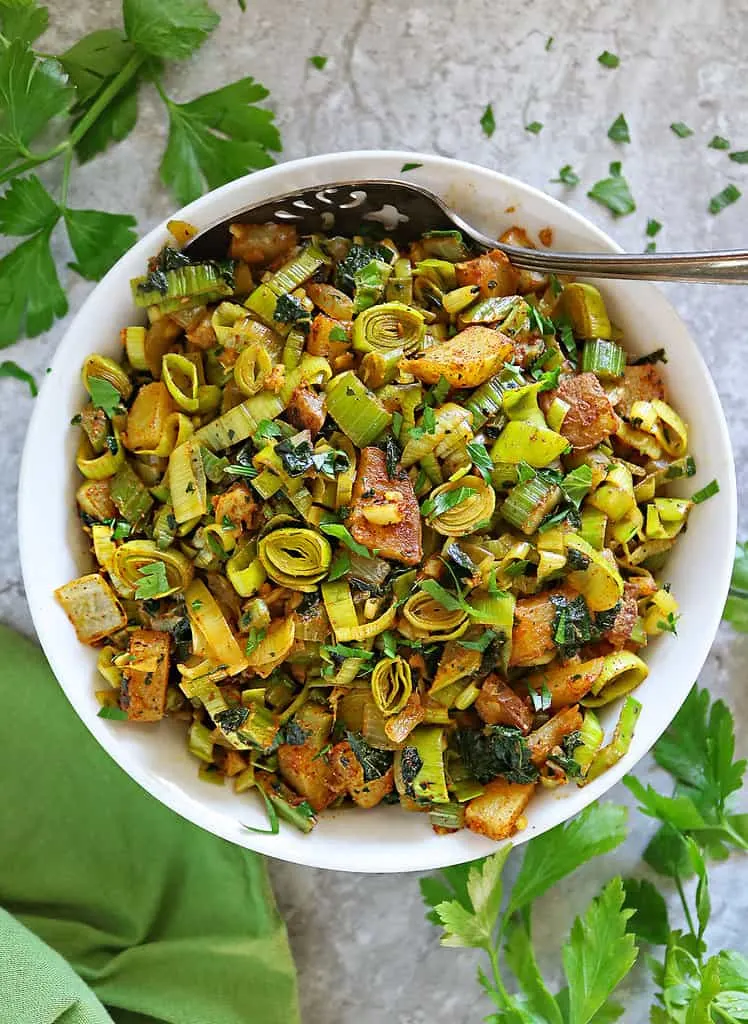 How long can you store this Sautéed Leeks And Potatoes dish?
This dish can be stored in an airtight container, in the refrigerator, for up to 5 days.
Can you serve this dish as a main?
Yes, you can serve this dish as a main by adding a plant-based protein source or some sort of protein to it.
What do you serve this Sautéed Leeks And Potatoes with?
You can serve this dish along with some plant-based burgers or chicken or meat burgers. Or, this dish can be served with a variety of other curry sides for a more elaborate meal. This dish pairs well with everything from burgers, meat or veggie balls, baked potatoes, and quinoa!
---
This Sautéed Leeks And Potatoes recipe is quite like a lot of the other recipes on this blog. They are meant to be an outline of sorts for you to experiment with and have fun with. After all, the process of cooking at home can be so enjoyable. As enjoyable as the eating of this dish can be!
---
Thanks so much for stopping by. If you make this recipe, please let me know in the comments below what you think of it, or tag your creation on social media with @savoryspin or #savoryspin. For more fusion, spice-filled, recipe ideas, please subscribe and follow me on Facebook, Instagram, and/or Pinterest!