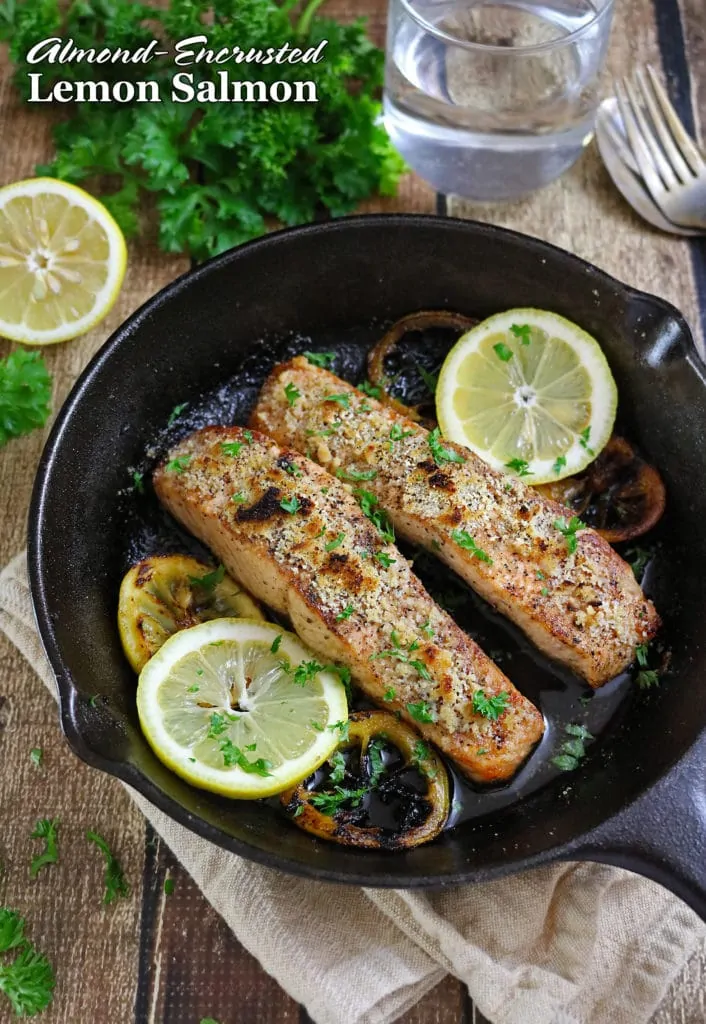 I've partnered with Sprouts Farmers Market to bring y'all this easy and delicious meal and dessert of Almond Encrusted Lemon Salmon & Strawberry Cashew Pudding Cups. As always, all opinions are my own. Thanks so much for supporting the brands that keep this blog Spinning!
As a food blogger, I thought I had a pretty unique gig.
I mean, how incredibly cool is it that my fellow food bloggers and I get to make some mullah testing out recipes, taking pictures of them and then enjoying them!
But, yesterday, I came across a gig more unique than the one I thought I had.
Yesterday I came across Mr. Keith Broni who makes a living as an emoji translator!
Up until yesterday, I didn't realize there was such a thing (…and now am realizing this is what quite a few people think when I tell them I'm a food blogger…hmmm…)
But – that's not all Mr. Broni does, he also conducts emoji spelling bees! Say what?!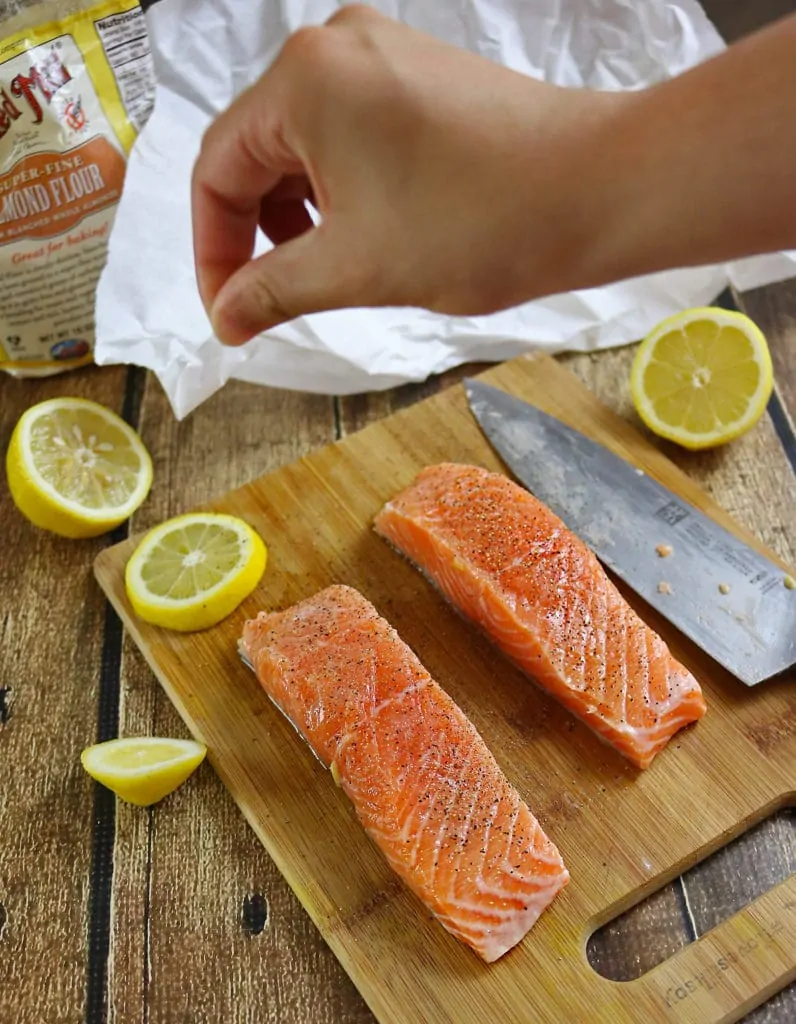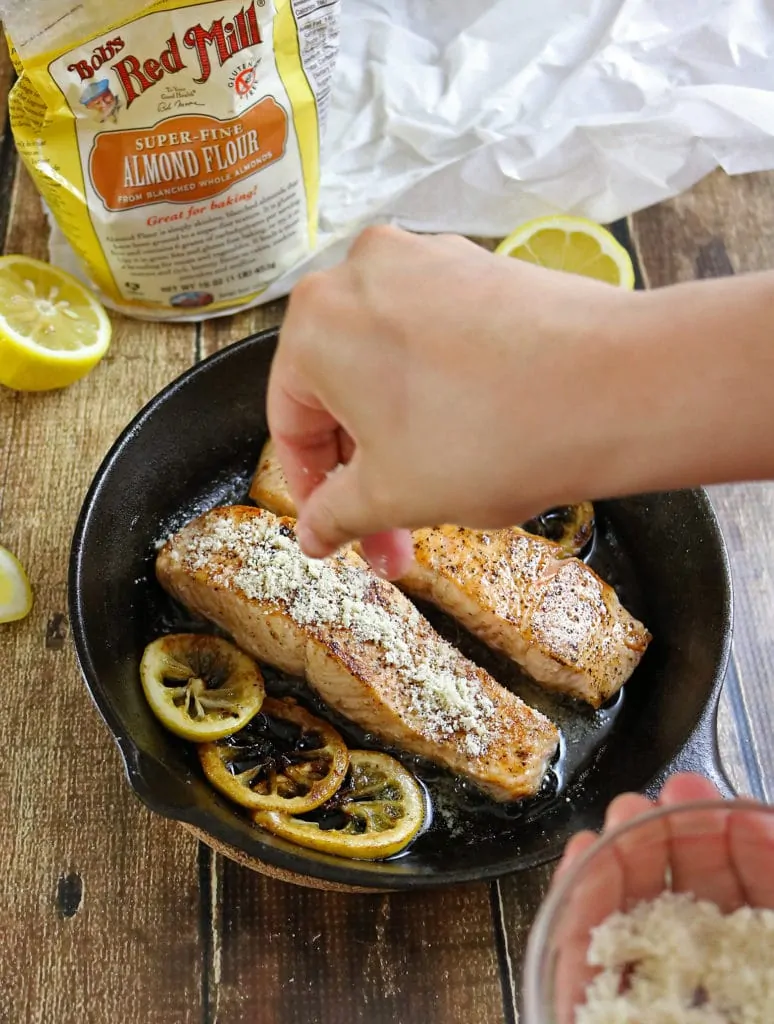 While I do employ emojis from time to time, I've gotta admit I've been guilty of sending a totally inappropriate emoji in reply to a question or comment! Hence, the need for an emoji-translator!
Yes – I am totally emoji challenged – so I won't be signing up for any emoji spelling bees anytime soon!
Fortunately, I have a daughter who joyously points out the error of my ways.
But, I have found a way to bribe distract her from keeping my emoji blunders off social media!
You see, that child's thought process is ruled by her tastebuds, so if I feed her a tasty dinner of Almond Encrusted Lemon Salmon and follow it with a dessert of Strawberry Cashew Pudding Cups, she manages to forget everything else! 😆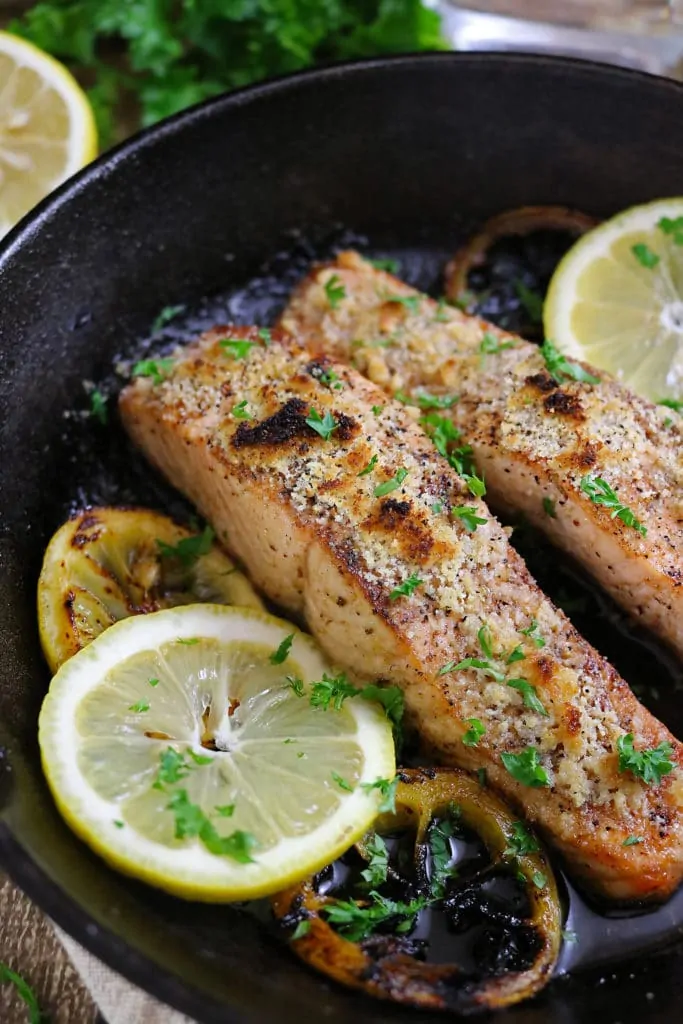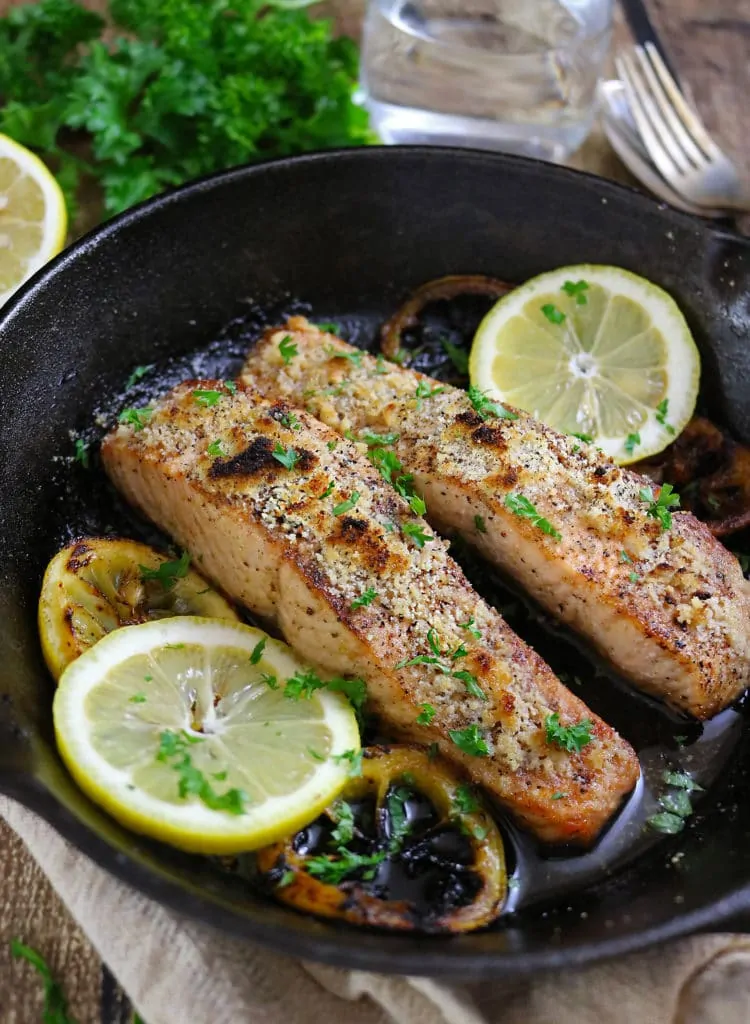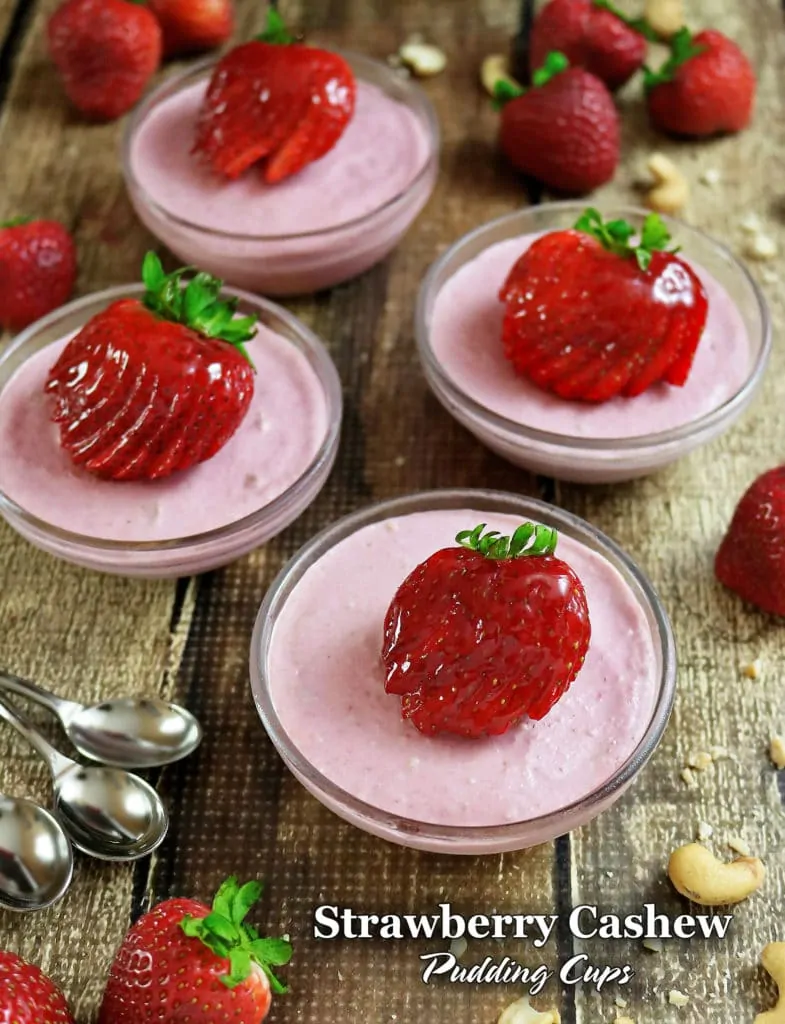 This salmon is so easy to make. A while back, I came across caramelized lemon and chicken in a foodie magazine and have been using it in a variety of vegetarian and non-vegetarian dishes. One of my favorite ways to use caramelized lemon is with salmon – like you see here. I added a very light coating of Bob's Red Mill Almond Flour (seasoned simply with salt and pepper) onto the salmon for a bit of crunchy texture and to make this more filling. Served with a side of broccoli, this meal was so tasty and lightly filling – leaving us just the right amount of room in our bellies to enjoy these delicious Strawberry Cashew Pudding Cups.
These Strawberry Cashew Pudding Cups are another easy and versatile dessert to replicate and enjoy. You could use any variety of berries you prefer – simply blend them up with cashews that have been soaked overnight in coconut milk – or any milk of your choice, add in some more coconut milk, a smidge of coconut oil, vanilla for flavoring and sweetener and chill and enjoy!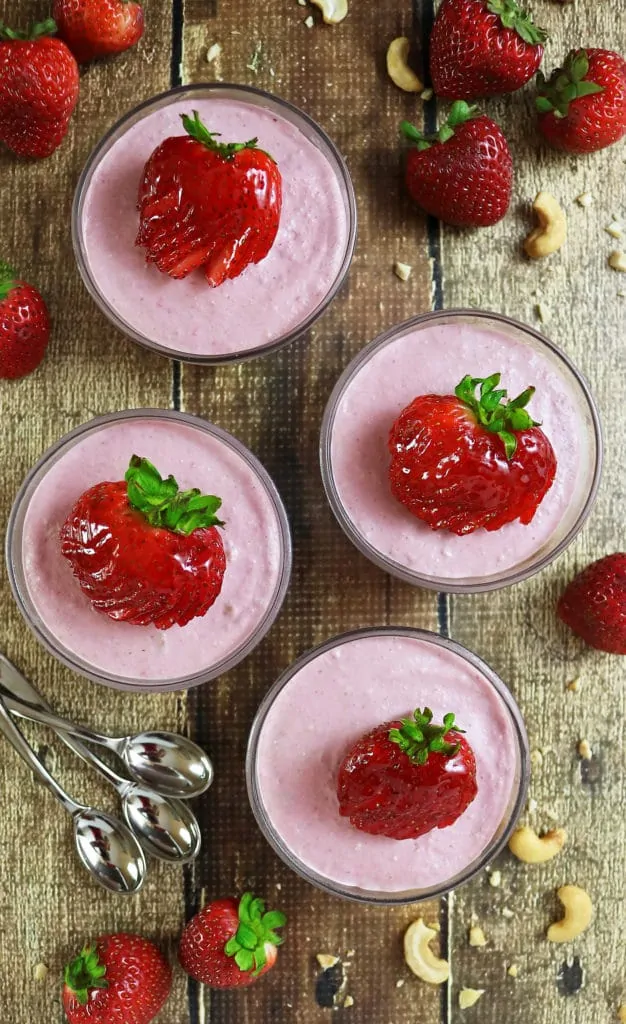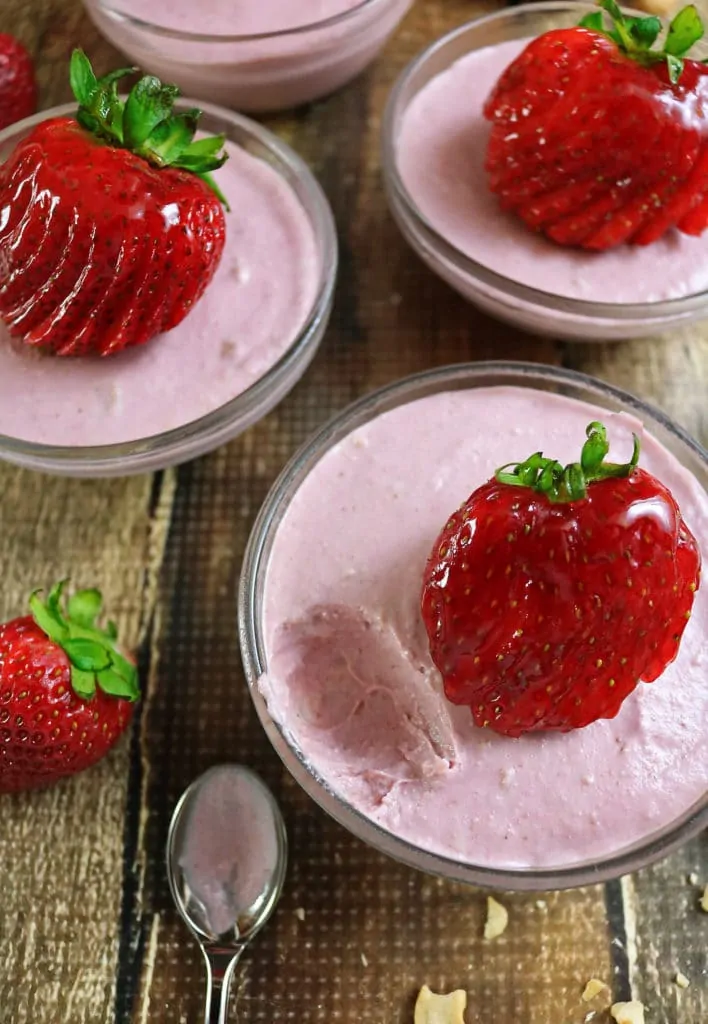 Or, you could go the chocolate route and make this chocolate version instead.

I picked up the ingredients for this delicious dinner and dessert at my local Sprouts Farmers Market. Sprouts is filled with fresh produce, dairy, meat and seafood, delicious freshly-baked goods, thousands of natural, organic and gluten-free groceries like the Bob's Red Mill Almond Flour I used in this Almond Encrusted Lemon Salmon, as well as an eclectic beer and wine, vitamins and supplements and more – all at fantastic prices! Being on a budget, Sprouts is where I like to shop for fresh produce as well as gluten-free products.
And, Sprouts just released a gluten-free recipe guide entitled "7 Gluten-Free Recipes to Get Cookin' " that is filled with this and 6 other delicious, gluten-free recipes, as well as a myriad of tips and products to help ya on your gluten-free journey – so make sure you download a copy today!
Also, feel free to check Sprouts out on Twitter, Facebook, Pinterest and Instagram to see their incredible in-store deals, recipe ideas and inspiration!