This shop has been compensated by Collective Bias, Inc. and its advertiser. All opinions are mine alone. #ad #MakeHeartburnHistory #CollectiveBias
Tart, tangy and sweet, this Citrusy Cranberry Pear Sauce is full of ALL the fruits while being lower in sugar. And, leftovers of it can be recycled to make these mini, Cranberry Cream Cheese Tartlets – to enjoy after all that Black Friday/Boxing Day shopping!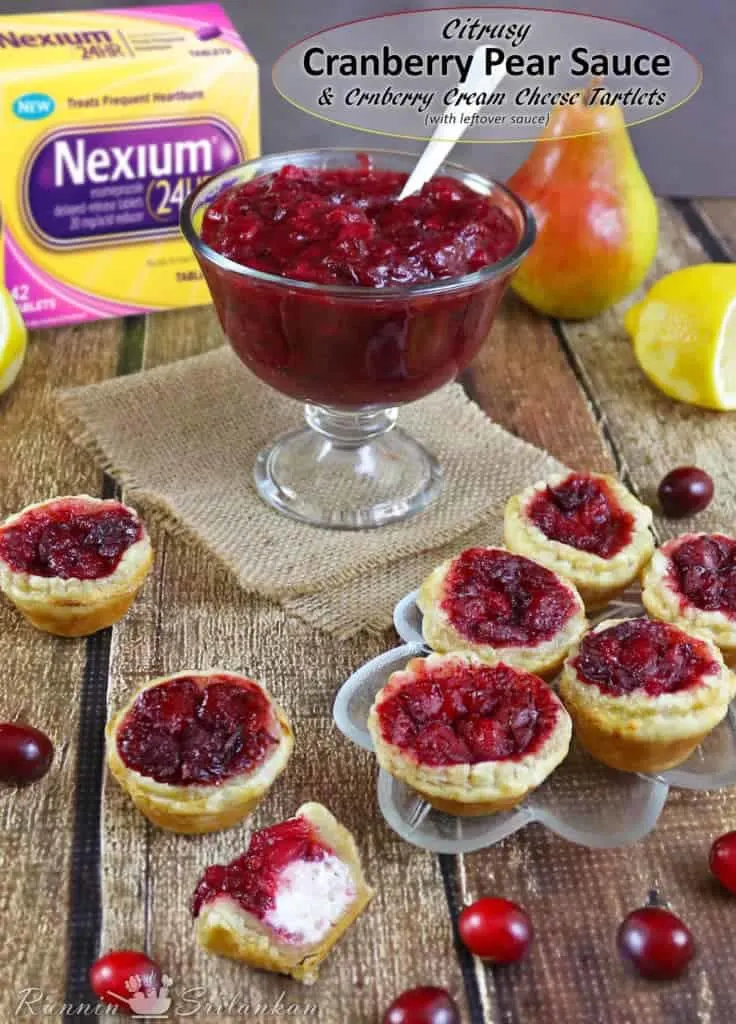 Ah…Cranberries! They are synonymous with the holidays, yet they are one fruit I usually don't like to mess with as they are oh so shudderingly tart! I used to refer to them as only a fruit my dad could love…because love them he did! From cranberry juice, to cranberry and lemon coffee cake, to fresh out of the package, I never knew him to turn cranberry-anything down. Though, come to think of it, when it came to food my dad hardly ever turned anything down. Even though he often struggled with frequent heartburn, he wouldn't let that get in the way of enjoying all the cranberry goodness of the Holidays. He would start taking Nexium® 24HR 42ct Tablets a few days before the feastivities commenced and be ready to go!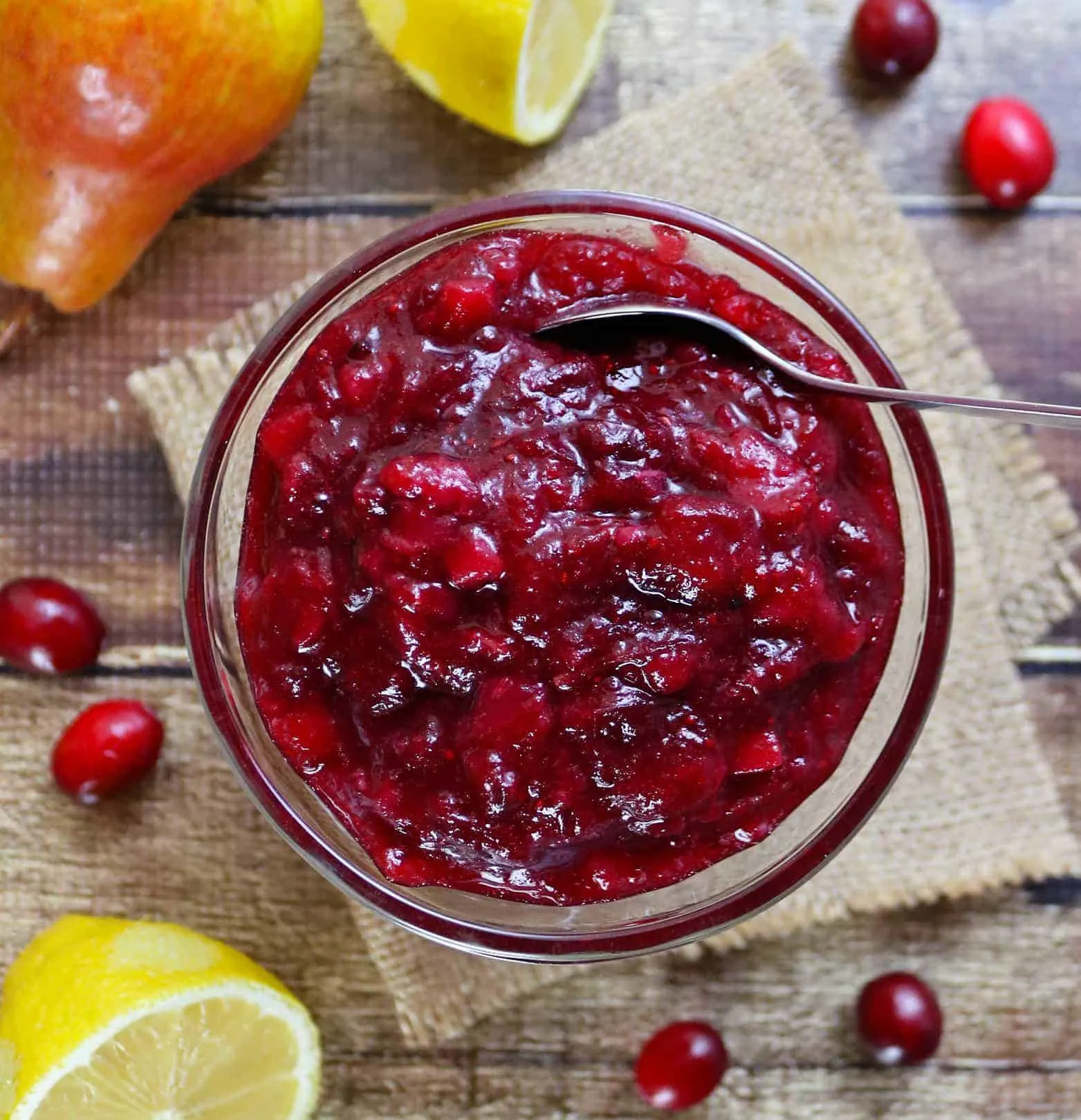 This is our third Holiday season without my dad and I sure do miss his always jolly self. This Holiday season, I figured it was time I put my cranberry aversion aside and make something with cranberries, in his honor. Instead of getting Cranberry sauce from the store like we usually do, I figured I would unite cranberries and lemons with super sweet pears, and try my hand at a lower sugar, Citrusy Cranberry Pear Sauce!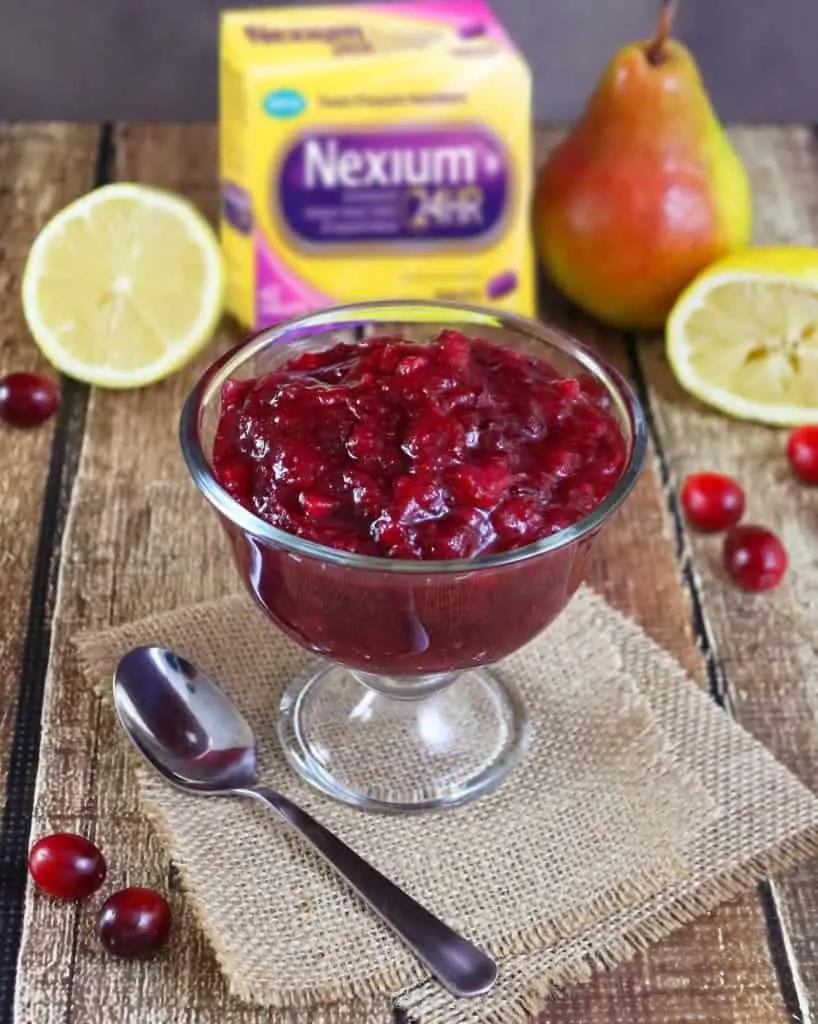 My first try, I added in lemon juice instead of water and my tongue almost rolled back into ma belly because of the tartness. My second try, I added in just one pear and absolutely no other sweetener and the result was still just too tart. However, I really liked how my third try came out by adding in a couple of pears, maple syrup and a bit of coconut sugar. Now, if you are not trying to cut down on sugar, then skip out the 1/4 cup of honey and 3 tablespoons of coconut sugar and just add in 3/4 cup of sugar.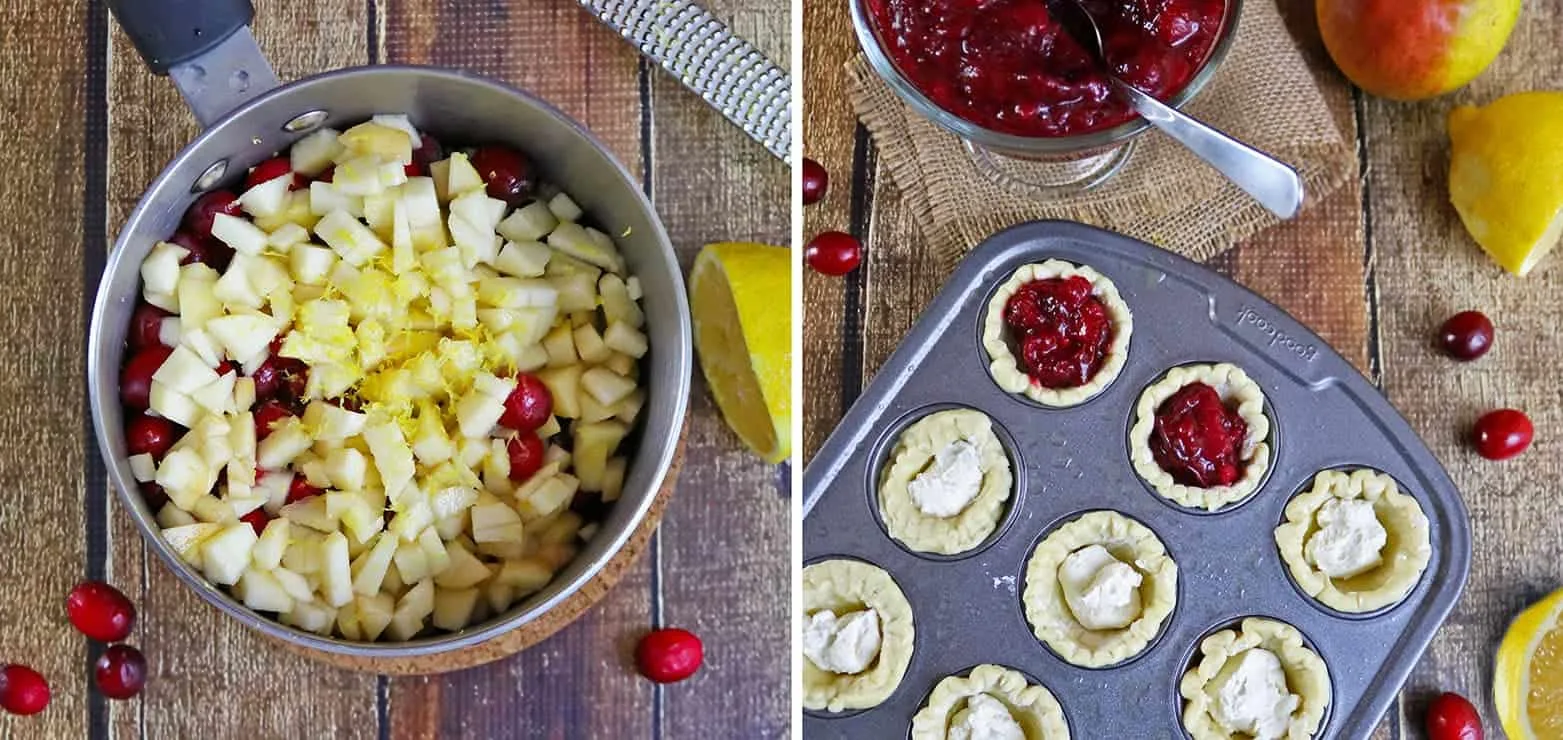 And, if, the day after Thanksgiving or Christmas, you happen to have some of this Citrusy Cranberry Pear Sauce leftover, you can use some of it to make these quick and easy, mini, Cranberry Cream Cheese Tartlets. These little Cranberry Cream Cheese Tartlets are made with store bought puff pastry cut up and placed into a mini muffin cup, with a dollop of cream cheese and some of the leftover Citrusy Cranberry Pear Sauce.
[Tweet "Citrusy Cranberry Pear Sauce & Cranberry Cream Cheese Tartlets #MakeHeartburnHistory #ad @Walgreens"]
Cranberries and Citrus are often foods associated with heartburn. If you happen to suffer from frequent heartburn and are reluctant to let it ruin your Holidays, maybe Nexium® 24HR could help you partake in all the feastivities? I picked up a package of Nexium® 24HR 42ct Tablets from my neighborhood Walgreens to have on hand. Just one pill (started 1-4 days prior to) helps you get all-day, all-night protection, so you can make the most of your holidays.
Disclaimer: Please refer to product package for dosing and details. May take 1 to 4 days for full effect. Please use as directed.