This easy, 6-ingredient black-eyed peas, greens, and sausage hash makes a delicious New Years Dinner or New Years Brunch.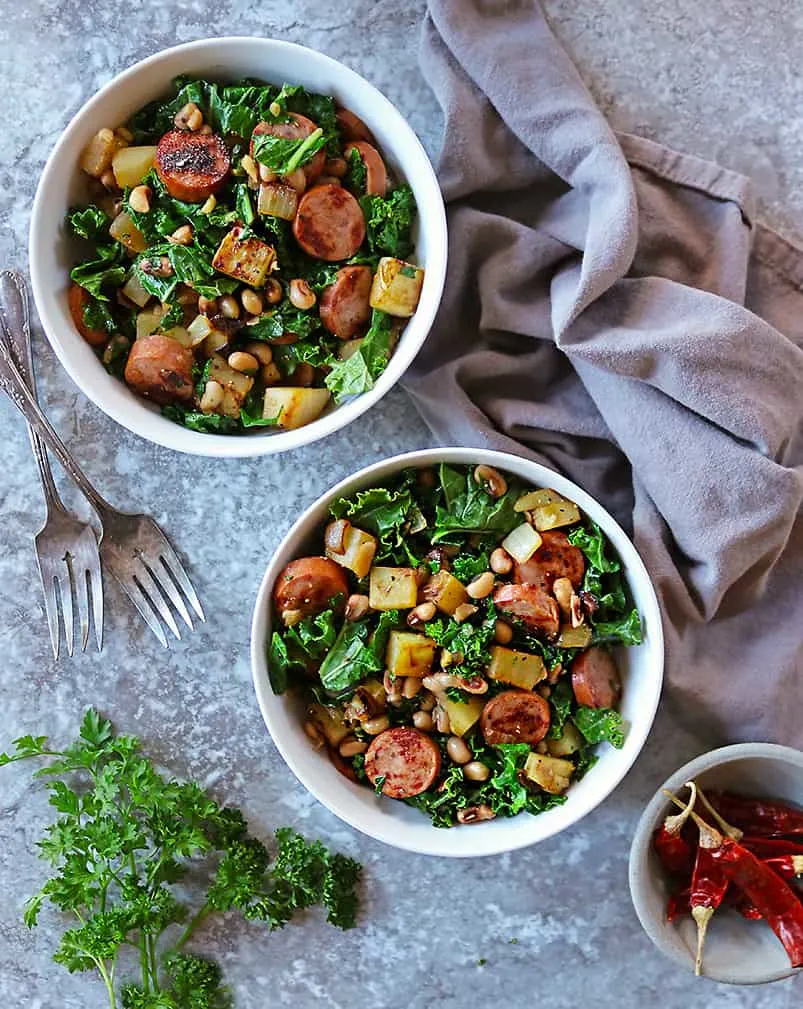 For the past few years, my daughter and I have tried to incorporate some of the ingredients deemed "lucky" here in Georgia, into our New Years Day.
My mom is the one who first put a Sri Lankan spin on the South's traditional black-eyed peas and greens dish. She sautéed up black-eyed peas with some collards and a whole bunch of spices, resulting in an aromatic and tasty dish that was hard to resist.
Since then, I've been trying to come up with unique ways to incorporate black-eyed peas and greens into our New Years Dinner or breakfast.
New Year Recipe Ideas: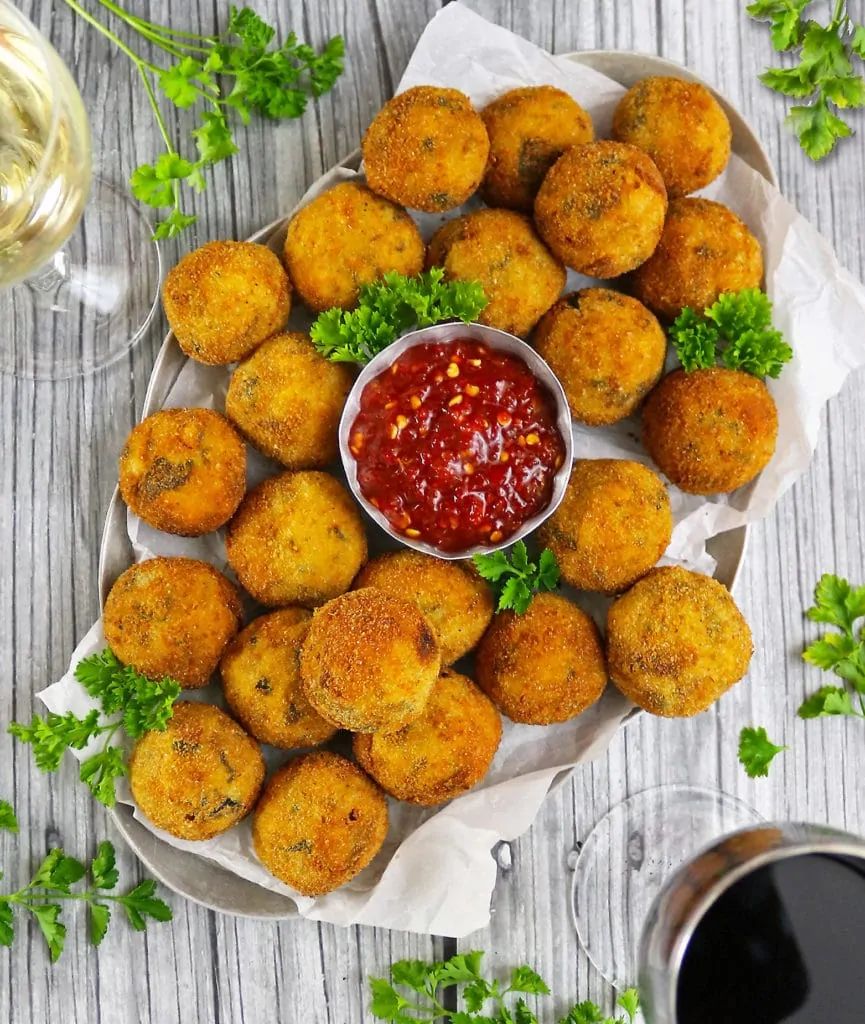 In years past there were the black-eyed peas and greens croquettes. These were breaded and fried veggie balls with a stuffing of black-eyed peas, greens, potatoes, and a plethora of spices.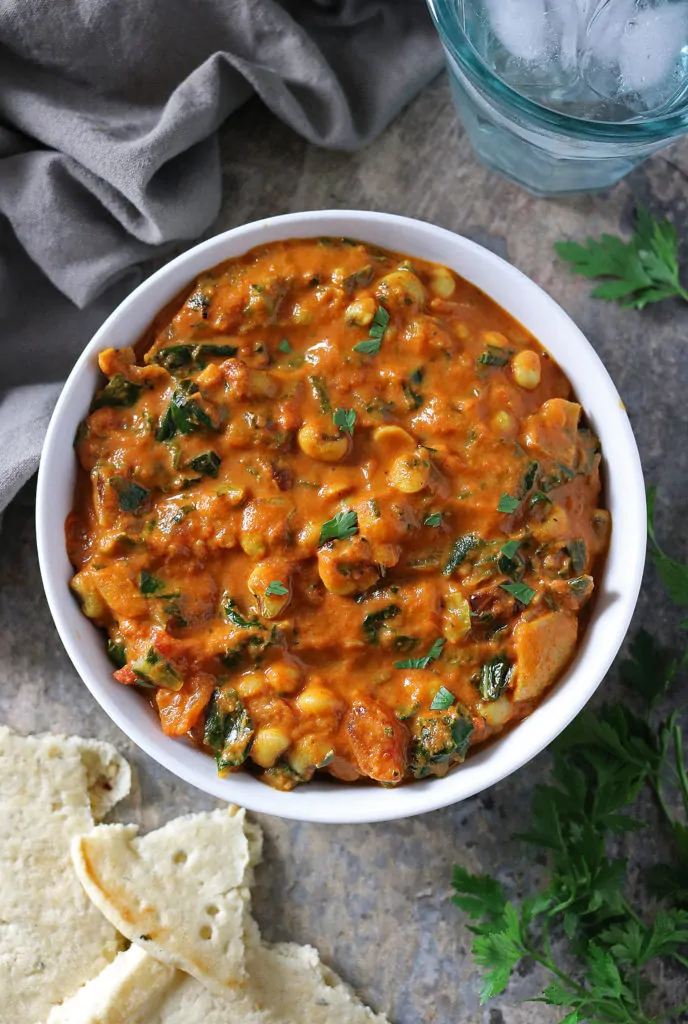 After that, we had black-eyed peas and greens curry. In which black-eyed peas and greens were cooked in a deliciously spiced tomato sauce. Served with roti, this curry was such a satisfying plant-based New Years Dinner.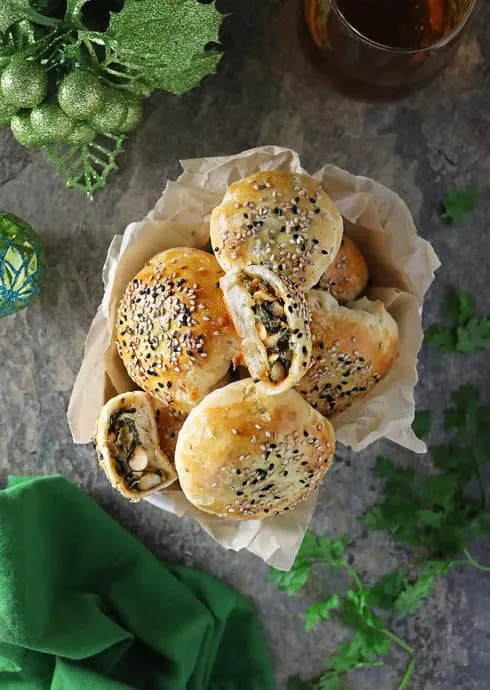 Then, along came these black-eyed peas and greens stuffed buns. I chose to make this a super easy recipe and opted to use canned biscuit dough to make the buns – which were stuffed with a tasty concoction of sautéed onions, ginger, garlic, black-eyed peas, greens, and spices.
I have made those black-eyed peas and greens stuffed buns many times. And, some times I've used this made-from-scratch-dough I used to make these spicy chicken stuffed buns.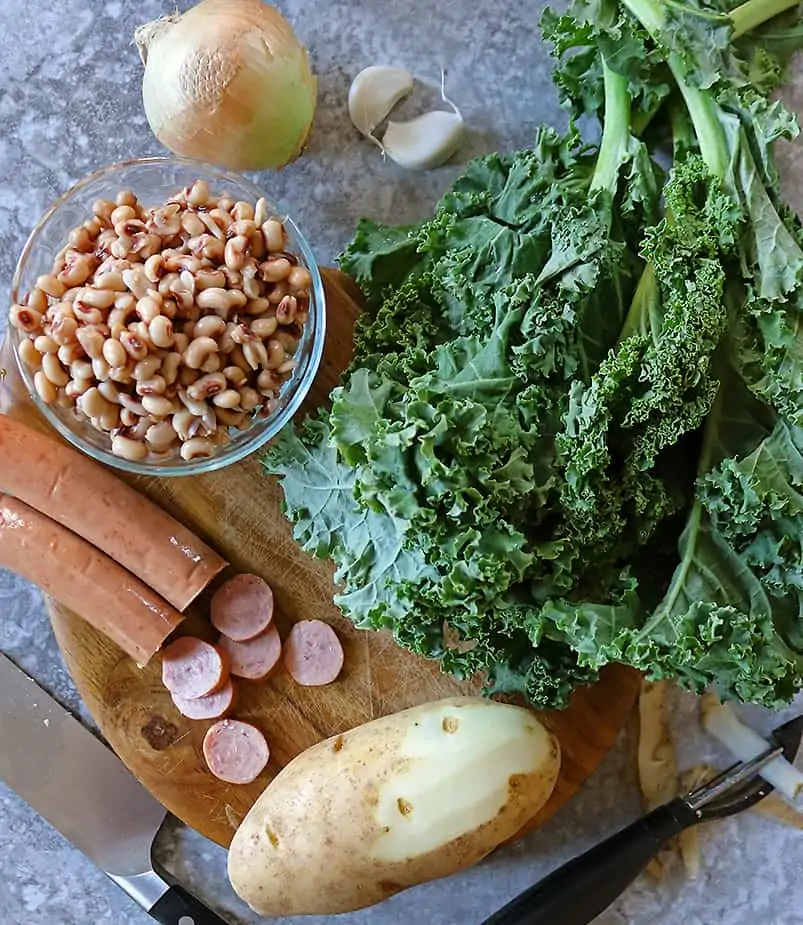 And today I have a super easy recipe to incorporate into your new years day meal plan. This recipe features 3 ingredients that are associated with good fortune here in the south – black-eyed peas, greens, and sausage.
While traditional Southern dishes for good luck call for black-eyed peas and greens cooked with ham hock, I figured it was time to incorporate pork in some form, into our little New Years Day meal, ~ so, I went with sausage.
Ingredient Substitutions:
Now, if pork isn't your thing, then sub in turkey or chicken sausage instead.
If you are embarking on a plant-based diet in 2021, then grab some veggie sausage dogs or these veggie meatballs and use them instead.
If you would like to keep this keto, then leave out the potato and use some broccoli instead.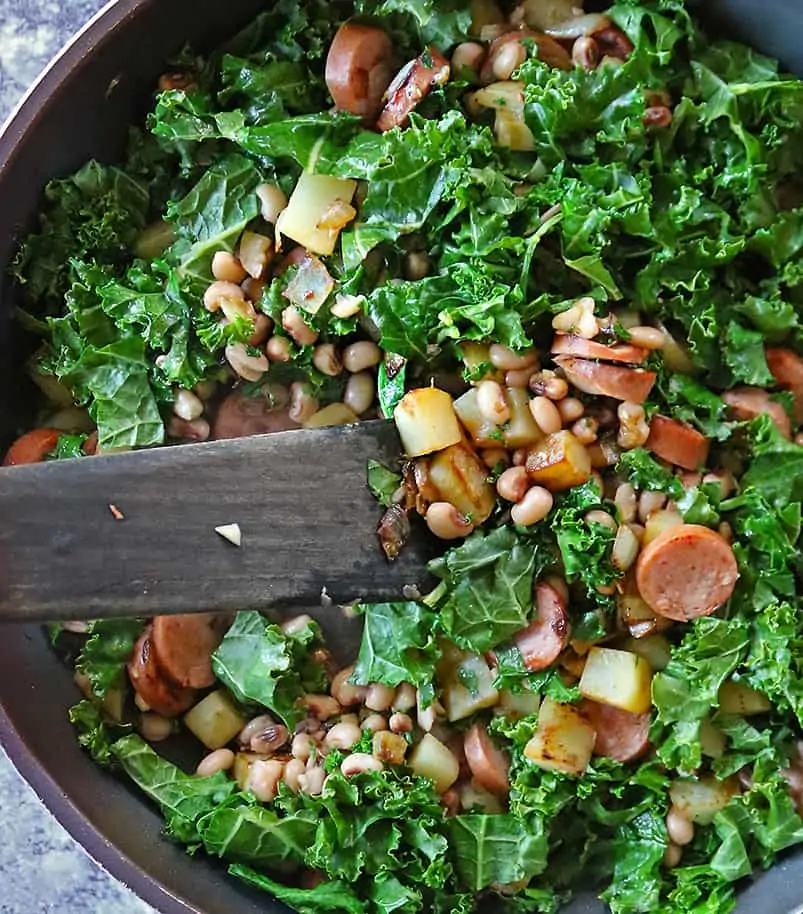 One of the reasons I love this recipe is that it is as easy to make as it is easy to customize.
What are the 6 ingredients to make this New Years Dinner?
This recipe uses 6 pantry staple ingredients such as:
• Canned black eyed peas,
• Fresh Kale leaves (you can use bagged kale or spinach as well),
• An onion,
• Garlic cloves,
• Sausage, and
• A potato.
Simply sauté the ingredients, starting with the onion and then adding in the garlic, potato, sausage, greens, and black-eyed peas. And, New Years Dinner (or brunch) is done!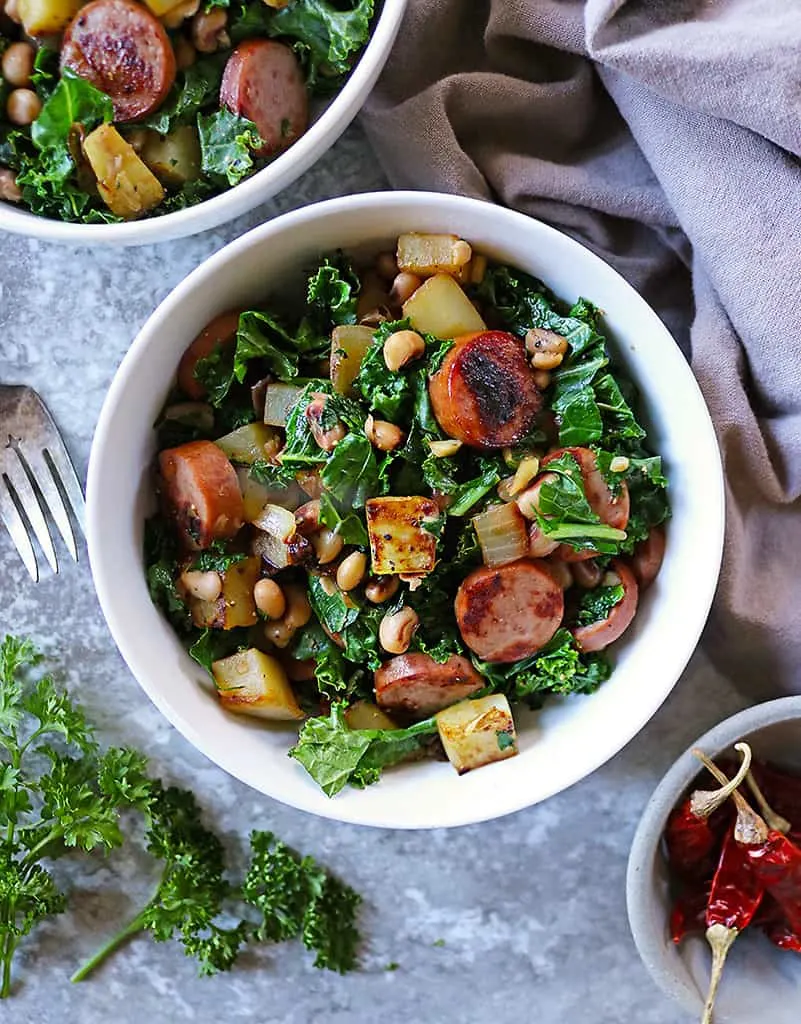 Wishing you and your loved one's love, health, & happiness in the New Year. May your 2021 be filled with many, many blessings!