Crisp broccoli, fresh carrots, crunchy pecans, and sweet raisins are engulfed in a creamy cashew harissa dressing in this Easy Vegan Broccoli Salad. This plant-based recipe is a delicious side dish both vegans ad non-vegans are sure to enjoy.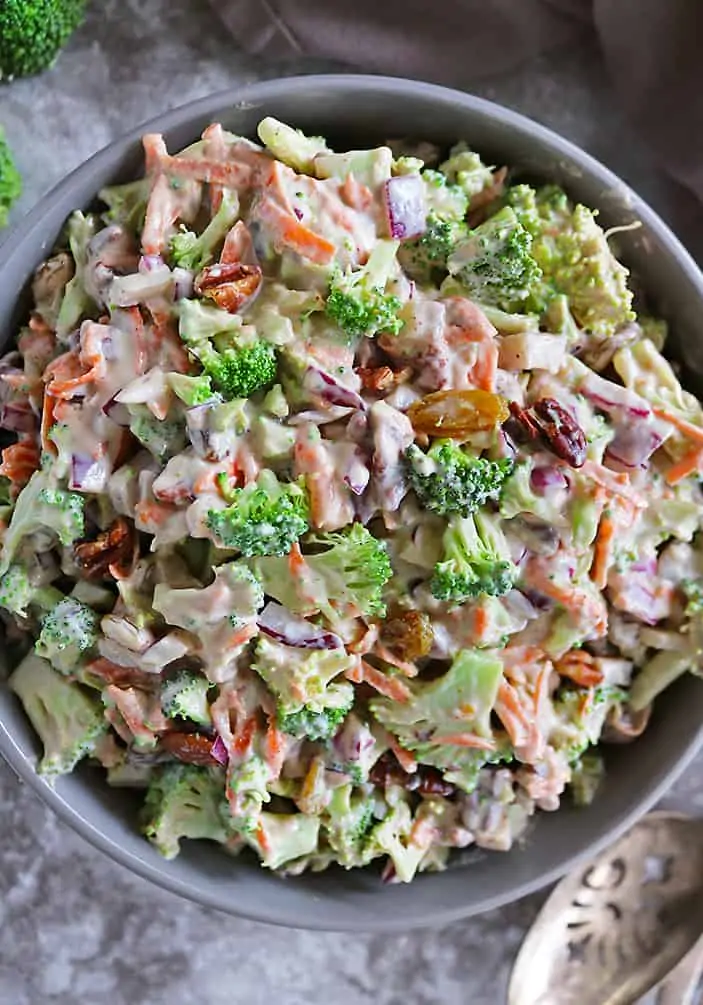 If you love a broccoli salad that is a tasty blend of flavors and textures and yet is good for you, this one is it! This easy vegan broccoli salad is LOADED UP with incredible flavors and textures!
You have chopped up fresh and crisp broccoli, grated sweet carrots, diced red onion, crunchy pecans, and sweet raisins which are tossed in a rich and creamy garlic cashew sauce with a hint of spicy harissa.
Why do we love this vegan broccoli salad?
My daughter and I love this broccoli salad as:
It is indulgently creamy,
It is refreshingly crunchy,
It is slightly sweet,
It is deliciously spicy (with smoky harissa),
It is completely dairy-free, and
It is so so so delicious!
This salad is perfect for you if you are lactose intolerant or trying to avoid dairy. It will also easily fit into a paleo or gluten-free diet.
If you would like to make this keto, you would replace the maple syrup with a sugar-free version, add shredded cauliflower or diced celery in instead of the carrots, and replace the raisins with some sugar-free dried cranberries.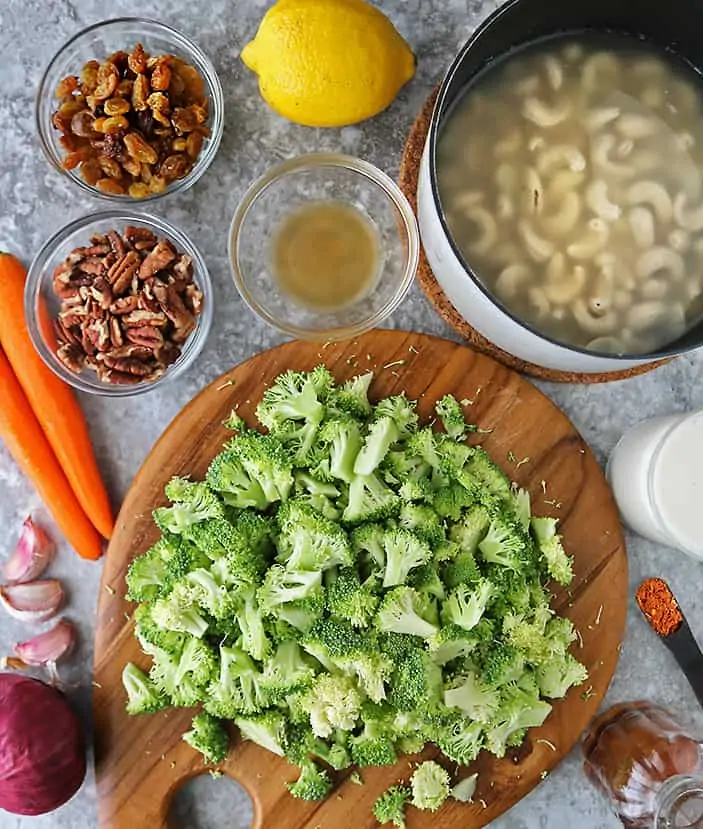 What are the ingredients needed to make this easy broccoli salad?
To make this dairy-free creamy salad, you will need the following 12 ingredients:
cashews (raw),
unsweetened almond milk,
maple syrup,
apple cider vinegar,
garlic,
zest of 1 lemon and juice of 1/2 a lemon,
harissa,
red onion,
broccoli,
carrots,
raisins,
pecans,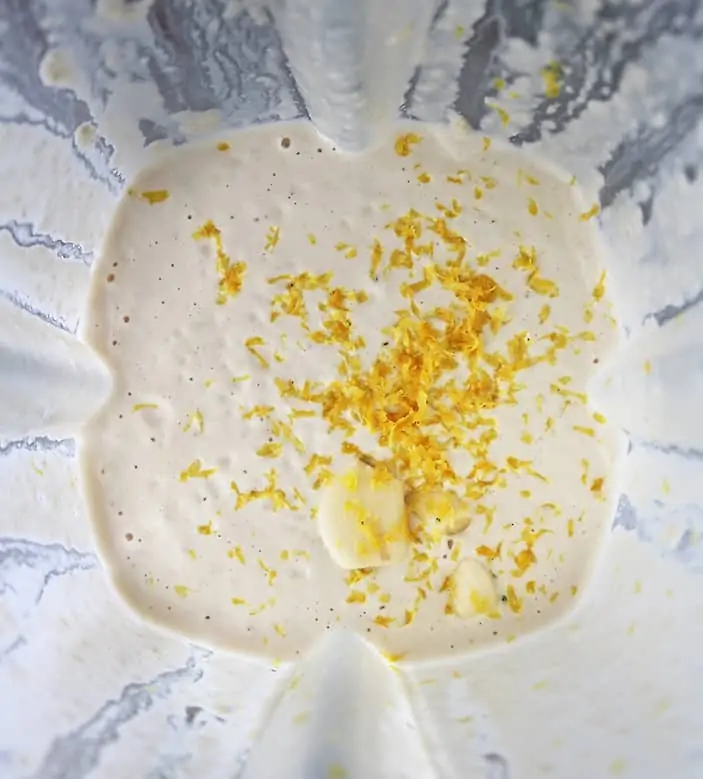 How do you make this tasty salad?
This salad is super easy to make. You will first soak the cashews to make this creamy sauce.
There are two ways you can soak cashews.
Method One: if you have time, you can place the cashews in a container, fill it with water, cover it, and place the container with the cashews in the fridge and let the cashews soak overnight. The next day you will just drain the cashews and use them.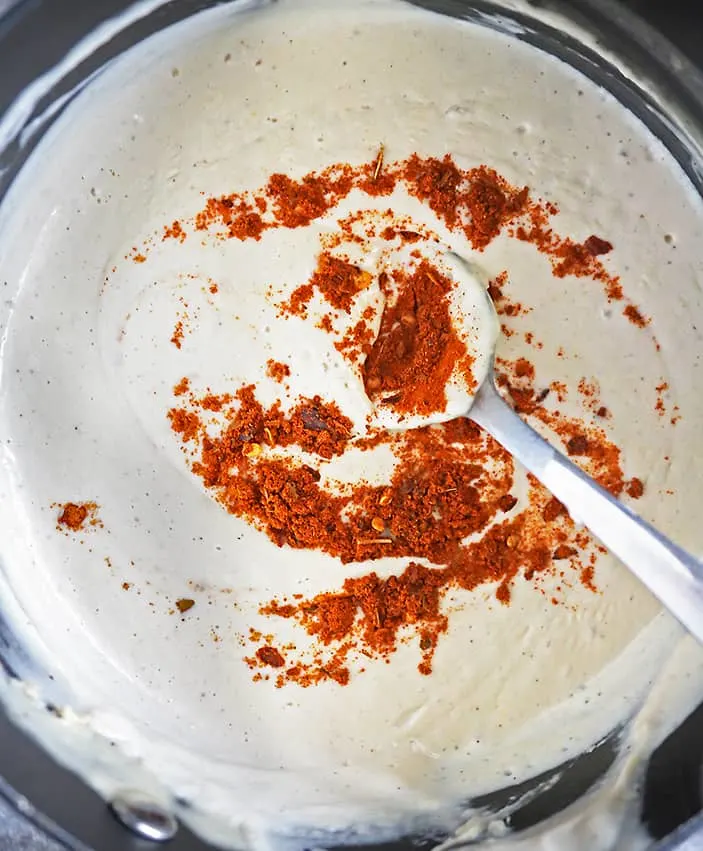 Method Two: or, if you don't have much time and want to whip this salad up in a hurry, then you can quick soak the cashews. This is done by placing the cashews in a pan, adding water into the pan to cover the cashews. Then squeezing in the juice of half a lemon into it. Then you will place this pan on the stove and turn the flame/heat onto high. When this mixture comes to a boil, you will turn off the flame/heat and cover the pan and leave it covered for 30 minutes. When the time is up, you will drain the cashews and set them aside to use.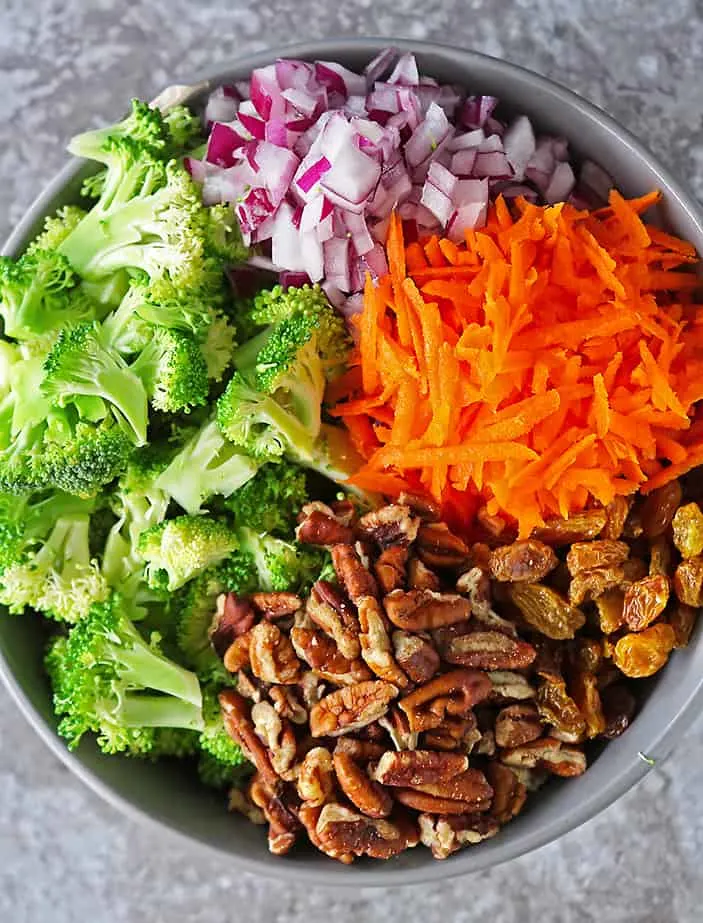 While the cashews are soaking, you can prep the broccoli, grate the carrots, and dice the red onion.
Then when the cashews have soaked for 30 minutes, you can get started on the sauce.
The creamy sauce is made by adding the soaked cashews into a blender along with the almond milk, maple syrup, ACV, garlic, lemon zest, and harissa. You will blend this on high until the sauce is creamy. If this sauce is too thin, you can place it in a pan and simmer it for about 5 minutes, stirring it often, until it thickens – like I did when making this sage cream sauce.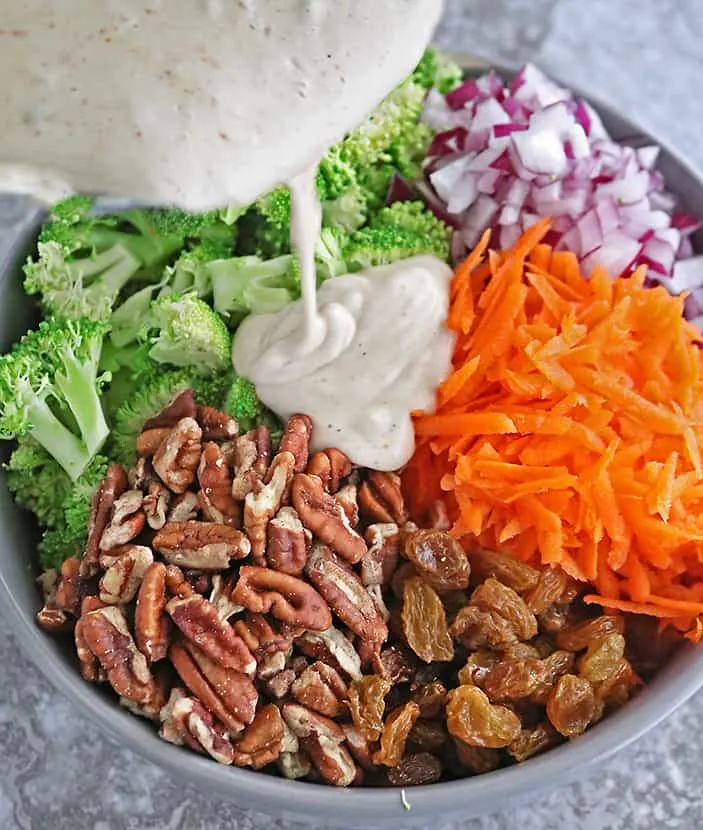 When the sauce is the consistency you like it to be, season it with salt and pepper. Then add it to the chopped broccoli, grated carrots, diced red onion, pecans, and raisins, and toss until all ingredients are well incorporated.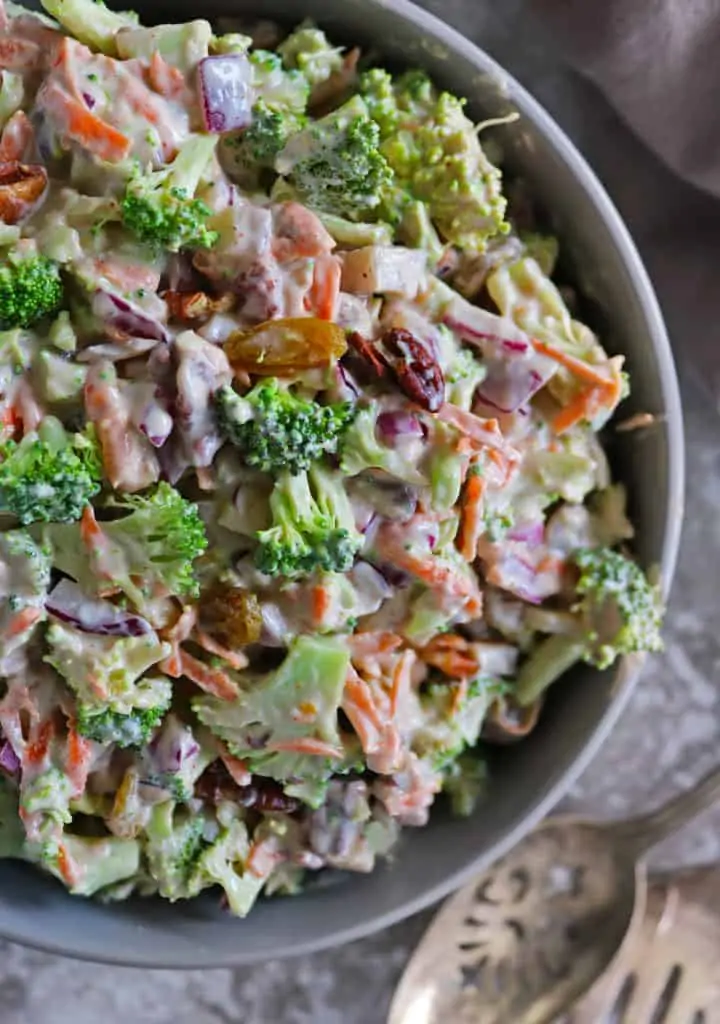 I am hoping you and your loved ones enjoy this tasty vegan broccoli salad as much as my daughter and I do.
Thanks so much for stopping by. If you make this recipe, please let me know in the comments below what you think of it, or tag your creation on social media with @savoryspin or #savoryspin. For more fusion, spice-filled, recipe ideas, please subscribe and follow me on Facebook, Instagram, and/or Pinterest!