Spiked with a tad bit of cinnamon, ginger, and cloves, these soft and chewy gluten free and butter free oatmeal cranberry cookies are so easy to make and so big on taste!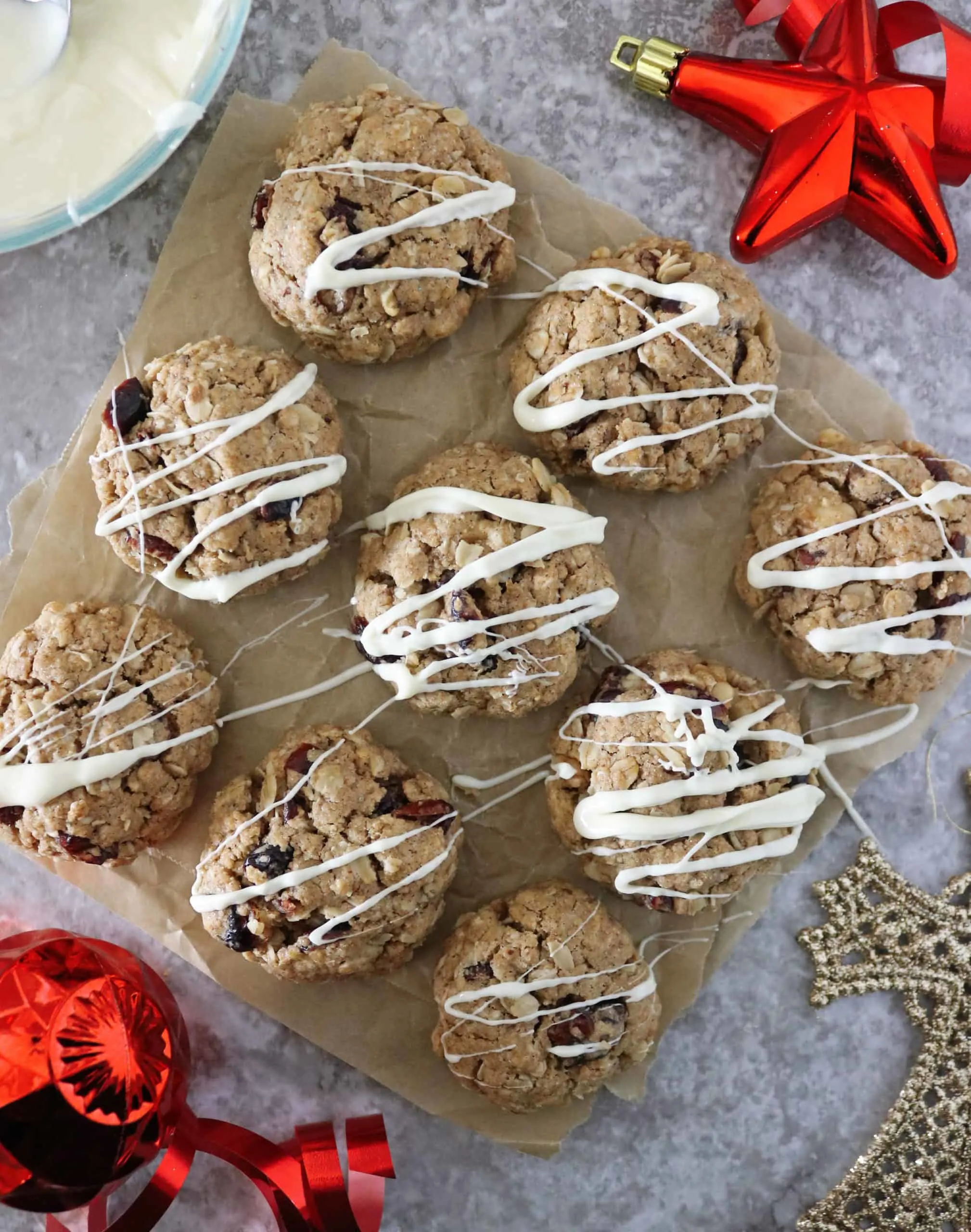 Christmas cookie exchanges are so much fun.
That is, if like me, your definition of fun revolves around the joy of cakes and cookies 😊
At a cookie exchange, I love sampling a little bit of this and a little bit of that. What I'm not particularly fond of is watching my stash of cookies disappear. Yes, yes, I know that is the whole point of a cookie exchange – I share my cookies and I get to enjoy other's cookies … buuuuut, I have sharing issues!

I kid, I kid.

Kind of.
Speaking of cookie exchanges, today, for the second year, I am delighted to be joining Erin of the Speckled Plate and a slew of other bloggers in a virtual Sweetest Season Cookie Exchange.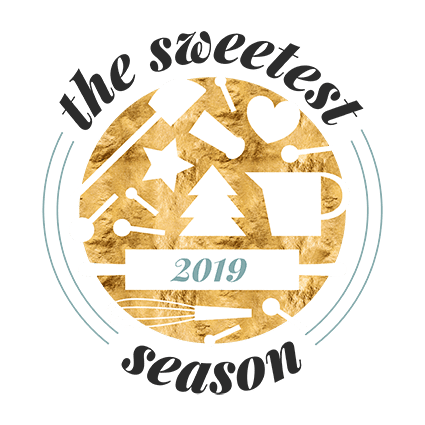 And, my contribution to this virtual cookie feast are these easy oatmeal cranberry cookies.
Now, these oatmeal cranberry cookies are not the usual buttery, sugary concoction. They are on the more nutritious and wholesome side.
Kind of like these easy oatmeal pancakes that we love, these cookies are like eating oatmeal in cookie form, much like these ginger granola cookies.
Made with GF oats and GF flour, these cookies are gluten free – if you don't have issues with gluten, feel free to sub in your favorite all-purpose flour.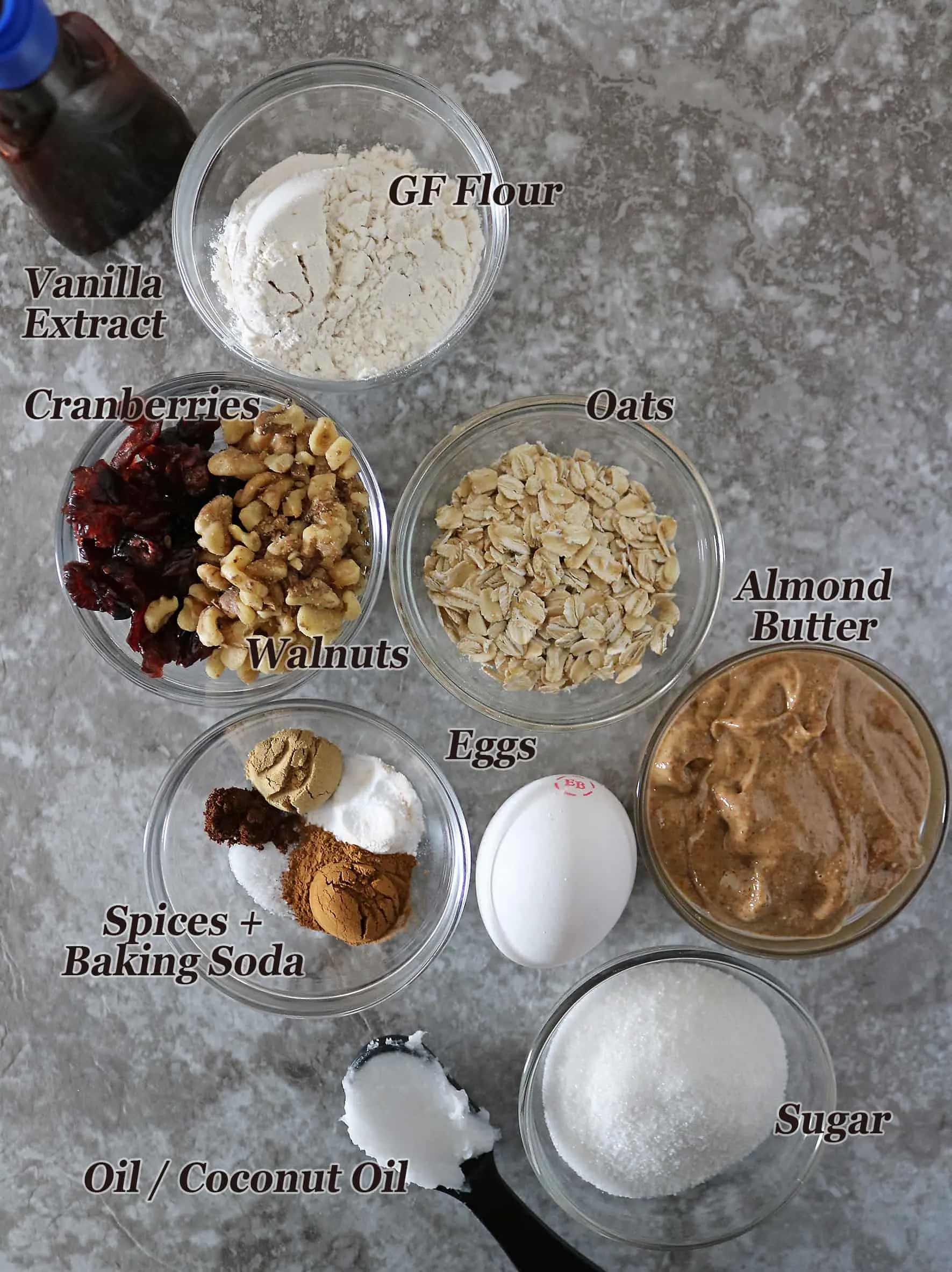 What are the ingredients to make these Oatmeal Cranberry Cookies?
Sugar
Gluten-free flour (I used Bobs Red Mil 1 to 1)
Baking soda
Cinnamon
Cloves
Ginger – powdered
Salt
Rolled oats
Dried cranberries
Walnuts
Almond butter
Corn oil
Vanilla extract
Eggs
White chocolate for drizzle (optional)
Substitutions…
Instead of butter, I used almond butter and corn oil. You can easily substitute melted coconut oil (which I tried out in the first batch of these) for the corn oil, or simply use melted butter.
I am trying to cut down on my intake of butter and sugar, so I can balance out my chocolate consumption – but, please feel free to use those substitutions you would enjoy.
These cookies have a hint of cloves, ginger, and cinnamon which add so much flavor to them.
I used granulated sugar when making these oatmeal cranberry cookies, but please feel free to use coconut sugar or xylitol if you are looking for a more wholesome substitution.
Steps to making these cookies…
I made these cookies buy mixing all the dry ingredients together in a bowl. Then, I mixed the wet ingredients such as the almond butter, vanilla extract, and oil together and poured them over the mixed dry ingredients.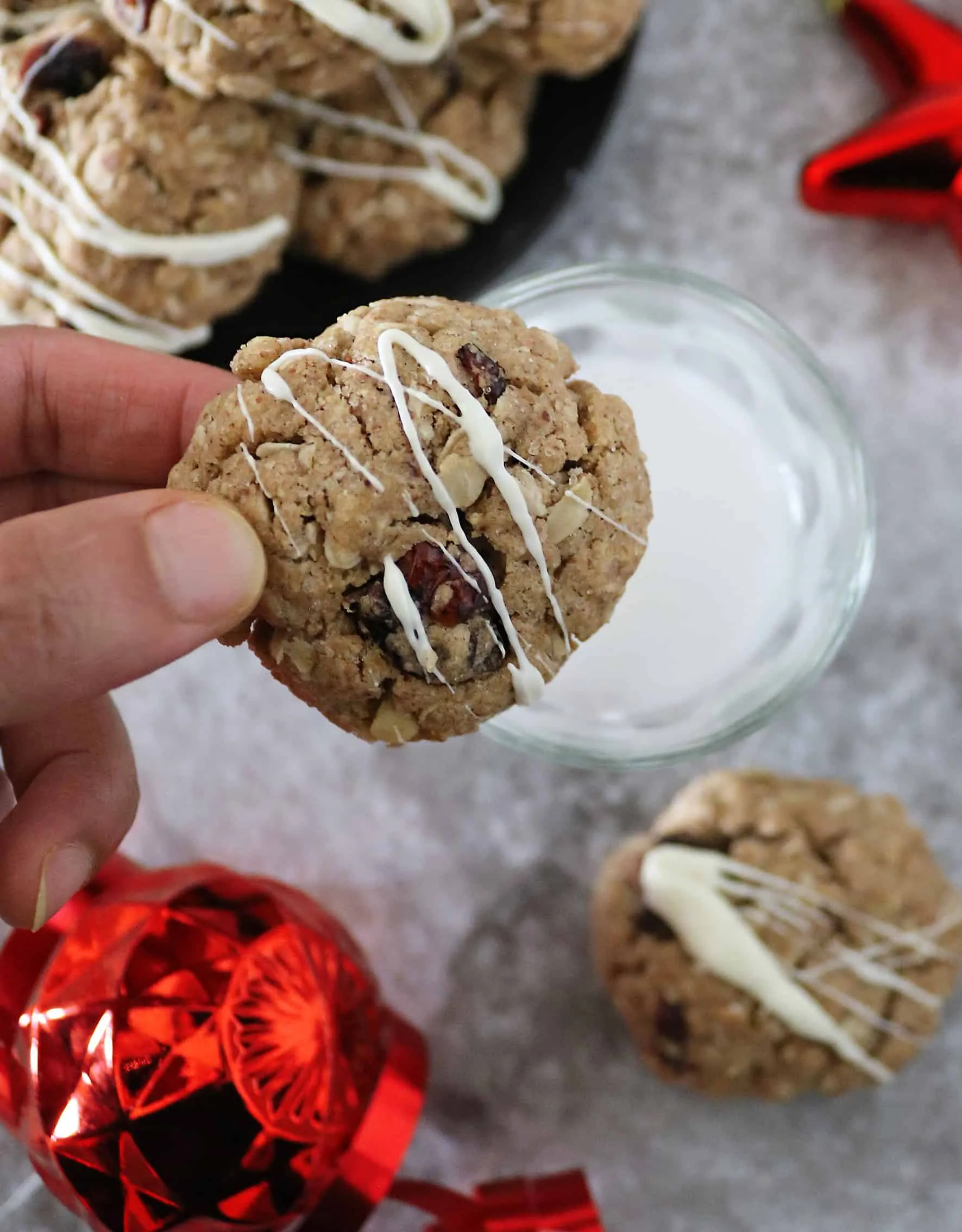 Then I decided it was time to get down and dirty.
So, I dived into that bowl – hands first.
I mixed that dough up, making sure to evenly distribute the wet ingredients with the dry ones. The dough will be crumbly to look at, but, when you gather up a handful and squeeze it together in your palm, it should stick together well and let you shape it into a circle or any shape you prefer.
I used walnuts and dried cranberries in these oatmeal cranberry cookies as well.
Now, there's no need to chill this dough as it will retain its shape when baked. Yes, that's right – you don't have to worry about spreading with these cookies unlike my favorite oatmeal chocolate chip ones.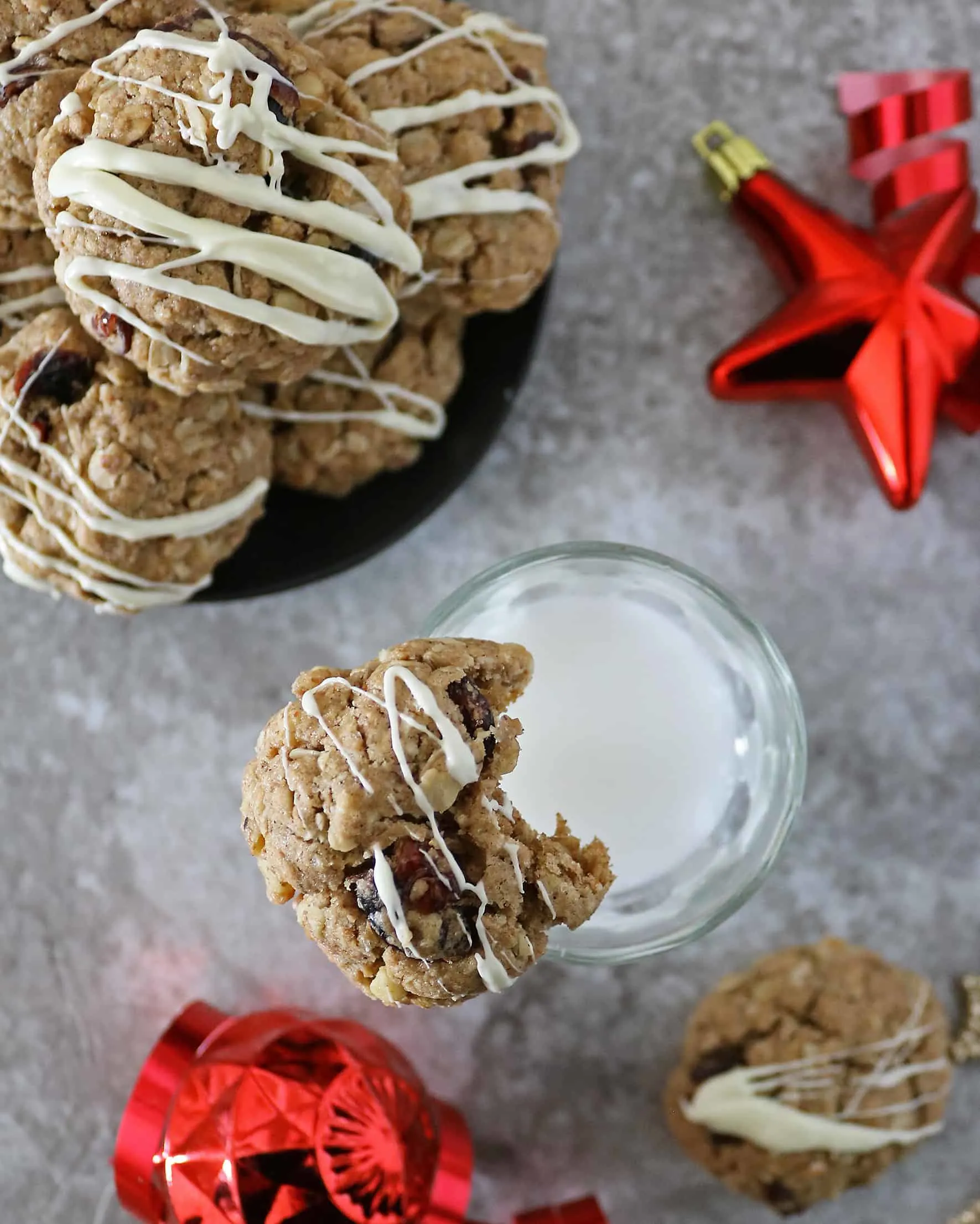 I baked these cookies at 350 for 12 minutes but bake them for 15 minutes instead of 12 for a slightly crisper cookie.
When these cookies are ready – do not grab one as soon as they are out of the oven. I urge you to let them sit at least 20 minutes or so or until they are close to room temperature as they are not as sweet when they are fresh out of the oven.
When they are cooled, feel free to drizzle them with white chocolate or leave them plain.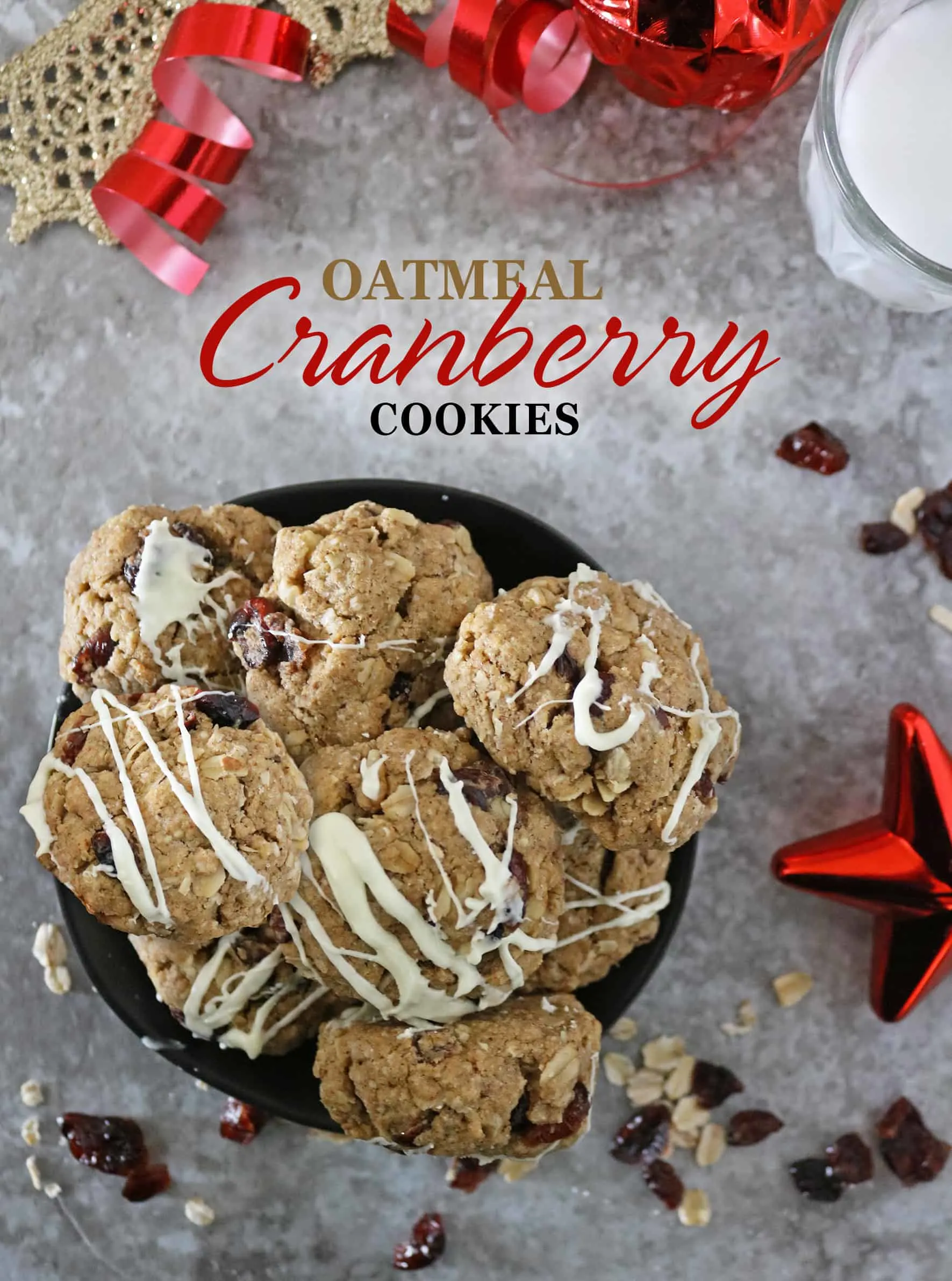 Either way, these Oatmeal Cranberry Cookies make a super tasty and nutritious addition to any cookie exchange.