Made with just 6 pantry staple ingredients (some of which I use in my oatmeal), these gluten-free, super Easy Oatmeal Pancakes are thick and delicious.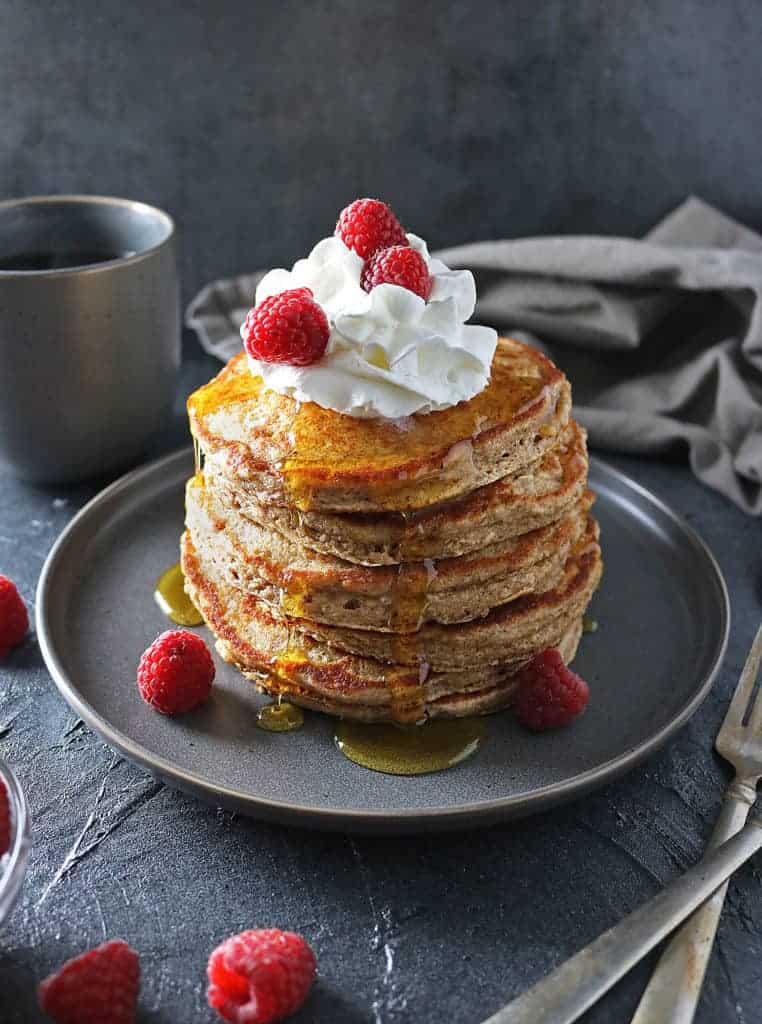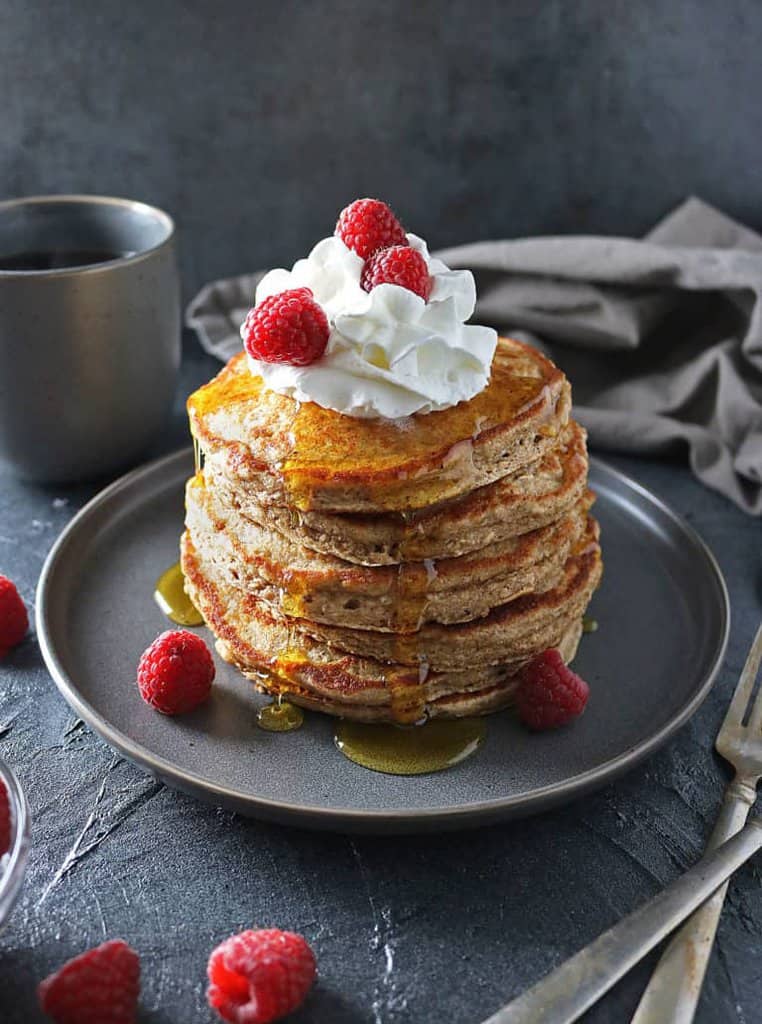 **This post for Easy Oatmeal Pancakes was originally published in January 2014. It has been edited and is being republished today.**
These Easy Oatmeal Pancakes are:
• Gluten-free (made with ground-up certified gluten-free oats, they are completely flourless.
• Dairy-free
• Refined sugar-free
• Made with 6 Ingredients you probably already have in your kitchen.
• Tasty (with cinnamon and cardamom adding a delicious flavor punch)!
What are the 6 Ingredients needed to make these pancakes?
Rolled oats not quick oats
Nutmeg
Cinnamon
Baking powder
Almond milk (or milk of your choice)
Eggs
These oatmeal pancakes are completely free of all wheat flour. Instead, I used oat flour to make these. In order to make the oat flour, I ground up the rolled oats in my blender. Now, these are made with oats, so they have texture and a high fiber content. If you are looking for a light and fluffy pancake, these do not fit that mold. They are, however, a healthy, satisfying pancake.
You can also use store-bought oat flour – approximately 1.75 cups of oat flour = 1 cup of rolled oats. But, that oat flour on your store shelf tends to be a bit pricier than a container of regular rolled oats that you can simply grind up and voila, have your own oat flour to make these pancakes and use in so many other recipes. However, if you do use store-bought oat flour, you might have to add less milk so the batter is thick. You want your batter to be almost like a thick cake batter consistency.

I used a bit of salt but did not place it in the ingredient list.
Are these oatmeal pancakes healthy?
One of these easy oatmeal pancakes contains a little over 200 calories and around 5g of fiber. Making these a great way to start off a busy day with.
These pancakes are dairy-free as they do not contain any milk or yogurt, so if you are lactose intolerant like me, these pancakes are a dairy-free delight!
How long can you store these pancakes?
You can make these flourless oatmeal pancakes ahead and store them in an air-tight container in your fridge for about 5 days. I usually double this recipe, make a large batch on Sunday, and save the rest to enjoy during the week.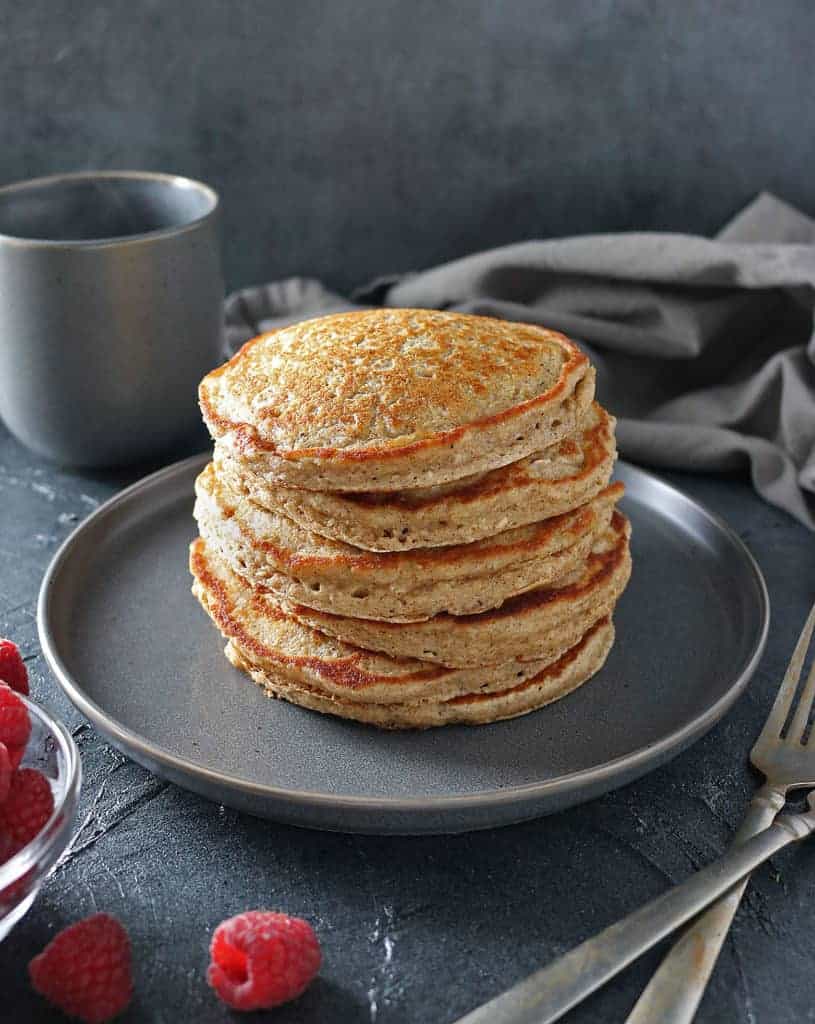 I ADORE Oats…
Rolled or Steel Cut, baked or boiled…
To me, they are pretty marvelous! And they make me feel marvelous! By the way, oats carry a bunch of health benefits, if you would like to read more about the health benefits of oats, check out this article.
Recently, even my daughter has started to lean toward oats instead of other breakfast choices – and as a parent, it sure warms my heart!
She is FINALLY choosing what I have been eating instead of turning up her nose and protesting its existence!
Did I tell you, I adore oats?
Mostly, I have them in a bowl…
Sometimes, in these Chocolate Pretzel bars
Aaaannnd… recently – in PANCAKES!!!
How to make these easy flourless pancakes:
Add the rolled oats to a blender and blend till they resemble a flour-like consistency. Then spoon them into a bowl.
Also to the bowl, add in the baking powder, salt, cinnamon and nutmeg and mix with a spoon. Then add in the milk and eggs and mix till well incorporated. Set mixture aside for 8-10 minutes to thicken up.
While waiting, place a pan over a low-medium flame and let it warm.
When pancake mixture is thickened, grease pan with vegan butter and ladle 2-3 tablespoonfuls of mix onto pan, and cook 2-3 minutes on each side, till golden and that golden ring forms around the circumference of the pancake.
Serve these easy oatmeal pancakes with whipped cream, golden syrup or maple syrup or jam, and raspberries and enjoy!
---
The same ingredients that make up my morning oat bowls, went into these oatmeal pancakes, only in slightly different quantities.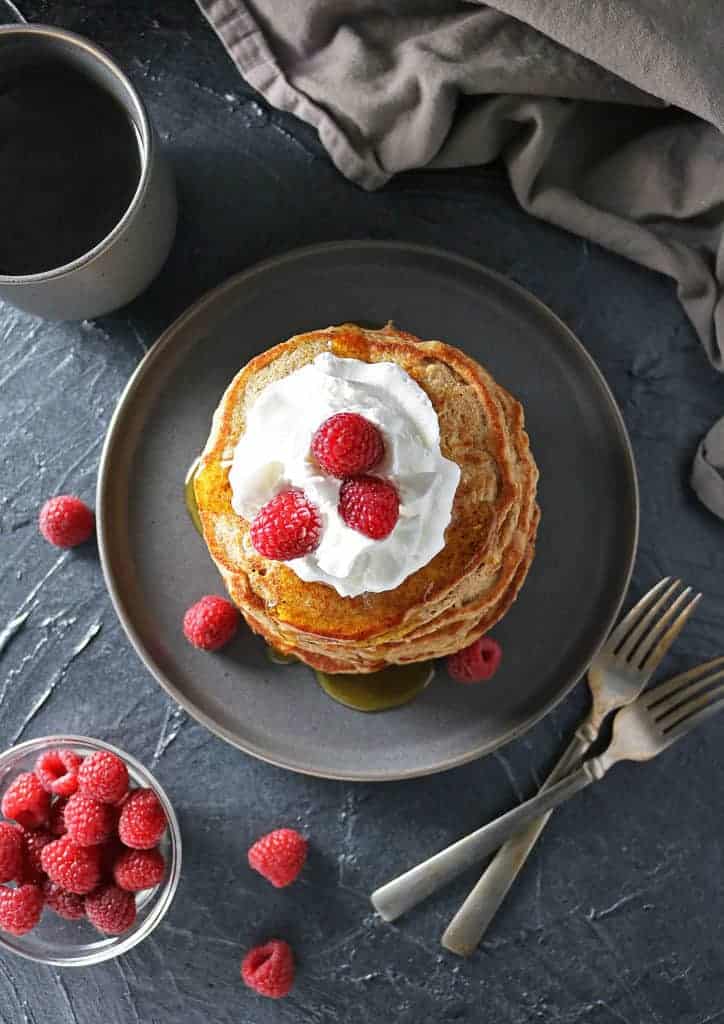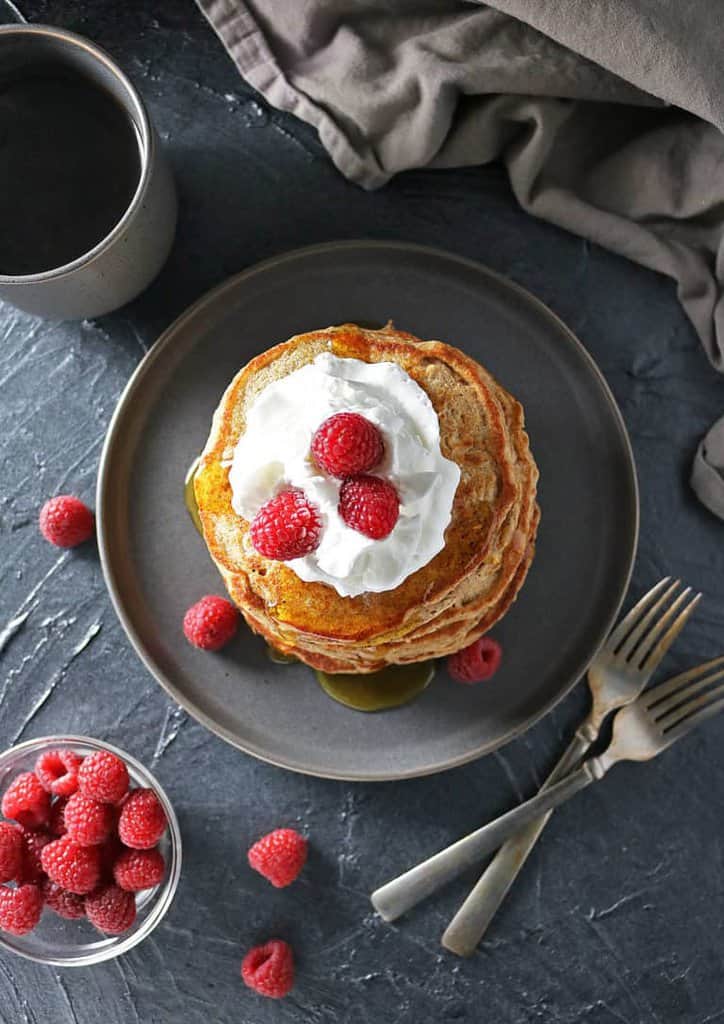 Unfortunately, the number of ingredients I used resulted in only 3 grain-free oatmeal pancakes, and, for some reason, basic math fractions were forgotten about when it came to dividing these rounds of deliciousness up between the two of us!
You would think two people who are pretty good with their math skills would be able to figure out that each of our plates should have 1.5 – right?
But, before I could take a picture of a forkful, two of these pancakes were on my daughter's plate – leaving me with one.
Whaaaaaaatttttt????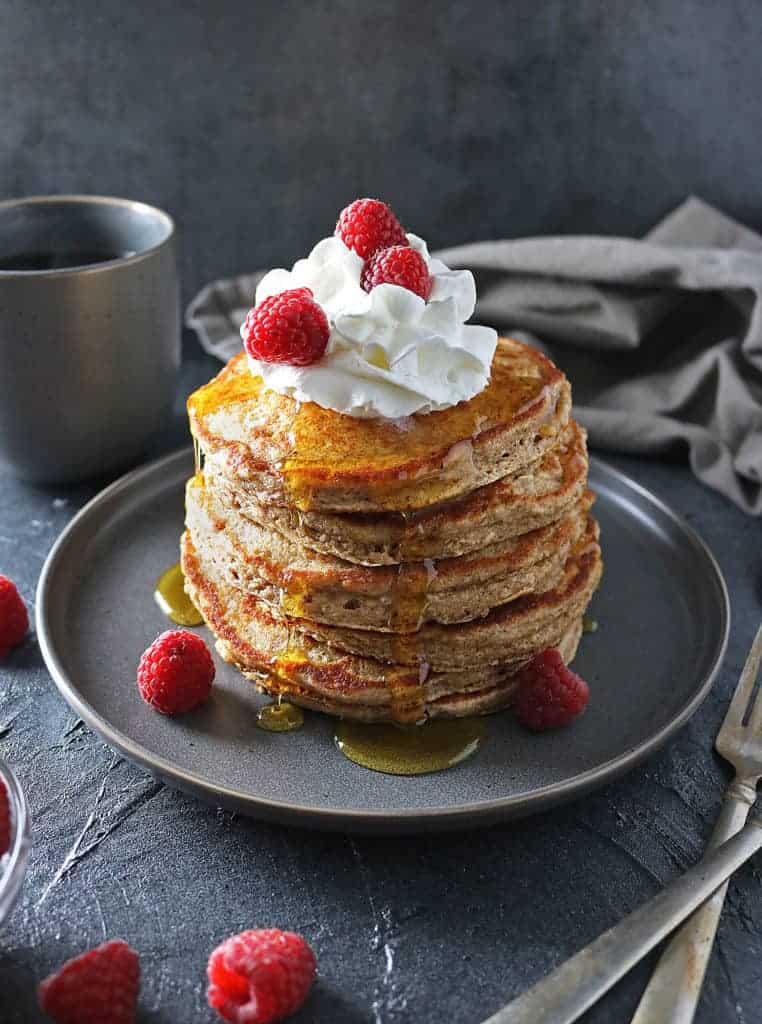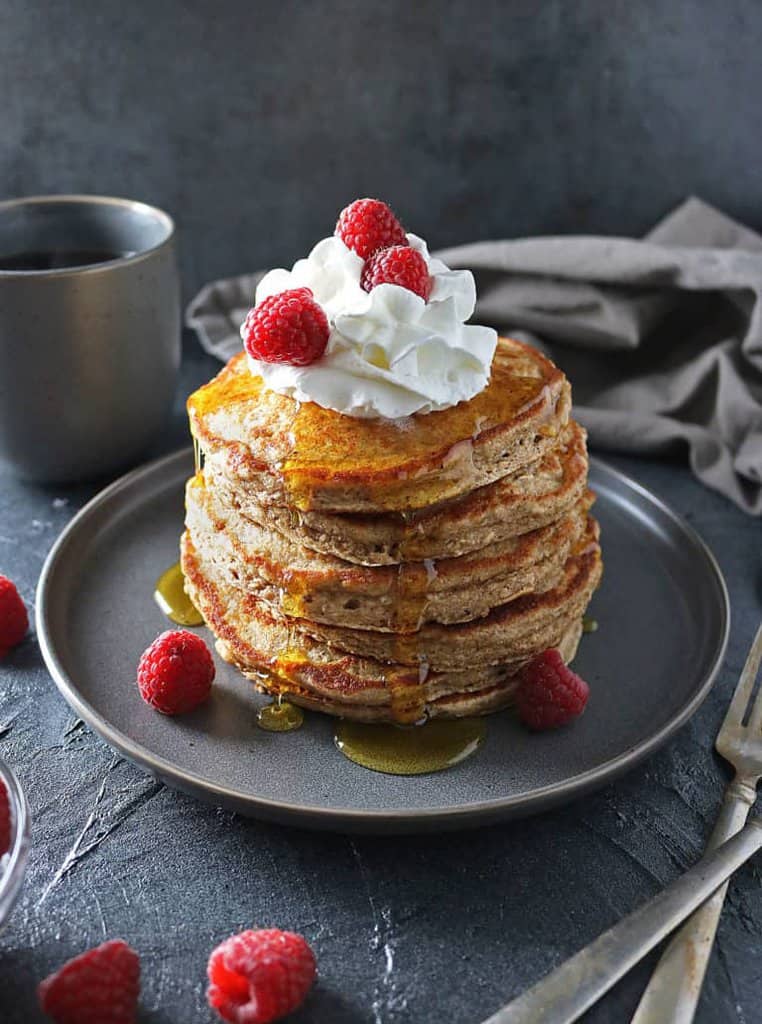 After an intense round of dueling forks, where pieces of these pancakes were flicked to the floor …and, subsequently, into my dog's belly, we finally called a truce and settled on finishing these in peace – while shooting each other the stink eye!
---
Now…
It's your turn to play dueling forks with someone – over a set of these marvelous oat pancakes!
Then please let me know how marvelous you think they are!
I used whipped cream, golden syrup, and raspberries to top mine – these pancakes have no sugar in them – so please feel free to add 2 tablespoons if you feel the need for sweeter pancakes, but, with syrup, you really won't miss the sugar at all.
Love pancakes? Then check out these oat hemp pancakes too. But, if starting the day flipping pancakes isn't for you, then check out this eggless French toast!
Other Gluten-free Oatmeal Dishes
By the way, if you love oats, I have quite a few "oatey" treats on the blog for you, such as:
• this baked pumpkin oatmeal,
• this oatmeal yule log (say what?),
• these oatmeal cookies, and
• this oatmeal risotto.