Intoxicatingly lemony, these "luscious" Gluten Free Lemon Muffins also happen to be butter free and would make a delicious, healthyISH, afternoon snack or breakfast!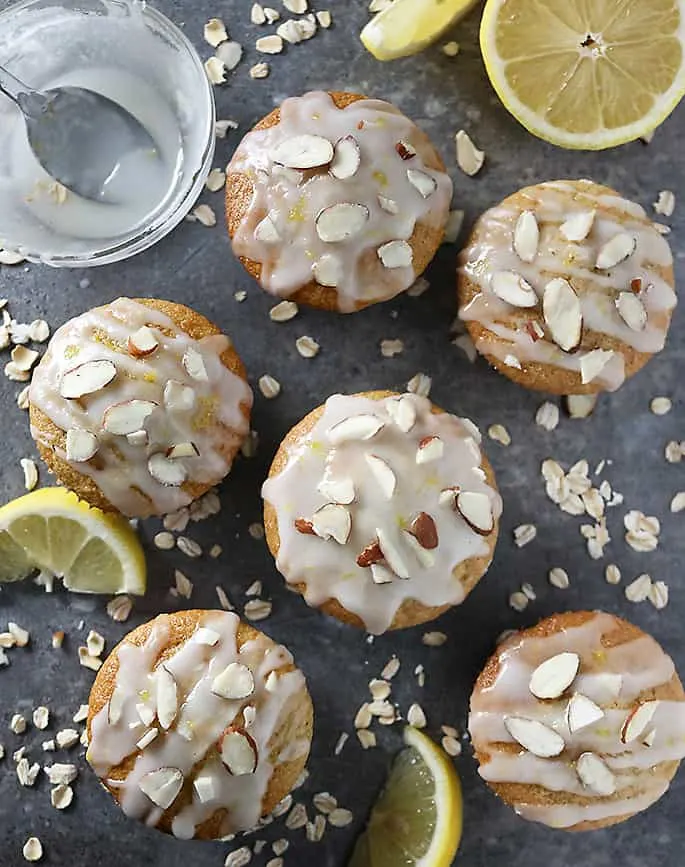 Today I am joining Madison (over at A Joyfully Mad Kitchen) and several other food bloggers for Muffin Week!
Though I gotta admit, I struggle with muffins. Cookies and Curries, I can wing them and end up with something edible. But, with muffins, there's no telling what the end will be.
Sometimes they come out of the oven looking so flat and woebegone but end up tasting delicious. Once, I expected to pull out muffins from the oven, and out came rolls! They tasted pretty good, but the texture and look were way, way off.
Yet some other times, they come out of the oven with a beautiful dome and end up tasting downright disgusting. Once, they tasted so bad, that even my dogs refused to eat them. True story.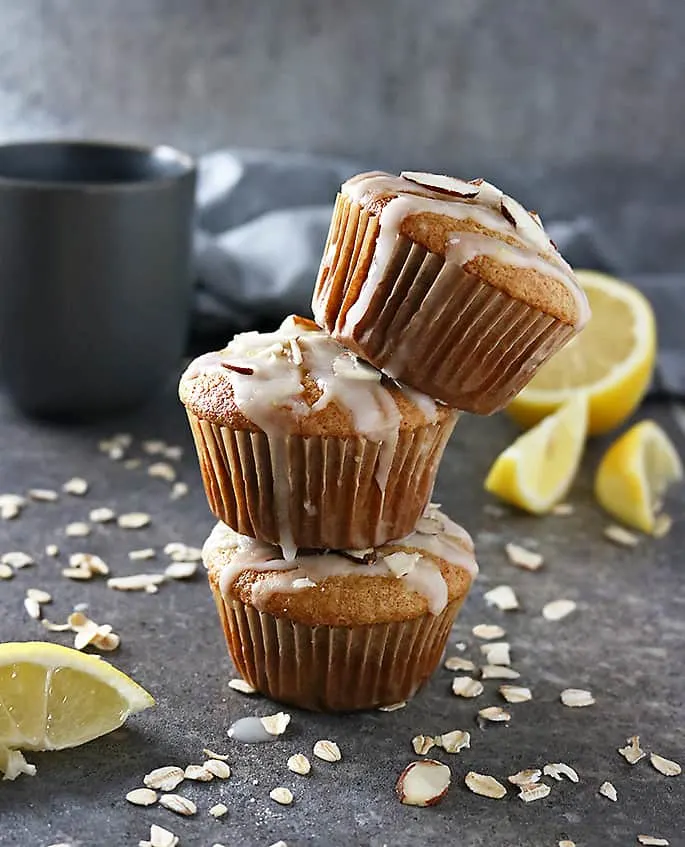 When Madison asked me to join in on Muffin Week, I was excited about sharing some gluten-free pistachio white chocolate muffins.
I was going to grind up pistachios and use that pistachio flour to make muffins, along with a hint of cardamom and white chocolate pieces. In my mind, those muffins were gonna be spectacular. But, y'all, my mind didn't mirror reality.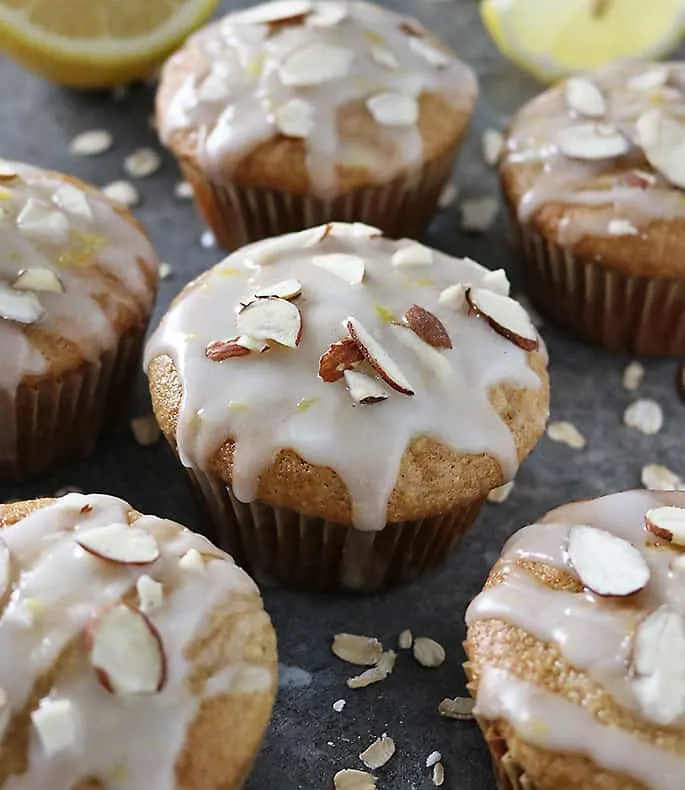 Those muffins came out with such a flat top. Some even had a concave top! It might have been because I didn't use enough pistachio flour, or baking powder, or the fact that I left the baking soda out, or because I used too many eggs…but these muffins were a no go.
Then, my daughter took a bite and started questioning if I had forgotten to add in sugar. She suggested I frost them and, well, at that point I abandoned all plans of sharing those…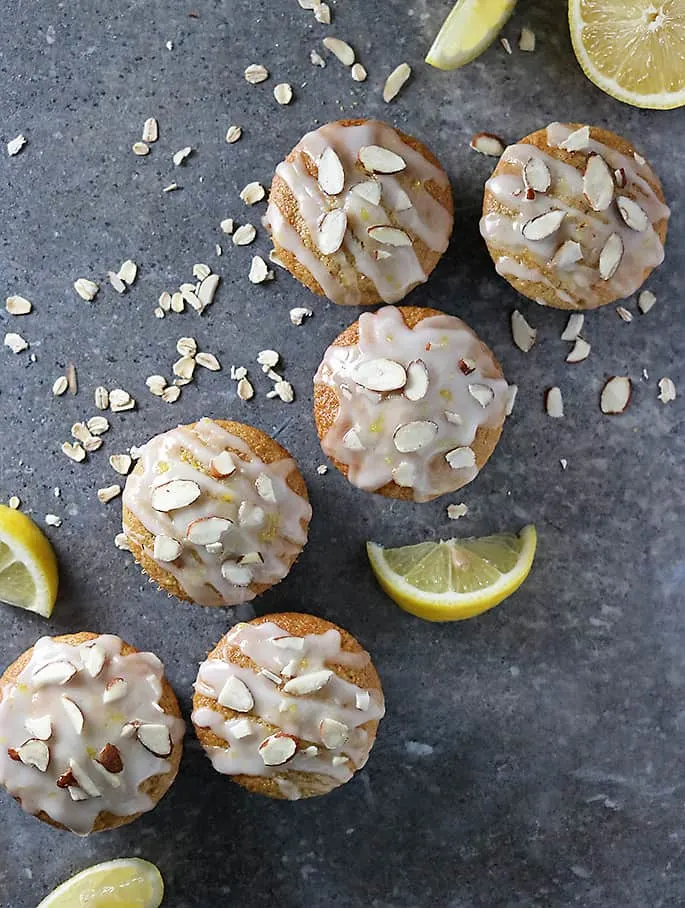 I was adamant about not going to bed with bad muffin mojo, so I decided to clear my kitchen counters and start fresh.
I had a bunch of lemons in my fridge, and, as my daughter simply adores lemon muffins, I figured I'd try one more time before throwing in my apron. This time around, I leaned on my blender heavily to whip up some Gluten Free Lemon Muffins.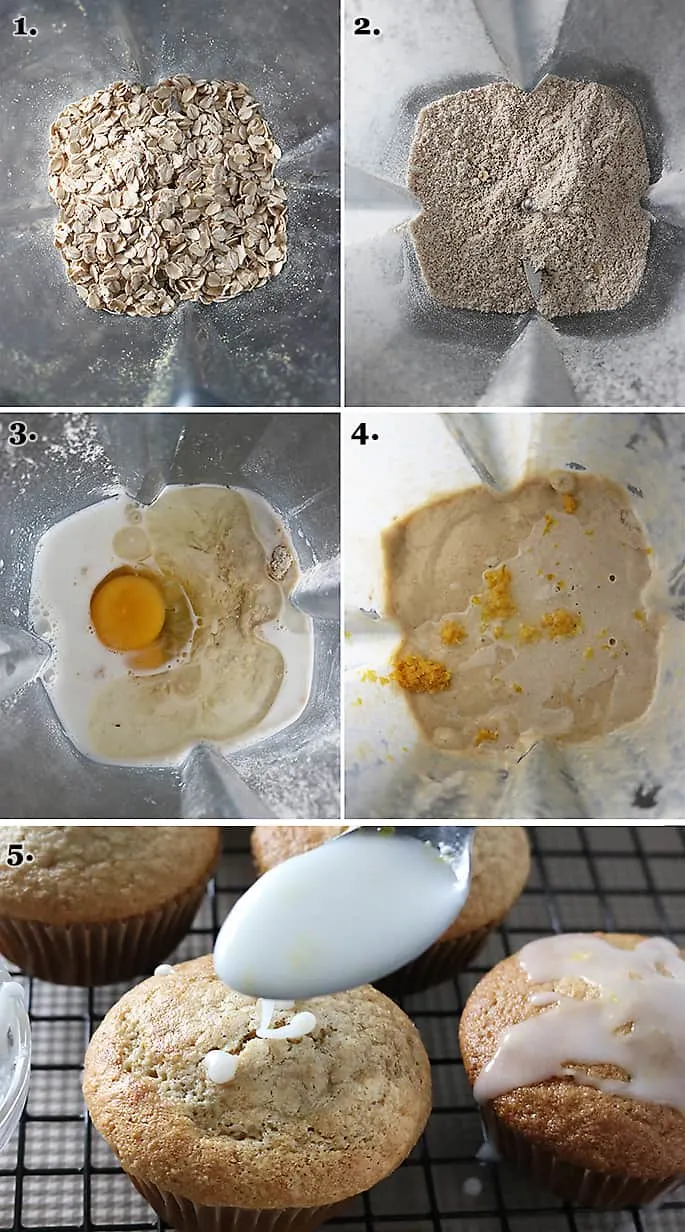 How I used my blender to make Gluten Free Lemon Muffins and Powdered Sugar:
1) I added some regular rolled oats to my blender and, ground up those oats to make oat flour (IMO, homemade oat flour is quite inexpensive compared to the small store bought packages)
2) I also added in the other dry ingredients such as sugar, almond flour, salt, baking powder, and baking soda, and blended them in with the oats.
3) Then, I added the wet ingredients of eggs, milk, and coconut oil and pulsed this together with the dry ingredients.
4) I finally added in some lemon juice and lemon zest and blended it all up before spooning this mixture into muffins cups and baking up some gluten free lemon muffins.
5) When the muffins were at room temperature, I made a glaze with powdered sugar (using my blender again to blend up real sugar and a smidge of arrowroot powder into powdered sugar) and some lemon zest and juice. BTW, if you've ever run out of powdered sugar and don't want to make another trip to the store, then why not blend up your own- right? While I used a smidge of arrowroot powder in mine, you can also use cornstarch, if you have it handy. Just blend up the granulated sugar and arrowroot powder/cornstarch and boom! You have just the right amount of powdered sugar. Also, wait a bit to open the lid on your blender as otherwise powdered sugar dust will be everywhere!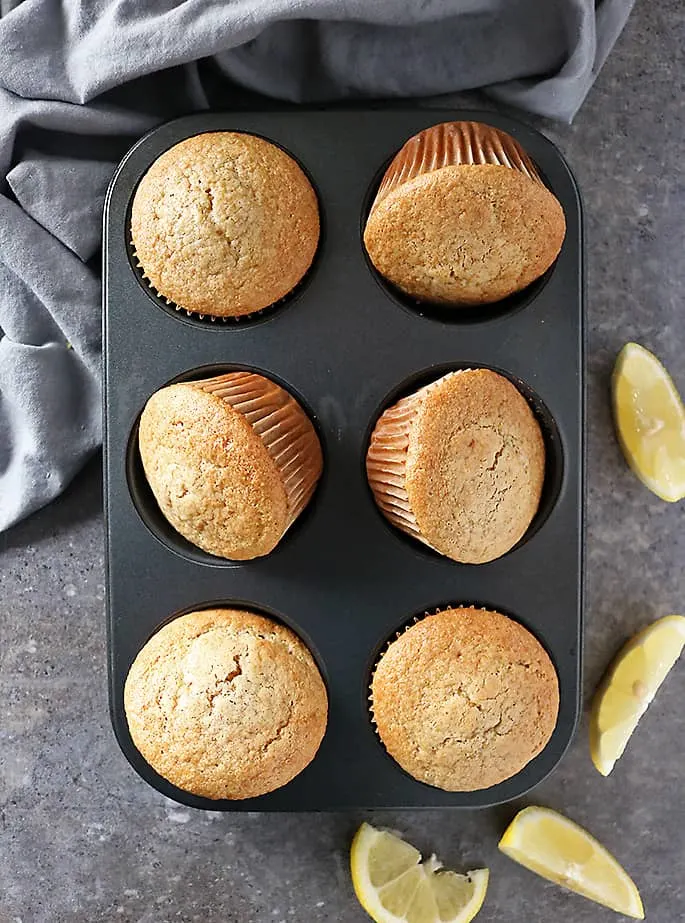 My daughter described these lemon muffins as simply luscious and ended up eating two just as these pictures were done. If you are looking for a tasty, "luscious" gluten free lemon muffin, I sure hope you give this recipe a try.
Like gluten free muffins, then make sure to check out these Blueberry Jicama Muffins ones too!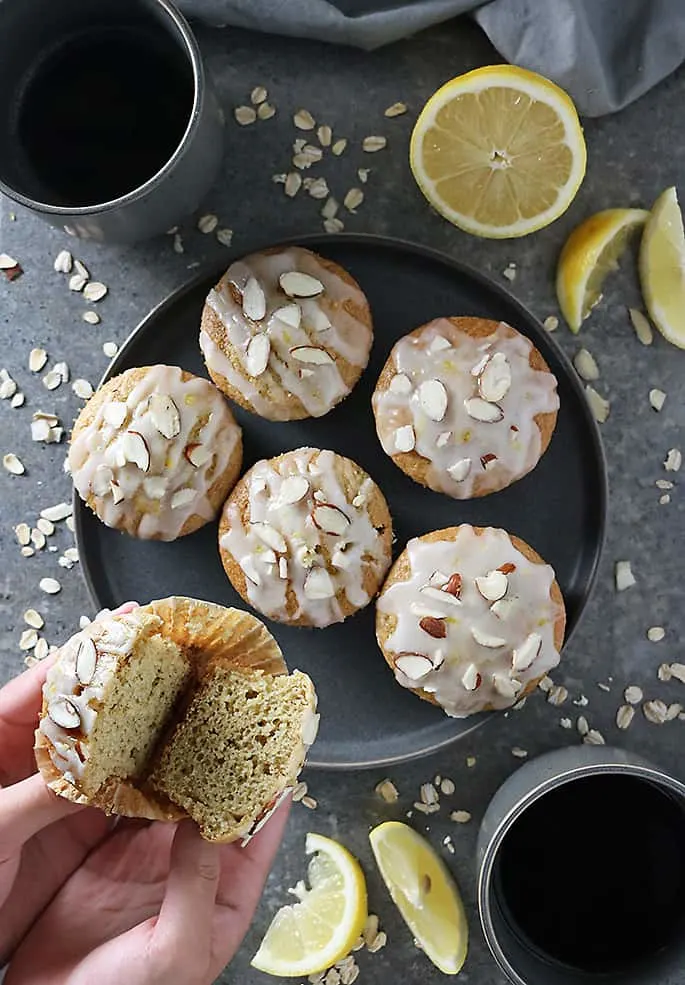 If you happen to fancy these Lemon Muffins, let me know what you think by leaving a comment and rating below. If you make this recipe, please post a pic on INSTAGRAM -tagging @savoryspin so I can see! For more recipes and ramblings, like us on FACEBOOK and follow along on PINTEREST!
Please head on over to Joyfully Mad Kitchen to check out what other marvelous muffin recipes my fabulous fellow food bloggers have shared! Thanks for stopping by y'all, here's hoping your weekend is wonderfully delicious!

Looking for some unique muffins? Then check out these pistachio ones, these Pumped Up Pumpkin Caramel Muffins with Pecans, these Caramel Chocolate Muffins And Iced Caramel Mocha, these Orange Cardamom Muffins, and these Brown Sugar Mung Muffins!