I've partnered with Premier Protein to bring y'all this Strawberry Beet & Banana Protein Shake! Thank you so much for supporting the brands that keep this Blog Spinning! #TheDayIsYours #Sponsored
This Strawberry Beet & Banana Protein Shake will make getting your daily beet allowance a cinch! Check out the recipe below or read on to find out all the ways you can enjoy beets!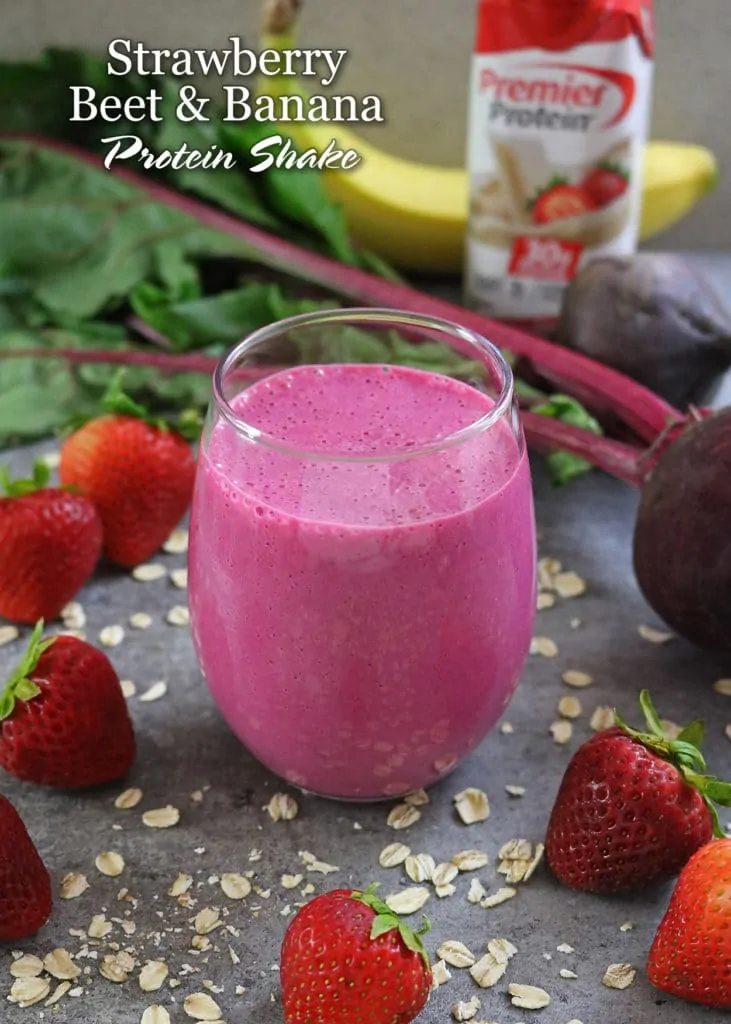 When it comes to food, my daughter has some quirks. For example, she loves apples and apple crumbles, but will always pass on apple pie. The same goes with her and grapes. She loves grapes in all their colors and hues – but if I tried to feed her grape jelly, I will become public enemy #1!
And, I shouldn't complain too much. If you've been visiting this space of mine for a bit, you would probably know that my love for beets is strong. I love beets and have thoroughly enjoyed them in these:
• Crepes…
• Donuts…
• Banana bread…
• Crackers…
• Cakes…
• Cookies…
• Currries…
• Soups…
• Salads…
• Dips…
• Burgers…
• And even in this Pizza Base!
But – I am so not a fan of beet juice! I've tried adding ginger, and carrots and the like but just cannot seem to get it to where my tongue doesn't wanna whip it outta my oral orifice!
And…thats where this shake comes into play!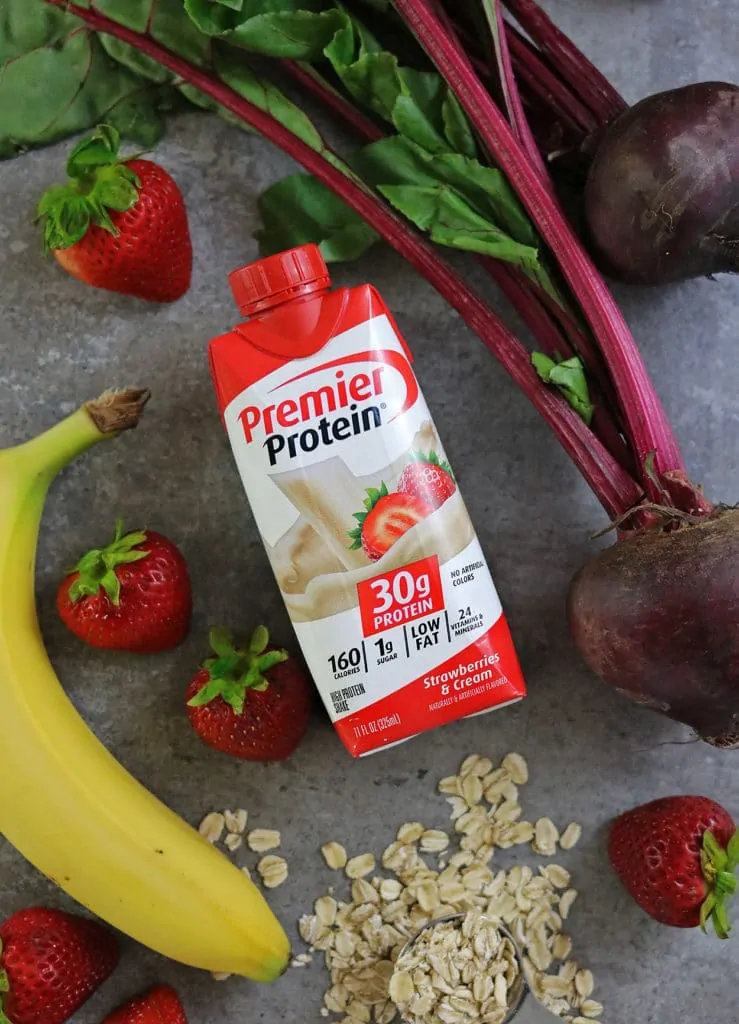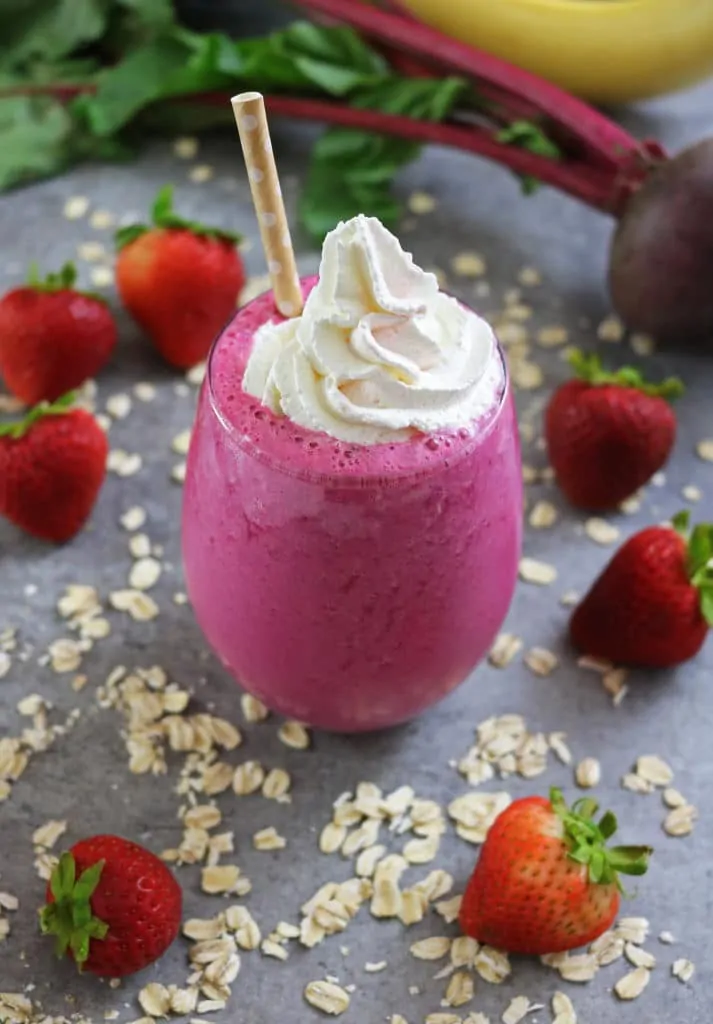 I leaned on my love of the combination of beets and berries while making this shake. Now, this shake isn't the thickest – it's quite light – the kinda shake that you could down two glasses of and then go outside and run around in circles or mow your yard – whichever you fancy. Yes, you will taste the beets in here – but, so will you taste the frozen banana, the strawberries and Premier Protein's Strawberries and Cream Shake. Now, you could add more oats than the 1 tablespoon I used to make this thicker. Or, you could make ice cubes using Premier Protein's Strawberries and Cream Shake and use those with some of the liquid form of the shake for a thicker shake as well. Either way, whether you maybe a beet-lover or beet-hater, this is one shake am betting you will enjoy.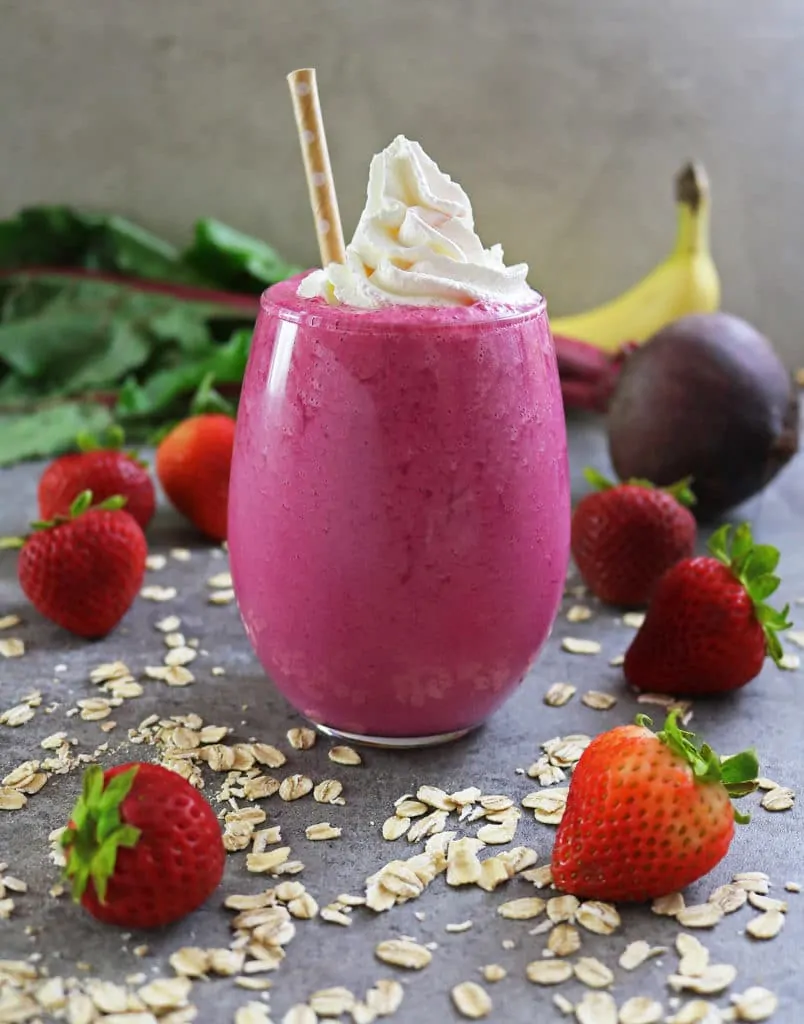 If you happen to wanna try this and find that you have all the ingredients on hand except for the Premier Protein Strawberries and Cream Shake – then enter The GIVEAWAY below to get your hands on a pack to sample! *Giveaway only open to US residents 18 and above.
Wanna learn more about how Premier Protein is trying to show everyone and anyone how a good source of protein can help them "tackle life's daily challenges, feel their best and live the life they want?"
Then, simply follow them on Facebook, Instagram, Twitter, Pinterest and Youtube!