Delicious and ticker friendly, these gluten free Chocolate Chip Hemp Cookies would make a delicious afternoon snack – though, I've gotta admit, I sneaked these for breakfast a couple of times too. Read on to see why you could enjoy these for breakfast as well…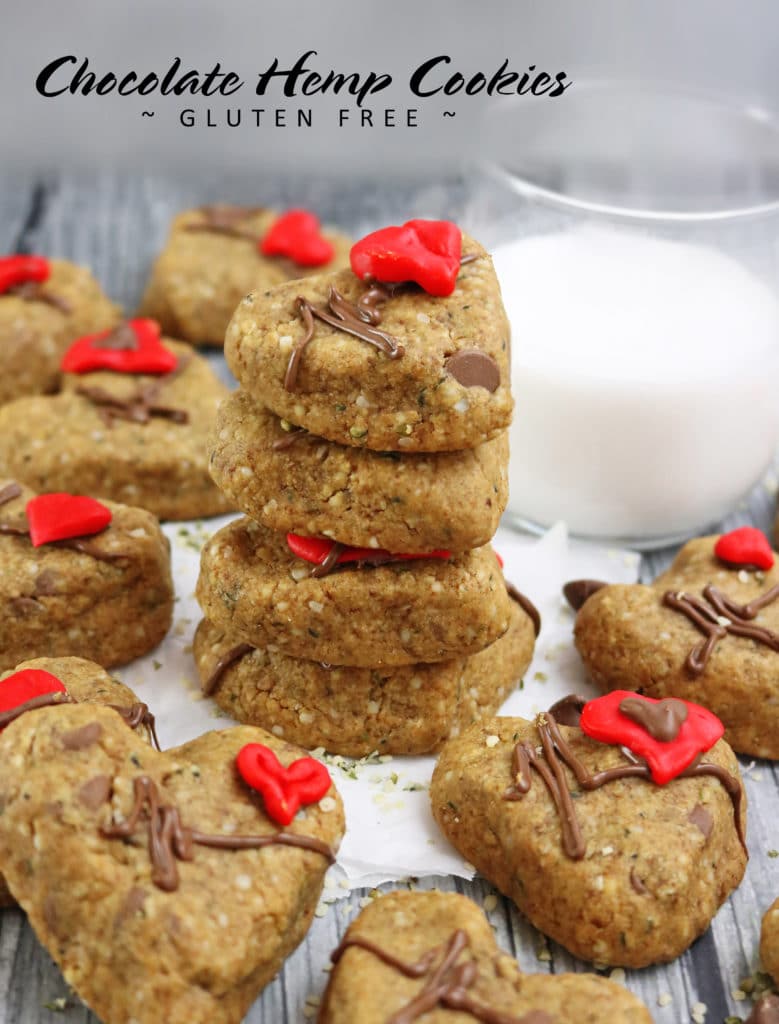 Now, I know my memory tends to be a bit dodgy, but, y'all I didn't make these gluten-free Chocolate Chip Hemp Cookies today thinking it was Valentine's Day.
And, nope, I didn't make these for Heart Health month and forget to post them.
I made these cookies in the month of May as a reminder to myself that even though February, the month filled with heart-love and heart-healthy gluten free blueberry cookies, turmeric salmon and delicious quinoa and veggies, has come and gone, I need to be making ticker-friendly treats year round!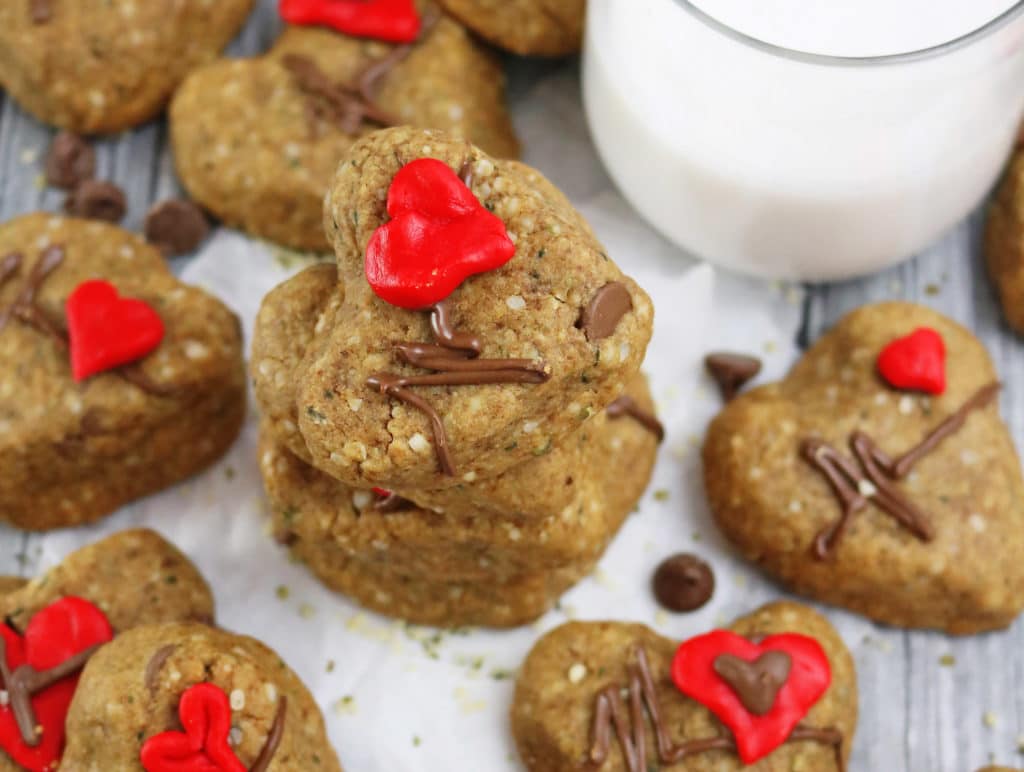 As I make nutbutter chocolate chip cookies often, I try my best to healthy-fy them somehow. Sometimes I throw in some beets into them, other times I leave out the sugar, and sometimes I even add in protein!
And today is no exception. Today, I added in some hemp hearts into my nutbutter chocolate chip cookie mix.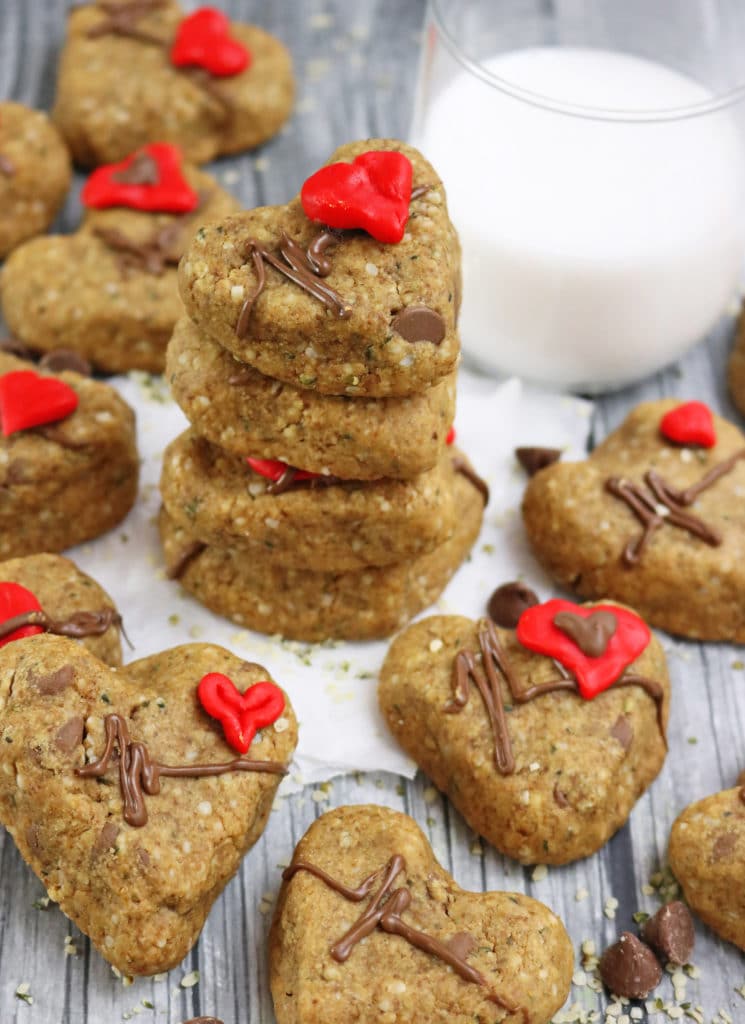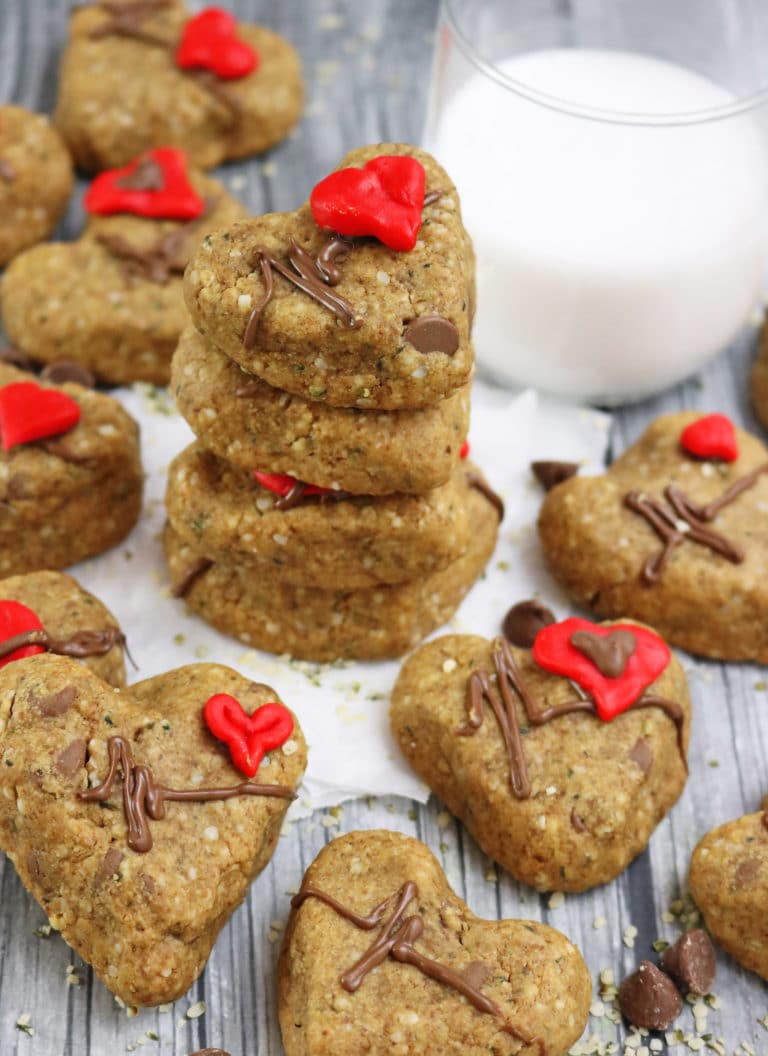 While I'm no nutritionist, I will refer you to this site to read up on the benefits of hemp hearts. All I'll say is that they have a reputation of contributing to heart health and so I figured why not!
These gluten-free, Chocolate Chip Hemp Cookies are no overly sweet, though you could add in 3 or more tablespoons of coconut sugar to the mix – or even, brown sugar, if you'd like.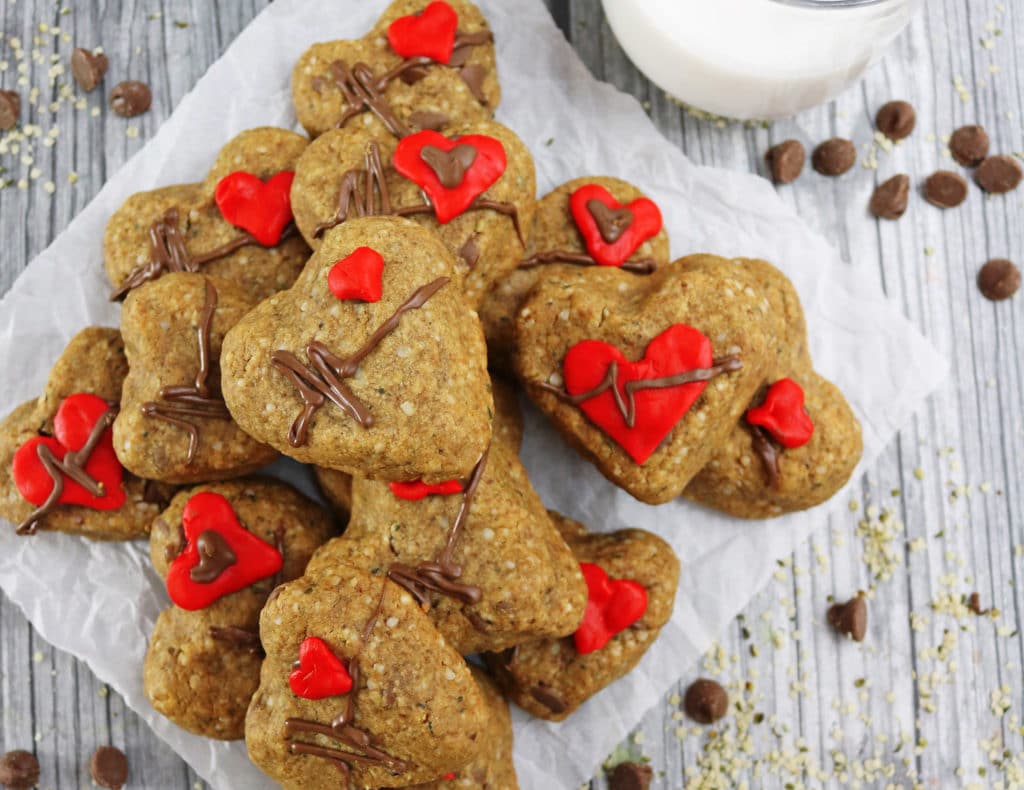 Now, the decorations are optional. My daughter recently brought home some red fondant and she helped me make the variety of little hearts y'all see here. I melted some chocolate and added in the little heart beats for dramatic effect.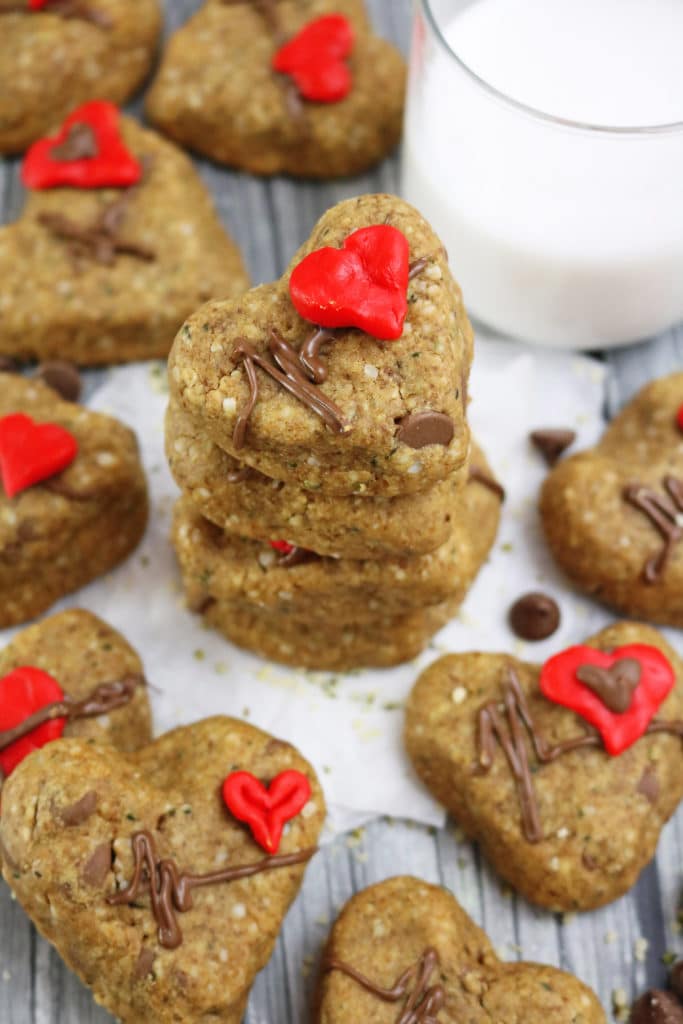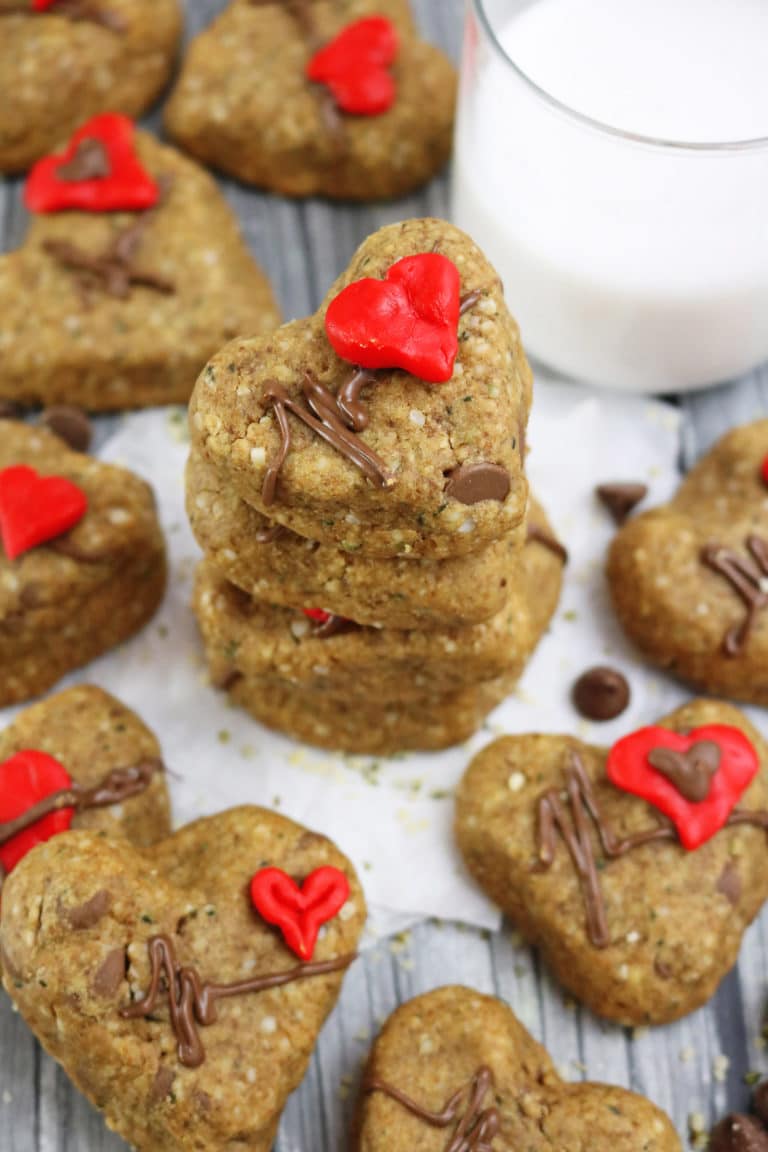 This recipe first appeared on Food Fanatic – for more delicious cookies and other meal or dessert ideas, make sure you take a quick gander over to check out Food Fanatic!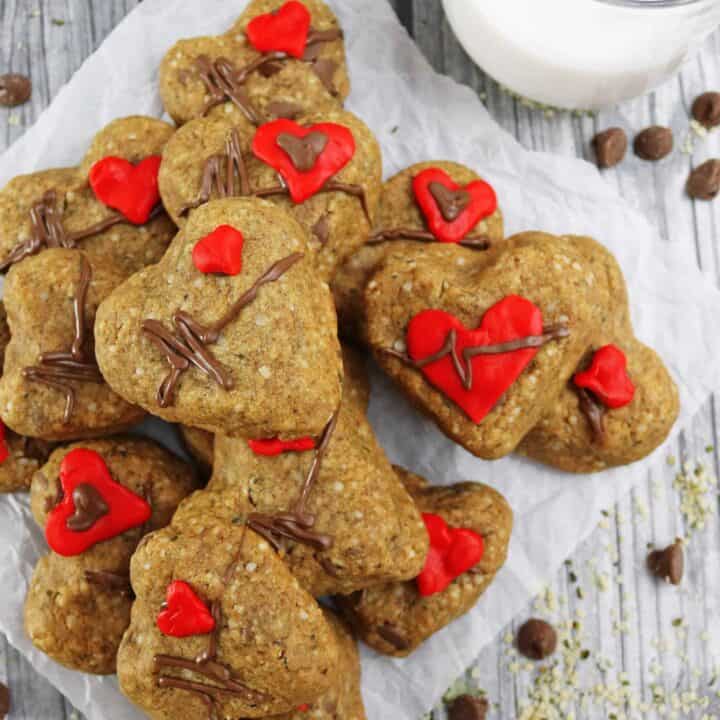 Gluten Free Chocolate Chip Hemp Cookies Recipe
Delicious and ticker friendly, these gluten free Chocolate Chip Hemp Cookies would make a delicious afternoon snack.
Ingredients
1 cup Creamy Peanut Butter
1/2 cup Hemp Hearts, I used Bob's Red Mill
1/2 cup Coconut Sugar
3 tablespoons GF Flour blend
1 teaspoon Baking Powder
1 Egg
3/4 cup Chocolate Chips, divided, your choice of dark or milk
1 teaspoon Pure Almond Extract
Red Fondant, for decorating, optional
Instructions
Preheat the oven to 350°F.
Add the peanut butter to a microwave safe bowl and microwave it for 25 seconds so it's runny.
Add in the hemp hearts, the coconut sugar, GF flour, baking powder, egg, almond extract, and 1/2 cup chocolate chips.
Shape into heart shapes, place on a parchment lined baking tray and bake for 12 minutes.
When cooled, decorate with red fondant hearts and melt the 1/4 cup chocolate chips and use it to draw little heart beats on the heart shaped cookies.
Notes
You can use 2/3 cup brown sugar instead of coconut sugar if you'd like a sweeter cookie.
Nutrition Information
Yield

15
Serving Size

1
Amount Per Serving
Calories

224
Total Fat

14g
Saturated Fat

4g
Trans Fat

0g
Unsaturated Fat

9g
Cholesterol

14mg
Sodium

129mg
Carbohydrates

20g
Fiber

2g
Sugar

14g
Protein

7g
Did you make this recipe?
Please leave a comment on the blog or share a photo on Instagram