This shop has been compensated by Collective Bias, Inc. and its advertiser. All opinions are mine alone. #KickinItWithKikkoman #CollectiveBias
These eight ingredient Teriyaki Chickpea Beet Burgers can be grilled or cooked on your stove top for your upcoming Memorial Day or summer get-togethers.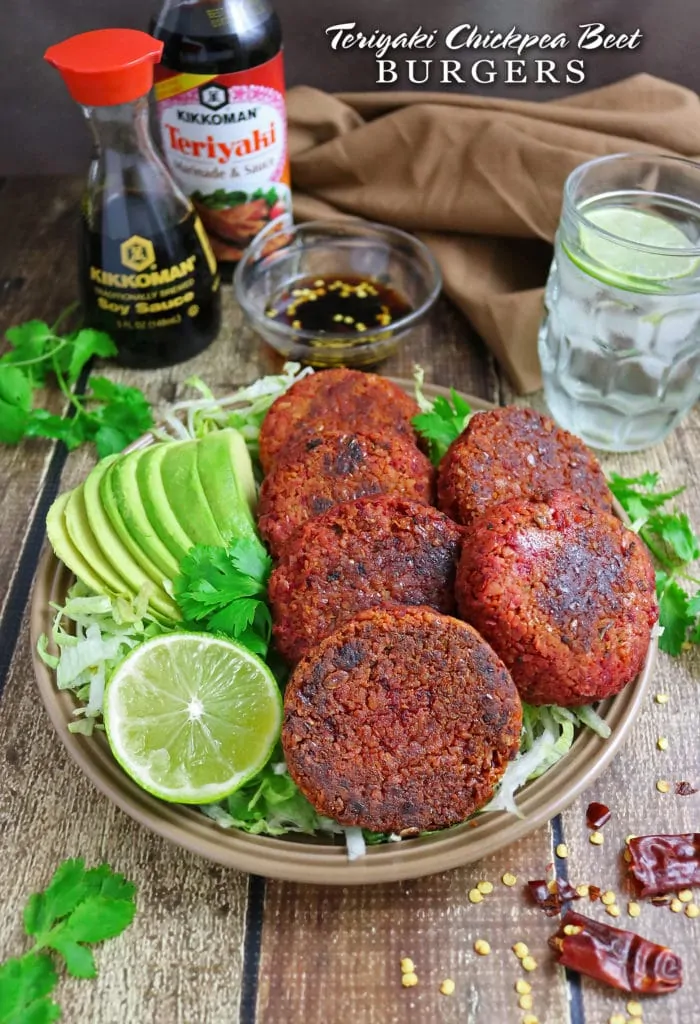 These days my daughter seems to love a challenge – especially when I'm the one being challenged.
This past Sunday, the church we attend began with a series of trivia questions such as:
When do you peak in your ability to learn new languages? …Answer is 7 yrs
When do you peak in your chances of making a Nobel Prize winning discovery? …Answer is 40 yrs
When do you peak in your ability to remember faces? …Answer is 32 yrs
When do you peak in your ability to remember names? …Answer is 22 yrs
When do you peak in your ability to understand other people's emotions? …Answer is 51 yrs
When do you peak in your vocabulary? …Answer is 71 yrs
…and so on…
Of course, as soon as the questions were out there, my daughter and I found ourselves pushing our grey matter into overdrive trying to guess an answer as close to the correct one as possible.
After almost nailing the first three questions, my head began to swell just a bit. It's not often I win challenges with my daughter. But, by the 6th question, my daughter made sure to deflate my swelled head! Of course, she ended up almost correctly guessing most of the rest.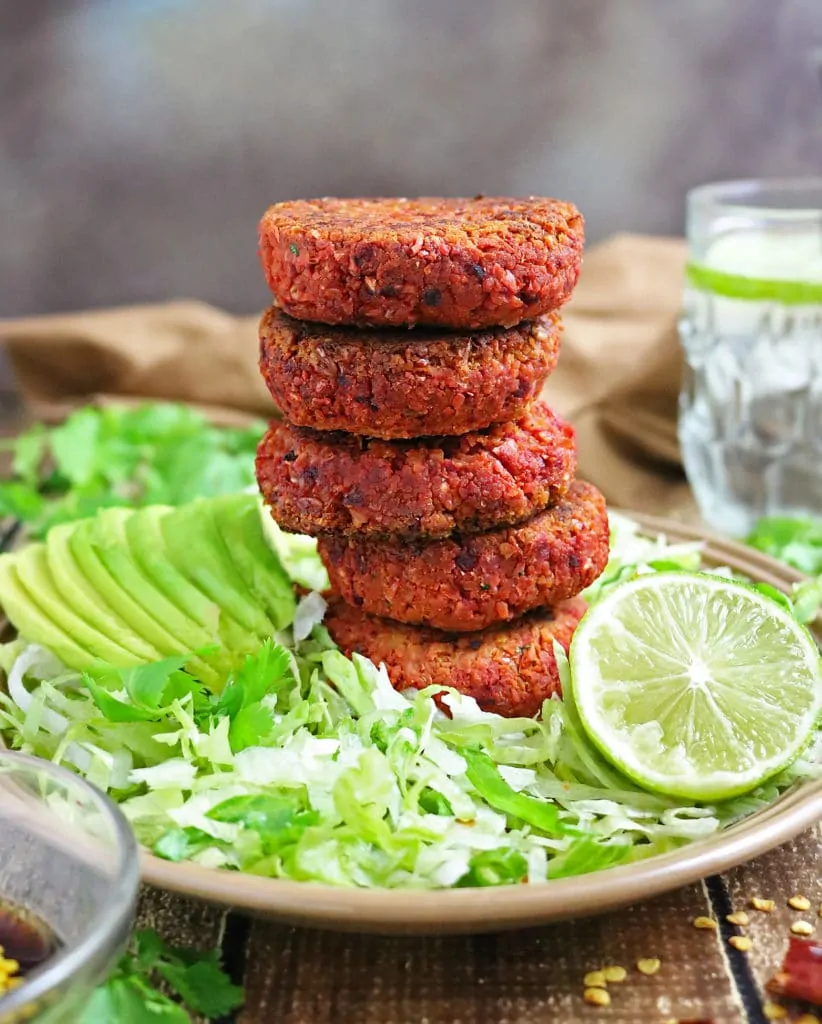 Revelling from her win, when we got home, she issued another challenge. Knowing that I tend to be a slow eater, she challenged me to see who could polish off three of these Teriyaki Chickpea Beet Burgers the fastest. Which isn't quite a fair challenge I know – but seeing she's heading off to college soon, I figured I'd entertain her. I had already prepared these burgers the night before and was planning on throwing them on the grill, but an afternoon thunderstorm made sure I cooked these on my stove top instead. And, as soon as I had placed these on a bed of shredded lettuce with some sliced avocados on the side and whipped up a dipping sauce with Kikkoman® Traditionally Brewed Soy Sauce, chili flakes and lime juice, the challenge was on!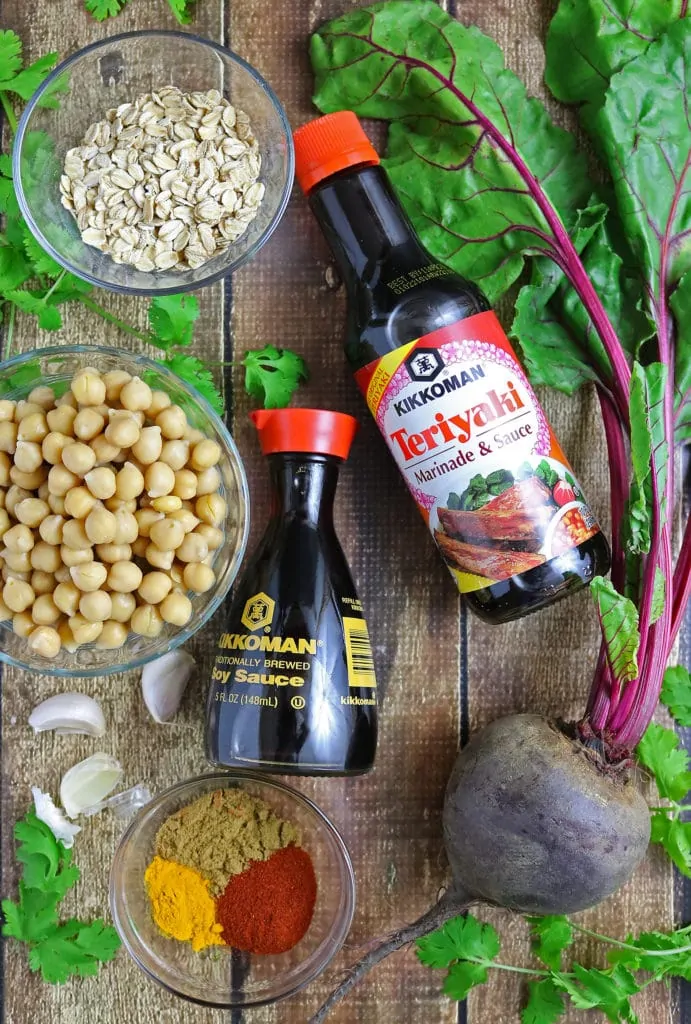 These Teriyaki Chickpea Beet Burgers are super easy to make – and call for only 8 ingredients (all of which I picked up at my local Walmart), such as:
• Chickpeas
• Beets
• Garlic
• Rolled Oats
• Smoked Paprika
• Cumin
• Turmeric
• And, Kikkoman® Teriyaki Marinade & Sauce
…which you throw into a food processor and pulse for a bit. Then, just form the mixture into balls, slightly flatten them and either throw them on the grill or stove top immediately or let them sit in the fridge till needed. These would be a wonderful vegetarian option for any upcoming Memorial Day or summer get-togethers you may have.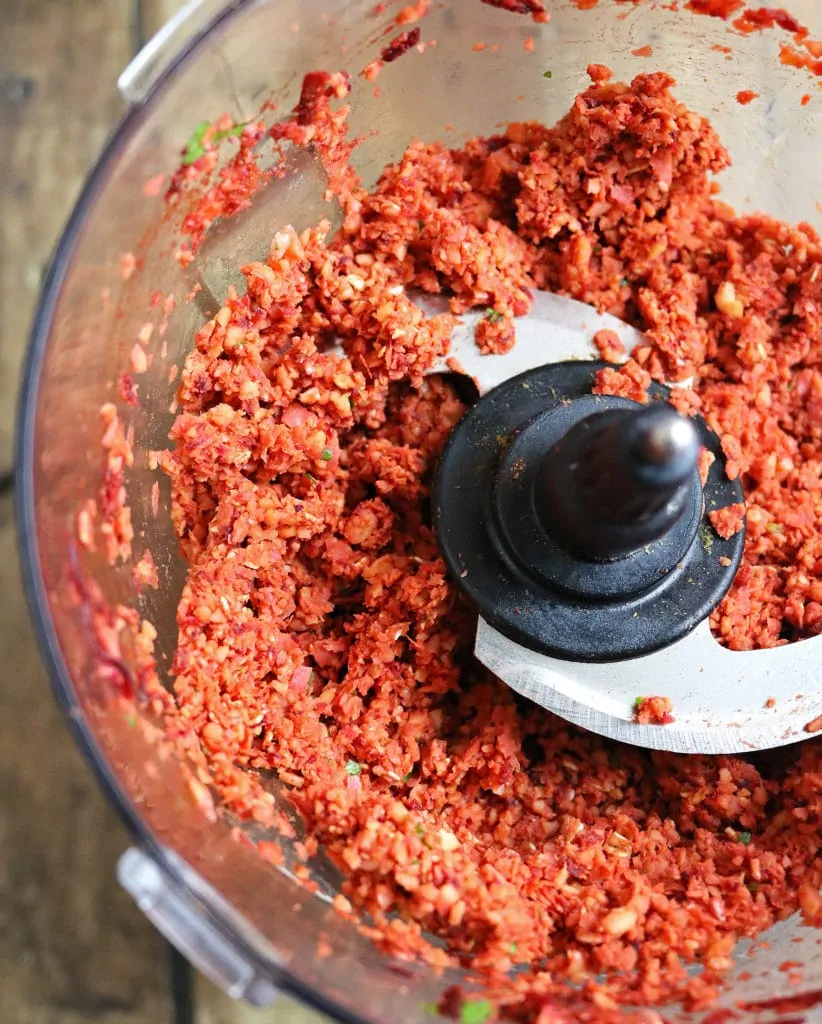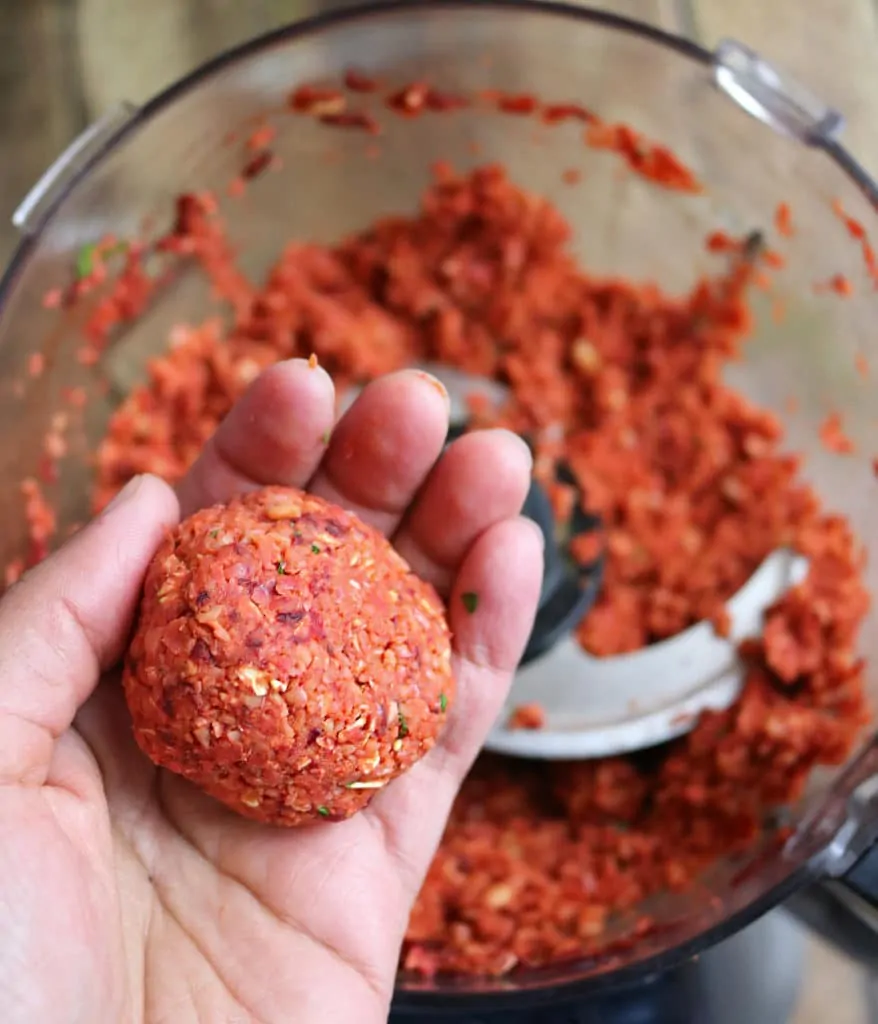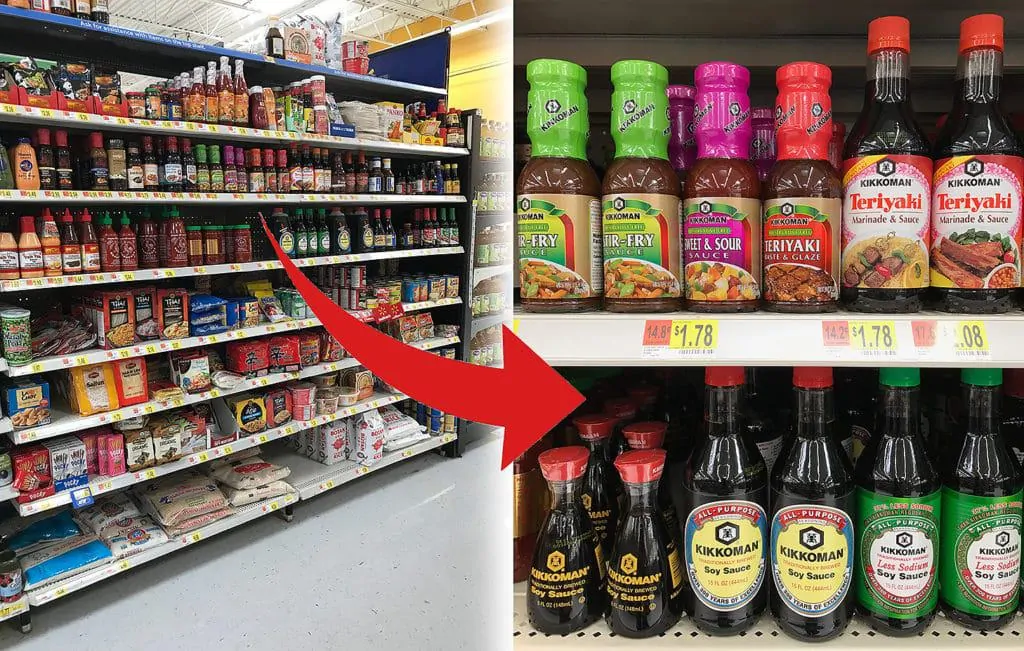 By the way, Kikkoman® is not just Asian sauces and marinades – it's more mainstream and versatile, and can be used in summer holiday grilling recipes as well as day-to-day grilling recipes for weeknights. KikkomanUSA.com offers easy "gateway" recipes so that home-cooks can enjoy flavor and flair any night of the week.
Kikkoman® is also available in Kikkoman® Less Sodium Soy Sauce and Kikkoman® Less Sodium Teriyaki Marinade & Sauce, which are perfect for those who are looking to cut down their sodium levels, without sacrificing flavor. Kikkoman® also happens to offer a variety of Gluten-Free products certified by the Gluten Intolerance Group (GIG).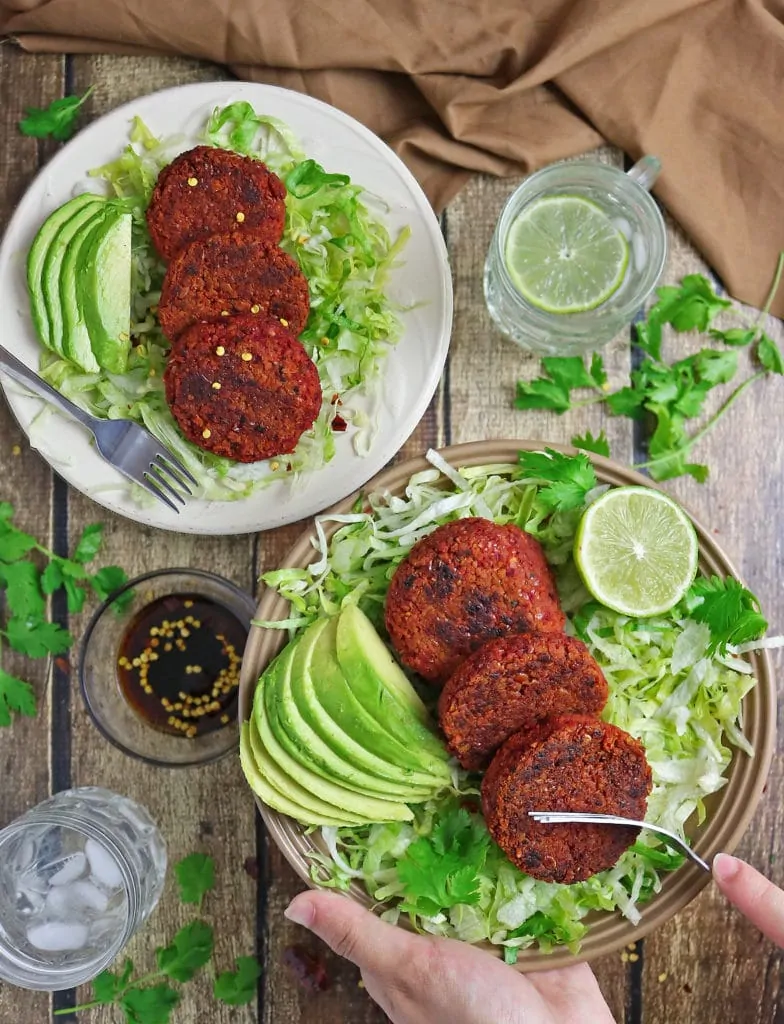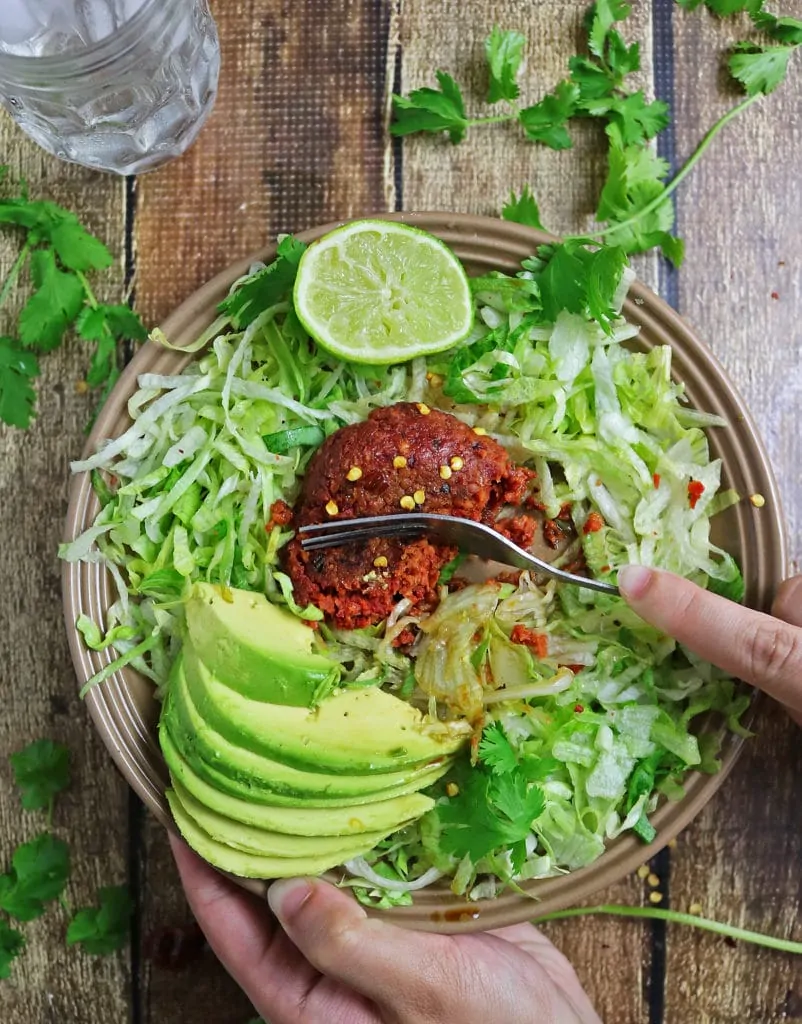 [Tweet "Teriyaki Chickpea Beet Burgers #ad #KickinItWithKikkoman #CollectiveBias @walmart"]
Looking for more summer grilling inspiration? Then make sure to check out the Kikkoman® Soy and Teriyaki Sauce hub with loads of ideas as well as follow Kikkoman® on Facebook, Instagram, Twitter and Pinterest.
Also, make sure to grab this coupon ($.55 of any one Kikkoman Sauce, or $1 off any two) to use on your next purchase of Kikkoman® Sauces.