Highly aromatic and deliciously spiced, this creamy, nutritious Roasted Garlic Pumpkin Soup with some crusty bread made such a comforting end to my busy day.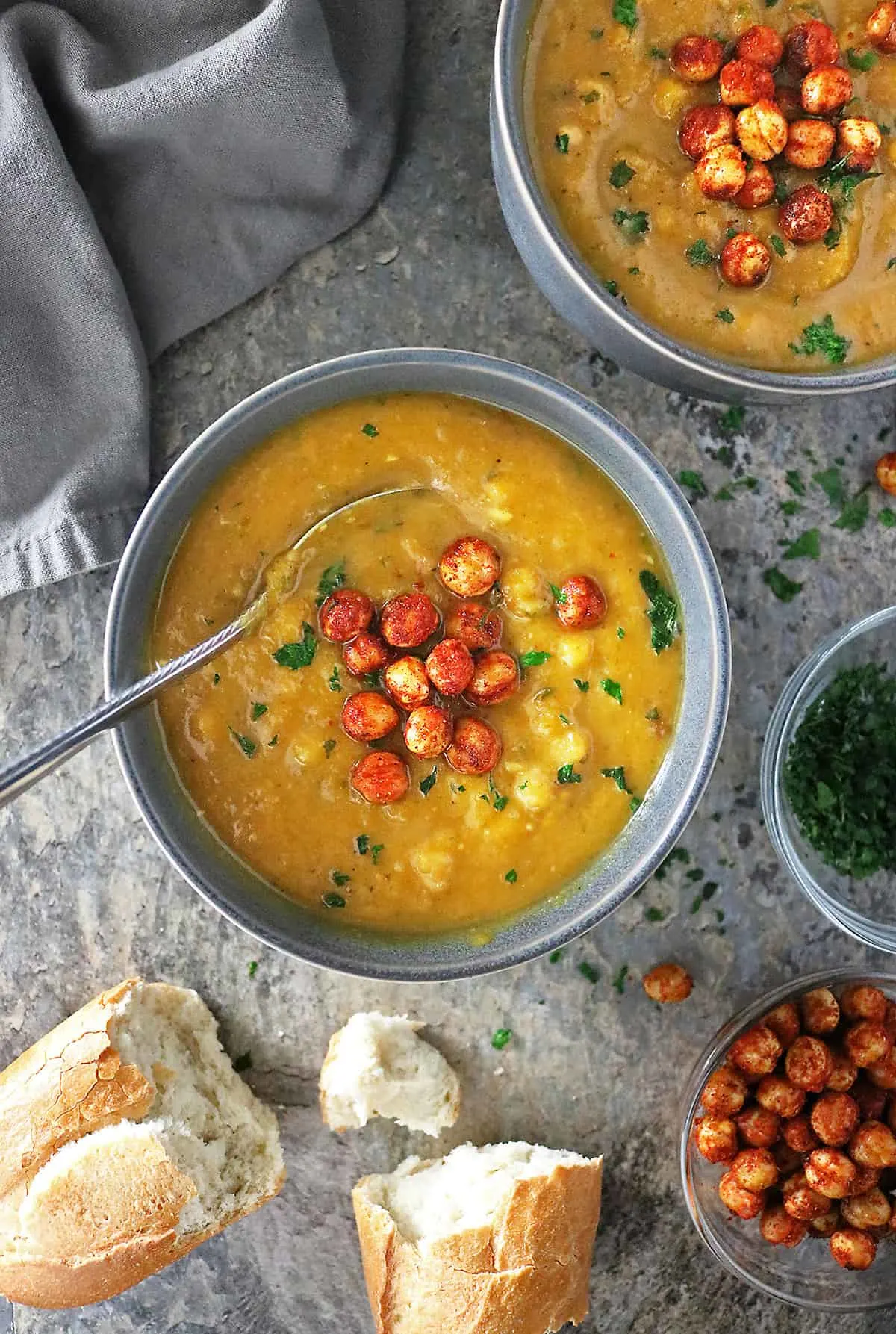 Recently I received an offer for a stainless steel stone that's supposed to help get rid of that garlic smell. Of course, I had to Google it and came across product after product offering relief from that garlic smell.
If you like playing with garlic in the kitchen, like I do, then you know the smell that seems to linger on even after a good sudsing.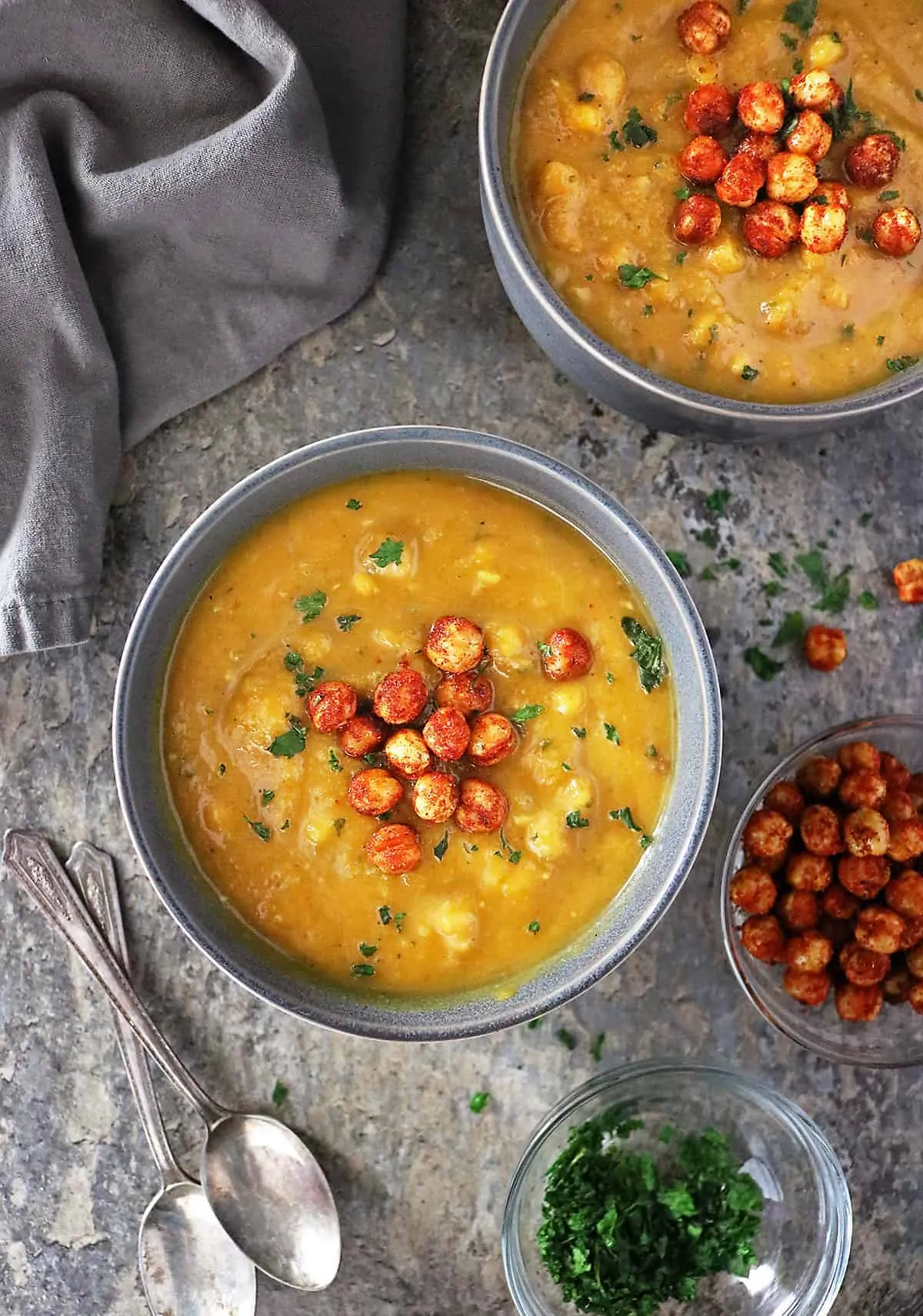 Well, I might be an odd one but, I happen to like that garlic smell. Especially when the garlic I handled was roasted!
Have you had the chance to enjoy roasted garlic? Roasted garlic is so easy to make. And, Google seems to have a million and one ways on how to roast it.
The no-fuss method I like to employ when roasting a head of garlic is to:
1) Just clean off a few of the layers of extra "skin" on a head of garlic.
2) Slice the top off of the garlic head so the pods inside are exposed.
3) Place the cut head of garlic in aluminum foil.
4) Drizzle with olive oil.
5) Bake in a 400-degree oven for 30 minutes!
And boom! Squeeze those pods out of the garlic head and roasted garlic goodness is yours to have and hold!
Sometimes my daughter and I mash and mix up some roasted garlic with some salt and pepper, slather it on a baguette, and enjoy it. Other times, I use roasted garlic in recipes like this Roasted Garlic Pumpkin Soup.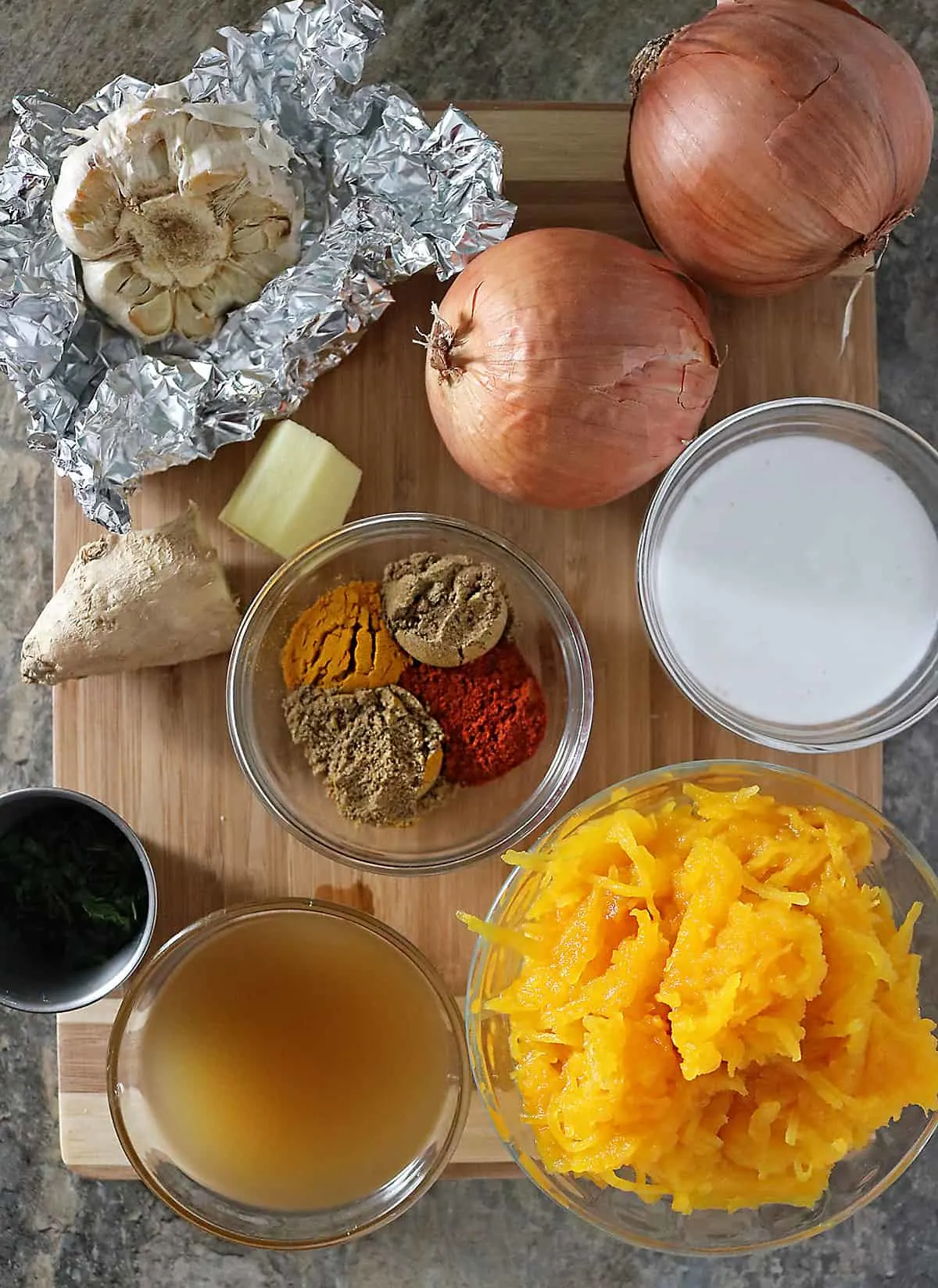 IMHO, roasted garlic adds so much flavor to a dish. I feel I don't need to add a ton of other ingredients to tickle my tastebuds when roasted garlic is involved.
Last month when my daughter and I went apple picking, we ended up coming home with a large pumpkin.
This thing was huge!
But, at $4, I thought it was a steal and wasn't going to pass on it.
Only, after we placed it on our kitchen counter, I wasn't sure how I could cut into it without going through a package of band-aids in the process.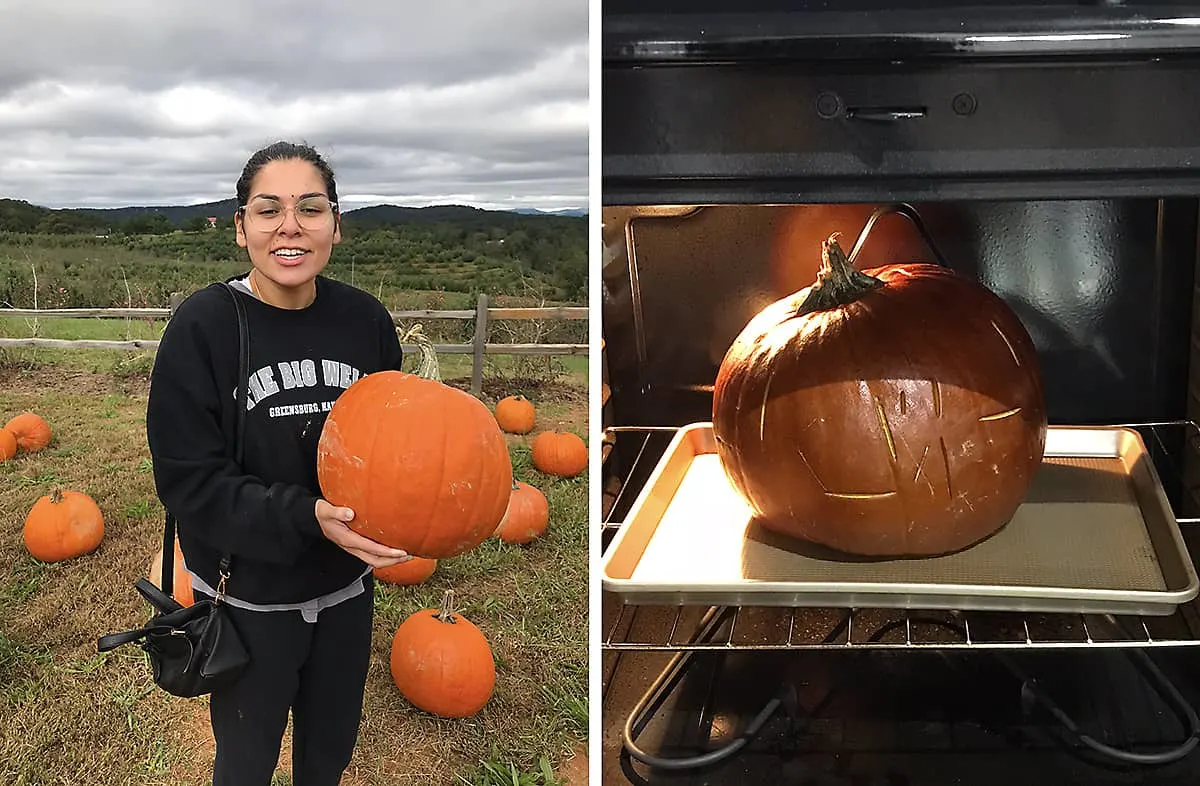 So, I figured I'd bake that whole pumpkin. After consulting Google, I made a few random, shallow cuts in it, placed it on a baking tray, and baked that whole pumpkin.
After a little over an hour, that baked pumpkin cut like butter!
And, we had so much fresh pumpkin on our hands. I ended up subbing in fresh pumpkin for the canned pumpkin in recreating dishes like these Pumpkin Greek Yogurt Pancakes, Creamy Coconut Pumpkin Pasta, and Pumpkin Curried Pork Chops!
After all that, I still had leftover fresh pumpkin which I used to make a large pot of this Roasted Garlic Pumpkin Soup. We enjoyed this soup with some crusty bread and some of these addicting Crispy Spiced Chickpeas.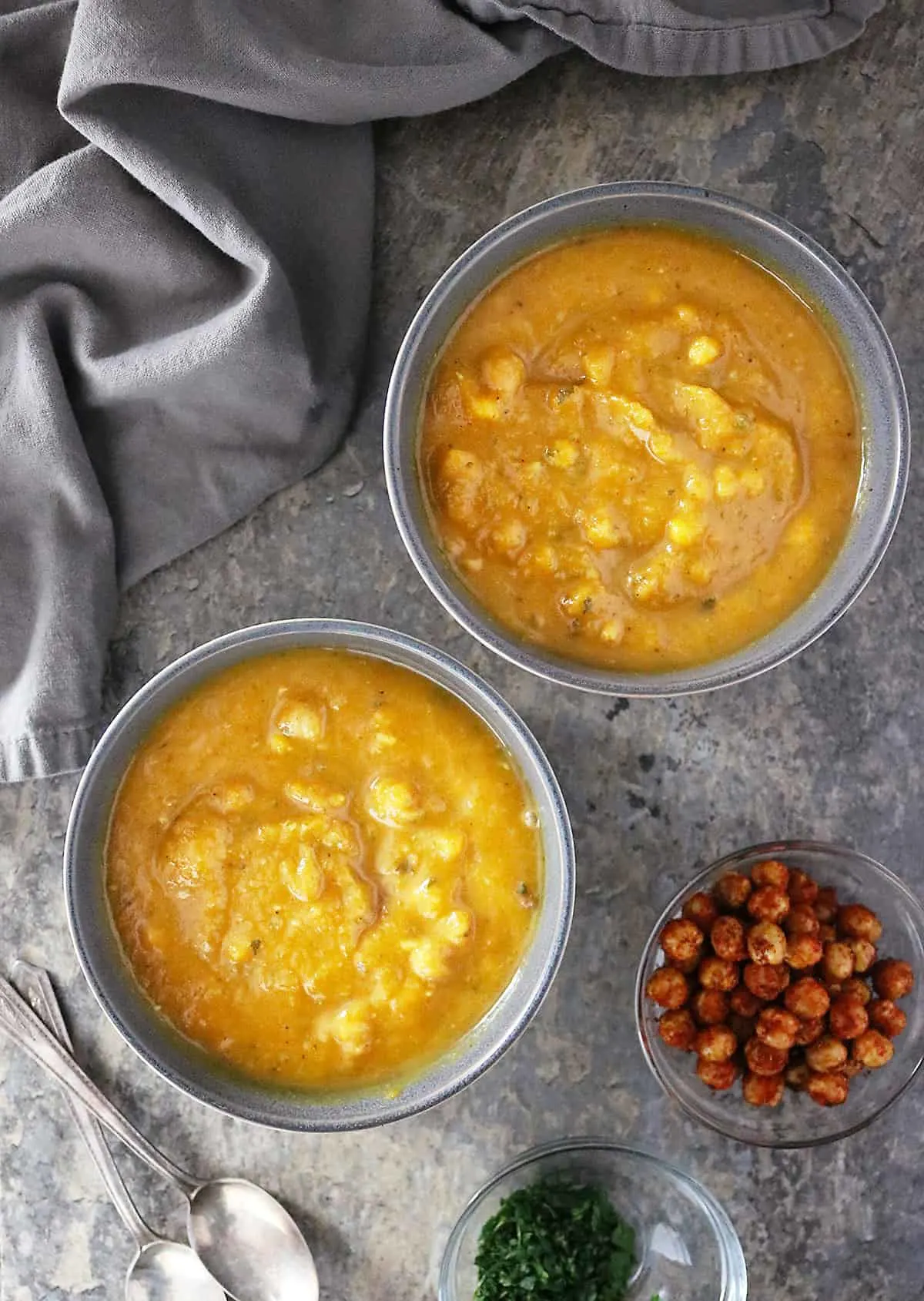 If you don't have any fresh roasted pumpkin, no worries, just use canned 100% pure pumpkin in this soup recipe, just don't leave out the roasted garlic.
I also used a handful of spices like cumin, coriander, turmeric, and chili as they seem to play off the roasted garlic and sweet pumpkin so well. For this Roasted Garlic Pumpkin Soup, I used chicken bone broth, however, if you'd like to make a vegan version of this, you can use vegetable broth for a soup that's just as delicious.
The quantities I have listed made enough soup to last my daughter and me five nights – perfect for meal prepping in these cooler months.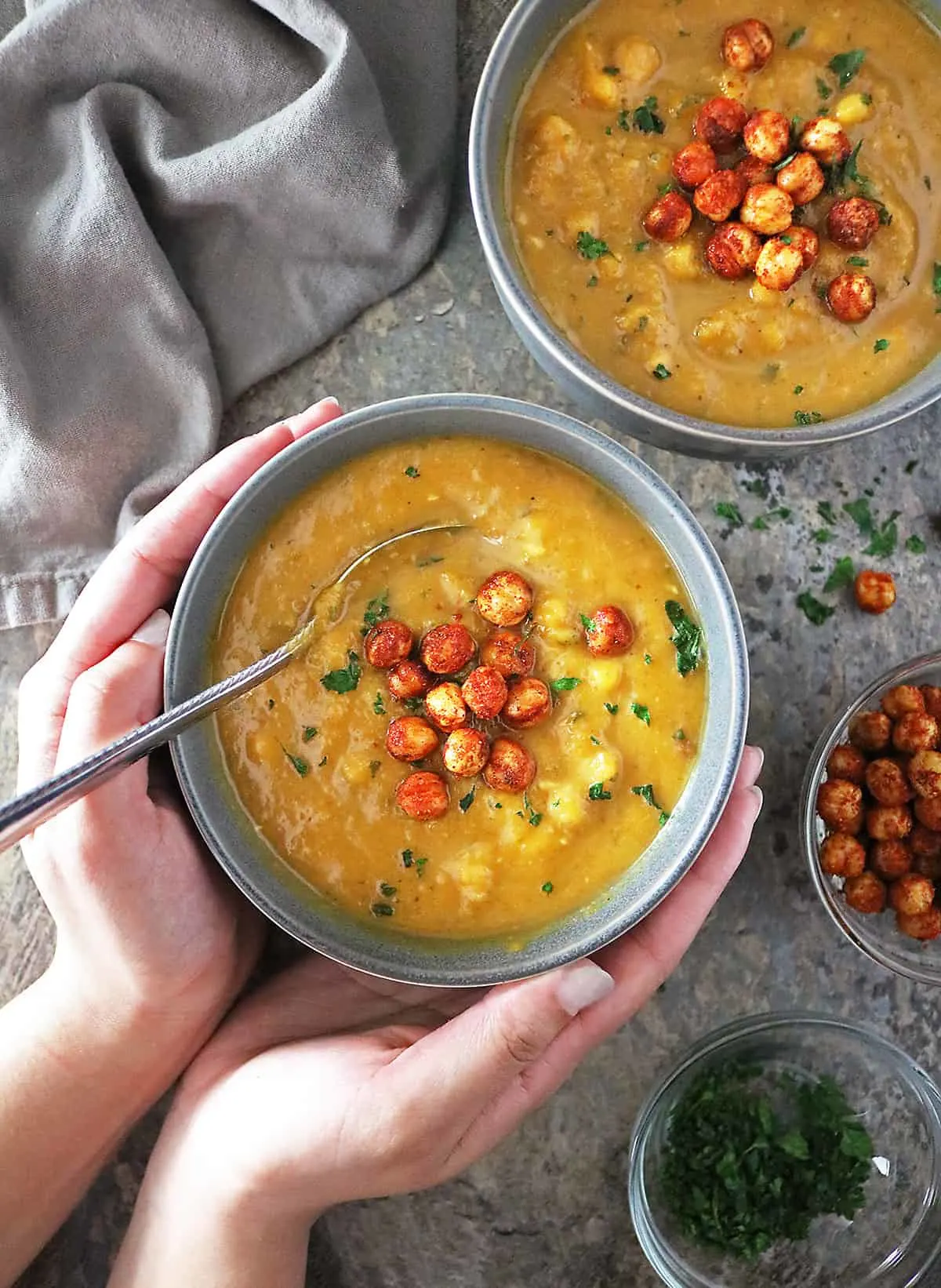 If you happen to make this Roasted Garlic Pumpkin Soup, please do let me know your thoughts on it and, if you love it, please tag #savoryspin @savoryspin on social media so I can reshare it. You can also FOLLOW ME on FACEBOOK, TWITTER, INSTAGRAM and PINTEREST to get recipe ideas and inspiration.