Enjoy perfectly spiced chicken, veggies, and bread all wrapped up together (somewhat) neatly in these Curried Chicken Stuffed Buns ~ ideal for game-day or holiday snacking!
This shop has been compensated by Collective Bias, Inc. and its advertiser. All opinions are mine alone. #FlavorYourWorld #CollectiveBias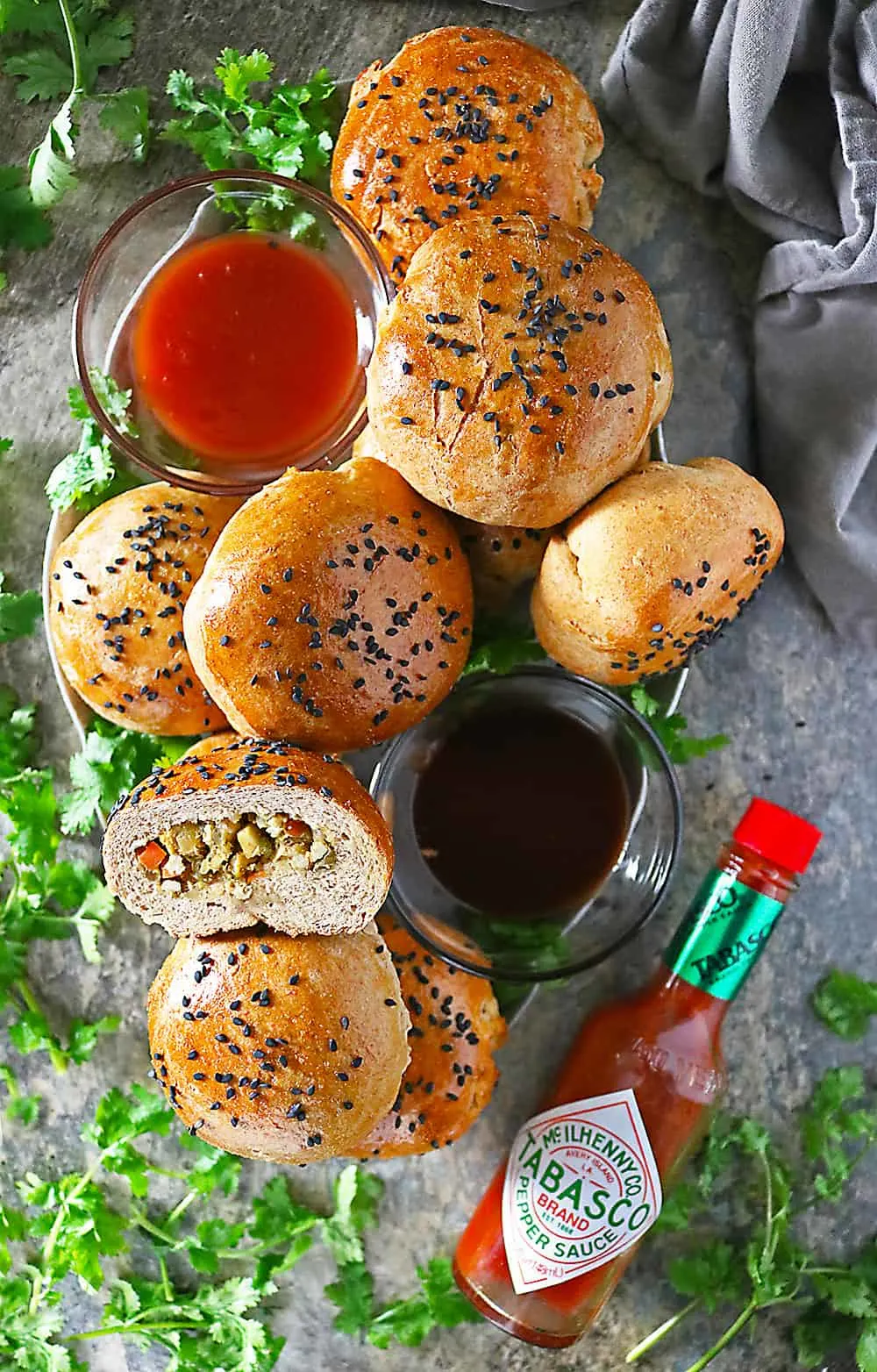 Made with a filling of deliciously spiced chicken embraced by a homemade dough, these buns are such a fun and tasty portable snack! And they are so easy to make too!
I made the dough from scratch, but if you are tight on time, use biscuit dough instead (like I did with these lentil-stuffed buns).
Whip up a batch of these for snacking after school, or snacking by the pool on the weekend, or a backyard get-together or a treat after a hike!
---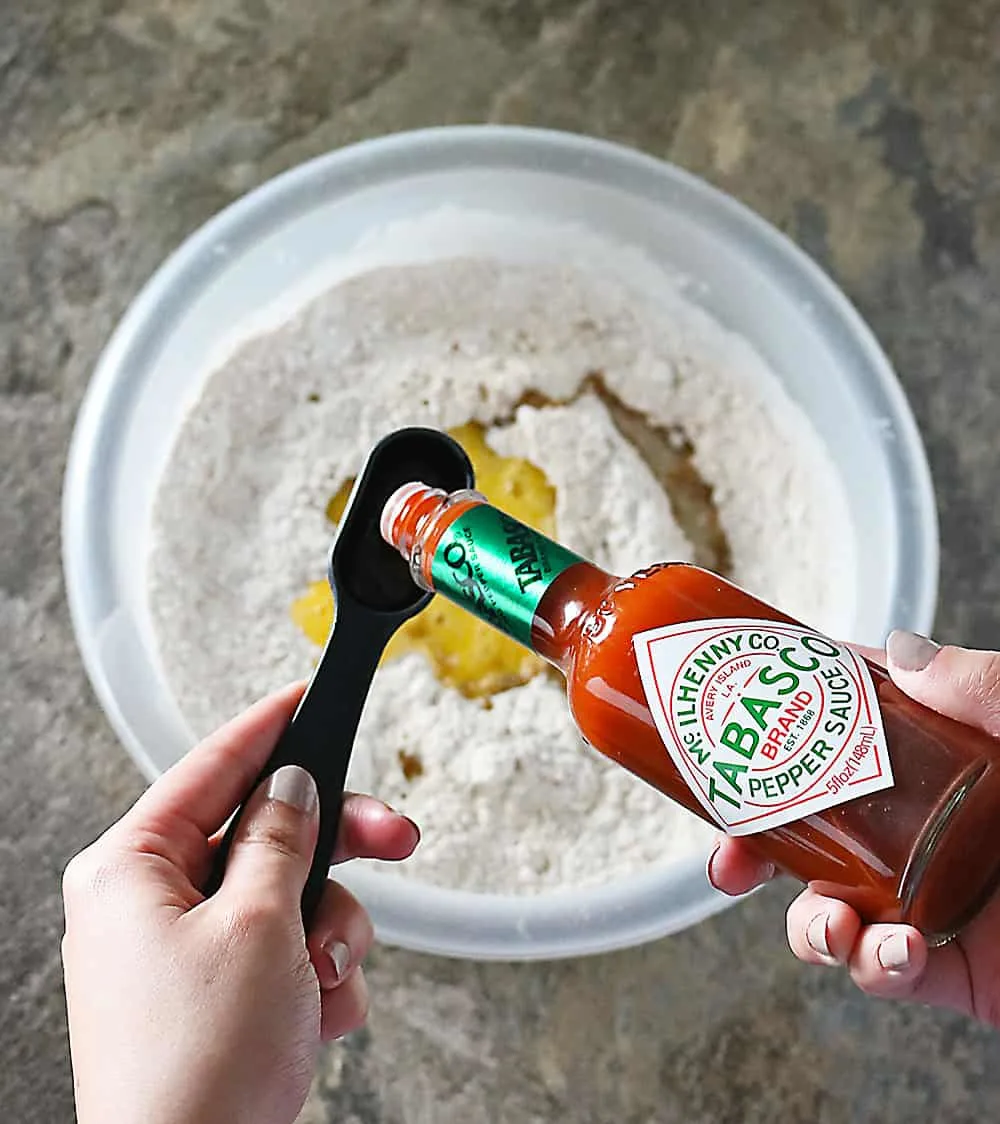 Ever since she could read, my daughter has been obsessed with mixing sauces. She went through a phase when the only time she would eat chicken is if she had an orange glob of ketchup, mustard, and mayo all mixed together on her plate.
As she got older, she graduated to honey mustard and sriracha, and then onto sambal oelek and BBQ sauce!
But, there was, and is, one sauce she has not felt the need to mix up with any other. And, that honor goes to TABASCO® sauce!
She usually adds a bit of TABASCO® Brand Pepper Sauce to her breakfast egg tacos. Sometimes, I've caught her trying to douse a bowl of roasted garlic pumpkin soup with TABASCO® Chipotle Pepper Sauce or dip Sri Lankan Fish Cutlets into a pool of it on her plate.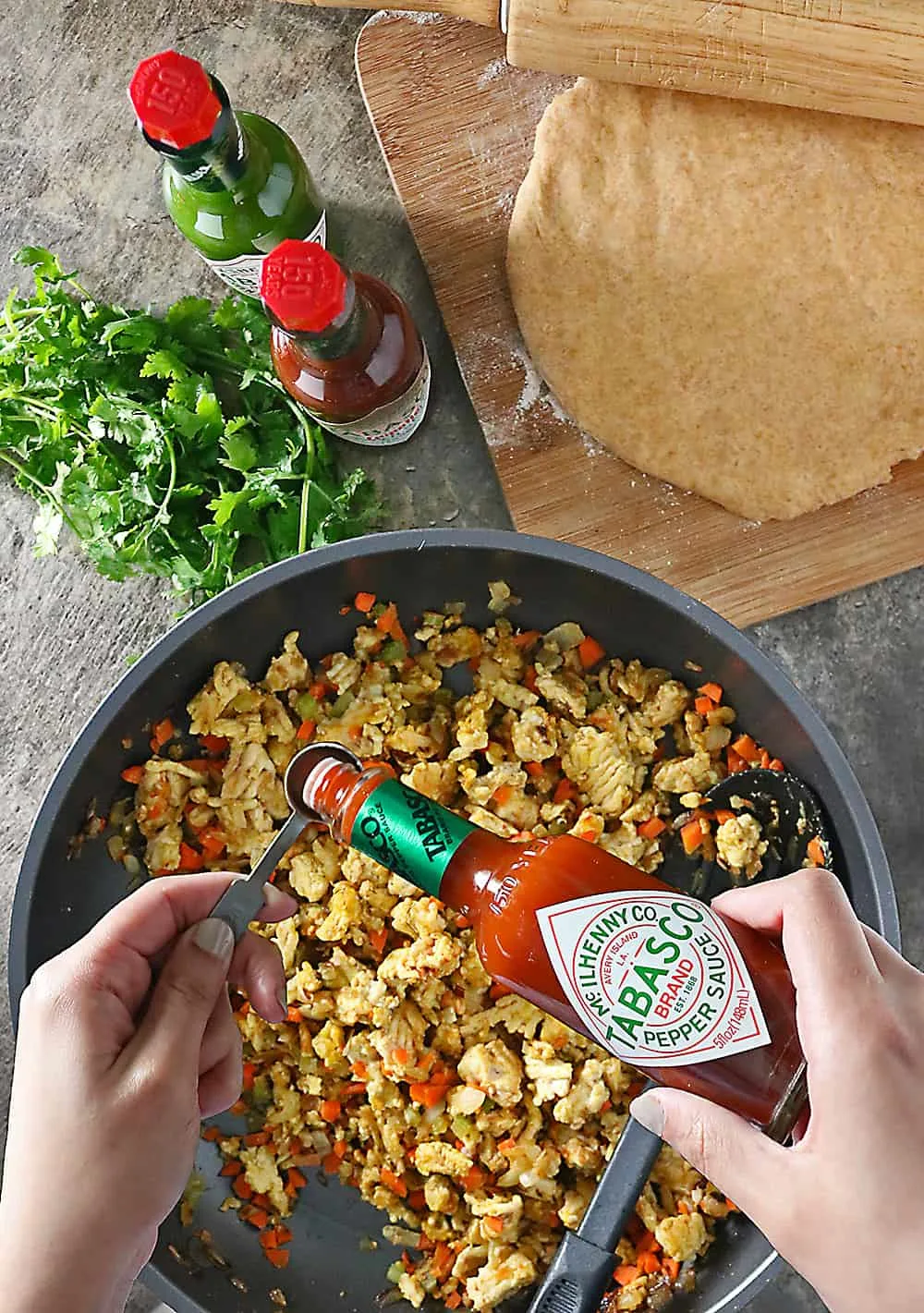 I, on the other hand, love adding it into recipes like these Curried Chicken Stuffed Buns. The dough used to make these buns, has a few spoonfuls of TABASCO® sauce in it, as does the Curried Chicken Filling!
Did you know that this year marks TABASCO® Brand's 150th anniversary?
150 years of being an indispensable ingredient and tabletop condiment that is sold in 285 countries and territories, and is labeled in 22 languages and dialects! TABASCO® Sauce seems to be the one sauce that can be found anywhere in the world, adding flavor to virtually any type of cuisine.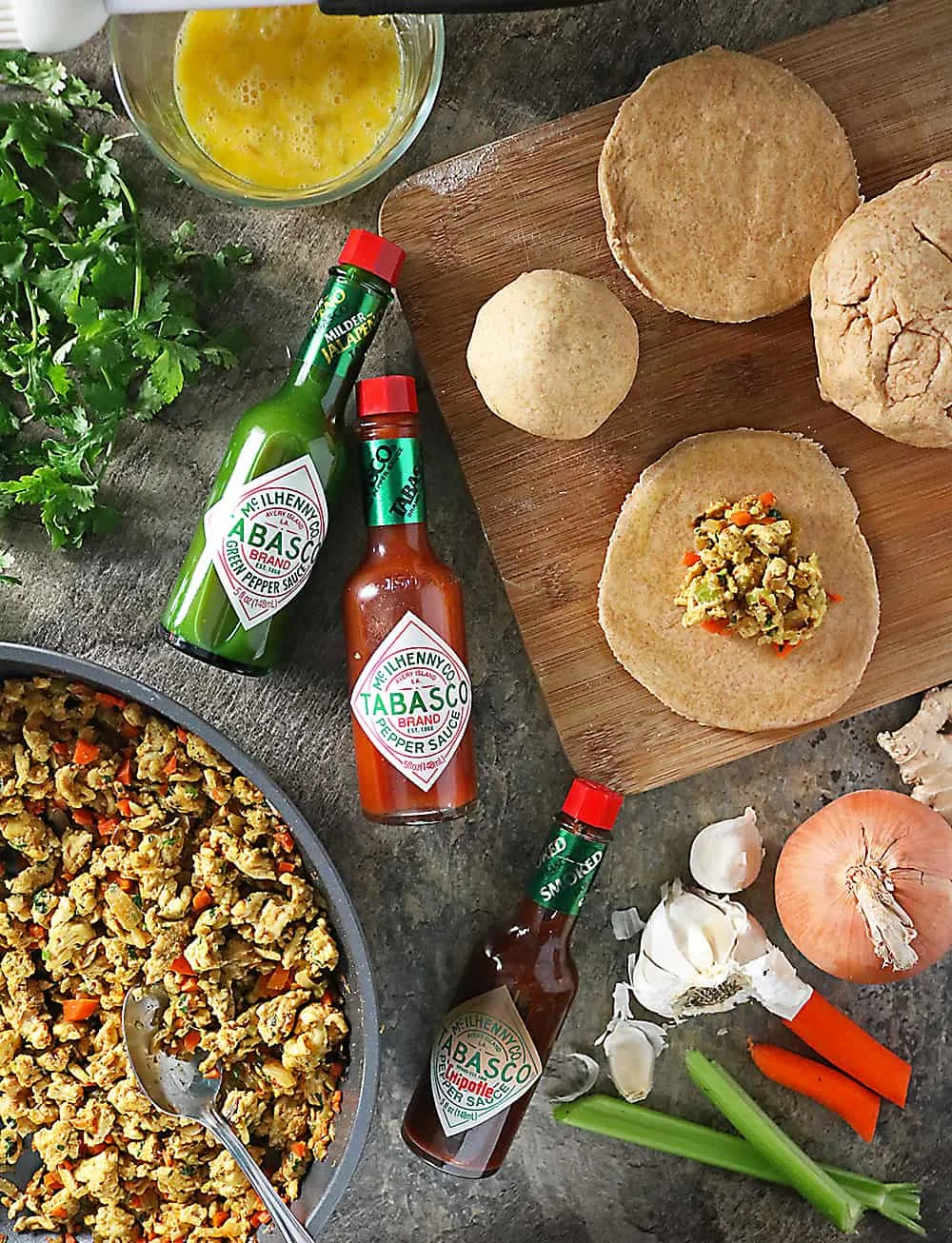 I so love how versatile TABASCO® Sauce is! It can be used as an ingredient to enhance flavors without overpowering dishes just as well as it can be used as a condiment to help personalize dishes.
For whatever dish you're trying to prepare, TABASCO® Brand can be found at Walmart stores, in a variety of flavors such as:
1) TABASCO® brand Original Red Sauce, which is made with just three ingredients: aged red peppers, salt and distilled vinegar. Its simple ingredients and simple processing make it the most versatile hot sauce that can be used in just about any food or drink. It is Non-GMO, Gluten free and has zero calories.
2) TABASCO® Green Jalapeño Sauce, which is made with Jalapeño peppers, for flavor that's not too wild and not too mild. It is the TABASCO® Sauce flavor with the lowest Scoville Heat Units. It is most often used as a condiment for Mexican cuisine.
3) TABASCO® Chipotle Pepper Sauce, which is made with smoke-dried jalapeno peppers. This sauce brings a rich balance of smoke and heat. It pairs especially well with any kind of protein dish. It can be used in marinades and as a condiment over prepared meats. It can also be combined with pineapple for a sweet-savory dish.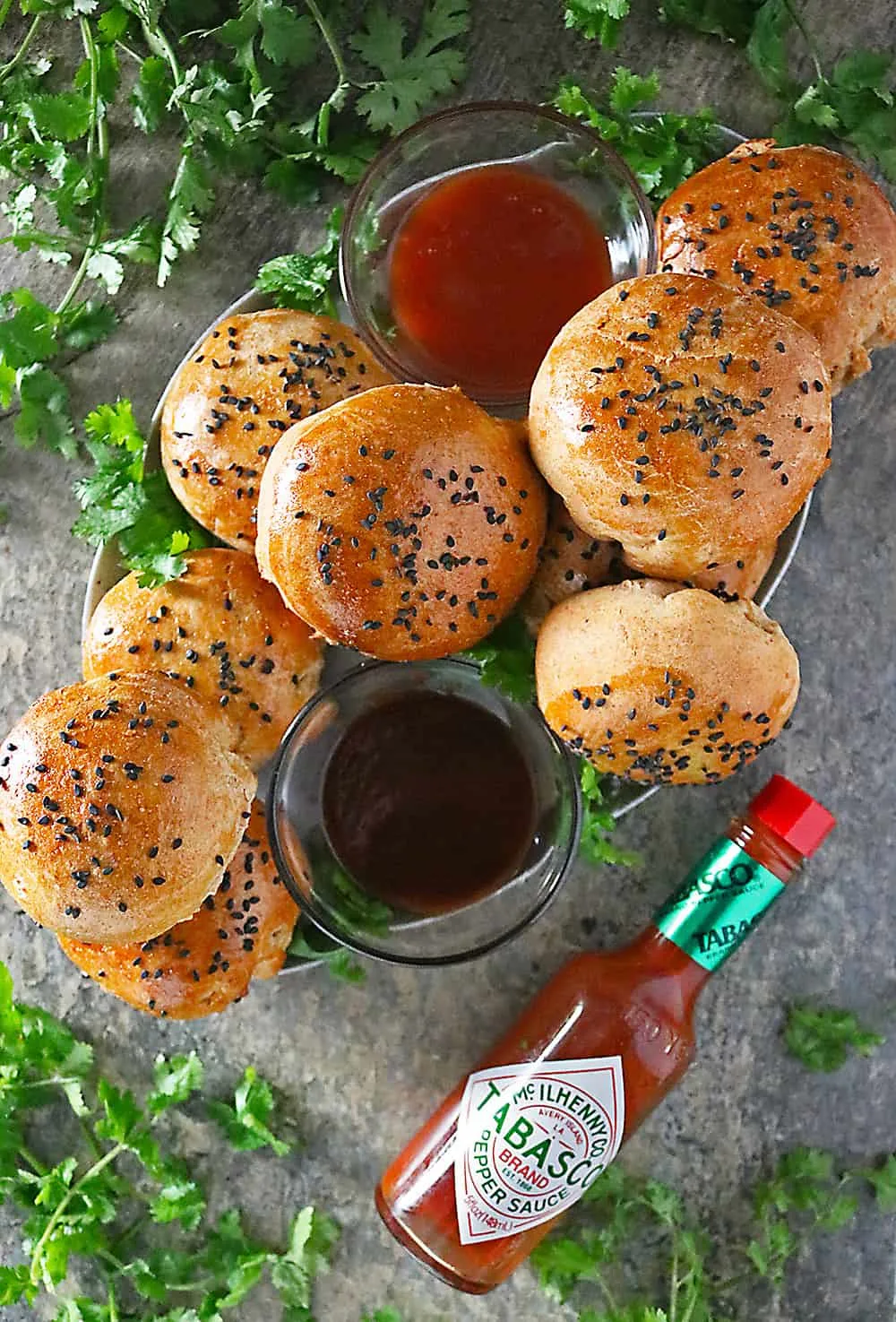 Getting back to these Curried Chicken Stuffed Buns, my daughter and I have been on a serious stuffed bun kick. We've made an enjoyed several varieties of vegetarian and chicken stuffed buns, but these with TABASCO® brand Original Red Sauce in the dough, have been some of the most enjoyable.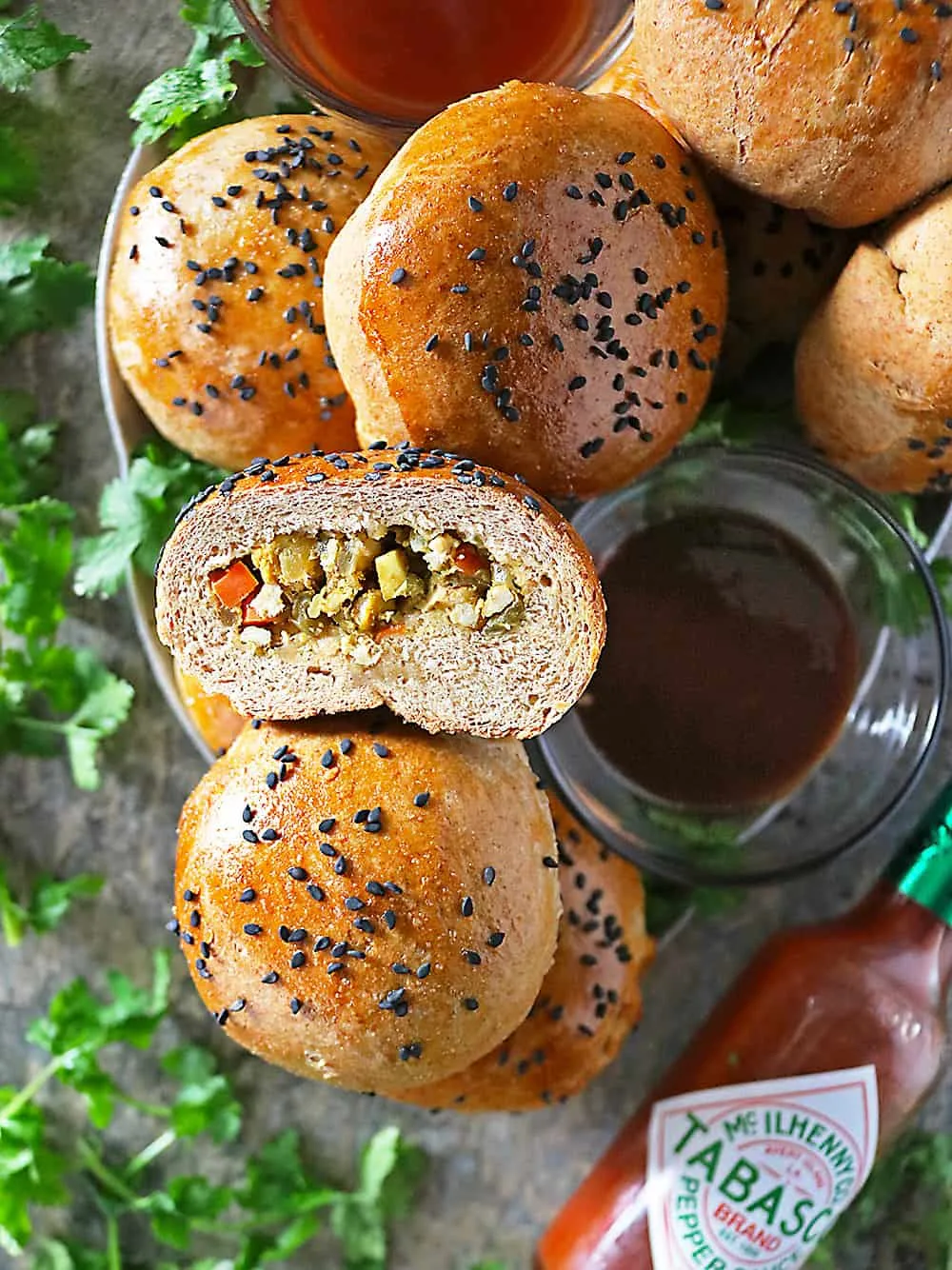 The yeast based dough is slightly sweet and slightly spicy and jives deliciously with the curried, smoky-spicy filling of chicken, veggies and spices (that I would normally use to make a chicken curry, sans the volume of coconut milk/stock). When these were ready, my daughter and I enjoyed dipping them into more TABASCO® Chipotle Pepper Sauce and TABASCO® Green Jalapeño Sauce on our plates.
This holiday season, as you go about preparing holiday meals, new years appetizers or game day snacks for your loved ones, make sure to stock up on TABASCO® Sauce from your local Walmart store!