This post is sponsored by Rubbermaid® on behalf of Everywhere Agency; however, all thoughts and opinions are my own.
Take a break during this busy holiday season with these soft and gluten free, Ginger Molasses Cookies. They are irresistible with a warm cup of coffee or tea – unless you gift them all away this holiday season.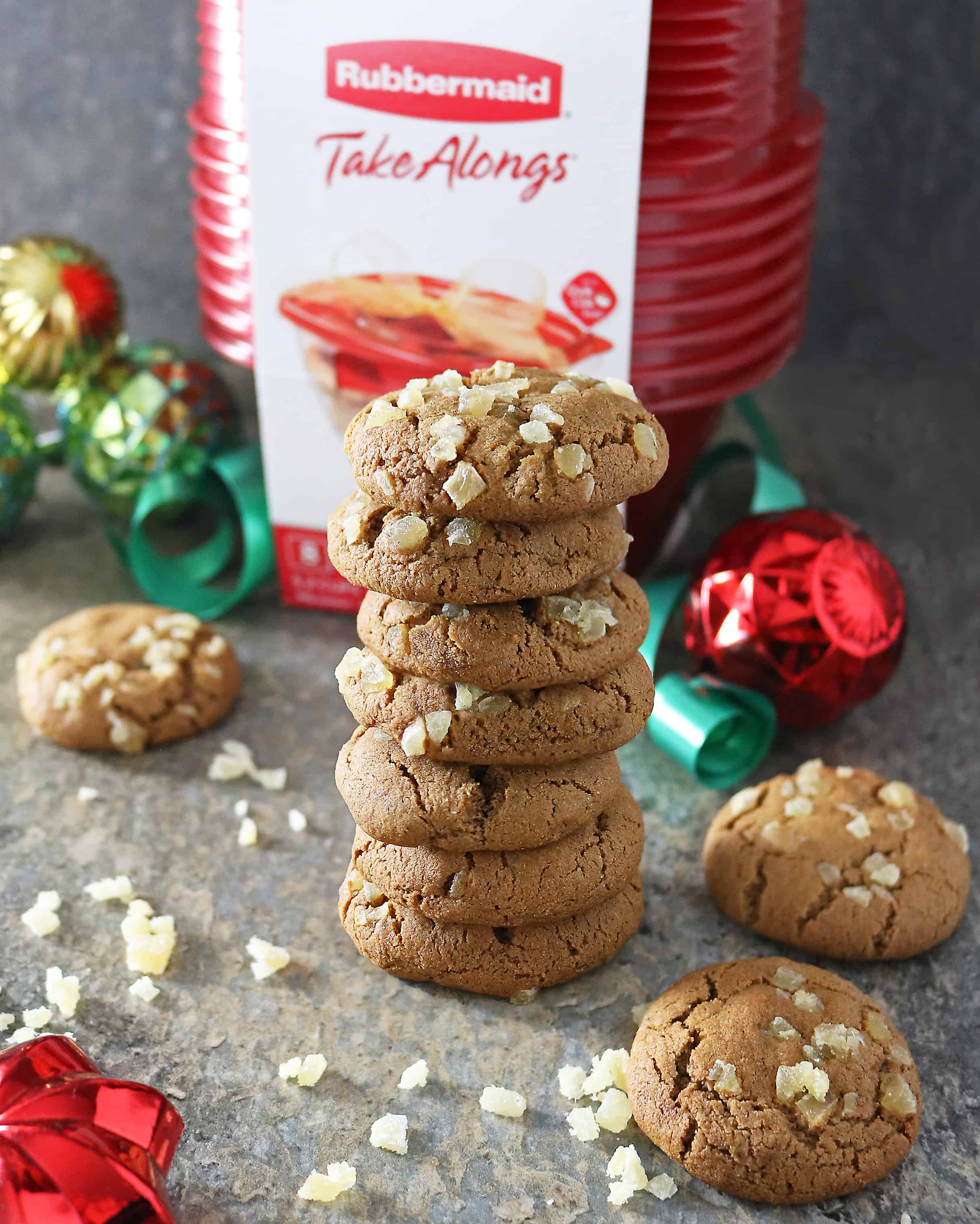 I'm not sure what I was thinking, but, this year I almost ditched Christmas cookie baking. No lie.
I contemplated not attending any Christmas Cookie Exchange parties and throwing out my cookie-gifting list. I even spent most of Black Friday virtual-window-shopping for things I could gift other than cookies.
You see, I have issues with homemade cookies around the holidays. I find them irresistible. A tray out of the oven with a dozen Eggnog Cardamom Cookies, ends up with eight in seconds. No lie.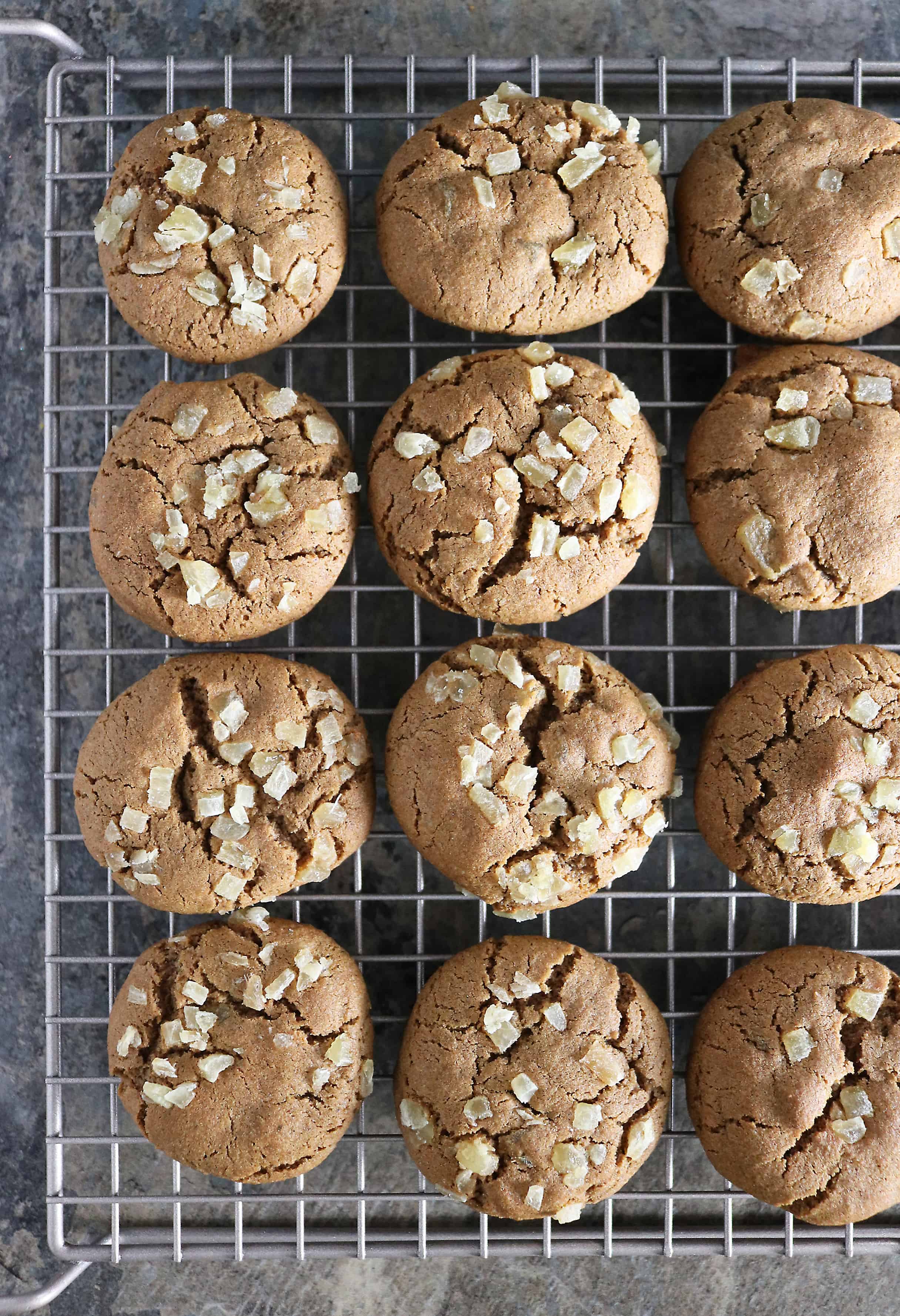 But, after all that time spent perusing the interwebs for gift ideas, I came up with zilch.
You see, most of the cookies I gift are to those people I am grateful for but don't know well enough – like the always polite and pleasant janitor at my day job to the grumpy but caring groundskeeper at the condo complex I currently live in. I have no idea of either of their likes. But, cookies seem to be liked and welcomed by each of them.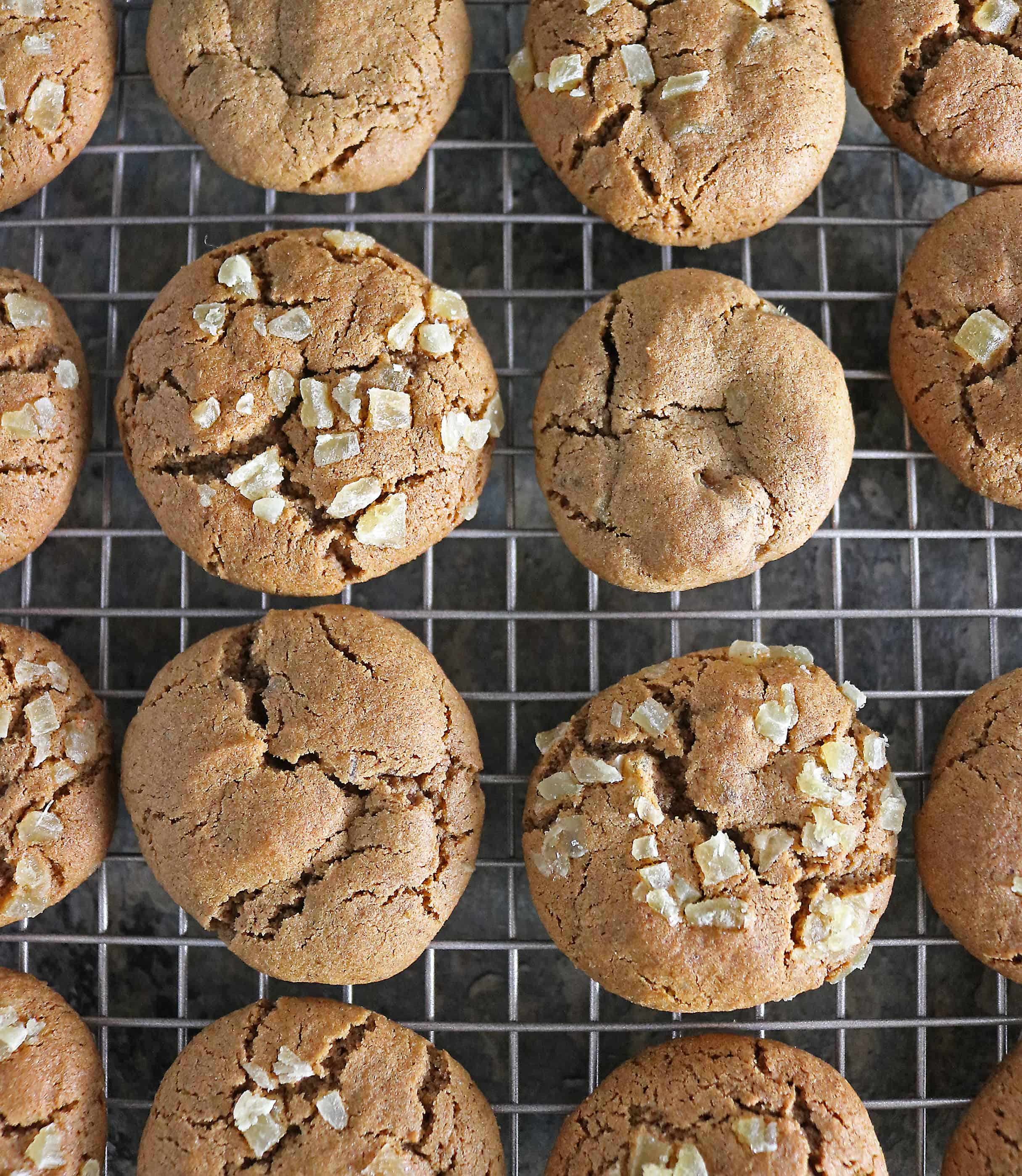 So, I baked these soft Ginger Molasses Cookies to celebrate NOT ditching one of my favorite Christmas traditions.
These Ginger Molasses Cookies are gluten free as I used a gluten free flour blend. And, in addition to powdered ginger, they are also flavored with cardamom, nutmeg, and cinnamon and studded with candied ginger. Now, if you don't have candied ginger or aren't a fan of it, you can dust these cookies with granulated sugar before you bake them or ice them with a ginger-cinnamon icing.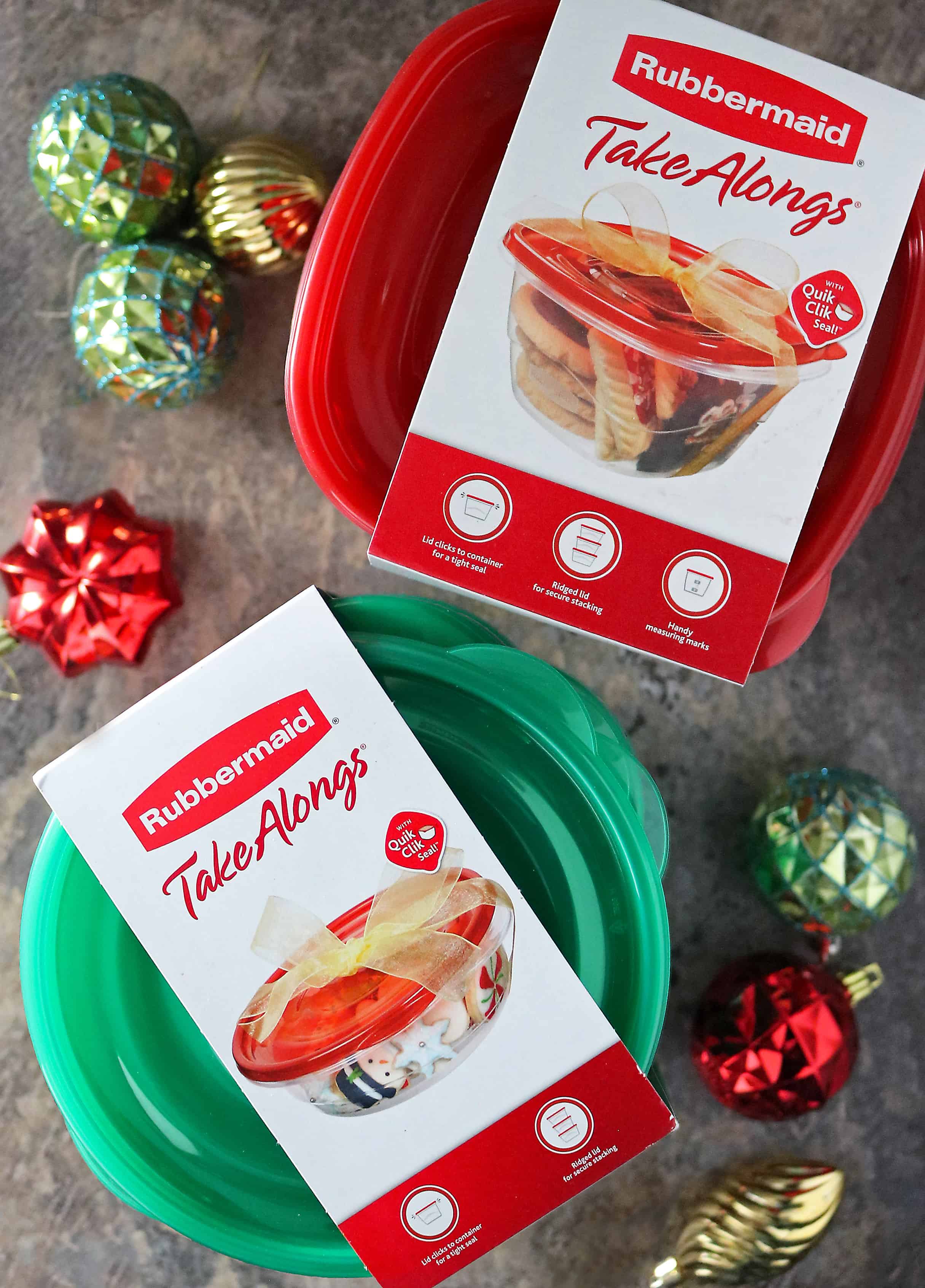 When these are cooled, I like to pack them up in a TakeAlongs® holiday container as they are more presentable that way – and the TakeAlongs® holiday container can be reused as well.
TakeAlongs® is the essential container for food on-the-go whether that be taking these cookies to a cookie exchange or gifting them away or packing lunch or dinner!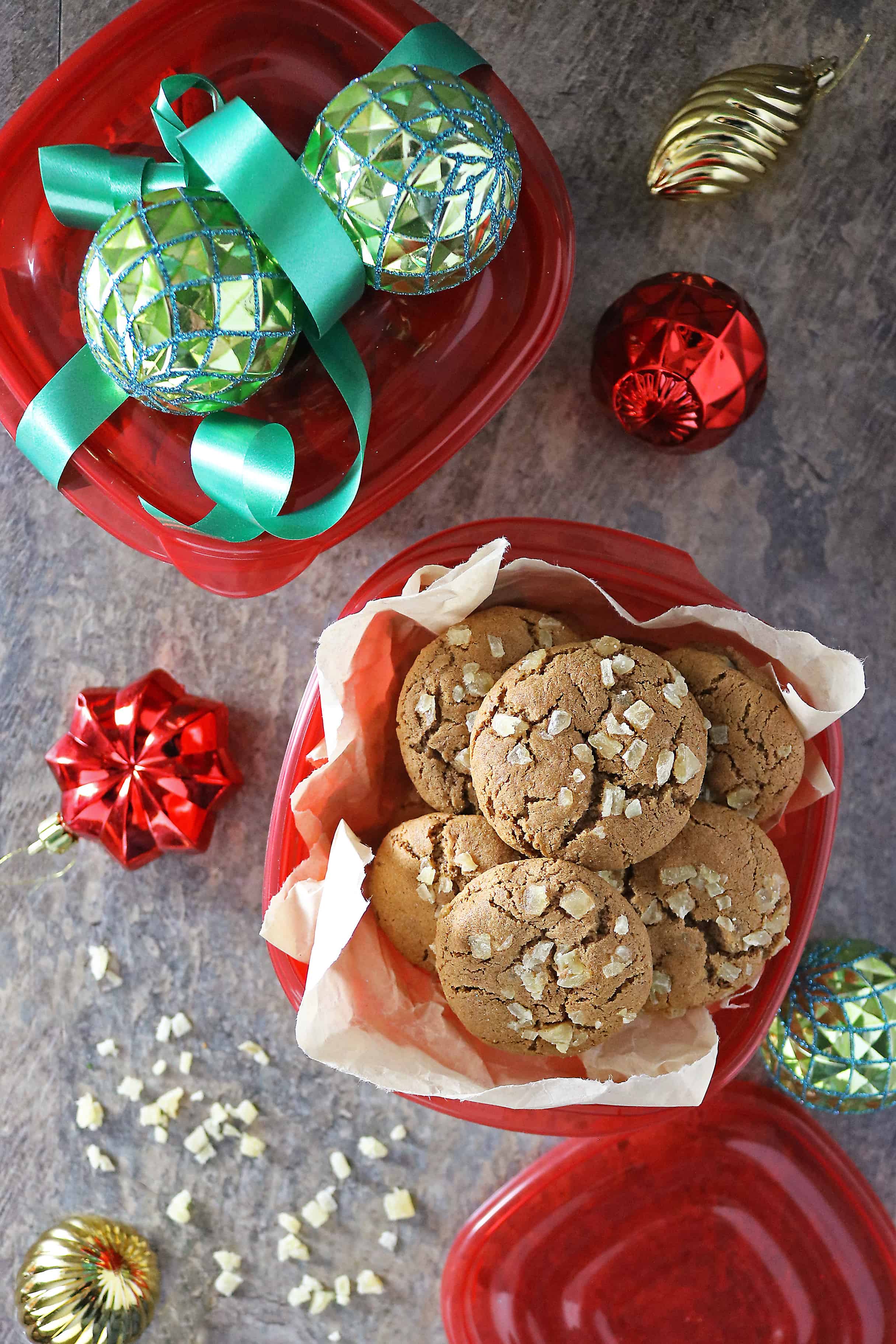 I found my TakeAlongs® holiday containers at an endcap at my neighborhood Walmart. I was delighted to find that TakeAlongs® are
available in a variety of sizes and colors such as festive red, green, and gold (new and seemingly a favorite as they were all sold out) containers.
Tinted but still translucent, TakeAlongs® holiday containers allow for visibility of your treats while adding a festive cheer to your holiday
occasion.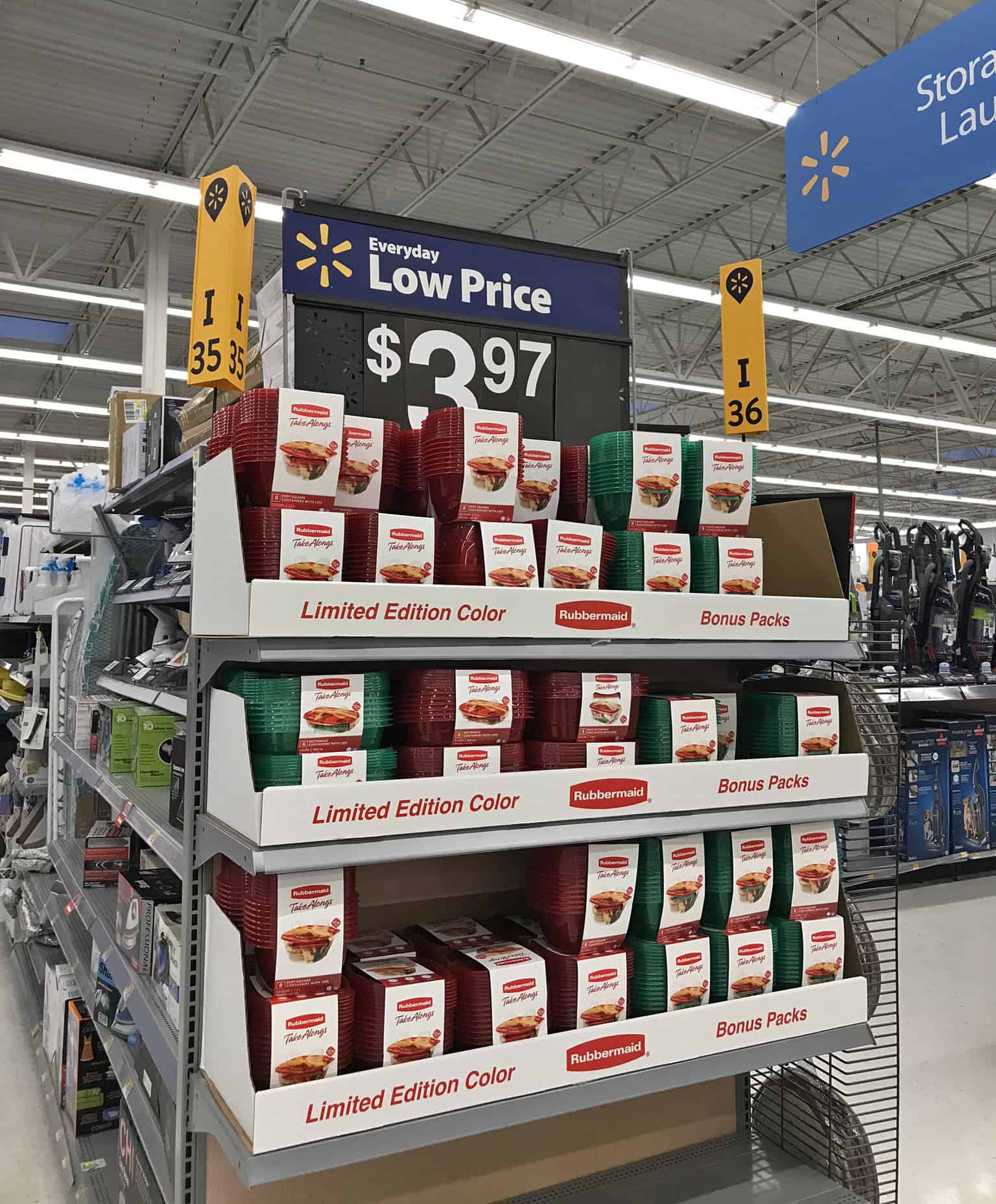 So, the next time you are at Walmart picking up the ingredients to bake up your favorite Christmas treats, make sure you grab your favorite TakeAlongs® holiday containers to help you spread some delicious holiday cheer with those people who you are grateful for who make your life a bit easier.
If you happen to make these Gluten Free, Soft, Ginger Molasses so please do rate the recipe (in the recipe card) and let me know your thoughts on it in the comments below. You can also FOLLOW ME on FACEBOOK, TWITTER, INSTAGRAM and PINTEREST to get recipe ideas and inspiration.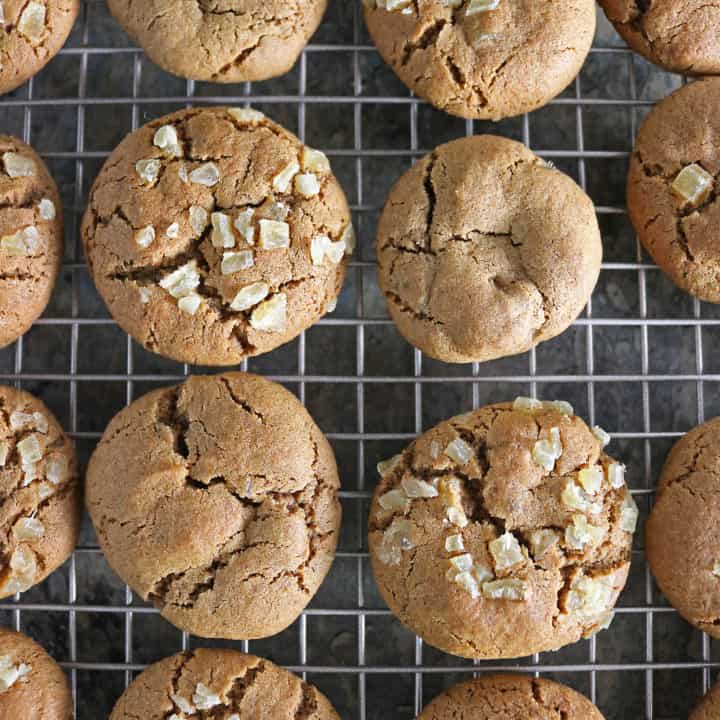 Ginger Molasses Cookies
Total Time:
1 hour
22 minutes
Take a break during this busy holiday season with these soft and gluten free, Ginger Molasses Cookies. They are irresistible with a warm cup of coffee or tea - unless you gift them all away this holiday season.
Ingredients
¾ cup salted butter
1 cup light brown sugar
¼ cup molasses
1 egg
2 cups gluten free flour
2 tsp baking soda
1 tsp ground cinnamon
½ tsp ground ginger
½ tsp ground cardamom
¼ tsp ground nutmeg
¼ cup chopped up candied ginger
Instructions
Add the butter, brown sugar and molasses to a bowl and, using an electric handheld mixer, blend them well until creamy.
Add in the egg and mix well.
In a separate bowl, add the flour, baking soda, ginger, cinnamon, nutmeg, and cardamom together with a spoon.
Then, add the dry ingredients to the wet ones and mix just until all ingredients are incorporated.
Toss in the candied ginger - reserving just a few to dot the tops of the cookies with. If not using candied ginger, you can dust your cookies with a mixture of granulated sugar and a pinch of ginger and cinnamon. Chill dough for 1 hour at least or overnight.
Then, Preheat the oven to 375 degrees F
Scoop spoonfuls of cold dough, roll into rough balls and bake at 375 degrees for 10-12 minutes.
Let cool and enjoy.
Nutrition Information
Yield

18 cookies
Amount Per Serving
Calories

180
Total Fat

8.7g
Cholesterol

31mg
Carbohydrates

24.6g
Fiber

1.6g
Sugar

12.6g
Protein

1.9g