This shop has been compensated by Collective Bias, Inc. and its advertiser. All opinions are mine alone. #PrepNowSavorLater #StockPrepWin #CollectiveBias
Loaded with candied ginger and powdered ginger, these gluten free Ginger Pecan Cookies are a cinch to whip up and can be made ahead and stored until you need to whip these up for Christmas cookie exchange parties and holiday get-togethers!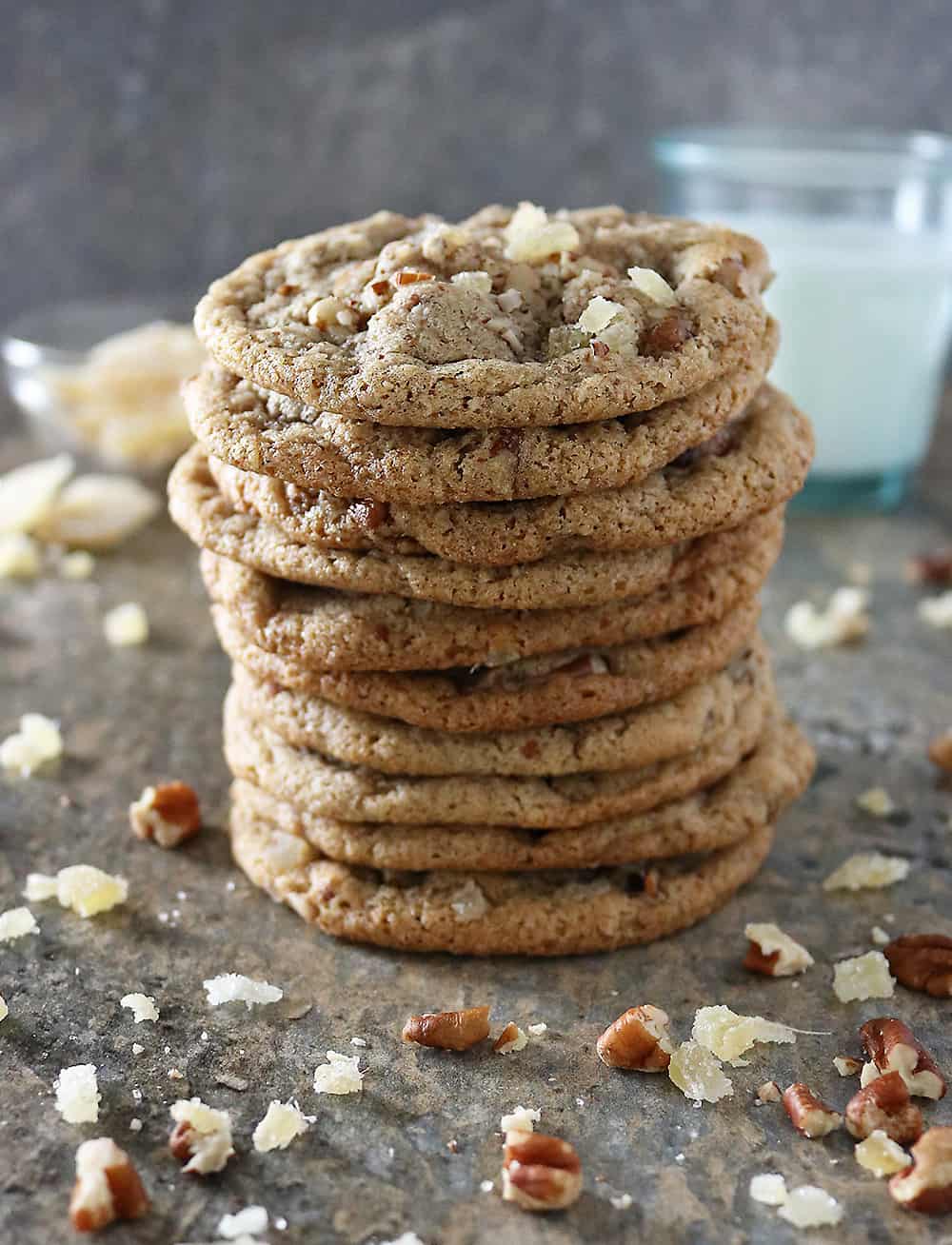 Yesterday I popped into a Kohl's store and was pleasantly surprised to find all their Christmas decorations out. Now you might subscribe to the notion that holiday deco should follow a seasonal pattern. Christmas decorations should follow Thanksgiving ones, which in turn should follow Halloween…
But, Christmas is my all time favorite holiday, and early decorations and displays are just a reminder to me that I need to start menu and cookie planning soon!
In October of years past, planning is all I would do. But, this year is different. This year I have the FoodSaver® FM5330 Vacuum Sealing System and FoodSaver® Heat-Sealed Bags to take me from just planning to actually doing!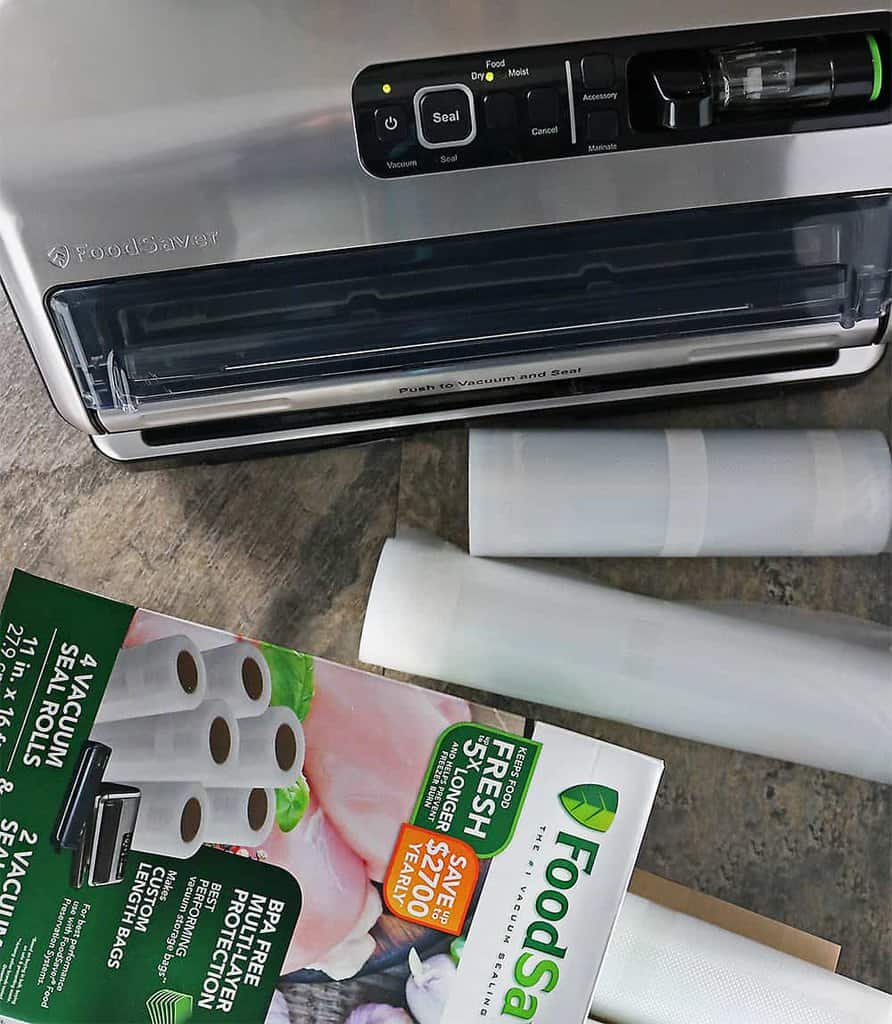 When it comes to saving food and time, FoodSaver® is the solution. As seen on TV, FoodSaver® is the number 1 Vacuum Sealing solution in the US. FoodSaver® helps keep food fresh for up to 5x longer than ordinary storage methods like zipper bags, foil, plastic wrap, and containers, and helps prevent freezer burn. And, FoodSaver® makes entertaining a breeze enabling you to marinate in minutes instead of hours!
But that's not all, FoodSaver® FM5330 Vacuum Sealing System helps prep, cook and store meals way ahead of time – like when I made these gluten free, Ginger Pecan Cookies.
As seen in the image below, I simply:
1) Inserted a roll of FoodSaver® Heat-Sealed Bags into the FoodSaver® FM5330 Vacuum Sealing System (with the rolls, it was easy to customize the size of the bag I needed so there was less waste)
2) Pulled bag/roll to the white line
3) Turned lever to seal
4) Made the first seal (to mark the bottom of the bag that was going to be made)
5) Turned lever to unlock
6) Measured the size of the bad needed for the cookie dough
7) Cut the bag using the attached cutter
8) Filled the bag with the Ginger Pecan Cookie Dough
9) Vacuumed and sealed bag to store the cookie dough in until needed.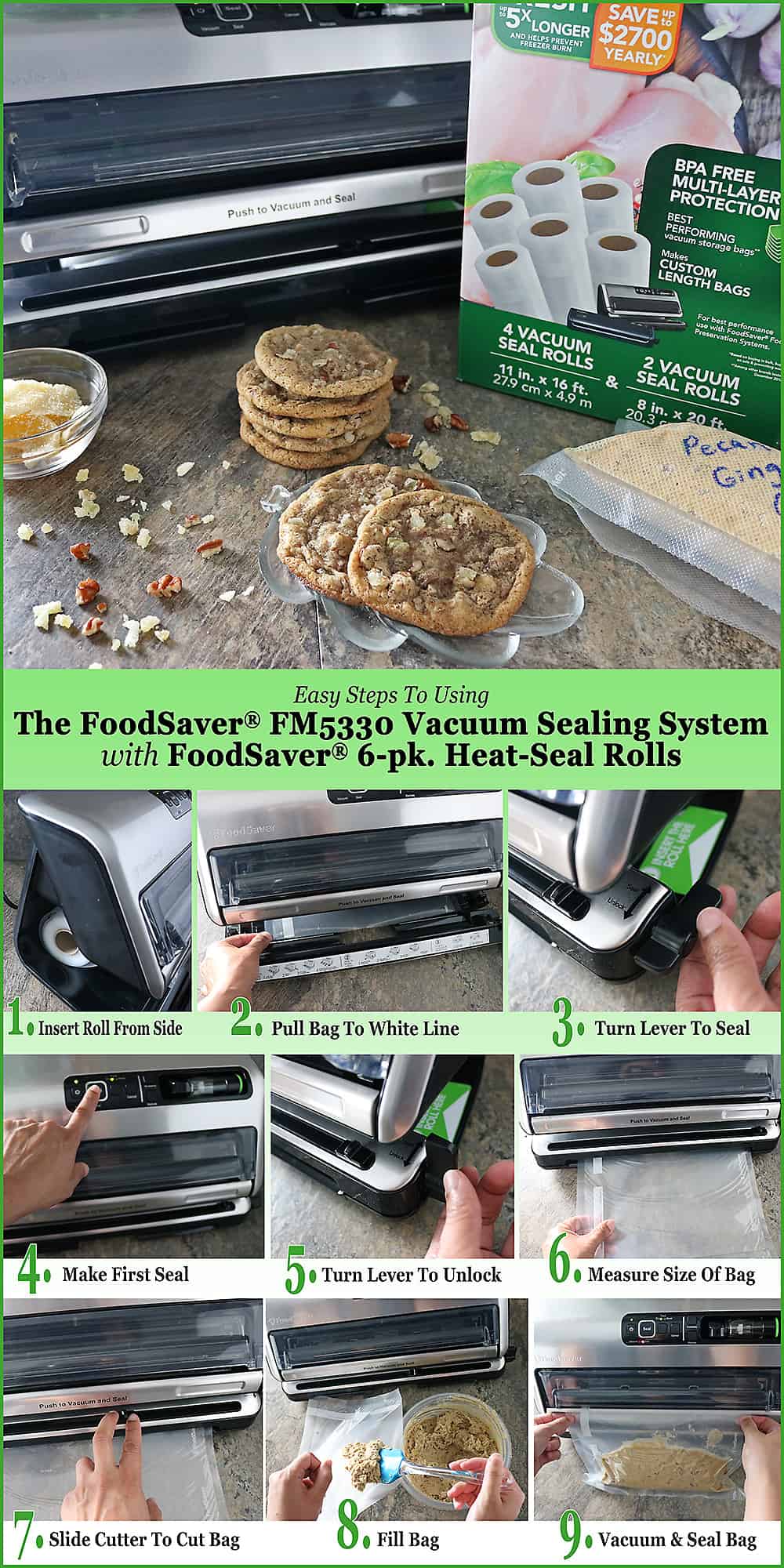 With the FoodSaver® FM5330 Vacuum Sealing System and multi-layer, BPA-free, FoodSaver® Heat-Sealed Bags, I was able to prep and store these gluten-free, Ginger Pecan Cookies way before Christmas cookie exchange parties and gift giving. Of course I baked a batch to test out on share with my daughter and coworkers and all parties gave these a thumbs up.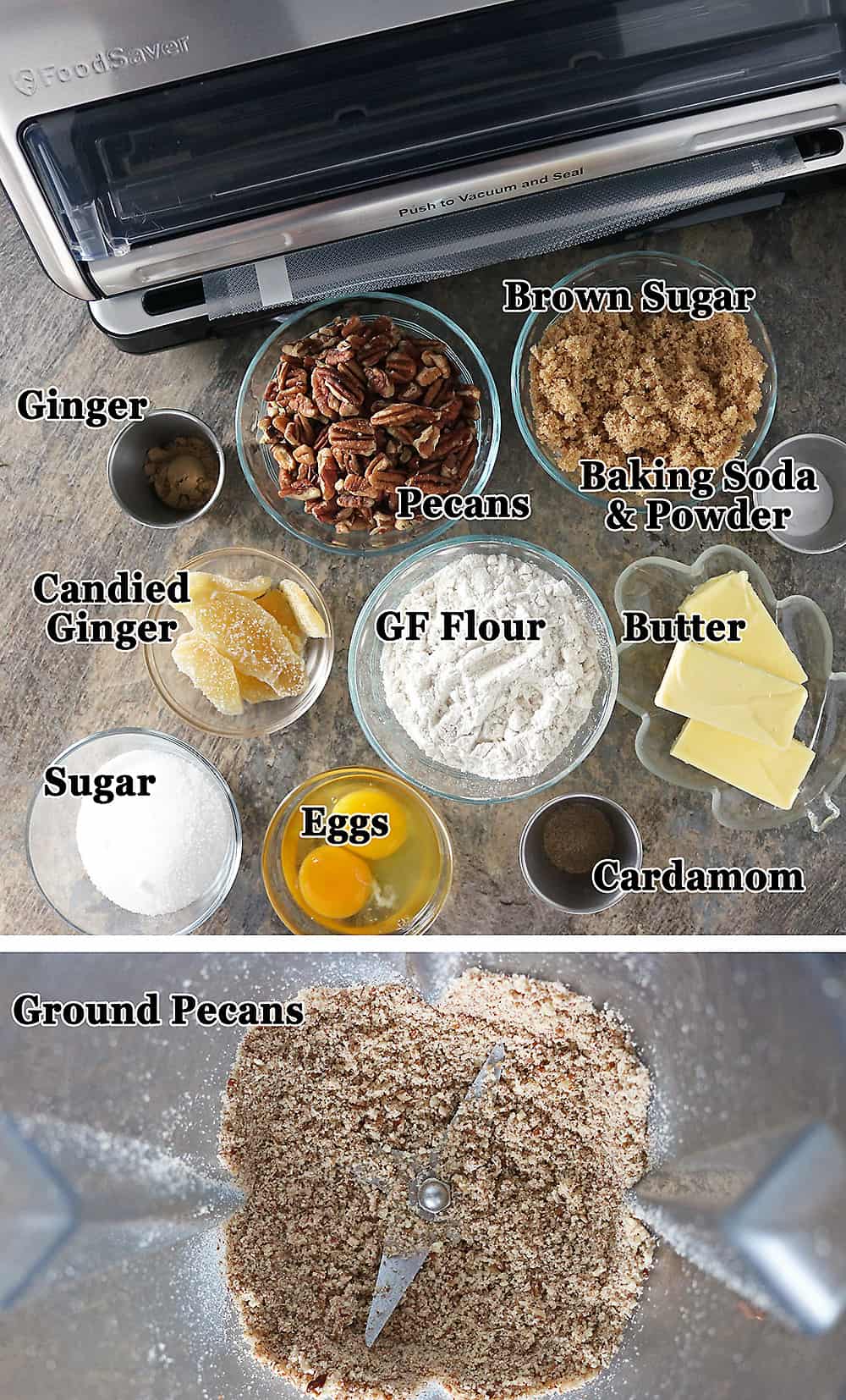 These Ginger Pecan Cookies are loosely based on these Chocolate Peppermint Cherry Cookies, only I replaced the all purpose flour with a mixture of gluten-free flour and pecan flour which I made by grinding up pecans in my blender. Ginger and candied ginger gave these cookies a nice little zing.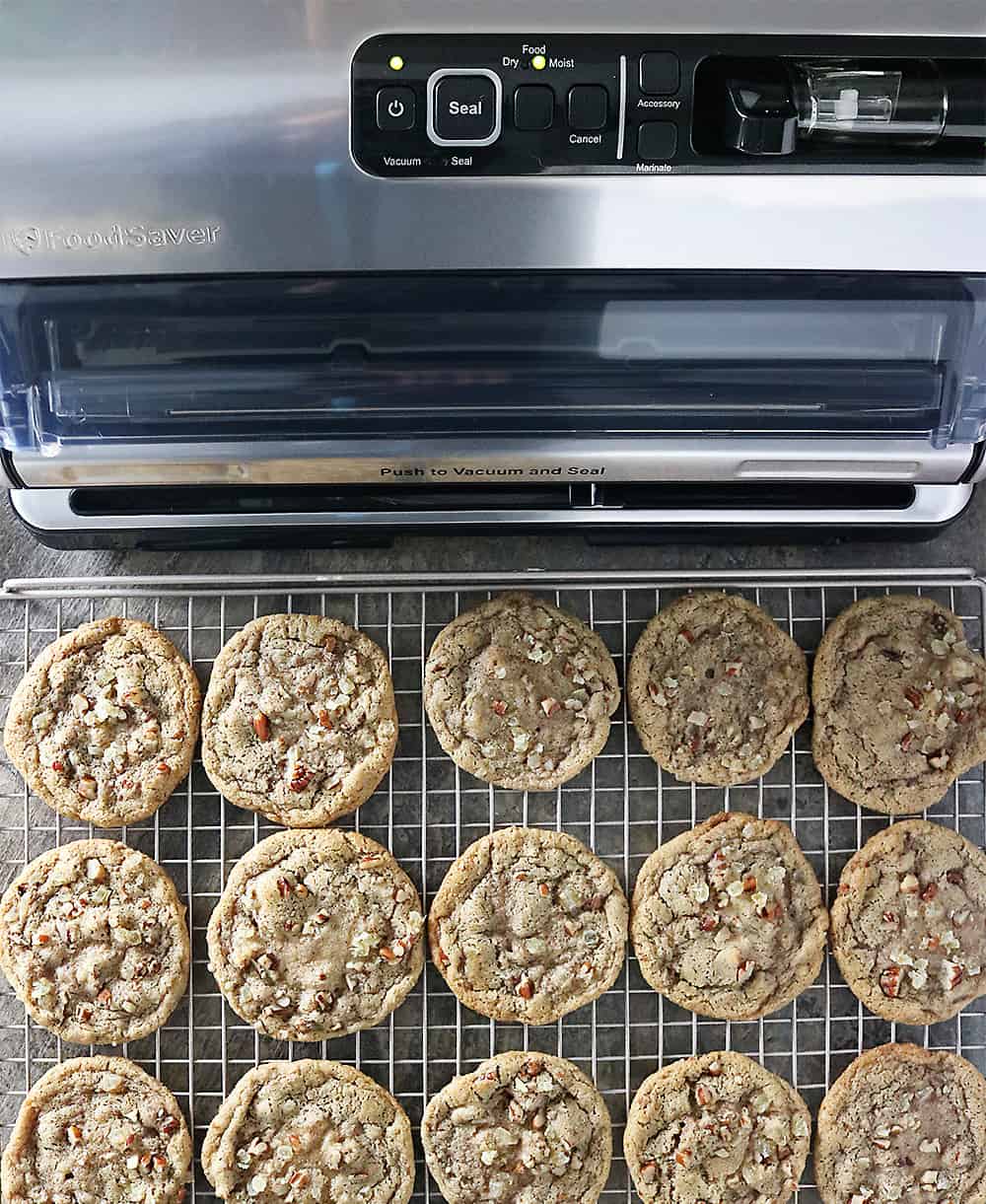 Over the next couple of months, I plan on adding more vacuum-sealed cookie dough packages to the freezer to keep this package of gluten-free Pecan Ginger Cookies company. Then when holiday parties and Christmas cookie exchanges come around, all I need to do is pop these bags out of the freezer, open them up, cut the dough and bake and BOOM, fresh cookies!
Compared to FoodSaver® V4440 Models (which I have also used), I found that the FoodSaver® Vacuum Sealer FM5330:
Keeps food fresh in less time with less steps
Make bags in half the steps with the easy to use Express Bag Maker
Ensure an air-tight seal and less bag waste using the Easy View Vacuum Window
Quick sealing with Vacuum and Seal Bar
You can find the FoodSaver® FM5330 Vacuum Sealing System and FoodSaver® Heat-Sealed Bags at most Kohl's stores. Also, check them out of their social channels on Facebook and Instagram for ideas and inspiration!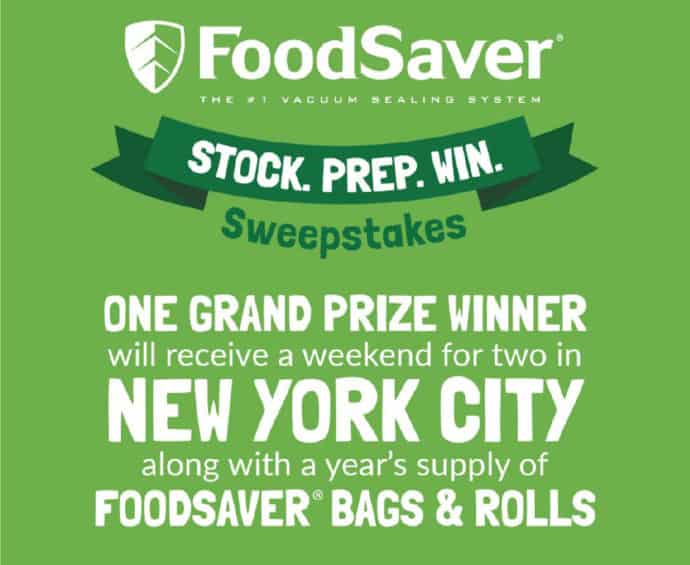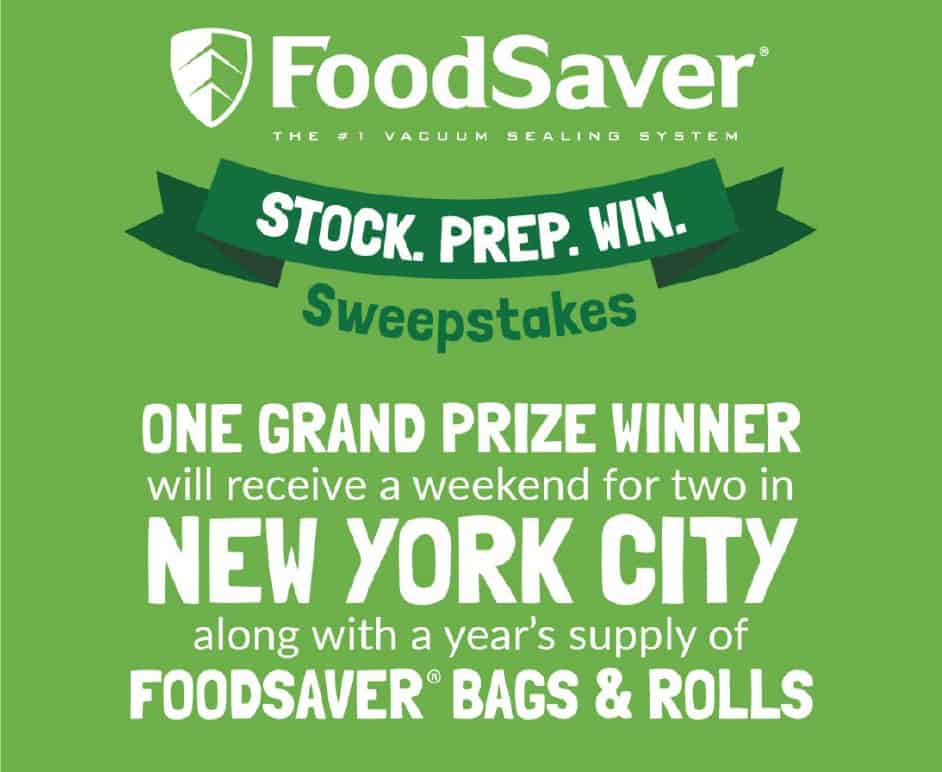 By the Way, currently, you can enter to WIN A TRIP FOR TWO to NYC along with a years worth of FoodSaver® bags > here! Stocking up with FoodSaver® bags and rolls this harvest and holiday season has is perks, every bags and rolls purchase gets you closer to NYC! Sweepstakes runs from 9/23/18 – 10/21/18.