Spiced with cardamom, cloves, cinnamon, and ginger, these gluten-free, low carb / Keto Almond Cookies are a delicious treat for gifting, a cookie exchange, or simply to enjoy for an afternoon break.
I have partnered with Sprouts Farmers Market to bring you these delightful Keto Almond Cookies ~ all opinions herein are my own. Thank you for supporting the brands that keep this blog spinning.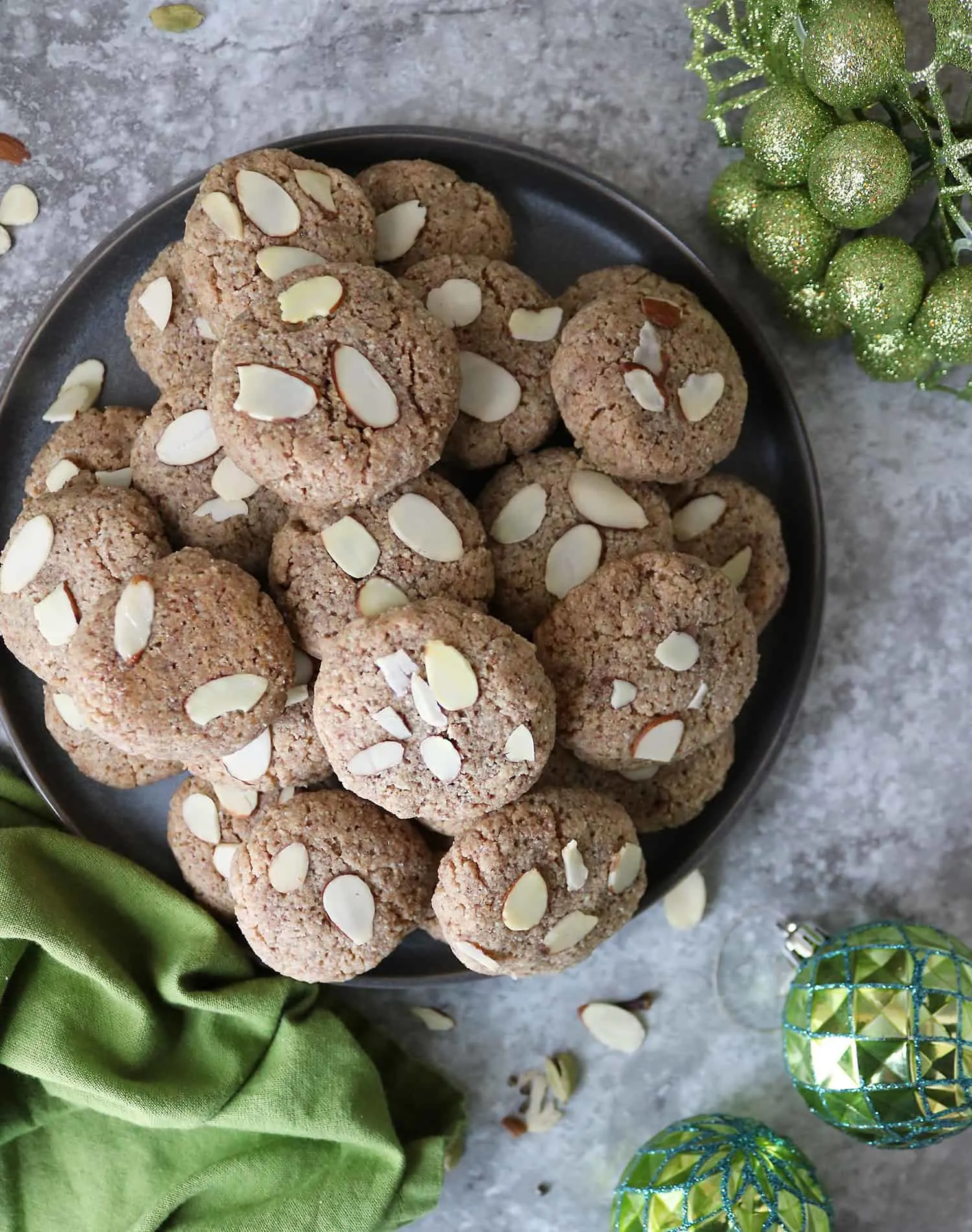 I am now the mother of a 21 year old.

A 21-year old who informs me that at 21 we don't celebrate a birthday or a birthweek, we celebrate a birthmonth!
Well, seeing I'm the mom, I told her I deserve to celebrate a birthINGmonth!
And, we picked the best month ever to celebrate all things birth related. Not only is this the month of Christmas Cookie Exchanges and Holiday get-togethers with family and friends to celebrate The Ultimate Birth of all; this month is also the month of the Sprouts Holiday Treat Exchange.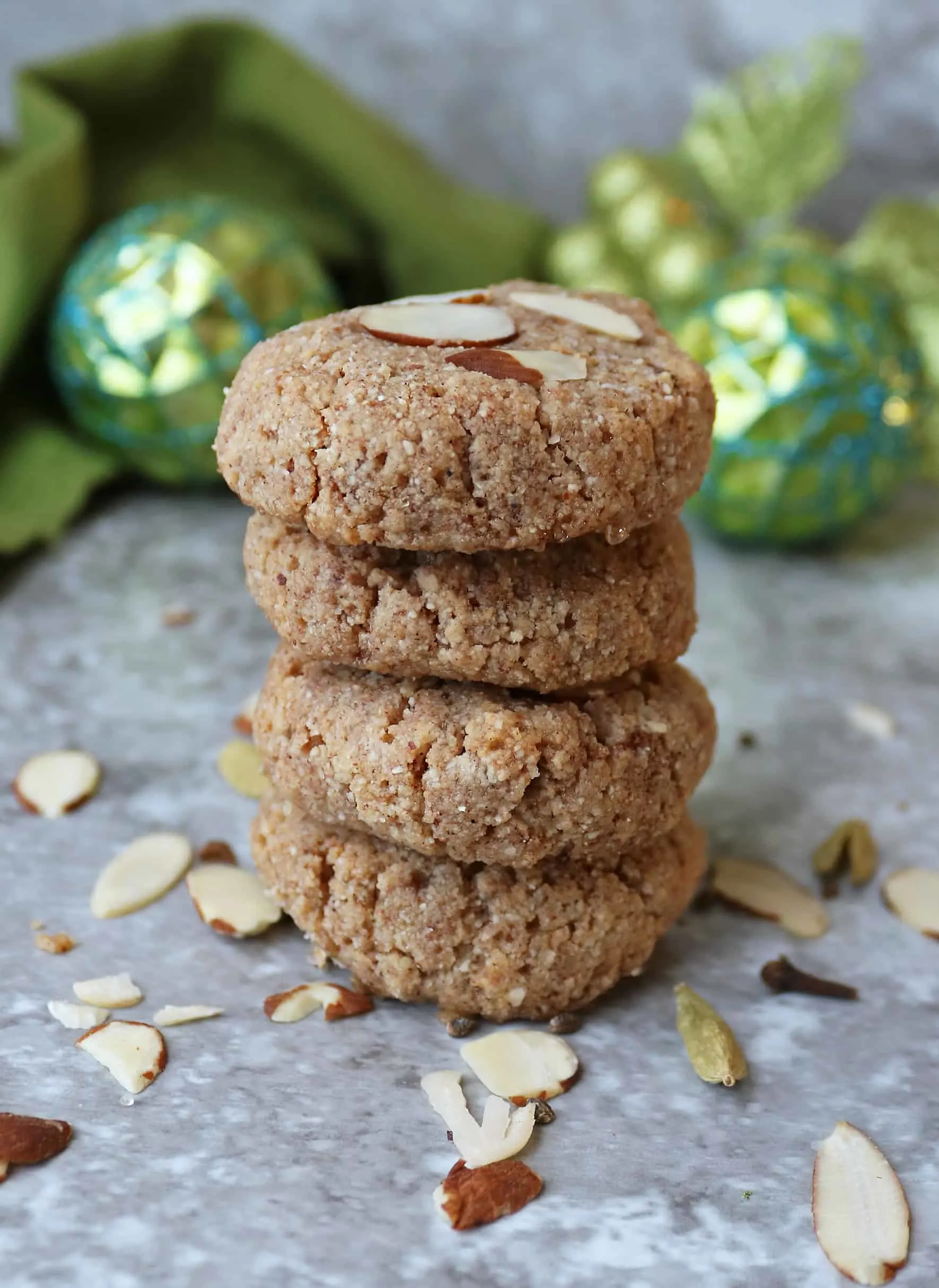 What is the Sprouts Holiday Treat Exchange?
The way the Sprouts Holiday Treat Exchange works is 12 bloggers get together to exchange treats. The 12 bloggers are divided into groups of 3 and each of the three exchange treats with each other.
Last year I sent these Vegan Snowball Cookies off. This year I sent these Keto Almond Cookies to Cheryl from 40 Aprons and Lauren from Bon Appeteach and I cannot wait to check out their recipes for the delicious treats they sent me.
The delivery of their treats were so harmonious with the celebration of our birth related celebrations. Cheryl's treats arrived the day before our celebrations and Lauren's arrived a couple of days later, just as we polished off Cheryl's treats.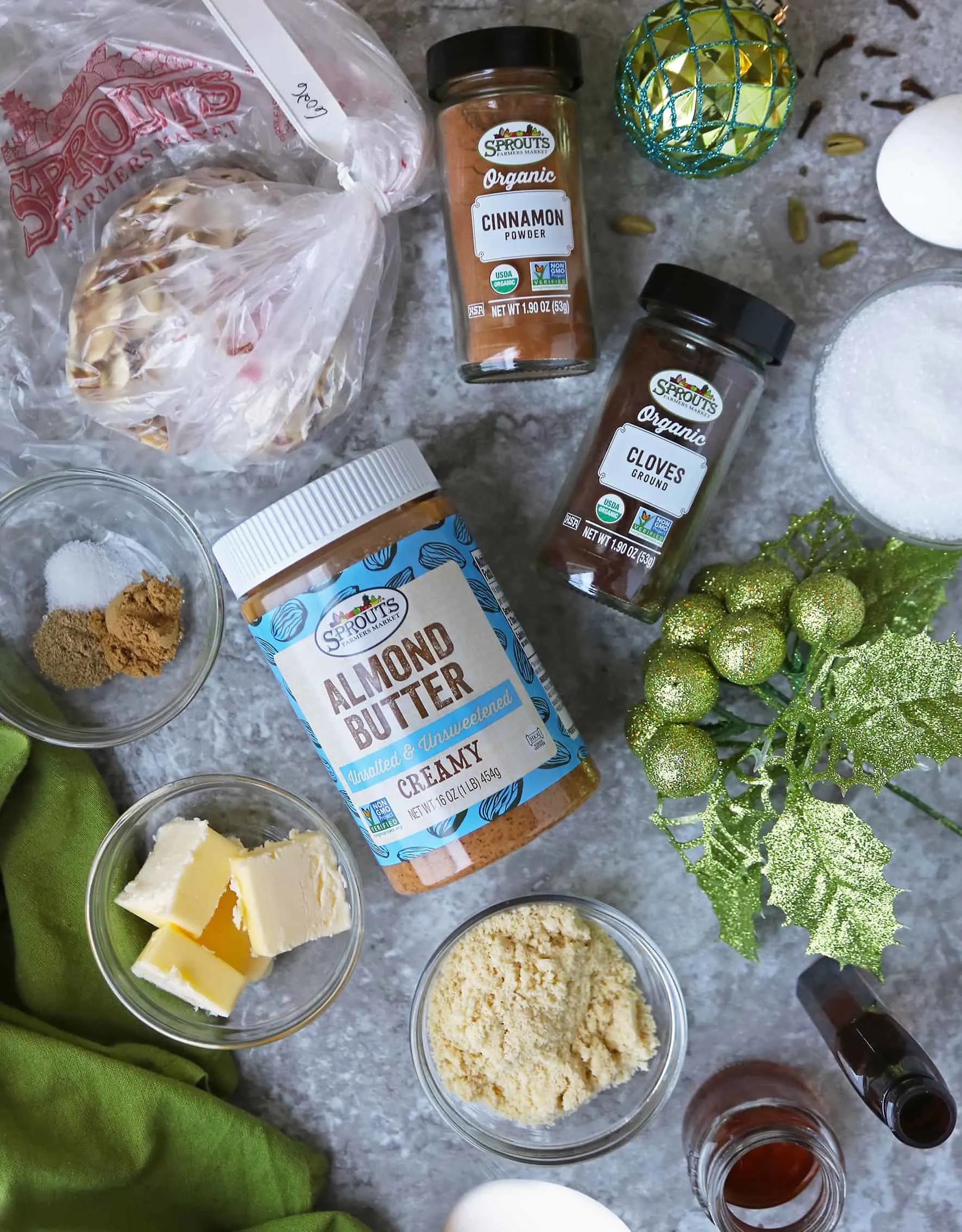 What is the sweetener in these Keto Almond Cookies?
I had a few of these Keto Almond Cookies leftover so I took them over to share with my sister and mom.
My mom is diabetic and my sister just started a low carb program so these Keto Almond Cookies were perfect for both of them as these cookies are made with a 0-sugar stevia/monkfruit blend and these contain absolutely no flour – just like these pink cookies.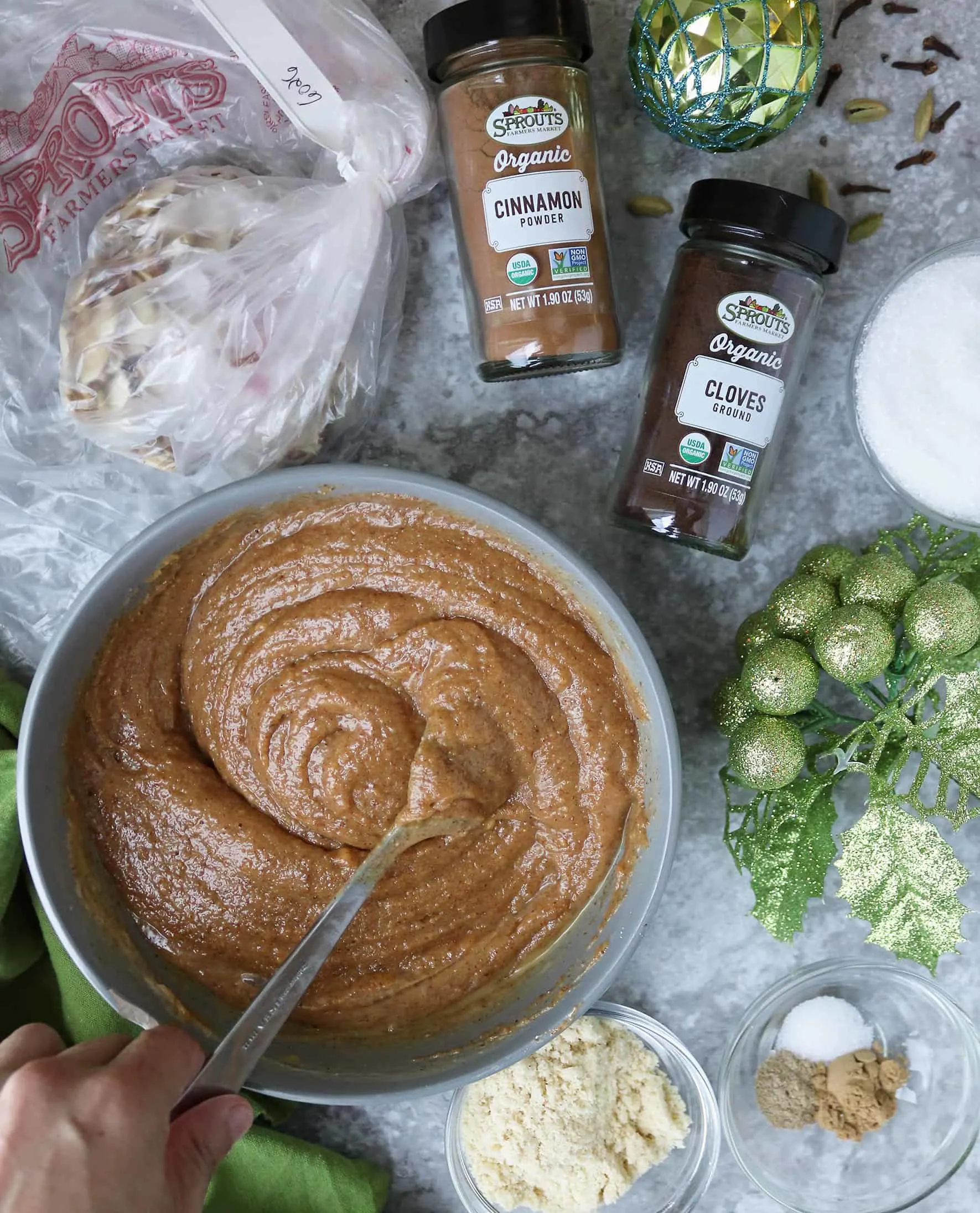 What are the other ingredients in these Keto Almond Cookies?
Instead of flour, I used finely ground almond meal.
Butter, almond butter and eggs hold these cookies together while vanilla extract, almond extract, ginger, cardamom, cloves, and cinnamon provided layers of flavor and aroma!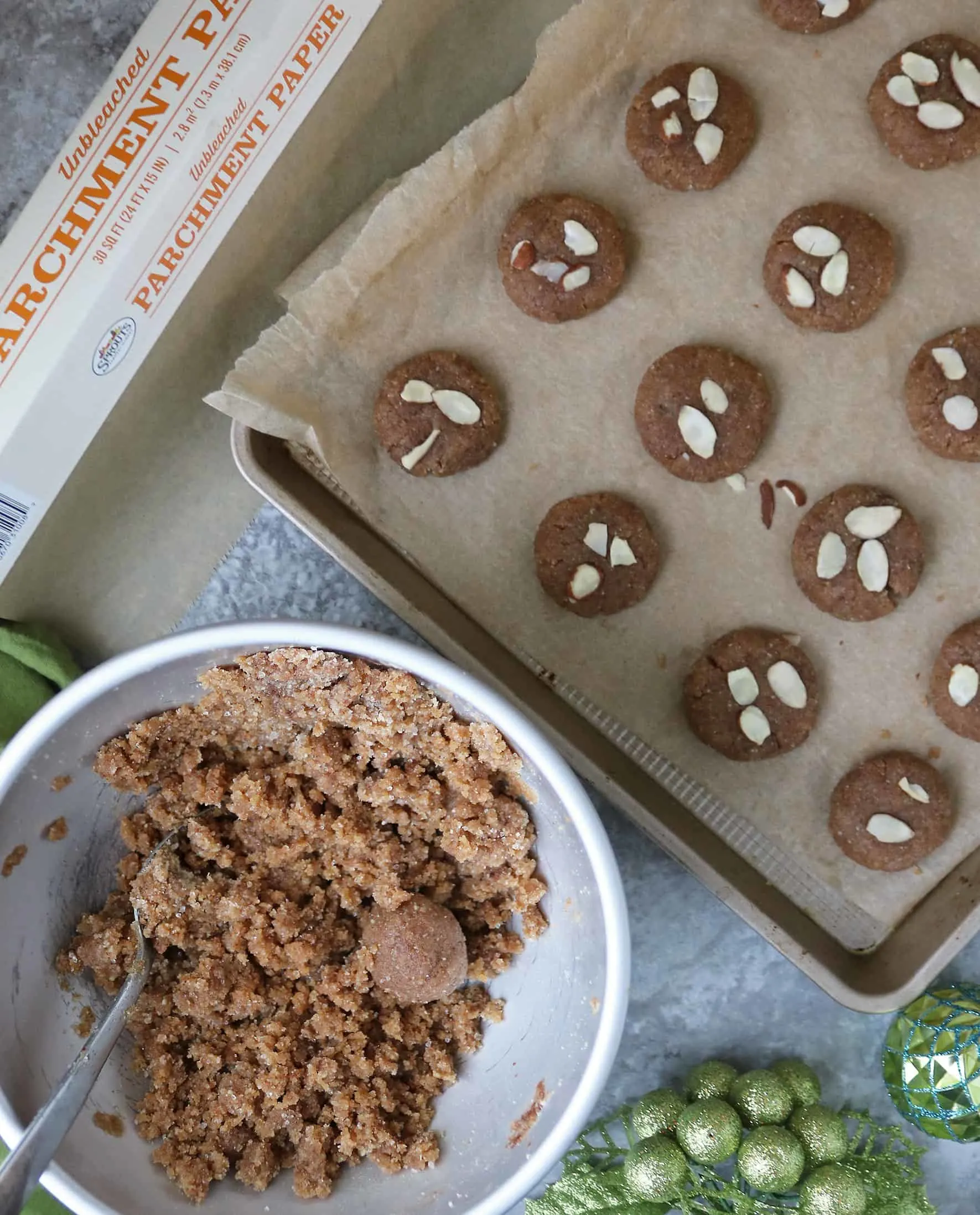 How to make Keto Almond Cookies?
These cookies are so easy to make.
Simply add almond butter and butter to a microwave safe bowl and microwave for about 20 seconds until butter is soft and almond butter melted. Make sure you don't get this too hot or the eggs will cook when you try to mix them in. After removing from the oven, mix the butter and almond butter well with a spoon.
Then add in the almond extract and vanilla extract and then the two eggs, one at a time and mix well with the spoon.
In a separate bowl, add the almond flour, salt, ginger, cinnamon, cardamom, cloves and sweetener and mix well.
Then spoon the wet ingredients into the dry ones and mix well.
The dough will look like breadcrumbs almost – but when you gather a spoonful or two together, they should easily bind.
Roll about 2-3 spoonfuls of dough together into a ball and then gently flatten ball and place on parchment lined baking tray. Repeat until all the dough is used up.
Finish off these cookies by gently pressing in 2-3 pieces of slivered almonds into each cookie before baking them.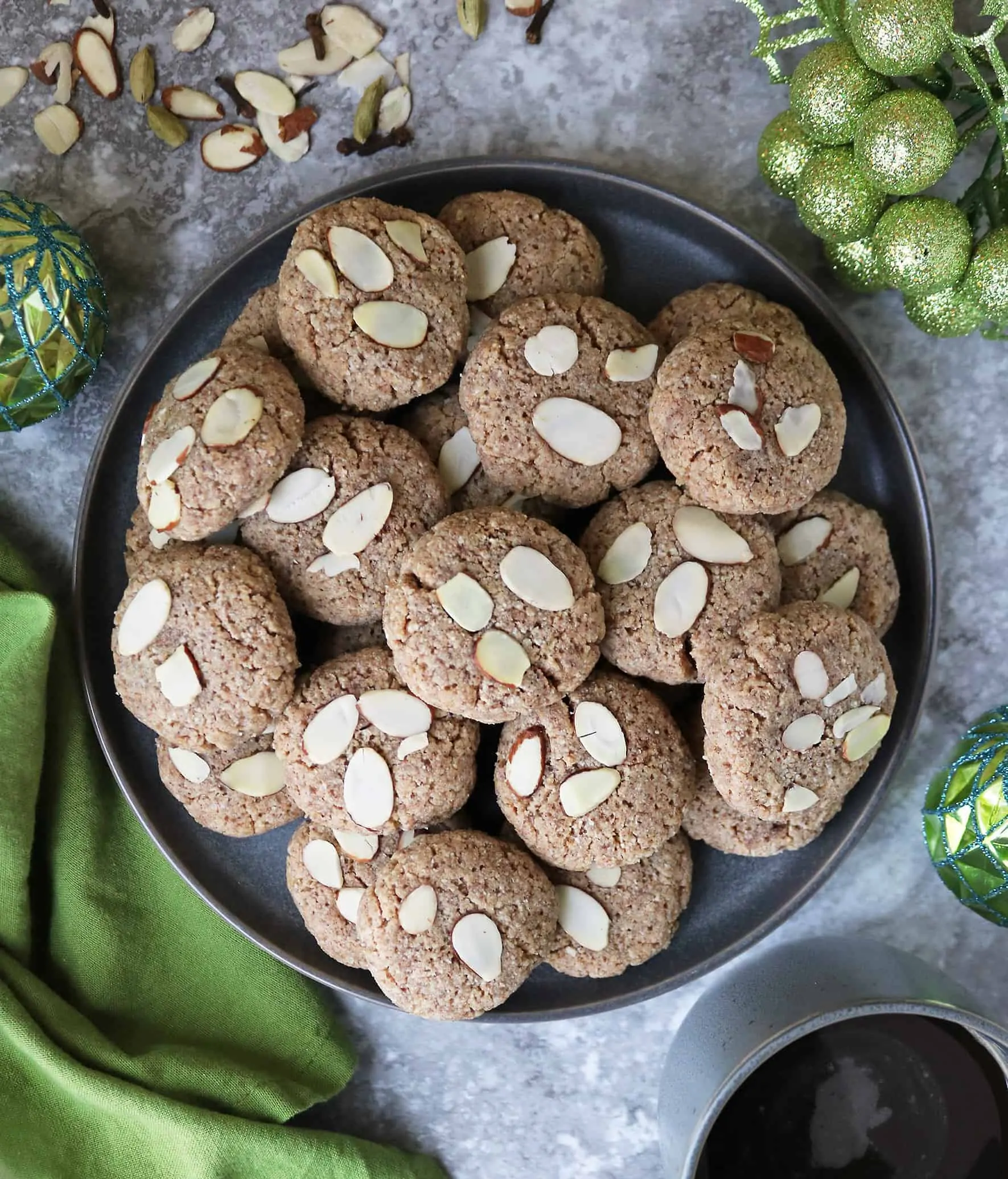 Have you checked out Sprouts Bulk Bins?
I grabbed the slivered almonds I used in this recipe while my daughter and I were perusing the bulk bins at Sprouts. We usually grab a scoopful or two of yogurt covered pretzels from the bulk bins, every time we visit Sprouts.
You can also find bins of coffee, rice, beans, nuts, dried fruits, granolas, trail mixes, spices, and sweet treats. Because I can buy exactly what and how much I need, I can cut down on food and packaging waste and buying in bulk is yet another way I save while shopping at Sprouts.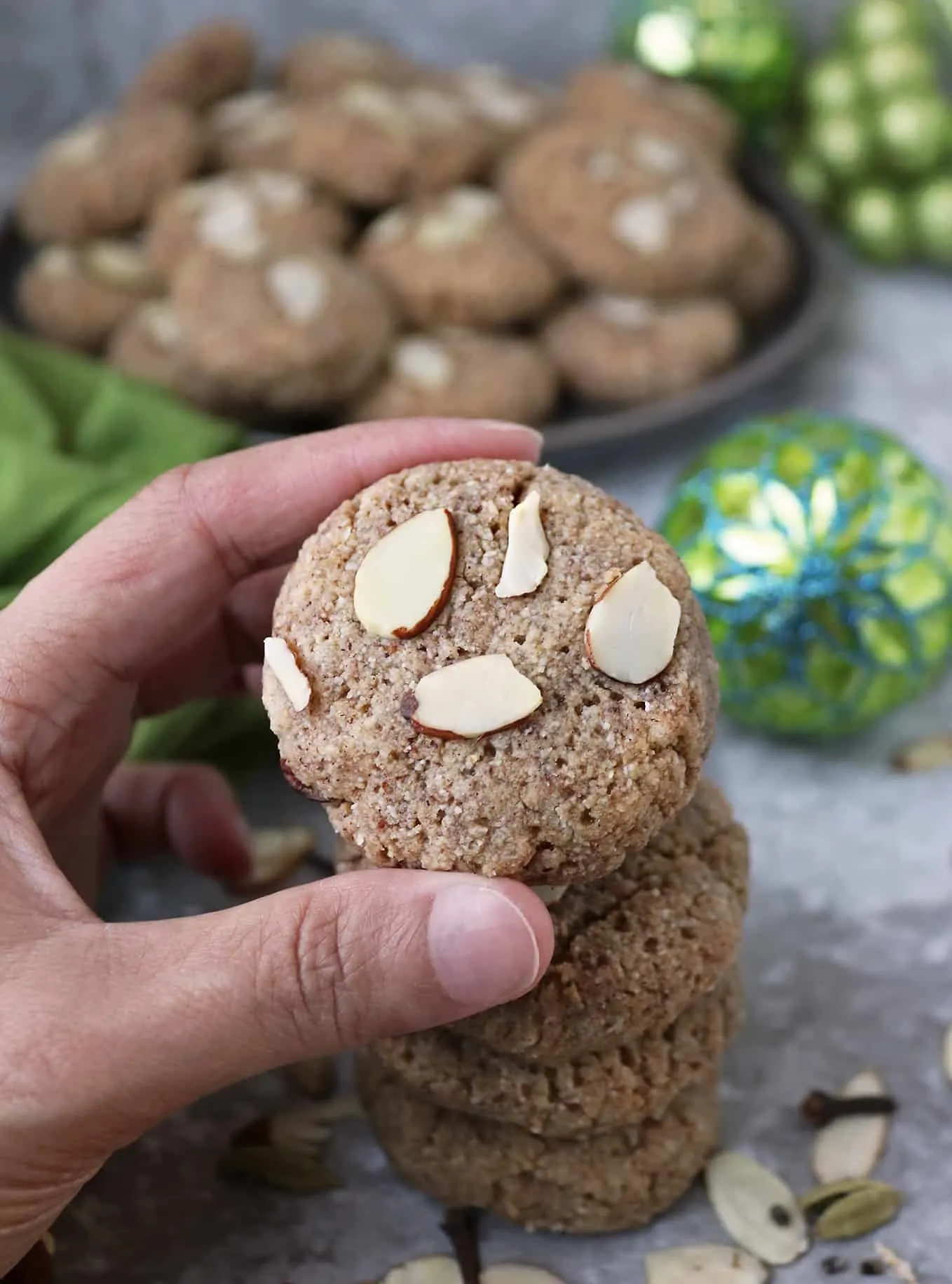 These cookies were a hit with my mom, sister, and my daughter, who has demanded that seeing this is her birth month, I need to make another batch of these to keep the celebrations going.
Though I'm almost tempted to tell her that now that she's 21, she can just as easily follow this recipe here and make me a batch instead, after all, I'm celebrating my birthing month – right? 😉