Spiced with cardamom, cinnamon, and ginger, this gluten-free, refined sugar-free, easy pink cookie recipe results in a batch of delicious, aromatic, and healthy cookies that are free of any artificial food coloring.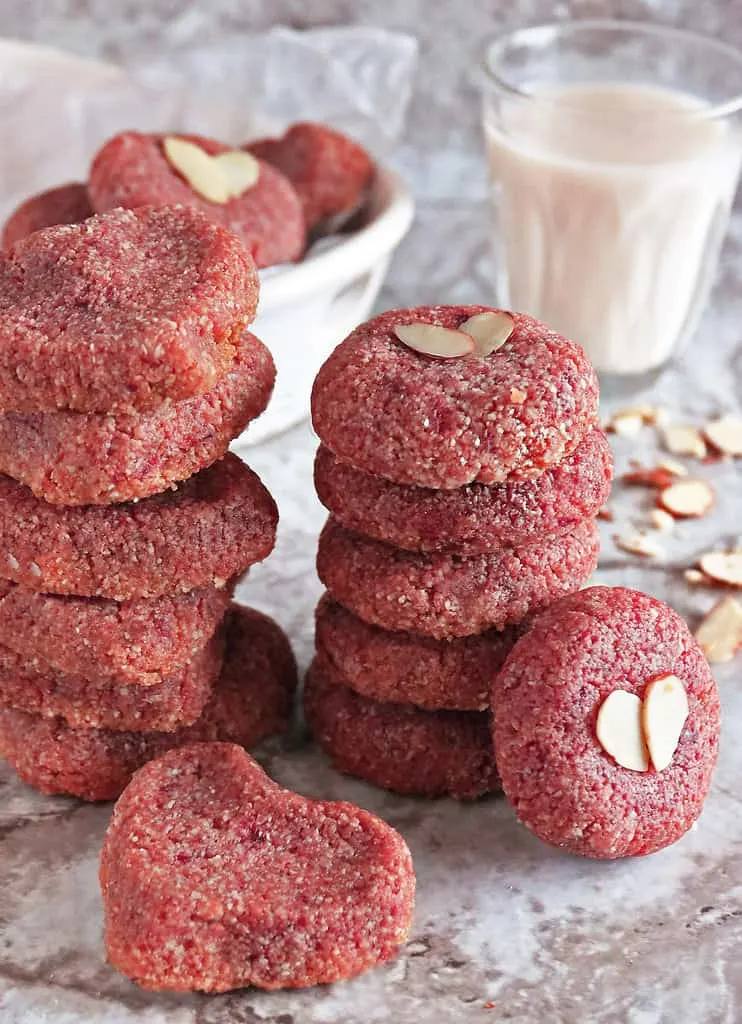 So these pink cookies should probably have been named refined sugar-free pinkish cookies or beetroot peanut butter cookies, but, those were such a mouthful, I went for the easier option.
Today's Pink Cookie Recipe is based on this Keto Almond Cookie recipe I shared a few years ago. Of all the sugar-free cookies I have made, those almond cookies are my mom's favorite.
So, this day before Valentine's Day, I figured I would doctor up that Almond Cookie recipe a tad bit for her. She is scheduled to have surgery today and I figured these pink cookies would cheer her up when she is out of surgery. And, I think she just might point out the fact that they are more pinkish than pink.
I had a taste of a couple of these cookies, and I must say, even though they are refined sugar-free, I love them.
These pink cookies are a new favorite because they are:
So tasty,
Smell amazing,
Soft and dense,
Refined sugar-free,
So delicious,
Gluten-free,
Contain no artificial food coloring,
Did I say they are so darn tasty?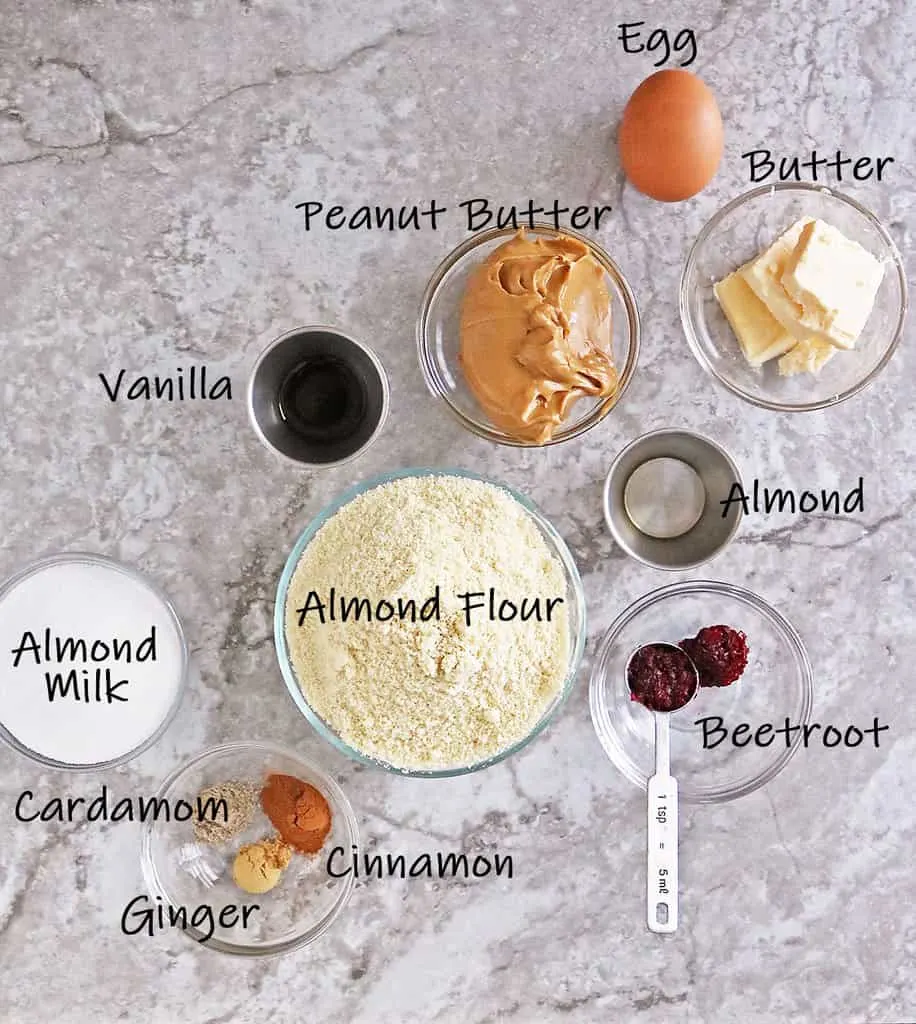 What are the ingredients needed for this pink cookie recipe?
Butter
I used Earth Balance vegan butter as that is all I had on hand. This recipe is not a vegan recipe. Nor, is this a sponsored pitch for Earth Balance. So, if you have real butter on hand, please use that instead.

Peanut butter
Any creamy peanut butter would work. I used Jif creamy. Some other kinds of peanut butter that are more liquid than Jif might need a bit more almond flour to make the cookie dough easy to form into cookies.

Vanilla
Pure vanilla extract is a must. Artificial vanilla flavoring would not work as well.

Almond extract

Egg
Even though egg prices seem to be finally dropping, you only need one egg for this recipe.

Beetroot
I used finely grated raw beetroot in this recipe to give these cookies a pinkish hue. I only used 1 tablespoon of grated beetroot. If you absolutely abhor beets, you really will not taste them in this recipe. Especially since it's combined with peanut butter, ginger, cinnamon, and cardamom.

Ginger
I used ground ginger in this recipe and not fresh ginger.

Cardamom
As with the ginger, I used ground cardamom.

Cinnamon
The same goes for the cinnamon. By the way, I have found that cinnamon, ginger, and cardamom tone down the earthy taste of beetroot.

Almond flour
I used superfine blanched almond flour. The terms almond flour and almond meal are often used interchangeably, but almond flour is usually made from finely ground, blanched (peeled) almonds, whereas almond meal, is usually made with coarsely ground, unblanched (unpeeled) almonds. Almond flour usually has a finer texture and is lighter in color than almond meal. Superfine almond flour is also what makes this pink cookie recipe a gluten-free one.

Xylitol sweetener
You can use any zero-calorie, sugar-free sweetener you would like to. I used this Xylitol one from Sweet Natural Trading Company.

Almond slivers (optional)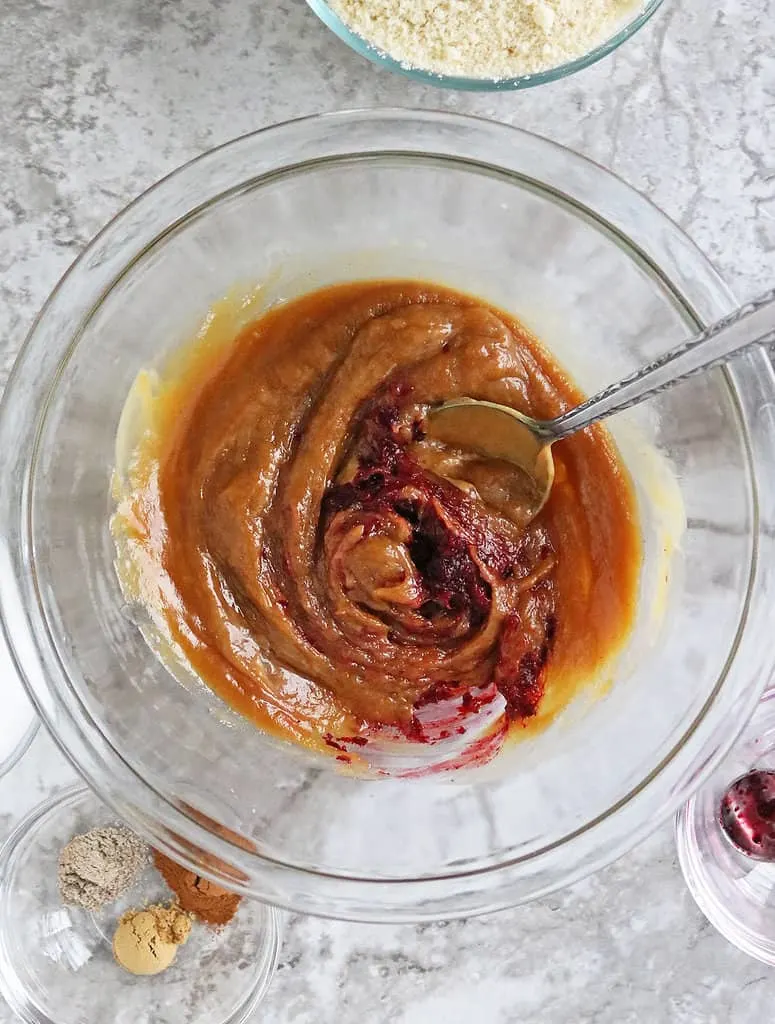 Making these pinkish cookies…
Once you have all the ingredients together, these cookies are so easy to make. And, with prep and baking time, you can have these ready in about 25 minutes! What's even better, you only need 1 spoon, 1 bowl, and 1 Silpat-lined or parchment-lined baking tray to make these.
First, the wet ingredients…
I started off by melting the butter and peanut butter together by placing them in a microwave-safe dish and microwaving them for about 30 seconds. Then, making sure this was not too warm, I added in the vanilla and almond extracts, and egg and mixed well. After that, I peeled a beetroot and used a microplane grater to grate the beetroot as finely as I could before adding it to the mixture as well.
Then the dry ingredients…
Next up was adding in the almond flour, sweetener, cardamom, cinnamon, and ginger.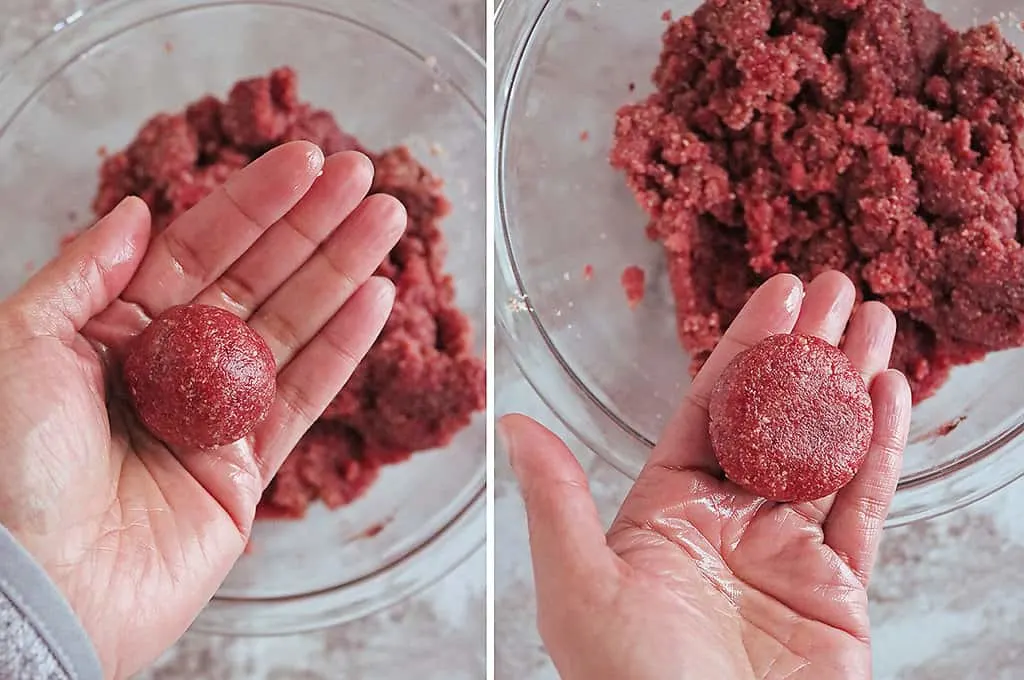 Then roll them into balls and gently flatten the balls. You could leave these as is and decorate them with 2 almond slivers – to make the slivers look like a heart. Or, you could shape the flattened balls into heart shapes. Tomorrow is Valentine's Day, after all.
Also, the month of February is heart health month, and what better way to celebrate it than enjoying a batch of these healthy, heart-shaped pink cookies!
But the above are not the only reasons for these cookies. These cookies also are to commemorate the Seventh Annual Good Cookies Valentine's Event that supports Cookies for Kids Cancer.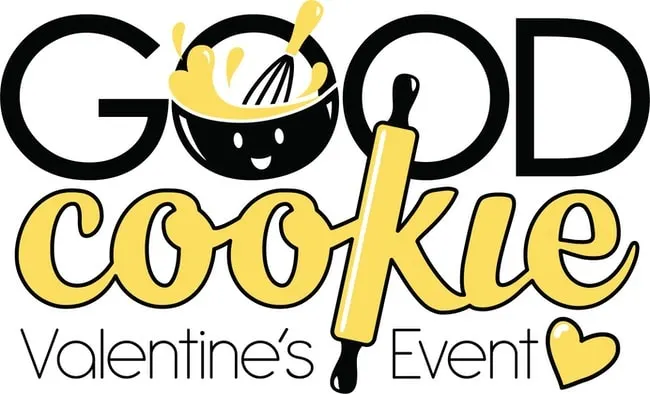 This Valentine's Day, I am joining Julie from The Little Kitchen with this easy pink cookie recipe. Last year I made these almond flour peanut butter cookies for this event, and this year I am excited to be able to join several other bloggers in supporting a cause that is dear to my heart.
Here are some facts about pediatric cancer that you may not know…
Cancer is the #1 cause of death of children by disease in the U.S.
Less than 4% of the National Cancer Institute's budget goes to all childhood cancer research combined
Less than 4% of the National Cancer Institute's budget goes to all childhood cancer research combined
In the next 2 minutes somewhere in the world, a family will be told, "Your child has cancer." – this is just heartbreaking
Childhood cancer is not a singular disease. 2/3 of childhood cancer survivors suffer from long-term side effects including but not limited to secondary cancers, heart disease, and kidney disease.
If you can this year, I would love your help ~ please consider donating to this cause by >clicking here<.
Other recipes from the Seventh Annual Good Cookies Valentine's Event:
Heart-Shaped Homemade Pop Tarts from Julie of The Little Kitchen
Valentine Cupid Crunch
from Jenn of Ever After in the Woods
Easy Dark Chocolate Cherry Truffles
from Audrey of That Recipe
How to Make an Edible Valentine Gingerbread House
from Jennifer of The Rebel Chick
Peanut Butter Chocolate Parfaits
from Stefanie of Stef's Eats and Sweets
Heart Shaped Chocolate Chip Cookies
from Melissa of Persnickety Plates
Valentine Ladybug Oreos
from Jaclyn of Crayons & Cravings
Round Up of Homemade Valentine's Day Sweets and Treats
from Lisa of Blogghetti
Mini skillet cookie
from Caroline of Caroline's Cooking
Truffle Honey Goat Cheese Stuffed Rolls
from Lisa of Taste Cook Sip
Sweetheart Strawberry Brownies
from Nicole of For the Love of Food
Heart Shaped Pancakes
from Sarah of TheGleasonCo
Chubby Hubby Cookies
from Rebecca of Sugar & Soul
How to Make an Edible Valentine Gingerbread House
from Jennifer of The Rebel Chick
Heart-Shaped Reese's Stuffed Cookie for Two
from Erin of The Spiffy Cookie
Heart-Melting Chocolate Espresso Cookies
from Colleen of Faith, Hope, Love, & Luck Survive Despite a Whiskered Accomplice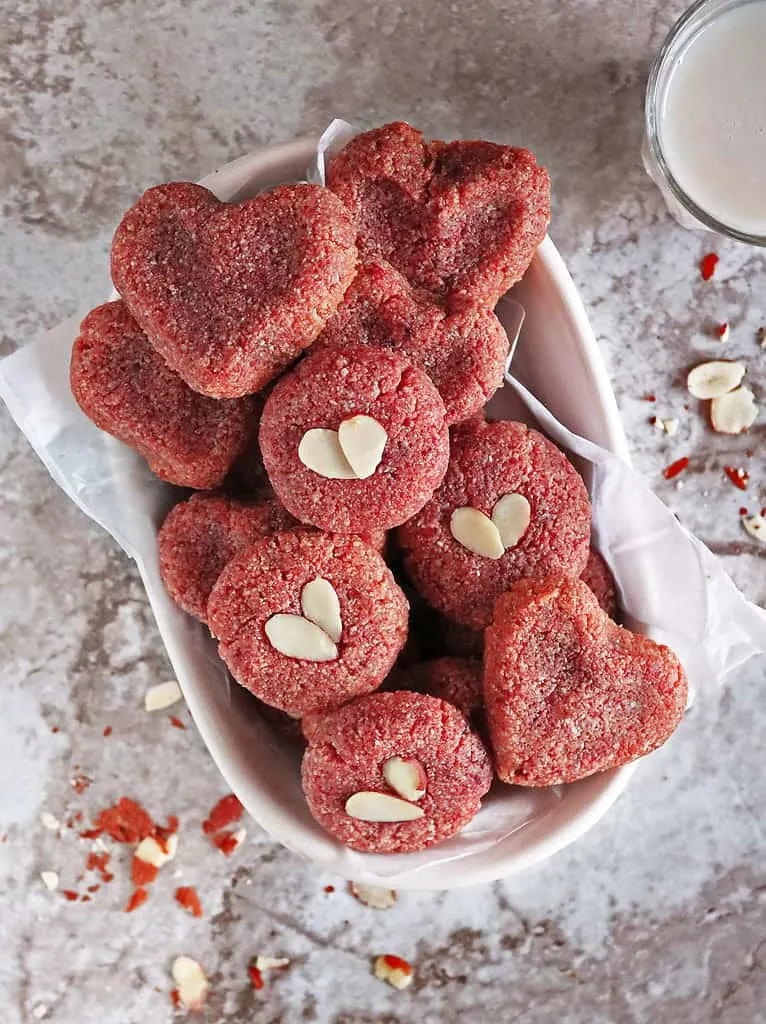 Thanks so much for stopping by. If you make this recipe, please let me know in the comments below what you think of it. For more fusion, spice-filled, recipe ideas, please subscribe and follow me on Instagram, Mastodon, and/or Pinterest!