You can still enjoy an Easy Homemade Salsa even if you do not have tomatoes on hand with this versatile and tasty 3-ingredient version.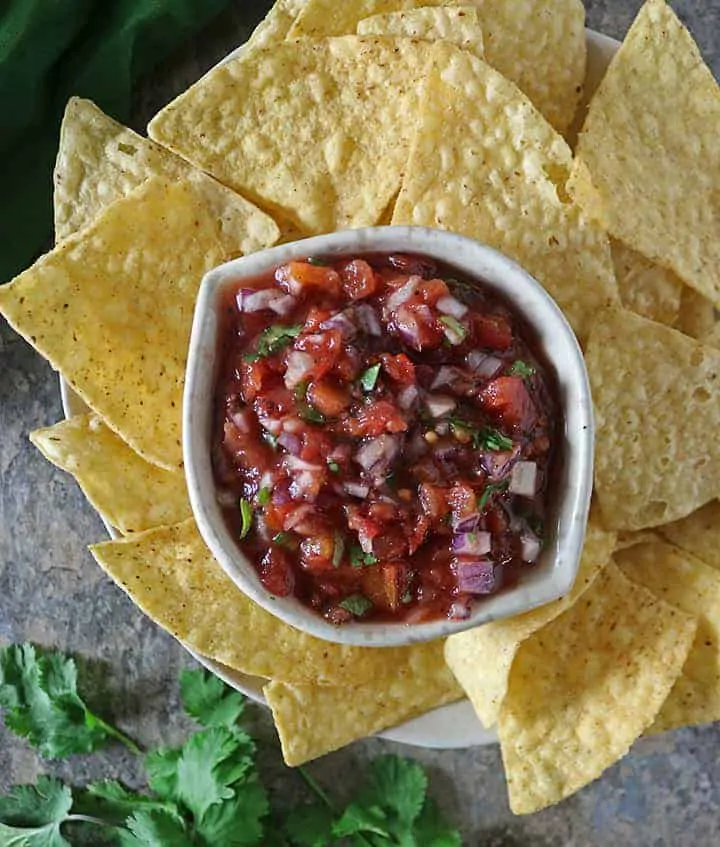 I am so blessed that even though my daughter is in her 20s, she still wants to hang out with me and partake in a movie night from time to time. Recently, on one such movie night, we found an unopened bag of tortilla chips in our pantry.
However, we had no salsa in the house. Talk about a snack-emergency eh?
We rummaged around and could not find any store-bought salsa around. We rummaged even further and could not even find any tomatoes in the deep dark recesses of our fridge to whip up some simple homemade salsa.
I was about to grab some popcorn for snacking when I spied a can of fire-roasted tomatoes in my pantry.

I usually have three or four cans of fire-roasted tomatoes and petite diced tomatoes hanging out in my pantry as I use them as a base to most curry I make.
Well, I had an oddball idea and decided to act on it.
How Easy is this Homemade Salsa?
I opened that can of fire-roasted tomatoes and drained a bit of the liquid out of it. I then added in some well diced red onion into the canned fire-roasted tomatoes as well as a smidge of cilantro and mixed it all up.
In a nutshell: Open can + dice onion + chop cilantro + mix = easy tasty salsa!
My daughter and I tested out the salsa with the tortilla chips and we decided that we were going to break up with all other salsa for awhile.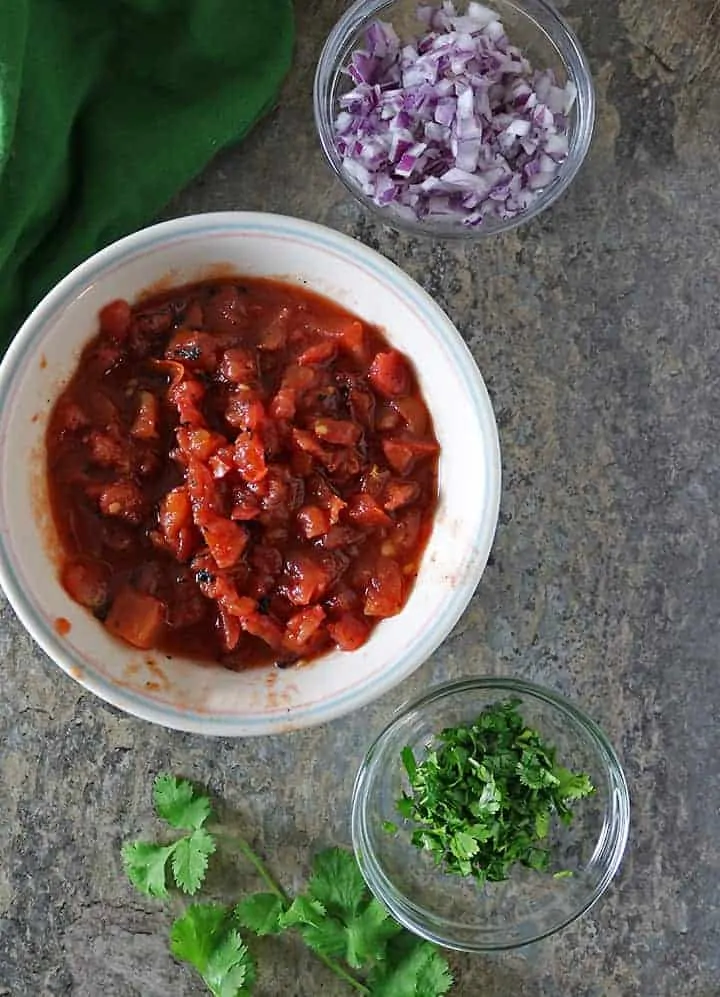 What are the ingredients to make Easy Homemade Salsa?
This Homemade Salsa is so easy with just three ingredients:

• Canned fire-roasted tomatoes

• Onion, and

• Cilantro.

Just mix and enjoy.
My daughter and I have tried variations of this super Easy Homemade Salsa over the last few weeks.
Sometimes we have used canned diced tomatoes instead of fire-roasted tomatoes. Sometimes we have gone fancy with garlic fire-roasted tomatoes.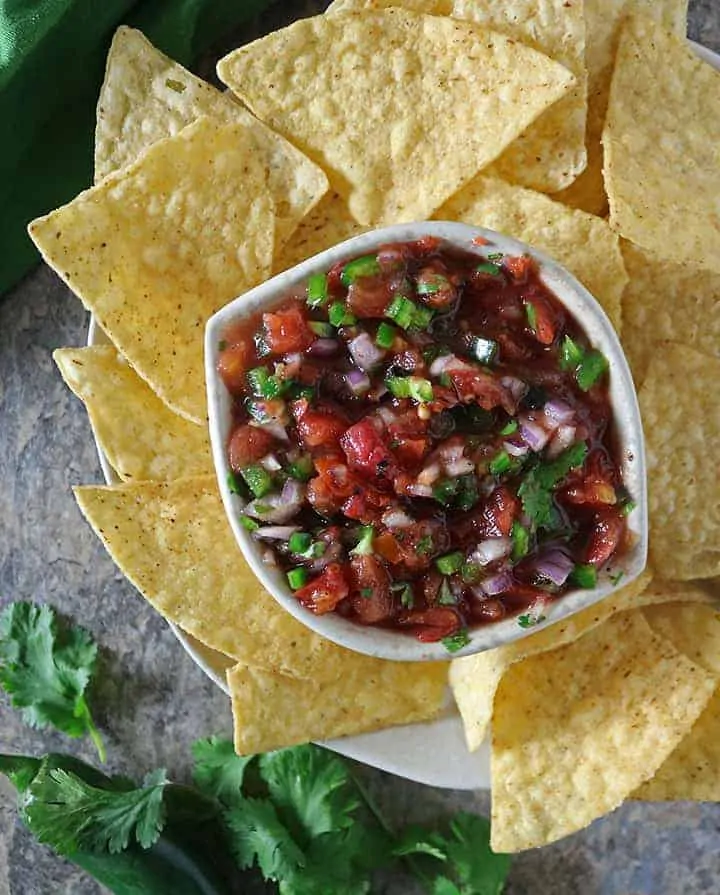 We've replaced the red onion with yellow onion. And, we have even made this a 4 ingredient salsa by adding in diced jalapeños.
No matter what adaptations we have made, we both agree that this is some of the easiest and best homemade salsa we have had.
This Easy Homemade Salsa is as tasty as it is versatile. It is gloriously chunky so you get a good hunk of a chunk of it on your tortilla chip.
With Game Day coming up on Sunday, this is a tasty, easy, versatile option to serve up with a variety of corn and flour tortilla chips.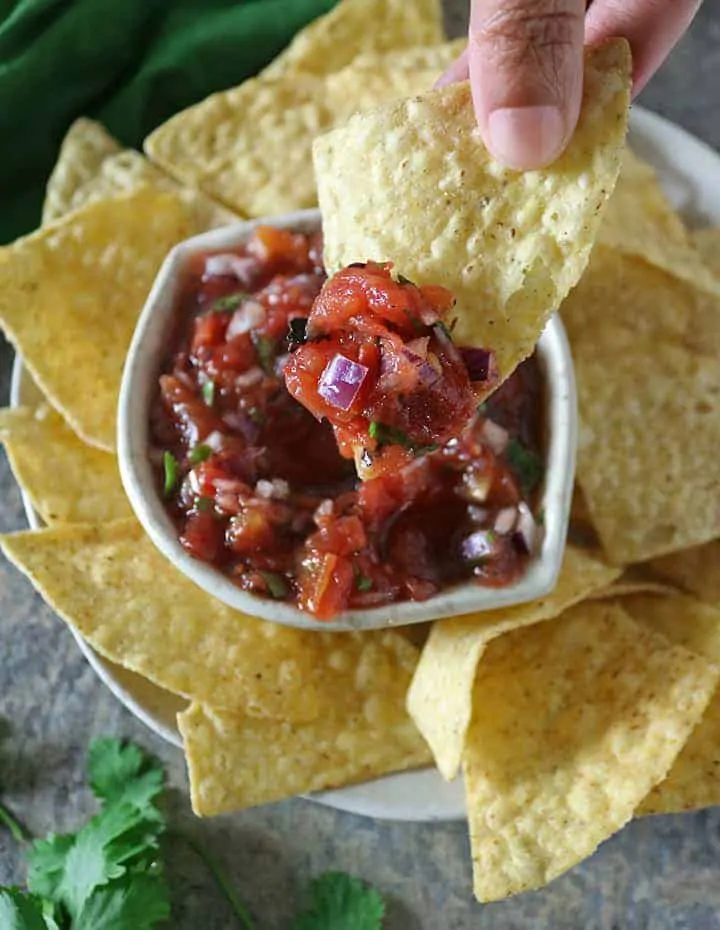 Looking for more Game Day Appetizers?
Then, why not try the following, they make a tasty and interesting addition to your Game Day Snacking table!