Asparagus is simmered in a delicious yellow sauce flavored with saffron, onion, ginger, garlic, and a handful of spices to make this easy Asparagus Curry. This vegan curry is ready in less than 30 minutes and hits the spot when served with some roti or rice.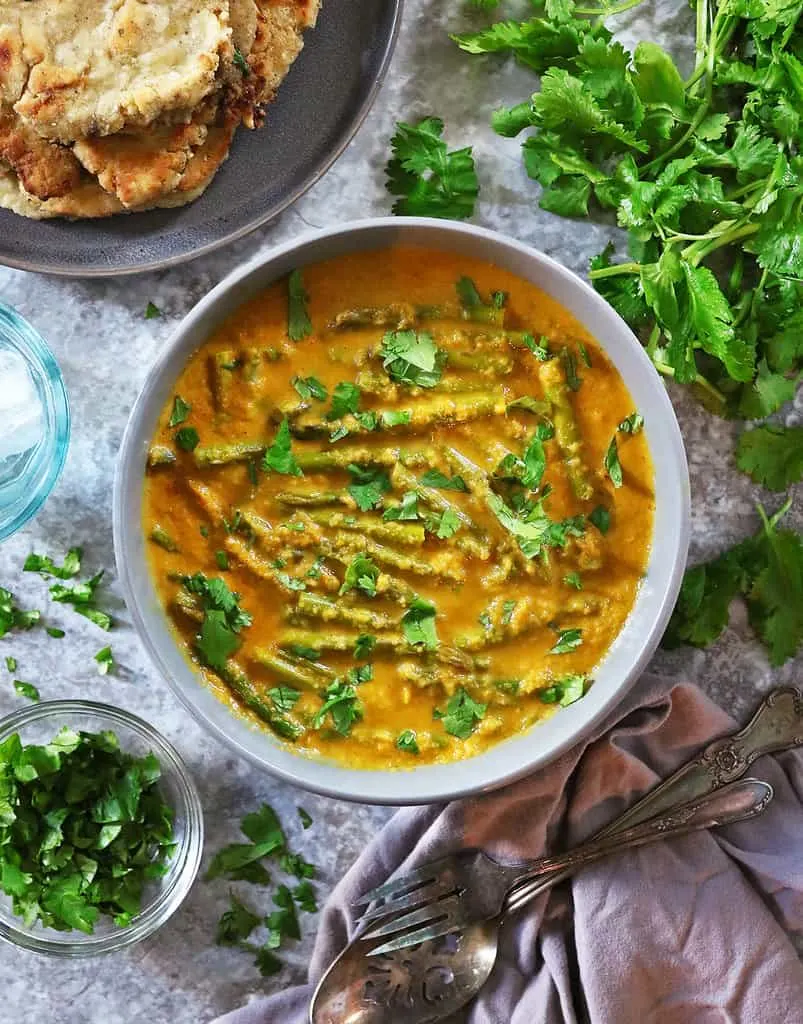 This Asparagus Curry is a tasty dinner option when you want something quick, easy, and tasty. It is a plant-based, wholesome curry made with easy-to-find ingredients.
What are the ingredients used to make this asparagus curry?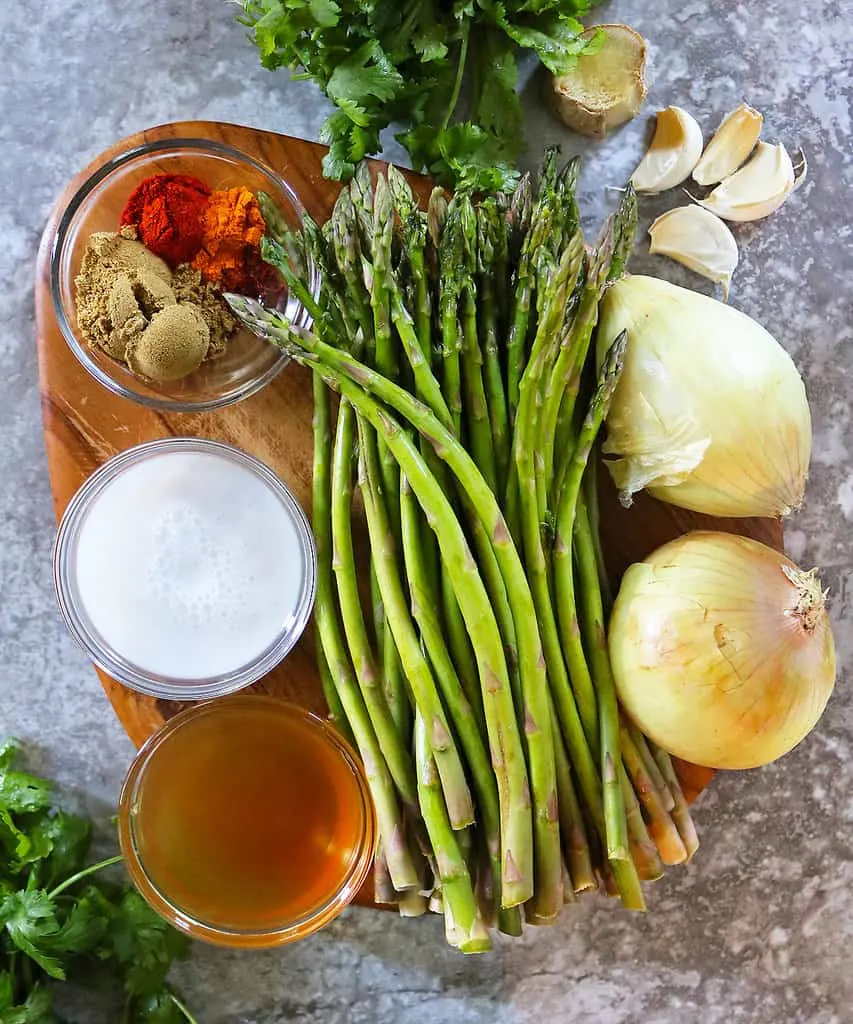 To make this curry, you will need the following 10 easy-to-find ingredients:
Onions
Garlic cloves
Fresh ginger
Coriander
Smoked paprika
Turmeric
Saffron
Coconut milk
Vegetable stock
Asparagus
At this point, I think I am game to curry-fy just about anything. Today, it's asparagus, tomorrow it might be corn or green peas. There's just no telling.
I love making curry at home because I control the amount of oil and the ingredients that go into it. And, if you happen to have visited this blog from time to time, you will know I like to keep my meals mostly healthy, so I can enjoy desserts like this no-bake chocolate cheesecake.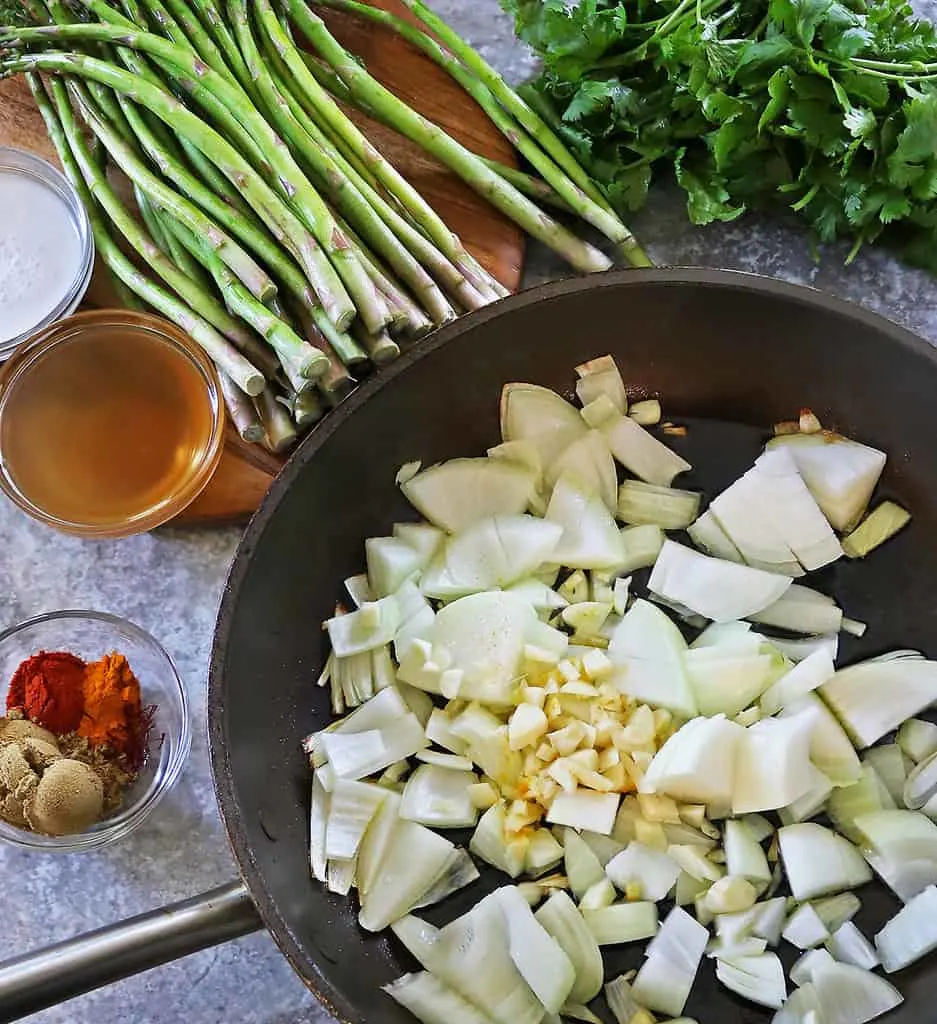 When it comes to curry, there are so many varieties of it, made in so many different ways. And from all the curries I've had, my mom's are, hands down, the tastiest and most nutritious ones I've had.
However, earlier this month when I was in New York with my daughter, we stopped by a place called Saravanaa Bhavan. We were tired and hungry, so ordered some bondas, masala dosa, and sambar to go.
When we finally sat down and dug in, their sambar was so tasty! SO, SO, SO tasty! Almost as tasty as the curry my mom makes. Am just going to say, I am so glad we didn't stay at the restaurant to enjoy this meal. If we had stayed, there would have been so much curry wasted as I don't think I could have licked the plate clean in there, like I ended up doing!
The process…
Getting back to this curry, the prep for this curry is so easy. All you have to do is peel the onions, garlic, and ginger and roughly chop it up. When I say roughly, I mean roughly as in big chunks.
This is because after making the yellow curry sauce for this, I used an immersion blender to blend all the ingredients and make it a bit smoother. Now, you could also use a blender too.
Or, if you do not want to go that route, then just chop the onions, ginger, and garlic up as fine as possible.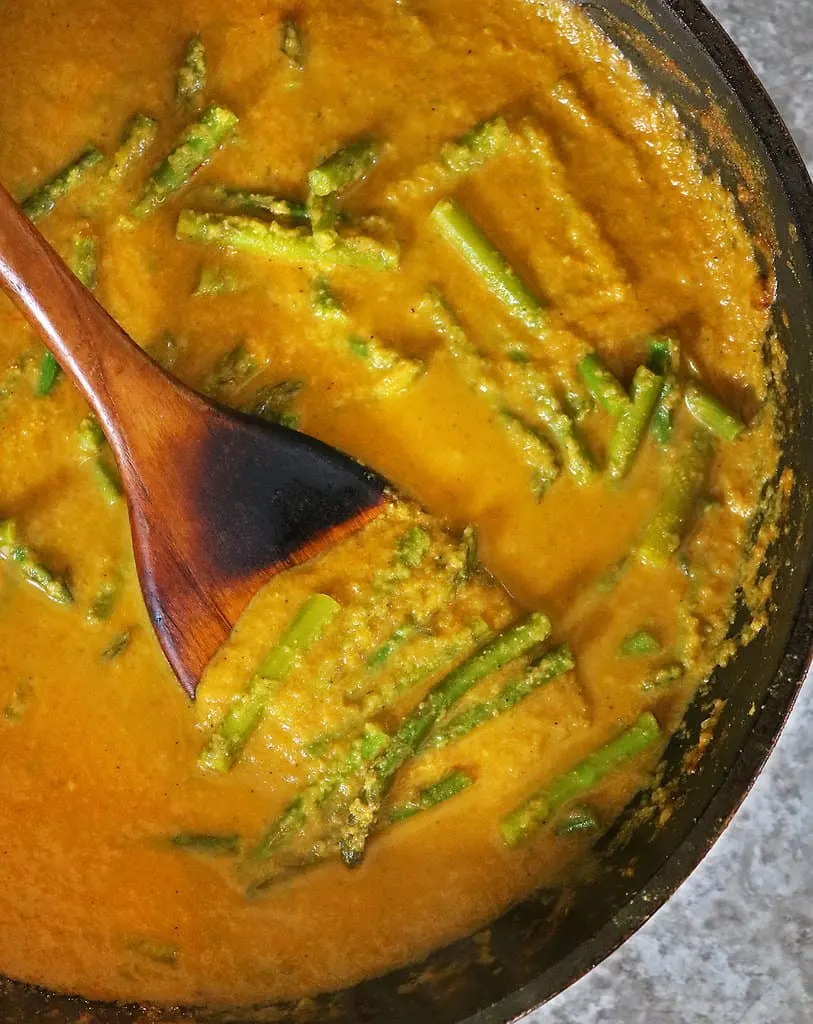 After the chopping, and before the blending, all that's involved is sautéing the onions, ginger, and garlic. Then combing the spices, liquids, and asparagus and simmering for just 5-7 minutes.
From starting the prep work of peeling and chopping to turning off the stove on this curry, it took a total of 25 minutes.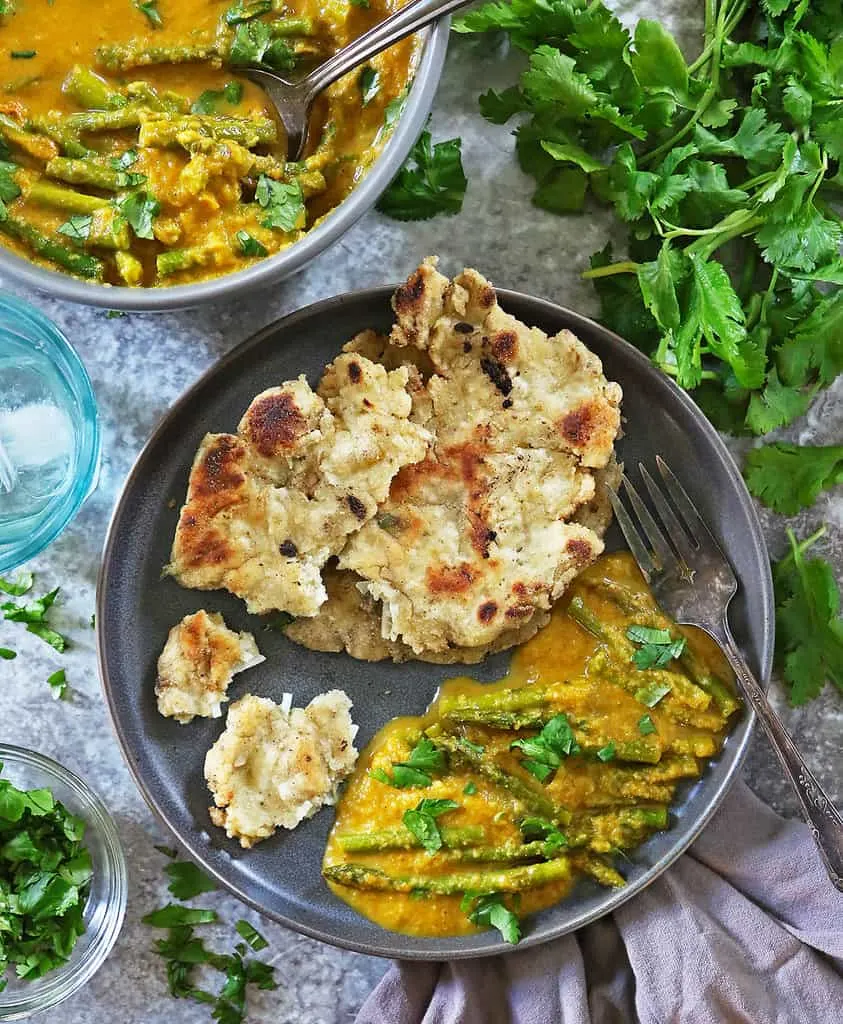 What to serve with this curry?
This asparagus curry pairs so well with some roti or naan and some pineapple chutney or mango chutney.
It also pairs well with some rice or quinoa.
If you want a spread, then enjoy this curry with some chickpea curry or mung bean curry, this onion and herb roti, and cashew curry for a tasty meal with a ton of flavor and textures!
Thanks so much for stopping by. If you make this recipe, please let me know in the comments below what you think of it, or tag your creation on social media with @savoryspin or #savoryspin. For more fusion, spice-filled, recipe ideas, please subscribe and follow me on Facebook, Instagram, and/or Pinterest!