Easy and simply scrumptious, this 11-ingredient, broccoli curry with black beans works well as a side dish or as the main entrée when paired with some rice or roti.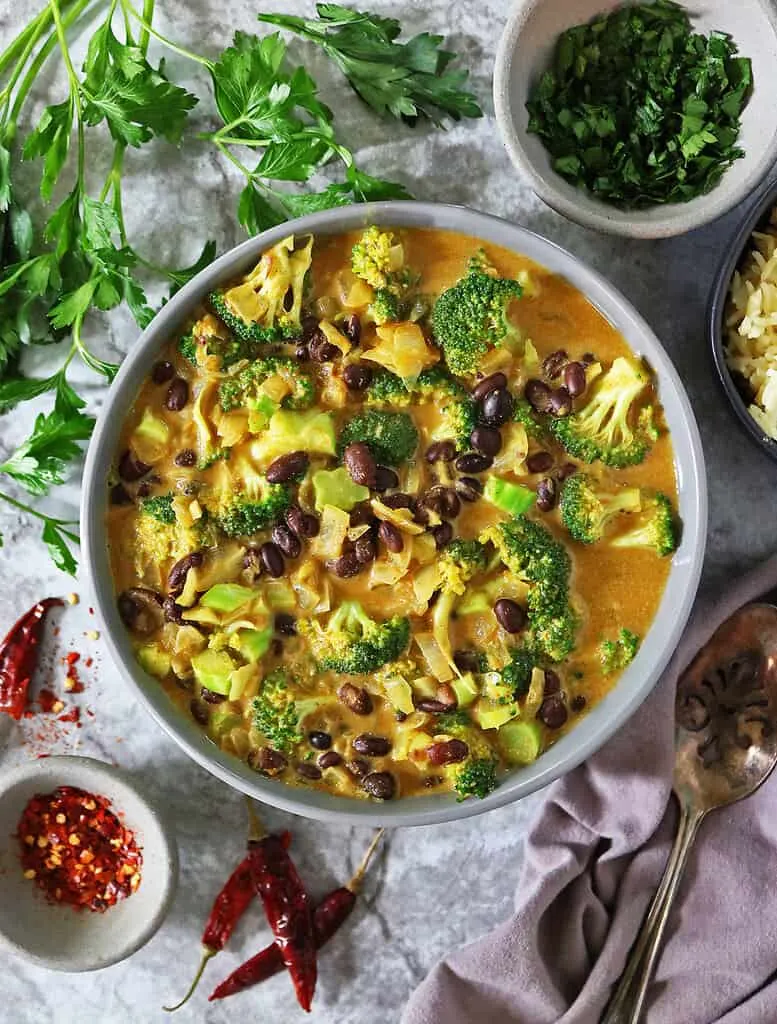 This broccoli curry is always a hit when I make it.
With aromatic and warming spices, this curry is incredibly tasty and so easy to make.
It pairs well as a side dish with a plethora of other curries, chutneys, and rice or roti. But, it can also be served as a main dish with naan or quinoa.
I love this curry because it is:
So tasty,
Easy,
Quick,
Vegan,
Nutritious,
Budget-friendly,
A unique way to enjoy broccoli, and
Made with only 11 ingredients.
What are the ingredients to make this broccoli curry?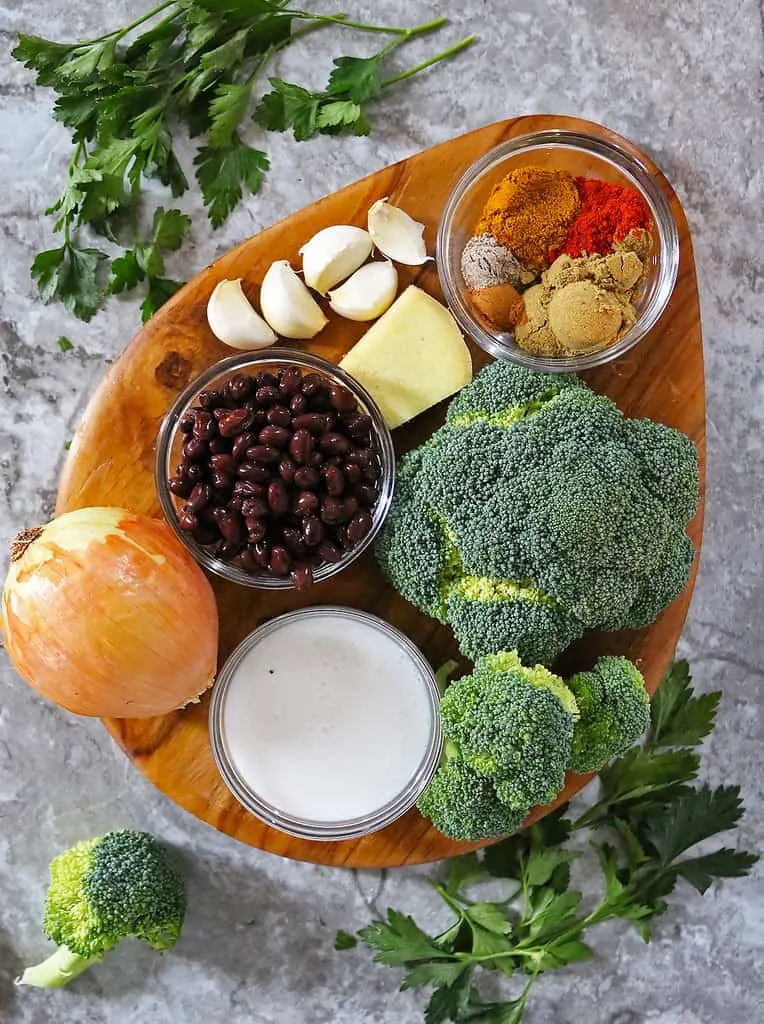 You can have this broccoli curry on your dinner table in less than 30 minutes, with the following main 11 easy-to-find ingredients:
Coriander
I prefer to use powdered coriander. Most of the time, I get mine from a South Asian store called Cherians here in Atlanta. Or, if I want to limit my driving, I'll grab some at a local grocery store. If you cannot find coriander or any of the other spices used, you can usually find them on Amazon.

Smoked paprika
I used ground smoked paprika. You could use paprika if you cannot get your hands on smoked paprika, but it will change the flavor of this curry.

Curry powder
The preference is to use ground curry powder. Yes, coriander is also in most curry powder, but this adds a heck of a lot of flavors to this curry.

Cardamom
Now, cardamom might be associated more with sweet recipes, but, it also adds a subtle flavor and aroma to this curry. I used finely ground cardamom powder. You could use fresh cardamom pods, but make sure to grind them into a fine consistency before measuring and using them.

Cinnamon
Just as with cardamom, cinnamon is usually one of those spices associated with sweet recipes, but, also like cardamom, powdered cinnamon adds such a delightful layer of flavor and aroma to this.

Onion
I used fresh onion, as sautéed onion adds so much flavor to this dish. Onion powder is just not a good substitute in this curry.

Garlic
I like to use fresh garlic or all my curry recipes. If you cut these up too large, you can always use an immersion blender before you add the broccoli to smooth out the curry part.

Ginger
I also like to use fresh ginger in this recipe. Now, if you do not want to peel and chop up ginger, onion, or garlic, then you can find peels and chopped garlic, sold in containers, in the produce section of most grocery stores.

Coconut milk
I used packaged coconut milk that can be found in the dairy section, along with other non-dairy milk. You could use canned coconut milk if you prefer, but I have not had much luck getting canned coconut milk that is smooth.

Broccoli
I bought some broccoli heads and cut the crowns off, as these are more economical than purchasing broccoli crowns.

Black beans
I used canned black beans in this recipe for a plant-protein boost. I always make sure to drain the black beans using a strainer. Then I rinse them well before using them.
This recipe also calls for olive oil, salt, and pepper, as well as optional parsley and chili flakes to garnish.
What is this broccoli curry good with?
You can serve this curry as a side dish with several other curries (like this cashew curry, this carrot curry, this beetroot curry, and this pumpkin lentil curry), some rice or roti, some chutney (like this pineapple chutney or this mango chutney), and some croquettes (like these carrot croquettes).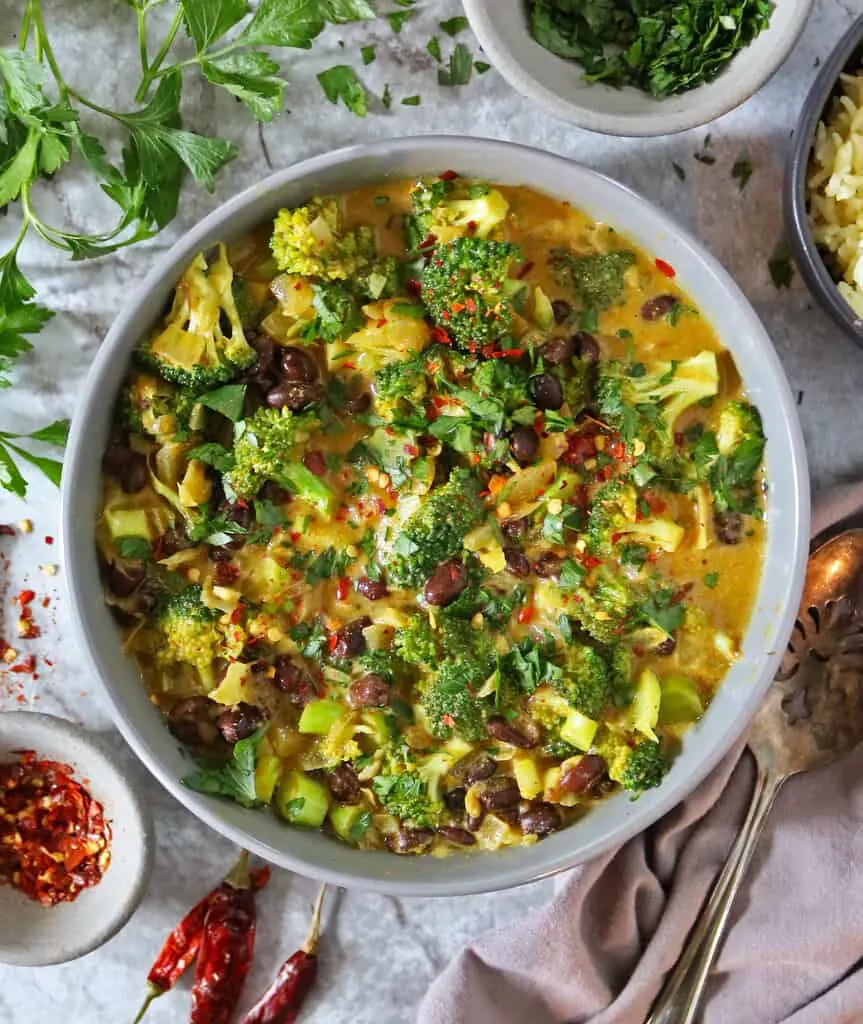 Or, you can serve this curry as a main entrée along with some naan, quinoa, or rice.
When my daughter came into town to visit earlier this month, we enjoyed this curry with some za'atar rice she made and some broccoli croquettes.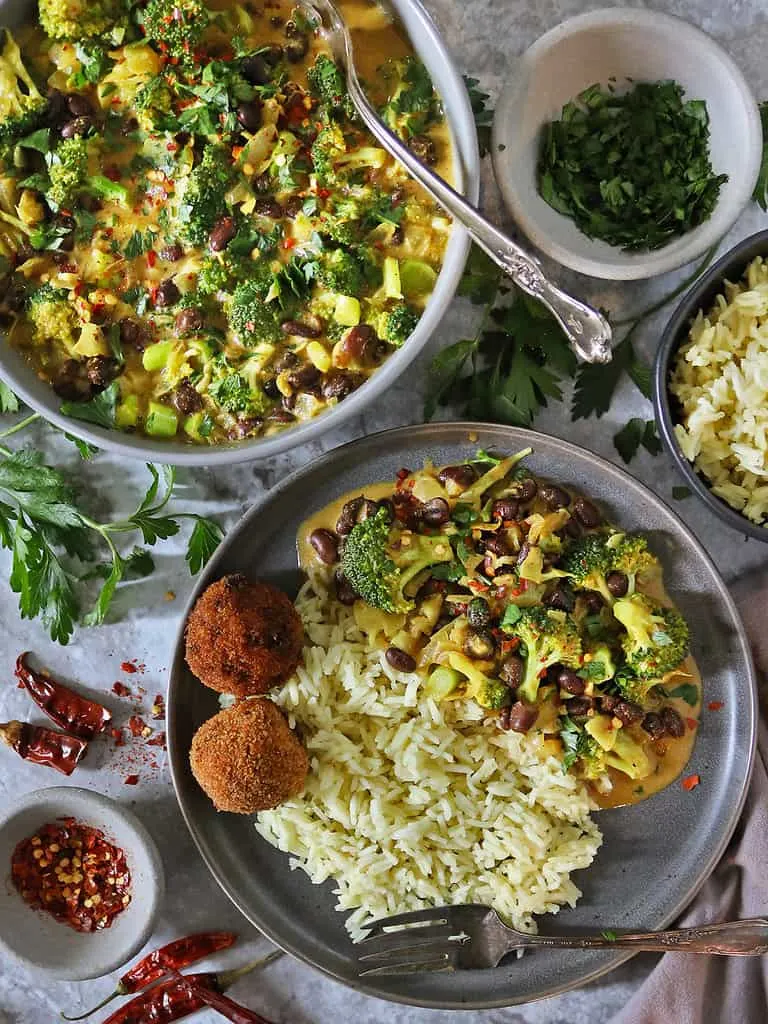 I am on a quest to currify all the things _ just like I did with this asparagus. The curry is always tasty and a fun way to enjoy a favorite (or maybe not so favorite) vegetable.
If you make this recipe, please do let me know in the comments or tag @Savoryspin on Instagram!