If you want a super simple, quick, fuss-free, and incredibly tasty, yet mild curry, that is made with only 10 ingredients, this Easy Carrot Curry is for you! Serve it with rice or roti for a tasty vegan meal your family is sure to enjoy.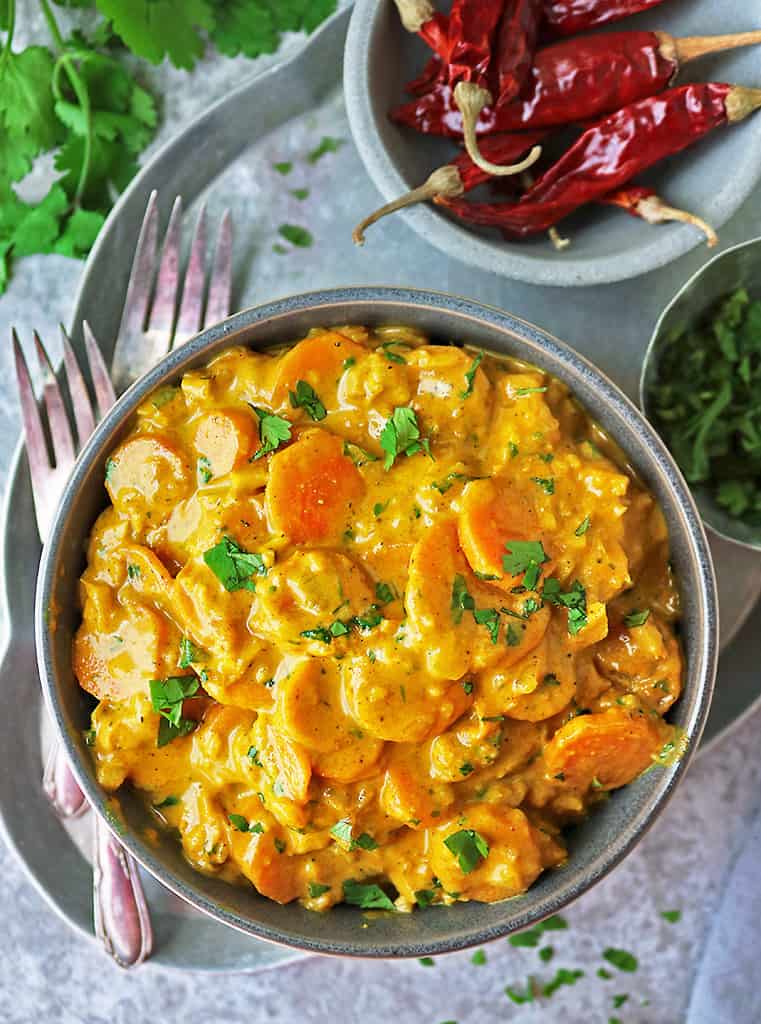 One of the most used appliances in my home is the refrigerator. That thing sees more action than the trending hashtags on Twitter!
Thankfully this much action means the bucketfuls of veggies I bring home and toss in the refrigerator get used up before they start to grow an aqua-tinged fuzz.. or worse!
One of the veggies with a super-quick refrigerator-turnaround are carrots. I love using carrots in healthyish sweet treats like these paleo cake bars and this carrot souffle. And more indulgent ones like these carrot cake cupcakes.
I also love dicing up carrots and adding a little taste of them to savory dishes like this Thai Yellow Curry with Mahi Mahi or this Easy Vegetable Tikka Masala or this Bean Tart.
Then there are those side dishes, like these Ginger Cardamom Spiced Carrots, and today's Easy Carrot Curry where carrots are the star!
Like most of the curries on my blog, this one starts with a base of sautéed onions, ginger, and garlic.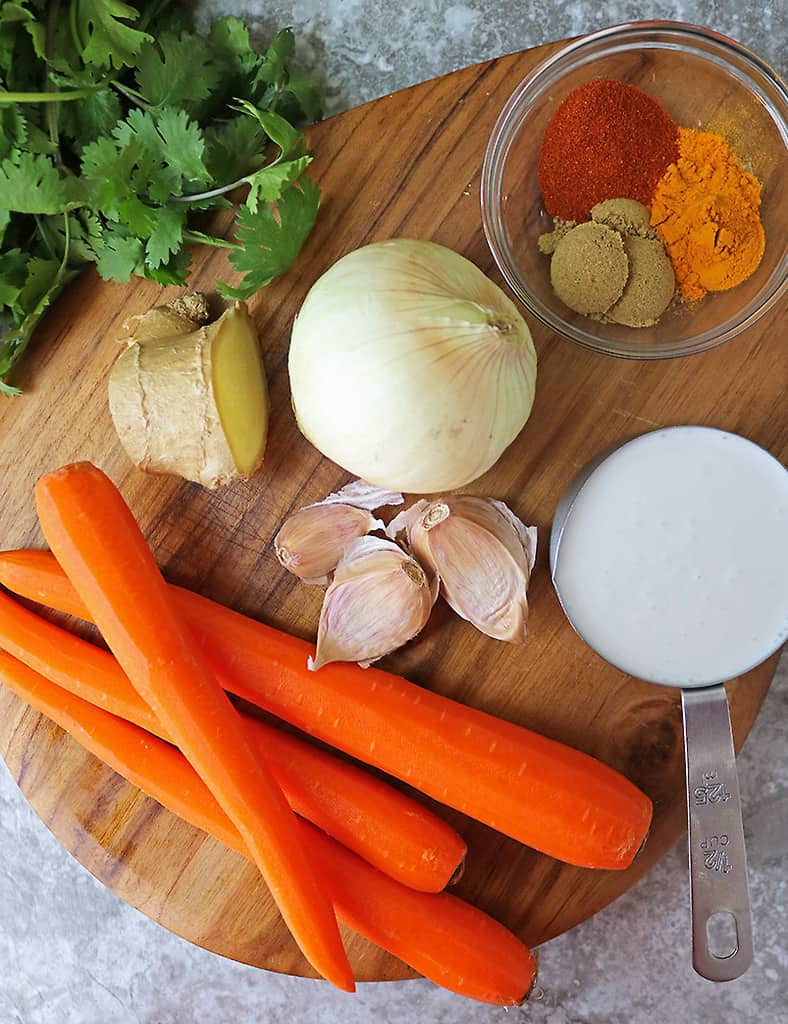 But, unlike most other curries I've shared on here, this one does not have any tomato paste or diced tomatoes added to the base for taste and consistency.
Instead, this curry is made with coconut milk and spices only. My mom often makes a Sri Lankan Yellow Curry and this carrot curry is based on that. This carrot curry is thick and creamy and the coriander, turmeric, and smoked paprika jive together in perfectly delicious harmony.
Why do we love this easy carrot curry?
This yellow curry isn't a spicy one and it is gentle on your gut as well. And filled with ingredients and spices like garlic, ginger, turmeric, coriander, and smoked paprika, this curry might help give your immune system a bit of a boost too.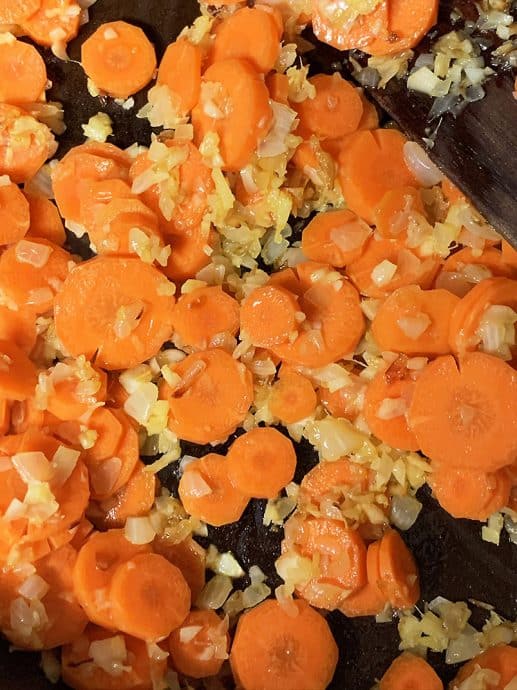 If you want a super simple, fuss-free, and incredibly tasty curry, that is made with 10 ingredients, this one's for you. And, you probably have the ingredients to make this curry right there in your kitchen.
My daughter and I love this tasty Easy Carrot Curry and make it often – with a few variations.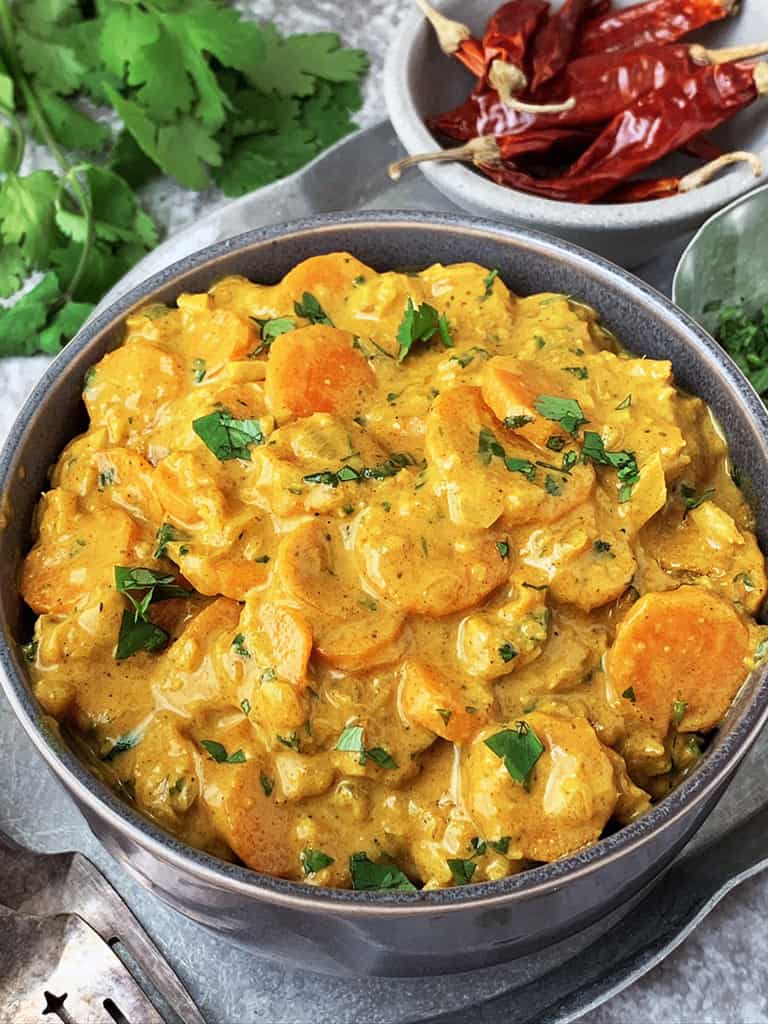 I usually don't like to mess with the type and quantity of spices in this curry as they work so well together. Also, too much turmeric tends to give a curry an overly metallic taste – at least in my opinion. So, to the base of onion + ginger + garlic + coconut milk + spice blend + carrots, I sometimes add in a can of lentils or beans for added plant protein.

In fact, we just licked our plates clean after our dinner of this carrot curry with lentils and beans and a side of rice.