These tasty, savory, vegan jackfruit cakes (or jackfruit patties) are made with 12 easy to find ingredients. Pair them with a fresh salad for a satisfying, light dinner.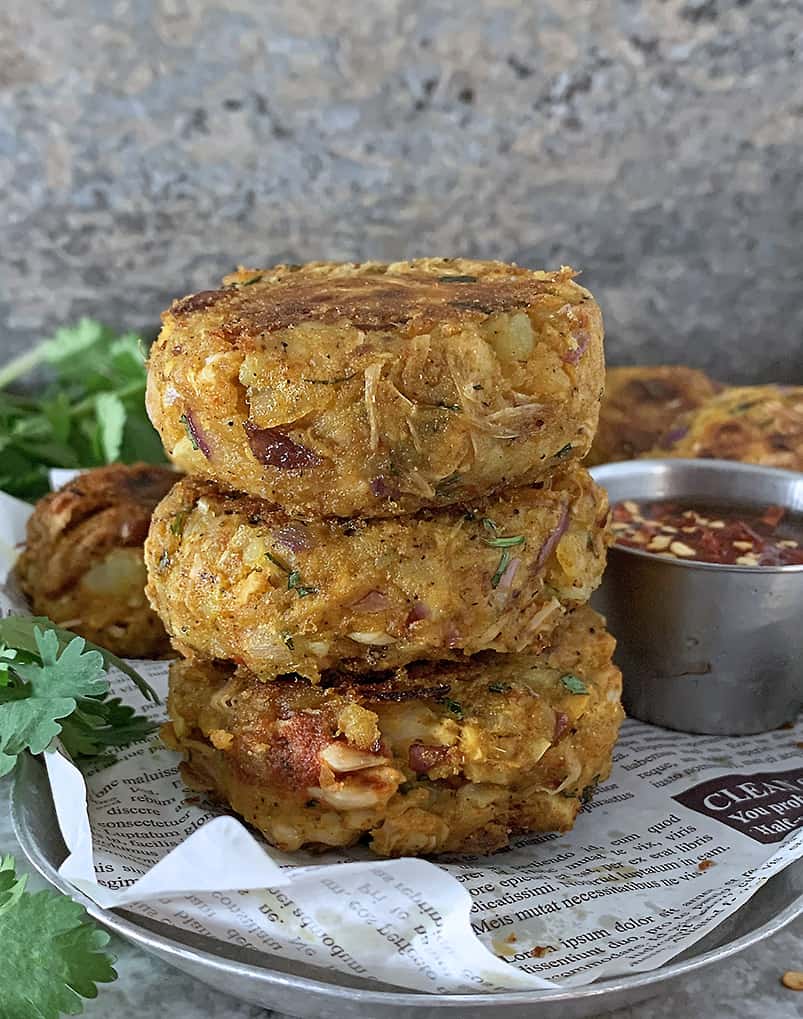 Canned green jackfruit can be so versatile. Inundate it with a bunch of flavors and other ingredients, and it unites them and complements them so beautifully.
I've smothered canned green jackfruit with spices and sauteed it up to use in tacos and I have added it to a creamy spiced tomato sauce and enjoyed it in a delicious curry, sopped up with Sri Lankan roti.
What is green jackfruit?
Green jackfruit is unripened jackfruit that is usually used in savory dishes. It is usually sold canned in brine or water. Some say that canned green jackfruit looks a lot like pulled pork. Take a look at the next couple of images and tell me what do you think?

Sweet, ripe jackfruit, on the other hand, is enjoyed plain or in sweet treats like smoothies and ice cream.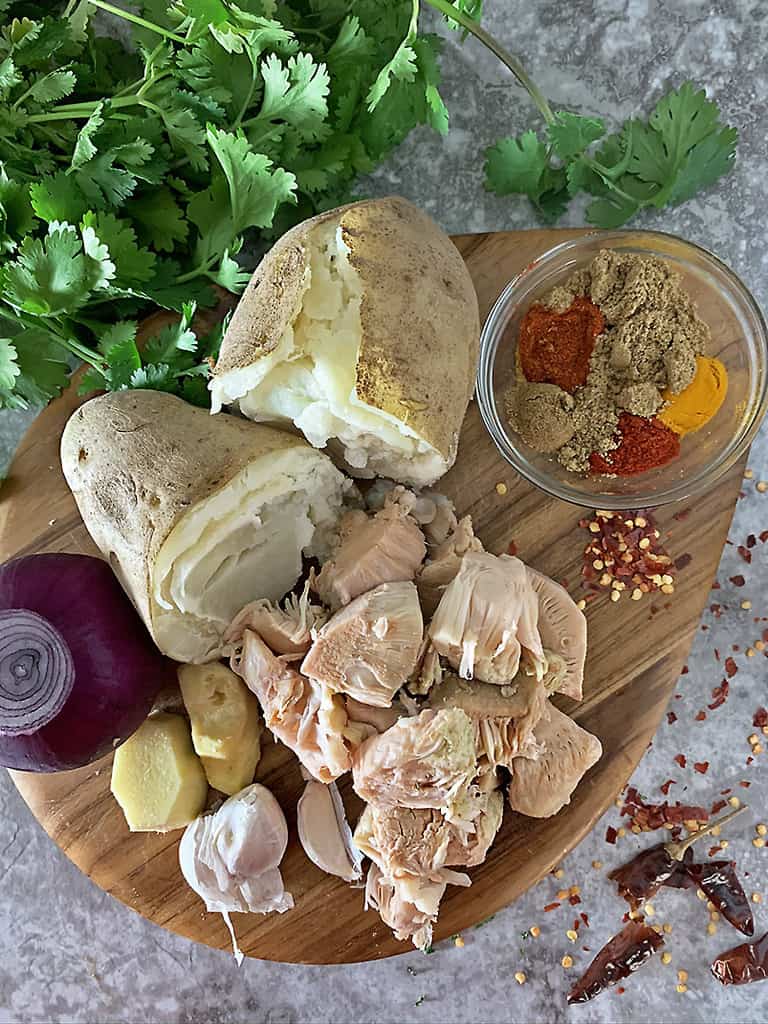 Where can you find canned jackfruit?
Here in Georgia, ripe jackfruit isn't as easy to find as canned green jackfruit. Usually, I buy fresh, ripe jackfruit, at the Dekalb Farmers Market or several other South Asian Farmers Markets scattered along Buford Hwy and Lawrenceville.

But, canned jackfruit can be found at most local grocery stores such as Sprouts, Kroger, Trader Joe's, Publix, and even Walmart. Or, there's always Amazon – though I haven't bought canned jackfruit from there – at least, not yet.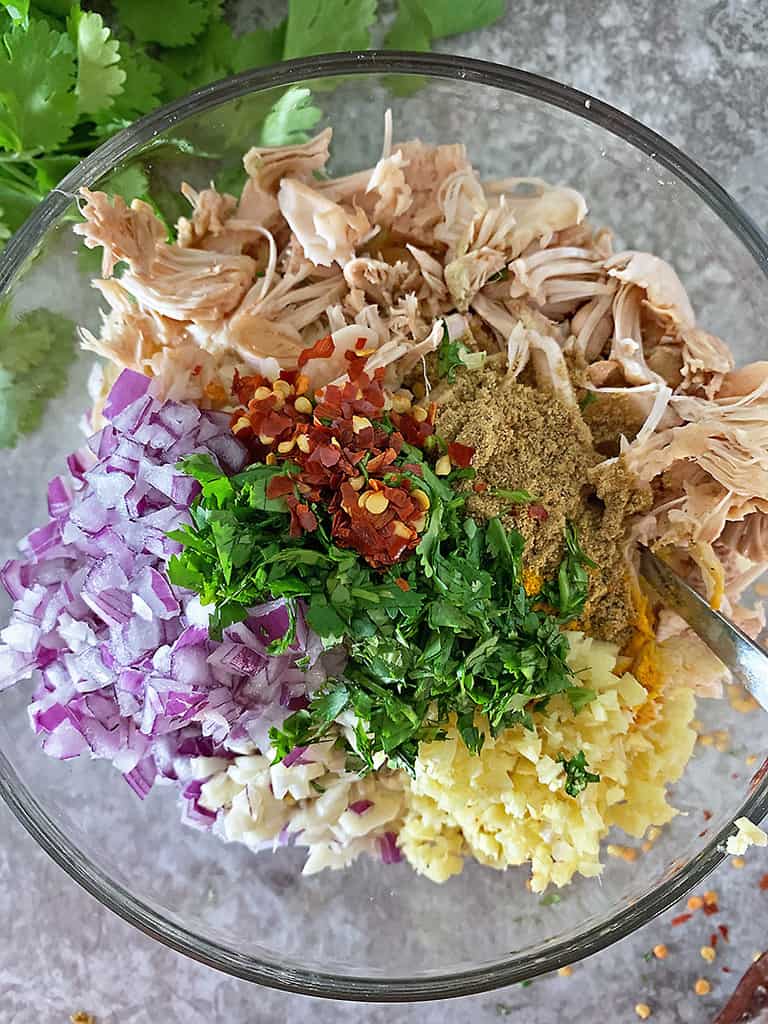 After the jackfruit tacos and jackfruit curry I made, I wanted to do something different with the next can of green jackfruit I opened up. The little hamster wheel in my noggin started spinning and I thought of combining jackfruit and potatoes is some way.
First, I thought of making some croquettes, or, "cutlets" like we call them in Sri Lanka. But, I didn't have any breadcrumbs or panko or almond flour to coat the croquettes in, so I thought of making some sort of jackfruit burger and well, that's how these jackfruit cakes came to be sitting pretty on your screen.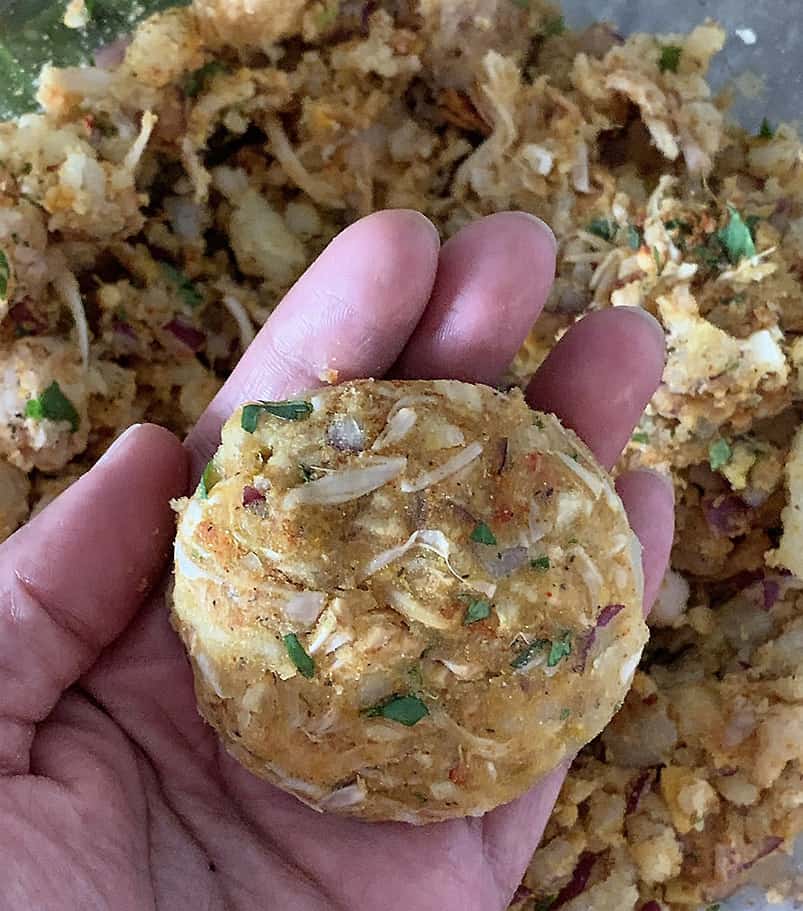 Why do we love these jackfruit cakes?
These jackfruit cakes are spiced just right and are so tasty (it's hard to stick to just one or two) and are so easy to make. If you happen to have a boiled or baked potato hanging out in your fridge, these can be prepared in less than 30 minutes! However, if you don't, then boiling the potato will add on another 35-40 minutes to the cooking time.
I cooked some of these on a stove-top and tossed a few in the air fryer.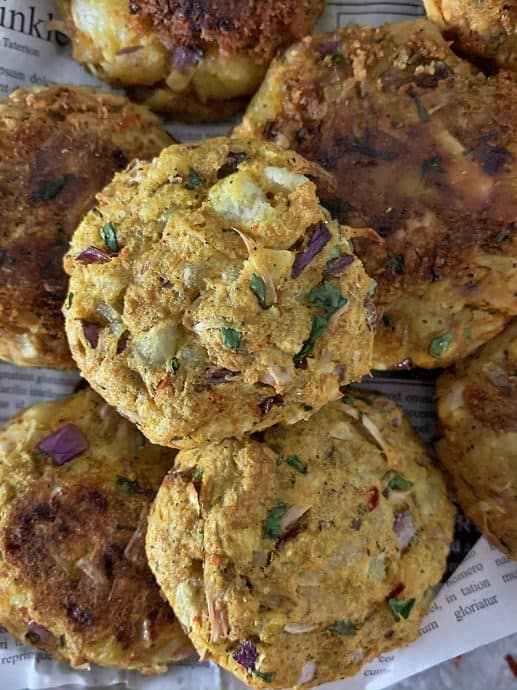 These are the ones that were cooked in the air fryer.…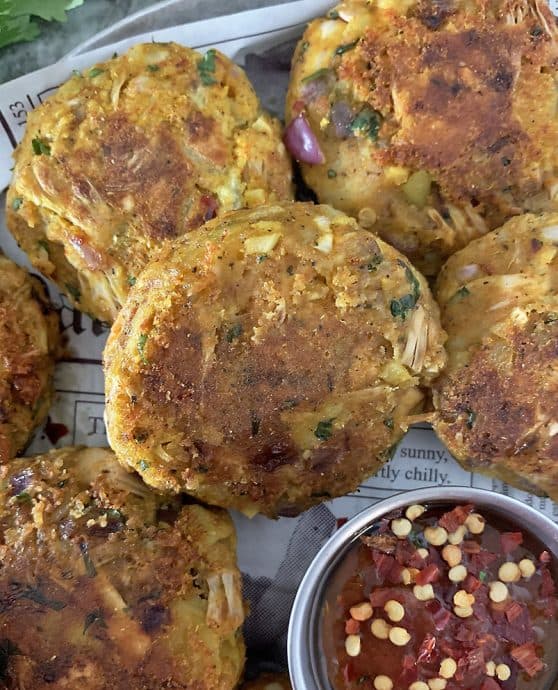 While these were sauteed in a pan over a stove…
I made these jackfruit cakes last week and my daughter said, this was the best dinner she had that week. Though, I was a bit discombobulated when, the next night, she told me that the roti and chickpea curry we had was the best dinner she had had all week.

In my opinion, with easy-to-find, ingredients that include:
coriander,
chili,
turmeric,
smoked paprika,
cumin,
onion,
garlic,
ginger,
red pepper flakes,
cilantro,
a boiled potato, and
canned green jackfruit, these vegan jackfruit cakes are simply delicious. And, I'm hoping you give these a try soon and agree!