This gloriously thick and delicious Jackfruit Mango Smoothie is spiked with a hint of vanilla and cardamom – making it a cold and satisfying treat to enjoy this summer.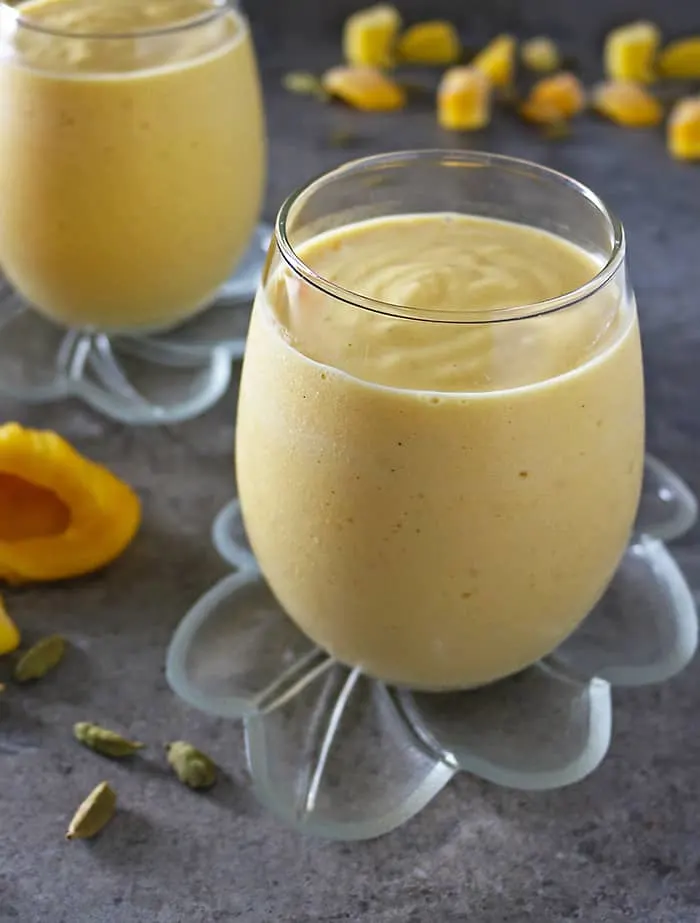 With it's green, spiny, exterior, jackfruit isn't the most appetizing fruit to look at.
But, ripe jackfruit pods are so tasty – to me! In fact, I don't think there's anything else out there quite like them.
But then again, maybe I'm just being nostalgic. Do you have a tendency to miss those foods you grew up with and then were separated from, for whatever reason? Or, am I the only one with issues the tendency to glorify those fruits like jackfruit, rambutan, mango, papaya, passion fruit and mangosteen, which I grew up eating during my childhood in Sri Lanka and then was separated from for the longest time? These days, those fruits seem to be popping up in places like the Dekalb Farmers Market and several local grocery stores around Atlanta. Except for mangosteen which still seems to elude me – so if you happen to cross paths with this purple fruit, please do drop me a line.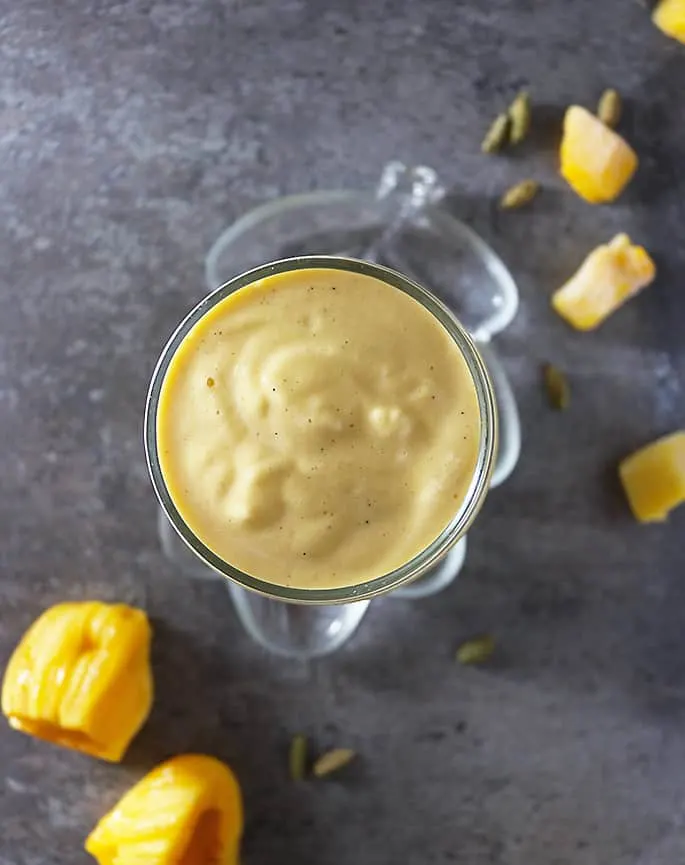 What does jackfruit taste like?
To me, ripe and sweet jackfruit (pods) tastes like a cross between a papaya, a mango, a banana, a pineapple and an apple. That's a whole lot of deliciousness in one pod – right?!
Now, young, unripe, green jackfruit that is sold in cans and in frozen packages is very different in taste – it is more bland, and as a result, it is a good vegan stand in for pulled pork, etc as it absorbs whatever spices it is surrounded by.
But, ripe jackfruit is what I used in this Jackfruit Mango Smoothie, you see here.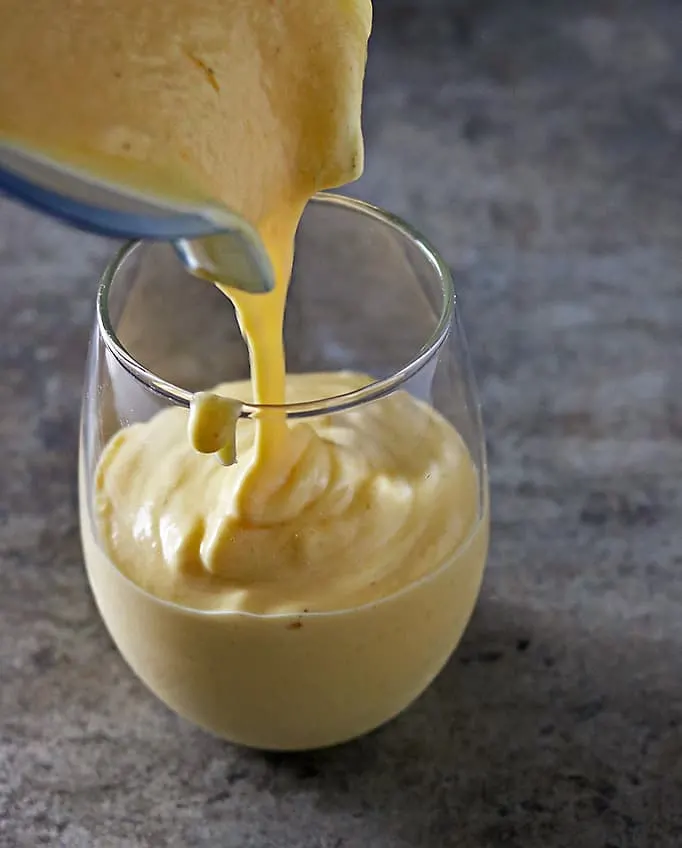 How to cut jackfruit?
Now, jackfruit isn't the easiest fruit to enjoy. It does involve a bit of work, but, it is so worth it!
Step 1) Make sure you oil EVERYTHING! The sharp knife you will use, the cutting board, your hands – oil 'em all!
Step 2) Grab two containers – one for the harvested jackfruit seeds and one for the jackfruit pods.
Step 3) For easier handling, cut the jackfruit into half, and then cut each half into half again so you end up with 4 somewhat equal pieces. By the way, some stores sell jackfruit already cut into manageable parts.
Step 4) Start digging! Yes, start separating and feeling through the fibrous (lighter yellow/white) parts of jackfruit to grab the firm, golden pods.
Step 5) Make sure you oil and re-oil your hands as you work. I keep a small bowl with oil in it nearby so I can oil and re-oil as needed.
Step 6) Once you have a jackfruit pod, cajole it open and pull out the seed with it's "casing".
Step 7) Remove the seed from it's "casing" and discard the casing. Save the seed in a container, and the golden jackfruit pod in another container.
Step 8) Repeat steps 4-7 until all the golden jackfruit pods have been harvested. Usually, digging through a whole jackfruit takes my daughter and I about 30-40 minutes.
Step 9) Discard the jackfruit skin and fibrous parts of it and store seeds and pods in airtight containers to enjoy.
By the way, I made the quick (stop motion) video you will find below, to illustrate these points.
How to eat jackfruit?
Jackfruit seeds can be baked in the oven or enjoyed in a curry like this Jackfruit Seed Curry. And, the ripe golden jackfruit pods can be eaten raw or made into a shake like this Protein Packed Jackfruit Shake (from last year) or the Jackfruit Mango Smoothie you see here today. I have also seen jackfruit flour made with dried and ground up jackfruit – but I have yet to try it out.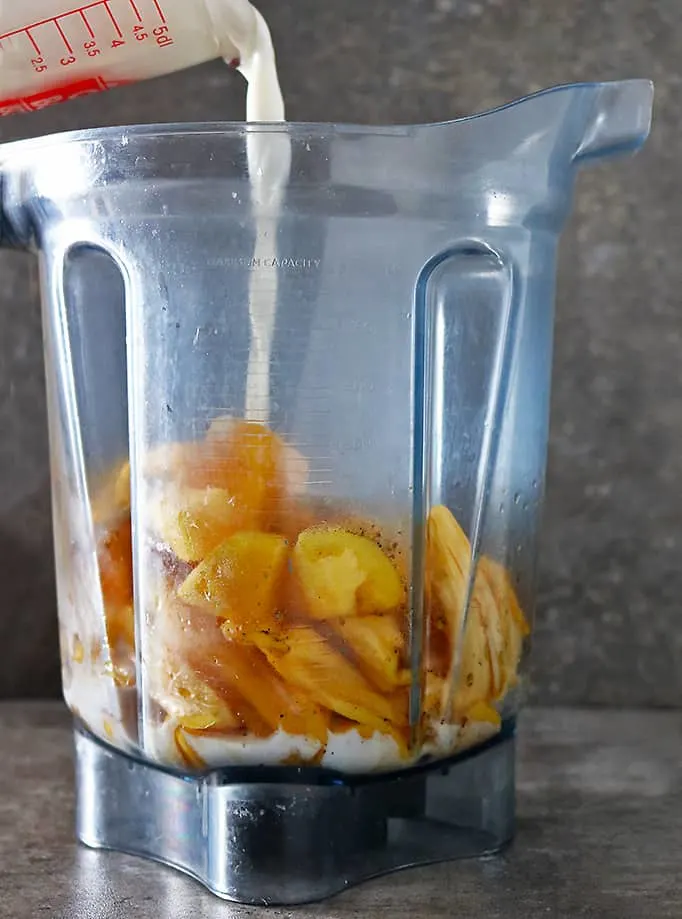 Back to this Jackfruit Recipe:
In this smoothie, I combined, ripe jackfruit pods, frozen mango pieces, dairy free milk, a pinch of cardamom, a dash of vanilla extract, some collagen and some protein powder. Now, the protein and collagen are totally optional and can easily be left out. This smoothie was so thick! You could enjoy it with a spoon or just go to town downing it and licking it off your upper lips!
Either way, I hope you aren't too intimidated to hack open a jackfruit and enjoy those golden jackfruit pods, the next time you seem one.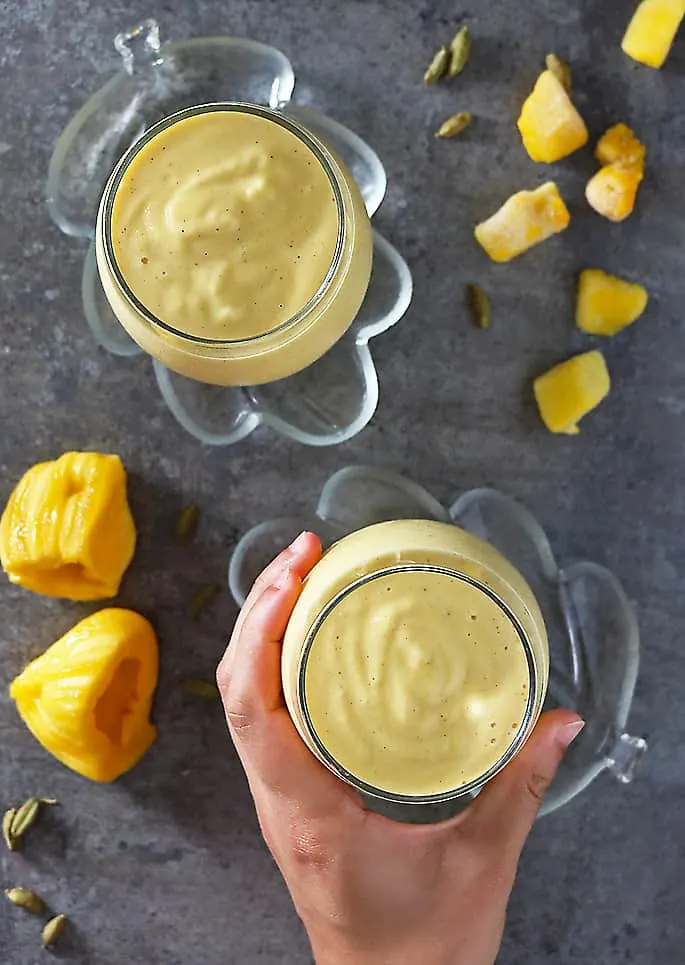 If you happen to fancy this recipe, let me know what you think by leaving a comment and rating below. If you make this recipe, please post a pic on INSTAGRAM -tagging @savoryspin so I can see! For more recipes and ramblings, like us on FACEBOOK and follow along on PINTEREST!
©Savory Spin All content and images are protected by copyright. Please do not use my images or recipe without my permission.
Disclosure: Savory Spin is a participant in the Amazon Services LLC Associates Program, an affiliate advertising program designed to provide a means for sites to earn advertising fees by advertising and linking to amazon.com.