Thank you Beyond Meat for sponsoring this post. Try The Beyond Burger today! The Future of Protein. Made from Plants.
Have you tried The Beyond Burger yet? If not, then make sure to click the product links in the image below for a valuable coupon ~ then whip up some of this sweet and spicy, beet onion jam to top off those delicious, plant-based Beyond Burgers with and enjoy!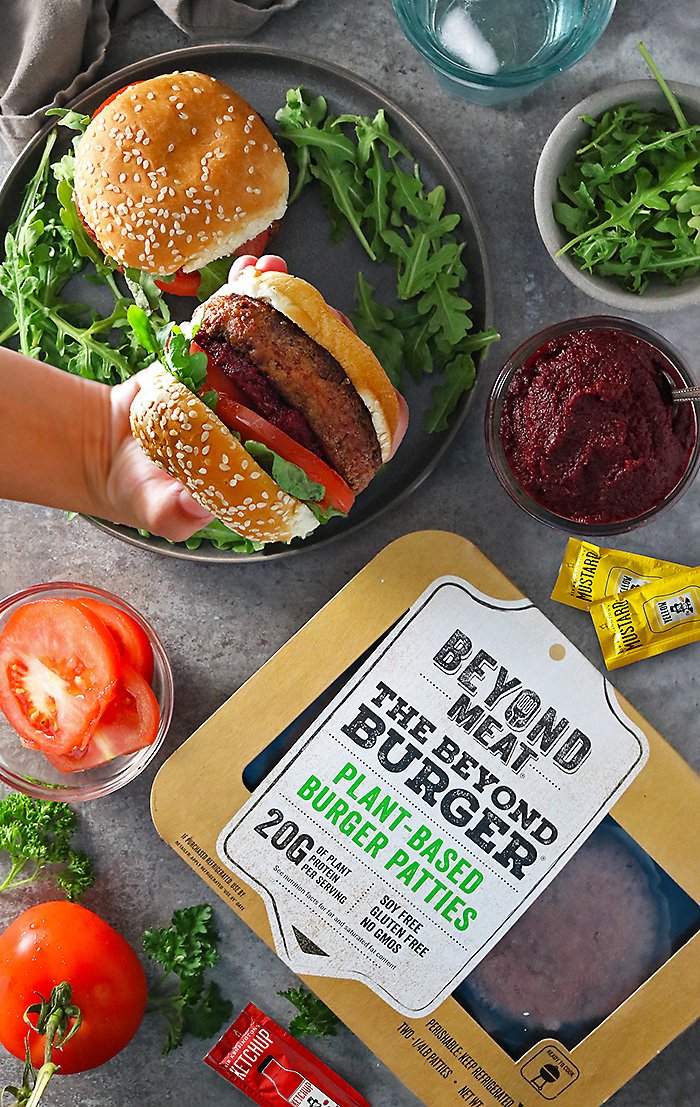 Summer and burgers go hand in hand – right? At least, that's what my daughter tells me.
And, with that intro, you'd think that we were quite the burger connoisseurs…
But, alas… in recent years, neither of us have managed to sink our teeth into an actual beef burger… say whaaaaaaaaattt???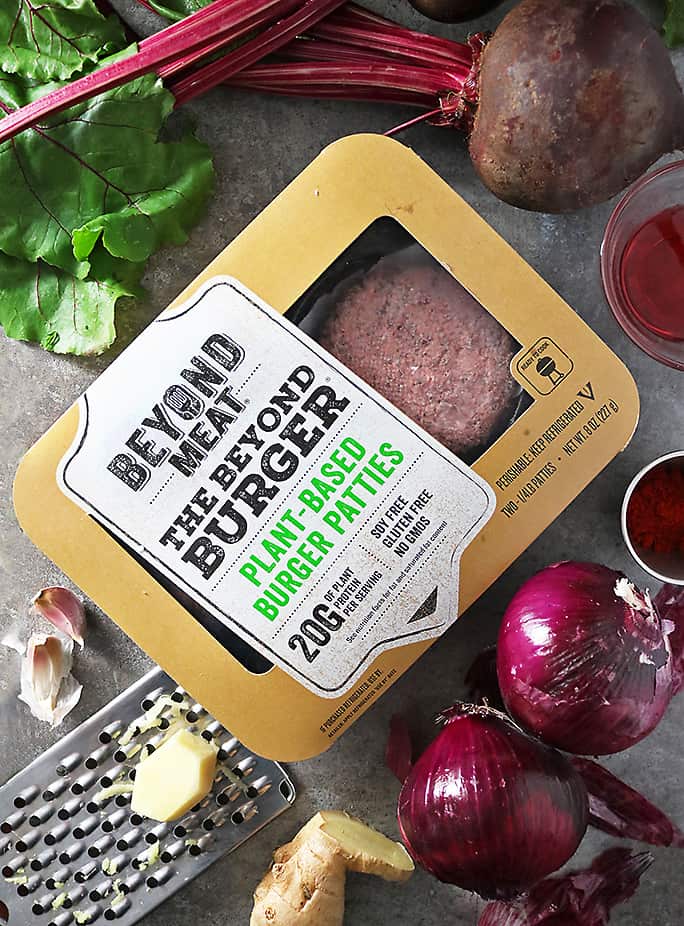 My tendency has usually been to whip up fish, chicken or vegetarian burgers. And, if I am in a time crunch, pre-made, frozen, plant-based burgers are my first choice. Not too long ago, my daughter shared with me several reviews detailing how delicious Beyond Meat's Beyond Burger was. Now, I have been a fan of some of Beyond Meat's products since I was introduced to them at a food conference here in Atlanta in 2014. In fact, back in the early days of this blog, I even shared recipes for a pizza, stir fry and curry using Beyond Meat products. So, when I was given the opportunity to taste The one and only Beyond Burger, from Beyond Meat, I couldn't resist. And, y'all, all those raving reviews are so spot on!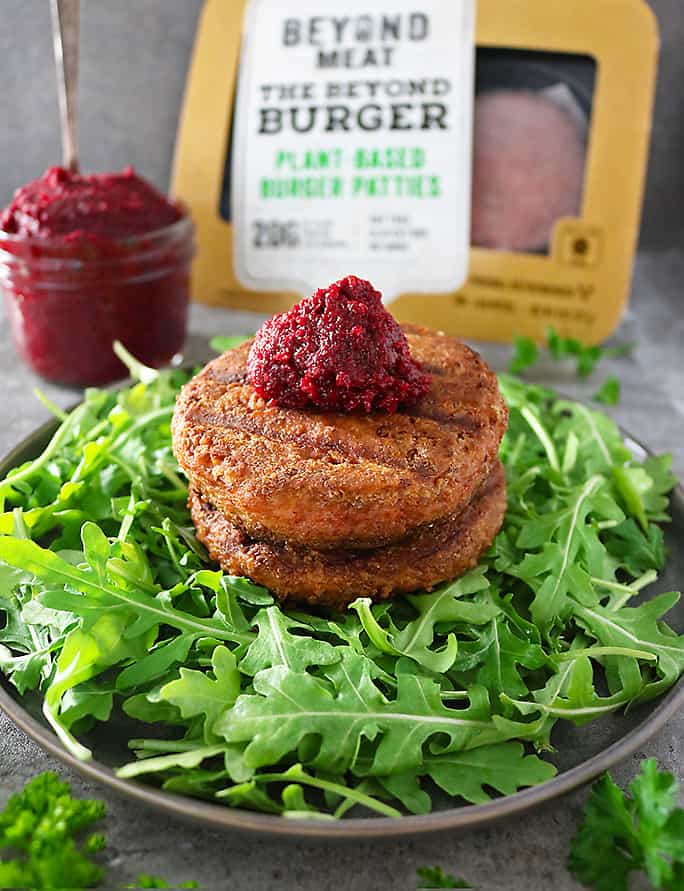 The Beyond Burger:
The Beyond Burger is the meatist plant-based burger I've tasted – if it isn't cooked to the point that it's well done, it even retains a pink strip through the middle! In fact, it's so meat like, it's sold in the meat case of over 7,000 grocery stores nationwide! Without any soy, gluten, or GMOs and a hefty 20 grams of plant protein per patty, Beyond Burgers are juicy, with the chew and bounce of beef. And, if you are looking to eat a more plant based diet, then Beyond Burgers will have you "Enjoying Life's Tastiest Moments (Without Giving Up the Taste You Love)"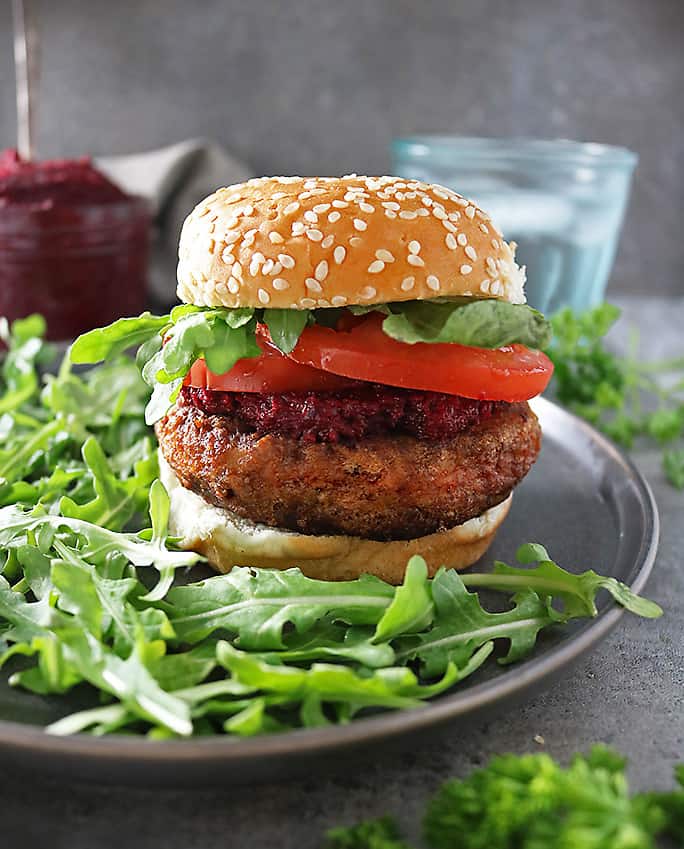 I whipped up some beet onion jam to enjoy with our pan-grilled Beyond Burgers. My love for beetroot runs deep, so, instead of sliced onions as a topping for these Beyond Burgers, I decided to caramelize some onions, add in some ginger, garlic, red wine vinegar, smoked paprika, honey, chili and beets and make a spicy sweet, beet onion jam to top off these Beyond Burgers with. Now, even though these Beyond Burgers are delicious with the beet onion jam, they are just as delicious on their own as well.

Don't forget to click on the image at the beginning of this post for a money-saving coupon for you to use on your next purchase of Beyond Meat's Beyond Burger.
Here's hoping this weekend is filled with some wonderful eats like this for you and yours!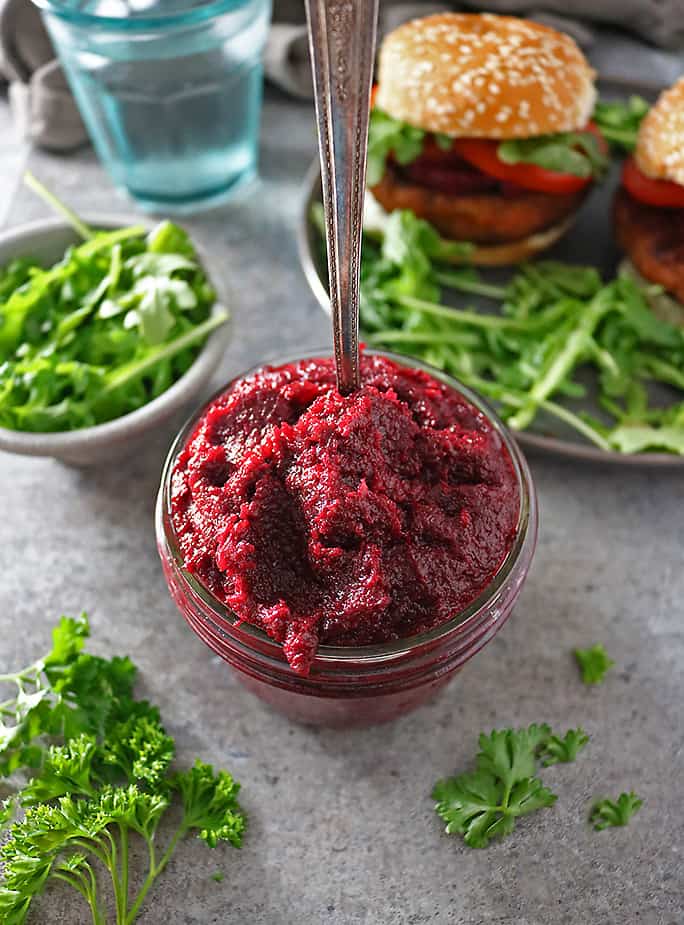 If you happen to fancy this recipe, let me know what you think by leaving a comment and rating below. If you make this recipe, please post a pic on INSTAGRAM -tagging @savoryspin so I can see! For more recipes and ramblings, like us on FACEBOOK and follow along on PINTEREST!
I was selected for this opportunity as a member of CLEVER and the content and opinions expressed here are all my own.