In summers past, we would fire up our fire pit and indulge in all sorts of s'mores concoctions… however, these days, we enjoy Indulgent Chocolate Caramel S'mores in a different way. Read on to see how…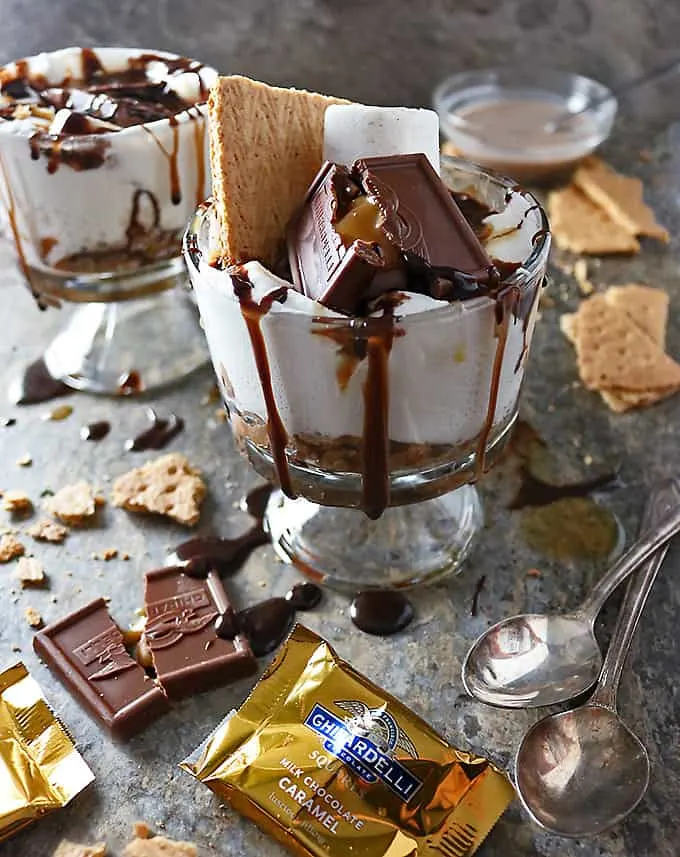 Ten months ago when I decided to move from my house to a condo, I was thrilled. No more would I spend hours weeding and tending to that ginormous yard! No more would I be worrying about trees falling on my little house! No more would I have to worry about baldfaced hornets popping out of bushes! Yes, I was thrilled.
But, It's been almost ten months of condo-living and I miss my old house with it's multitude of "projects", I miss my old neighbors whose kids always kept the chocolate contents of my pantry in check, and I miss my old backyard fire pit which was the site of so many s'mores shenanigans by hard core s'mores enthusiasts!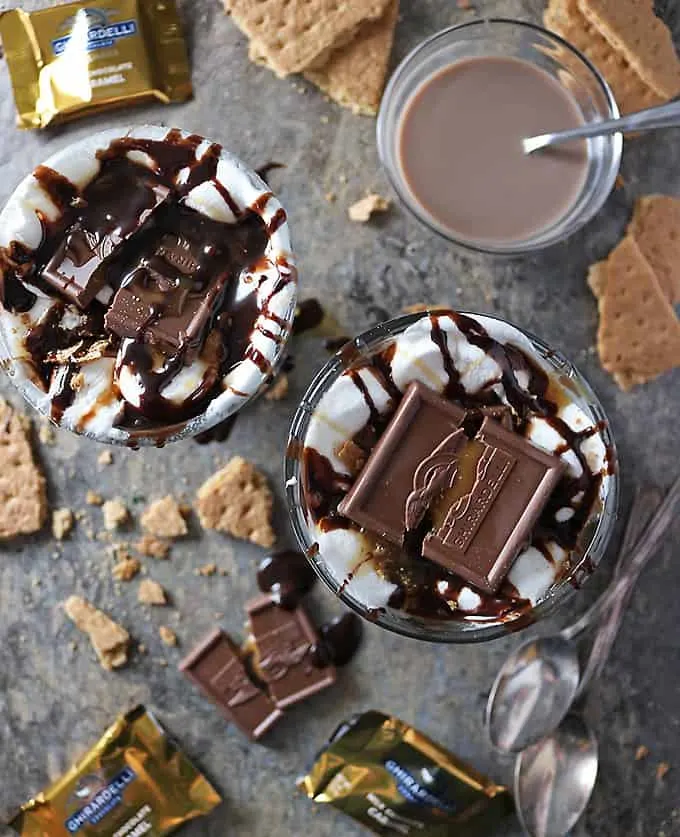 And, I say "s'mores enthusiasts" because these folks didn't let anything deter them from s'mores making. Nope, they wouldn't move the s'mores party indoors when unfavorable weather conditions prevailed. Instead, they'd fire up that fire pit with dark clouds looming, fight to keep the flames going inspite of a light drizzle and then huddle under umbrellas to enjoy the s'mores of their labors! If an ingredient other than marshmallows was missing, substitution was the first option. No graham crackers, well chocolate chip cookies or blueberry cookies would do. No chocolate bars, well, a handful of chocolate chips precariously balanced on a cookie or graham cracker would do because once that hot, crispy marshmallow hits, everything melts anyway.
These days, while I still get to hang out with some of my old neighbors, I don't get to fire up a fire pit to enjoy s'mores anytime I want to. My daughter suggested we casually stop by our old house and jump the fence and fire up our old fire pit and indulge in our old s'mores shenanigans – but I'm not sure the new owners would like that too much.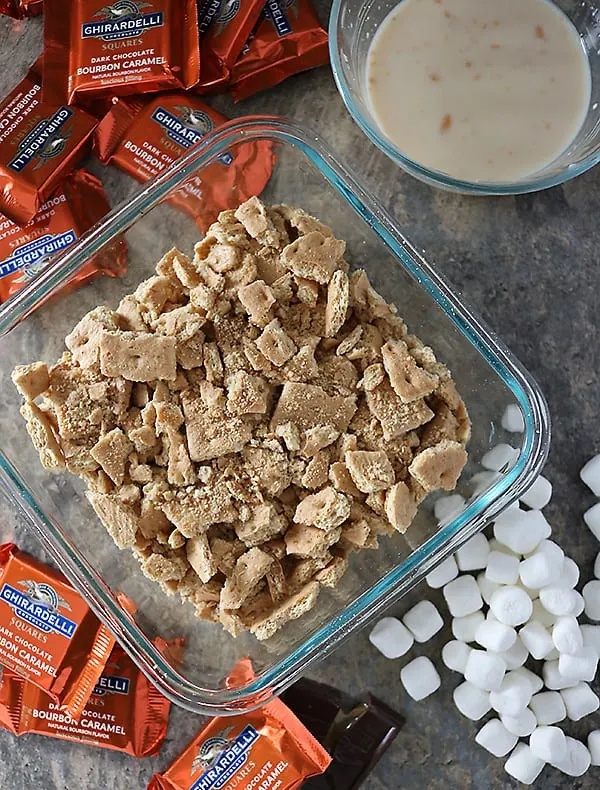 So, instead, I've been enjoying s'mores made in my microwave. Now, there are a gazillion posts on how to make s'mores in your microwave out on the interwebs. But, what I am sharing today is slightly different to those.
When I like to make microwave s'mores, I like to make a base with graham crackers and a milk mixture to "catch" the chocolate and marshmallows. Most times I flavor that milk mixture with chocolate sauce and/or caramel sauce. Once I even added a bit of bourbon to a caramel milk mixture that was glorious combined with graham crackers, Ghirardelli bourbon caramel chocolate squares and marshmallows ~ as seen in the images above and below this paragraph. By the way, this is not a sponsored post. My daughter and I love Ghirardelli chocolate. So much in fact that when we were in San Francisco, we went through the Ghirardelli store multiple times to get a boatload of samples and then washed down all those samples with a ginormous Ghirardelli milk shake! It is a good thing this isn't a sponsored post as I wouldn't want anyone from Ghirardelli reading that.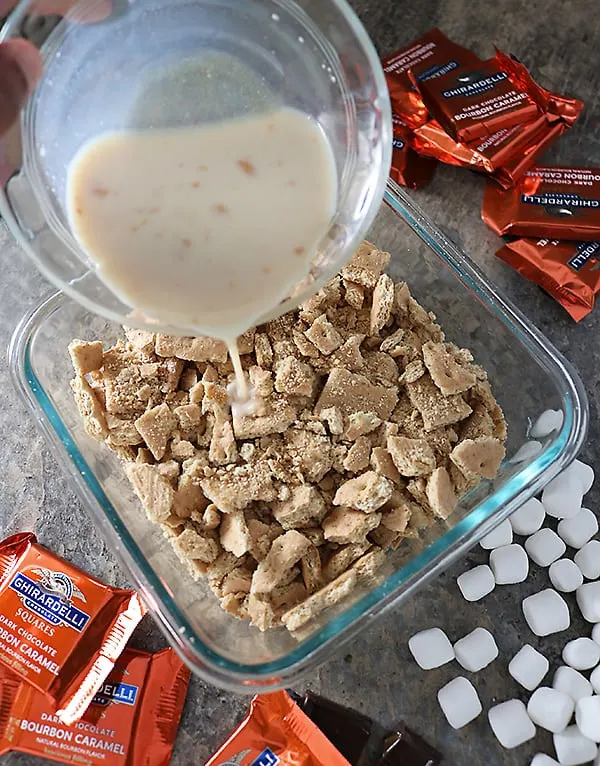 Getting back to those boozy s'mores, adult s'mores are a rare occurrence in my kitchen. Most times I make individual Chocolate Caramel Microwave S'mores Trifle ~ as seen in the very first and second images on here.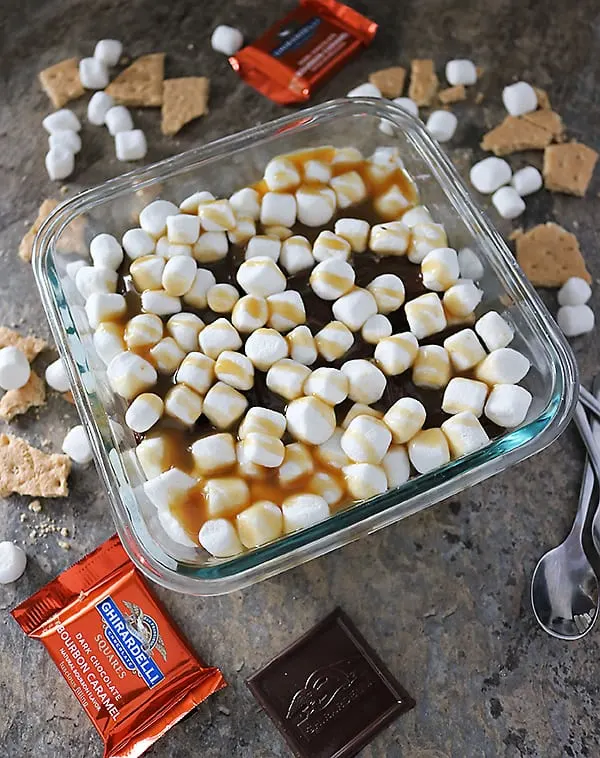 These microwave s'mores are ready in 30 seconds. Which means prepping the ingredients for them takes longer than actually whipping them up. Check out the super easy recipe below and if y'all do try this, please do tag @savoryspin and #savoryspin on INSTAGRAM and let me know what you think! For more recipes and ramblings, like us on FACEBOOK and follow along on PINTEREST too!
Before I end this post, if you happen to be a S'mores and Ghirardelli chocolate lover, Ghirardelli is teaming up with The Feed Feed to host a spectacular contest. If you'd like to enter (like I did with these s'mores concoctions), click on over and check out the deets.