These Easy Chocolate Almond Tarts made with Ghirardelli chocolate are so easy to make and are decadently delicious. They are an amazing addition to any gathering, or whip them up and keep them all to yourself – like I do!
This post is sponsored by Ghirardelli. The opinions and text are all mine.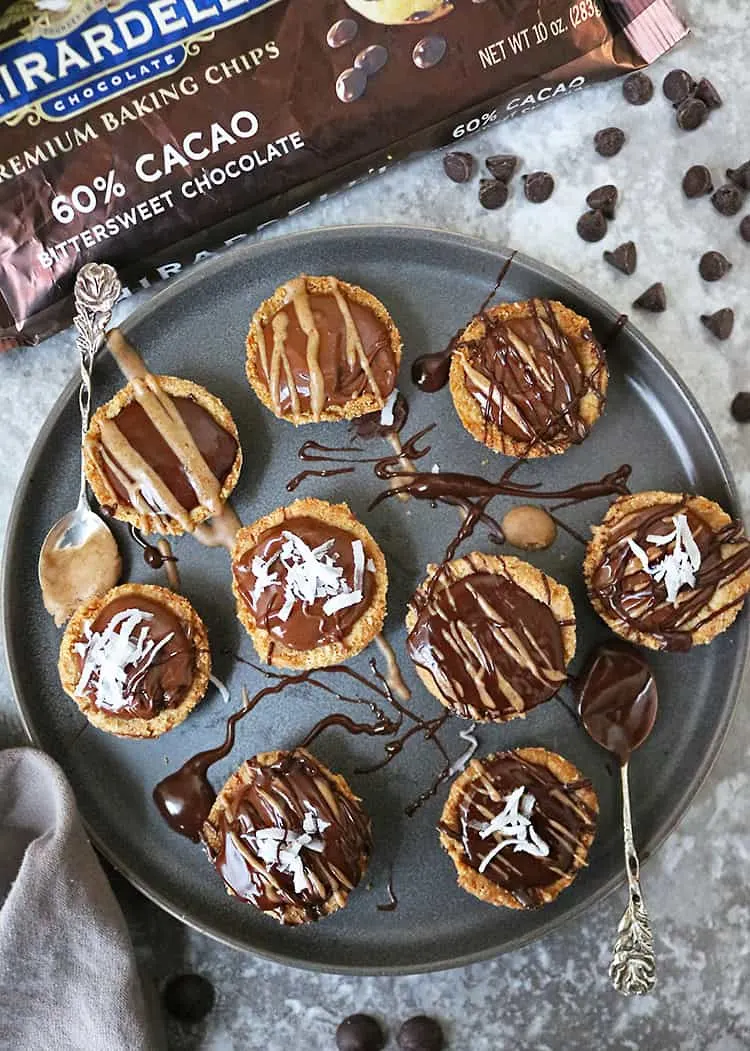 In the summer of 2010, my daughter and I headed out west to San Francisco. On our first day there, we decided to take a ferry to Sausalito and then tackle 8 miles back to our hotel that was on Fisherman's Wharf.
The weather was perfect when we got off the ferry and began our walk back over the Golden Gate Bridge. We had some sourdough rolls and cheese with us so when we got to the Chrissy Field Overlook, we took a snack break with a view.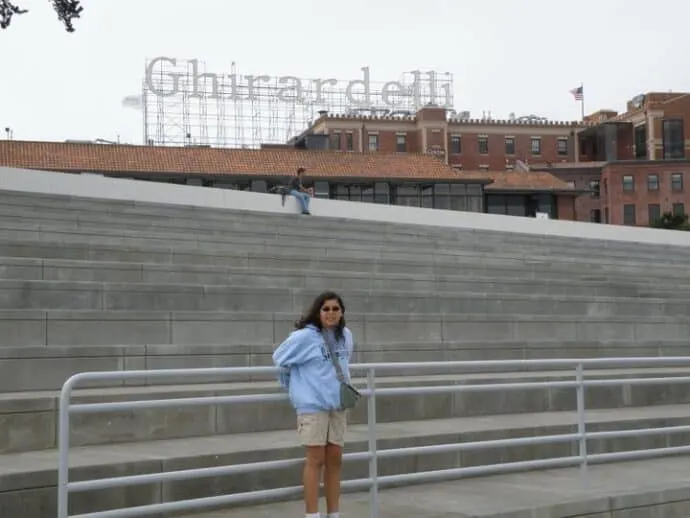 We continued on right by the water. The salty wind in our face almost had us forgetting about dessert, until we saw the Ghirardelli sign looming over the horizon.
Being the chocolate addicts that we are, we did not waste any time heading towards that sign above the Ghirardelli store. And right there in front of the store they were handing out chocolate gold!
While only one Ghirardelli Milk Chocolate Caramel square was handed out per person who was in line to get in – there were no limitations on how many times we could go through that line… just saying…
After we had had our fill, we decided to share a Ghirardelli shake.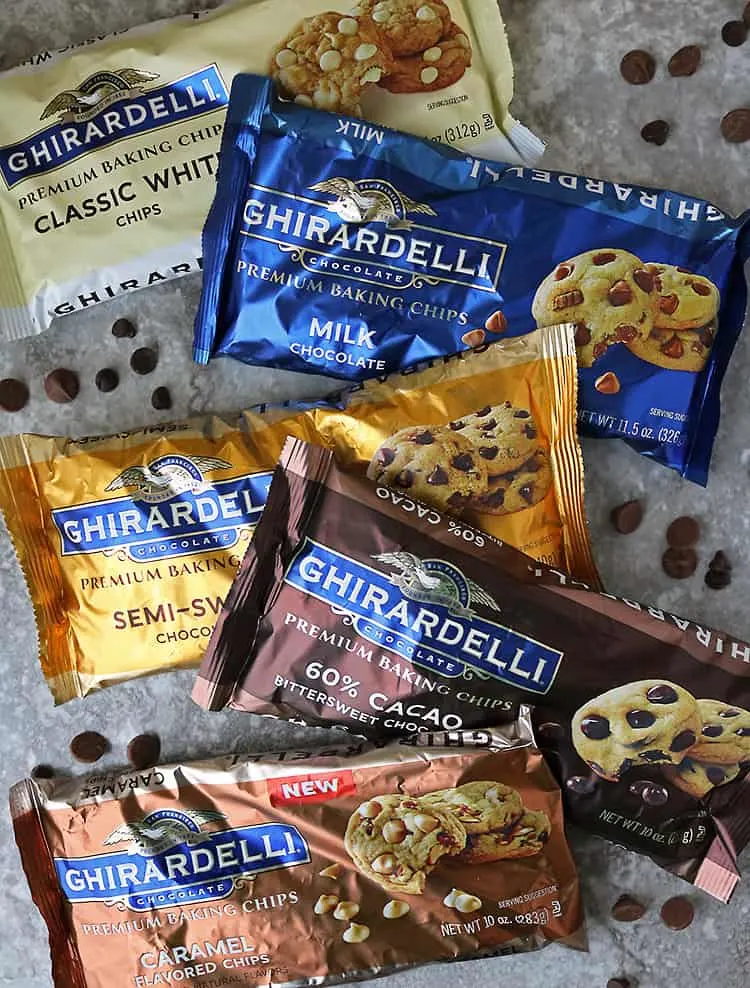 It was not long after that trip that I figured out if I needed decadently delicious chocolate chip cookies, or a mug cake, or indoor s'mores; I needed to use Ghirardelli!
Most days of the week I have a couple bags of Ghirardelli Baking Chips hanging out in my pantry.
But, when the holidays are around the corner, I have at least one bag of every variety of Ghirardelli Baking Chips hanging around. Publix makes it easy to stock up on all of our favorites!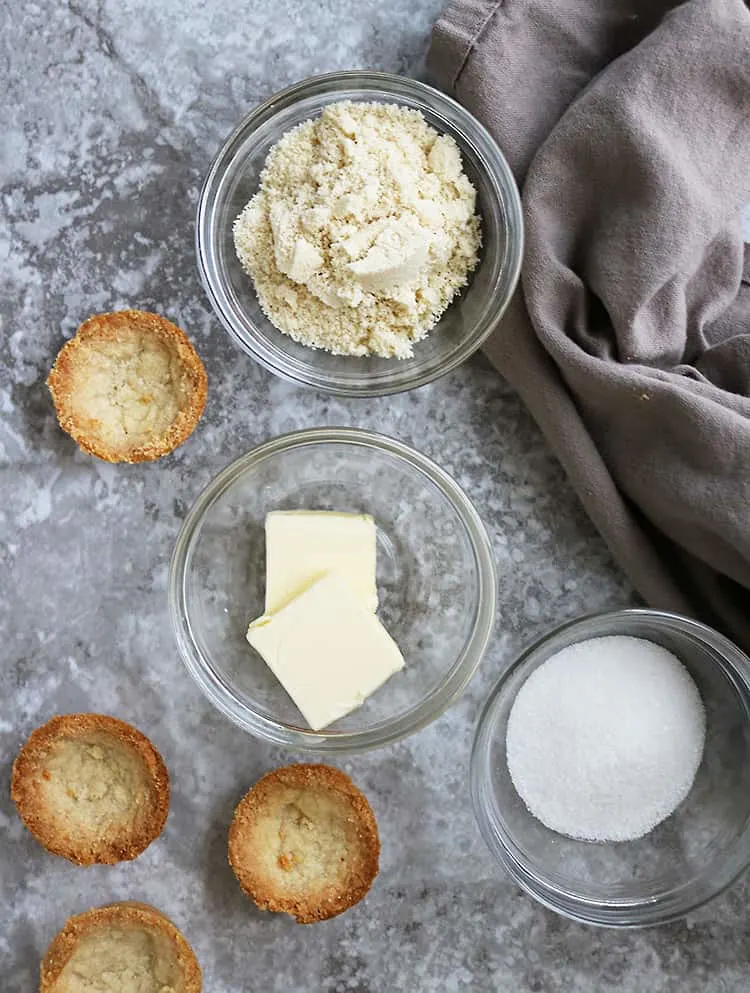 Over the years, I've used Ghirardelli Baking Chips in everything from Muffin Tops, to Chocolate Peppermint Cookies, to No Bake Pistachio Chocolate Bites.
And today I have them in these mini Chocolate Almond Tarts because, y'all, Ghirardelli makes life a bite better!
These Chocolate Almond Tarts are super easy to make. And, you can customize them to fit your tastes.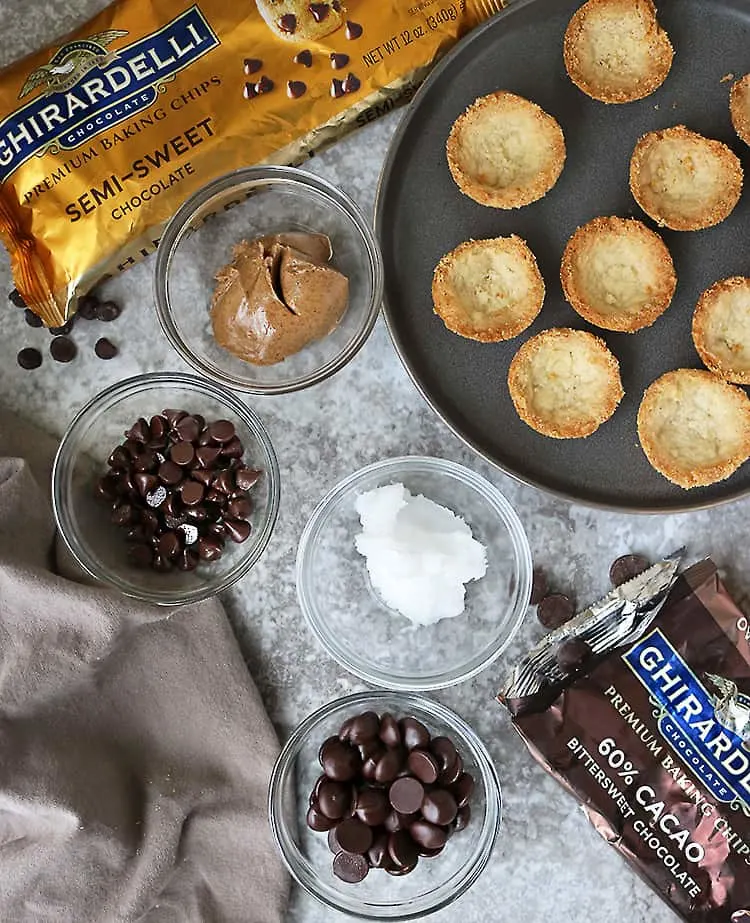 The base or crust of these mini tarts are made with only three ingredients – finely ground almond flour, butter and sugar. The almond flour gives these mini tarts a nice almond flavor that compliments the chocolate.
I made three chocolate fillings:
• One with Ghirardelli 60% Cacao Bittersweet Chocolate Chips and coconut oil.
• Another with Ghirardelli Semi-Sweet Chocolate Chips and coconut oil.
• And, yet another made with Ghirardelli Milk Chocolate Chips and coconut oil.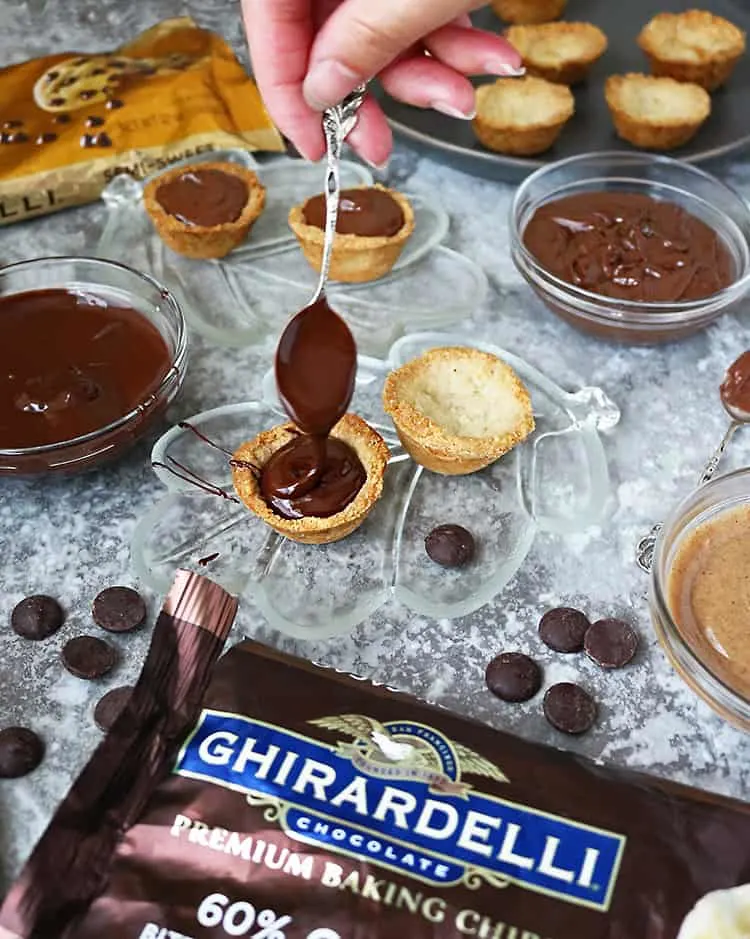 ---
After each of these tarts were filled with a gloriously decadent filling, I drizzled them with warmed almond butter. I then topped some with a bit of grated coconut and a few others with a pinch of salt.
These Chocolate Almond Tarts are a delicious treat to serve up at your holiday dessert table or cookie exchange party. But you don't have to wait for your next party to whip these up. Make these easy Chocolate Almond Tarts today and enjoy a couple when you need to treat yourself.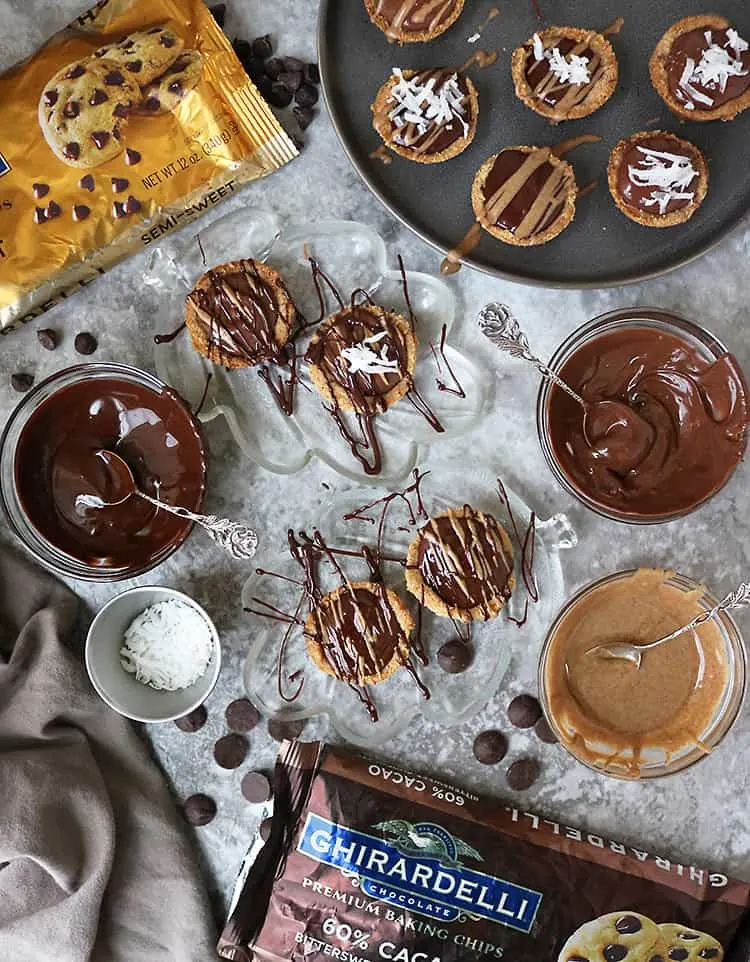 From bean to chip, Ghirardelli is committed to ultimate quality. By the way, did you know that Ghirardelli uses sustainably sourced cocoa beans? You can find out more about this by visiting Ghirardelli.com/sustainability for more information.
Ghirardelli Premium Baking Chips are known for their taste and quality. They are great for any baking or snacking need, from chocolate chip cookies, chocolate muffins, brownies, trail mix, or even a dark chocolate snack.
At Christmas time, my daughter and I sometimes make a batch of Dark Chocolate Cranberry Bark with Ghirardelli 60% Cacao Bittersweet Chocolate Chips, Ghirardelli Semi-Sweet Chocolate Chips, and dried cranberries. Sometimes we drizzle the bark with melted Ghirardelli Classic White Baking Chips – which makes this quite a festive Christmas gift – unless we end up keeping these for ourselves!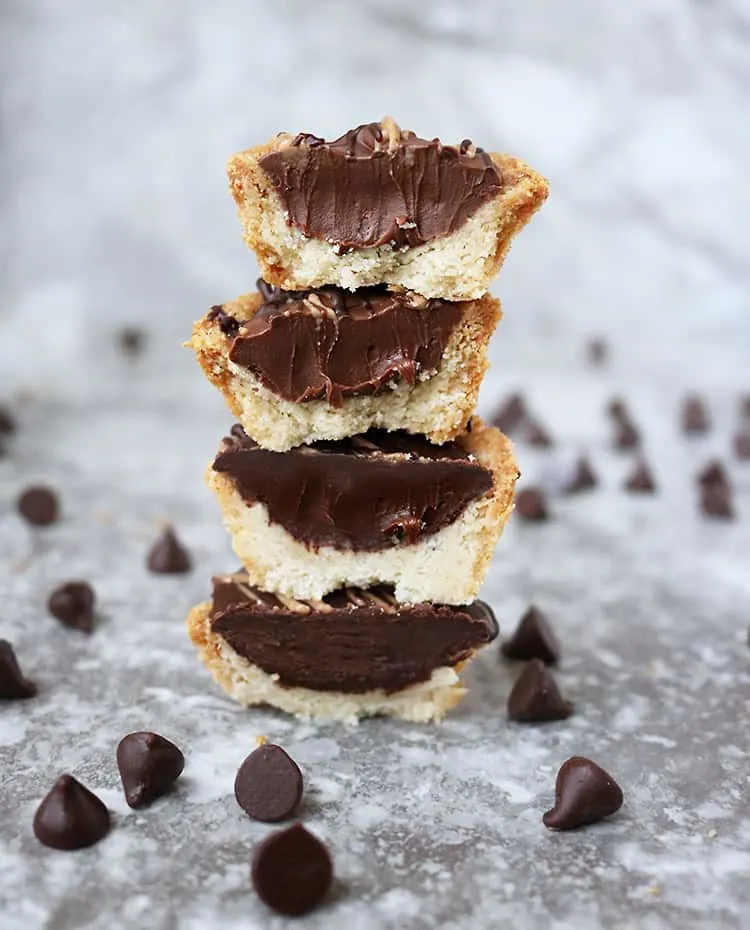 Elevate your baking from great to extraordinary by stocking up on your favorite Ghirardelli Baking Chips at Publix. And, from 11/15/19 – 12/31/19 at your local Publix, you can get $1.50 off any 2 bags of Ghirardelli Baking Chips.
For more recipe inspiration, make sure you visit Ghirardelli.com. Discover the Ghirardelli difference at Publix now!
Thanks so much for stopping by. If you make this recipe, please let me know in the comments below what you think of it, or tag your creation on social media with @savoryspin or #savoryspin. For more fusion, spice-filled, recipe ideas, please subscribe and follow me on Facebook, Instagram, and/or Pinterest!