Pistachio & Ruby chocolate unite in delicious harmony in these gluten-free, no-bake, Pistachio Cookies with Ruby Chocolate. Made with only 7 ingredients, these no-bake cookies are high on the nutrition scale as well!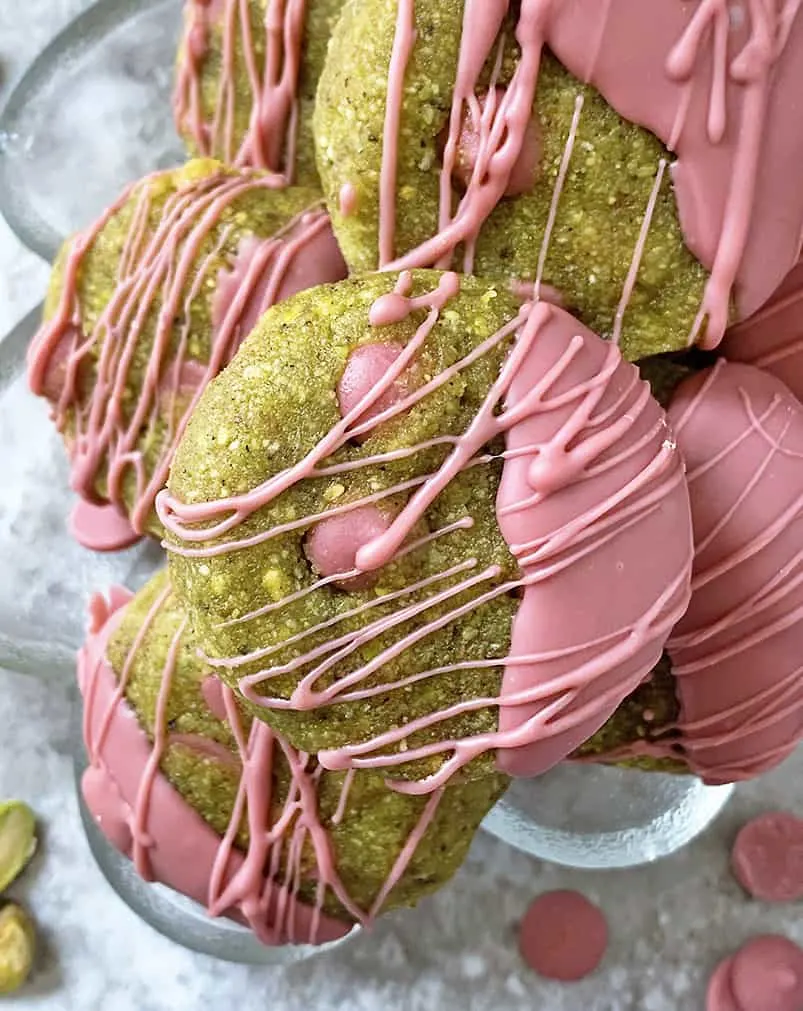 Even though ruby chocolate has been around since September of 2017, it was completely off my radar, until a couple of months ago.

I was watching an old episode of Sugar Rush in which contestants were challenged to use ruby chocolate or blonde chocolate in a round. And, my curiosity was piqued!
I love chocolate. I thought I had tried almost every kind of chocolate there was. Clearly, I was wrong.
When I first caught a glimpse of ruby chocolate on Sugar Rush, I thought it was a union of beets and white chocolate. Then I did some Googling and found out how wrong I had been (again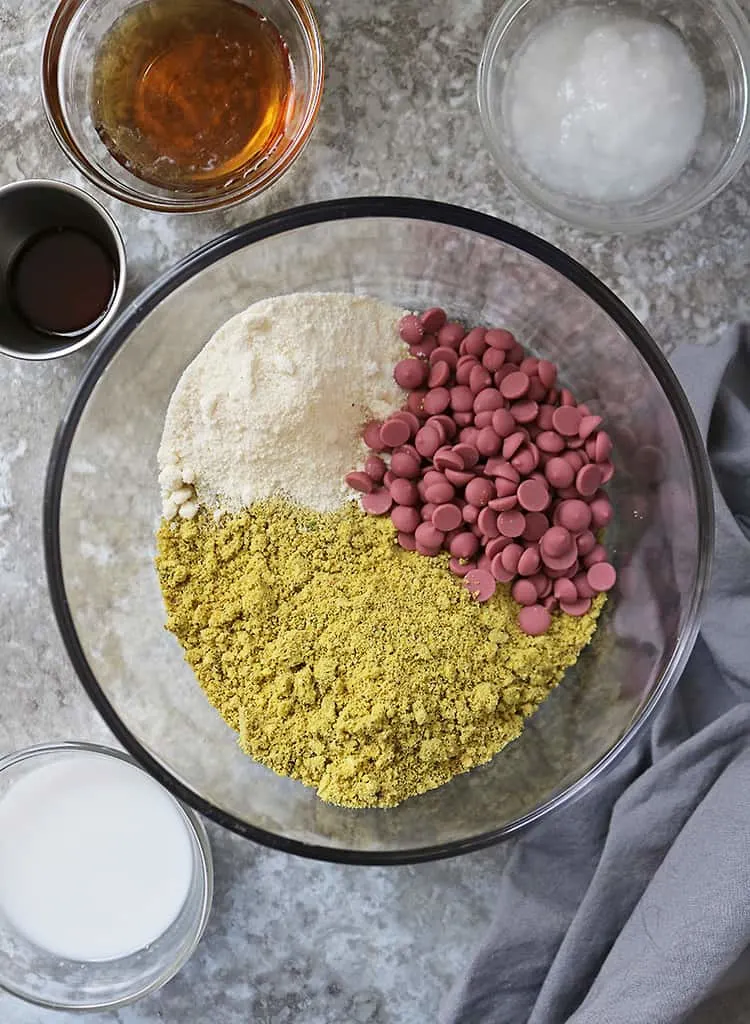 After searching high and low for ruby chocolate at various stores and online (I simply HAD TO try some), I stumbled on some reasonably priced ruby chocolate at Sprouts. I brought some home and…

WOW! I hadn't ever tasted chocolate like this!

Slightly fruity and tart, yet creamy and comforting, ruby chocolate made these strawberry popsicles pretty darn irresistible!
Nowadays I feel like I'm seeing it EVERYWHERE! The other day, there was an ad for ruby chocolate Kit Kat that popped up on my computer. Then there's the ice cream aisle where, everywhere I look, there's Ruby chocolate dipped bars and cones!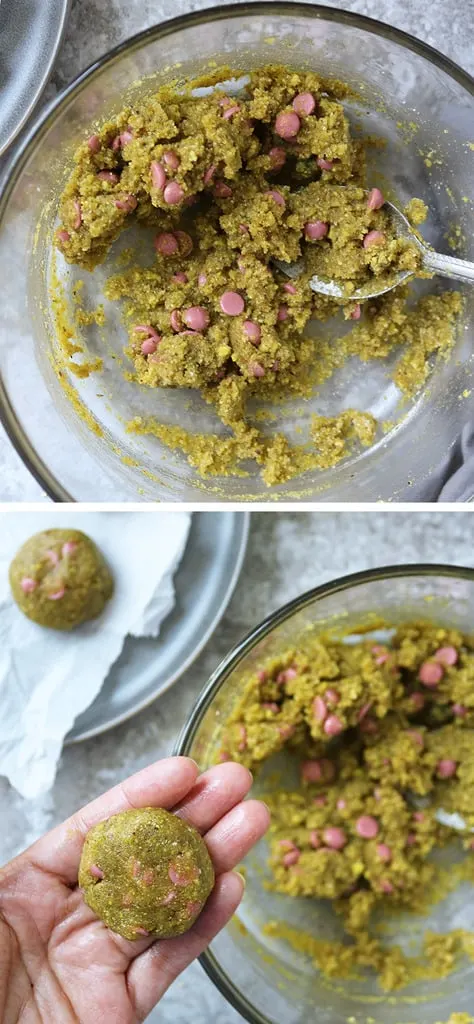 So, I decided to make some cookies with some of the ruby chocolate chips I had left. And, you don't have to turn on your oven in the middle of summer to make these.
We Love These Pistachio Cookies with Ruby Chocolate because:
These Pistachio Ruby Chocolate Cookies require only 7 ingredients such as:
• Pistachios
• Coconut flour
• Coconut oil
• Coconut Milk
• Maple syrup
• Vanilla
• Ruby chocolate
….and NO baking!
The only dough-chilling you will be doing is after you mix up the ingredients together, form the cookies and need them to set a bit.

After 2-3 hours in the fridge, you could dip these in some melted ruby chocolate or drizzle them with ruby chocolate or do a bit of both like I did. Or, you can enjoy them straight out of the refrigerator.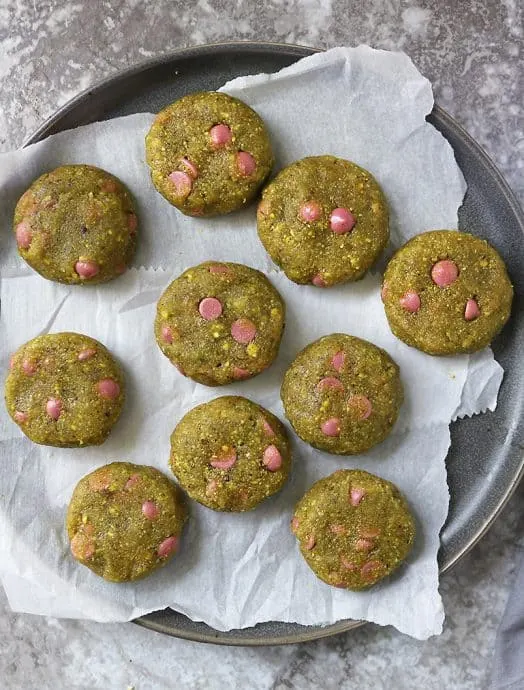 These no bake pistachio ruby chocolate cookies have become our favorite no bake cookies!

And, these healthyish cookies are made with maple syrup instead of refined sugar.
I find the combination of pistachio and ruby chocolate to be delightful. And it's a combination that happened quite by accident.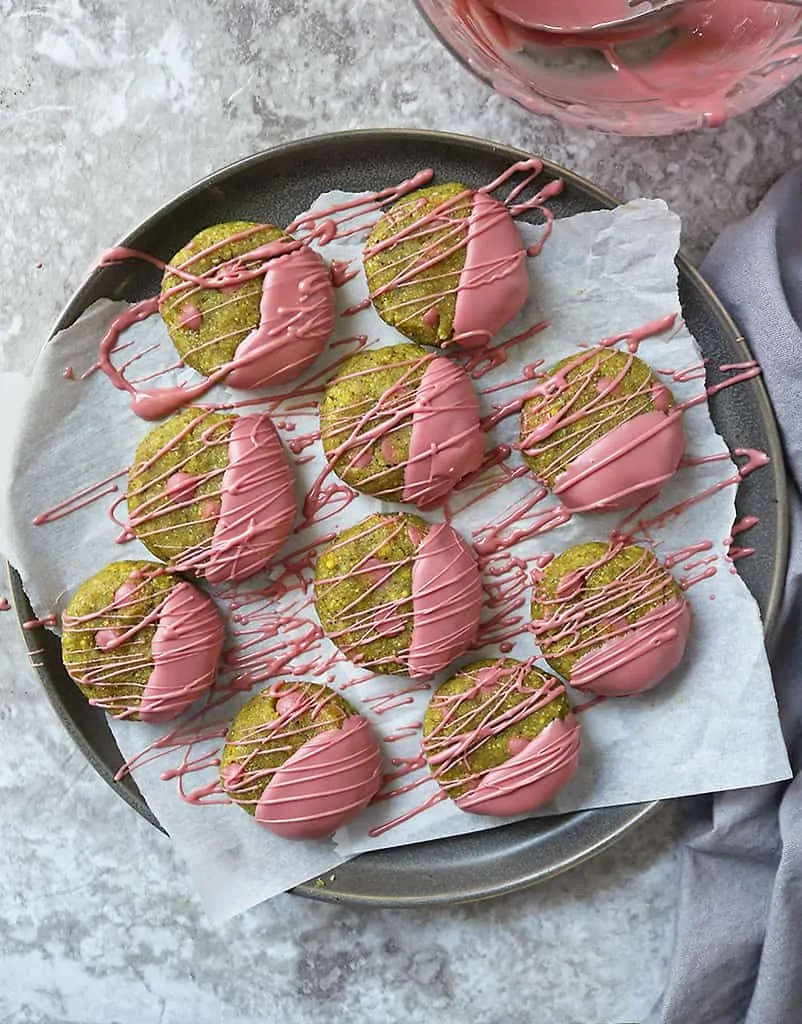 I was trying to make some ruby chocolate truffles, and the mix was just not firming up. My daughter suggested rolling the truffle mix in some ground pistachios and I did (I usually grind a couple handfuls of pistachios and have "pistachio floor" on hand to add to pancakes, crepes, or yogurt).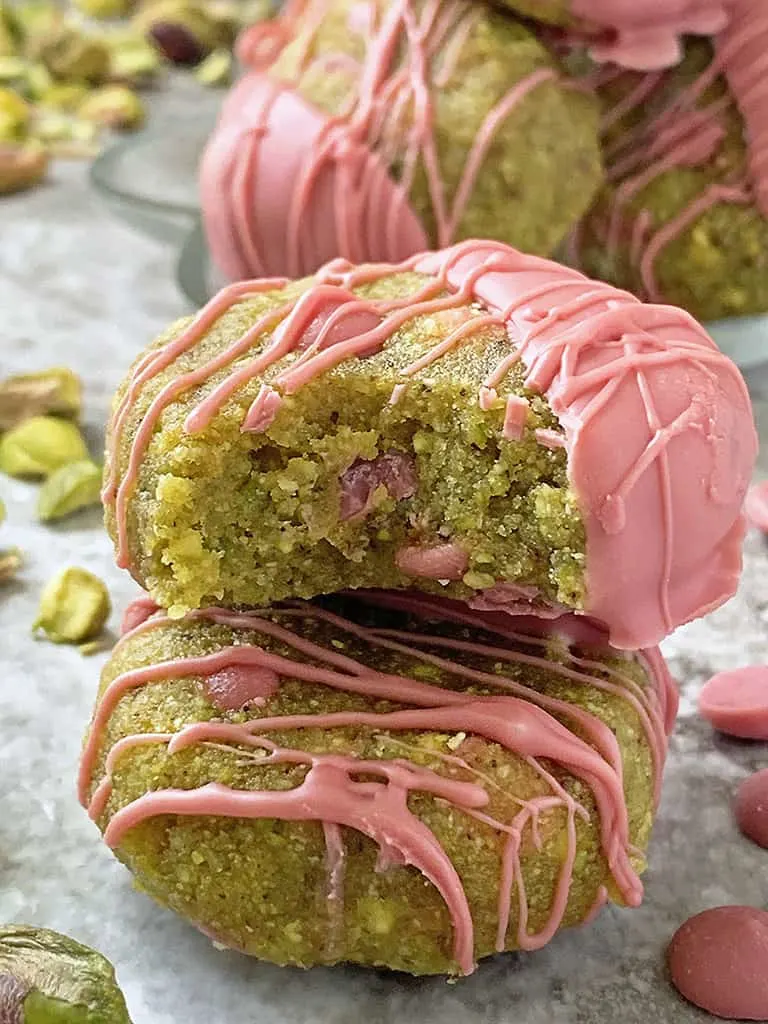 While the pistachio coated truffles were still more like cheesecake than truffles my daughter popped one and then another in her mouth and started swooning over the combination of pistachios and ruby chocolate. And well, who am I to argue with the tastebuds of a college senior – eh?!