This dairy-free, egg-free Passion Fruit Mousse is sweet, tart, creamy, and simply luscious ~ a delightfully delicious way to end a meal.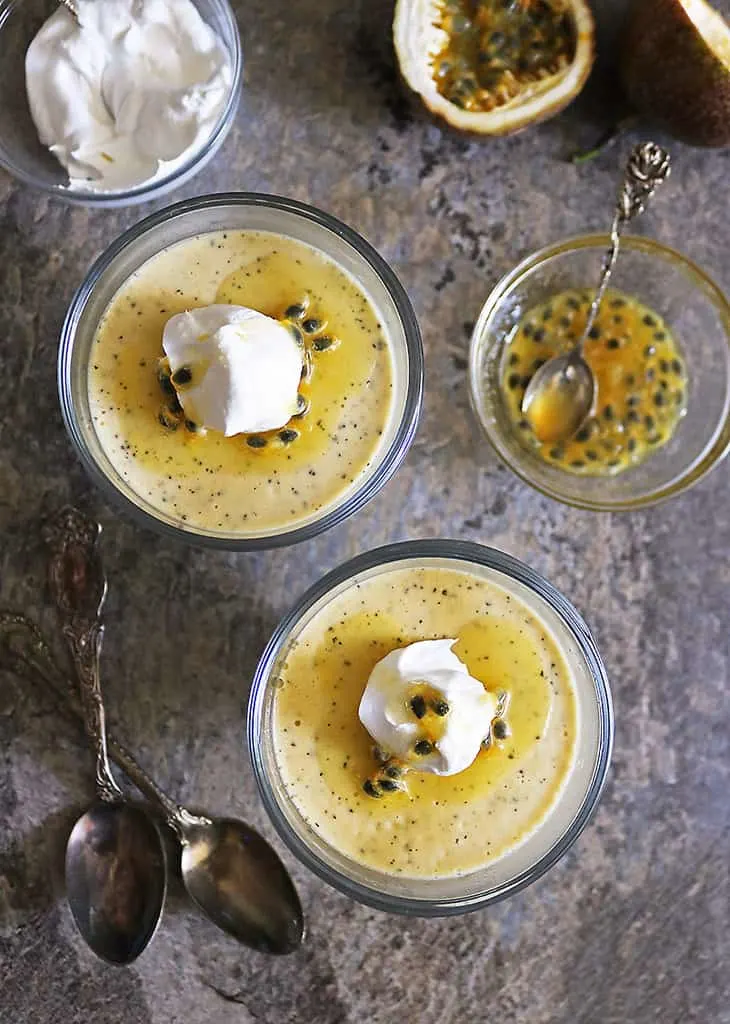 As far as mousse goes, this Passion Fruit Mousse has the luscious creamy texture of a conventional mouse. However, this mousse is totally egg free and cream free.
Instead of using egg whites and / or cream, I used a combination of soaked cashews, coconut milk, and coconut oil to make this seemingly indulgent, yet healthyish Passion Fruit Mousse.
Awhile back I shared this chocolate pudding on here. It is one that my daughter loves. I used soaked and softened cashews, coconut milk, and coconut oil to make that tasty chocolate treat. So, I figured I'd do the same when I came across a rare sighting of fresh passion fruit at the Dekalb Farmers Market.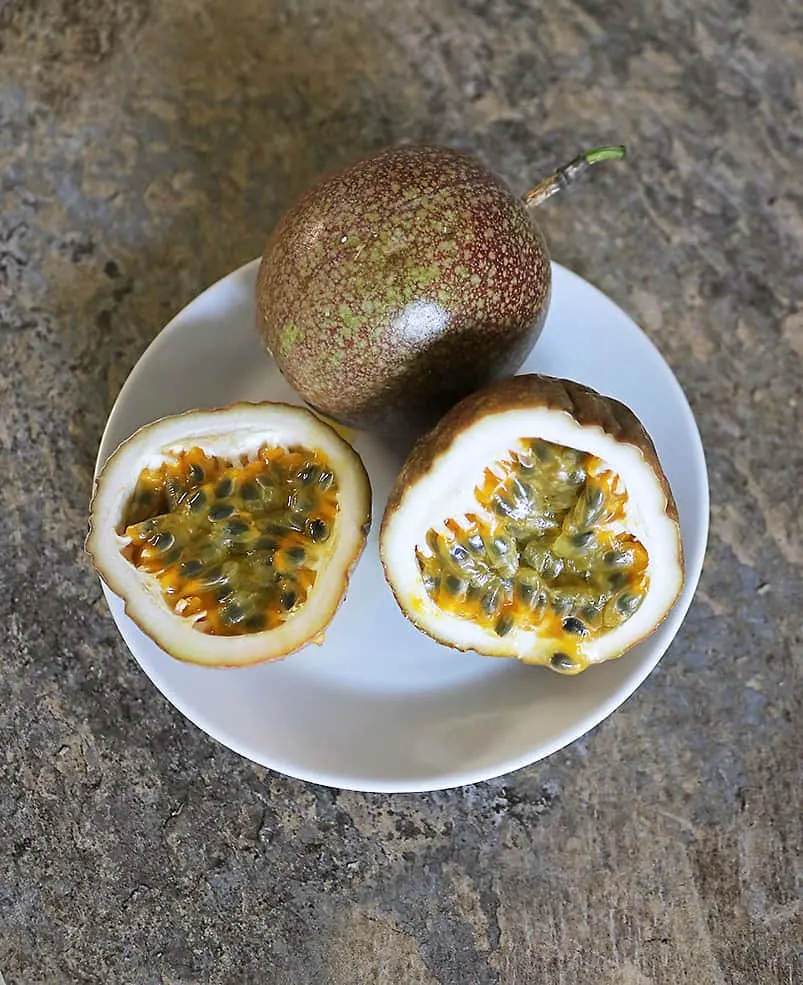 Like rambuttan, papaya, and mango, Passion fruit was another one of the fruits that were available in plenty in Sri Lanka during my childhood years there. And, it was found in everything from juices at little cafes to cake at popular bakeries.
Now, there are a couple of varieties of passion fruit. The one I'm familiar with is the purple hued one. While passion fruit look more enticing when they are plump, they seem to taste best when they are ripe and a bit shriveled.
How do you eat a passion fruit?
First off, use a sharp knife and cut the passion fruit in half. You will cut through the outside purple skin and white rind. You can use a spoon to scoop out the seeds and gelatinous yellow pulp. The seeds and pulp are the edible, highly aromatic and tasty part of the passion fruit.
What does passion fruit taste like?
Ripe passion fruit is sweet and tangy. With (what I think are) hints of papaya, mango, kiwi, pineapple, and lime, it is quite a refreshing fruit. We used to eat the seeds and pulp raw, without adding anything. But, I've noticed that the occasional passion fruit I stumble on here in Atlanta is a bit more tangy and tastes best with a bit of sweetener added in.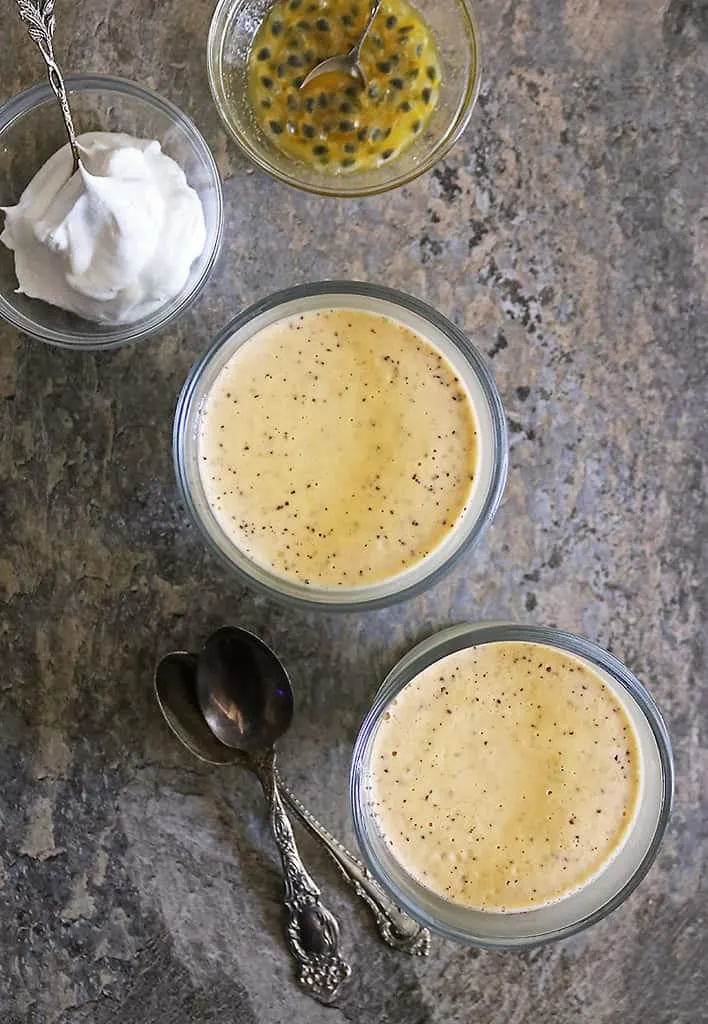 This Passion Fruit Mousse is:
• Vegan,
• A quick dessert,
• Made with only 8 ingredients, and
• A healthy-ish treat
I say healthy-ish as even though this dessert is made with nutritious and clean ingredients like soaked cashews, the coconut milk, maple syrup, melted coconut oil, vanilla extract, cardamom, and passion fruit, this dessert is high in calories due to the cashews used in it.
How to make this Passion Fruit Mousse?
First, you will need to soak the cashews. I used to place cashews in water and soak them overnight. But then, thanks to Google University, I found that cashews can be soaked in 30 minutes. This 30 minute soak can be achieved by placing the cashews in a lemon + water mixture. Bring this mixture to a boil. Then cover the pan and remove it from the heat and leave it covered for 30 minutes. Then, drain the water out of the pan and the now softened cashews are ready to be used.

Next, melt the coconut oil. This can be done by placing the coconut oil in a microwave safe dish and placing it in the microwave and heating it for 10-20 seconds.

You will need a good blender for this next step. I've used blenders that were not powerful and ended up with a slightly grainy mixture. It still tastes great, but it definitely has a texture to it. Anyway, getting back to this third step, add the soaked cashews, the coconut milk, maple syrup, melted coconut oil, vanilla extract, cardamom, and the seeds and yellow pulp from 1 passion fruit into a blender. Blend on high until creamy and smooth.

Divide the mixture up between two glass bowls or mason jars. Cover the glass bowls and mason jars and chill for 2 hours or overnight.

Serve with coconut whipped cream and more passion fruit pulp and seeds.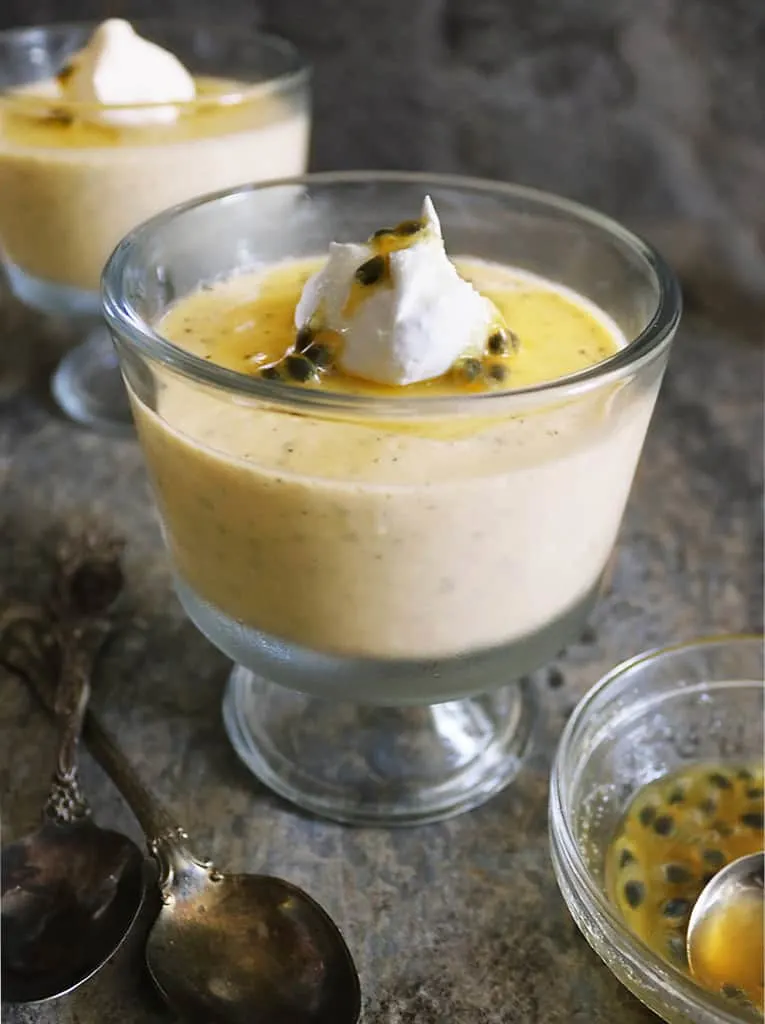 This Passion Fruit Mousse, along with this mango custard, is one of our favorite summer treats and I am hoping that if you happen to stumble on fresh passion fruit, you give this dessert a try.